Not registered?
Sign up here »
• • • • • • • • • • • • • • • • •
• • •

FeedBlitz is used by:
Try FeedBlitz Now!

Easily add automated email subscriptions to your site, or transfer an existing email marketing list.


Browser Add-Ins, Tools and Downloads
FeedBlitz makes it easy to subscribe by mail to any blog, RSS feed or OPML reading list file, as well as tracking updates to any web site. You can enable these facilities from within your favorite browser or toolbar, simply by clicking the appropriate links in the sections below. Add-ins are currently supported for:
Internet Explorer 6 and 7 (Windows)
Now you can add FeedBlitz to your right-click context menu in IE 6 or 7 (Windows users only). To download the add-in, click this link - feedblitz.reg - and run it. (If your anti-virus or anti-spyware program warns you about the code and registry edits, approve the change). Only a menu option is being added. When you're done, you will see a new FeedBlitz option in IE's main context menu. We'll automatically find the right RSS feed for you (if it's there), or track the page itself. Here's an example of the add-in in action: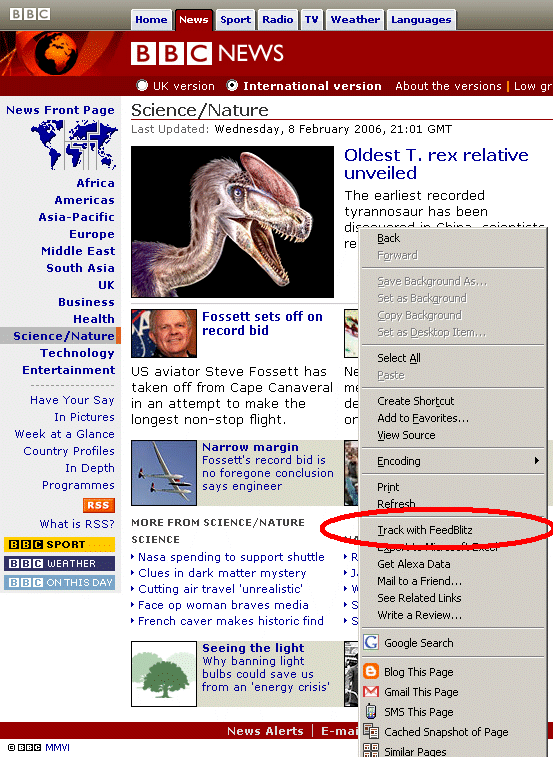 FireFox 2
You can make FeedBlitz the default RSS subscription technology in the latest FireFox browsers. Click here to enable it. You will see this prompt:

And then, once you approve the addition, subscribing to a feed in FireFox will have FeedBlitz as an option, as in the screenshot below: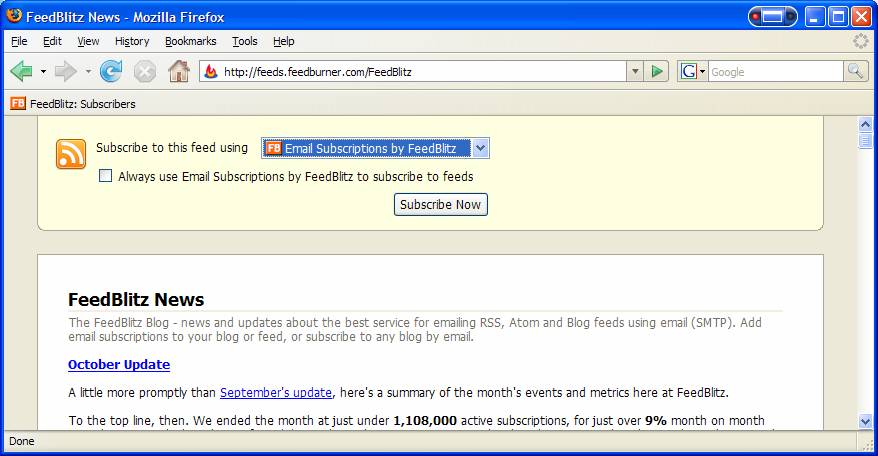 Google Toolbar
If you're a Google Toolbar user, you can add an RSS button that will track the page you're on using a FeedBlitz email subscription. You must have the Google toolbar installed first; then click to add the button. You will see a prompt like the one below; on the nest screen enter your email address, and that's it! You'll see the RSS icon in your Google toolbar. Click it to track the page's RSS feed using FeedBlitz.