---
Check out this brilliant video from the TGIF restaurant in Manchester where they hung mistletoe from a drone to get their customers kissing. The 'Kisscam' at 0.55 is my favourite moment. That's quite put me in the mood for Christmas, and it's not even December yet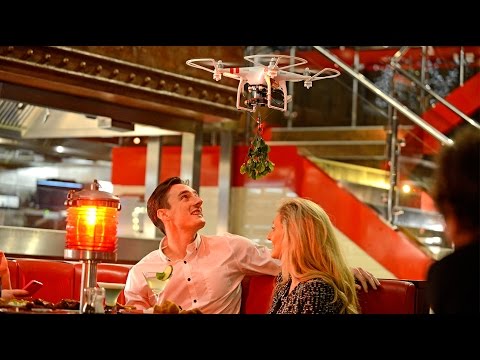 It's pretty well recognised now that a strong company culture helps bring success to a business, but what's new is that a company's culture is starting to matter to consumers. Moreover, whilst shareholders may judge a company's culture on how much it contributes to good execution, customers judge it on ethical grounds.
Hence, for the second year running Amazon Anonymous are running a boycott Amazon campaign this Christmas which they claim has so far diverted £1.3m of spend (many of my north London neighbours will be pleased…) and a range of people are urging us to boycott Uber. I think we will see more and more of this sort of thing. People are increasingly concerned that the companies they shop with match their values. This plays out positively for companies with a strong ethical profile and negatively for those with unpopular practices.
Interestingly, some of the elements of company culture which have historically been great for shareholder value are the ones that are now undermining brands. Taking the examples above, Amazon's famously frugal culture has landed them in trouble for low wages and Uber's all out aggression has led them to many actions that most people view as unacceptable, most recently threatening journalists with smear campaigns.
I think we are heading towards a better world where unsavoury behaviour is tolerated less, but it is also a more complicated world for managers.
Sherry Coutu's much anticipated Scale Up Report has now been released with the clear argument that job creation comes from fast growing companies, or 'scale-ups' rather than all startups, and hence that's where we should focus our policies. The report goes on to make a set of practical recommendations for government to help the UK's scale-ups and hence improve job creation and GVA. The Scale Up Report's recommendations are designed to produce better data so scale-ups and the effectiveness of scale-up policies can be tracked, to reallocate resources from start-ups generally to scale-ups specifically, and to make individuals, including a Minister, responsible for increasing the number of scale-ups we have in the UK.
I'm interested in the impact that a venture capital fund like Forward Partners can have on job creation and GVA. On page 106 of the report there's a table showing the number of scale-ups by region. This year there are 8,923 scale-ups in the UK, with 2,264 of those based in London. Thames Valley Berkshire is the next biggest region with 562 scale-ups. (Scale-ups are defined as companies with 20% growth p.a. in turnover or employees for three years and with more than 10 employees at the start of the period.
Like many venture funds Forward Partners has a target portfolio of around 30 companies which we will invest in over a three year period. If all of our partner companies were to become scale-ups that would be 0.3% of the UK total and 1.3% of the London total. Research cited in the report predicts that scale-ups will create 238,000 new jobs over three years and contribute £38bn to GVA. If we have invested in 0.3% of the scale-ups then we will have had a hand in the creation of 714 jobs and £114m of GVA (which curiously enough isn't far away from the amount we project our share of our partner companies will be worth).
That's a nice target to aim at and a result that would make us proud.
Snapchat just launched their Snapcash service in the US which you to send money to friends by sending them a message (details here in Techcrunch). Many entrepreneurs have gone after the P2P payments market, but no-one has so far succeeded. I think Snapcash might be different for the following reasons:
It piggy-backs on a large existing network
It is simple to use – just start a message with a dollar sign
It's free
The service is based on Square and requires the sender and receiver to enter their debit card info, which makes it a small step from here to being able to pay retailers as well as consumers. As well as increasing engagement with their users the benefit it Snapchat is that it will have real names for participating users, useful for ad targeting.
I wonder if Facebook will do something similar to Snapcash with Whatsapp.
The ever excellent CBInsights just released new data on the time between rounds. As you can see from the chart above year to date in 2014 the median time between seed and Series A has been 349 days and that's been reasonably consistent over the last couple of years. If the median time is just under a year then in the spirit of planning for the worst and hoping for the best this data suggests that reckoning on making your seed round last 12-18 months is the way to go.
Thinking about our portfolio and other companies I have seen recently in the UK I would estimate that over here the median time from Seed to Series A is slightly longer than this, maybe just over a year. That would make sense given that the volume of capital in the market is lower and the competition between investors is less intense. (The good news is that the a number of new funds have come to market recently, including Google Ventures and Mosaic Ventures.)
For UK companies then, I would advise reckoning on 12 months as a minimum. Some companies do better than that, but that takes luck and it isn't wise to plan on being lucky.
All that said, within reason more runway is better and if you can get extra cash at an acceptable dilution it's usually worth doing. Important caveat: if you do raise a large seed round don't ramp the burn too much before you've found a repeatable business model.
On a side note, in a bubble times between rounds usually drops, but we're not seeing that in the chart above, or in times between later rounds.