There's a wide variety of jazz and creative music performances coming up this Memorial Day weekend in St. Louis, from straight-ahead jazz to New Orleans brass to big band to fusion and more. Let's go to the highlights...

Tonight, singer-pianist Freddy Cole and tenor saxophonist Harry Allen team up for the first of four evenings continuing through Saturday at Jazz at the Bistro. Cole, the brother of famed singer and pianist Nat "King" Cole, has played the Bistro to appreciative crowds several times in recent years, but this is the first time he'll be teamed with Allen, who draws inspiration from swing era tenor players like Lester Young, Ben Webster and Coleman Hawkins. For some videos of Allen performing, and a link to an earlier video post about Cole, see this post from a couple of weeks ago.

Also tonight, Sound Unlimited plays at Frontenac Grill; Dizzy Atmosphere will be at the Shaved Duck; and trumpeter Jim Manley will perform at Sasha's Wine Bar.

Tomorrow night, New Orleans' Soul Rebels will be in town to perform at the Old Rock House. The group offers their own hip-hop influenced twist on the traditional brass band sound, mixing in plenty of solo and group vocals and raps along with trumpets, trombone, sax, tuba and drums. You can see some video samples of the Soul Rebels in action in this post from last Saturday.

Also on Thursday, drummer Montez Coleman leads a tribute to Art Blakey at Robbie's House of Jazz (which will be closed for the rest of the Memorial Day weekend); Miss Jubilee plays at the Thaxton Speakeasy; pianist and singer Jesse Gannon leads a trio at Oceano Bistro; and the "Kids Rock Cancer" benefit at the Sheldon Concert Hall will include performances by Erin Bode and Peter Martin.

Friday is the start of the annual Bluesweek festival, which will be held again at the Soldiers Memorial downtown, but with just one stage this year. The free event features plenty of blues, obviously, but also some acts that may be of interest to jazz listeners, including the New Orleans funk of Trombone Shorty and Orleans Avenue (pictured) on Friday night; a jazz guitar set with Tom Byrne, Dave Black and Eric Slaughter on Saturday afternoon: and a Fontella Bass tribute featuring singer Marsha Evans and the Coalition on Sunday. A complete schedule of Bluesweek events is here.

Also on Friday, trombonist John Covelli's Jazz Co-Laboratory plays the music of Wayne Shorter at Cigar Inn, saxophonist Kristian Baarsvik leads a trio at Tavern of Fine Arts; and singer Joe Mancuso and guitarist Dave Black will duet at Chaser's Lounge in the Chase Park Plaza Hotel.

On Saturday, Tom Byrne, leading his own band this time, will play at Thurman Grill, and Sarah Jane and the Blue Notes will bring their jump blues and swing sound to the Wine Press.

Then on Sunday, the Dave Dickey Big Band plays their monthly gig at Kirkwood Station Brewing Company. Their special guest performers at intermission this month will be the Jazz St. Louis All-Stars, the student ensemble featuring some of the top high-school players from Jazz St. Louis' education programs.

Looking beyond the weekend, on Tuesday the jazz/rock/fusion band Steizuello returns to the Sheldon Concert Hall for a "Notes From Home" concert.

For more jazz-related events in and around St. Louis, please visit the St. Louis Jazz Notes Calendar, which can be found on the left sidebar of the site or by clicking here. You also can keep up with all the latest news by following St. Louis Jazz Notes on Twitter at http://twitter.com/StLJazzNotes or clicking the "Like" icon on the StLJN Facebook page.

(If you have calendar items, band schedule information, news tips, links, or anything else you think may be of interest to StLJN's readers, please email the information to stljazznotes (at) yahoo (dot) com. If you have photos, MP3s or other digital files, please send links, not attachments.)
From the Dept of "Well, That Didn't Take Long":
Snarky Puppy
(
pictured
), who just played in St. Louis earlier this month at The Demo, already have booked a return trip in the form of a gig at 8:30 p.m. Friday, August 9 at the
Old Rock House
.
This will be the the third St. Louis appearance in the last 12 months for the Texas-born, now Brooklyn-based funk/jazz/world music ensemble (who, incidentally, were featured on StLJN in
a Saturday video post
before their last gig here.)
Tickets for the all-ages Snarky Puppy show at Old Rock House are $15 for general admission, and will go on sale at 5:00 p.m. this Thursday, May 23.
Once YouTube lifted its restrictions on video length, a lot of complete concerts began to appear on the service, and over the past year some of the best of those videos subsequently are finding their way to StLJN's sibling site
Heliocentric Worlds
. Each day, there's a new online music video posted, drawing from genres including jazz, blues, soul, funk, classic rock, prog rock, and experimental, and many recent posts have featured full-length sets or complete shows lasting an hour or longer.
Artists in the spotlight this month have included Miles Davis, the Beatles, Sun Ra Arkestra, Count Basie, Sarah Vaughan, Sex Mob, King Sunny Ade and His African Beats, Anthony Braxton Quartet, Brecker Brothers Band, Junior Wells and Buddy Guy, Arthur Blythe, Albert King, Lou Donaldson, George Duke Band, Steve Coleman, Clark Terry, Fats Domino, Herbie Hancock & the New Standard All-Stars, Rebirth Brass Band, Gato Barbieri, Kurt Elling, The Kinks, Aaron Neville, Steve Miller Band, Blood Sweat & Tears, Johnny "Guitar" Waston, Tower of Power, Grover Washington Jr., and Johnny Winter.
Sure, you could spend hours, days or even weeks rooting around YouTube trying to find the good stuff, but here, the virtual cream already has been skimmed for your listening and viewing enjoyment. And in addition to the clips noted above, there are thousands more music videos online in the carefully curated archives, all just waiting there for you at
http//heliocentricworlds.blogspot.com/
.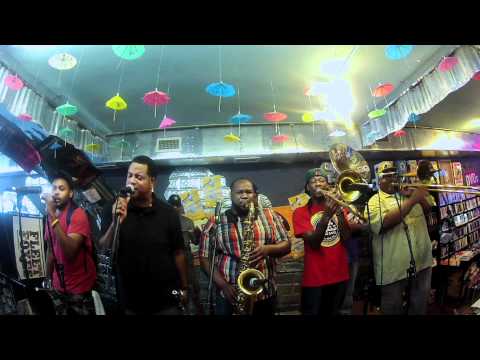 This week, our video spotlight focuses on the New Orleans brass band the
Soul Rebels
, who will be in St. Louis this coming Thursday, May 23 for a gig at the
Old Rock House
.
Formed in the mid-1990s by ex-members of the Young Olympia Brass Band to offer an updated take on the brass band tradition, the Soul Rebels perform weekly at a local spot called Le Bon Temps Roulé when they're home in New Orleans. In recent years, though, they've also traveled quite a bit, becoming regulars on the festival circuit both stateside at events like Bonnaroo and Electric Forest as well as overseas in Europe, Asia and Australia.
The Soul Rebels have recorded a total of seven albums, with their most recent (and first nationally distributed) release,
Unlock Your Mind
, coming out in 2012 from Rounder Records. One of the most notable things about them is the degree of hip-hop influence in their sound - they seem to use solo vocals, both singing and rapping, in their music much more often than other brass bands, and frequently have been known to serve up live cover versions of hits from the likes of Jay-Z, Kanye West and Outkast.
You can see and hear some examples of the Soul Rebels in action today in a half-dozen video clips, starting up above with a version of their song "Showtime," which, interesting enough, would seem to share some musical DNA with the theme from the old syndicated TV program
Showtime at the Apollo
). That track and "Let It Roll," heard down below, both were recorded last year at an in-store show at a record store in Orlando, FL and do a good job of demonstrating the influence of hip-hop on the Soul Rebels.
Below that, it's a medley of "Turn It Up" and "Roll, Rebel, Roll," also from 2012, which serves to further elucidate the connection between hip-hop and the traditional chants of a New Orleans street band.
Next up, the Rebels show off some other influences with a somewhat improbable yet effective cover version of "Sweet Dreams Are Made of This," which was a hit for the 1980s synth-pop band Eurythmics. Judging from the number of clips found on YouTube, the song seems to be a staple of their live show; this version was recorded in 2012 in Manchester in the UK.
The final two clips find the Soul Rebels back in their hometown, with a cover of Kanye West's "Touch The Sky" filmed at a place called DBA this past New Year's Eve, and three more songs - Stevie Wonder's "Living For The City," the original tune "Let Your Mind Be Free" and a reprise of "Showtime" - recorded earlier in 2012 at the Louisiana Music Factory.
For more of the Soul Rebels, check out
their SoundCloud page
and
this interview
published last year in, of all places, the
Anchorage (AK) Daily News
.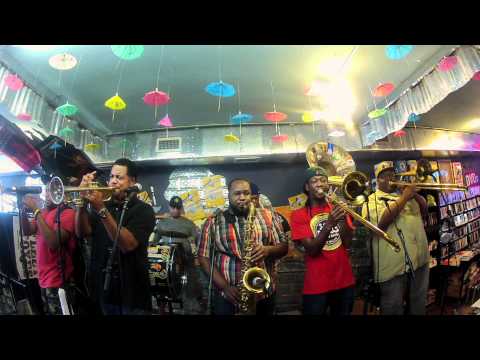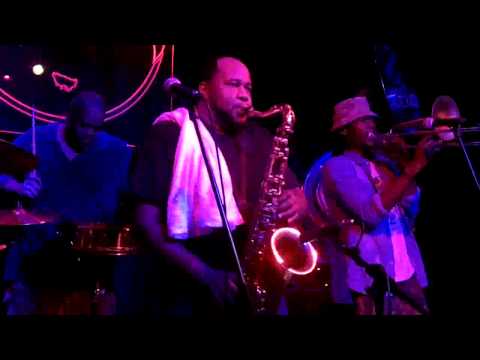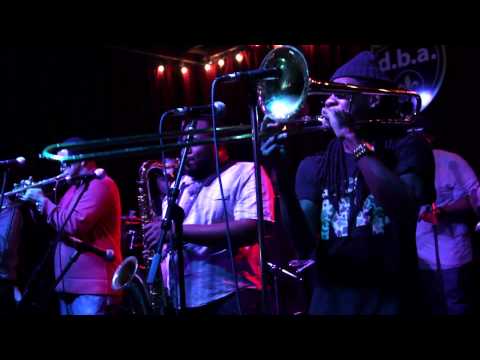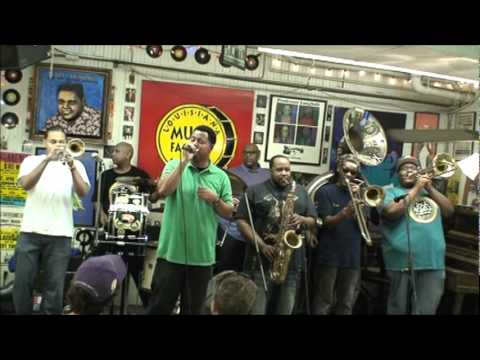 Here's the latest wrap-up of assorted links and short local news items of interest:
* Alto saxophonist Kendrick Smith was
profiled by the St. Louis American's Bridjes O'Neil
in a story spotlighting Smith's weekly Saturday matinees at Premiere Lounge.
* This week in Facebook photo albums, you can check out pix of
Lionel Loueke at Jazz at the Bistro
,
Steizuello at Lindbergh High School
and New Music Circle's presentation of
Trinity Piano Trio at the William Kerr Foundation
.
* The
NYC brownstone at 312 West 77th St
that formerly belonged to
Miles Davis
was
named an official cultural landmark
this week by the city's Landmarks Preservation Commission. Davis' nephew Vince Wilburn Jr., his former saxophonist George Coleman, and trumpeter Wallace Roney were among those present at a ceremony on Thursday unveiling
a medallion placed on the building
to commemorate the honor. Davis (
pictured
) bought the townhouse in 1958 and lived and worked there for the next 25 years.
* Saxophonist and composer
John Zorn
, who once upon a time studied at our town's Webster University, is celebrating his 60th birthday with
"a series of concerts on four continents, including a marathon Sunday, May 19 at the Festival international de musique actuelle in Victoriaville."
* On the jazz radio beat, this Saturday on
RAF-STL's "Somethin' Else,"
host Calvin Wilson will offer up a selection of jazz guitarists "from Montgomery to Metheny." Meanwhile, over at KWMU, Dennis Owsley continues his documentary history of St. Louis jazz on Sunday's
"Jazz Unlimited"
program with part seven of the series, which covers the 1970s and '80s and will include music from Exiles, David Parker, Asa Harris, Jasmine, Willie Akins and Kelvyn Bell.
* Farshid Soltanshahi of
Farshid Etniko
is doing the music for
Upstream Theater
's upcoming production of
An Iliad
, which will run from May 24 through June 9 at the Kranzberg Arts Center.
* The
Post-Dispatch
's Kevin Johnson offers
his impression of one of actress/singer Molly Ringwald's sets
on Tuesday at Jazz at the Bistro.
* Last but not least, woodwind retailer and repair shop Saxquest has given their website a brand new look, which you can see online now at the familiar URL of
saxquest.com
.
More Recent Articles
---
Click here to safely unsubscribe from "St. Louis Jazz Notes." Click here to view mailing archives, here to change your preferences, or here to subscribe • Privacy