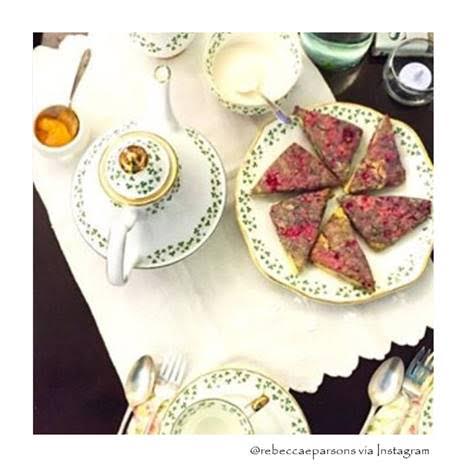 On a historical tea note, many Bigelow Tea drinkers may think of afternoon teatime as a British tradition (even though the post-lunch, pre-dinner cup and nibble has roots across numerous cultures as noted in Forbes recently). Anna, the 7th Duchess of Bedford is the woman to thank for the traditional English teatime as we know it. In 1840, Anna started partaking in the light meal to help stave off afternoon hunger pangs in between lunch and the typically late dinner hour of the time.
Today, the quintessential afternoon tea is a common tradition in countries that were once British colonies, such as Malaysia. While the English may serve their tea with small bites and savory treats, Malaysians, for example, enjoy delicacies such as yam cake or prawn fritters with their steaming cup which also sounds delicious!
Another fact that tea neophytes may also be interested to learn is that afternoon tea and high tea were not one and the same. While afternoon tea was a ritual for the upper classes, high tea was viewed as a filling meal of heavier foods that was strictly a working class affair.
And finally, did you know that the Japanese have enjoyed tea time even longer than the British? The culture has observed a very strict ceremony surrounding the making, serving, and drinking of tea. This ceremony dates back over a thousand years, and involves specific guidelines that make the serving of tea a beautiful art form, complete with designated wardrobe items, surrounding décor, and foods.
Of course, we always find the practice of drinking tea to be a time honored tradition to share with family and friends. Tell us- do you have any tea drinking rituals, such as a special treat or favorite flavor you can share with us?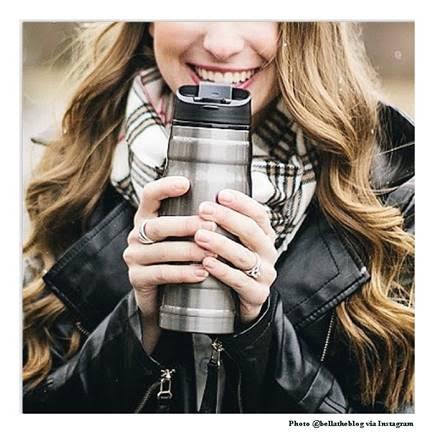 At Bigelow Tea, the Bigelow family loves to smile … and that's fitting because some studies are now showing that tea might be good for your teeth! The health benefits of an afternoon cup of tea have been well documented, but what you may not realize is that drinking tea can also benefit your gums and mouth overall. Here are just a few ways steeping some tea for a warm drink can improve your next dental visit.
Studies say green tea may promote healthy gums. A lower rate of gum-tissue loss and bleeding was found in those who regularly drank green tea, according to researchers at a Japanese university. The more tea subjects drank, the fewer symptoms of periodontal disease they displayed, so downing more than one cup a day could go a long way toward improving your oral health.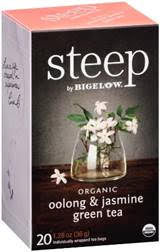 Studies also say that Green Tea may actually keep your mouth safe from some forms of cancer! A Pennsylvania State University study published in Molecular Nutrition and Food stated that green tea might kill oral cancer cells, and boost healthy ones. In the study the authors found that a compound in green tea triggers a process in the cancerous cells' mitochondria that leads to early cell death. A previous study in 2002 found that green tea could induce cancer cell death and suggested "regular consumption of green tea could be beneficial in the prevention of oral cancer."
Freshens breath: Research shows that drinking green tea can also help reduce bad breath. The polyphenols in the green tea modify the bad-smelling sulfur components in your mouth.
So brew that Green Tea with Lemon or that Oolong and Jasmine green tea (steep by Bigelow)—or whichever Bigelow Tea variety you prefer!—and show those pearly whites! What's not to smile about?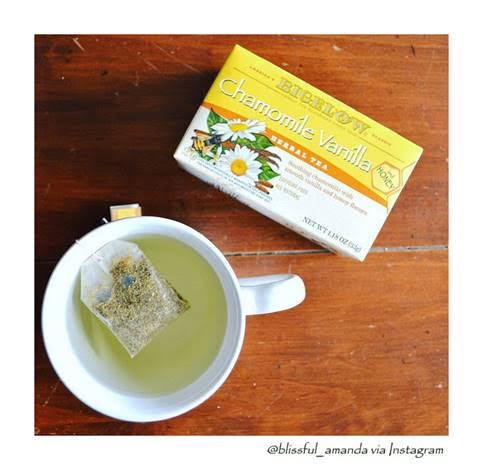 Calling all honey lovers! As one of the most popular sweeteners to add to a cup of Bigelow Tea, honey is rich in flavor and history. And for National Honey Month, we thought we'd explore nature's thick, sweet, syrupy treat.
Honey has a long history – production flourished in ancient Greece and Sicily, and was used to sweeten different foods. The spiritual and therapeutic use of honey in ancient India is documented in Ayurveda texts, which are more than 4,000 years old. A source of vitamins, minerals and antioxidants, honey—particularly in its raw form—offers unique health benefits. According to research, it's used as a natural cough suppressant, may help heal wounds and reduce allergy symptoms, and can offer a quick energy boost.
A lot of work goes into each jar of honey. To start, honey bees make honey from the nectar they collect from flowers. The 60,000 or so bees in a beehive may collectively travel as much as 55,000 miles and visit more than two million flowers to gather enough nectar to make just a pound of honey. Unfortunately, bee populations all over the country are drastically declining. Last year, experts warned that four species of bees native to Connecticut, where our headquarters are located, had disappeared from the state in the last 10 years. So we decided to take action on the bees' behalf. Bigelow's Green Team recently planted more flowers on our corporate property along an urban train track fence in the hopes of providing bees with a better natural habitat.
Honey adds a little sweetness to our day, so we want to make sure it's around for many, many days to come. Add a little honey to your favorite Bigelow Tea, or try our Honey and Chamomile Vanilla Honey Herbal Tea before turning in for the night. It's a great way to make your day that much sweeter!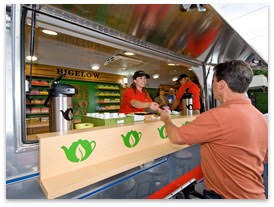 Logging more than 14,000 miles and having served over 86,000 cups of tea to tea lovers across the U.S., the Bigelow Mobile Tea Bar will hit the road once again in the weeks and months ahead. Is it coming to your city?
Its first stops will be in Connecticut, home of Bigelow Tea's headquarters which will include Bigelow Tea's own 29th Annual Community Challenge on Sunday, September 25 in Southport, CT. Then, it'll hit a series of street fairs, festivals and events throughout New England.
Scheduled 2016 East Coast Tour Dates

Sep. 22-24 – The Norwalk Boat Show, Norwalk, CT
Sep. 25 – The 29th Annual Bigelow Tea Community Challenge, Southport, CT
Oct. 2 – Chowdafest, Westport, CT
Oct 8-9 – Cranberry Harvest Festival, Wareham, MA
Oct 15-16 – 33rd Annual Oyster Festival, Long Island, NY
Oct 22-23 – Head of the Charles, Boston, MA
Oct 29-31 – Great Pu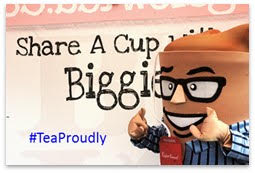 mpkin Fall Festival, Clarence, NY
Try a variety of tea samples and learn about the history and culture of tea in the cozy lounge of the retrofitted 1977 Airstream trailer. Visitors will also have a photo opportunity to share a cup with "Biggie," Bigelow Tea's walking mug mascot. Post a photo and tag with #TeaProudly to share the fun on social media, too! Admission is free and up-to-the minute tour information can be found at http://bigelowtea.com/bigelowmobileteabar. You won't want to miss this classic ride!
From September to November, the autumn harvest brings a bounty of delicious produce, from pumpkins and pomegranates to apples and cranberries. And if you're looking for the flavors of fall, look no further than Bigelow Tea. Here are a few of our favorite fall foods, along with the Bigelow Tea varieties that capture their flavors.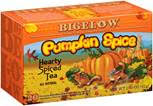 Pumpkins
Bigelow Tea's Pumpkin Spice is a black tea made with real pumpkin flakes, cinnamon, ginger and cloves—just like your grandmother's homemade pumpkin pie! The savory, well-rounded flavor screams cozy and smells like autumn. For the past few years, pumpkins have been the unofficial food mascot of fall.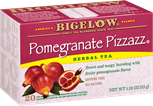 Pomegranates
Rich in history and flavor, pomegranates have been symbols of abundance, prosperity, and fertility going back thousands of years. Today, it can bring a wealth of deliciousness to your cup of tea. Bigelow Tea offers a variety of teas made with pomegranate, including Pomegranate Pizzazz® Herbal Tea, Green Tea with Pomegranate and Pomegranate Black Tea.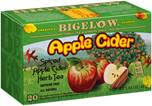 Apples
When we think of fall, it's no surprise that apples come to mind. After all, there's apple picking, apple pie and Apple Cider Herbal Tea! With crisp apple, hibiscus, and real cinnamon, this Bigelow Tea flavor is a just-sweet-enough variety to sip throughout the season.
Cranberries
Tart and tangy, cranberries pop up throughout the season—most notably on the Thanksgiving table. The refreshing taste of this little berry can be found in Bigelow Tea Cranberry Hibiscus and Cranberry Apple, both of which contain real cranberry fiber. Loaded with flavor and antioxidants, it's a cup your taste buds and your body will be thankful for.
Embrace the season by picking up your own bushel of Bigelow Tea boxes. Enjoy a cup after school or work, to start off you weekend, or to close out a day of fall fun like fruit-picking or leaf-peeping. The cozy cornucopia of flavors makes it easy to relax and appreciate the simple joy of autumn.
Apple image by adrianbartel via Flickr
Pumpkin image by Mike Mozart via Flickr
Pomegranate image by veggiefrog via Flickr
Cranberries image by Andrew Yee via Flickr
Pears image by torbakhopper via Flickr
More Recent Articles