Everyone knows "an apple a day keeps the doctor away," and that's because it's one of the best and tastiest powerfoods around. Apples are packed with fiber and nutrients, and boast a delightfully crisp texture with a sweet yet tart flavor. Bigelow Tea has three delectable apple-tea blends—made with real apple bits—to savor during National Apple Month.  Naturally caffeine-free, Bigelow Tea's herbal blends are anytime perfect.
Can't make it to the orchard? Bigelow Tea's Apple Cider blends crisp and tangy apples and hibiscus with sweet spices—cinnamon, rosehip, orange peel, licorice root and clove—to instantly warm up cool autumn days.
No time for baking? Our Cinnamon Apple herbal tea is practically apple pie in a cup! Warming cinnamon and licorice steep nicely with the subtle tartness and fruity notes of hibiscus and apple. It's so compelling that @RunBrinksyRun posted on Instagram "Guys, I may have a tea addiction and this #Bigelow Cinnamon Apple smells amazing." Sounds like she may need an intervention.
A fan of the cran? (Berry that is.)  A more full-bodied option, in a rich crimson color, Bigelow Tea Cranberry Apple herbal tea balances the tartness from cranberries and hibiscus with the sweetness of apples and chamomile for a robust, herbal brew.
Enjoy National Apple Month!
The Bigelow Tea family, renowned for three generations for their tea blending craftsmanship, is delighted to add scrumptious new teas to its ever-popular seasonal tea line that are perfect for holiday enjoyment, and on target with today's consumer taste trends.
In addition to Pumpkin Spice Tea and Apple Cider Herbal Tea, Bigelow's Harvest line now includes: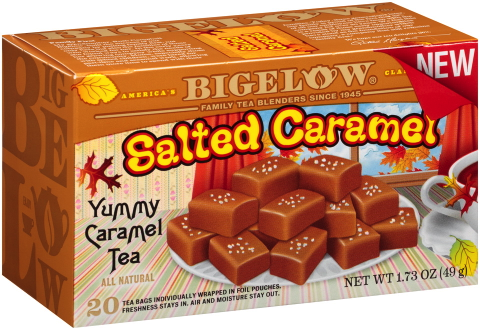 Salted Caramel Tea!
Reflecting the latest confectionary trend of melding a salty note to rich buttery caramel, all-natural Bigelow Salted Caramel Tea captures all the appeal of this popular, full-bodied-caramel flavor combination. To achieve its tantalizing flavor profile, the expert American tea blenders at Bigelow Tea have combined hand-picked black tea with natural caramel and salt flavors. Amazingly, for a beverage so loaded with indulgent flavor, Salted Caramel Tea has zero calories and no sodium for a sublime, guilt-free indulgence.
Adding zest to the Bigelow's already delicious Holiday line of Eggnogg'n® Tea and Ginger Snappish® Herbal Tea, is this refreshing new offering: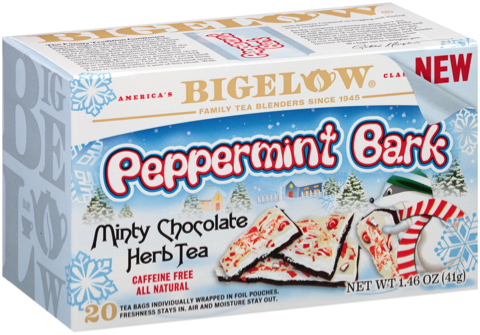 Peppermint Bark Herbal Tea!
As fans of peppermint bark candy know, peppermint and chocolate make a wonderfully refreshing flavor combination that is truly irresistible! Now, consumers can enjoy this delicious Holiday favorite – a hallmark of season, in a whole new way. Bigelow Peppermint Bark Herbal Tea is an all-natural herbal tea that is decadently rich in chocolaty flavor with a cool, fresh minty finish. Hot and cool at the same time, it makes a perfect treat to warm body and soul on a cool day. Here's another reason to celebrate. This caffeine-free treat has zero calories.
"We are truly thrilled to offer these richly flavorful teas to the growing world of tea drinkers," says Cindi Bigelow, 3rd generation president and CEO of the family-owned company. "Everyone who has tried them absolutely loves the comfort and pleasure of these tempting seasonal tea treats. They're two of the holidays' favorite flavors. Pure enjoyment – with no calories and no guilt!"
Protective Packaging
True to tradition, both new flavors are packaged in individually wrapped tea bags in Bigelow's signature foil pouch to protect them from air, moisture and surrounding aromas, to keep the tea as fresh and flavorful as the day it was blended. It's easy to tuck a few into a pocket or handbag to enjoy the fresh, luscious flavor anywhere, anytime throughout the busy holidays.
Look for Bigelow Harvest and Holiday Teas in free-standing floor shippers at retailers starting in October. They will also be available at bigelowtea.com.
"We invite you to try our new teas" says Cindi Bigelow. "Not only are they a satisfying pleasure that you'll want to enjoy often, they make wonderful gifts for family, friends, colleagues, teachers – anyone you think deserves a holiday treat. Pop them in a gift bag with a special mug and spread the joy!"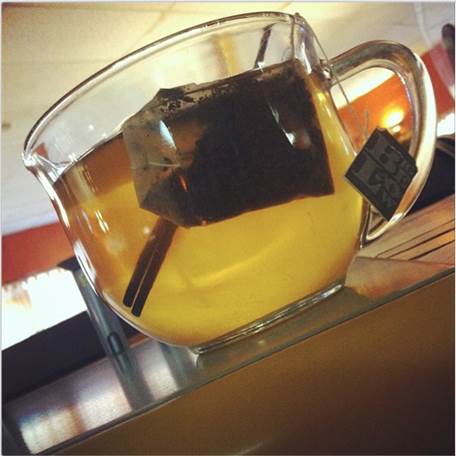 Tomorrow, October 23, many of our friends worldwide will celebrate Diwali, also known as the festival of lights. It is observed in Sri Lanka, where carefully picked tea leaves used in Bigelow Tea are grown!
The ancient Hindu tradition includes family gatherings, gifts, candles and … tea! Yes, tea is a staple beverage during Diwali. Last year, tea lover and Instagramer rachaelnaidu spent Diwali sipping tea with the whole family! Consider Bigelow English Teatime, which is grown in the mountains of Sri Lanka and is famous for its rich full-bodied yet smooth flavor.
Cindi Bigelow, third generation President and CEO of Bigelow Tea, visited Sri Lanka and made these videos (below) highlighting the company's long-lasting relationship with Sri Lanka.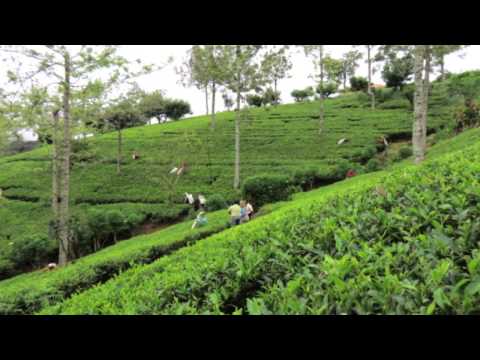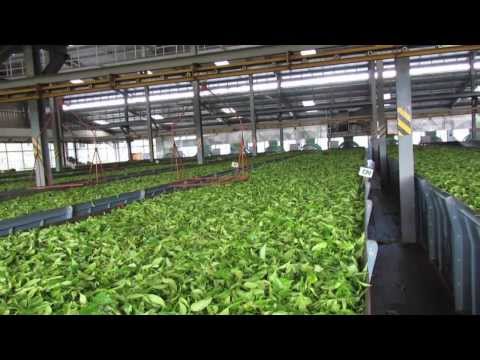 Have a great Diwali celebration!
Image from Instagram via @val_28241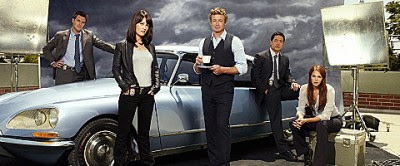 If you've seen the hit CBS series, The Mentalist, you probably know that handsome Simon Baker plays the role of Patrick Jane, an independent consultant with the California Bureau of Investigation who solves crimes with his skills of alert observation. And, if you've caught an episode of the show you would also know that the Patrick Jane character loves his tea! In almost every episode he drinks at least a cup … and sometimes he's shown pouring and serving it too!
Fans have become so obsessed with Baker's character and his tea drinking, that they'll even purchase teacups and saucers like the ones he uses on the show!
At Bigelow Tea we were wondering about what type of tea this sleuth character might be drinking….then we stumbled upon an interview with Tim Kang, who plays Kimball Cho on The Mentalist, an agent for the California Bureau of Investigation. He shared: "…Jane [Simon's character] probably drinks Earl Grey and [my character] probably drinks green tea…"
Very interesting…and if they truly are that intuitive–then we're sure that it's from Bigelow Tea!
Bigelow Tea's Earl Grey is a favorite of many amazing people, like @honeygirlkitch, who tweeted "So the jury is in …Bigelow Earl Grey is my favorite."
Not surprisingly, Mr. Baker, a native of Australia, adores tea in real life too. He's been quoted as saying his "turn-ons" include: "Hearing my kids laugh, a good cuppa tea, dancing with my wife."
Image via TV.com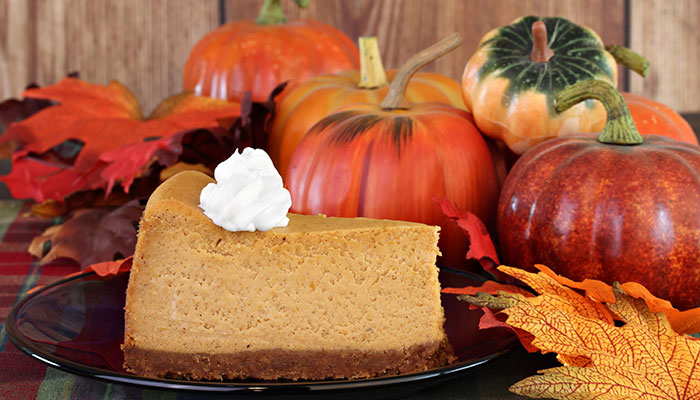 October officially marks the arrival of pumpkin season! Wholesome and fibrous, eaten or slathered on as a beauty treatment, pumpkin, studies say, is packed with essential nutrients for healthy eyes, mood, weight and skin. Plus, its distinctively sweet & savory flavor and meaty texture gives the gourd the ability to be scrumptious in every meal of the day! So keeping this in mind, check out Bigelow Tea for the perfect blend of Pumpkin Spice Tea—made with real pumpkin, cinnamon, ginger and cloves—to enjoy on its own or infuse into some incredible recipes ranging from dessert to breakfast! Happy autumn!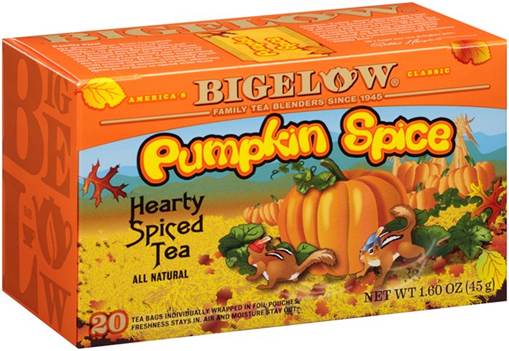 (Pictured at top)
Ingredients
4 tablespoons (60mL) butter, melted
1 ¼ cup (310mL) gingersnaps, crushed
1 tablespoon (15mL) brown sugar
1 teaspoon (5mL) cinnamon
1 ½ cup (375mL) heavy cream
24 ounces (750g) cream cheese, softened
1 ½ cups (375mL) sugar
3 large eggs
1 ½ cups (375mL) pumpkin pie filling
¼ cup (60mL) pecan halves
Instructions
Preheat oven to 325*F (160*C). To make the crust, melt the butter in a small saucepan. Mix the gingersnaps, brown sugar and cinnamon together. Add the melted butter and mix together with a spoon. Spray a 10″" (25cm) spring-form pan with cooking spray. Press the crumb mixture into the bottom. Filling: Add heavy cream into saucepan, heat over medium heat, be careful not to boil. Add Bigelow Ginger Snappish and Bigelow Pumpkin Spice tea bags and steep cream for 5 minutes. Remove tea bags and squeeze out excess cream. Set aside to cool. Beat cream cheese in large bowl with an electric mixer until fluffy, gradually add sugar, beating well. Add the eggs one at a time and beat the mixture until it is fluffy and pale. Add the cooled cream and beat well. Stir in the pumpkin pie filling, combine well and pour the cheese mixture into prepared springform pan. Place pan into a larger pan and fill with hot water halfway up. Bake for 60-70 minutes. Do not over bake, the middle should have a little jiggle. Refrigerate at least 3 hours to chill thoroughly. Remove cheesecake from the pan, decorate the edge of the cheesecake with pecan halves, cut into wedges and serve with whipped cream if desired.
Pumpkin Spice Waffles with Walnuts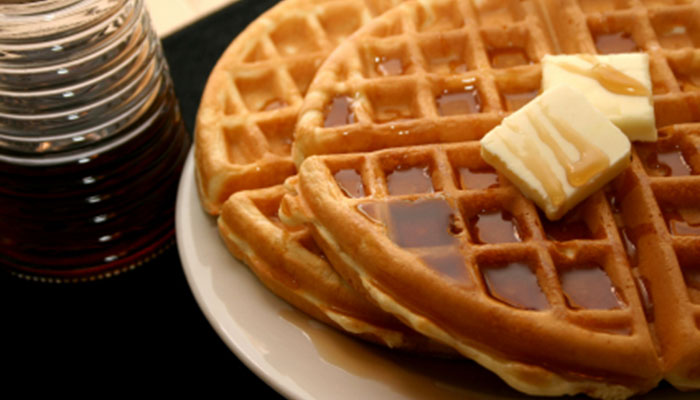 Ingredients
1 ½ cups hot water
1 ¾ cups all-purpose flour
1 tablespoon baking powder
1 tablespoon sugar
1 teaspoon cinnamon
½ teaspoon salt
2 eggs, lightly beaten
2 tablespoons vegetable or canola oil, plus more for brushing
½ cup walnuts, roughly chopped (optional)
Electric waffle maker (an 8 inch round waffle maker was used for this recipe)
Instructions
Sprinkle with cinnamon and chopped walnuts for additional flavor. Steep tea bags in hot water for 3-5 minutes. Remove bags, being sure to squeeze thoroughly. Set tea aside to cool. In a large bowl, whisk together flour, baking powder, sugar, cinnamon and salt. Add cooled tea, beaten eggs, and oil. Stir to combine. Gently fold in the walnuts (if desired). Preheat the waffle maker. When hot, lightly brush the surfaces with oil, to prevent sticking. Place about ⅔ cup of batter onto the hot waffle maker. Close top and cook for approximately 2 minutes (most waffle makers have an indicator light which will let you know when the waffle is ready), or until waffle is cooked through and surfaces are crisp. Remove to a platter. Repeat with remaining batter. Serve warm with butter and maple syrup.
More Recent Articles
---
Click here to safely unsubscribe from "Bigelow Tea Blog." Click here to view mailing archives, here to change your preferences, or here to subscribe • Privacy