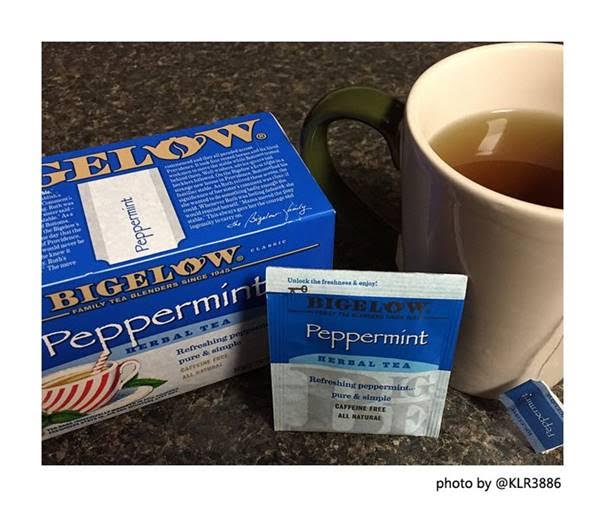 It's the most wonderful time of the yeaaar! Hello, December! This season was made for all things cozy and warm, and a cup of Bigelow Tea is no exception. Don't get us wrong — like you, we like to drink tea all year 'round, but there's something extra special about cuddling up by a fire or with a blanket, and a mug of tea. And what goes better with the cold weather outside than the cool and crisp flavor of Peppermint? (Though, we suggest enjoying that flavor inside, where it's warm…)
We love the versatility of peppermint. It's clean and invigorating, and we use only the smoothest, most refreshing peppermint in a variety of our flavors, such as Peppermint Herbal Tea, Sweet Dreams® and Peppermint Bark Herbal Tea. In fact, few people realize that peppermint is actually a hybrid between spearmint and water mint, but everyone recognizes its iconic minty-fresh scent! And when we say everyone, we mean all the way back to ancient times: dried peppermint leaves are said to have been found in several Egyptian pyramids carbon dated back to 1,000 BC. Whoa, kind of like history's first air freshener…
Since then, peppermint has also been recognized for its medicinal properties — research indicates that it may aid in digestion, and may help to ease abdominal pain and nausea, alleviate hay fever symptoms, enhance memory and increase alertness, and clear your respiratory tract. As if you needed another reason to drink a cup beyond how delicious it tastes, right?
Whether you're looking for a wake-up call in the morning with our Green Tea with Mint, or a soothing retreat before bed with some Mint Medley or Chamomile Mint Herbal Tea, it's no wonder that mint is one of our most wildly-loved ingredients. Give it a try – who knows, maybe (just, maybe!) you'll find your comfort and joy in a cup.
Don't forget to share your coziest peppermint moments by tagging #TeaProudly on your favorite social media channel or come over to www.teaproudly.com and share with us there.  Either way, let's share a mug or two together!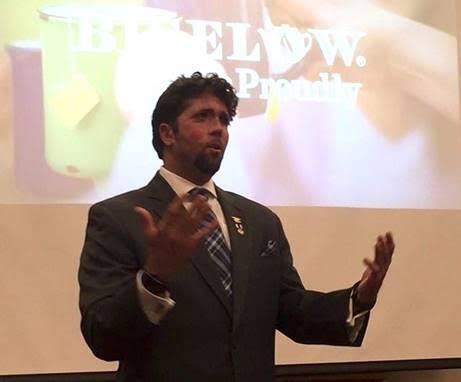 It's not every day we get to meet a hero. But a few weeks back, that's exactly what we did. Decorated former United States Navy SEAL Lieutenant Jason Redman spent a few awe inspiring hours at the Bigelow Tea headquarters in Fairfield, Connecticut, where he personally addressed Bigelow employees.   The visit was shared via live feed to our teams in Louisville, KY and Boise, ID. As founder and spokesperson of the Combat Wounded Coalition, a nonprofit organization that supports combat wounded warriors and families of the fallen, and author of the memoir The Trident: The Forging and Reforging of a Navy SEAL Officer, Jason spent some time talking about leadership, teamwork and overcoming adversity. It was an honor and privilege to hear him speak.
Jason served 21 years with the U.S. Navy — 11 years as an enlisted Navy SEAL and 10 years as a SEAL officer. In 2007, he was severely wounded in a firefight in Iraq after his team was ambushed. While recovering at Bethesda Naval Medical Center, Jason bravely faced his challenges by writing a bright orange sign to hang on his door, which became a statement and symbol for wounded warriors everywhere. It read: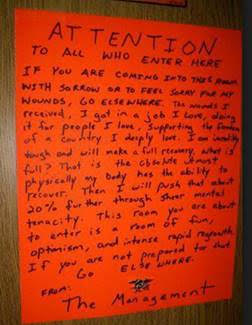 Attention to all who enter here. If you are coming into this room with sorrow or to feel sorry for my wounds, go elsewhere. The wounds I received I got in a job I love, doing it for people I love, supporting the freedom of a country I deeply love. I am incredibly tough and will make a full recovery. What is full? That is the absolute utmost physically my body has the ability to recover. Then I will push that about 20 percent further through sheer mental tenacity. This room you are about to enter is a room of fun, optimism, and intense rapid regrowth. If you are not prepared for that, go elsewhere.  
— The Management
The original sign on the door, signed by President George W. Bush, now hangs in the Wounded Ward at the National Naval Medical Center Bethesda as an inspiration to his fellow service men and women.
After 37 surgeries, Jason candidly shares his experiences and positive attitude to motivate others and to continue to raise awareness of the sacrifices of America's courageous military forces and their families. He was awarded the Bronze Star Medal with Valor, the Purple Heart, the Defense Meritorious Service Medal, two Combat Action Ribbons and the U.S. Army Ranger tab, along with numerous other personal and unit awards.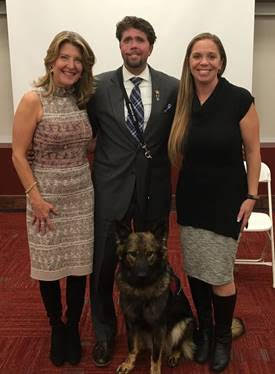 Just as Jason is committed to the U.S. military community, so are we. In 2009, we launched the "Tea for the Troops" program, which sends specially designed boxes of 100% American-grown tea from the Charleston Tea Plantation to U.S. military personnel overseas and in the States. To date, we have sent more than 5 million tea bags to service men and women. We also became an official sponsor of the USO in 2015. We deeply appreciate the sacrifices the members of our military—and their families—have made to keep our country free, and we will continue to support them, one tea bag at a time.
Thank you, Jason, for your service. You are an inspiration to us!
Top image: Jason Redman speaking to Bigelow Tea employees
Lower image (L-R): Cindi Bigelow, Jason Redman and his service dog, Kharma, and Jason's wife, Erica.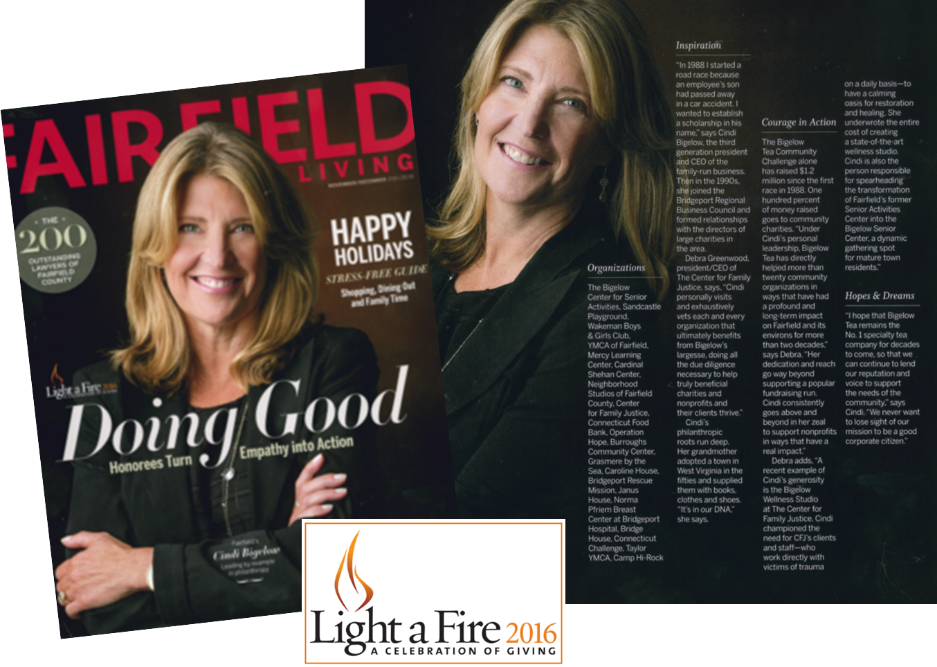 Cindi Bigelow, third generation president and CEO of Bigelow Tea, was honored with Moffly Media's Good Corporate Neighbor award at the 9th Annual Light a Fire Awards. The prestigious award is in recognition of the ongoing support, among other things, provided through the annual Bigelow Tea Community Challenge (now in its 29th year) that to date has donated $1.4 million to 20 Connecticut based charitable organizations. These organizations' programs and tireless efforts continue to provide important educational services, housing, food, crisis counseling, after-school tutoring, wellness and recreational programs to often-overlooked members of Bigelow Tea's local community.
Congratulations Cindi!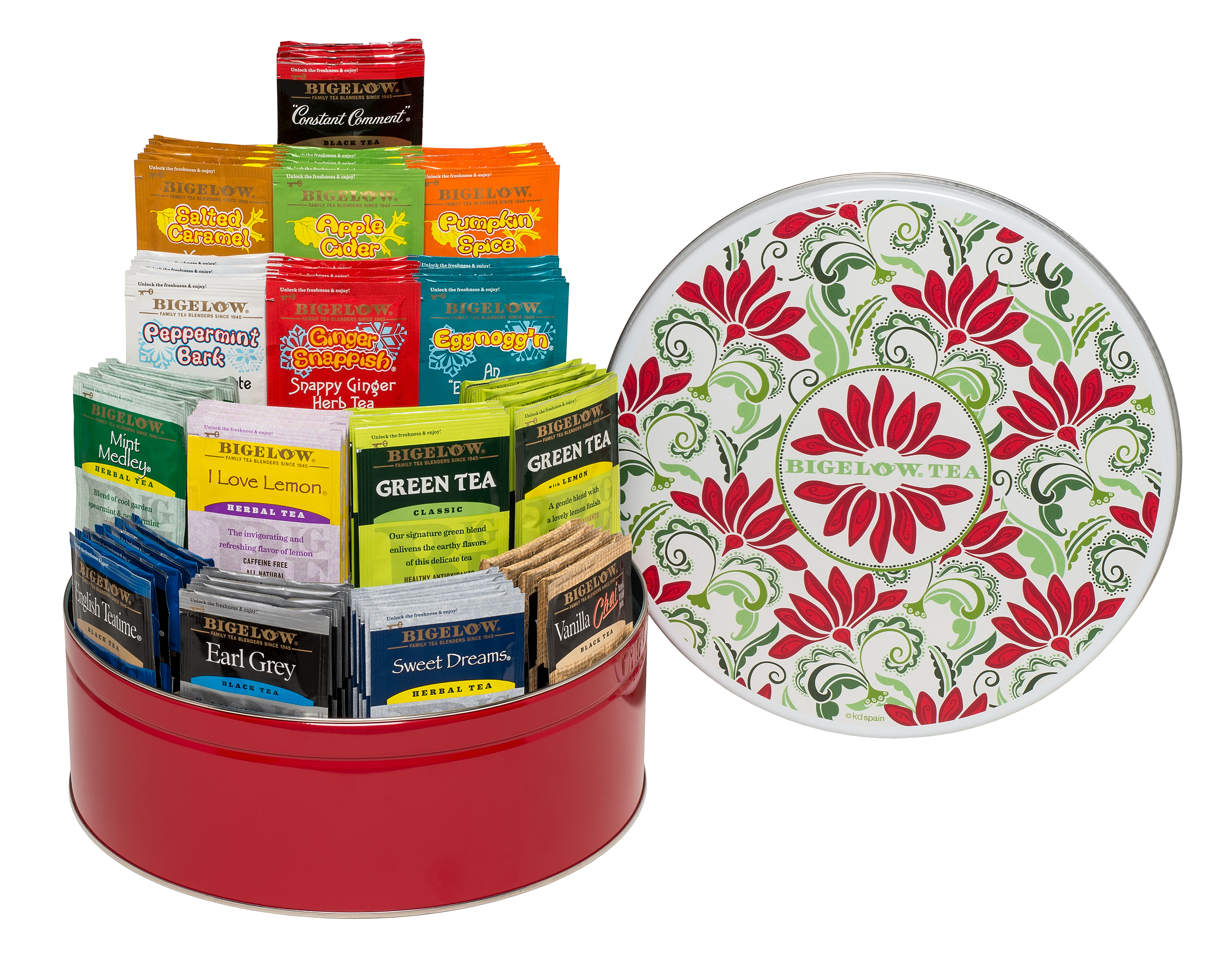 Party Hosts
Work Colleagues
Family and Friends
Gift Exchanges (Secret Santa, anyone?!)
Teachers and Bus Drivers
Neighbors
Mail Carriers …
…holy cow the holiday list is long and this probably isn't everyone, right?  A plate of homemade cookies (BTW we've got the perfect recipes for some awesome cookies!!) and a card will do the trick for most of these special people, but there must be a few on the list that really deserve something a bit more….something from the heart, a gift of pure joy. We have the perfect idea: a tin or box of Bigelow Tea, specially designed by Kate D. Spain, the artist behind the KD Spain® brand!  Woohoo, perfect right?
Kate says, "When we bring something naturally beautiful into our lives, we gain a finer connection to it, to our surroundings, and to each other. New possibilities for sources of our happiness are able to root, grow, and blossom." Wow, we could not have said it better…between the Bigelow teas and her designs, we are calling this collaboration #TeaProudly to the max!
Check out these three exclusive designs and get one or all in time for your holiday gift giving:
Limited Edition Holiday Tin of Tea (pictured above)
This limited edition tin contains an assortment of 15 of our favorite flavors that are sure to make every tea lover's heart happy. You'll receive 120 individually wrapped black teas, green teas, herbal teas and decaffeinated teas. And when you've enjoyed all the tea, you can reuse the designer tin. Refill it with tea, or use it to store special keepsakes because anything goes!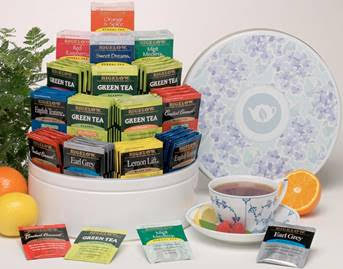 This limited edition tin features a gorgeous hydrangea floral pattern with a light and lovely style that can work any time of year. This tin also contains 120 individually wrapped black, green, herbal and holiday teas.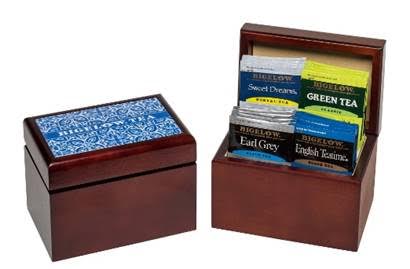 Last, but certainly not least, this limited edition wooden box measures 4″ x 6″ and contains a ceramic tile top with artwork by Kate D. Spain. The box contains 32 teabags: 8 Earl Grey,  8 Green Tea, 8 English Teatime and 8 Sweet Dreams. Once you sip your way through the tea, fill it with more of your favorite Bigelow flavors, or use it to store your recipe cards, photo prints or jewelry as a few suggestions.
Quantities are limited for each of these gifts and they'll go fast! Be sure to snag one (or two) soon—one for the recipient, one for you (obviously!).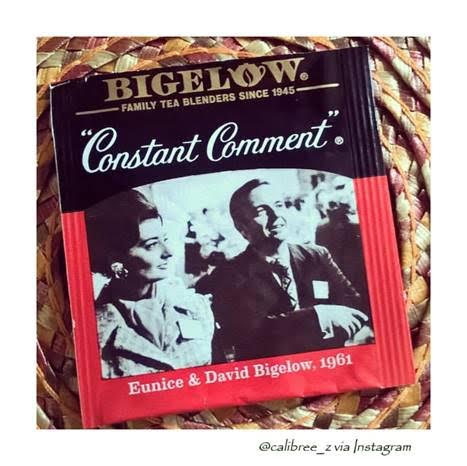 If you drink Bigelow Tea, you know that each cup is packed full of flavor, aroma and spice. Take a leap from the cup to the plate with these recipes for Moroccan Lentil Stew with Cinnamon, and Pork, Fennel and Leek Casserole. Both dishes are slam-packed with spice and flavor — thanks to the additions of Bigelow Tea Cinnamon Stick and "Constant Comment®" — and perfect for wowing your guests at the dinner table. Add a loaf of crusty bread and a pot of Bigelow Tea English Teatime to complete the experience. Just be prepared when everyone starts asking for the recipe!
Ingredients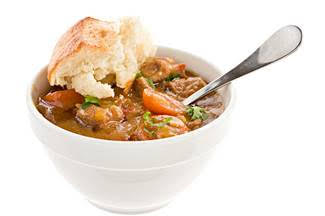 4 cups hot water
½ lb. dried brown lentils, rinsed well
2 tablespoons olive oil
1 medium onion, chopped
2 cloves garlic, chopped
3 lbs chicken, cut into bite-sized pieces
1 – 14.5 oz. can diced tomatoes in sauce
1 teaspoon salt
Freshly ground black pepper
½ cup dry roasted almonds, roughly chopped
3 tablespoon Italian flat leaf parsley, chopped
Instructions
Combine four cups hot water and four Cinnamon Stick® tea bags and allow to steep for approximately 5-7 minutes. Add tea and lentils to a large stew pot. Bring to a boil, cover and simmer for approximately 20 minutes, or until lentils are tender. Remove to a large bowl and set aside. In the same pot, add olive oil and saute onions and garlic until softened. Add cut-up chicken and cook until cooked through and no longer pink inside (about 10 minutes). Add diced tomatoes and cooked lentils to the pan and heat through. Season with salt and pepper. Add chopped almonds and parsley and serve.
Ingredients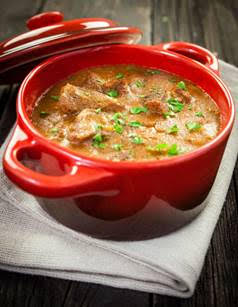 1 cup (250mL) chicken stock
1 cup (250mL) water
¾ cup (180mL) boiling water
¾ cup (180mL) apple juice
1 tablespoon (15mL) butter
1 small fennel bulb
3 leeks, cleaned, trimmed and thinly sliced
1 pound (500g) pork tenderloin, cut into medallions
¼ cup (60mL) flour
1 tablespoon (15mL) olive oil
1 – 10 ounces (280g) package of frozen peas
12 mini potatoes, unpeeled and cut into chunks
2 tablespoons (30mL) cornstarch
½ cup (125mL) mint leaves, chopped
Instructions
Preheat oven to 350ºF (180ºC). Make Constant Comment tea with ¾ cup (180mL) boiling water, discard the tea bags, squeezing to extract as much liquid as possible. Add chicken stock and set aside. Melt butter in large skillet and add fennel and leeks and saute gently for 4-5 minutes or until soft, don't brown. Transfer to a bowl and set aside. Add pork to large plastic bag; add flour, season with salt and pepper, and toss until pork is well coated. Add olive oil to large skillet and brown the pork in batches over medium heat. Remove pork and add apple juice, increase heat and stir up the brown bits from the bottom. Add the tea mixture and boil, add pork, fennel, leeks and potatoes. Cover and place in oven. Cook for 45 minutes. Remove from the oven and add peas, mix cornstarch with a little cold water to make a paste and add slowly to hot liquid. Return to oven and continue cooking until sauce thickens. Season with salt and pepper if needed and garnish with chopped mint leaves.
More Recent Articles