If you've seen the hit CBS series, The Mentalist, you probably know that handsome Simon Baker plays the role of Patrick Jane, an independent consultant with the California Bureau of Investigation who solves crimes with his skills of alert observation. And, if you've caught an episode of the show you would also know that the Patrick Jane character loves his tea! In almost every episode he drinks at least a cup … and sometimes he's shown pouring and serving it too!
Fans have become so obsessed with Baker's character and his tea drinking, that they'll even purchase teacups and saucers like the ones he uses on the show!
At Bigelow Tea we were wondering about what type of tea this sleuth character might be drinking….then we stumbled upon an interview with Tim Kang, who plays Kimball Cho on The Mentalist, an agent for the California Bureau of Investigation. He shared: "…Jane [Simon's character] probably drinks Earl Grey and [my character] probably drinks green tea…"
Very interesting…and if they truly are that intuitive–then we're sure that it's from Bigelow Tea!
Bigelow Tea's Earl Grey is a favorite of many amazing people, like @honeygirlkitch, who tweeted "So the jury is in …Bigelow Earl Grey is my favorite."
Not surprisingly, Mr. Baker, a native of Australia, adores tea in real life too. He's been quoted as saying his "turn-ons" include: "Hearing my kids laugh, a good cuppa tea, dancing with my wife."
Image via TV.com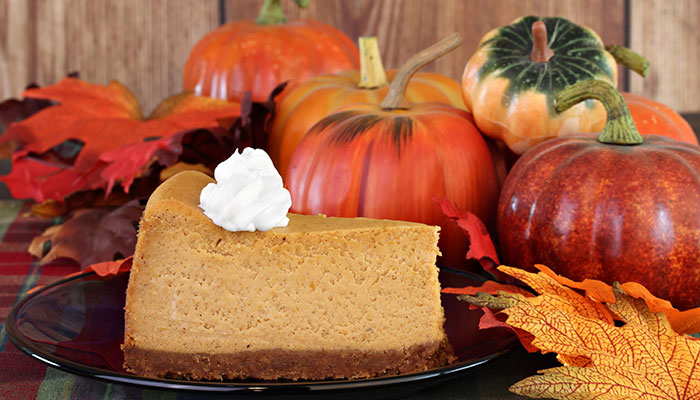 October officially marks the arrival of pumpkin season! Wholesome and fibrous, eaten or slathered on as a beauty treatment, pumpkin, studies say, is packed with essential nutrients for healthy eyes, mood, weight and skin. Plus, its distinctively sweet & savory flavor and meaty texture gives the gourd the ability to be scrumptious in every meal of the day! So keeping this in mind, check out Bigelow Tea for the perfect blend of Pumpkin Spice Tea—made with real pumpkin, cinnamon, ginger and cloves—to enjoy on its own or infuse into some incredible recipes ranging from dessert to breakfast! Happy autumn!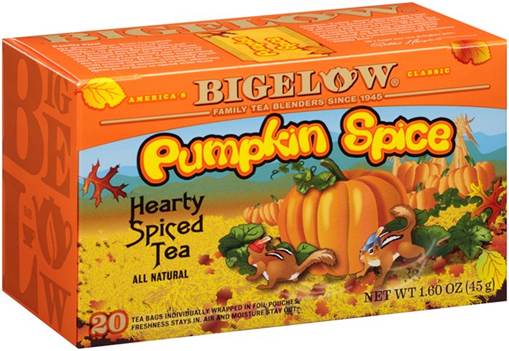 (Pictured at top)
Ingredients
4 tablespoons (60mL) butter, melted
1 ¼ cup (310mL) gingersnaps, crushed
1 tablespoon (15mL) brown sugar
1 teaspoon (5mL) cinnamon
1 ½ cup (375mL) heavy cream
24 ounces (750g) cream cheese, softened
1 ½ cups (375mL) sugar
3 large eggs
1 ½ cups (375mL) pumpkin pie filling
¼ cup (60mL) pecan halves
Instructions
Preheat oven to 325*F (160*C). To make the crust, melt the butter in a small saucepan. Mix the gingersnaps, brown sugar and cinnamon together. Add the melted butter and mix together with a spoon. Spray a 10″" (25cm) spring-form pan with cooking spray. Press the crumb mixture into the bottom. Filling: Add heavy cream into saucepan, heat over medium heat, be careful not to boil. Add Bigelow Ginger Snappish and Bigelow Pumpkin Spice tea bags and steep cream for 5 minutes. Remove tea bags and squeeze out excess cream. Set aside to cool. Beat cream cheese in large bowl with an electric mixer until fluffy, gradually add sugar, beating well. Add the eggs one at a time and beat the mixture until it is fluffy and pale. Add the cooled cream and beat well. Stir in the pumpkin pie filling, combine well and pour the cheese mixture into prepared springform pan. Place pan into a larger pan and fill with hot water halfway up. Bake for 60-70 minutes. Do not over bake, the middle should have a little jiggle. Refrigerate at least 3 hours to chill thoroughly. Remove cheesecake from the pan, decorate the edge of the cheesecake with pecan halves, cut into wedges and serve with whipped cream if desired.
Pumpkin Spice Waffles with Walnuts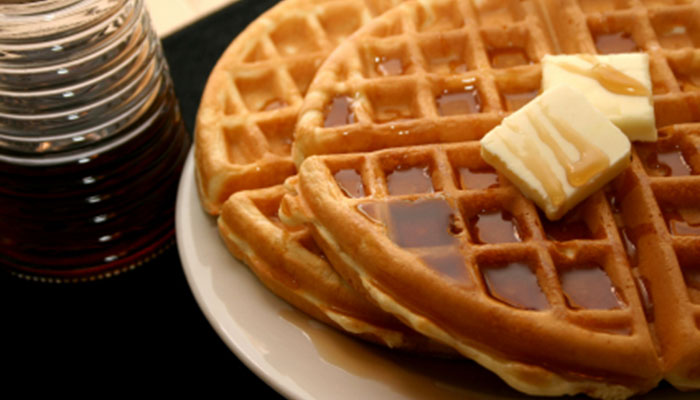 Ingredients
1 ½ cups hot water
1 ¾ cups all-purpose flour
1 tablespoon baking powder
1 tablespoon sugar
1 teaspoon cinnamon
½ teaspoon salt
2 eggs, lightly beaten
2 tablespoons vegetable or canola oil, plus more for brushing
½ cup walnuts, roughly chopped (optional)
Electric waffle maker (an 8 inch round waffle maker was used for this recipe)
Instructions
Sprinkle with cinnamon and chopped walnuts for additional flavor. Steep tea bags in hot water for 3-5 minutes. Remove bags, being sure to squeeze thoroughly. Set tea aside to cool. In a large bowl, whisk together flour, baking powder, sugar, cinnamon and salt. Add cooled tea, beaten eggs, and oil. Stir to combine. Gently fold in the walnuts (if desired). Preheat the waffle maker. When hot, lightly brush the surfaces with oil, to prevent sticking. Place about ⅔ cup of batter onto the hot waffle maker. Close top and cook for approximately 2 minutes (most waffle makers have an indicator light which will let you know when the waffle is ready), or until waffle is cooked through and surfaces are crisp. Remove to a platter. Repeat with remaining batter. Serve warm with butter and maple syrup.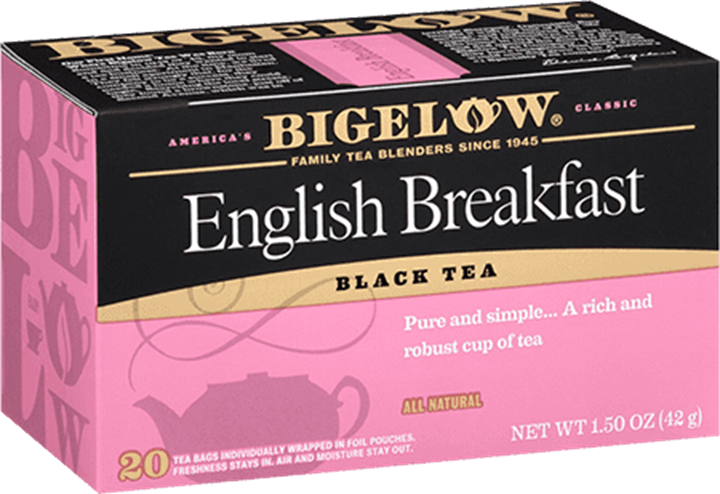 During Breast Cancer Awareness Month everyone is encouraged to learn more about the disease and to consider ways to help those affected by it. If you or a loved one has breast cancer, you know that rest and relaxation can be important parts of the healing process. So today, brew a mug of Bigelow Tea and take some time out for yourself. And since it's a month to "think pink," why not give English Breakfast Tea (in its pretty pink box) a try! It's the favorite of many tea lovers including @smartdinnerplan who tweeted about it recently!
Like mindful meditation or deep breathing, sipping a soothing cup of Bigelow Tea can help calm your mind, body and soul. Herbal blends, in particular, offer aromas and tastes that can just "take you away" from it all. Try Chamomile Mango or the truly comforting blend Sweet Dreams®. Green Tea is another option, and studies have shown that it can be a lovely and delicious part of your everyday wellness.
Because October happens to offer some of the year's prettiest weather, it's a wonderful time to walk and savor life. So, whether you march in a Breast Cancer awareness walk or just step outside and meander to the mailbox, enjoy some fresh air and think about your health this month. Bigelow Tea will be ready for you when you come back inside!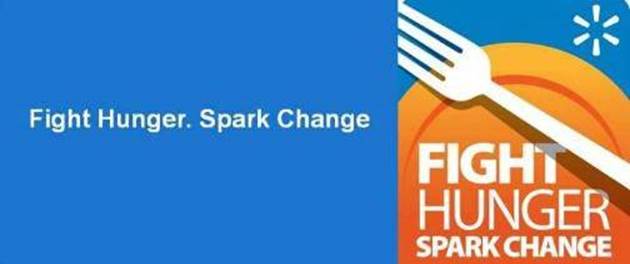 If you don't know where your community food bank is, this is the time to find out. During National Food Bank Week this week, local communities are educating people about the importance of donating and volunteering at food banks in an effort to alleviate hunger in the United States. Bigelow Tea is committed to this cause and encourages others to help their hungry neighbors too.
Near the Bigelow Tea headquarters in Fairfield, CT, the Connecticut Food Bank is an affiliate of Feeding America, the nation's food bank network. It is the state's largest centralized source of donated, emergency food in Connecticut and provides food products to more than 650 soup kitchens, shelters, food pantries and child and adult day programs.  The Connecticut Food Bank uses the money it receives from the Bigelow Tea Community Challenge to supplement its ongoing distribution of donated food during the holiday season to 164 food pantries, soup kitchens, school and other programs. In Idaho, Bigelow Tea's Boise plant is a long-time support of the Idaho Food Bank too. @IdahoFoodbank has even tweeted about Bigelow's assistance there.
With Thanksgiving just a month away, remember that not everyone is fortunate enough to be able to enjoy a "feast." With a little awareness and some donations from tea lovers all over the U.S., hungry families across the country can enjoy a special holiday season too.
Image via CTfoodbank.org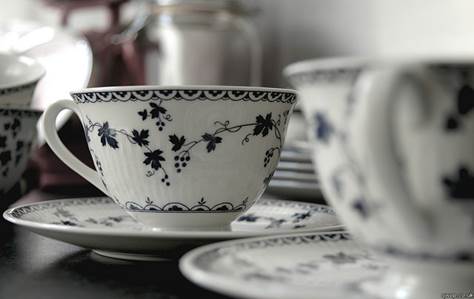 Bigelow Tea is all about a great cup of tea with so many tea varieties and different flavors  that speak for themselves! But even more than that, Bigelow Tea also promotes a healthy lifestyle and diet, and that's why October's Celiac Awareness Month is so important.
It's vital to take care of yourself and bring mindfulness to your day. Celiac Sprue (also known as gluten intolerance) is a serious medical condition you should be aware of—a permanent immune reaction to eating gluten, which is found in wheat, barley and rye. If you are concerned about gluten, it's good to know that all current Bigelow Teas are formulated to be gluten-free. There are even several Gluten-Free Recipes made with your favorite Bigelow Teas!
Fortunately Celiac disease is becoming less of mystery and has become more accurately diagnosed over recent years. This serious intolerance to gluten can actually damage the lining of the small intestines, preventing absorption of some nutrients. The condition touches as many as 1 in 150 Americans.
But if you are watching your gluten intake, you can sit back and relax with your cuppa from Bigelow Tea. BT fan Cristi tweeted that Bigelow Tea is a part of her routine because "self-care is so Important!" That's for sure!
Image by blondinrikard Via Flickr.com

More Recent Articles
---
Click here to safely unsubscribe from "Bigelow Tea Blog." Click here to view mailing archives, here to change your preferences, or here to subscribe • Privacy