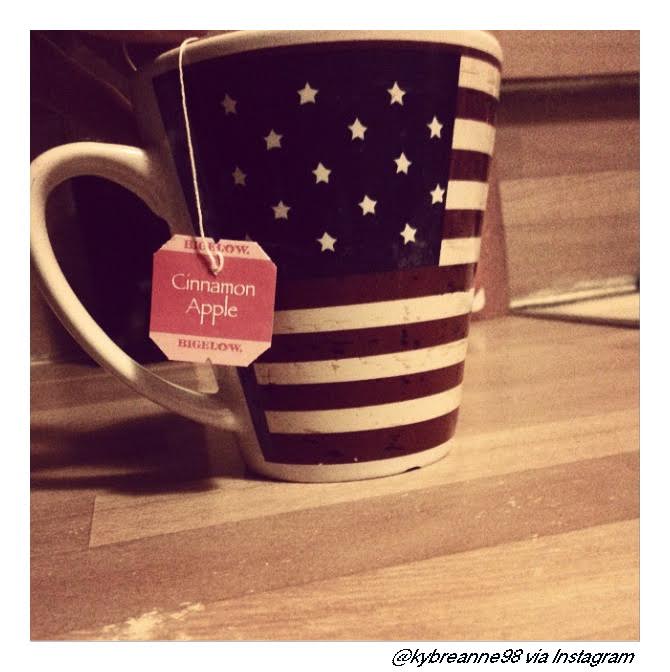 The land of the free and the home of the brave … that is America, the country we celebrate as we head into Independence Day weekend. Bigelow Tea is proud to be American-made and American-run. For three generations, the tea you love has been blended and boxed right here in the USA.  Yes, 4th of July is a great time for barbecues and iced Bigelow Tea, but it is also a day to remember those who gave the United States its independence and those who continue to fight for peace and freedom on our behalf.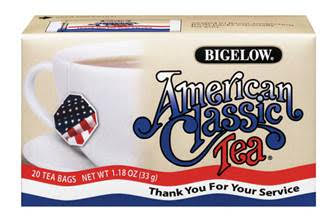 One small way Bigelow Tea supports those in the military is by sending them tea. Third generation CEO and President, Cindi Bigelow, started the Tea for the Troops program as "our way of saying thank you to the men and women fighting for our country." To date, almost 4 million bags of Bigelow Tea have been sent to troops serving in German, Iraq, Afghanistan and Korea.

In addition, Bigelow Tea was proud to recently sponsor Warrior Week in Virginia. Cindi and Tim Richmond, a veteran and Bigelow Tea Project Manager, cycled in the 80-mile Ride 2 Recovery Memorial Challenge on May 29. The ride was followed by a beach reception sponsored by Bigelow Tea.
As you enjoy a beautiful summer weekend—and possibly sip some iced American Classic or American Breakfast tea— please take a moment to remember the significance of Independence Day and all that it means to be an American.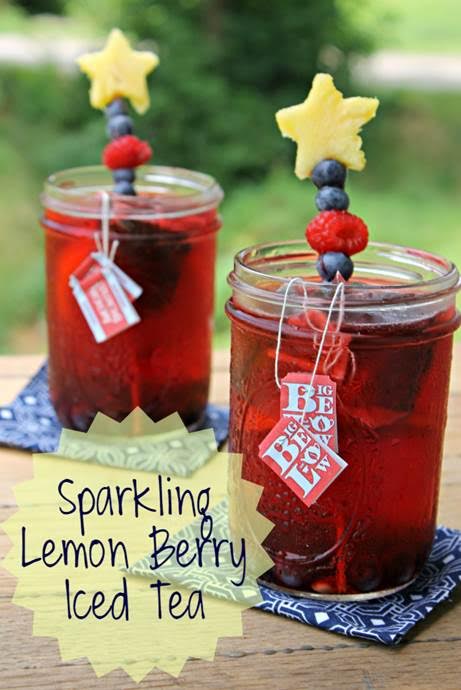 This weekend, millions of people will honor Independence Day, a time when families celebrate their American heritage … and the Bigelow Tea family is no exception. Seventy years and three generations ago, family-owned and operated Bigelow Tea planted its roots in American soil. To this day, every batch of tea is still blended and packaged in the United States, and each Bigelow Tea employee is based here, too. America is a land of opportunity, and Bigelow Tea wants to help keep those opportunities plentiful.
July is the perfect time of year to celebrate — the weather is warm, the family gatherings give everyone a reason to smile, and barbecues with endless pitchers of iced tea are the perfect excuse to get outside. Toast to the weekend with a glass of Bigelow Tea Iced Tea and Lemonade or cool down with a round of Bigelow® Frozen Iced Teas, made with Lemon Ginger Herbal Tea —a flavor that @angiejromero claims is "positively the best tea around!" If you're in the mood for a drink with a kick, try a recipe for Simply Summer White Sangria, made with Bigelow Tea Pomegranate Pizzazz or quite simply have a cup of our American Breakfast tea hot or cold!
So grab that mason jar, pick out your favorite Bigelow blend, and join in the celebration: of family, of tea, of America.
Image via The Seaman Mom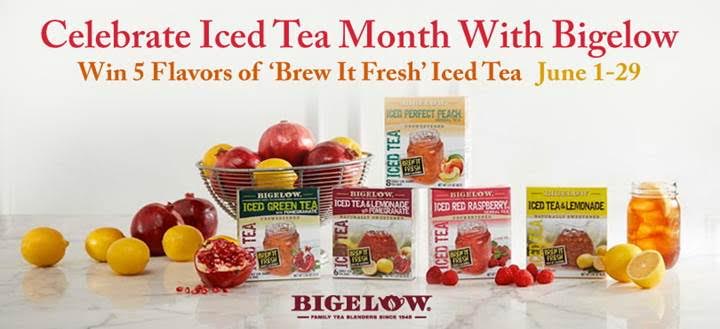 Once again we are pleased to announce the winners below of our 'Celebrate Iced Tea Month' Sweepstakes! Please allow up to 30 days to contact you, confirm your mailing address and send you our iced teas. Congrats again and we hope our tea delights you!!
Doug from South Carolina
Cheryl from Pennsylvania
Margaret from California
Felicia from New York
Deb from New York
Martha from Texas
Pamela from British Columbia
Lissette from New York
Jeanne from South Dakota
Patricia from New Jersey
Wayne from Ontario
Tanya from Ontario
Denise from Utah
Tracy from Ohio
Kelly from Florida
Laura from Kentucky
Jonnie from Alberta
Stephanie from Arkansas
Julie from Washington
Tamara from Florida
Christine from New York
Melinda from Michigan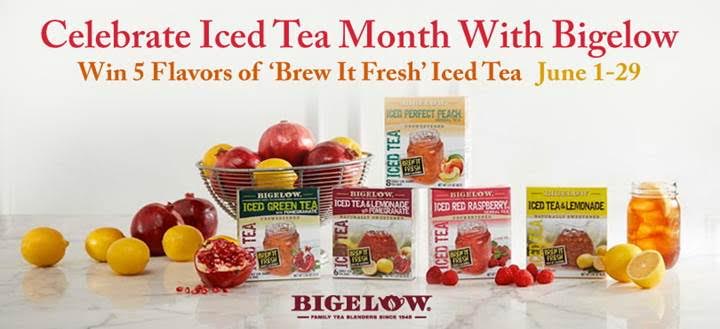 Iced Tea Month is coming to an end, and is so is Bigelow Tea's June sweepstakes! Enter TODAY by midnight EST on Facebook (or use this link if you're on a mobile device: http://woobox.com/bqu3cg ) for your chance to be one of the 22 lucky winners of 36 iced teas in these summer-ready flavors:
Iced Tea and Lemonade (6 tea bags) – For pure refreshment, indulge in the taste of rich black tea and sweet lemonade.
Iced Tea and Lemonade with Pomegranate (6 tea bags) – Pomegranate adds extra flavor to this lightly sweetened treat.
Perfect Peach Herbal Iced Tea (8 tea bags) – Captures the taste of ripe, juicy peaches. Unsweetened.
Red Raspberry Herbal Iced Tea (8 tea bags) – A blend created especially for fresh-brewed iced tea. Unsweetened.
Iced Green Tea with Pomegranate (8 tea bags) – Deliciously different and rich in antioxidants. Unsweetened.
Check the Bigelow Tea blog to see if you're among the winners, and be sure to enjoy fresh-brewed iced tea in your favorite Bigelow Tea flavors all summer and beyond for pure refreshment!

A cup of Bigelow Tea is delicious any time of day, but there's something classic and whimsical about sitting down for afternoon tea. The idea of afternoon tea is said to have originated in the early 1800s in England by Anna, the 7thDuchess of Bedford. Anna proposed having tea around four or five in the afternoon to ward off hunger pangs between lunch and dinner. Some time earlier, the Earl of Sandwich had the idea of putting a filling between two slices of bread. These habits soon became popular at social gatherings and started a trend that survives to this day: afternoon tea!
Afternoon tea takes on many forms, but more formal events include teacakes and breads, fresh fruit, cucumber sandwiches, and scones with Devonshire cream and jam (with tea, of course).  Embrace the tradition by incorporating Bigelow Tea recipes like I Love Lemon® Quick Bread and Fabulous Melon and Blueberry Fruit Salad for extra fun and flavor. And, don't forget the tea! Sip to your heart's content with a 'cuppa Bigelow Tea Earl Grey or a robust Darjeeling.
Whether you're hosting guests or taking time to enjoy a "tea party for one" like @graceglimmers, Bigelow Tea has the perfect blend to make your afternoon tea a success!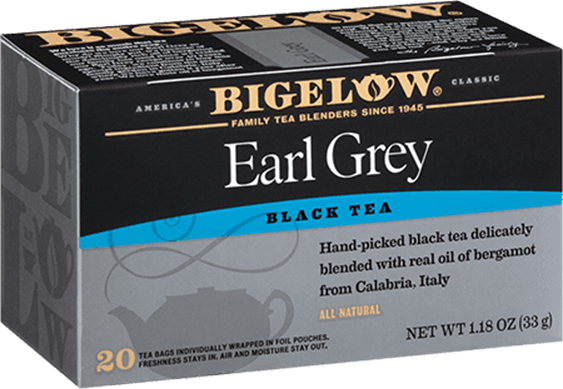 More Recent Articles