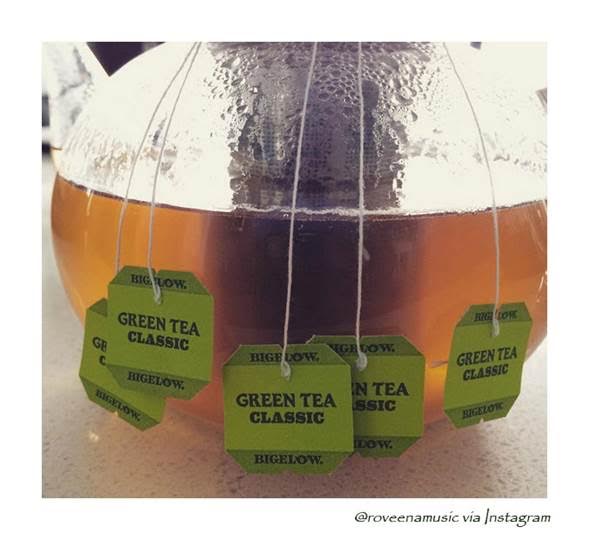 Does it seem like everyone is giving up gluten? For those with celiac disease or gluten intolerance, avoiding gluten is a must to prevent gastrointestinal and other problems. But according to studies reviewed by the American Journal of Gastroenterology, many people believe a gluten-free diet is inherently healthier. In recognition of Gluten-Free Diet Awareness Month, Bigelow Tea shares helpful tips for navigating the gluten-free aisle and determining whether you should jump on this particular bandwagon:
Gluten is a protein found in wheat and other grains such as barley, rye and triticale (a cross between wheat and rye).
If you don't have celiac or gluten sensitivity, health professionals caution against assuming that a gluten-free diet is automatically healthier or will help you lose weight. To compensate for what Consumer Reports refers to as the "oomph" that gluten gives foods, food companies often add extra fat, salt and sugar to gluten-free products. Processed gluten-free foods also may not be fortified with folic acid and other important nutrients. And beware of consuming lots of rice-based products, which can contain arsenic.
The good news for those who opt to go gluten-free is that a healthy gluten-free diet is pretty similar to a regular healthy diet. Trading processed foods for fresh items (the perimeter of the grocery store is still your friend!) is a good bet. Foods that are naturally gluten free and nutritious include fruits, vegetables, lean meats and chicken, fish, legumes, nuts, most dairy and even some grains. Quinoa, amaranth, millet, corn and teff are good ones to try.
And guess what: Tea is a gluten-free beverage, so be sure to enjoy a cuppa Bigelow Tea as part of your healthy gluten-free lifestyle!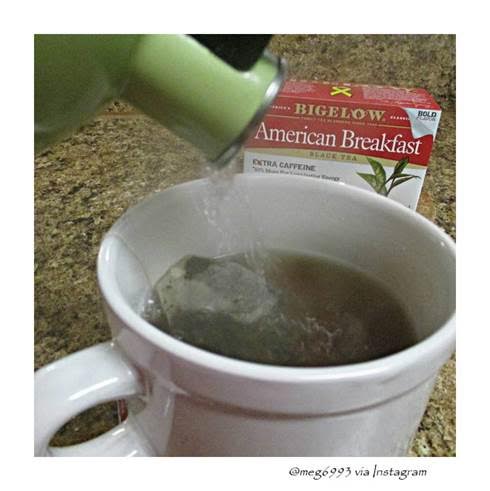 Busy lives today mean work, family, chores and fun … but 1,000 years ago people who lived in North America were busy doing other things like hunting and gathering! Guess what? They needed a little caffeine jolt just like the people of today! Bigelow Tea is sharing an eye-opening article from NPR regarding new research that shows that caffeine has been a part of North American history for at least a millennium!
Recent studies suggest that 1,000 years ago Native Americans in the American Southwest and Mexican Northwest brewed caffeinated drinks made from cacao, and the leaves and twigs of yaupon holly, a caffeinated plant. It sounds a lot like they were making early cups of tea, doesn't it?
According to the article, "Patricia Crown, a professor of anthropology at the University of New Mexico, led a team that analyzed 177 pottery samples from 18 sites in Arizona, Colorado, New Mexico and Chihuahua, Mexico. (During the analysis, scientists were not allowed to bring any caffeinated beverages into the lab, for fear of contamination). They found caffeine residue on pieces of jars, pitchers and mugs in 40 samples from 12 sites and conclude[d] that the groups 'likely consumed stimulant drinks in communal, ritual gatherings.'" Early tea parties, perhaps?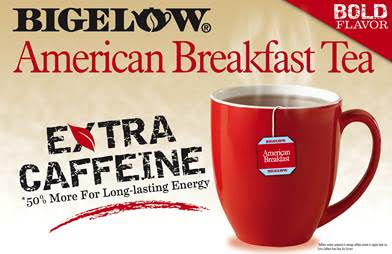 When it comes to caffeine, Bigelow Tea understands the energizing benefits that make it such an important staple in the lives of many. That's why there's now Bigelow Tea American Breakfast tea! With 50% more caffeine than your average cup of tea, this stimulating blend is crafted with the finest ingredients that jumpstart your day without the crash. Tea gets help from Theanine, a naturally occurring compound unique to tea that—when combined with caffeine—provides a sustained energy boost along with a feeling of relaxation. Enjoy three different flavors: American Breakfast Black Tea; American Breakfast Black Tea and Lemon; and American Breakfast Black Tea and Honey.
Now that we know that caffeine has been fueling people for at least 1,000 years, it makes perfect sense that drinking tea is a daily ritual for many—like @ANewDawnnBlog, who kick-starts each day with a cup! So brew yourself some tea … and you'll be in good company, enjoying a tradition that has lasted over a millennium!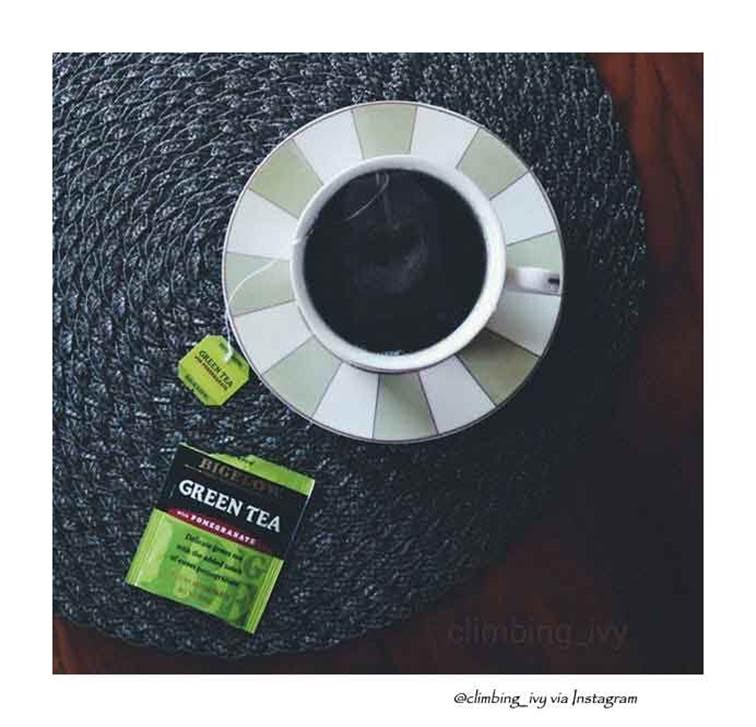 Love a good twist on a classic? Try a tangy spin on a traditional Bigelow Tea favorite with Green Tea with Pomegranate. This blend offers a touch of sweetness and a hint of tartness, and packs a punch with the power of pomegranate.
So, what is a pomegranate, anyway? A pomegranate is a round fruit with a thick, reddish skin that—when cut open—reveals ruby-red seeds called arils. High in antioxidants, potassium, vitamin C, and a great source of fiber, pomegranates are often used in cooking, juice blends, cocktails and, of course, tea!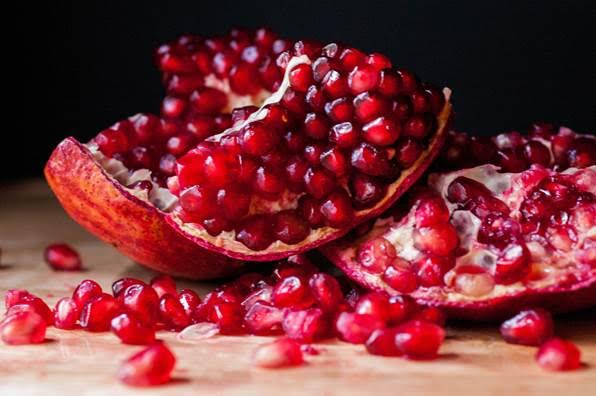 Pomegranates are also rooted in history, and have been symbols of abundance, prosperity, and fertility for thousands of years. Today, it can bring a wealth of flavor and health benefits to your cup of tea. Tea enthusiast @767Beauty says of Bigelow's Green Tea with Pomegranate blend, "Such yummy goodness from Bigelow!"
If you're looking to add a little sweetness and zest—and plain and simple yummy goodness—to your next tea time, brew a pot of Bigelow Green Tea with Pomegranate. Prefer the refreshing taste of iced tea? Nothing beats a pitcher of freshly brewed Green Tea with Pomegranate Iced Tea. Try it once and you'll be a fan forever!
Lower image from Samantha Forsberg via Flickr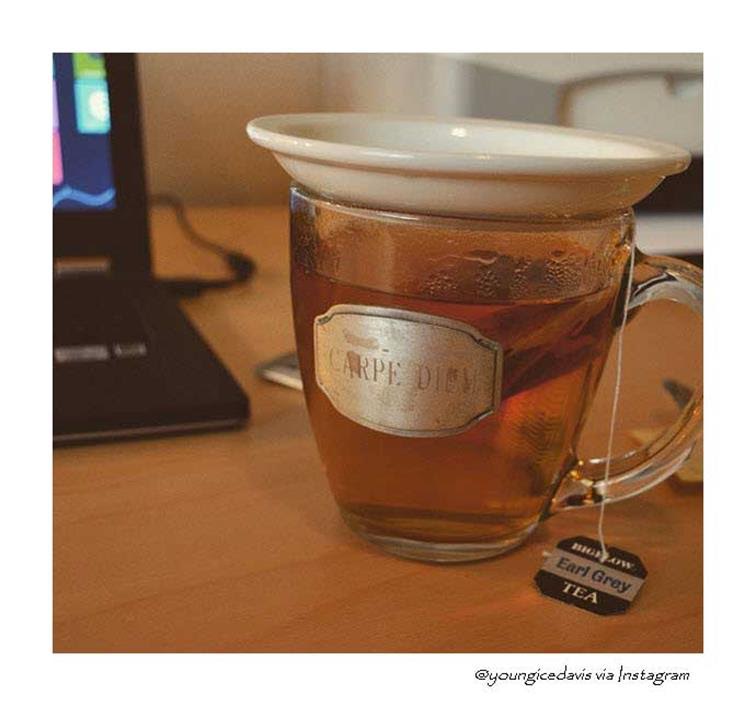 Since 1945, Bigelow Tea and its fans have made quite a few cups of tea—and waited patiently for it to thoroughly steep. Just think about how many minutes have been spent steeping tea over the course of 70 years and three generations! A research team from the UK also got to thinking about steeping and brewing … and found out that most people are actually too impatient to wait for their tea!
Yes, Researchers surveyed 1,000 people about their tea-drinking habits and found that only 16% of people let the water brew—or steep—for the recommended time of between two and five minutes.  (Proper steeping time does vary depending on the type of tea; for example, it's recommended that Bigelow Tea Lemon Ginger Herbal Tea Plus Probiotics should steep for four minutes). The study also found that nearly half remove the tea bag and leave their tea to cool for five minutes before drinking it.
If you want to be part of that 16%, just take a look at your box of Bigelow Tea! You will find the recommended brew times right on the packaging. You can also check out a video featuring Bigelow Tea's third generation President and CEO Cindi Bigelow as she demonstrates how to brew the perfect cup of tea.
If you feel like waiting for your tea to steep is time wasted, just use it as a moment to relax, like @MichellaLee27, who tweeted "Watching tea steep is one of my favorite past times. And current times, actually." A few minutes can make all the difference for that perfect cuppa tea!
Photo by @youngicedavis via Instagram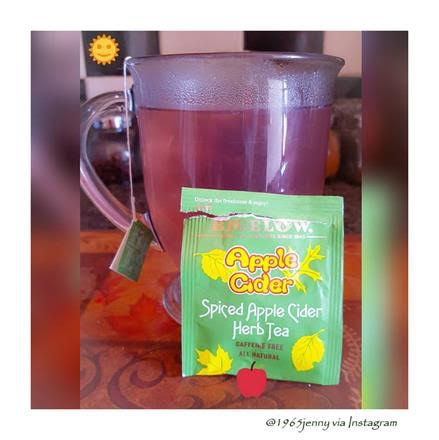 Autumn has arrived and there's no better way to warm up from a chilly day than by sipping a hot cup of Bigelow Tea. If you're looking for a taste of fall (especially today: Apple Cider day), look no further than Bigelow Tea's Apple Cider Herbal tea.
With crisp apple, hibiscus, and real cinnamon, this blend is a just-sweet-enough variety to sip all autumn (and, really, all year!) long. Other natural ingredients like orange peel, licorice root and cloves give it a nice spiciness that balances out the sweet and tangy apple flavor. And the aroma … it's quintessential autumn. As it brews you'll be taken right to the orchard! And, since Apple Cider is an herbal blend, it is naturally caffeine free, so you can enjoy it at any time of day.
Bigelow Tea Facebook fan Madeline Hawkins says her husband is a big fan of Apple Cider and "has been asking me to pick some up for him! Guess I'll have to stock up for the winter!" Great idea, Madeline! Curl up with a great book, your favorite cozy blanket, and a hot cuppa Apple Cider today!
More Recent Articles