Ahhh-chooo! Yep, that is the sound of a darn cold (or worse) that always seems to happen right about now! Shout out to Bigelow for providing some tea relief! When feeling crappy, there seems to be nothing that can help as much as sipping (or chugging if things are really bad) a steaming mug of some of the best flavors of tea on the face of the earth. Hot tea just has a way of helping you out when you are down, right? We're tea fans 100%, but we especially love how a hot mug rocks during cold and flu season…here are a few more tea tips to think about before, during and after this nasty cold season:
A cup of tea a day keeps the doctor away? Maybe just maybe! Black tea might help your body defend bacteria and viruses, according to research from Brigham and Women's Hospital and Harvard University. Drink up and drink often for the most benefits (you didn't have to tell us that advice twice!)
So what's your go-to tea when a cold or the flu has got you down for the count? Tag with #TeaProudly so we can all try your best tips!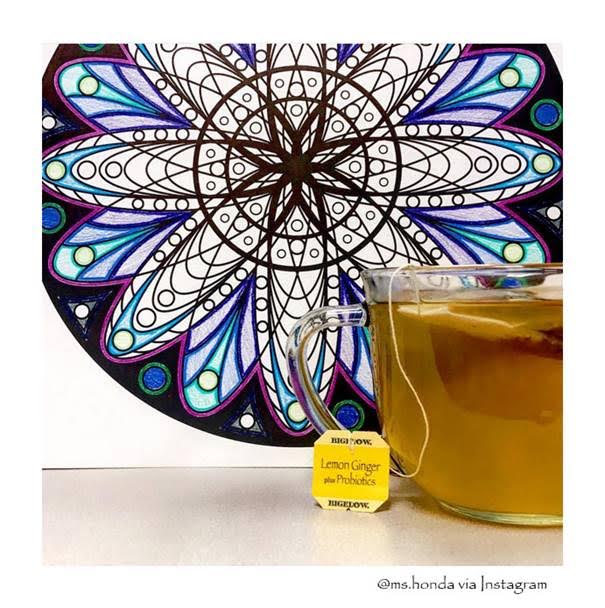 Today we are remembering the great words of #MLK: "I have decided to stick with love. Hate is too great a burden to bear." #MLKDay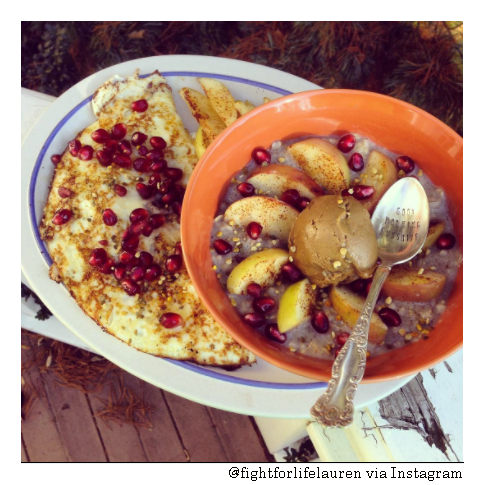 Oat-M-G, did someone say oatmeal?! January is actually Oatmeal Month, and  Bigelow Tea has some new ways to jazz up this breakfast fave! Here's an awesome idea from @fightforlifelauren (pictured above): Instead of using hot water, make your oatmeal with Bigelow Tea Apple Cider Herbal Tea. Then, add some toppings. Lauren went with cinnamon, apple slices (she microwaved hers with cinnamon), nut butter, pomegranate seeds, a drizzle of honey. Sounds delicious, right?
Another super yummy option is to prepare your oatmeal with Lemon Lift like @healthyliving.lc did. Then, add it to a bowl of Greek yogurt and top with fresh bananas, raspberries, flaxseed, granola, pumpkin butter, and any other toppings you might enjoy. Gosh, talk about reinventing a bowl of oatmeal—it's obviously all in the toppings these days, friends.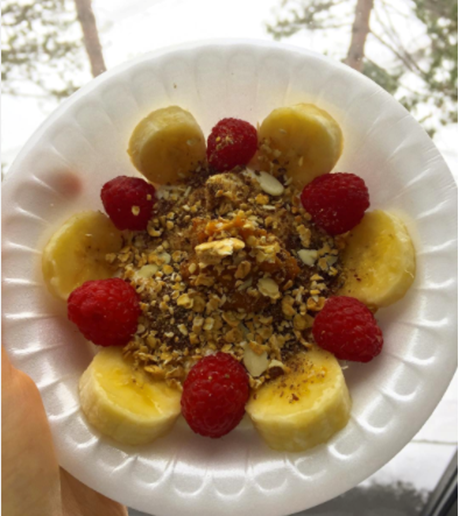 Don't have a lot of time to prep a bowl of oatmeal? Spend a weekend afternoon making a batch of muffins to grab and go on your busiest mornings. Here are two recipes to try. Mmmm…. You won't regret them!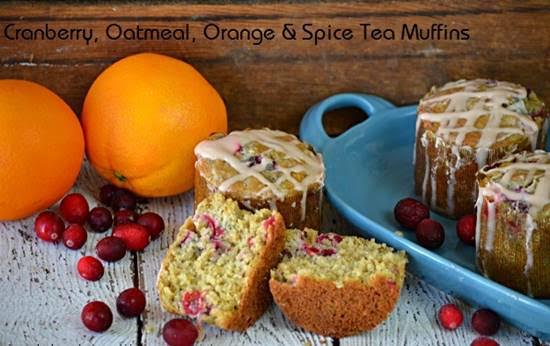 Ingredients
For the Muffins:
2 cups old fashioned oats
1/2 cup brewed Bigelow Orange and Spice Herbal Tea (two bags)
1 3/4 cups milk
zest from one orange
1 cup fresh or frozen cranberries, sliced
2/3 cup granulated sugar + 1 tablespoon, divided
2 cups all-purpose flour
4 teaspoons baking powder
1 teaspoon baking soda
1/4 teaspoon salt
2 large eggs, slightly beaten
1/2 cup vegetable oil
For the Glaze:
3 ounce cream cheese, softened
2 tablespoons butter, softened
1 teaspoon vanilla extract
1 1/4 cups confectioners' sugar
5 to 6 tablespoons brewed Bigelow Orange and Spice Herbal Tea (1 tea bag)
Instructions
For the Muffins:
Preheat oven to 375 degrees.
Line muffin pans with 24 cupcake liners OR 11 2 3/4-inch x 2-inch cupcake molds
In a medium bowl add the oats, brewed tea, milk and orange zest.
Stir to combine and set aside for 20 minutes.
Place sliced cranberries in a small bowl, sprinkle 1 tablespoon sugar over cranberries and set aside.
In a large bowl whisk together the sugar, flour, baking powder, baking soda and salt.
Add the eggs and oil to the oatmeal mixture; stir to combine.
Add the oatmeal mixture to the flour mixture; stir until combined.
Fold in cranberries.
Scoop into prepared muffin pans.
TIP: For regular size muffins use an ice cream scoop. For the larger size cupcake molds use 2 ice cream scoops.
Bake regular size 20 to 25 minutes AND large 30 to 35 minutes.
Cool on rack.
For the Glaze:
Cream together the cream cheese and butter.
Mix in vanilla.
Blend in the sugar.
Add the tea 1 tablespoon at a time until it reaches a drizzle consistency.
Use a large spoon and drizzle over muffins.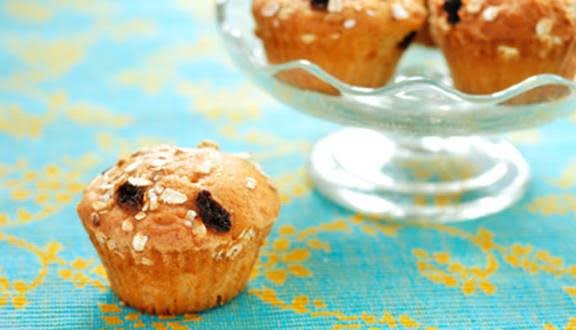 Ingredients
Tea Concentrate:
Muffins:
⅔ cup firmly packed dark brown sugar
½ cup vegetable oil
2 tablespoons molasses
2 eggs
½ cup tea concentrate
1 tablespoon freshly grated ginger
1 ½ cups gluten-free flour
½ cup old-fashioned rolled oats*
1 tablespoon baking powder
1 teaspoon baking soda
¾ teaspoon Xanthan Gum**
½ teaspoon salt
½ cup dried currants
2 tablespoons sugar
*Use Gluten Free certified Oats to be totally Gluten Free when making this recipe
Instructions
Place tea bags in a 1-cup glass measure. Add water to equal 1 cup. Steep tea for 10 minutes. Squeeze all liquid from tea bags into cup. Discard tea bags. Heat oven to 350 F. Spray 12-cup muffin tins with baking spray; set aside. In large mixing bowl add brown sugar, vegetable oil, molasses, and eggs. Mix at high speed, scraping bowl often, until creamy (1 to 2 minutes). Add tea concentrate and ginger. Continue mixing at medium speed, scraping bowl often, until well mixed (1 minute). In medium bowl stir together gluten-free flour, rolled oats, baking powder, baking soda, Xanthan Gum, and salt. Add to tea mixture. Mix just until moistened. Stir in currants. Fill muffin tins about ⅔ full. Sprinkle top of each muffin with about ½ teaspoon sugar. Bake until very light brown (14 to 18 minutes) or until wooden pick inserted in center of muffin comes out clean. Remove from oven. Cool.
If you have your own amazing recipes or just want to share your love of a hot mug of tea, don't forget to tag either with #TeaProudly so we can all get in on the fun!!
There's no question how much we love tea at Bigelow. As a proud third generation family run business, founder Ruth Campbell Bigelow created our flagship "Constant Comment" tea in 1945 and from that moment on, we have reinvented tea in America, one tea bag at a time. How, you may ask? Simple. We've been providing tea drinkers with a selection of more than 130 flavors of black, green, oolong, and herbal teas using premium ingredients and foil pouches for each tea bag. We're still American-made, we're still the same family, and we're always dedicated to giving you the highest quality, most delicious cup of tea. That's our promise. And that's what makes us #TeaProudly! 
#TeaProudly is a celebration for tea drinkers who take pride in even the littlest of tea drinking moments. Because at Bigelow, we take pride in everything we do — like this super cool new video which explains it all. 
Just as we love tea, we also love a good game of "I Spy." Wanna play? Check out the video and see if you can answer all five questions! Find our answers (if you can't guess them yourself) on our Instagram profile.  
Which tea flavor pouch is opened at the beginning of the video? 
Under our logo on the side of our building, is a defining phrase….what is it? 
What's at least one thing that we are dedicated to giving you more of? 
What do we use to protect our tea bags? 

Which fruit is featured? 
Join in on the tea conversation at www.teaproudly.com and tag your special moments using #TeaProudly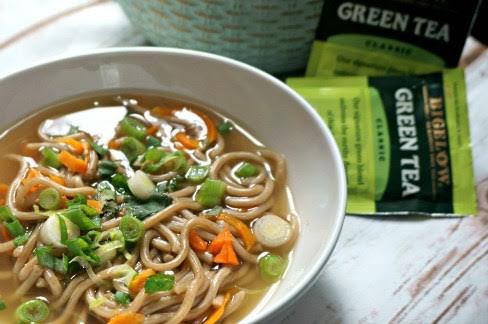 If January has gotten the best of you (freezing weather, fevers and colds, oh my!) don't cry the blues cause Bigelow Tea is all set to make the month a whole heck of a lot better. Check out all of the excitement….some serious #TeaProudly good news:
It's National Hot Tea Month!! Yeah, we agree, who needs an excuse to drink more tea…but we will take it anyway! NHTM is the perfect excuse to indulge in your fav beverage even more than usual!
And hey, we know you know this but just a reminder that tea is totally awesome on a cold, gloomy day, plus it helps soothe those scratchy throats and icky aches and pains that drive us all into hiding after the holidays!
Speaking of feeling sniffle-y and craving some comfort and warmth, those crazy calendars out there also say it's National Soup Month woohoo!!  If you're looking to really heat things up this month, we have the ultimate soup recipes made with, guess what?, Bigelow Tea! Help get over winter boredom with these fabulous (and easy! Because let's face it- you're feeling too "yuck" to spend too much time in the kitchen!) soup recipes that will become your go-to staples every winter season!
(pictured above)
Ingredients
4 cups water
4 bags Bigelow Green Tea
1 tablespoon freshly minced garlic
1 teaspoons freshly grated ginger root
1 tablespoon rice wine vinegar
1 tablespoon reduced sodium soy sauce
2 shredded carrots
7 ounces Soba Stir Fry noodles*
¼ cup chopped green onions (white and green parts)
⅛ cup fresh minced cilantro
Optional: dash of hot sauce or Sriracha
Instructions
Bring water, tea bags, garlic, ginger, soy sauce, and vinegar to a boil. Reduce heat and simmer for 10 minutes. Remove tea bags. Add in carrots (I like them with crunch, if you prefer softer, throw them in at the beginning of cooking process) and soba noodles. Cook for about 2 minutes, or until noodles have warmed through. Serve with green onions, cilantro and a dash of hot sauce if desired.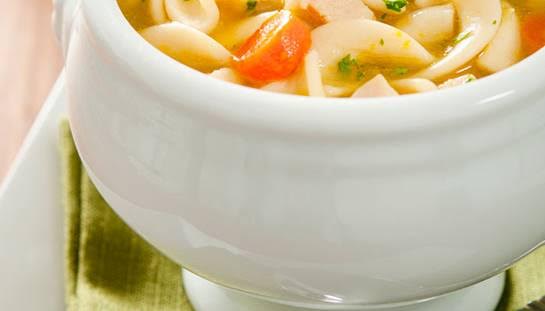 Ingredients
2 cups hot water
3*Bigelow® Ginger Snappish Tea Bags
1 cooked, skinless, boneless chicken breast (approx. ½ pound)
4 cups low-sodium chicken broth
2 cloves garlic, finely minced
2 medium carrots, thinly sliced (½ cup)
½ cup dried fine egg noodles
1 teaspoon salt
Freshly ground pepper
⅓ cup fresh parsley, chopped
Instructions
Combine 2 cups of hot water and 3 Bigelow® Ginger Snappish Tea Bags and allow to steep for approximately 5 minutes. Meanwhile, using 2 forks, shred the cooked chicken breast. Use one fork to anchor the chicken breast to the cutting board, while using the other fork to 'scrape' the chicken into shreds. This is easily achieved if you shred along the grain of the chicken breast. Alternately, you may simply cut the breast into bite-sized pieces. In a medium saucepan or soup pot, combine the chicken broth and the tea over high heat. Add the garlic, carrots, shredded chicken and noodles. Bring to a boil, then reduce to a simmer. Simmer for approximately 7 to 10 minutes, or until carrots are tender and noodles are cooked. Add salt and pepper to taste. Add chopped parsley and adjust seasonings as necessary. Ladle into bowls and serve hot. Note: To make this soup ahead of time, proceed as directed but omit the noodles and the fresh parsley. Store in refrigerator for up to 2 days, or freezer for up to 2 months. When ready to serve, pour into a medium saucepan, add noodles, bring to a boil, then reduce heat and simmer until noodles are cooked and soup is heated through. Adjust seasonings, add fresh parsley and serve.
More Recent Articles