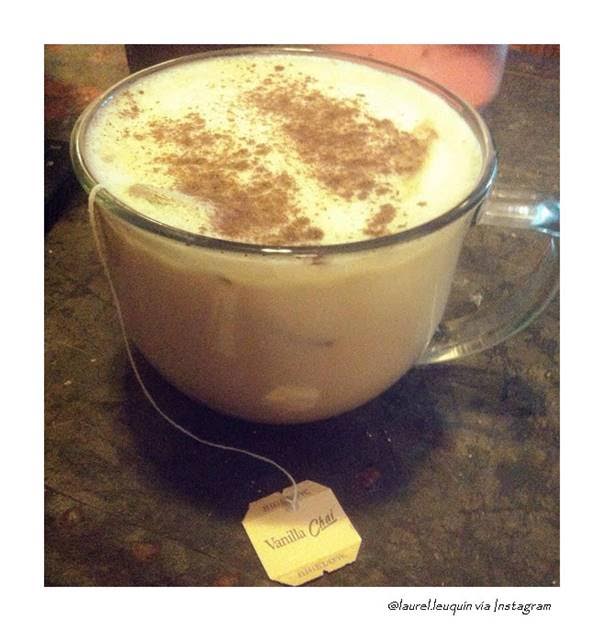 One thing we know for sure is that with so many people drinking tea (82% of Americans to be exact—that's more than 158 million people), there are that many ways to enjoy a cup! That is one of the beautiful things about drinking tea…you can customize each mug to your heart's delight and include milk, honey, sugar or even a slice of lemon! But while some parts of making the perfect cup of tea are a must like putting in the tea bag in first before pouring over the water (says president and CEO Cindi Bigelow who has three generations of tea experts behind her!), other options are completely up to you which always makes tea drinking an lovely adventure!
One hotly talked about topic in our tea drinking community (which we call #TeaProudly which is an awesome community of tea drinkers which we will tell you about a bit later so stay tuned!) is do you add milk or not to your tea, so let's share some info about this very topic. If you like to add milk, do you know when to add it in? Does the milk go in first or the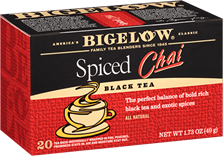 hot water? The British Standards Institute (BSI) believes to have the answer to this tea lover debate. They state that the milk is best poured before the tea and that the brewing water should not be above 185°F to prevent scalding the milk. Of course not all tea drinkers agree with the BSI. Author George Orwell prefers pouring his milk in last to control the ratio of milk to tea. Even Queen Elizabeth II reportedly enjoys her tea by adding the milk afterwards! So many options….we love that!
Hey and did you  know that Bigelow Tea's delicious Chai tea varieties are amazing with milk and sugar like our classic Spiced Chai? Facebook Fan Virginia Gordon thinks Vanilla Chai is "delicious with a splash of cream and teaspoon of sugar!" Thanks Virginia for sharing your #TeaProudly thought. The good news for everyone is that whether you add your cream or milk before or after the hot water, our spicy chai flavors will make an amazing cup so grab a mug and well, #TeaProudly!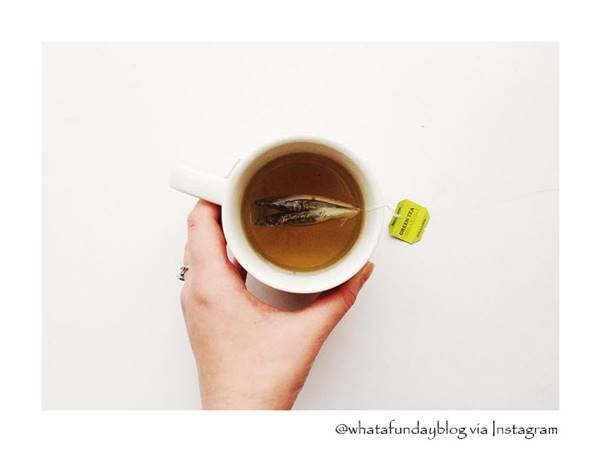 Yes, Bigelow Tea in a big mug can warm your hands and the aroma is simply delicious for your nose … but it's the mouth that really gets to enjoy Bigelow Tea. Outside of sipping Bigelow Tea's rich flavors, there's news that Green Tea may actually keep your mouth safe from some forms of cancer!
A new Pennsylvania State University study published in Molecular Nutrition and Food stated that green tea might kill oral cancer cells and boost healthy ones. In the study the authors found that a compound in green tea triggers a process in the cancerous cells' mitochondria that leads to early cell death. A previous study in 2002 found that green tea could induce cancer cell death and suggested "regular consumption of green tea could be beneficial in the prevention of oral cancer."
Amazing, right?! So, in addition to tasting good, keeping you warm and making special memories, Bigelow Green Tea might keep your mouth healthy. Another reason to proudly enjoy Bigelow Tea!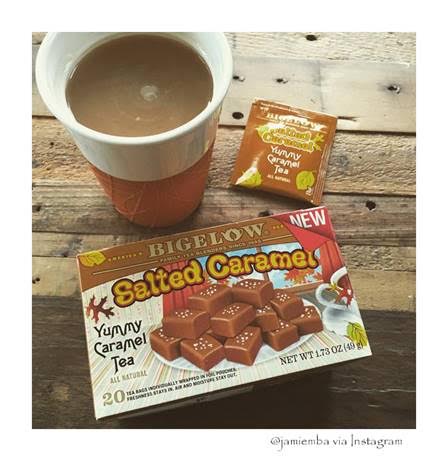 Who can't resist decadent flavors?? And with the weather getting cooler outside in much of the U.S., this is the perfect time to enjoy all things sweet, buttery-rich and just a bit toasty….make way for Bigelow Tea caramel flavors—Vanilla Caramel, Caramel Chai and Salted Caramel.
Besides delicious, what exactly is caramel? And why on earth do we love it so much!? From sauces to wrapped treats, caramel is a versatile piece of sweetness. While its exact history is unknown, it is documented that around 1650, American settlers were making hard candies in kettles. Between this time and the early 1880s, candy makers began to add fat and milk while boiling sugar and water, creating what is now known as ooey-gooey caramel. Caramel candy's popularity increased greatly when Milton S. Hershey opened Lancaster Caramel Company in 1886. Soon after, caramel candies were being shipped across the United States and to Europe.
Jump ahead to today and check out the real pieces of caramel in each of the Bigelow Tea caramel flavors. Salted Caramel is an all-natural blend of hand-picked black tea and delicious caramel with just a hint of salt; Caramel Chai Black Tea is made with spices, real bits of caramel and molasses crystals; and Vanilla Caramel is smooth and sweet, thanks to the rich caramel and creamy vanilla ingredients. Pick a flavor, add a splash of cream and a hint of sweetener and you'll have the perfect bit of awesomeness in your mug of tea!
If that's not enough to lock down your caramel craving, check out one of these crazy amazing Bigelow Tea recipes showcasing caramel. Hey, why not pair a caramel tea with a slice of Vanilla Caramel Bread Pudding and make all your dreams come true!
Vanilla Caramel Bread Pudding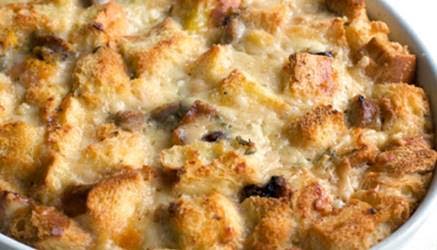 Ingredients
14 or Bigelow® Vanilla Caramel or Bigelow® Eggnogg'n Tea Bags
2 ¼ cups (560mL) whole milk
½ cup (125mL) unsalted butter
1 cup (250mL) sugar
5 large eggs, lightly beaten
1 teaspoon (5mL) cinnamon
1 teaspoon (5mL) vanilla extract
½ cup (125mL) raisins
16 slices of challah bread
Vanilla Caramel Sauce:
¼ cup (60mL) unsalted butter
½ pound (224g) powder sugar
Reserved tea infused milk
Instructions
Preheat oven to 350ºF (180ºC). Heat milk over medium heat, add Bigelow® Tea Bags (either Vanilla Caramel or Eggnogg'n) and raisins; remove from heat and let steep fo 5 minutes. Remove tea bags, squeezing out all excess milk/tea. Strain tea infused milk; reserve raisins. Measure out 2 cups (500mL) and set aside the remaining tea infused milk for sauce. In food processor, combine butter and sugar until well blended; add eggs, 2 cups (500mL) tea infused milk, cinnamon and vanilla. Continue processing until well blended. Lightly butter a 9″ x 13″ baking dish. Break up the bread into 1″ cubes and layer in pan. Scatter the raisins over the top. Pour tea/milk mixture over the bread; soak for 5 to 10 minutes. Gently press down on the bread to make sure it is covered by the mixture. Cover with foil and bake for 35-40 minutes. Remove foil and bake for additional 10 minutes to brown top. The pudding is ready when the custard is set, but still soft. Make the Vanilla Caramel Sauce while bread pudding is baking, by melting butter over medium heat in a saucepan. Add powdered sugar to the melted butter and whisk to blend. Add reserved Vanilla Caramel or Eggnogg'n infused milk to taste. Pour sauce over the baked bread pudding and allow to soak in 2-3 minutes. Serve warm.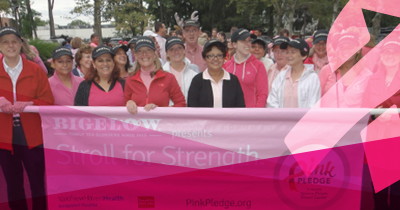 October marks National Breast Cancer Awareness Month, and Bigelow Tea is proud to "think pink" and commemorate the countless women, men and families who have been impacted by the disease. While we honor survivors, patients, and those who are no longer with us, we also pay tribute to advances made in medical research and patient care over the past three decades.
Breast cancer is the most common cancer among American women, with the exception of skin cancers. About 1 in 8 women in the U.S. will develop invasive breast cancer during their lifetime, and according to the American Cancer Society, there are more than 2.8 million breast cancer survivors in the United States. National Breast Cancer Awareness Month is a way for medical professionals, service organizations and government agencies to collaborate to promote breast cancer awareness, share information about the disease and provide greater access to services.
While most people are aware of breast cancer, many forget to put a plan in place to detect the disease in its early stages and encourage others to do the same. This October—and every month—make the commitment to take the steps to protect yourself and your loved ones. A few of the steps that are key for early detection include mammograms, clinical breast exams and monthly breast self-exams. Habits that can help reduce your risk are maintaining a healthy weight, staying physically active, eating fruits and vegetables, not smoking, and limiting alcohol consumption.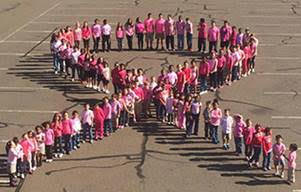 In Bigelow Tea's home state of Connecticut, the rate of incidence of breast cancer is among the highest in the nation. That's just one of the many reasons why we're so passionate to promote breast cancer awareness and early detection. This year, we are a proud sponsor of the Pink Pledge, a month-long, community-wide effort to raise funds for the Norma Pfriem Breast Center, which provides medical excellence, compassionate care and lifesaving programs to all women, regardless of their ability to pay. On October 1, we were at the Pink Pledge kickoff event, which included a Stroll for Strength — a walk by survivors, family members and supporters — and ceremony that culminated in the activation of pink street lights in downtown Fairfield, Conn.
Join us in recognizing Breast Cancer Awareness Month and raise a cup to those working so hard to put an end to this prolific disease.
Top and bottom images provided by Pink Pledge.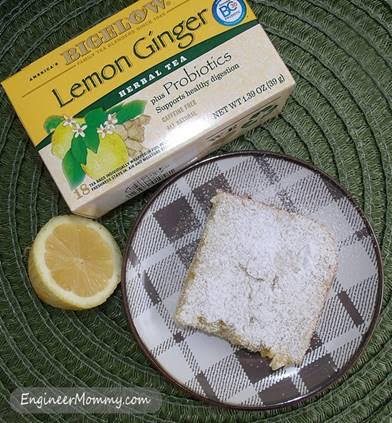 Our Lemon Ginger Herbal Tea plus Probiotics is a favorite at Bigelow Tea. Tart and full of that gingery "zing," it stands out not only for its taste but also because it's good for your digestion due to the probiotic BC 30 we have used in this amazing blend. Facebook fan Sheryl Ann Lipp says her favorite way to enjoy it is with a teaspoon of warmed honey. Mmmm, sounds great!
At Bigelow, in addition to sipping tea, we love sharing creative, delicious ways to enjoy our 130 varieties. We especially love it when our fans like Engineer Mommy can take a blend that supports healthy digestion and fold it into a sweet dessert treat!
We bet these simple, sweet and tangy Bigelow Lemon Ginger Bars might become a new favorite! Check out the recipe and enjoy!
Ingredients
For the crust
1 cups Flour
1/4 cup Sugar
1/2 cup Butter
For the filling
3/4 cup Sugar
1/3 cup Flour
3 Eggs
3 tbsp. Steeped Tea: Bigelow Tea Lemon Ginger
1/4 tsp. Ginger Powder
Zest And Juice Of 2 Lemons
Powdered Sugar, For Topping
Instructions
For the crust
Preheat the oven to 350 degrees F. Grease a pan with butter.
Combine the flour and sugar. Add the butter and stir until it resembles small crumbs.
Bake for 20 minutes. Let cool.
For the filling
Combine the sugar, ginger powder and flour in a mixing bowl. Add the eggs and use a whisk to combine.
Add the lemon zest & lemon juice and combine.
Steep 1 Bigelow Tea Lemon Ginger teabag in a 1/2 cup boiling water. Let cool. Add 3 tbsp of the steeped tea to the lemon filling mixture.
Pour over crust. Bake 20 minutes.
Let cool and top with some powdered sugar. Cut into squares.
More Recent Articles