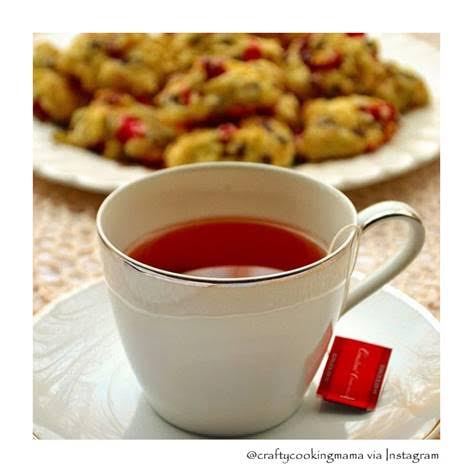 While tea is wonderful to sip, it's just as delightful when used in the kitchen. The Farmer's Almanac website encourages their readers to "eat your tea" and we couldn't agree more! Tea is tasty in desserts, dinners, side dishes… the list goes on. We find that tea enhances just about any meal!
Luckily, cooking with Bigelow Tea doesn't require professional chef expertise. For instance, The Farmer's Almanac suggests substituting brewed tea for water or broth in recipes, or brazing meat with brewed black tea. Plus, marinating seafood in tea may help dampen the "fishy" smell. As @Sabersenshi says, "Cooking with tea adds so much flavor to things." So if you haven't started using tea in your recipes, now is the time!
Bigelow Tea had its beginnings in the kitchen, after all. It's where in 1945 Ruth Campbell Bigelow worked tirelessly in her New York brownstone to create "Constant Comment," the first of many delicious teas from Bigelow.
Wondering how to take Farmer's Almanac's advice? Check out these mouthwatering recipes which are perfect for spicing up late season grilling. We especially love grilled meats marinated in tea – it's easy to do and the results are yummy. Let us know below how you are inspired to add tea to your cooking!
Ingredients
Dressing Ingredients:
1/4 cup brewed Bigelow English Teatime Black Tea (or brew more and then use some for the dressing and some for the marinade)
1/4 cup extra virgin olive oil
1/4 cup red wine vinegar
1 tablespoon honey
3 tablespoons sugar
1 teaspoon lemon juice
1/2 teaspoon Kosher salt
1 1/2 cups raspberries
2 tablespoons blueberries
Marinade Ingredients:
1 cup brewed Bigelow English Teatime Tea
2 tablespoons honey
1/4 cup extra virgin olive oil
Salad Ingredients:
4 boneless skinless chicken breasts
4 cups spinach and Arugula lettuce leaves (these are easy to find already mixed together in the pre-made salad containers)
1 cup raspberries
1 cup blueberries
1 cup chopped walnuts, toasted in 1 teaspoon of butter
1/2 cup blue cheese crumbles
Instructions
For the dressing:
Add tea, olive oil, red wine vinegar, honey, lemon juice, and kosher salt to a food processor or blender. Give it one spin to start mixing ingredients. Add raspberries and blueberries and process on high until it's completely mixed and the fruit is pureed all the way. Refrigerate overnight.
For the marinade and chicken:
Combine remainder of brewed tea (about a cup), olive oil, and honey in a large dish with a secure lid. Shake and mix well. Uncover and add chicken. Cover and flip container to ensure that chicken is coated in marinade. Refrigerate overnight.
To assemble salad:
Toast walnuts in butter and allow to cool. Remove chicken from marinade and discard marinade. Grill chicken until done. Allow to cool for ten minutes before thinly slicing into strips. Lay out your salad and top with raspberries, blueberries, walnuts, blue cheese and chicken strips. Drizzle with salad dressing.
May we suggest Iced Tea and Lemonade to pair with this recipe?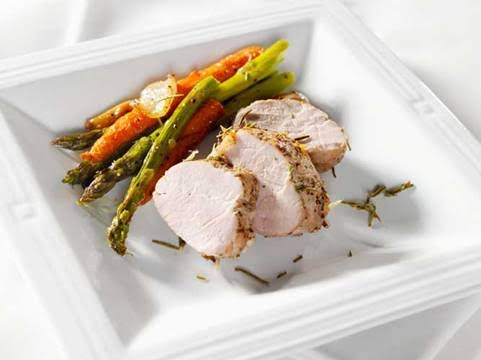 Ingredients
5 cups boiling water
4 Bigelow Green Tea with Mango Tea bags
4 Bigelow Green Tea with Peach Tea bags
4 Bigelow Green Tea with Pomegranate Tea bags
1.2-1.5 lb. Pork Tenderloin whole
1 clove garlic, smashed
½ small yellow onion cut into in wedges
1 tablespoon vegetable oil (use only if oven baking tenderloin)
2 tablespoons Balsamic Vinegar (can substitute cider vinegar)
1 tablespoon honey (can substitute brown sugar)
1 tablespoon veg. oil
¼ teaspoon dried thyme
¼ teaspoons of both Salt and pepper
Instructions
Bring 5 cups of water to a boil and add the Bigelow Tea bags, the clove of garlic and the onion wedges. Remove from heat and cover – let steep for 20-30 minutes. Remove tea bags squeezing well and discard, along with the garlic and onion. Divide the tea mixture -set aside 2 cups for the glaze to the remaining 3 cups add the vinegar, honey, oil, thyme and salt and pepper- stir. This will be the marinade for the pork. Once the marinade tea has cooled down somewhat, pour into a large plastic bag; add pork tenderloin and marinate for 5 hours or overnight in refrigerator. While pork marinates make the glaze and ready your vegetables both can be set aside or refrigerated covered overnight. Heat your grill to medium; while grill is heating drain tenderloin from marinade -discard marinade- and wipe loin dry, set aside. Pour ½ cup of the reserved tea glaze into a small vessel you can work out of. Place pork on grill. Cook for 8-10 minutes on medium. Open grill and brush liberally with tea glaze. Reduce grill to low, continue to cook pork over the next 8-10 minutes, turning pork and coating well with glaze, 2 or 3 more times, until thermometer reads 160′. Remove from heat and let rest for 8-10 minutes. Slice into medallions and serve with glazed vegetables.
Instructions for Oven Baking Pork
Prep time: approx. 10 minutes Oven time: 20 minutes
Preheat oven to 325°F. Heat oil in a large oven-proof skillet over medium-high heat. While pan is heating, drain tenderloin from marinade -discard marinade- and wipe loin dry. Carefully add tenderloin to hot pan and cook, turning until brown on all sides, 5-6 minutes. Baste liberally with tea glaze and place skillet with pork in oven and bake for 8 minutes. Open oven and baste liberally with tea glaze again. Continue to cook until thermometer reads 160′, about 12-15 minutes, basting pork again when you remove it from the oven. Transfer pork tenderloin to platter and let rest for 8-10 minutes. Slice into medallions and serve with glazed vegetables. Yield: Serves 4 
Tea Glaze:
2 cups reserved Bigelow Tea mixture
3 tablespoons honey
½ teaspoon black pepper
Pinch of salt
Bring remaining 2 cups of tea mixture to a simmer over med-high heat and cook to reduce. After 45 minutes or so, check it you want to have about 1 cup no less. Add honey, salt and pepper and set aside for later or refrigerate overnight.
Seasonal Vegetables with Bigelow Tea Glaze:
1 medium Acorn squash
2 medium carrots, peeled
2 medium Parsnips peeled (can substitute yellow onions)
2 tablespoons butter, salted
½ cup reserved tea glaze
Heat the oven to 400 degrees. Place the butter in an oven proof pan and put in oven to melt while oven pre- heats. Cut the carrots and parsnips on the diagonal into 2 inch pieces. Slice the acorn squash into rings 1 inch thick rings-then cut in half. Remove the pan from the oven – place all the vegetables in pan and carefully toss with butter to coat. Bake for 10 minutes. Open oven and pour the tea glaze over the vegetables, stirring well to coat. Continue to bake until vegetable are tender and can be pierced by a small knife point, approximately 15-20 minutes.
May we suggest English Teatime to pair with this recipe?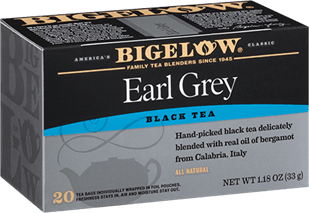 Hey Bigelow Tea fans, do you know what gives Earl Grey Tea its distinct taste? It's bergamot oil, which comes from bergamots, a type of citrus fruit. Who knew? Not all bergamots are the same … and in producing Bigelow Tea's famous Earl Grey, the Bigelow family sources bergamot oil directly from a long-time family-owned orchard in Calabria, Italy, where bergamots naturally thrive. The oil is extracted during the fruit's harvest season, so that the batches are first pressed and purely fresh. As a third-generation, family run business, Bigelow Tea makes great efforts to ensure that the ingredients used in all of their blended teas come straight from quality sources.
If you simply can't get enough of Earl Grey (like Chris Costello, who tweeted about his four cups a day routine!), consider taking an even cooler approach by making this Earl Grey Ice Cream recipe. Savor it and let us know what you think!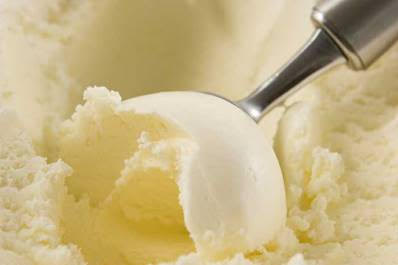 Ingredients
2 cups half and half
2 cups whipping cream
8 bags Bigelow Earl Grey Tea
1 ⅓ cups sugar
2 teaspoons real vanilla extract
½ teaspoon salt
Instructions
In 2-quart saucepan combine half and half and whipping cream. Over medium-high heat bring to a low boil (5 minutes). Remove mixture from heat and add 8 tea bags; steep for 5 minutes. Remove bags from cream and squeeze to remove liquid; discard bags. Place tea mixture, sugar, vanilla, and ½ teaspoon salt in mixer bowl; beat on medium speed until sugar dissolves (1 minute). Place in refrigerator; cool completely. Once cool, place tea cream mixture in bowl of ice cream maker; process as directed. Suggestion – top with Earl Grey Milk Chocolate Sauce.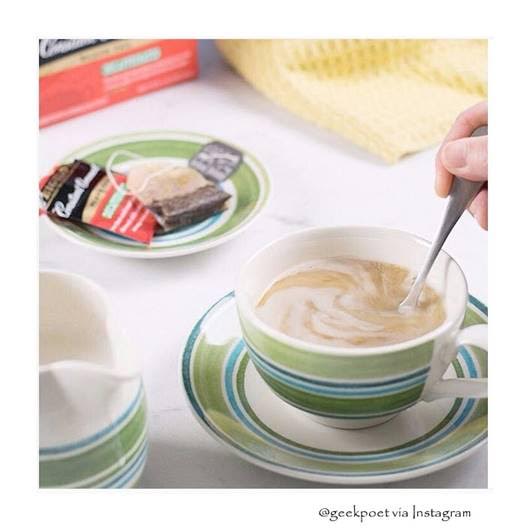 For over 70 years, Bigelow Tea has always kept a pulse on our tea drinking audience so when tea drinking habits shift, we like to keep up with the trends. We have been reviewing some fascinating stats from The Tea Association of the USA on tea drinking habits so grab your favorite Bigelow cup of tea and take a look at what we found:
One finding by The Tea Association of the USA survey is that 82 percent of Americans drink tea and women are putting their teakettles on a bit more than men but not by much which is wonderful (85 percent vs 79 percent). Of course, Bigelow also knows that tea lovers often like to include an add-in with their favorite beverage. According to the survey, lemon seemingly takes the lead (70 percent), followed by sugar/artificial sweeteners (46 percent), and honey (4 percent).
If you're thirsty for more details, here are some other neat tea tidbits:
85 percent of tea consumed in the U.S. is iced tea
43 percent go for tea to boost their immune system
37 percent drink tea to calm them down
26 percent choose tea to maintain a healthy weight
Bigelow also likes hearing directly from our customers about how they savor our blended teas. We're delighted to learn that Judy in Seattle feels that "Constant Comment®" is the only tea for her, so much that she's been drinking this flavor since she was 4 years old! As for other Bigelow favorites, Cecil in Duluth told us that he likes having our Jasmine Green Tea cold and that it completely re-energizes him.
Now, let Bigelow Tea know what your personal tea trends include – we want to know!
Who doesn't love iced tea on a hot summer day (and if it is Bigelow tea, even better right)?  Luckily, iced tea is quite simple to make as it really only requires two ingredients: fresh water and of course, tea. But here is where the fun comes in because green, black, white and herbal tea can be used to create a refreshing glass as noted by tea experts Nathaniel Pantalone and Cynthia Gold. Some of the best varieties to use include the following:

Jasmine Green Tea which is subtly sweet and has a fresh, flowery fragrance.

Oolong Tea which is a smooth, full-bodied, fragrant variety due to being exposed to air for half the amount of time as black tea.

Ceylon Tea like Bigelow English Teatime® which is a strong, full-bodied variety of black tea with a golden color. This is probably the type of tea you think of when you think of Iced Tea!
But don't stop with just these flavors!  With over 130 varieties of tea offered, why not follow third generation president and CEO Cindi Bigelow's suggestion for pairing different teas so you can create your own perfect glass (or quart) that is both refreshing and delicious!
Don't want to experiment?  No problem.  We have perfect iced tea recipes that will be sure to quench yours or your guest's thirst.  Give these a try or share your own recipes with us….we would love to hear from you! Happy iced tea drinking!
Green Tea with Mango and Perfect Peach Iced Tea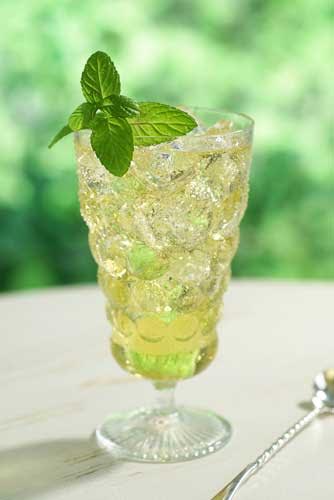 Ingredients
½ cup (4 fl. oz.) boiling water
2½ cups (20 fl. oz.) cold water
Instructions
Pour boiling water over 2 Perfect Peach herbal tea bags and 1 Green tea with Mango tea bag. Steep 3 to 5 minutes. Remove tea bags. Add cold water. Sweeten to taste. Pour into tall glass filled with ice…and enjoy.
Constant Comment and Plantation Mint Iced Tea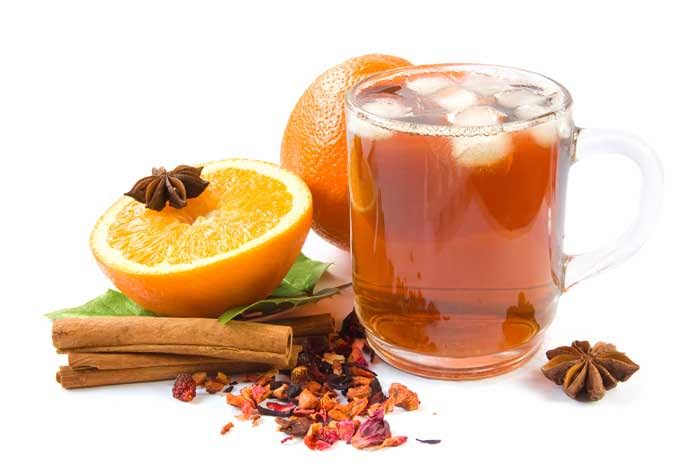 Ingredients
1 quart of cold water
Sugar, to taste
Instructions
Bring 1 quart of water to a boil, add 2 "Constant Comment"® tea bags and 1 Plantation Mint® tea bag and steep for 10 minutes. Pour into pitcher and refrigerate until chilled. Serve in a tall glass with ice. Sweeten to taste.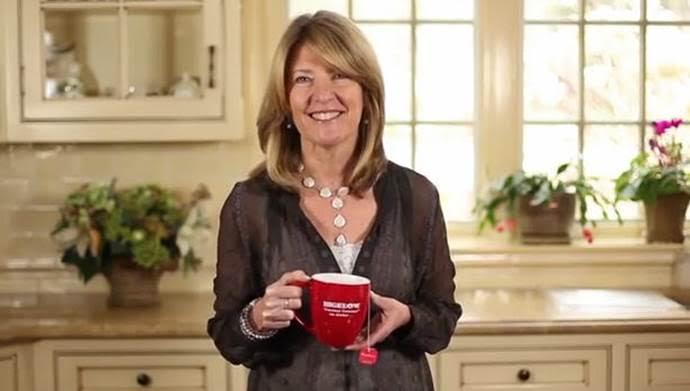 Tea comes in a myriad of flavors and types, but there's so much more to this drink than meets the eye. Third generation president and CEO Cindi Bigelow sat down with Naturally Savvy, a website focused on natural and organic living, to share some interesting tidbits about tea that you might not know. Here are some of the highlights:
The theanine in tea is what gives you that relaxed feeling.
Studies say theanine  (also called L-theanine) can stimulate the immune system as well as the mind, leaving the body with benefits similar to yoga. Theanine actually binds with the caffeine in tea, which is what makes the tea-drinking experience so different from the jolt you get from coffee.
The benefits of theanine are found in tea bush leaves.
Theanine is a component of the camellia sinensis plant, so it's found in green tea, black tea or oolong tea. While herbal teas, such as chamomile, don't contain leaves from the camellia sinensis plant, these teas can also be very relaxing because of the herbs used.
The tannin levels in a tea can affect people differently.
It's not necessarily the caffeine that some people are sensitive to in tea- it might be the tannins. This natural component of tea that gives it its color may not agree with some people when the tea is consumed on an empty stomach. A high amount of tannin can taste astringent, and in general, a high quality tea will be lower in tannins, providing a better flavor.
Not all tea ingredients are the same. 
Sourcing is very important when it comes to making quality tea. Bigelow Tea sources many ingredients from family farms that have not only known the Bigelow family for decades but also provide high quality ingredients like the mint and the lemon used in a variety of Bigelow tea flavors.
Making time for tea everyday can be a great way to relax and revive as shared by Cindi Bigelow. How and why do you incorporate tea into your daily routine?
More Recent Articles