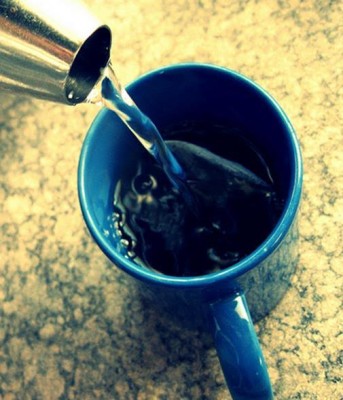 What beautiful alchemy takes place when boiling water and Bigelow Tea meet in your mug! Ah, the aroma! But you might be missing a few steps that ensure that every cup of tea you brew tastes as good as it smells. It turns out the condition of the water poured over your tea makes a big difference.
For starters, please don't consider re-using the water left in your tea kettle from the last time you brewed. Fresh, cold water is essential to making a great cup of tea. It's the oxygen in the water that opens up the tea leaf to bring out all that wonderful flavor. So always let the tap water run for 30 seconds before filling the kettle. If you're using bottled water, give it a good shake to aerate (oxygenate) the water.
And here's another teapot tip to improve aeration: take the chill off the pot by rinsing it first with hot water. Next, consider the type of tea you're making to determine how long to leave the kettle on the stove. For black, oolong and herbal teas, it's best to bring the water to a full, rolling boil. Green and white teas are more delicate, so the ideal time to pour the water is before the boiling point when tiny bubbles just begin to form.
Now the fun part: steep (black tea 2-4 minutes, green tea 1-3 minutes and herbal tea 4 minutes or more) with the mug covered to seal in all the tea goodness, and remember — no squeezing the tea bag! Final step? Inhale deeply and enjoy! As @mik_cm tweeted, the perfect cup of tea is worth waiting for!
Image by Evan Wood via Flickr


These days everyone is busy, busy, busy. But when you do have a few minutes to relax, it's nice to enjoy a mug of Bigelow Tea at a moment's notice. And while boiling water isn't the most harrowing task, there's an even easier way when you have one of those moments: Bigelow Tea K-Cup pods.
In case you didn't know, Bigelow Tea has the same delicious teas you love packaged in K-Cup pods for use in all Keurig K-Cup brewers. Just load the pod, place your mug underneath, and push to brew. Voila—delicious Bigelow Tea made to order!
And the best news is that, each Bigelow Tea K-Cup pod holds the same quality ingredients you have come to expect from the Bigelow family. The Lemon Ginger K-Cups are filled with zesty ingredients that appeal to the taste palette and the nose, including lemongrass, lemon peel, cinnamon, ginger and lemon verbena. And the Earl Grey K-Cups hold aromatic bergamot and bold handpicked black tea—no surprises here, simply premium ingredients that take Bigelow Tea flavors from beyond good to great!
That's what the Bigelow family insists upon: A promise of smooth taste, consistent flavor and exceptional aroma. From classics like Green Tea and English Breakfast, to seasonal favorites like Pumpkin Spice, there's a wide assortment of Bigelow Teas available to brew with your Keurig K-Cup brewer. So the next time you think you don't have time for a cuppa, remember that a hot cup of your favorite blend can be ready in seconds.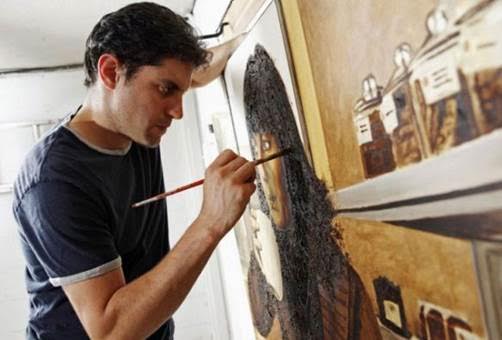 Many tea lovers find beauty in their daily cup, and Bigelow Tea learned about a unique tea-lover from CBS News. This artist was so inspired by his mug of green tea, that he began painting with it! And now something is always brewing in Gerard Tonti's basement studio, where he brushes his canvases with both tea and coffee to create stunning works of art.
As a third-generation family tea company, Bigelow Tea has spent 70 years perfecting the art of blending tea and always loves hearing about creative endeavors involving this ancient brew. Founder Ruth Campbell Bigelow, who experimented in her kitchen until she came up with the legendary "Constant Comment"® recipe, would certainly be delighted by Tonti's curiosity. He has been mixing various types of tea and coffee for 10 years to develop a range of colors, including flesh tones, reds, purples, silvers, grays and blacks. But it all started when he looked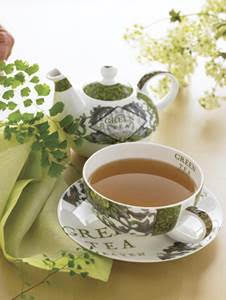 into a cup of green tea and wondered, "if I make this into a painting medium, what would that be like?"
A graphic artist by day, Tonti embraces the challenge he has set for himself and says it's just not as much fun to paint with conventional oils and acrylics. It's that kind of passion that yields amazing results, from his mesmerizing images to every delicious cup of Bigelow Tea. Check out the Bigelow Tea Joy of Drinking Tea board on Pinterest for more lovely thoughts and images inspired by tea, and share your own tea inspirations in the comments!
Today Bigelow Tea celebrates the birthday of literary legend Lewis Carroll and the teatime mischief made famous in his Alice's Adventures in Wonderland, a beloved tale that continues to delight readers around the world 150 years after its publication. Now that's a reason for a tea party!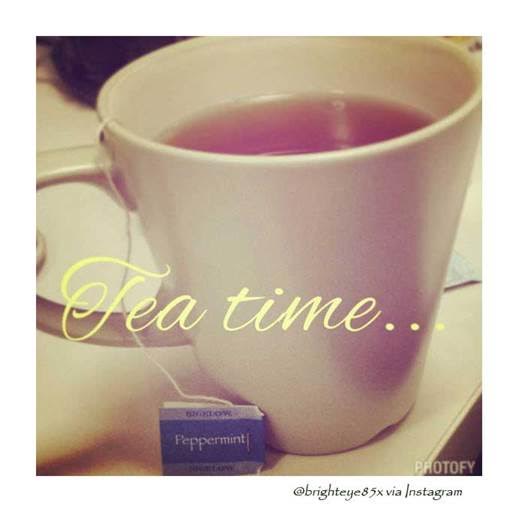 Born January 27, 1832, Charles Lutwidge Dodgson was an accomplished but relatively obscure instructor at Oxford University when he wrote the story about Alice, using the pen name Lewis Carroll. The book has been translated and distributed to more than 80 countries, and Carroll is one of the most quoted authors in the English language.
Key to the author's enduring appeal is his association with one of the world's most popular beverages: tea! While many are familiar with the Mad Hatter's tea party and several Alice movies, they may not know about the real-life tea inspirations for this particular scene and the book itself.  Here are a few fun facts shared by NPR: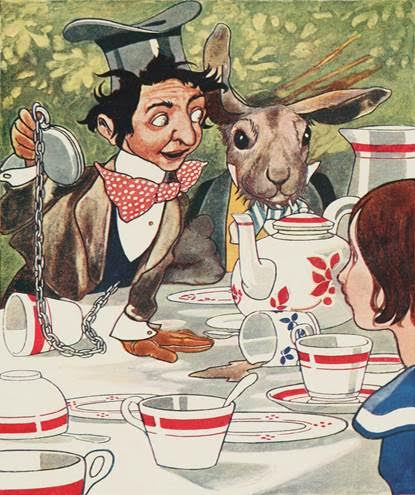 The story evolved from an outing on a "golden afternoon" in 1862, when Charles and a colleague took the three daughters of his college dean (one of whom was named Alice) on a boating expedition on the river Isis. The group stopped for tea along the way, and Charles entertained the girls with a story of how an adventurous girl pops down a large rabbit hole, "never once considering how in the world she was to get out again."
The "golden afternoon" fell on the Fourth of July, a detail Carroll worked into the published story.
The Victorian ceremony of high tea also figures prominently. Carroll pokes fun at the pretensions of the day with memorable images of rudeness at the Mad Hatter's tea party:  Alice sitting down uninvited, elbows on the table, the March Hare offering Alice wine where there is no wine, and the Hatter making personal remarks such as, "Your hair wants cutting."
It's all in good fun, and that's just what Bigelow Tea believes tea time should be, even when you bring out the fine china and scones!
Second image via Wikipedia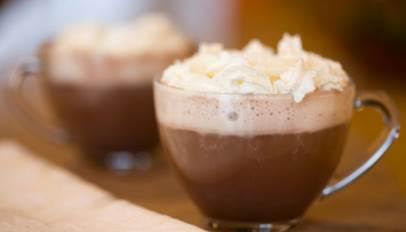 It's no secret that Bigelow Tea is creative and passionate about specialty tea… and specialty drinks! Bigelow offers hundreds of recipes for fans to incorporate or pair with their favorite Bigelow Tea blends, including fan-favorite Sweetheart Cinnamon Hot Cocoa recipe. Adults and kids alike will love this special hot cocoa made extra cozy with Bigelow Sweetheart Cinnamon Herbal Tea! Perfect for before, during or after Valentine's Day!
Bigelow Tea has such a wonderful reputation in the food and beverage industry that in January of 2015, Eunice and David Bigelow were honored for their decades-long contributions by being inducted into the inaugural class of the Specialty Food Association Hall of Fame! The Bigelow family has been shaping the American tea market for over 70 years and continues to grow under the leadership of third-generation President and CEO Cindi Bigelow. The family's story was recently featured in Connecticut Explored magazine. Check out the feature here … and read it while sipping some of that yummy cocoa!
Ingredients
4 Bigelow® Sweetheart Cinnamon Herbal Tea Bags*
2 ¼ cups hot whole milk
2 tablespoons Dutch process cocoa powder
2 tablespoons sugar
*Whipped Cream
1 cup cold whipping cream or heavy cream
1 tablespoon sugar
1 teaspoon pure vanilla extract
Instructions
In a small saucepan, warm milk until piping hot but not boiling. Remove from heat and add tea bags. Allow to steep for 5-7 minutes. Remove tea bags and gently squeeze out the liquid. Add sugar and cocoa, and whisk vigorously to combine. Serve hot. *Optional: Top with freshly whipped cream or mini-marshmallows. *Place all ingredients in a large bowl. Using an electric mixer, beat until stiff peaks are formed. Spoon on top of hot chocolate.
More Recent Articles