#Foodies can rejoice this Thanksgiving because Bigelow Tea will make sure you have a tea-lightful holiday! Cooking a feast can take hours, so hopefully you have a little help in the kitchen. A sous chef (aka a friend or mother-in-law), along with a steaming mug of your favorite Bigelow Tea flavor, like "Constant Comment®", is all you really need. Instagrammer and #ConstantComment tea fan shellmorel loves "being able to have afternoons with Ma and Pa and have tea…" and Thanksgiving is the perfect day to bond with family.
You probably know by now that Bigelow Tea is not just for sipping, so use it to whip up a few of your Thanksgiving feast favorites. Try one of these recipes, below, and you will stir up #ConstantComment for years to come—they really are that delicious!
Roasted Turkey with Constant Comment Glaze
Ingredients
Glaze:
1 cup (250mL) boiling water
⅔ cup (160mL) brown sugar
2 tablespoons (30mL) butter
½ cup (125mL) cranberry juice
Turkey and Gravy:
1 10-15 pound (5-7.5g) turkey (thawed if previously frozen)
1 lemon, cut into four pieces
1 onion, peeled and cut into four pieces
1 cup (250mL) chicken stock
2 tablespoons (30mL) cornstarch
Salt and pepper to taste
Instructions
Preheat the oven to 350º. Steep tea bags in 1 cup boiling water for 5 minutes. Squeeze excess liquid out of tea bags and discard. Reserve tea. Meanwhile, prepare a glaze by heating butter, brown sugar and cranberry juice into a saucepan over medium heat until butter is melted and sugar is dissolved. Add tea and reduce mixture by cooking over medium high heat for 15 minutes. Set aside. To prepare turkey, remove giblets and neck from turkey, rinse inside and out and pat dry. Place a cut lemon and a cut-up onion into the cavity and truss the turkey. Place in an open roasting pan breast side up. Brush skin with glaze. Bake turkey in preheated oven. Keep glaze warm on stove and continue basting with glaze every 20 minutes. Remove turkey from oven and let stand for at least 20 minutes before carving. Discard any unused glaze. To make gravy, dissolve cornstarch in chicken stock. Place roasting pan on burner over medium heat, scraping browned bits. Add stock whisking constantly until thickened; about 1 minute. Strain gravy and serve with turkey. As a nice alternative, use a 9-11 pound oven stuffer roaster chicken in place of the turkey. For best results, tie the chicken with string at the legs and the wings. For the glaze reduce the number of tea bags from 12 to 8.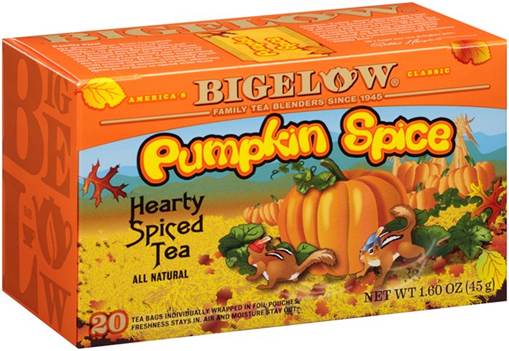 If you're feeling festive this year, switch out the usual pumpkin pie for Pumpkin Spice Cupcakes made with Bigelow Tea's Pumpkin Spice tea. This recipe is #delish.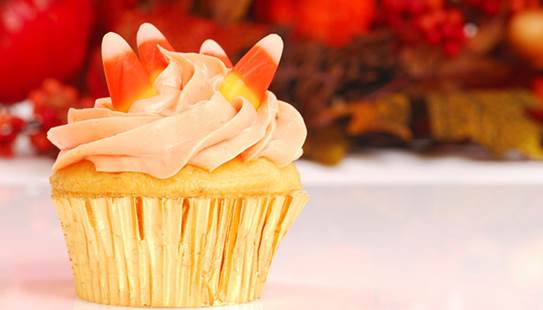 Ingredients
Tea Concentrate:
13 tea bags Bigelow Pumpkin Spice Tea*
1 ¼ cups boiling water
Cupcakes:
1 ¾ cup sugar
¾ cup vegetable oil
3 eggs
1 (11-ounce) can mandarin oranges, drained, discard liquid
½ cup tea concentrate
2 teaspoons real vanilla extract
2 teaspoons freshly grated orange zest
2 ½ cups all-purpose flour
2 ½ teaspoons baking soda
2 teaspoons ground cinnamon
½ teaspoon salt
2 cups shredded carrots
Frosting:
1 (8-ounce) package cream cheese, slightly soft
1 tablespoon butter, softened
2 tablespoons tea concentrate
3 ½ cups confectioners' sugar
Instructions
Place tea bags in a 2-cup glass measure. Add 1 ¼ cups water. Steep tea for 10 minutes. Squeeze all liquid from tea bags into cup. Discard tea bags. (About 1 cup plus 2 tablespoons tea concentrate.) Heat oven to 350 F. Spray 2 (12-cup) muffin tins with baking spray; alternatively use paper liners set aside. In large mixing bowl add sugar, vegetable oil and eggs. Mix at high speed, scraping bowl often, until thick and creamy (1 to 2 minutes). Add mandarin oranges, ½ cup tea concentrate, vanilla, and orange zest. Continue mixing, scraping bowl often, until well mixed (1 minute). In medium bowl stir together flour, baking soda, cinnamon, and salt. Add flour mixture to tea mixture. Continue mixing, at low speed, until well mixed (1 to 2 minutes). Add carrots; mix well. Place batter in muffin cups filling about ½ to ¾ full. Bake for 18 to 20 minutes or until wooden pick inserted in center comes out clean. Remove from oven; cool. Meanwhile, in medium mixing bowl place cream cheese and butter. Mix at high speed, scraping bowl often, until light and creamy (1 minute). Add 2 tablespoons tea extract. Mix well. Add confectioners' sugar; continue mixing, scraping bowl often, until soft and creamy (1 to 2 minutes). Frost top of each cupcake with frosting.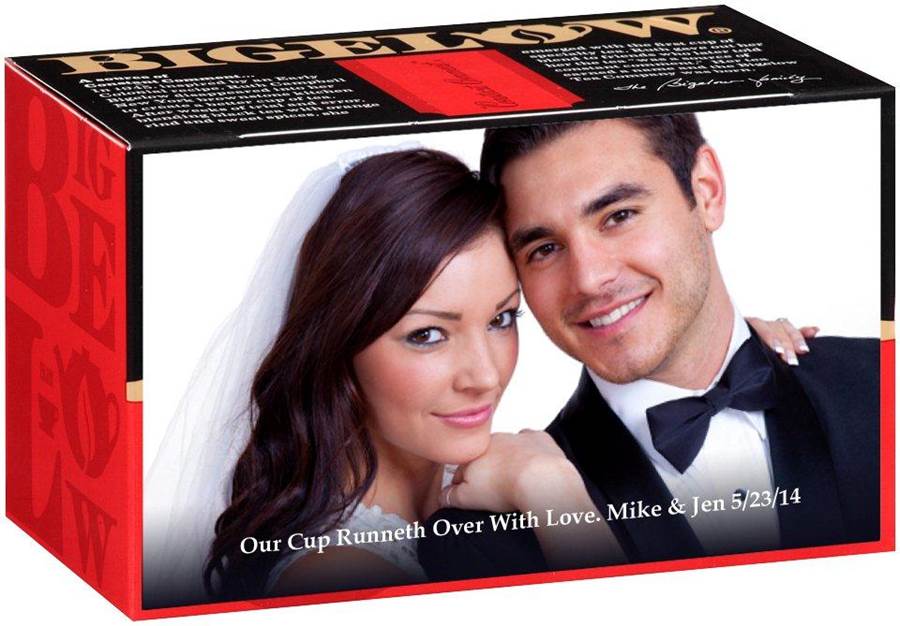 Bigelow Tea is thrilled to introduce personalized tea boxes (and personalized tea tins and tea chests)! If you've ever wanted your photo on a box of "Constant Comment,"® Cozy Chamomile, Earl Grey, Green Tea or Green Tea with Lemon, your dreams have come true. Available by the case (6 boxes), it's a memorable way to commemorate occasions like the holidays, weddings, graduations, family reunions, retirement parties or to celebrate sporting events. It's also a perfect gift to say thank you to a friend or hostess.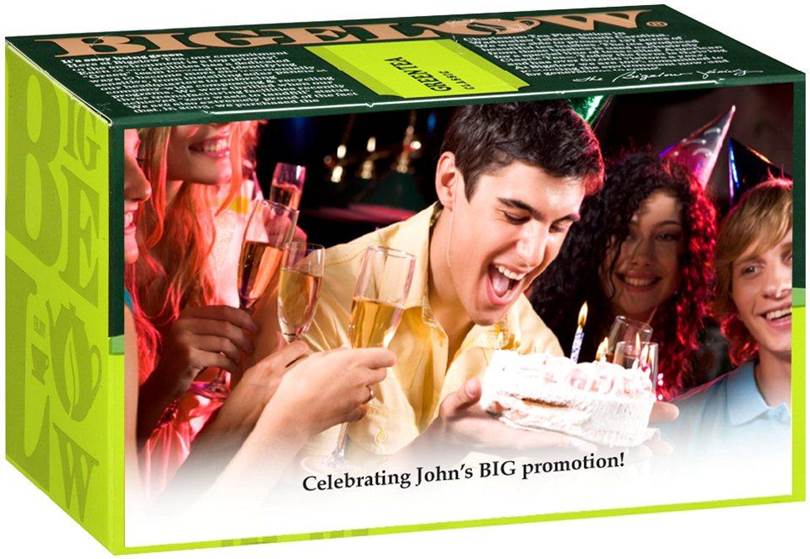 Ordering these personalized tea boxes is easy. You simply choose the Bigelow Tea flavor from the selection on our website, personalize the item with a photo and a message, and check out. If you have your own pic, the website makes it easy to upload, otherwise, there are several beautiful images available to use. Don't forget to unleash your creativity when you add your personalized message to the box. A few favorites include: "You're my cup of tea" and "Steeped to perfection!"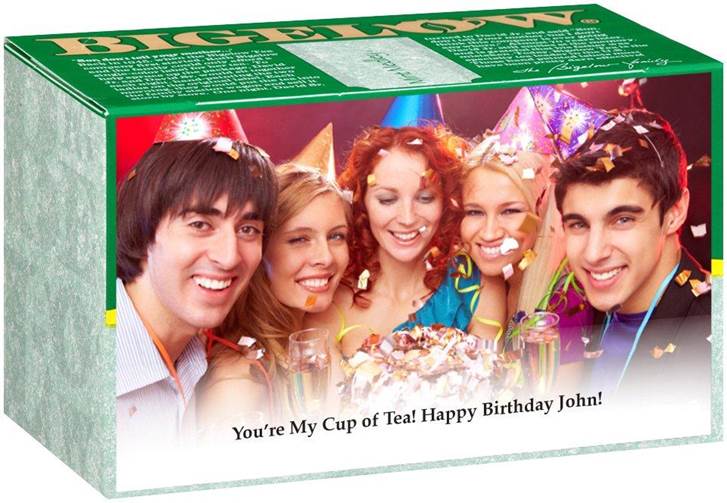 Give it a try … and let us know: which message would you send out to the world on a personalized Bigelow Tea box?
Sit back, relax, and brew your favorite Bigelow Tea because it's Family Stories Month. With the weather growing colder and a mug of Salted Caramel Tea to keep you warm, this is the time to learn more about your family. Who knows, maybe Dad has a crazy story you haven't heard yet!
Here's a family story from Bigelow Tea employee J. David Silva, Sr., who has turned health and wellness into a family affair. Together, he and his family decided to kick-start their commitment to health. Each person kept track of their workouts in a journal to be discussed as a family on Saturdays, presumably with a cup of Bigelow Tea in hand!
And if you haven't already heard the legendary "Because Mama Moved the Pony Stable" story about Bigelow family matriarch Ruth Bigelow and her mother's determination, give it a read now. This is a family story worth sharing!
When celebrating Family Stories Month, doing something fun with a family member is key! In the video clip above, see two members of the Bigelow family having a ball. Third generation President and CEO of Bigelow Tea Cindi Bigelow has the recipe for this delicious Greenie Martini, but it's her mother Eunice who really shakes it up!
It's probably safe to assume that many tea fans out there enjoy sharing family stories over a nice mug of Bigelow Tea. Twitter fan @Hayley_Giles enjoys teatime and thinking about happy memories with her Grandma.
Which Bigelow Tea will you be sipping as you relive or create family stories this month?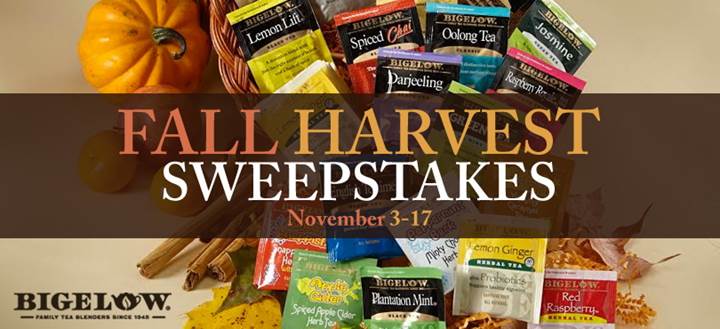 We are so excited to announce the Bigelow Fall Harvest Sweepstakes Winners.  Please allow up to 3 weeks to hear from Bigelow Tea to confirm you are a winner and to get your full mailing address. Thanks so much everyone for participating and please do have a wonderful Fall!   Congrats winners:
Eva from Florida
Adella from Louisiana
Tina from North Carolina
Michelle from Ohio
Kirsten from Washington
Connie from Ohio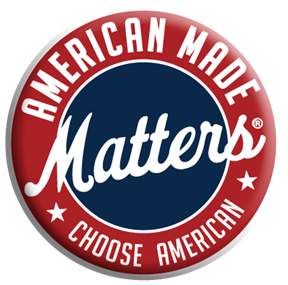 America Made Matters Day, celebrated on November 19th, is dedicated to highlighting the positive impact that buying American-made products has on local and US economies. Bigelow Tea sees American Made Matters Day as a chance to showcase the power of the American consumer and embrace the positive impact that manufacturing has on jobs, product safety and the environment. These issues are all dear to the hardworking home-team  and community of Bigelow Tea. It's why Bigelow Tea keeps it real as a 3rd generation family-owned company, producing fantastic tea blends that are all blended and packaged right here in the USA. Or, according to Bigelow Tea fan @kailynnmariee who tweeted that Bigelow Tea is simply amazing, the best in "In tea heaven!"
Events for American Made Matters Day will be held throughout the United States. Supporting U.S.-made products just makes sense. According to ABC News, if each American family spent just an extra $49.95 on American-made goods, the spending would generate 150,000 American jobs.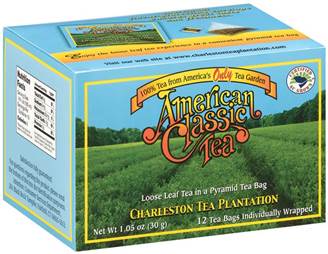 Being an American company is also why the Bigelow Tea family provides tea to American troops overseas with made in the U.S. American Classic Teas, grown at the Charleston Tea Plantation. Specially packaged boxes of American Classic Tea are distributed to those in the armed forces as a thank you to the brave troops who work hard for the USA.

One of Bigelow Tea's newest products is American Breakfast tea! This robust tea contains 50% more caffeine than the average cup of black tea and is available in three varieties. What's more, a portion of the proceeds from the sale of these teas also goes to the troops! Love green tea? Try Bigelow Tea's delicious flavors, such as Green Tea with Mango. And herbal tea fans have lots of options, too, including Mint Medley — made with a refreshing blend of spearment and peppermint grown in Oregon!
Consider buying at least one U.S.-made product on November 19th, like any of the more than 120 made-in-America tea varieties from Bigelow Tea.
Enjoy!
Image via americanmadematters.com

More Recent Articles
---
Click here to safely unsubscribe from "Bigelow Tea Blog." Click here to view mailing archives, here to change your preferences, or here to subscribe • Privacy