The researcher team at Rainbow Babies and Children's Hospital in Cleveland, Ohio are interested in studying how twins are placed in Neonatal clinical trials. They are distributing surveys to evaluate the opinions what parents of multiples think about multiple children being enrolled in clinical research trials as infants.
If you would like to help them answer some of these questions, please click on this link and complete the survey. It should take less than 10 minutes and you will be entered to win $100 at the end. You can take the survey whether or not you've had children in clinical trials, just as long as you are a parent of multiples.
Image Credit: Flickr.
The time when you are pregnant is an amazing time in your life. The experience itself is wonderful all in all—even if morning sickness presents itself, you are still accomplishing the miraculous fat of creating life. Despite all the wonder of the occasion, pregnancy can present some issues for you along the way. This is especially true as the pregnancy progresses and you gain weight. The challenge that comes with this awkwardly proportioned weight gain is that it can become incredibly hard to dress for a special occasion. Everyone wants to look beautiful, and pregnant women are no exception; however, it can become more difficult to find clothes that flatter your pregnant form. The following will hopefully help you to demystify the art of being stylish while pregnant.
First the good news…
For all of you pregnant ladies out there that desire a fashionable, glamorous, and feel good look for your next big event, maternity clothing has undergone a huge change in previous years. Gone are the days of shapeless, bag-type clothing that hides your pregnant curves, and does little more than make you appear a shapeless blob. The shift in maternity style has brought the beauty of the pregnant body to the public eye, and women are being encouraged to love and embrace their bodies at this stage. This means that there are more options available that will flow, show off, and flatter your baby bump.
Where to look for inspiration…
Some of the best people to look at for pregnancy fashion tips and ideas are celebrities, and right now it seems that there are a number of pregnant or recently pregnant celebrities with varying styles to consider.
Kate Winslett is a good example of a celebrity who does glam while pregnant very right. At one event she was captured wearing a scarlet coloured dress with an empire waist. The dress was floor length, and featured a low neckline that drew attention up towards her face. Her hair was romantically pulled back with a couple of loose curls framing her face. She also kept e makeup very light and natural looking; she wore just enough to brighten her best features.
So, what can you take away from this?
Here are the simplest steps to dressing beautifully.
1. Consider colors that will flatter your size and skin tone. Basic black is a mainstay in both the pregnant and non-pregnant females' closet, and is a good option for any occasion. You may also want to look at other colors that you liked to wear before you were pregnant, and the season that you are dressing for. For instance, if you loved orchid purple before pregnancy, then definitely consider it a viable option.
2. Avoid big bows or adornments that will add width to your frame, including large ruffles and pleating. These items are not your friend when you are expecting, and will actually make you look thick and frumpy.
3. Choose articles of clothing that are form fitting, or lightly skimming…too much fabric will make you look like you are bigger and can hide your curves. This will leave you looking fat rather than pregnant.
4. Where makeup and hair are concerned, breezy and romantic styles work well, and makeup should look natural. After all, you wouldn't want to cover up your natural glow.
If you keep all these points in mind, you will be sure to have an easy time looking fabulous on any occasion. It will become even easier when you find places that sell lines of clothing in a style you like. Alight is a great place to start as they have a varied selection of different styles. Lastly, not every piece of clothing needs to be a maternity specific piece. You may also find great options that are marketed as plus size. Now go forth with your new knowledge, and be fabulous.
This is no longer the 1950s where one parent works while the other assumes the role of homemaker. Yes, there are still a number of families that run their
household this way though with the number of two-income households on the rise, more parents are beginning to turn to child-rearing services. Before their
paternity leave period comes to an end, parents will need to make a very important decision: nanny or daycare?
Nanny Vs. Daycare: Is One Really Better than the Other?

First of all, there is no right or wrong answer as each parent will need to make the decision that will be best for their individual circumstances. Factors
that will need to be discussed include budget and convenience as well as what would be better for the child.
The Prospects of Hiring a Nanny

The iconic image of Mary Poppins has really evoked the idea of what the ideal nanny would be like. A live-in nanny is typically far more convenient because
she stays with the family and essentially becomes an extended member of the family. This means that parents don't have to leave the home half an hour early
to drop their child off at a daycare center or be chained to the facility's fixed business hours, which can be problematic for those that work outside the
typical nine-to-five schedule.
If the parents are going to be out of the home for most of the day, then it is important that the child has another adult that they can establish a
trusting relationship with. Since the nanny will usually be with the child even when the parents are home and even join them at the dinner table, she will,
in a sense, be a second mother.
Since the nanny will be assuming the role of homemaker, most will also take over common household duties, such as preparing meals, doing laundry and
performing light spring cleaning. It's almost like having free maid service thrown in.
When Daycare may be a More Suitable Option

Daycare is usually the more affordable option for families looking for the most cost-effective solution. Keep in mind that with daycare, there is an
adjustment period where your child will need to integrate into an unfamiliar and often scary environment. However, it can be an excellent early start for
your child to learn about the real world and interact with their peers. This will also make your children feel less like a fish out of water when they
begin their first year of school.
It is important, however, to realize that every child is different and responds in their own way when thrust in an environment alien to them. Some kids
thrive instantly in a daycare setting and immediately form friendships; others, though, will become stressful and go through intense bouts of separation
anxiety.
Making an Informed Decision

While both nanny and daycare have their distinct advantages, parents who
have used daycare for one child and a nanny for another often favor the latter. They often cite the inseparable bond that develops between nanny and child.
Most also feel more comfortable entrusting their child in the care of someone who is deemed reliable and even considered a part of the nuclear family unit.
In a lot of cases, the nanny continues to be in the child's life in one capacity or another even long
after the business aspect of the relationship ends.
Whatever decision you go with, remember that the type of care your child receives will happen during a developmental phase when he or she is most
impressionable.
Prevention is always better than cure, and when it comes to avoiding aches and pains at various times in life, the trick is to maintain a good level of physical fitness through exercise and nutrition. There are some instances when you can really be at a disadvantage when it comes to pain, specifically back pain, and this is during pregnancy. Pregnancy is a natural and beautiful state, despite the mood swings, but the physical strain of carrying all that extra weight, particularly in the last months of pregnancy, can certainly take a toll on your lower back. While it can be tempting to treat lower back pain during pregnancy just like any other ailment, and to try to beat it using simple bed rest, this is rarely an effective method. Not to worry- there are a few straightforward ways to combat lower back pain during pregnancy, and to even stop it before it happens.
Lower Back Pain and Physical Fitness
An amazing 50% to 80% of women experience some form of back pain during pregnancy, and this varies from fleeting moments of discomfort to pain that can make it difficult to function. Those who are overweight or obese are more likely to experience severe lower back pain during pregnancy, and so maintaining a healthy weight prior to and during your pregnancy is one of the most effective ways to avoid severe lower back pain. Pregnancy doesn't mean that you need to give up exercise, but you need to moderate your methods to accommodate your impending baby. Your healthcare professional can advise you on the best forms of exercise for various stages of pregnancy. It also helps to be limber, as this also prevents lower back pain during pregnancy and can even help with the birth, so you might want to consider a low impact yoga program specifically for pregnant women.
Solving Lower Back Pain During Pregnancy
Given that lower back pain is exceptionally common during pregnancy, particularly the second half, a bit of back pain is to be expected, and is nothing to be alarmed about. If the lower back pain should become chronic, then it's very wise to consult your healthcare professional. Be wary about self-medicating, since a number of types of pain relief medication are unsuitable for pregnant women, particularly anti-inflammatory agents such as ibuprofen. A number of conventional methods might also be helpful, such as a hot or cold compress applied to the lower back. Some women also turn to eastern remedies and find acupuncture an effective method for managing pain, but ask for a referral to an acupuncturist who specialises in pregnancy.
After giving birth, your body will adjust to carrying less weight, and the strain on your lower back will usually disappear. In some cases, the pregnancy weight can affect your spine and vertebrae in such a way that means the pain lingers post birth. If you find yourself having trouble with pain management and injury relief, once again turn to your health care professional, who can refer you to a chiropractor who will help you return to a pain free life. In some cases, other methods of pain relief can be necessary, and Radiofrequency Ablation can be an effective non-surgical intervention, wherein high frequency electrical currents are directed to the affected area. It's far more pleasant than it might sound, and in most cases, the relief is often immediate. You could also record your lower back pain into a pregnancy journal, perhaps to read to your child when they become a teenager and don't show you the respect you deserve!
It's extremely important to make sure that you get a good night's sleep every night; especially if you are expecting a child in just a couple of months! As your pregnancy continues, you will need plenty of rest and relaxation to prepare yourself physically and mentally. Here's a couple of tips on what sleeping position is best for you to help ensure that you will get the chance to be able to sleep soundly at night.
Why you need to stop sleeping on your tummy now
Maybe sleeping on your stomach has been a part of your sleeping routine for years, but it could be doing you more harm than good. When you sleep on your stomach, you're forced to turn your head and neck either to the left or to the right to be able to breathe. This position puts a lot of strain on your neck muscles and you could wake up to a sore and stiff neck that will stay with you for days if not a week depending on how long you slept in this position. You might also be hindering your breathing pattern as well. It's much better and easier to breathe while sleeping on your back or side. Sometimes people do sleep better on their stomach, but if you try to fall asleep with different positions each night, it will become much easier than it did before.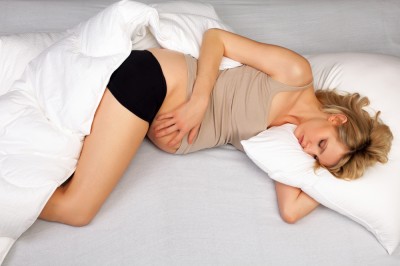 Which position is best for pregnancy?
Since sleeping on your stomach is not ideal for overall health; especially when you might be (or soon will be) a couple of months pregnant. This narrows it down to either sleeping on your side on your back. You will be able to sleep on your back comfortably during your first trimester but as you begin your second and final trimester, it might be best to begin sleeping on your side. During the trimester, the baby's weight sits uncomfortably on a vein that connects the lower body and the heart if you lay on your back. If you wake up in the middle of the night and find that you are on your back, just switch to sleeping on either your right or your left side. It doesn't matter which side you sleep on, but many doctors suggest sleeping on your left side rather than the right side.
Sleeping on your left side is healthy for both you and your baby. This position helps improve the blood flow and send nutrients throughout the body to the placenta. Sleeping on your side also helps your kidneys function, eliminate waste from the body and reduces any swelling in the hands, ankles, and feet that occur during pregnancy. Sleeping on your side also helps to open up your airways so if you sleep on your back and have sleep apnea or you snore a lot, then you should switch ASAP. If you find it difficult to begin sleeping on your side, use an additional pillow and place it either behind, in front, or between your legs in fetal position. This will help your body adjust to sleeping in a new position and make the adjustment much more comfortable than you would otherwise believe possible.
Other great tips for sleeping better at night
Now that you know which side is best to sleep on when you are pregnant, here are some additional sleeping tips to keep in mind for a restful night!
· Exercise at a minimum amount by stretching or practicing easy yoga
· Relax with a bubble bath
· Select carbohydrates such as bread if you are hungry
· Go to bed around the same time every night
Do you have any tips for a great night's rest or how to keep your energy up while pregnant? Share time in the comment section and sweet dreams!
More Recent Articles
---
Click here to safely unsubscribe from "Preemie Twins Blog." Click here to view mailing archives, here to change your preferences, or here to subscribe • Privacy