Momobaby.com, a website full of quality merchandise for both babies and mothers-to-be, has a wide selection of baby footwear, accessories, and maternity apparel. Momobaby.com has numerous clothing options to choose from, including dresses, jackets, and tops as well as accessories such as belts. The down jackets available on the site are cozy, comfortable, and warm and come in four different colors to meet all complexions and tastes. Not only are these coats perfect for pregnancy, they are also built to fit after the baby is born as well making your investment truly worth every penny. Why should you have to spend large amounts of money on a piece of clothing that will only be worn for a few months? The site also has a number of different beautiful dresses, both for casual and formal wear. Whether you are looking for a cute spring dress to go to a picnic, a formal dress to wear to a wedding, or a dress to fit all possible occasions, Momobaby.com is sure to have a dress for you. Pregnancy is a magical time during which a woman should both look and feel radiant. One of Momobaby.com's specialties is their selection of infinity wrap spring maternity dresses which are perfect for both casual and formal occasions and can be worn in many different ways. Not only does Momobaby.com ensure that pregnant women look as radiant as they feel, they are dedicated to selling the highest quality apparel and accessories. Whether you are expecting your first or second or third child, Momobaby.com is sure to have a style to match each and every taste.
Buying a stroller for your baby is not an easy process, especially with so many concerns weighing heavily on your mind and so many different products on the market. Multitudes of strollers all boast their own special features, each unique from the rest. However, there are a few essential features that you should look for in any stroller. Remember to keep your baby's safety as the number one priority and look for these safety features when you go stroller shopping.
Locking Wheels
Imagine that you're out for a stroll with baby when, for some reason or another, you need to take your hands off the stroller for a moment. In the split second that your mind is occupied, your stroller could roll away from you and into harm's way; every new parent's nightmare. Protect your baby from this possibility by purchasing a stroller with locking wheels. Before you take your hands off the stroller, you can easily lock the wheels in place and ensure that your baby stays put.

Safety Harnesses
A stroller should be both comfortable and secure for your baby in order to make sure that the little tot is safe. For this reason, safety harnesses are extremely important considerations in stroller shopping. Look for seats and safety belts that are comfortably padded while offering optimal security. If possible, bring your baby along when you go stroller shopping and try out a few models in person. Give your baby the best by ensuring his or her safety with secure harnesses.

Protective Canopies
Unexpected rolls and falls are not the only safety concerns to keep in mind when you shop for strollers. The elements can pose a considerable safety risk of their own, and a good protective canopy is an essential safety feature on any stroller. Babies' skin burns easily, and too much time out in the sun with no protective shield can be quite dangerous. A high quality canopy will shield your baby from the sun, as well as any precipitation or wind-blown debris that may come about on your walks.

Full Travel Capability
Parents like you have a nearly endless list of safety concerns for your babies; a full travel system on your stroll allows you to eliminate two of those concerns at once. Rather than buying a car seat and stroller separately, you can get both in the same package. Full travel strollers allow you to remove the seat from your stroller and use it as a car seat in one easy move. Optimize your baby's safety while making life easier for yourself at the same time.

Wheel Foundation Width
Whether you're buying baby equipment in your hometown or seeking to rent strollers in Orlando while you go on vacation, take a close look at every stroller's wheels. The width of the wheels themselves can tell you a lot about the stroller's comfort level for your baby. More important, however, is the wheel foundation width. Wider strollers are more stable, offering increased safety assurance when you go for a walk or jog with your baby.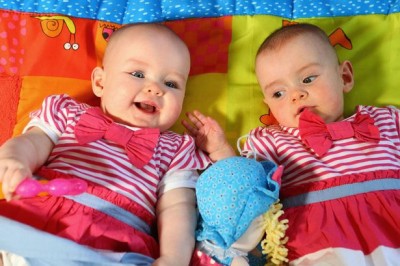 Maria Jones-Elliott gave birth to twin girls, Kate and Amy, 87 days apart! The girls' miraculous births has broke the Guinness World Record for the "longest interval between the birth of twins". The previous record was held by Peggy Lynn from Pennsylvania whose twins were born 84 days apart.
Read more about Kate and Amy's births on Mirror.co.uk where you can read the whole story.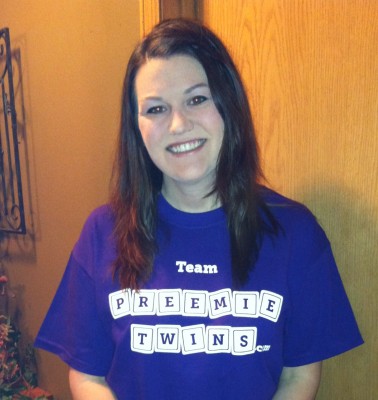 I am so excited for tomorrow's March of Dimes March for Babies Walk tomorrow, Saturday, April 27th, 2013, in Omaha, Nebraska. Our family and friends banded together to create "Team PreemieTwins.com" and even had t-shirts made!
Macy and Mallory will be featured on four different Miracle Mile signs along the route as well! If you see us, feel free to come say hello! And if you are visiting this site afterwards, please share your story with us! We would love to hear about your fertility issues, pregnancy complications, NICU stays, progress reports, inspirations, anything you'd like to share about your preemie twins!
Looks like it's going to be nice weather for us walking tomorrow – see you soon!
If you and your partner are about to have a baby, you are probably experiencing a large number of emotions on a daily basis. Many parents-to-be feel overwhelmed because they think there is so much to do before the baby arrives. If you are thinking about what to do before baby gets here, here are five smart things that you can try.
1. Check On Your Insurance
One of the first thing that you should do is to talk to your insurance company. You'll need to figure out how to add your new child to your insurance and make sure that everything is covered. Your insurance company will probably want to know that you are pregnant and that you'll be going to the hospital soon. Once the baby is here, you'll have to notify them and officially have it added to your policy. Before the baby arrives, you can find out how much extra it's going to cost you and give the insurance company a heads up.
2. Plan What Happens After the Baby Arrives
When you have your baby, how are you planning on taking care of it on a daily basis? Are you going to send your child to daycare or stay home with him or her? If you are going to continue working and send your child to daycare, it's important to start looking at day care centers now. Ask for referrals from friends and family members. Read reviews online if possible. Call some day care centers and find out if they have openings and how much they cost per week. If you are going to be taking off work to stay home, let your employer know in advance.
3. Start a Savings Account
What better time to start planning for your child's financial future than while they are still in the womb? The nice thing about getting started saving early is that you have the power of compound interest on your side. With compound interest, even setting aside a very small sum of money on a regular basis can add up quickly. You could start a college savings account or a regular investment or savings account.
4. Prepare the Nursery
One of the big items on the "to do" list for prospective parents is to get the nursery ready. If your child is on the way, you need to make sure that you have everything in the nursery that you will need once the kid arrives. For instance, you'll need a crib, a changing table, and possibly a rocking chair for starters. There are all kinds of things that you could add, depending on your preference. If you're going to paint the nursery blue or pink, make sure that you know the sex of the baby first.
5. Get Packed
Many new parents wait until the last possible second to pack their stuff to go to the hospital. As you are getting close to the due date of your child, have a bag packed and ready to go with the things you'll need at the hospital. Add some clothes, toiletries, something to do, and anything else you can think of to the bag.
With a little bit of careful planning, you can be ready for your little bundle of joy when he arrives into this world.
Featured images:
Leslie Keller is a neonatal nurse who also volunteers to help educate expectant mothers to ensure a smooth transition into parenthood. She has also written a published guide on what it takes to be a neonatal nurse.
More Recent Articles
---
Click here to safely unsubscribe from "Preemie Twins Blog." Click here to view mailing archives, here to change your preferences, or here to subscribe • Privacy