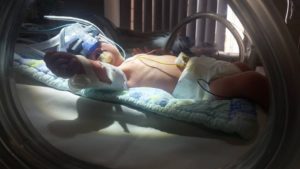 We love hearing stories about other preemies, and today we "met" George who was born 7 weeks early due to Placenta Praevia. George was born via an emergency C-section and spent three weeks in the NICU. George's mom, Carla, blogs over at mybump2baby.com where she writes about the highs and lows (and everything in between) about motherhood. Visit Carla's blog to read George's birth story as well as how she has survived the first six months of parenthood.
Want us to feature your preemie? Submit your story here.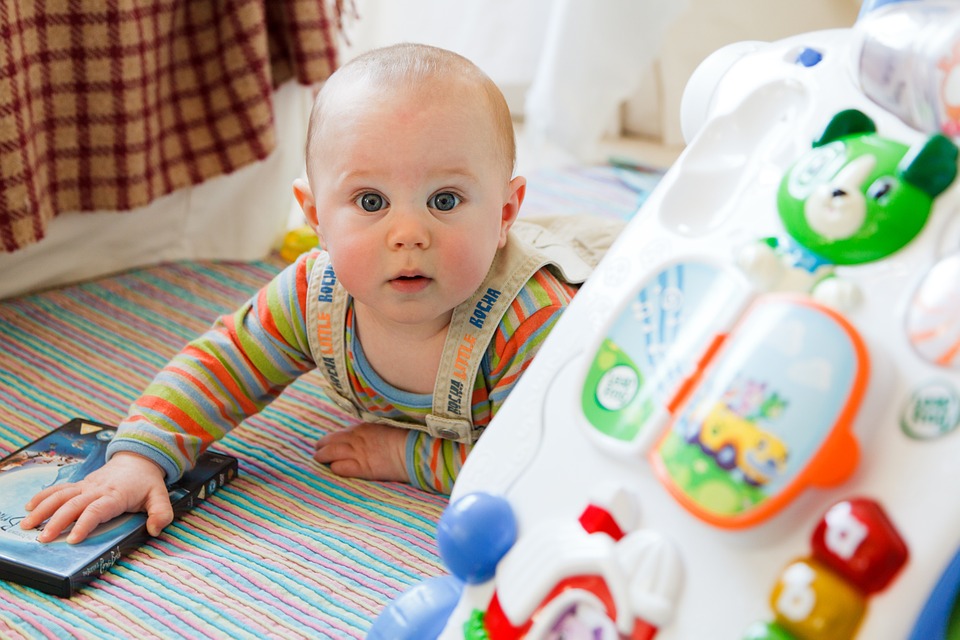 We all care so much about our children and often their safety is paramount to how we live our own lives. Parents are always making sure that they protect their children from dangers such as not leaving them on their own in public places or making sure they are well cared for and fed. But there can actually be a number of dangers around in the comfort of our own home. There are a number of things in the common household that can be potentially harmful to a baby – so here are some tips for how you can avoid anything harmful happening to your little loved one.
Think Like a Baby
This is a point that may seem slightly humorous, but if you try and take a baby's view of your home – it can help massively in making sure they are safe. The idea is to try and look at your home from a baby's perspective and try and look at things that you would try to pull at or play with if you still had their blissful innocence. By doing this you will soon realise the object around your home that your baby will want to get their hands on. For example, they will probably try to open any cupboards or doors that are in reach so you would want to make sure there is a stopper fitted on these to prevent this from happening.
Keep Areas Cushioned
This can of course be hard to do for your whole house, so it may be a good idea to keep certain areas in your home as a space for your child to play in. For instance, you could keep a play area in the conservatory or spare room that is well cushioned. The reason for this is when your child is first learning to walk they will likely have a few bumps and falls along the way, and having soft cushions can prevent any injuries from happening. So it can be a good idea to have your conservatory furniture well protected as the hard outer surface on most wicker sets can cause some discomfort if the child falls against it.
Secure Windows and Doors
You can make sure that your doors and windows are kept secure fairly easily. A lot of windows now come with a stopper installed on them so they can be pulled up or pushed open, but if this isn't the case you can buy an external clip that fits onto the window, which is also the case for doors. This is important if your child wakes in the middle of the night and tries to walk out of the room or if they are playing by the window and put their weight onto it.
Check Ties on Blinds and Curtains
A lot of your typical window blinds come with long strings attached that are used to open and close the blinds, these can be very hazardous around young children as the long string may cause strangulation. You should therefore try to get a clip fitted onto the wall that you can wrap the string around which is high enough to keep out of the reach of your baby.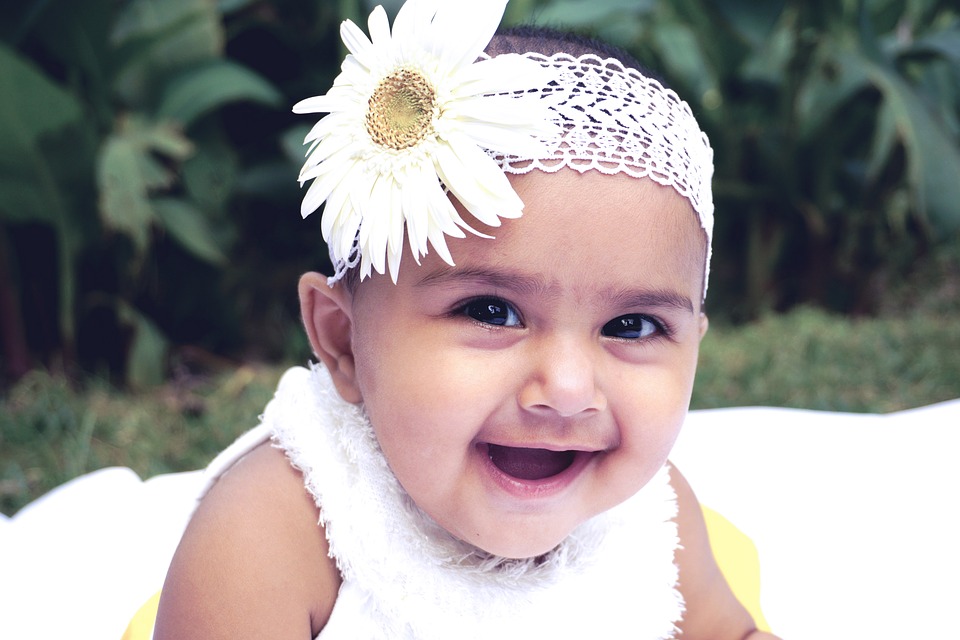 If you were to ask any parent if they think their newborn baby could win a baby photo contest, I bet they would almost certainly tell you yes. This myth is exactly what baby photo contests running companies want everyone to believe – that any kid
could
win. And sometimes with the top prize of $5,000 US dollars it is actually very tempting. But in reality it is actually often the most funny or interesting photo rather than how 'cute' the baby looks.
Baby photo contests (and even pet photo contests) have been popular for years. New parents are keen to show the world that they have the cutest baby, and probably more important to them is to be able to tell their friends and family that they have a prize winning baby. But the winning parents are often semi 'pros' at baby photo contests. They know what they're doing, and they rinse and repeat.
A lot of baby photo contests also ask for a caption to the photo. Imagine you are a judge and are seeing hundreds if not thousands of baby photos and you have to pick a top one. After a while they all merge into one, and you can't really remember what your favorite photo is.
But as soon as a photo with a caption makes you laugh – well, that makes you remember it a lot more. And that is half the battle – making the judges remember your photo.
Another top tip (which would be common sense if you thought about it) is to make sure the photo is a high quality one. You really would be surprised at how many photos are submitted that are not great quality. The judges very rarely choose a photo that doesn't meet all of these requirements:
In focus – yes, people really do submit photos that are not in focus
Have good lighting – even with a flash you can have bad lighting. Outdoors photos are best (when it is sunny of course
The subject (i.e. the baby) is the main part of the photo. This does not necessarily mean that the baby is in the center. But if it is a photo of your baby and its grandmother, and it is mostly the grandmother that takes up the focus of the photo it is going to have a hard time winning
Decent quality – a photo taken by a camera phone just won't win. Or even worse – a webcam photo! Use a proper camera
Although all the tips above really do help win baby photo contests the best type of photos are the candid funny ones that are not planned, don't have the best lighting etc. The reason they are often the best? Because even without a funny caption they often make judges laugh!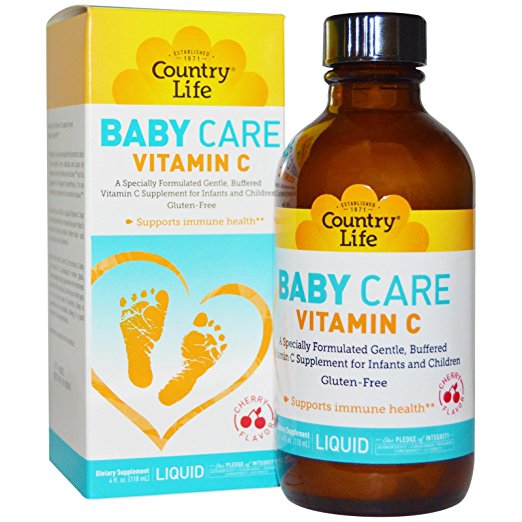 One in every five hundred infants die of SIDS (Sudden Infant Death Syndrome) every year. It is such a tragedy for the parents, community, and the concerned medical communities cannot figure out exactly what is causing these healthy babies to die. In various underdeveloped countries, these death rates are staggering, one in every two infants will die of SIDS. In the 1970's, Australian doctor Archie Kalokerinos decided to research why there are so many Aboriginal infants who were dying of SIDS. After years of research, he determined that many of the Aboriginal, babies, and mothers were severely deficient in vitamin C. He recognized lots of symptoms of scurvy in the babies that were dying.
He also noticed that many of the SIDS victims died very soon after their vaccinations. Baby infant care stations are many, but there are less doctors who really understand the deficiency of Vitamin C.
The humans have been completely reliant on their diets for vitamin c for babies, which is also needed for almost every human survival. Vaccinations are also essentially toxic to the human body, and without enough presence also can cause severe damage. Vaccines contains lots of ingredients that are called as neurotoxins. Many of the effects of all these ingredients have not been researched or studied until now. It is suspected that these ingredients can damage various neurotransmitters and can cause neurological disorders in children.
Dr. Kalokerinos has observed lots of infants after they received their vaccinations and noted diarrhea, fever, increasing retraction of the legs, irritability, and arching of the back, all signs of severe deficiency. He decided to start administering the vitamin to breastfeeding and pregnant mothers and their kids. The death rate of babies went from virtually zero to 50%. Many countries have already improved their rates of SIDS by administering it after and before immunizations.
Immunizations save many kids from a host of lots of deadly diseases, so they are not all bad. Many efforts are being made worldwide to make our vaccines safer, especially for babies who may be more susceptible to damage. Vaccinations can put a huge stress on the body and require a lot of vitamin C to process the toxins. Vitamin c for babies also provides the kind of a protective barrier over cells to help keep them safe from the harmful effects and resulting free radicals of the vaccines.
Another side effect of vaccines is brain inflammation. The brain of the human being is bathed in toxins that can do damage and mood, alter cellular cycles, neurotransmission and concentration. Autistic individuals and autopsies of SIDS victims and who have died often show signs of brain inflammation. Autistic individuals often show signs of scarring in the brain and chronic brain inflammation. Many symptoms of autism are said to match those of brain inflammation, so further studies need to be done to determine if there is any reaction to the various immunizations that causes inflammation to stay in the body.
Turning your house into a real home is never as easy as it seems. There are many things you have to do in order to create a warm ambience for you and your family, and one of them is maintaining electrical safety throughout your home. This is especially the case when there is a restless toddler running around your home. It is up to you as a parent to make sure you and your kids are completely safe by taking some important electrical safety measures. Here are some of them that should never be neglected.
Don't Do DIY Electrical Jobs
If you are not a trained electrician or a licensed professional, you should never do any electrical projects yourself. Even though it may be tempting to do a quick fix without calling a real electrician, this is something you shouldn't do if you are looking to keep you and your loved ones completely safe in your home. There are many accidents that can occur as a result of poor workmanship and it's always a better idea to have a professional deal with it. This is especially the case if you have a kid who just started moving and examining practically everything around the house. You may save some money by doing electrical jobs yourself, but safety-wise, contacting professionals is always a better idea.
Use Safety Switches
Safety switches are not something that can replace common sense, but they can surely aid in making your youngster safer in your home. These devices work in such a way that they automatically shut down your power supply as soon as any irregularities are detected. This means that safety switch can save prevent serious injuries and even save lives in case of electrocution. Every homeowner today should think about installing one of these, especially parents with young kids. If you decide to get one, make sure you contact an electrician who can take care of the installation process and other required electrical services.
Stop Using Octopus Connections
For quite a long time, electricians have been advising homeowners not to use octopus connections since these are not only a magnet to curious toddlers, but also the primary cause of building fires. Even though these help you increase the number of outlets in your home, you should avoid using them whenever it's possible. This is especially the case with some high-powered appliances such as ovens and microwaves. It's recommended that you plug these directly into your wall outlets and only use octopus connections and extension cords for low-powered appliances. Also, having electricians install new outlets is always a better idea than using any of these.
Test and Tag All the Appliances
Another thing you can do to make sure your kids are safe is to test and tag all of your home appliances. This is a common process in workplaces, but it can be done in homes as well. The purpose of this process is to make sure all the appliances in your home are 100% safe to use. You can do this by having a local electrician come over and test your appliances. If everything goes right, the appliances will be labeled appropriately.
Make sure you do all of these things and you will be guaranteed that your toddler, as well as all other members of your family, are safe from any hazards electricity can cause.
Image Source: Flickr
More Recent Articles