Welcome to the Wonderful Bambino Giveaway!
Hosted by All Natural Mom 101.
Sponsored by Wonderful Bambino
 One lucky reader of PreemieTwins and AllNaturalMom101 will win one (1) Wonderful Bambino 100% Bamboo Cloth Diaper.
Open to US & CAN.
Be sure to check out All Natural Mom 101's review on Wonder Bambino Cloth Diaper HERE and enter the giveaway below.
Good Luck!
Disclosure: This Blog and all other promoting bloggers have not been compensated in any form for this publication, nor are they responsible for the fulfillment of the prize. Please contact Kaitlyn at www.allnaturlmom101.com if you have any questions, comments or concerns. Thank you

How many new time parents think about all the diapers they need. Even parents that have had more than one child remember the hundreds and hundreds of diapers they need while your little one is growing up. Have diapers on your list grocery list constantly or perhaps you are planning on a new edition to your family soon? Well, check out this AWESOME company that will DELIVER diapers and wipes.
Home of the "Year Supply of Diapers", BabyShowersByMail.com offers an amazing service that actually delivers diapers and wipes to your house! You have the options to get the diapers for 3, 6, 9, and 12 months! BabyShowersByMail also has lists and lists of different baby gift ideas for any family! This company has thought of EVERYTHING!
Are you one of those people who have a hard time thinking about what gift you want. Or are do you hate going to the store to do your shopping? Well head on over to BabyShowersByMail! They have everything for little girls and little boys! Ordering is pain free, shipping is quick. Life made simple!
BabyShowersByMail offers products that will keep Mother and baby happy forever. They have an amazingly simple diaper and wipe monthly delivery service that has every brand and size a mother could want. Mom's time is precious give her the gift of time and have those diapers delivered!
One winner will receive a 6 month diaper and wipe delivery package.
Giveaway ends September 12th at 11:59pm, open to US, ages 18+. Only one entrant per household, per address. Winner is subject to eligibility verification. Enter using the giveaway form below. Good luck!
Disclaimer: The participating bloggers were not compensated for this post. No purchase is necessary to enter. One entrant per household, per address. Void where prohibited by law. Winner(s) will be contacted by email and have 48 hours to respond before a new winner is chosen. The sponsor(s) will be responsible for product shipment to winner(s) of this sweepstakes. This event is in no way administered, sponsored, or endorsed by, or associated with, Facebook and/or Twitter, Google, Pinterest. Contact teri@mompoweredmedia.com if you have any additional questions or comments.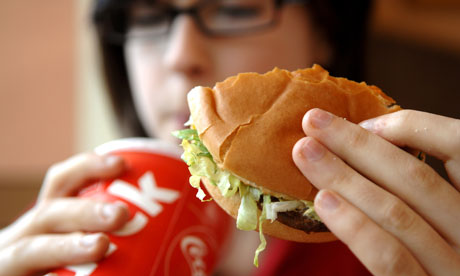 Every woman's body is different, which is why some couples have a harder time getting pregnant than others. While many infertility issues are far beyond our control, there are some factors that can increase (and decrease) our chances of getting pregnant. Surprisingly, many of these influencing factors are simple lifestyle changes that could create the optimal circumstances for getting pregnant. If you've struggled to conceive, you may consider a few of the following habit changes to increase your chances of getting pregnant.
Malnutrition
Eating poorly can drastically affect a woman's ability to conceive. Regularly eating doughnuts, chocolate, and pie (as well as foods high in trans fats) can increase fertility problems by as much as 70 percent. According to researchers at Harvard University School of Public Health, a woman who wants to get pregnant has to take precautions to avoid trans fat in their diet. Trans fat can disrupt the hormones in the system and interfere with the body's ability to ovulate reliably. Malnourished or underweight women are more at risk of having irregular menstrual cycles, which has a negative effect on her chances of getting pregnant.
Smoking
This might be an obvious mistake to some, however because of the addictive nature of cigarettes, many women plan to quit smoking once they get pregnant. As you can imagine, smoking presents challenges to getting pregnant. A report issued by the British Medical Association shows that smokers have a 40 percent lower fertility rate. And the American Society for Reproductive Medicine estimates that nearly 13 percent of cases involving infertility can be tied to tobacco usage. Smoking is associated with high rates of ectopic pregnancies as well as miscarriages. Studies also show that smoking disturbs how the ovaries function and can cause irregularities in menstruation. Not only is this a poor habit for health in general, but it could keep you from getting pregnant, or even worse—endanger your future child's life.
Excessive Levels of Stress
Stress has also been tied to infertility in women on many occasions. Women who are under a significant amount of stress for a prolonged period of time are more likely to have problems with nerve issues that can impede ovulation. Researchers state that women with challenging, stressful jobs are particularly at risk for infertility. Research conducted by the Ohio State University College of Medicine found that women with higher levels of stress had a higher rate of infertility—women with higher levels of stress involved in the study were 29 percent less likely to successfully conceive.
Too Much Caffeine
High caffeine consumption in the diet is also a common problem for women trying to conceive. Research shows that women who had more than one cup of coffee each day were 50 percent less likely to become pregnant. Caffeine impairs the functioning of the muscles in the fallopian tube, which affects how efficiently the eggs travel throughout the women, according to research by the University of Nevada School of Medicine. If the eggs aren't being transported properly to the womb, conception is difficult. Additionally, high caffeine intake can also cause infertility problems within men.
Poor Sleep Habits
Many think that a poor sleep schedule is bad because it just makes you tired, but the truth is that not getting enough sleep can affect the Leptin levels in the body. When Leptin levels become low due to sleep deprivation, infertility occurs. A team of Korean researchers found that with in vitro fertilization, sleep was critical to the success rate among those trying to get pregnant. Pregnancy rates were highest among those who had between seven and eight hours of sleep each night. According to research, 53 percent of couples in the study conceived compared to 43 percent of those who got between 9 and 11 hours of sleep. Couples who got between four and six hours of sleep had a success rate of 46 percent.
Inability to Maintain a Healthy Weight
Not maintaining a healthy weight also affects a woman's chances of getting pregnant—although this highly depends on body mass index. Health experts recommend maintaining a healthy BMI level between 20 and 25. Being both underweight and overweight affects a woman's chances of getting pregnant. According to a study published in Fertility and Sterility, women who engaged in vigorous exercise for five or more hours a week were 42 percent less likely to get pregnant when they had a BMI under 25. Women who lose as much as 5 percent of their body weight can improve their chances of conception.
In many cases, infertility is influence by health habits and lifestyle. Many women figure that they will start living a healthy lifestyle, stop eating junk food, or get more sleep after they get pregnant. However, the body needs special care and attention in order to create the perfect environment for pregnancy. Unfortunately, not all fertility problems can be fixed by altering the diet or getting more sleep—many issues are irreversible or more complicated. If you have tried altering your habits and are still struggling to conceive, seek the advice of a healthcare specialist who can help you get to the root of the issue. The information for this article was provided by the professionals who provide infertility treatments at Santa Monica Fertility and work with couples who are struggling to conceive.
INNOBABY WANTS TO MAKE LIFE EASIER FOR YOU!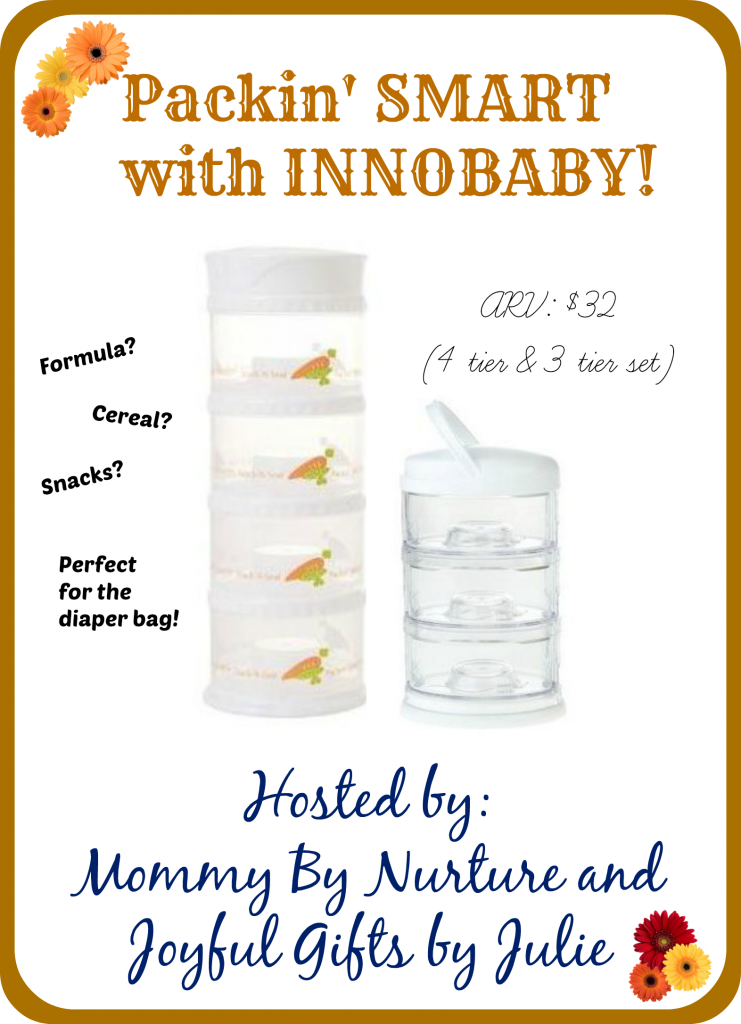 One winner will win both items featured! This giveaway is sponsored by innobaby and hosted by Mommy By Nurture and Joyful Gifts by Julie.
1 Qty Packin' SMART 3 Tier Essentials (PS3-ES301) => Stacking storage that uses secure click interlocking design to connect separate containers. Ergonically designed to fit into your hands with ease while taking up less space in the diaper bag. Great for cheerios, formula, rice cereal, candies, sprinkles and more!
1 Qty Packin' SMART 4 Tier Twistables (SNS4-VEG01) => Stacking storage that seals both liquid and dry contents. Great for purees, water, juice, snacks, formula and more! Each container comes with its own dispensing lid.
To see how Mommy By Nurture was able to sort out her snacks and cereal for baby Davin read the FULL REVIEW HERE.
You can find these items not only at the innobaby website but at these other fine retailers:
buybuyBaby stores
Sam's Club (baby aisle)
Amazon.com
Diapers.com
Terms of service: One person may enter per household, Open to USA age 18+. Void where prohibited. One winner will be chosen at random from all valid entries. Winner has 48hrs from time of contact email to reply or another winner must be chosen. Product will ship from sponsor and normally ships within 2-6 weeks. You may come back daily to get additional entries for the Daily Secret Word or Tweets. Refer your friends for even more entries. Good luck!
Disclosure: This website was not compensated for this post. My website/blog is not responsible for fulfillment of this prize. Prizes will be shipped by each individual sponsor listed. This giveaway and post are not affiliated, endorsed, or sponsored by Facebook, Twitter, Instagram, Pinterest, or any other social media platforms. If you have any questions, or would like to see your product featured on Mommy By Nurture, in the next product review or giveaway, please contact <a "href="mailto:mommybynurture@gmail.com">Nichole at Mommy By Nurture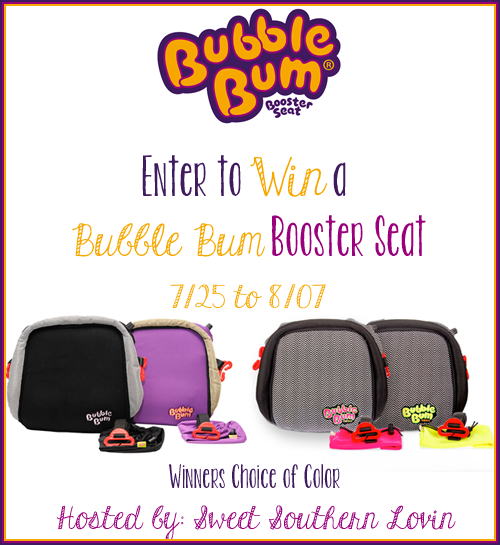 Welcome to the BubbleBum Booster Seat Giveaway!
Hosted By: Sweet Southern Lovin
Cohosted By: Life of a Southern Mom
Sponsored By: BubbleBum
BubbleBum is the first ever inflatable booster seat. Founded by Grainne Kelly, out of pure frustration and concern for her own kids safely while traveling. This car seat is very light weight and perfect for kids ages 4-11. It easily folds flat and can be stored in a matching travel bag to make carrying around while traveling so much easier, since it inflates in only 20 seconds (by mouth). The BubbleBum is perfect for: Carpool, when you have 3 carseats in a row, taxis, holidays, rental cars, grandma's car, and so much more. The options are endless. There are even positioning clips on each side that will hold the lap portion of the seat belt in place. The BubbleBum is available in 4 fun colors; purple/lime, black/silver, neon pink and neon yellow. What color will you pick? Michelle over at Sweet Southern Lovin had the opportunity to review the neon pink BubbleBum. Check out her full review by visiting here.
**Giveaway Details**
July 25th at 1am EST to August 7th at 11:59pm EST
Open to Continental US only. Must be 18 years of age or older to participate.
Prize: One lucky reader will win a BubbleBum Booster Seat in the color of their choice. RV $29.99
**How to Enter**
Enter using the Entry Form below. By entering you agree to abide by the Terms and Conditions listed on the Entry Form. All winning entries will be verified. Winner will receive an email from Michelle@sweetsouthernlovin.com and will have 48 hours to respond or a new winner will be chosen. All entries are optional.
*Participating bloggers did not receive any compensation for this giveaway. Sponsor is responsible for prize shipment. Any questions email Michelle@sweetsouthernlovin.com*
More Recent Articles
---
Click here to safely unsubscribe from "Preemie Twins Blog." Click here to view mailing archives, here to change your preferences, or here to subscribe • Privacy