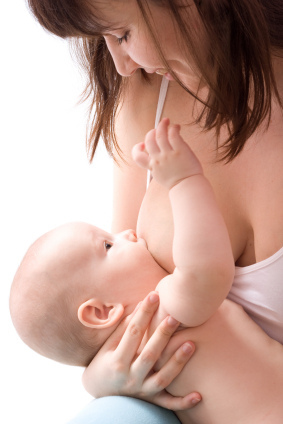 If you determine that breastfeeding is best for you and your family, you may find yourself thinking that nature gave you everything you need to get the job done. While this is technically true, there are a number of items that you will want to research, and probably purchase, to make your life much easier while you are breastfeeding your little one. Let's face it, there are few things that are easy, or free, when it comes to being a parent. Plan ahead to make breastfeeding the most hassle free experience you can before your baby is born.
The following is a list of handful of items that most breastfeeding moms would consider to be "must haves".
1. Breast Pump
This may seem obvious, but a breast pump is beyond important. There are many different models, and brands. Some pumps are electric, and some you can operate manually. You can reach out to a local lactation consultant to see what their thoughts are on pumps and various brands. You might find that both an electric and manual model is what you need for your lifestyle.
2. Bottles And Storage Bags
You will need more storage bottles, and even bags, than you think. Load up on them! The more extra breast milk that you can pump and save away, the easier life can be for you as a nursing mom. Most breast pump brands conveniently come with their own line of storage products. Definitely check out your options, and buy a little of each to see what works best for you, and your preferred method to store extra breast milk.
3. Nursing Pillows
As a new mom you may find yourself navigating the most comfortable way to hold your baby while you nurse. It can be more awkward than you'd imagine! A nursing pillow provides you with a little support while you are working it out. Additionally, for moms that have had a c-section, these pillows provide support and help alleviate the strain of holding a (surprisingly heavy) newborn while you recuperate from the surgery.
4. Nursing Bras
Find yourself a good nursing bra towards the end of your third trimester. Make sure to have a properly fitting bra, because there is nothing worse than a bra that is ill fitting. This is not an area to buy an economy brand, if that can be helped. Nursing bras provide you with the ease to be able to nurse your baby without taking off your bra. This can be incredibly helpful for situations where you are nursing away from the comfort of your own home.
5. Nursing Pads
Some women will require nursing pads to absorb breast milk that has leaked out unexpectedly. The need is different for every woman, you may or may not need these but it is best to have some on hand should you find that you tend to leak through.
6. Purified Lanolin Nipple Cream
On occasion, you may find that your nipples will get a bit chafed from nursing. Lanolin cream is a great product which will provide relief to you quite quickly and it is safe for your baby.
7. Nursing Necklace
As your baby gets a little older, they may start to get a little distracted while nursing. Wearing a baby-safe, and stimulating nursing necklace will keep your little ones attention where it is needed. You may also encourage them to explore reaching for and feeling the colorful beads while they nurse.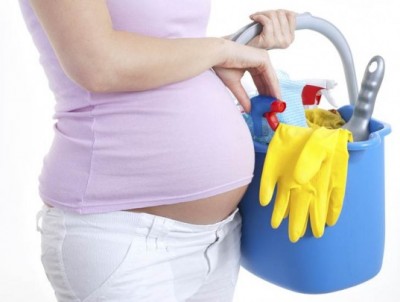 Pregnancy is a special and unforgettable experience for every woman and requires her devotion and attention to every activity that she initiates. Probably you have heard about all the things that pregnant women are not allowed to do because they need to ensure the best protection of the baby and in this article you will receive further details for the pregnant women who want to provide the cleaning duties without any preoccupations. It is true that every pregnant woman needs to be extremely careful when performing such activities, however, it is still possible to perform some of them, as long as you take into account the following tips.
If the woman feels in an excellent condition during pregnancy, there is nothing wrong to take part in the cleaning duties. Some pregnant women become really keen on cleaning, as they do not work and have more free time to devote on different activities. Reading this article will help you to understand more about the do's and don'ts for pregnant women who provide the cleaning duties in their homes even when they are pregnant:
Do's:
You can take up with the removing of the dust in all of the rooms. This activity requires less efforts and all you need is a clean microfibre towel
You can wash the dishes if that makes you feel relaxed. Of course there is no need to spend the whole day in the kitchen but there is nothing wrong to diverse your day by this activity
You can use the vacuum cleaner as long as it is not heavy for you
You can clean dirt and stains from the surfaces in your home by using protective gloves
You can arrange the rooms in your home without providing complicated décorations or any construction work
Don'ts
You cannot use any cleaning products that are toxic or any strong detergents that may cause allergy or other problems with health
You shouldn't provide windows cleaning that requires using of a ladder  because if you fall from it you can hurt your baby as well as yourself
You should not start  with the household duties without finding the right equipment. Find appropriate gloves and clothes that will protect your body and skin from the influence of the cleaning products
You shouldn't use any heavy items or cleaning equipment during the process of cleaning
You shouldn't take up with time consuming cleaning procedures because during pregnancy your body gets tired easily
If you want to be sure that the cleaning products won't cause any allergy to your skin, you can try some homemade products, thanks to which you will be able to get rid of the stains and dirt in an effective way. As long as you have white vinegar, baking soda and some lemon juice, you will be able to ensure safe cleaning process during the pregnancy. It is essential to be extremely careful when taking up with the household duties in your home, while you are pregnant because during thiat period woman tends to be more vulnerable towards outer influences.
Of course, you can still provide a great part of the cleaning duties that require less efforts and time, in case you enjoy mopping, vacuuming and removing of the dust. Otherwise, you can relax by reading your favourite book or by just taking a nap – no one will blame you for that because after all pregnant women are not supposed to be hard working and motivated to provide diverse duties in home.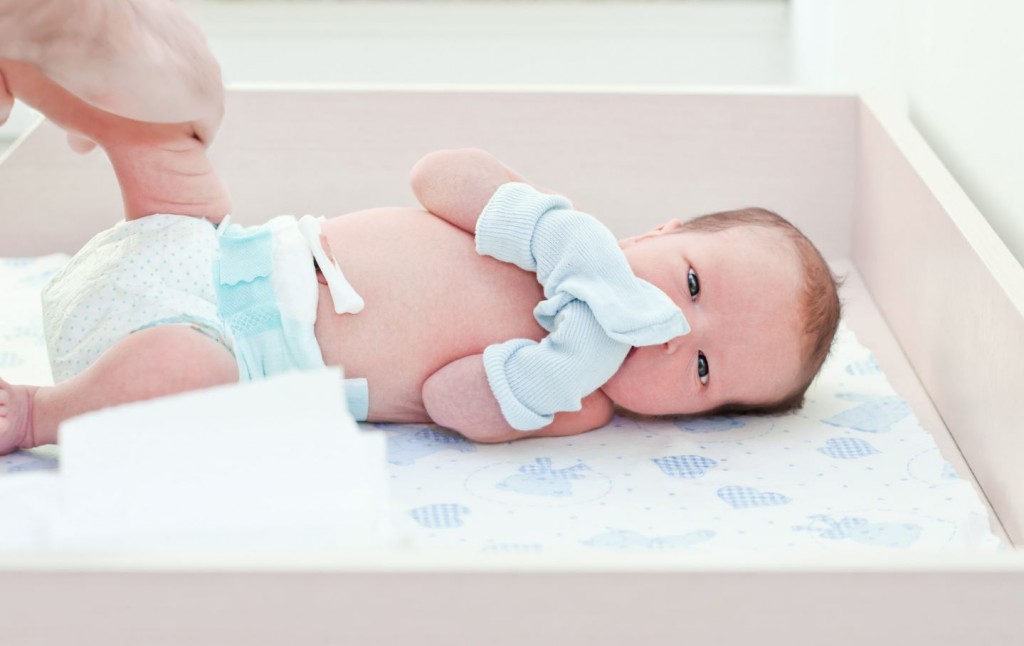 No mom is a pro from the very beginning. If you've never given birth before, or you've only had home births, you may not know what to expect after delivering in a hospital. Here's what you can anticipate during your stay.
Immediately After the Baby is Born
Some moms want to hold their new little baby the second he or she is born, but if you don't specify that to the doctors and nurses, you may be in for a surprise. At many hospitals, the baby will be cleaned and inspected before being given to the mother. The first hour after the baby is born is when they're most awake and alert, so if you don't want to miss out on any of this time, talk to your doctor ahead of time.
Where You'll Recover
In most hospitals, you'll be moved to a postpartum room after delivering the baby and receiving any necessary aftercare. Many modern hospitals are now focusing on family care, meaning the postpartum room may have a fold-out bed to accommodate your partner. It's also becoming popular to have the baby in your room at all times; in some hospitals, it's even required.
Hospital Stay Requirements
During your stay in the hospital, you'll be required to have an exam and your baby will get one as well. A pediatrician will examine the baby and administer a blood test to screen for various disorders. In some states, the baby will also get a hearing test as well. Make sure you know who is administering these tests and trust everyone assisting you during deliver. Birth injuries as the result of doctor error, like cephalohematoma and brachial plexus injuries, occur more often than you might think. According to a birth injury lawyer, out of every 1,000 babies born, between 6 and 8 of these suffer birth injury. Make sure you're educated on the risks of giving birth in a hospital and that you know and trust the healthcare professionals involved.
The mother will be examined to ensure she's healing correctly and any bleeding is slowing down. It's normal to experience heavy bleeding at first and it should continue to lessen for the next six weeks. During your hospital stay, you'll also need to pick a name for your baby (if you haven't already) and fill out the birth certificate.
Good Ideas for Before You Head Home
When you're gearing up to bring your new bundle of joy home, it's a good idea to have someone first bring home any gifts and flowers you've received. This will make leaving day much less hectic. You'll also need to make sure that you've installed a car seat in your vehicle.
Most insurance plans cover two days in the hospital following a birth. If you have a C-section, you'll likely be able to stay for a total of four days. Make sure to pack a bag ahead of time so that you have everything you need while at the hospital.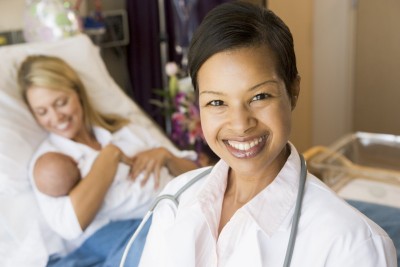 Most people know that having a baby will completely change their lives. However, many fail to realize that their lives may have to change dramatically even before the baby's conception. Before preparing the nursery, individuals need to talk with their doctors about preparing their lives.

Weight Issues

Women with a body mass index (BMI) between 18.5 and 24.9 are considered to be at a healthy weight. These women do not need to be concerned that their weight would interfere with conception.

However, overweight and obese women (those with a BMI higher than 25.0) have a harder time getting pregnant than their thinner counterparts. As a result, these women may need to seek out infertility treatments, which could be anything from a medication to IVF, in order to conceive.

Women who have a BMI of less than 18.5 are considered to be underweight. The cause of their low weight will determine whether or not their fertility is affected. A woman who is naturally thin and has regular periods need not worry that her weight will impact her fertility.

Exercise

While exercise is encouraged for everyone, there is such thing as too much in the case of women trying to get pregnant. Spending hours doing vigorous exercise can cause a woman to stop having periods, which is also a sign that she has stopped ovulating. For these individuals, the solution could be as simple as cutting back on the number of times they work out, or modifying their exercise program to include more low-impact activities, like water aerobics, walking, or elliptical training.

Medications

Nearly everything the mother consumes passes through the placenta on the way to the baby, including any medications mom might be taking. While some medications, including Metformin (which is used to treat poly-cystic ovarian syndrome) or acetaminophen (a pain-killer) will not negatively affect the baby, other medications, like Zoloft (an anti-depressant), could severely harm the child. Many doctors recommend discontinuing the use of these medications prior to conception so that they will pose little to no risk to the baby. "Discussing current medications, both prescribed and over-the-counter, with an experienced medial specialist is highly advised," says Dr. Gilbert Webb.
Diet

The habit of eating a well-balanced diet before the baby is conceived is advantageous. Most importantly, the mother-to-be needs to ensure that she is getting enough folic acid. Folic acid has been found to decrease birth defects in babies, as well as lessen the chances of a preterm birth. Leafy green vegetables and whole grain foods contain some folic acid, but the mother should also be taking a prenatal vitamin which contains at least 400 mg of folic acid per pill. The mother should also be consuming a wide variety of foods, including fruits, vegetables, complex carbohydrates, proteins, and good fats, including those found in olive and coconut oils.

Personal and Family Medical History

Finally, before conception, both the mother and father should be well aware of their own personal and family medical histories and be prepared to discuss them with their doctor. Some genetic and chromosomal disorders run in the family, and may be inherited by the baby even if neither parent has them. Additionally, diseases like hypertension, insulin resistance or even thyroid disorders can be exacerbated by pregnancy, and should be carefully monitored by a doctor throughout the pregnancy.

Having a baby is a big and important step in anyone's life. The best way to ensure a successful transition into this new lifestyle is by getting regular care from a competent medical professional who has experience in helping mothers through pregnancy, labor, and delivery.
Sadly, a disability can tremendously impact a child's experience at school. A huge 82% of children with learning disabilities have to deal with bullying at school.According to the below infographic from UKS Mobility, the absence of appropriate facilities, a lack of awareness among teachers and peers, and negative attitudes towards disability are the main culprits behind this situation. However, you can help disabled children enjoy a better experience at schools by providing such institutions with good access and mobility equipment, training staff in the education of special needs children, and educating other children in diversity and tolerance.

More Recent Articles