I've mostly been finishing toys people have asked for, when I've had a chance to finish any toys, but I do have these gray and lemon yellow Hug Me Slugs over in my toy shop right now. The apple green Hug Me Bunny was a custom order and is already adopted. They each have my new colored eyes.
We've had a lot going on lately, and I haven't been able to sew as much as I would like. I've been doing my dad's physical therapy with him. He's been very good about doing his exercises and walking, but his balance is sometimes off. He wakes up a lot at night, and I think he may have taken up sleep walking. I hear him wandering the hall at night. He makes coffee and feeds the cats, and doesn't remember doing it. I've had to strike a balance between checking on him and sleeping because I can't get up every hour and hope to function.
Dad's scan results were not what any of us hoped they would be, but we still need to have more tests to confirm what is going on. I am hoping he can resume physical therapy with a trained physical therapist to help him with his balance, but first we need to get more appointments out of the way. I'll keep doing his exercises with him either way.
Hurricane Junonimo had her spay surgery done. She went into heat early, which was a surprise. She didn't agree with the idea that she needed to rest afterward, and kept racing around. There was no where to confine her where she would not jump on things. The area got irritated and she pulled out one of her stitches.
The vet tech fit her with a cone, but she had it off by the time we got home. I tried two different cones and made her an embarrassing dress to wear. She would have none of it.
My badly-designed Project Runway reject of a dress stayed on a little longer than the cones, but she got another stitch out. So, we took her to the vet, every other day, to make sure she was okay, until she had the remaining two stitches removed. She is fine now and has moved on to other mischief, like trying to march out the door whenever she gets a chance, and giving me back talk when I tell her to get off the kitchen counter.
I took some friends' suggestions to try Small Pet Select timothy hay for Oliver Bunny, since he is especially picky about hay. He chose it over his salad the first time I gave it to him.
I see him munching on it, which is good. He has disagreed that bunnies are supposed to have timothy hay as the bulk of their diet. My pets all seem to have rebellious ideas.
Trouble from next door also has rebellious ideas. He likes to see how close he can get to Santana without Santana noticing.
Santana likes to sleep in the garden, and Trouble tucks himself in as inconspicuously as he can, a couple of feet away. The other day, he managed to hide, unnoticed for hours off the edge of the deck, before Santana spotted him. One time I found them lying next to each other under my car.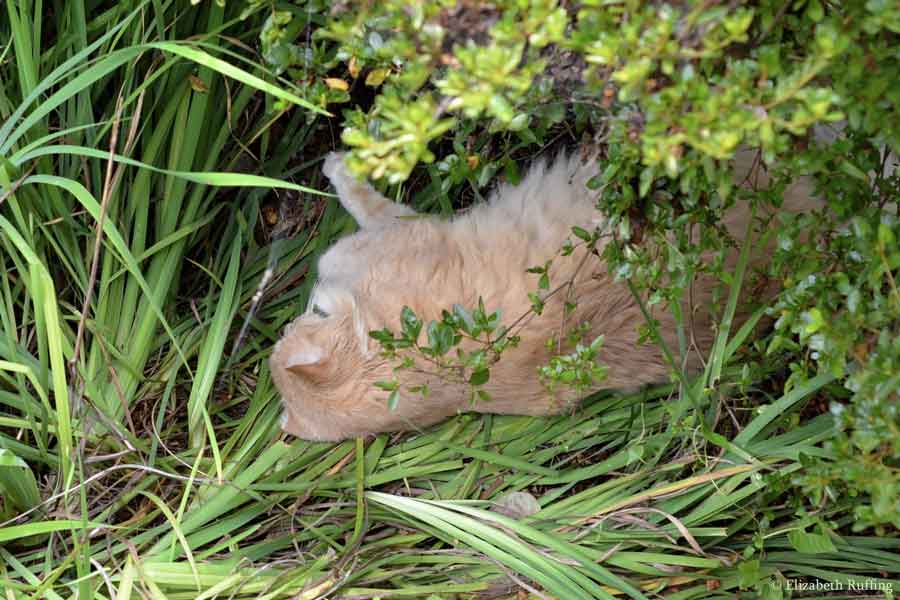 One night, Trouble was locked out of his house, and slept in Mr Bear's house on the porch. Eventually, there was an argument. He likes to see how much he can get away with before Santana yells. He even sneaks food out of Santana's bowl. I suspect he wants to be friends with Santana, but it doesn't always work out well.
His brother Scooter doesn't bother being stealthy. He lounges in plain view.
He and Trouble were coming over together for a while, when Dad's physical therapist was making home visits, to watch Dad do his exercises. They both took a seat at the back door.
They found it entertaining, most of the time.
I have to get those capes on my Wonder Bunnies. I made more Wonder Bunnies, and now I need to make more capes.
Dad got his triple bypass heart surgery done toward the end of August, and is doing pretty well. He is still in bed most of the time, but he has been able to walk a little more each week. He gets tired easily. We were surprised to find out that two of the blockages in his heart were almost 100% blocked, and the other was almost 70% blocked. The surgeon said that was "the good one". It is amazing he was still going to work eight hours a day, walking around. We are all so glad we found out about this and that the surgery went well. Unfortunately, he has to go back in for a biopsy on his lung. I'm sorry he has more to go through. Hopefully that will turn out okay too.
It is rare to catch my parents on camera, since they both hide from me when I try to photograph them, but here they are, on one of Dad's walks in the yard. I'm sure there were neighbors' cats just out of the picture frame. They like to accompany them.
Just to add to the excitement of the surgery, I got so worn out that I managed to drop a metal cable TV box on my head, from about four feet above. I don't do well without sleep, and we had to be at the hospital mighty early, not that I was sleeping much anyway. I was afraid I wouldn't be able to drive back and forth to the hospital. I set off a chain of headaches and numbness and pins and needles that has finally calmed down.
Mom has been getting up with Dad in the morning. I am grateful for that. I was doing it at first, but that, combined with Dad being mixed up about time, was leaving me wiped out. He was getting up when I was going to bed. One time he aimed a flashlight in my face at 3:33am, because he thought I might be outside. The nurse said that is a very common side effect of being in the hospital. I know my parents went through that with me, when I came home from the hospital, when I had encephalitis in my twenties. Back then, they took turns sleeping on the floor next to me, because I would wake up calling out or I would go try to climb the ladder to the attic in the middle of the night. I also remember the long recovery being a big downer. So, even though Dad is doing well, I know it is hard and it takes a lot of patience.
I am doing my best to get my work underway. I feel I need to apologize all the time, for not being able to keep up, but I know that is ridiculous. I am doing one thing at a time, or, more accurately for me, twenty of one thing at a time. That is the closest I do to one thing at a time. I have a list of toys people have asked for, and I am cutting out those colors. I sew them by the stack. In my mind, that is practical. That way, I will be better prepared the next time someone wants one of those colors.
This gray Hug Me Bunny is one of the toys that made it all the way to finished. I am making an apple green bunny for the same person. Someone else asked for a gray slug. That is why I have a stack of gray and apple green above. I didn't realized I had so much apple green fleece. I have been tripping over the bag of it for months, but had no idea there was twice as much as I have in that photo. I hope everyone likes apple green.
I had to take my real-life bunny, Oliver, to the vet yesterday. I kept meaning to take him for a nail trim, but had no time. The night before, one of his nails was bent out to the side. It must have gotten caught on something. I felt like such a bad mommy. They were booked up until Tuesday, but one of the techs fit us in. Oliver did not enjoy his nail trim one bit, but I hope he feels better now.
He seems to have forgiven me. He is camping out next to the air conditioning vent in the floor of my workroom. That is one of his favorite spots. Forehead pets make him feel better too.
Scooter, one of the cats from next door, has decided that he is running away from home. He wants to know if I can provide refreshments. Scooter shows up at the back door every day he can, every time he hears dishes in the kitchen. He shows up for breakfast. He shows up for dinner. He waits by the back door in the dark.
When I try to feed Santana, he jumps in front of him and sticks his head in the bowl. Santana has decided Scooter is crazy and he is not going to mess with him. Sometimes, Scooter's brother, Trouble, is out on the back deck too, but he usually heads to the front porch, to see if he can get past Santana for some dry food. Scooter prefers wet food and has figured out that you ask for that at the back door.
When he gets tired, sometimes he takes a nap outside the back door, just in case a can of food happens to come rolling by.
I emailed my neighbor to suggest getting Scooter tested for hyperthyroidism. We have had cats with it, and I have been told it seems to be common in our area. The desperation for food, combined with his weight loss makes it a possibility. He also howls occasionally, for no apparent reason, which can be another sign.
The cats inside the house are used to cats showing up at the door. They watch each other as they go about their daily activities. Juno makes sure she puts on a good show, demolishing whatever she can find in the living room and kitchen. This is the cardboard insert for her Star Chaser toy, the circular track with a light-up ball. Good thing we ordered extra inserts.
I had better go amass another stack of fleece rectangles, or take a nap, or combine both a stack of fleece and a nap.
I finished a Super Slug!
I got caught up bias cutting and piecing the lining for his turquoise and purple striped cape, making the stripes chevron in the center, that I made his cape twice the size I meant to make it. I didn't realize that until I went to bed last night.
I thought it looked surprisingly voluminous! It has a purple and turquoise star print cotton fabric on the outside.
He has my new custom-printed colored eyes. His are turquoise and green. I wish my camera would capture turquoise more accurately because the colors all set each other off so beautifully. He looks very dramatic.
I also made and pen-and-ink drawing of him for his hang tag. The tag can be personalized and comes tied to the Super Slug with a ribbon. This guy is already adopted, and was spoken for before I posted him. I just heard the "ping" of my mail from his adopter as I typed the last sentence. I plan to make more. I have a long list of toys that I am finishing for people who called dibs on the partially done ones already. I'll make a second post to cover some of the busy-ness of the past weeks.