Stop Humiliating Teachers is a great new essay at The New Yorker.
I'm definitely adding it to The Best Articles Providing An "Overall" Perspective On Education Policy.
Here's an excerpt:
You can find links to a number of articles about the Success Academy charter school chain over at The Best Posts & Articles Analyzing Charter Schools.
Today, The New York Times has another one, and it shares a secret video recording of a teacher tearing-up a first graders paper.
Here's an excerpt:
Listen, I suspect most of us teachers have had sixty seconds of our actions in the classroom where we have been terrible teachers, though I'd like to think that – in my worst moment – I wouldn't do what that teacher did. What's most disturbing to me, though, is that it appears the teacher is implementing a practice recommended by the school itself!
This latest news, along with the string of other reporting on Success' practices, I think certainly takes the shine off the former golden child of charter schools….
Sequencing activities are great lessons for teaching language and higher-order thinking, particularly if students are challenged to explain their reasons for putting texts or pictures in the order they choose.
Chronological order is the typical sequence that is used, and it works great.
There's also a different twist on this kind of sequencing, one which I learned from my teaching mentor, Kelly Young.
Instead of cutting-up sections of text and having students put it in chronological order, another option is to list questions, mix-up the answers, and have students have to identify which ones go with the other. The texts can be complex, including having multiple paragraphs making-up the answers, or can be very simple.
Here's a simple version I used when introducing Problem/Solution essays to my Intermediate English Language Learners. As you can see from the image below, there are a list of problems that are then followed by a list of solutions (that are not in order). Students had to match the problem with the solution (you can download it here).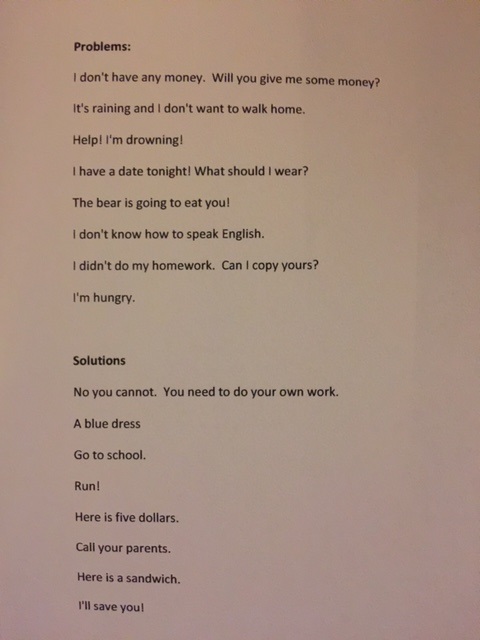 Another fun way to use this list is to call out the items under "Solutions" (without sharing the items under Problems) and have students come-up with different types of problems they could solve.
While I was preparing this post, I realized that, though I have "Best" lists for tons of other kinds of essays, for some reason I don't have one for Problem/Solution.
However, I do have quite a few related resources at our class blog.
You can find links to lists on the other essays at The Best Posts On Writing Instruction.

Warren Berger, author of "A More Beautiful Question" writes:
It's always a good time for asking questions, but now there's an especially good time: the week of March 13 to 19, otherwise known as "Question Week 2016." I am organizing this event in partnership with the Right Question Institute and other organizations that champion questioning. It's the 3rd year in a row we've done a questioning event timed to Einstein's birthday, but this year, we plan to expand it–involving many schools from all around the country and even some schools outside the US. 
Here's the plan: During Question Week, participating schools and classrooms across the US will conduct questioning exercises or activities with students, sharing the results on social media. There is a website already up that provides guidance and tips on possible questioning exercises or activities you can do. But you may also choose to do something different — as long it is question-related, it qualifies as a Question Week activity. Also during that week, live special events will feature public discussion on the power of questioning. Visitors to the Question Week website will discover how "beautiful questions" have changed the world around us; they'll also learn how to ask better questions themselves. And everyone will be encouraged to share their questions on the site, as well as on Twitter and Facebook.
If all goes as planned, we'll have lots of schools — of all different types — conducting fun questioning activities, then sharing it all on social media (#QuestionWeek). The goal is to flood the Internet with questions! This is a passion project of mine: ever since my book came out I've been pleasantly surprised to see how this issue (the importance of asking questions) resonates with teachers and students. With that in mind, I thought it would be fun to designate a time to try to generate a bit more awareness and momentum around questioning. 
I invite everyone to visit the Question Week site and think about how you can participate when the time comes. And please spread the word about Question Week.
I've previously posted many resources from Warren and others at The Best Posts & Articles About Asking Good Questions.
More Recent Articles