Erin Ruppert made this lovely "First Christmas" ornament. The gold ink looks great on the clear ball.
Erin also made ornaments with ornaments on them, which somehow seems fitting.
Lotte made an ornament for her mom at FABKlas, a maker education program.
The folks at FABsterdam made this Mario ornament.
MAKE Ventura used gold Sharpie markers on a matte finish ornament to great effect. Other makerspaces are playing with their EggBots, too. The Johnson County Library in Kansas is doing Eggbot ornament tutorials in their makerspace.
Chris Lynas took the EggBot to "work and school Christmas fair raising money for charity – result: £200 in under four hours!"
Fran marked up eggs for a family igloo making craft party.
Lastly, our friend Miguel engraved glass ornaments with his EggBot.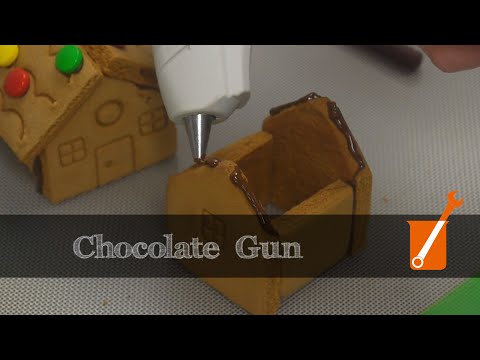 After a recent conversation we had on twitter about edible hot glue possibilities for gingerbread houses, Ben Krasnow modified a hot glue gun to melt chocolate, adding PID temperature control. He also made a mold for making chocolate sticks of the right size for the modified glue gun.
Darren posted pictures of his UV erasable coffee table which was inspired by our 555 footstool.
The top lifts to reveal the compartment inside and to provide a taller table surface.
There are lots of build photos in the imgur set, and more details in the reddit discussion.
In October, we released our Solderless Flickery Flame project, based on a tiny breadboard with six red and yellow candle-flicker LEDs, to give a fun and semi-realistic flame effect. Today, we're releasing two new Flickery Flame Soldering Kits along the same lines, each of which has 6 candle-flicker LEDs, a little circuit board, and a battery holder.
The Yellow/Red kit has the same mix of yellow and red candle-flicker LEDs that works so well in the breadboard kit.  This one will look great in a jack-o-lantern, luminaria, or scale-model fireplace.
On the other hand, the White/Warm White kit has a mixture of (cool) white and warm white LEDs that give a modern wintery flame effect that has at least as much charm, but won't be mistaken for a natural fire. This one will look great in all kinds of winter holiday decorations, luminarias, and props.
Both the Yellow/Red and White/Warm White kits are fun, low-cost, self-contained, and easy soldering kits, which will be right at home both as stocking stuffers and as bite-size first projects for soldering workshops.
More Recent Articles
---
Click here to safely unsubscribe from "Evil Mad Scientist Laboratories." Click here to view mailing archives, here to change your preferences, or here to subscribe • Privacy