Inside the Studio with Gardanne Beads
Each week one of our contributors gives you a sneak peek into their studio, creative process, or inspirations. We ask a related question of our readers and hope you will leave comments! As an incentive, we offer a PRIZE each week to encourage you to use that keyboard and tell us what you think.
At the next Inside the Studio post a WINNER is chosen at random from all eligible entries.
Here are the results from the last Inside the Studio post.
Anvil Artifacts is the winner of a $20 gift certificate at Swoondimples!!!
Congratulations! Please contact Heather to claim your prize.
Hi from Gardanne Beads, since I just returned from Bead Fest this past weekend I thought I would take you on the road with me instead of in my studio.
I can't believe I have been exhibiting at the August Bead Fest for the past five years, along the way I have picked up some show and display tips that work for me.
First tip is to get one of those gel mats to stand on behind your booth, most of the floors at large venues are concrete. So good shoes are a must, but these gel mats definitely make for more comfortable legs and feet. Those are my feet on the right, can you guess whose pretty feet are on the left?
I would also recommend a 24" folding stool, if you need to sit you will still be at a comfortable eye level with your customers. I forgot mine on this trip and my legs were extra tired from all the standing.
When you run out of space on your table, instead of investing in a larger table go vertical.
I invested in some handmade display racks a couple years ago from a fellow ETSY seller called
Moxie Metal,
they make a variety wonderful jewelry displays in all shapes and sizes.
My tip is not the metal display rack but the gauze fabric I have draped over the top rail of the display. I drape this fabric on the back of the display to act as a solid back drop for my beads and/or jewelry. By doing this I have eliminated the distraction of what is going on behind my display and the customer can focus on the beads.
If you are not familiar with bead shows, at the end of the show day everyone covers their items in the booths with fabric or plastic. I never did understand this practice, but everyone does it.
I did not plan on this added feature, but the first time I used the gauze fabric on my display racks I discovered that I could just flip the fabric over my items on the vertical display and they were covered for the night.
If you are selling jewelry components it is super important to have jewelry samples containing your beads so your customers have some inspiration on how to use your components.
I purchased these linen displays from
Nile Corp
, they are very inexpensive so as they look tired just get new ones. My earrings made with earwires hook into the linen, for an easy display solution.
The linen necklace displays came with some paper stands so they could be used on the table top. I wanted to hang them on my vertical display, so I took off the stands and added the
3M clips
, intended for power cords, to clip them to the top of my display.
The last tip of the day is an apron with multiple pockets that was intended for my hips but is more functional tied to the back of my table. I keep all my bills in the separate pockets and it is easy to access when giving change. I never liked the cash boxes they would tip over when opened and I never felt to comfortable walking back to my car carrying a cash box.
Hope you have found these tips helpful. You will find that your display will evolve to meet your needs and also change depending on what type of show you are doing.
In the comment section tell me what your favorite tip was or maybe you have a favorite tip of your own you would like to share.
A winner will be selected at random from the comment section and will receive a $20 gift certificate to spend in my ETSY shop,
Gardannebeads.etsy.com
Cover Making Etched Metal Jewelry by Kristen Robinson and Ruth Rae
Maybe you missed this book when it came out like I did, or you have recently become interested in learning how to etch metal ? Or you like mixed media jewelry with a bohemian twist. In any of these cases, you will find
Making Etched Metal Jewelry, Techniques and Projects, Step by Step
, by Kristen Robinson and Ruth Rae, a good introduction to the techniques of etching and the construction of many inspiring jewelry projects ( there are 17 to choose from.) Etching metal is almost magical and is a great way to give your handmade pieces a unique one of a kind look as you can see in the samples here from the cover of the book.
4 examples of projects in the book
The book begins with the specific techniques involved in etching metal. The authors have chosen to focus on the two most frequently used methods: etching with Ferric Chloride and etching with Muric Acid and Hydrogen Peroxide. Since both methods involve the use of chemicals that require special precautions in order to be used safely, I want to be sure to draw your attention to the safety guidelines that have been clearly stated on page 8. In addition, it is important to note that the methods discussed are only suitable for Brass, Copper and Nickel Silver.
Besides teaching how to etch metal, the book also addresses a number of metal working and beading techniques to help you make its many mixed media and bohemian style projects. You will find information on tools to use to, supplies needed, basic wire wrapping techniques for attaching beads to your work and specific instructions on how to use a circle cutter, dap a metal disk into a dome, how to use a jeweler's saw, and how to use 3 different kinds of patinas and more.
For me the strength of this book is the special ways that etching can personalize your jewelry. Using just a black Sharpie permanent marker you can write on metal and etch whatever words you want to have on your creation. No need to reverse the text and use a complicated procedure to get what you want to say on your piece.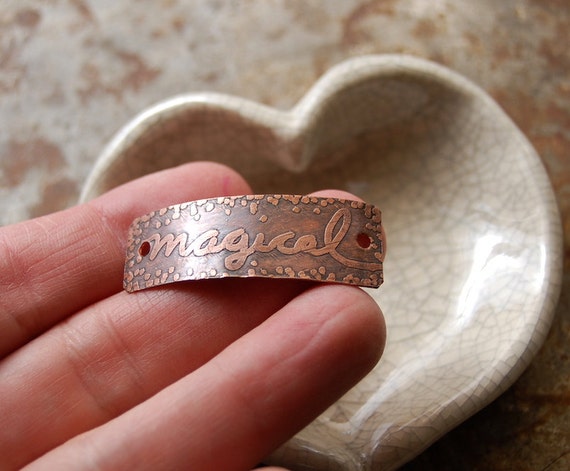 Pre-Order / Etched Copper Curved Bars - Original Drawings on Copper - Made to Order by Gaea
You can use Stazone permanent black to ink up one of your own handmade rubber stamps or a commercial one to get an image on your metal and it will come out etched. And that Sharpie marker is also great for drawing on metal and designing your very own bead caps, tube beads, disks and pendants.
Circle disks stamped with Stazone ink and etched; Tube beads drawn on with permanent black Sharpie marker and etched. by MaryHardingJewelry
Another aspect of etching that I learned about in this book is making etched metal chain links. You will find several different handmade chain styles using etched links featured in the projects. What a great idea for enhancing your jewelry. I can't wait to try my hand at making some.
I hope you have found this look at
Making Etched Metal Jewelry
helpful and intriguing. You can get it at your local bookstore or on
Amazon
. The Amazon site allows you to have a "look inside" so you can see even more pictures and features of this publication. For more examples of jewelry using etched metal components, you can visit my
Pinterest Board.
Thanks so much for stopping by today.
Mary
The playful artwork for August evokes the feeling of walking in a park in the fall. The trees seem to be alive with color and almost dancing. Same is true for this beautiful bib style necklace from WinterBirdStudio. The ceramic focal components seem like shards of a long forgotten piece of pottery with a very 70s color palette that plays perfectly with this month's challenge art. And this would be the perfect necklace to wear on a stroll through the park.
(Pssst...Kathrin is getting married! Great sale happening! Check it out!)
We are now using Pinterest!
Pretty please make sure that you post a link in your Pinterest description
so that I have someplace to attribute the picture!
And don't forget to tell us about those art beads - providing links to bead makers is appreciated!
Deadline August 29th to get your pictures posted to the Pinterest boards for the creation of the Monthly Challenge Recap post for August 31st.
TIP: If you upload your photo rather than pin it from your blog or shop, edit the pin (the little pencil button) and add your link as the source. Save your edits. This will allow us to click directly on your photo and go to your blog or shop to read more about your entry. If you don't, I might not be able to access the photo to share it.
Isn't this month's challenge artwork fun? I love the playful abstraction of the park and trees. But what I couldn't help notice about this month's inspiration was how on trend it is with the
Pantone
color palette for fall.
Even through the colors may be
Pantone's
color picks for the season, they really stand the test of time!
If you haven't seen this month's jewelry challenge head over to the blog post to
read all about it.
You have until the end of the month to enter.
Here are some offerings from our Art Bead Scene contributor's shops that would fit perfectly in with this month's challenge.
1. First up is the copper pendant from
Mary Harding
. I like how the curves are mimic the painting.
2.
Tesori Trovati's
leaf pendant pulls the sharkskin and potter's clay shades from the painting and gives a not to the subject matter - just in more literal terms.
3. Birds and parks are constant companions so one in that pop of orange would be a great focal. Enamel bird from
Gardanne
.
4. The teal disks from
Humblebeads
picks up the green/blue hues in the painting and the branch them mirrors the curving branches in the inspiration piece.
5. More birds in a modern style from
Swoondimples
. I love the purple and think it's a perfect match.
6. As September starts to wave at us, mustard yellow is more and more appealing. This button from
Creative Impressions in Clay
can also be ordered a pendant.
7. Ceramic rounds
Firefly Designs Studio
in that lovely muted shape of pink would look great with any of the other pieces listed here.