---
The trouble with VAR and other mathematical models of risk is that if it becomes the dominant paradigm, and everyone begins to use it, it creates distortions in the market, because institutions gravitate to asset classes that the model makes to appear artificially cheap.  Then after a self-reinforcing cycle that boosts that now favored asset class to an unsupportable level, the cashflows underlying the asset can no longer support it, the market goes into reverse, and the VAR models encourage an undershoot.  The same factors that lead to buying to an unfair level also cause selling to an unfair level.

Benchmarking and risk control through VAR only work when few market participants use them.  When most people use them, it becomes like the portfolio insurance debacle of 1987.  VAR becomes pro-cyclical at that point.
Sometimes I think the Society of Actuaries is really dumb.  The recent financial crisis demonstrated the superior power of long-term actuarial stress-testing versus short-term quant models for analyzing risk.  The actuarial profession has not taken advantage of this.  Now, maybe some investment bank could adopt an actuarial approach to risk, and they will be much safer.  But guess what?  They won't do it because it will limit risk taking more than other investment banks.  Unless the short-term risk model is replaced industry-wide with a long-term risk model, in the short-run, the company with the short-term risk model will do better.
The reason why VAR does not effectively control risk is simple.  VAR is a short-term measure in most of its implementations.  It is a short-term measure of risk for short- and long-term assets.  Just as long-term assets should be financed with long-term liabilities, so should risk analyses be long-term for long-term assets.
This mirrors financing as well, because bubbles tend to occur when long-term assets are financed by short-term liabilities.  Risk gets ignored when long-term assets are evaluated by short-term price movements.
And, as noted above, these effects are exacerbated when a lot parties use them; a monocultural view of short-run risk will lead to booms and busts, much as portfolio insurance caused the crash in 1987.  If a lot of people trade in such a way as to minimize losses at a given level, that sets up a "tipping point" where the market will fall harder than anyone expects, should the market get near that point.
The idea that one can use a short-term measure of risk to measure long-term assets assumes that markets are infinitely deep, and that there are no games being played.  You have the capacity to dump/acquire the whole position at once with no frictional costs.  Ugh.  Today I set up a new client portfolio, and I was amazed at how much jumpiness there was, even on some mid-cap stocks.  Liquidity is always limited for idiosyncratic investments.
The upshot here is simple: with long term assets like stocks, bonds, housing, the risk analysis must be long term in nature or you will not measure risk properly, and you will exacerbate booms and busts.  It would be good to press for regulations on banks to make sure that all risk analyses are done to the greater length of the assets or the liabilities (and with any derivatives, on the underlying, not contract term).
There is probably money to be made in analyzing the foibles of money managers, to create new strategies by taking on the opposite of what they are doing.
What errors do most money managers make today?
Chasing performance
Over-diversification
Benchmarking / Hugging the index
Over-trading
Relying too heavily on earnings growth
Analyzing the income statement only
Refusing to analyze industries
Buy newsy companies
Relying on the sell-side
Trusting management too much
Let me handle these one-by-one:
Chasing performance
In writing this, I am not against using momentum.  I am against regret.  Don't buy something after you have missed most of the move, as if future stock price movement is magically up.  Unless you can identify why the stock is underappreciated after a strong move up, don't touch it.
Over-diversification
Most managers hold too many stocks.  There is no way that a team of individuals can follow so many stocks.  Indeed, I am tested with 36 holdings in my portfolio, which is mirrored for clients.  Leaving aside tax reasons, it would be far better to manage fewer companies with more concentrated positions.  You will make sharper judgments, and earn better returns.
Benchmarking / Hugging the index
It is far better to ignore the indexes and invest in what you think will yield the best returns over the next 3-5 years.  Aim for a large active share, differing from the benchmark index.  Make some real nonconsensus investments.     Show real moxie; don't be like the crowd.
Yes, it may bring in more assets if you are never in the fourth quartile, but is that doing your best for clients?  More volatility in search of better overall returns is what investors need.  If they can't bear short-term volatility, they should not be invested in stocks.
Over-trading
We don't make money when we trade.  We make money while we wait.  Ideas take time to work out, and there are frequently disappointments that will recover.  If you are turning over your portfolio at faster than a 50% rate, you are not giving your companies adequate time to grow, turn around, etc.  For me, I have rules in place to keep from over-trading.
Relying too heavily on earnings growth
Earnings growth is far less predictable than most imagine.  Companies with high profit margins tend to attract competitors, substitutes, etc.
When growth companies miss estimates, the reaction is severe.  For value companies, far less so.  Disappointments happen; your portfolio strategy should reflect that.
Analyzing the income statement only
Every earnings report comes four, not just one, major accounting statements, and a bevy of footnotes.  In many regulated industries, there are other financial statements and metrics filed with the government that further flesh out the business.  Often an earnings figure is less than the highest quality because accrual entries are overstated.
Also, a business may be more or less valuable than the earnings indicate because of the relative ability to convert the resources of the company to higher and better uses, or the relative amount to reinvest in capex to maintain the earnings stream.
Finally, companies that employ a lot of leverage to achieve their earnings will not do well when financing is not available on favorable terms during a recession.
Refusing to analyze industries
There are two ways to ignore industry effects.  One is to be totally top-down, and let your view of macroeconomics guide portfolio management decisions.  Macroeconomics rarely translates into useful portfolio decisions in the short run.  Even when you are right, it may take years for it to play out, as in the global financial crisis – the firm I was with at the time was five years early on when they thought the crisis would happen, which was almost as good as being wrong, though they were able to see it through to the end and profit.
Then there is being purely "bottoms up," and not gaining the broader context of the industry.  As a young investor that was a fault of mine.  As a result, I fell into a wide variety of "value traps" where I didn't see that the company was "cheap for a reason."
Buying newsy companies
Often managers think they have to have an investable opinion on companies that are in the news frequently.  I think most of those companies are overanalyzed, and as such, don't offer a lot of investment potential unless one thinks the news coverage is wrong.  I actually like owning companies that don't attract a lot of attention.  Management teams do better when they are not distracted by the spotlight.
Relying on the sell-side for analysis
Analysts and portfolio managers need to build up their own industry knowledge to the point where they are able to independently articulate how an industry makes money.  What are the key drivers to watch?  What management teams seem to be building value the best?  This is too important to outsource.
Trusting management too much
I think there is a healthy balance to be had in talking with management.  Once you have a decent understanding of how an industry works, talking with management teams can help reveal who are at the top of the game, and who aren't.  Who is honest, and who bluffs?  This very long set of articles of mine goes through the details.
You can do a document-driven approach, read the relevant SEC filings and industry periodicals, and not talk with management ever – you might lose some advantage doing that, but you won't be tricked by a slick-talking management team.  Trusting management implicitly is the big problem to avoid.  They are paid to speak favorably regarding their own firm.
Summary
This isn't an exhaustive list.  I'm sure my readers can think of more foibles.  I can think of more, but I have to end somewhere.  My view is that one does best in investing when you can think like a businessman, and exclude many of the distractions that large money managers fall into.
A little more than two years ago, I wrote Goes Down Double-Speed.  I wrote it after the market had doubled from its lows two years earlier.  I want to update the piece and explain we have learned over the past 2+ years, and maybe discuss what could happen over the next 2+ years.  Anyway, here is the modified table of bull and bear markets: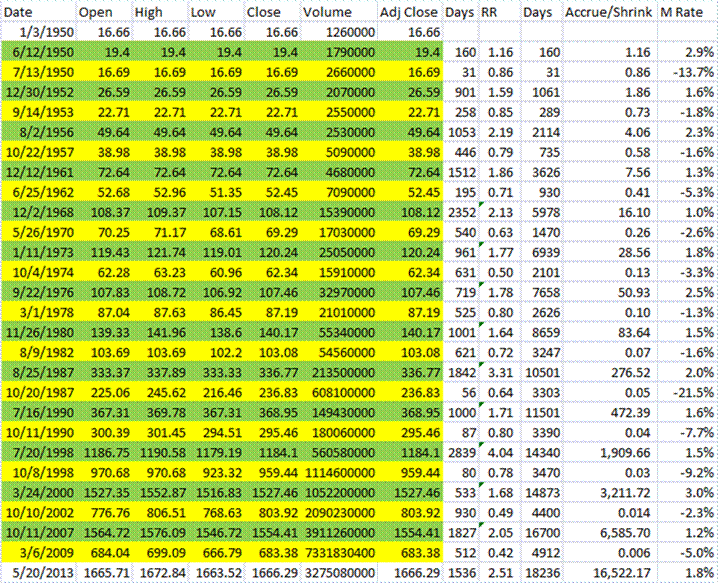 Since the last piece, the gains have come slowly, validating my comment, "But it would be unprecedented for the market to continue to advance at a 3% [per month] pace from here."  In long recoveries, gains first come quickly, then slowly, then near the end they often come quickly again.  Things are coming quickly again now, but who can tell how long it might persist.
Maybe Goldman Sachs can tell us.  After all they increased their price targets for the S&P 500 yesterday.  Now let me republish my updated bull market graphs from the prior piece: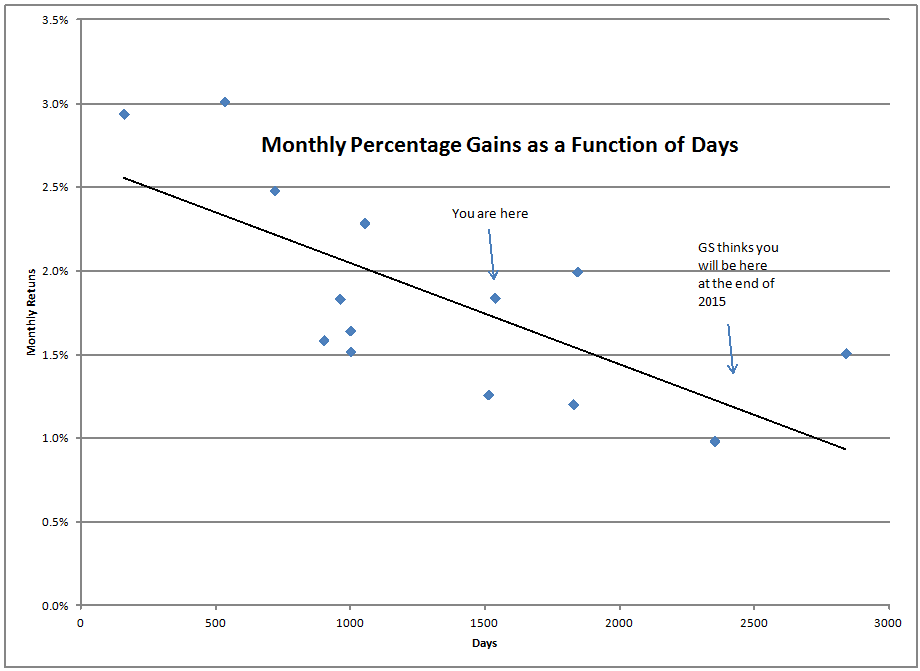 And now look at the cumulative gain: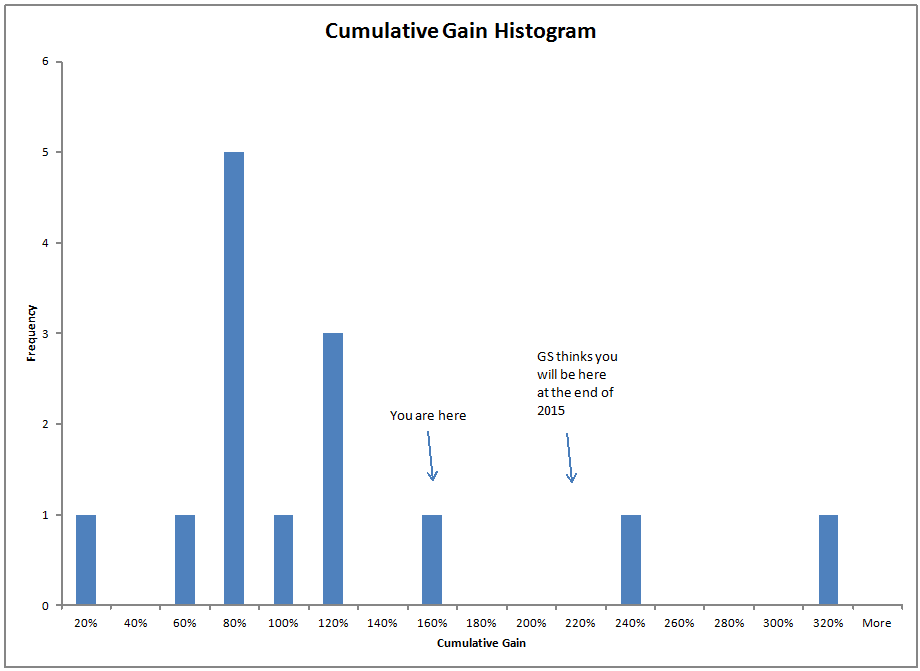 The predictions of Goldman Sachs are both believable and unbelievable.  Believable: it's not historically impossible for a rally to last that long, or for it to be so large.  That said the probability historically has been low.
Unbelievable: Unless revenue growth kicks in, that means the profit margin, already at record highs, will soar to an astounding record.  But won't revenue growth begin again?  That's hard to say, but if revenue growth starts in earnest, the Fed will start removing policy accommodation, because bank lending will be perking up.  At that point, it is anyone's guess as to what will happen.  Therefore, I rule out Goldman Sachs' forecast as a possibility.
The rally continues to get longer in the tooth, and its has been aggressive this year.  I repeat how I ended the original piece: "Consider trimming some of your hottest positions."
The foolish do the best in a strong market
"The trend is your friend, until the bend at the end."  So the saying goes for those that blindly follow momentum.  The same is true for some amateur investors that run concentrated portfolios, and happen to get it right for a while, until the cycle plays out and they didn't have a second idea to jump to.
In a strong bull market, if you knew it was a strong bull market, you would want to take as much risk as you can, assuming you can escape the next bear market which is usually faster and more vicious.  (That post deserves updating.)
Here are four examples, two each from stocks and bonds:
In 1998-2000, tech and internet stocks were the only place to be.  Even my cousins invested in them and lost their shirts.  People looked at me as an idiot as I criticized the mania.  Buffett looked like a dope as well because he could not see how the enterprises could generate free cash reliably at any intermediate time span.
In 2003-2007, there were 3 places to be — owning homebuilders, owning depositary financials or shadow banks, and buying residential real estate directly.  This was not, "Buy what you know," but "Buy what you assume."
In 1994 many took Mexican credit risk through Cetes, Mexican short-term government debt.  A number of other clever investors thought they had "cracked the code" regarding residential mortgage prepayment, and using their models, invested in some of the most volatile mortgage securities, thinking that they had eliminated all risk, but gained a high yield.  Both trades went badly.  Mexico devalued the peso, and mortgage prepayments did not behave as expected, slowing down far more than anticipated, leading the most levered players to  blow up, and the least levered to suffer considerable losses.
2008 was not the only year that CDOs [Collateralized Debt Obligations] blew up.  There were earlier shocks around 2002, and the late '90s.  Those buying them in 2008 and crying foul neglected the lessons of history.  The underlying collateral possessed no significant diversification.  Put a bunch of junk debt in a trust, and guess what?  When the credit cycle turns, most of those bonds will be under stress, and an above average amount will default, because the originators tend to pick the worst bonds with a rating class to maximize the yield, which allows the originator to make more.  Yes, they had a nice yield in a bull market, when every yield hog was scrambling, but in the bear market, alas, no downside protection.
I could go on about:
The go-go years of the '60s or the '20s
The various times the REIT market has crashed
The various times that technology stocks have wiped out
And more, like railroads in the late 1800s, or the money lost on aviation stocks, if you leave out Southwest, but you get the point, I hope.
People get beguiled by hot sectors in the stock market, and seemingly safe high yields that aren't truly safe.  But recently, there has been some discussion of a possible "safety bubble."  The typical idea is that investors are paying up too much for:
Dividend-paying stocks
Low-volatility stocks
Stable sectors as opposed to cyclical sectors.
A "safety bubble" sound like an oxymoron.  It is possible to have one?  Yes.  Is it likely?  No.  Are we in one now?  Gotta do more research; this would be a lot easier if I were back to being an institutional bond manager, and had a better sense of the bond market pulse.  But I'll try to explain:
After 9/11/2001, institutional bond investors did a purge of many risky sectors of the bond market; there was a sense that the world had changed dramatically.  At my shop, we didn't think there would be much change, and we had a monster of a life insurer sending us money, so we started the biggest down-in-credit trade that we ever did.  Within six months, yield starved investors were begging for bonds that we had picked up during the crisis.  They had overpaid for safety — they sold when yield spreads were wide, and bought when they were narrow.
But does this sort of thing translate to stocks?  Tenuously, but yes.  Almost any equity strategy can be overplayed, even the largest and most robust strategies like momentum, value, quality, and low volatility.  In August of 2007, we saw the wipeout of hedge funds playing with quantitative momentum and value strategies, particularly those that were levered.
Those with some knowledge of market  history may remember in the '60s and '70s, there was an affinity for dividends, with many companies borrowing to pay the dividend, and others neglecting necessary capital expenditure to pay the dividend.  When some of those companies ran out of tricks, they would cut or eliminate the dividend, and the stock would fall.  Now, earnings coverage of dividends and buybacks seems pretty good today, but watch out if one of the companies you own has a particularly high dividend.  You might even want to look at some of their revenue recognition and other accounting policies to see if the earnings are perhaps somewhat liberal.  You also compare the dividend to what the cash flow from operations is, less cash needed for maintenance capital expenditure.
I don't know whether we are in a "safety bubble" now for stocks.  I do think there is a "yield craze" in bonds, and I think it will end badly when the credit cycle turns.  But with stocks, I would simply say look forward.  Analyze:
Margin of safety
Valuation, absolute & relative
Return on equity
Likely and worst case earnings growth
And then balance margin of safety versus where you have the best opportunities for compounding capital.  If relative valuations have tipped favorably to less common areas for stock investing that considers safety, then you might have to consider investing in industries that are not typically on the "safe list."  Just don't  compromise margin of safety in the process.
I have not been a fan of this rally, and I have been selling into it.  I do have a rule for equity clients — cash never goes above 20%.  I have been close to that recently, and after rebalancing some companies that have hit the top of the weighting band, I have bought those companies with the lowest weights in the portfolio.  I have also added some stable companies in the recent past — Berkshire Hathaway, Ingram Micro, Validus Holdings, AFLAC, and CST Brands.
My next quarterly reshaping comes up next week, and again, I will be looking at neglected industries in the market for areas to purchase.  When the momentum runs this hard, I have to be content to trail (though I haven't been trailing).  I have to ask where things will be three or more years from now, rather than ponder the next quarter.  The answer to that is more murky than I would want, because of abnormal economic policy.  It makes us all more skittish, and obscures price signals.
I have suggested in the past that a good solution in the face of uncertainty is to do half of what you would like to do. Doing half breaks the psychological stranglehold of fear and greed, because regardless of what happens, part of your decision was a success.
You could also start to make a "shopping list."  Start looking for names that you would like to buy 10, 20, 30% lower, and set alerts.  Who knows how rapidly things will move when the correction or bear market comes.
You could keep a close eye on the 200-day moving average for the S&P 500, waiting for the index to cross under that as a sell signal, but if you want to be ahead of the crowd, maybe you want to use the 190-day moving average.

I tend to use industry selection and other factors, like balance sheet strength and reliability of cash flows as my main risk reduction tools rather than outright reduction of equities owned.  In general, I have been a good picker of stocks over the last 13 years, and I want to continue using that advantage.
With bonds, I am playing it safe with short and intermediate corporates, and taking reasoned chances with emerging markets debt.  Beyond that, I am thinking of buying long Treasuries as a deflation hedge.
The equity market is well above where long-term valuation measures like the Q-ratio, and CAPE10 would value it.  Most of that is due to low interest rates and high levels of QE.  How certain are you that both will persist, and for how long?  Personally, I think both will persist for some time, but not forever.  Profits attract competitors, and low rates discourage savers.
Though we don't know when change is coming, we have to be ready for change.  Whatever you do for defense, make preparations now to be defensive; this era and valuation levels will not persist.
Aside from that, remember that when a system is so artificially supported, it relies on peace & continued support from governments.  Either could vary.  Peace is not certain, and neither is the current set of economic policies.  Be ready, because there can be all manner of surprises.
Full disclosure: long BRK/B, IM, VR, AFL, CST
More Recent Articles