---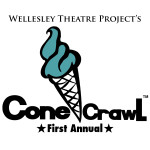 Wellesley Theatre Project (WTP)
this weekend will begin selling tickets to the first annual Wellesley Cone Crawl, which on June 15th from noon to 5pm gets you a small cone at 6 local ice cream/smoothie shops (JP Licks, Pinkberry, Truly Yogurt, White Mountain Creamery, Whole Foods  and Boloco) and raises money for WTP programs. You can find reps from the nonprofit WTP around during this Wellesley Wonderful Weekend.
How it works:
Community supporters, students, parents, and folks wanting to have a crazy fun time visiting the best Cone Shops around will purchase a WTP First Annual Cone Crawl ticket for $10 each.
Each WTP Cone Crawl ticket will entitle the bearer to visit participating Wellesley ice cream, frozen yogurt, or gelato shops to enjoy a small cone (think tasting size).
When they complete the Cone Crawl Course of 2013, the participants will be invited to the Wellesley Theatre Project studio on Central Street to claim their WTP "I Conquered the Cone Crawl" T-Shirt.
All proceeds will support WTP's classes and camps, productions, workshops/master classes, scholarships and more.
Sponsors include First Commons Bank, Milestone, Benoit Mizner Simon & Co., Wellesley Bank Charitable Foundation, and Music Together of Wellesley and Needham.
Art in the Park weaving installation next to Wellesley Free Library.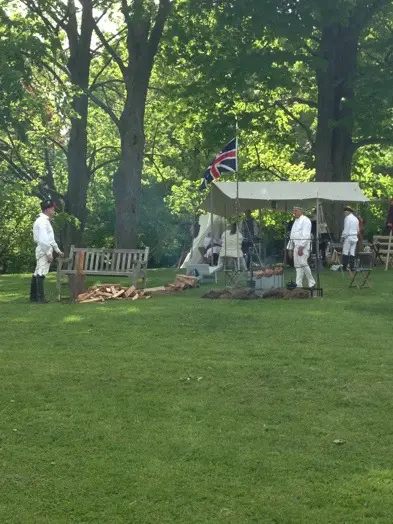 Military encampment at Town Hall
Wellesley High Lacrosse team car wash at Linden Square (photo by Caleb Brown, from back seat of a car).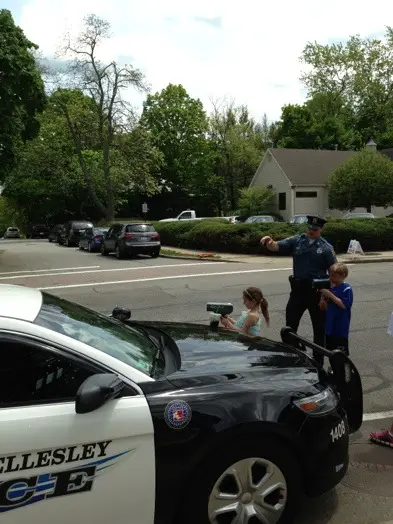 Wellesley Police Department open house.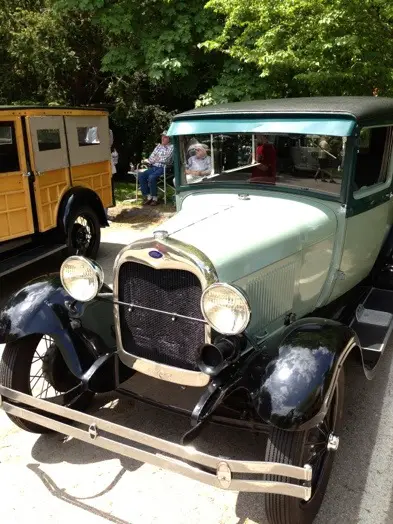 Wheels of Wellesley car show at Wellesley Community Center (shown: Rob Cerulle's 1929 2-door Ford sedan)
Tom Coyle from the Friends of the Wellesley Council on Aging, says the group is making available a variety of $1 buttons for those in favor of building the Tolles-Parsons Senior Center in town.
Supporters of such a center, to be built at the old American Legion property at 496 Washington Street under the latest proposal, were buoyed by approval for design and permitting funds at the most recent Town Meeting.
The subject sparked vigorous debate, with opponents questioning the need for a standalone facility, which is expected to cost millions to build and bump up tax bills.
Justine's Table, the Rte. 9 East restaurant in Wellesley that opened last year, has withdrawn its application for an all-alcohol license after Wellesley Board of Selectmen members raised many concerns and questions during a public meeting earlier this month.
Questions were raised about who really owns the business (various names have been involved over the past couple of years), with the board seeking to straighten that out before considering an all-alcohol license. The current owner, Gordon Breidenbach, and restaurant group's attorney explained that they've worked to clarify ownership in recent months by filing appropriate paperwork. Still, the board said that uncertainty surrounding construction of a residential apartment building behind Justine's (construction is expected to get underway this summer) raises fresh questions about the appropriateness of granting an all-alcohol license at this time. Terms such as "troubled" and "premature" peppered the comments from the board members.
Board members expressed an appreciation for the business owner's desire to move forward with an all-alcohol license to help fuel interest in the restaurant. After all, the restaurant group's attorney acknowledged that business has not been as brisk at Justine's as hoped for. He said the lack of tenants upstairs (and the lack of residents from the apartment building to be built) has eliminated some potential customers, and noted that feedback from actual customers is that BYOD doesn't fit well with Justine's fine dining approach — they'd rather buy their booze on-site.
Withdrawing the application spared Justine's of having its application denied by the board, and gives hope that the restaurant group can re-apply once paperwork is tidied up and the construction project is further along.
RELATED: On-demand video of May 6 Board of Selectmen meeting

Congrats to Alice Waugh, a journalist and communications professional, for launching The Lincoln Squirrel, a hyperlocal website in her hometown of Lincoln, Mass.
I met with Alice last fall to discuss the origins of The Swellesley Report, back when she was noodling the idea of site for the town where she grew up and moved back to a few years ago. The Squirrel started up late last year, and now features a steady stream of news, photos and events.
More Recent Articles