This is the final post in the series of the Homicide Files, and probably the most important - moreover, it's one that I'd like shared far and wide. Facebook, Twitter, and other social media outlets. If you, like me, are a blogger then please share these very important set of documents, even if you blog about cooking, gardening, music, or whatever it is you happen to be passionate about. Even if you don't quite understand what it all means, just blog or share the files or this blog post. The FDA don't want you to ~ that should be as good a reason as any to share, right?
The following documents are, according to the FDA, not supposed to be made public. They cited an apparent privacy exemption under the Freedom of Information Act (FOIA).
One can see, when looking through the documents, exactly why the FDA have thrown their dummy out of the pram with these documents as they reveal information that the public need to know. Let's face it, the FDA are about as transparent as the MHRA, who, in turn, are about as transparent as a polluted river.
I'm going to highlight just one of those documents and then add links to the others. Please, if sharing on Facebook and Twitter, highlight the importance. The public have just as much right to see these documents as the medicine regulators and pharmaceutical companies do.
It's an embarrassment for the FDA ~ they sent the files to investigative reporter, Andrew Thibault, then relaised they had ballsed up on a humungous scale.
As the Russian wrestler once said, Tufty Shitski.
The following document features the tricyclic antidepressant, Nortriptyline hydrochloride. The information contained within this document shows, without doubt, that the drug caused a 35 year old female Akathisia, Homicide, Suicidal ideation and Delirium.
The reason she was prescribed this powerful antidepressant wasn't because she had a mental disorder or that she was suffering a breakdown of some kind. She was prescribed it because she was distressed due to husband's drinking.
Let's take a closer look. There's a lot of talk about metabolism, much of which will be explained in a future post by a special guest and friend. (CLICK ON IMAGES TO ENLARGE)
This woman, according to the document, pleaded mental illness, yet, all she had before she was prescribed this antidepressant was distress over her husband's drinking. The Medical Reviewer considered the case to be possibly related to the suspect drug.
Not yet curious as to why the FDA want this particular case file returned and not made public?
Here's the other files they want back from Andrew Thibault.
Do what you can folks and SHARE, SHARE SHARE!
Bob Fiddaman.
The following information has been taken from the brilliant
Murder Meds
database. The database contains over 3,000 documents recently attained from the American drug regulator, the FDA. The documents are adverse events, in particular, where homicide has been committed whilst patients have been on (or withdrawn from) one or more psychiatric drug.
Today I'm focusing on those FDA files where children are concerned, namely 8-17 year-olds. Remember, these are adverse events initially reported to the FDA because a doctor, family or member of the public suspected the homicide may have been caused by the drug/s. There could very well be many more of these types of incidents that have never been sent to the FDA ~ If the FDA had gone public with the documents below then I'm almost certain that they would have been inundated with similar adverse events, which would have been really bad for business, right?
This is drug induced homicide. This is
prescripticide
.
AERS Case Number 5749577

10 year-old boy. PROZAC

Notice how the FDA allow every adverse event to go unredacted, apart from the death. A description of events has also been redacted by the FDA.
--
--
--
--
--
--
--
--
There are many more cases in the database.
If the FDA have been sitting on files like the ones you have seen above then maybe, just maybe, a lot of children would never have had to endure the horrific side effects caused by these drugs. The increase in prescription rates is quite alarming - yet the FDA, armed with this information and many more cases like it, have just sat back and done nothing. It took a Freedom of Information request to get this information out into the public domain. For that we should all applaud Andrew Thibault.
Over the past week I've been showcasing a series of files that were requested under the Freedom of Information Act from the FDA by investigative reporter, Andrew Thibault. Those series of posts can be found at the foot of this post.
The following audio is an interview with Andrew Thibault where he describes, in detail, how the American Medicines Regulator, the FDA, have been witholding important information back from doctors and the public with regard to the role psychiatric medication has played in documented acts of homicide.
It's a fascinating interview and deserves to be spread far and wide.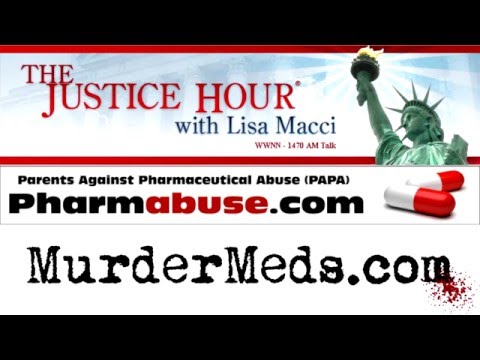 Bob Fiddaman.
Previously in the Homicide Files series.
The is the sixth in the Homicide Files series (previous 5 are at the foot of this post)
Today I focus on Zoloft (sertraline), an antidepressant of the selective serotonin reuptake inhibitor family.
Zoloft is manufactured and marketed by Pfizer and is the subject of many lawsuits in the United States, alleging, amongst other things, that Zoloft is ineffective (doesn't work), that it causes birth defects and that it causes violence and suicide. It is known as Lustral in the UK.
The first file today is 99 pages in length and concerns a 27 year-old male. I'm not going to publish all the 99 pages, if you want to view the whole document then you can do so
here
.
AERS Case Number 4073159

27 year-old male, prescribed 100mg Zoloft per day between 1996-1998. Patient, according to the first page of the document, murdered an acquaintance of his. Moreover, the report says, "Either chronic use or sudden involuntary withdrawal caused a major psychotic event where "patient" murdered an acquaintance of his.
--

AERS Case Number 4088468

20 year-old male prescribed 50mg of Zoloft per day between Oct 24, 2003 - January 23, 2004.

The report was sent to Medwatch by the parents of the 20 year-old who state that their son experienced an adverse reaction to Zoloft and killed a "friend of a young woman" in their home.
--


AERS Case Number 5838493

19 year-old male. Prescribed Zoloft between 2003-2004. The report was sent in by a psychologist who said, "The patient started taking Zoloft (50mg) for one week then 25mg daily for two weeks." The psychologist also states, "On day 13 of his Zoloft therapy he decided it was not working and stopped taking in for 3 days, then he restarted Zoloft at 25mg daily."

Days later he killed someone.

His parents said, he committed the murder because of persistent severe agitation and aggression from Zoloft.
--

AERS Case Number 6100809

Homicide by a 32 year-old female who was taking Zoloft (dosage unknown) because she was having 'mental problems' for 3 to 4 months.
--
--
So, six more cases of prescripticide. Feel free to read the links below to cases of other antidepressant medication.
Bob Fiddaman.
This is the fifth in the series of the homicide files. My attention was to throw light on the homicide cases that have been reported to the FDA where the antidepressant, Prozac (fluoxetine) has been associated.
As you will see from the reports, the FDA have redacted all the vital information, particularly where the reported homicide was carried out by a child or person under the age of 25.
Prozac is marketed and manufactured by Eli Lilly.
An FDA advisory panel was convened in 1991 to review the fluoxetine data. It concluded that fluoxetine was safe despite the concerns raised by David Graham and others, leading critics to point out that
several of the panellists had financial ties to Eli Lilly. (Source)
Adverse event reports regarding psychiatric drugs don't scare me. Suppressing them does.
Here's what the FDA sent investigative reporter, Andrew Thibault.
AERS Case Number 5749577

This case concerns a 10 year-old boy - The FDA, who were sent the information by Eli Lilly, have redacted all of the information. Ask yourself why they would do this? (Click on images to enlarge)
--
--
--
--
--
--
So, there you have it. Prozac, it seems, is the one antidepressant that the FDA seem to be tight lipped about. Not surprising given that in 1991 several of the FDA panellists had financial ties to Eli Lilly. They concluded that Prozac was safe.
Bob Fiddaman
More Recent Articles