I've teamed up with Sheila Matthews of Ablechild to write this. We've previously worked on a project together (See -
Billion Dollar Drug Company Law Firm Restructures Connecticut Welfare System
)
This post, however, focuses on the 2012 Sandy Hook massacre.
This is one of those cases that has many people talking - The Sandy Hook Elementary School shooting happened almost four years ago on December 14, 2012.
20-year-old Adam Lanza fatally shot 20 children aged between 6 and 7 years old, as well as six adult staff members. Before driving to the school, Lanza shot and killed his mother at their Newtown home in Connecticut. Lanza it is alleged, killed himself by shooting himself in the head as first responders arrived at Sandy Hook Elementary.
There's been many theories floating around the internet since the massacre, some suggest it was all an elaborate hoax and that Lanza never existed - some of the material regarding this theory, it has to be said, is quite convincing but not something that I've ever really bought into - I mean were all the parents who buried their children just actors and part of a mass conspiracy?
Crisis actors are apparently used to conduct drills, such as the research hospital located just 8 miles from where
Nancy Lanza was last seen alive
. However, the conspiracy and hoax believers draw no real facts and appear to make claims they cannot prove, which takes our eye off the ball (See 'Aurora' later in this post)
It's not really something that I'd want to get into as I'm more interested in the medication Lanza was either on or withdrawing from at the time of the shooting.
Step forward Mr Paul Fox (Pictured above) Lanza's last known treating psychiatrist.
Fox threw gasoline into the
'Lanza never existed'
fire when he claimed that he had destroyed Adam Lanza's medical notes. He told Police this from New Zealand where he was then practising after leaving Connecticut around 6 months prior to Lanza's carnage.
Whilst there, Fox came under scrutiny after a patient under his care, Nicky Stevens, 21, killed himself. Fox worked for the Waikato District Health Board (DHB) for 19 months before returning back to the US in and around January 2014.
Earlier this year Fox was arrested in Maine and charged with sexual assault and it was alleged that he, between 2010 and 2011 (His time in Connecticut) had a 'relationship' with a patient. This, it is claimed, led Fox to surrender his licence and flee to New Zealand. According to the
CT Post
...
Fox's case did not come before the Connecticut Medical Examining Board for a public hearing. Instead, Fox and his attorney brokered a deal with the state Department of Public Health's Healthcare Quality and Safety branch and the psychiatrist surrendered his license in Connecticut and New York.
Fox, it has emerged, treated Lanza five years prior to the Sandy Hook massacre. However, it is unknown exactly what that treatment involved. According to Fox he last treated Lanza when the boy was just 15. Lanza was 20 when he carried out the massacre.
PRESENT DAY
Paul Fox's, now 63, relationship with a female patient was initially uncovered by Connecticut state police investigating Lanza's history in the aftermath of the Sandy Hook massacre. The female, who came forward during Fox's time in New Zealand, has claimed that she had sex with Fox "in his office" and spent time on his sailboat and that the relationship lasted more than a year. The same patient also alleges that one of Fox's other patients told her that she was "having phone sex with Fox.,"
Today he appeared in court in Danbury, Connecticut to for pre-trail on 3 felony counts of sexual abuse another blow to those who claim Fox didn't exist.
Since the Sandy Hook massacre lawmakers of Connecticut have been calling for more money to be put into mental health services. Many of the mass shootings globally have a striking common denominator in as much that the assailant (or assailants) have either been taking or withdrawing from some form of prescribed psychiatric medication. In the case of Lanza it is unknown if he was on or withdrawing from medication at the time of the shooting. It's something that one would assume would be easy to find answers to.
ABLECHILD
Since Sandy Hook,
Ablechild
, a nationally recognized Non-Profit Organization dedicated to parents, caregivers, and children's rights, have been at loggerheads with Connecticut state officials after they have refused to release Lanza's medical notes and full toxicology report.
This from Sheila Matthews of AbleChild...

According to the police investigation, Fox told the investigators he had the medical billing records for Lanza stored in the US, the next day when investigators called Fox back to obtain more information, Fox indicated he destroyed the medical records. So, does Fox still have the billing records? Why didn't the State charge Fox for destroying the records 2 years too early according to Connecticut Law? Also, Fox had an obligation to notify his current and former patients he was discontinuing his practice. Why didn't the State hold him responsible for the failure to follow that law?
What I find bizarre about this whole affair is the stance Connecticut officials have taken with regard to the release of Lanza's notes. Take a look at this short video that features Sheila Matthews and her attorney. In it, they ask Assistant Attorney General for the State of Connecticut, Patrick Kwansie, for the release of Adam Lanza's toxicology report. His response is incredulous!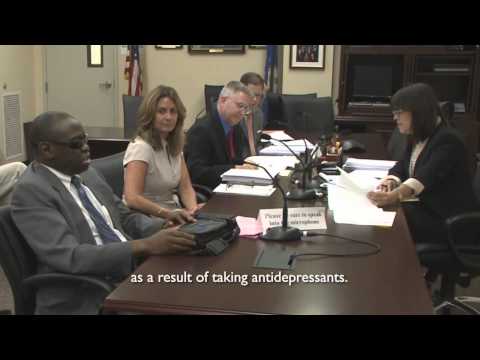 He refused to release the full toxicology report because
"It is harmful because then you can cause a lot of people to stop taking their medications... stop cooperating with their treating physicians."
Um, yeh, isn't that the point of investigating a product that may or may not be faulty?
What an utterly ridiculous excuse for not releasing the full toxicology report. A report was released earlier but, for reasons unknown Connecticut officials only released the cover note of the toxicology report and not the reports findings.
Okay, thinking outside of the box here. Would Kwansie have released the full toxicology report if parents of those who perished asked him and used the premise that they wanted to know if medication wasn't in his system - they could then go down the mental health road and claim that Lanza should have been on meds - one way or the other, the public have a right to know if any prescription medications showed up in Lanza's toxicology report, be they pro-medication or anti-medication advocates.
It would appear, through his somewhat baffling reasoning, Kwansie is suggesting that Lanza's toxicology report did, indeed, show traces of prescription medication - why give AbleChild the spiel about how harmful it could be to those currently taking medication if Lanza wasn't on medication?
What's the big secret here?
Why are Connecticut state officials so reluctant to release Adam Lanza's full toxicology report ~ there is no logical explanation?
Again, this has fuelled much speculation that the whole Sandy Hook affair was a hoax - but that's a good thing for the state of Connecticut ~ and here's why.
AURORA
Before I became a writer of all things pharmaceutical I was a ufologist, I studied unidentified flying object reports, read countless books and watched many, many hours of documentaries. I quickly learned that the government had a friend in ufologists in as much that they fuelled the media with stories of unidentified black triangles flying over the skies of the world - the black triangle later became known as Aurora, an American reconnaissance aircraft that was secretly being tested in our skies. What better cover-up than to have members of the public claiming to have seen a black triangular flying object doing things that no conventional aircraft could do (at that time - circa 1980's)
With a public interested in black triangular objects controlled by aliens the government could sit back knowing that any sighting of their secret project would be passed off by a bunch of conspiracy theorists as an alien driven craft.
Same thing, it appears, applies to Sandy Hook. There are literally hundreds upon hundreds of videos on YouTube claiming that Sandy Hook was a
false flag event
and when members of the public put all their energy and focus into this they take their eyes off the ball - just as they did in the 80's when Aurora was roaming the skies.
STATE OF CONNECTICUT
It is left to state officials of Connecticut to put Sandy Hook to bed once and for all - it can't be easy for the parents of the children reading stories such as the false flag events and, dare I say it, even this blog post of mine.
There is no reason for the State of Connecticut to hold on to Lanza's full toxicology report other than the one I stated above (Aurora). Assistant Attorney General for the State of Connecticut, Patrick Kwansie's lame attempt at reasoning why was nothing short of shameful. If a product is suspected to be faulty, as many of these psychiatric medications are, then it should be investigated, despite what those (currently on the product) may or may not think or do.
Patrick Kwansie should have, at the very least, looked at the current labelling on these types of medications. To date there have been 22 international drug regulatory warnings on psychiatric drugs citing effects of mania, hostility, violence and even homicidal ideation, and dozens of high profile shootings/killings tied to psychiatric drug use (
Source
)
There will obviously be more if lawmakers decide that it would be harmful to state facts because it
"can cause a lot of people to stop taking their medications".
It's a crazy world we live in, particularly if you live in the State of Connecticut where lawmakers are still rolling out the Aurora model to keep the public misinformed and from the truth.
Bob Fiddaman & Sheila Matthews.


Further Reading
Adam Lanza's Psychiatrist's Ethics Violations Raise Questions About the Legislature's Controversial Mental Health Increases
My blog counter tells me that I've gone over 1.5 million hits on this little old blog of mine.
I know it may have been just a few minutes people have spent reading and commenting on my blog, but I'd just like to say thanks. It really means a lot to know that people feel my work is important enough to read and comment on. A million (and a half) thanks to those of you who 'like' and share my work on Facebook and Twitter too - it is down to you people that so many lives could be saved from the harms caused by the group of medicines I write about.
I've made many friends, in the main those people whose lives have been blighted by antidepressants - dealing with their own losses, be that partners, siblings, parents or friends. I've said it before, I wish that our paths had never crossed ~ the only reason I have made friends with this wonderful group of people is down to their tragic loss - I would willingly give up that friendship if they could turn back the clocks and be with their loved ones again.
Attorneys, journalists, fellow bloggers, film-makers, authors and health care professionals have also joined my growing list of friends whilst I've been on this 10 year journey - the subject matter has been overwhelming at times but I've learned how to cope with it all - I'm lucky because writing about a kid killing himself is a lot easier than having to live through that experience on a daily basis.
In the main, I write about Seroxat (Paxil) and the company that market and manufacture it, namely; GlaxoSmithKline. I have also tried to cover many other antidepressant stories through the medium of this blog - My guest posts have proved popular be they on antidepressant addiction, induced suicide, homicide or about birth defects.
I'm not a fan of pharmaceutical companies in general, nor medicine regulators - in fact they should drop the word 'regulators' because they really don't regulate much at all.
I started writing over 10 years ago, it took just under 8 years to reach a million views and just over two to add 500,000 - It has grown, kind of snowballed if I'm being honest and nobody is more surprised than me regarding its popularity - it's been the making of me.
Thank you all once again.
Bob Fiddaman
Sheila and I - 2011 - Los Angeles
If this testimony of parent and co-founder of
AbleChild
, Sheila Matthews, doesn't move you then you then I don't know what will.
Sheila is passionate about her work - in a nutshell she has been trying to protect the lives of children who fall foul of modern day pill pushers.
This short, yet powerful video testimony should be shared far and wide.
It moved me to tears - please watch to the end and share it.
Sheila Matthews, I salute you!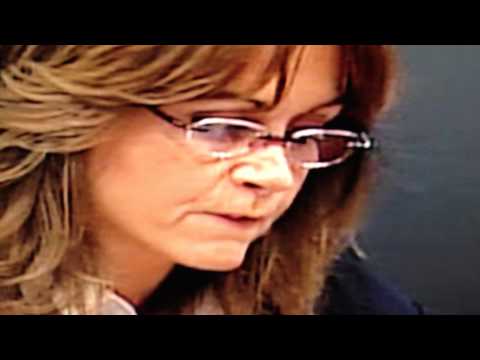 Bob Fiddaman
Imagine the scenario, if you will.
You're in court because you lost your leg in a coach accident. The coach company are defending allegations that they are responsible. Evidence surfaces that the coach you were travelling on had faulty brakes, moreover, the driver of the coach didn't know about the faulty brakes but the coach company did.
Testimony is taken from the driver prior to the trial. He states that if he had known about the faulty brakes on the coach he would not have driven it.
On the day of the trial your legal team wish to present the testimony of the driver. The defence team object and the Judge sides with them.
Days later, as the trial nears completion, the Judge announces that you cannot proceed with your claim against the company because you have no proof that the driver would have taken the bus out that day if he had been warned that it had faulty brakes.
You, your legal team, and all those present in court are stunned into silence at the Judges' rationale because you do have the proof but he won't allow you to present it.
You following?
If the above scenario seems absurd then welcome to the world of Philadelphia.
Back in April Judge Kenneth Powell halted not one but nine Paxil birth defect cases. The lead case in question involved Braden Rader, who was born with tetralogy of fallot (a combination of several congenital heart defects) that his mother claimed was caused by the use of Paxil during the early stages of her pregnancy in 2003. (Rader et al. v. SmithKlineBeecham Corp. et al.)
Powell ruled that the prescribing physician, Robert Kiehn, had not testified that he would have altered his decision to prescribe Paxil to Rader's mother, plaintiff Elisabeth Balser, if he had of known about its link to birth defects.
However, Kiehn had already testified in a videotaped deposition that he would not have prescribed Paxil if he had known about the birth defect links but Judge Powell had previously prevented this testimony from being played to the jury.
Obviously, his decision to halt the trial is being appealed and, at present, this trial and 9 others is on "stay" - basically put on hold until a decision is made on the appeal.
GSK's attorneys, as one would expect, have requested to lift the stay, in other words, they have tried to get all of them thrown out by the Judge before a result of the appeal.
In this instance we have a different Judge making the decision. Philadelphia County Court of Common Pleas Judge Arnold New has denied Glaxo's bids to lift a stay on litigation.
The state of Philadelphia is no stranger to cases of Paxil birth defects.
Back in 2014 I wrote about one such case regarding Pennsylvanian mother, Joanne Thomas. (Links at foot of this post) Her case was tossed by the Judge because, according to Glaxo's lawyers, she was too late in filing. In any event, Glaxo argued, her fetus was non-viable (Non viable means not capable of living, growing, or developing and functioning successfully. It is antithesis of viable, which is defined as having attained such form and development of organs as to be normally capable of living outside the uterus.)
Thomas lost her case then, later, lost the appeal. However, all was not lost. Thomas approached me and after many hours, days weeks and months, I contacted her attorneys with evidence to present to the Judge who had denied her appeal.
You see Glaxo's attorneys should have provided Thomas' attorneys with discovery - that discovery would have shown that Glaxo had already admitted (via internal emails) that Thomas' use of Paxil during her pregnancy was probably the cause of her having to abort her fetus due to it developing a whole heap of birth defects.
Thomas eventually made an out of court settlement with GSK and was told by her own attorneys to have no more contact with me. Shucks, hand them a winnable case on a plate and that's the thanks I get!
It's since been suggested that I should have billed the attorneys for the months of hard slog I put in (for free) - Ah well, you live and learn.
In the case of Braden Rader, I guess we'll just have to wait and see how the appeal goes.
(Source) - GlaxoSmithKline Denied Bid To Unpause Philly Paxil Litigation



Bob Fiddaman.
Related
Ryan, Glaxo's Non-Viable Fetus - Part I
Ryan, Glaxo's Non-Viable Fetus - Part II - The Twists
I have just fired off the following to the British drug regulator, the MHRA and the European regulator, the EMA.
I'm anticipating a response that will show a complete lack of compassion.
--
Dear regulators,
On the 13 March 2012 a bus crashed in the Sierre Tunnel, A9 Autobahn, Valais, Switzerland killing 28, 22 of them were children. 24 others, all aged between 10 and 12, were injured, including three who were hospitalized with severe brain and chest injuries.
An enquiry into the crash proved to be inconclusive but it emerged that the driver, Geert Michiels, 34, did not apply the brakes after he mounted a mini pavement in the tunnel and drove head on into a wall.
It has also emerged that Michiels was, at the time of the crash, either taking or withdrawing from paroxetine.
More in-depth information can be found in Douglas De Coninck's book,
De busramp in Sierre: 1 Pill, 28 Dead
. Sadly, the book is only available in Dutch print at this present time.
My questions to you all are thus:
Do you not think enough is enough now? The internet is littered with similar stories of people killing themselves or carrying out acts of homicides whilst on psychiatric medication (prescripticide).
The Sierre bus crash is one of many such incidents.
You, as regulators, have a duty to safeguard human health so accidents such as Sierre should have, at the very least, raised red flags when you monitor news items via the internet. I know you monitor my blog so it's safe to assume you monitor many other websites when prescription medication is mentioned - or do you just monitor websites that are critical of your regulation (if you can call it that) of prescription medication?
22 children died! Does this not register with you at all?
Do you intend to investigate this matter or just add it to your database without following up?
Your yellow card reporting system, as I believe, does not take anecdotal reports when in actual fact anyone filling out a yellow card report is basically telling you something anecdotal.
On behalf of all of those who died in Sierre I would like for you or any department that may monitor the media to file a yellow card report for this crash. All evidence points to the driver having taken or withdrawing from paroxetine which, as you are ALL aware of, can cause psychotic episodes.
What is the point of having regulators who shrug their shoulders when incidents such as Sierre occur?
22 children and four adults died, many of the children were thrown from the windows of the bus, even though they were wearing seatbealts, such was the impact of the crash. Some of the children's fatal injuries were so bad that they could not, at first, be identified.
At the very least you, as regulators, should be trying or proposing laws be changed with regard to operating public vehicles whilst under the influence or withdrawing from antidepressant type medication.
The public perception of medicine regulators is one which borders on presumptions that you are limp-wristed, powerless and in the pockets of the pharmaceutical industry. One only has to look to see who the CEO of the MHRA is and who his previous employers were, ironically the same employers who market and manufacture the very same drug that has been implicated in the Sierre bus crash.
What are you going to do, are you going to continue quoting an expert meeting of SSRi's took place many years ago and they were given a clean bill of health back then or are you going to actually get your hands dirty on this and start your own investigation - if only to help those affected by this tragedy.
Sitting back and watching is cowardly - I assume many of you have children or grandchildren of your own - if anything, you owe it to them to investigate the Sierre bus crash!
I'm a blogger and have carried out my own investigation, translating the Dutch media articles into English and also making contact with the author of
De busramp in Sierre: 1 Pill, 28 Dead
. If a blogger can do this then you, with your financial clout (provided by the pharmaceutical industry) should be able to do it.
I fear I may be urinating in the wind here because my past experiences when meeting the MHRA has been one of total dejection in as much that the MHRA give the impression that they just don't care if SSRi's cause suicide and homicide.
Stop allowing these medications to kill the people you were put in place to protect!
Did Seroxat Trigger the Fatal Sierre 2012 Bus Crash?
Sierre Bus Crash Revisited
Sincerely,
Bob Fiddaman
Author/Blogger/Researcher
More Recent Articles