First off, sharing a stage with Nilah Magruder, Nicola Yoon, Cindy Pon, and Greg van Eekhout for the Normalizing Publishing panel was absolutely a highlight of my time at the San Diego Comic-Con.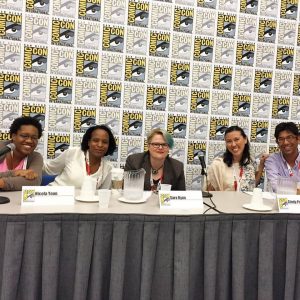 We managed to cover a lot in a short amount of time! Including but not limited to:
the importance of in-person as well as online communities for creators from marginalized groups
in framing the conversation about a book, comic, etc., how it's equally important to highlight a work's diverse qualities and to not relegate it to only being discussed in the context of those qualities
how alienating it is to grow up never seeing characters or creators who reflect your culture and experiences
how when you're trying to create characters outside your own culture and experiences, research and respect are key
We also mentioned a lot of specific resources! Also including but not limited to:
We Need Diverse Books and its publishing internship program
The Publishing Diversity Baseline Survey spearheaded by Lee and Low Books, which also offers the New Voices and New Visions awards
The Carl Brandon Society and its Con Or Bust support for people of color to attend science fiction & fantasy conventions
Voices At VONA, a multigenre writing workshop for people of color
Lambda Literary Emerging LGBTQ Voices writers retreat
Writing The Other by Nisi Shawl and Cynthia Ward
Thanks to all who came to the panel, and I'm happy to update this post with more info & links I've forgotten in post-con exhaustion!
So, I do intend to write about my experience as the Genre Fiction instructor for the Lambda Literary Retreat for Emerging LGBTQ Voices, which was amazing, and not just because of this delightful coffee mug: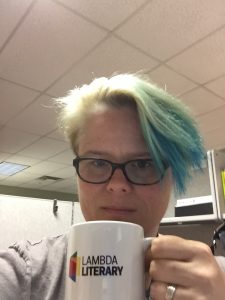 But now I want to tell you what I'm doing at Comic-Con!
I'm a Featured Guest, I'll be at II-10 in Artist's Alley  and I'm on two panels:
Historical Comics and Graphic Novels: Thursday, July 9th, 1 PM
Not all comics are about superheroes. In fact, there are some amazing graphic novels, comics and web comics that deal with events from history. Some are personal stories, some are historical accounts and some are the creator's own take, but they all bring history alive. Creators Peter Bagge (Hate, Woman Rebel: The Margaret Sanger Story), Ed Piskor (Hip-Hop Family Tree), Matt Phelan (The Storm in the Barn), Sara Ryan (Escape From Alcatraz), and Lora Innes (The Dreamer), discuss their historical works with moderator Douglas Wolk (Reading Comics).
Normalizing Publishing: Sunday, July 12th, noon
I'm looking forward to both of them, but I'm particularly excited about the second one. See, as a guest, I get a "spotlight panel", which means that basically I can do whatever I want for fifty minutes.
I decided what I wanted was to share the stage with smart interesting people and talk about stuff that matters.
See you in San Diego!
Journal excerpt, 1991:
I got into Clarion. It's a highly intensive writing workshop for writers of sf and fantasy. 
Has me scared shitless.
Five Reasons I Was Scared Shitless (An Incomplete List)
1. Even though it was only an hour away from where I lived, it would be the longest I'd been away from home. I didn't know how my absence would affect my relationships.
2. I didn't know any of the other students. What if they didn't like me?
3. I didn't know what the instructors would expect. What if they didn't like me?
4. I desperately, desperately wanted to be a writer. What if they didn't think I could be a writer? What would happen to my identity?
5. And speaking of my identity: I'd only recently begun to understand that I was queer. How would others react if I came out? Should I come out? How would I feel if I didn't? How would I feel if I did?
…I wanted to remind myself what it was like to be just about to be a student at an intensive writing workshop, because now I'm just about to be an instructor at one: the Genre workshop at the Lambda Literary Retreat for Emerging LGBTQ Voices.
Here are a few excerpts from the notes I took in 1991. (Yes, I still have the notebook.)
From a Tim Powers talk:
What another student wanted to see in one of my stories:
From an Ellen Kushner talk:
Note to myself with an idea for a story I did not end up writing for reasons that may rapidly become apparent:
A reality check from Karen Joy Fowler:
And another one from Kate Wilhelm and Damon Knight. I think I can call myself a case in point:
When you're dealing with difficult things but they're the same difficult things you've been dealing with for years, and you sort of want to talk about them but you're also tired of hearing yourself talk about them, and you send a few messages, start and delete several others, and go to a movie alone and step out afterwards into a big Midwestern parking lot and the moment before the distraction provided by the film dissipates, you hold your phone up to the sky.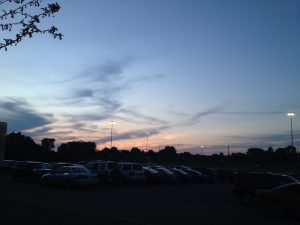 I'm a compulsive reader. I'm less consistently engaged by movies and television, but there are certainly any number of films and shows I love.  Over the past several years, though, I've become increasingly aware that there's an entire type of narrative with which I haven't been able to connect.
I glean things from time to time — for instance I understand, vaguely, that many folks in my social circle play, love, critique, passionately discuss, create fan art for, and are otherwise engaged with games like Bioshock, Mass Effect, and Dragon Age.
But by and large, I've never found games fun.
Back in the dark ages, my fervent enjoyment of Ms. Pac-Man (as much for its name as for the gameplay) always coexisted with anxiety and frustration (whether due to inadequate hand-eye coordination or lack of quarters).
More recently, playing games, like reading some mainstream comics, has seemed more like work than entertainment, requiring Talmudic-level knowledge of creators, techniques and game mechanics. Or I've thought playing games would be like middle school gym class, where I knew I'd struggle with activities that others found simple, intuitive, enjoyable.
Turns out I hadn't found the right game.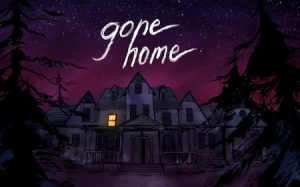 I wouldn't have found it, either, if it hadn't been for Carmen Maria Machado's thoughtful appreciation in the L.A. Review of Books, "Why Alice Munro Should Play 'Gone Home': The Video Game As Story And Experience." I bought Gone Home immediately after reading Machado's piece, and played Gone Home, with only a few pauses, for the next several hours.
Anyone with more of a connection to the world of indie games than I have is, no doubt, not surprised. The game has been out since 2013. It's won a lot of awards.
And anyone who knows me IRL will also not be surprised that the game with which I connected so strongly:
is set in the Pacific Northwest
 involves exploring a big weird house and a family's left-behind possessions & ephemera
includes multiple characters' writing in various genres (postcards, letters, passed notes, genre fiction, zines) and
(spoiler alert) involves a queer girl romance.
I mean.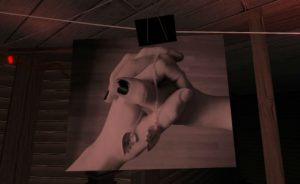 But even more than my delight in all the elements that felt tailor-made to delight me, what I appreciate most about Gone Home is how it subverts ideas about what even constitutes a story.
Received ideas about narrative are hard to escape. Conflict is everything. Raise the stakes. What does your protagonist want? What's in the way of her getting it? What's the through-line? What's her arc? Who's the Big Bad? Make it hurt!
Gone Home's storytelling doesn't work like that. You extrapolate from fragments. Relationships reveal themselves to you gradually. You discover that the Greenbriar family home, the "Psycho House," both is and is not what it seems. And if an antagonist even exists, it's, perhaps, simply the emotional and physical distance between the characters.
The Alice Munro quote about stories considered as houses that Machado includes in her piece about Gone Home is certainly apt (go read it if you haven't already). I thought of another, a favorite passage from Ursula Le Guin's essay "The Carrier Bag Theory of Fiction":
So, when I came to writing science-fiction novels, I came lugging this great heavy bag of stuff, my carrier bag full of wimps and klutzes, and tiny grains of things smaller than a mustard seed, and intricately woven nets which when laboriously unknotted are seen to contain one blue pebble, an imperturbably functioning chronometer telling the time on another world, and a mouse's skull; full of beginnings without ends, of initiations, of losses, of transformations and translations, and far more tricks than conflicts, far fewer triumphs than snares and delusions; full of space ships that get stuck, missions that fail, and people who don't understand.
There are a lot of stories inside the carrier bag of Gone Home's house. And like Le Guin's essay, they remind me that the 'narrative trajectory' is only one way to think about what stories are, or can be.
More Recent Articles