As has become traditional (see 2014, 2013, 2012), here are some recommendations from folks at this year's Barry Goldblatt Literary retreat. And even though the post is called book recommendations, there are also things that aren't books.
I always enjoy finding the link for each thing; book trailers, author sites, publisher pages, reviews, interviews. One of the links below is to a glowing review that also contains adorable photos and a brownie recipe. (And now you'll click them all, won't you?)
In no particular order:
Yes Please, particularly the audiobook, by Amy Poehler
Young Elites, Marie Lu
Wolfie the Bunny by Ame Dyckman and Zachariah OHora
I Don't Like Koala by Sean Ferrell and Charles Santoso
The Fantastic Jungles of Henri Rousseau by Michelle Markel and Amanda Hall
The Iridescence of Birds by Patricia MacLachlan and Hadley Hooper
Tricky Vic: the Impossibly True Story of the Man Who Sold the Eiffel Tower by Greg Pizzoli
Circus Mirandus by Cassie Beasley
Station 11 by Emily St. John Mandel
Armand Gamache mysteries by Louise Penny
The Walls Around Us by Nova Ren Suma
All the Rage by Courtney Summers
Bone Gap by Laura Ruby
Greenglass House by Kate Milford
Salvage by Alexandra Duncan
Glory O'Brien's History of the Future by A.S. King
Uprooted by Naomi Novak
His Fair Assassin series by Robin LaFevers
The Thing About Jellyfish by Ali Benjamin
The Sixth Gun by Cullen Bunn and Brian Hurtt
Unbeatable Squirrel Girl by Ryan North and Erica Henderson
Nimona by Noelle Stevenson
Journey by Aaron Becker
Locomotive by Brian Floca
The Adventures of Luke Skywalker, Jedi Knight by Tony DiTerlizzi
Southern Reach trilogy [aka Area X] by Jeff VanderMeer
The Vorrh by Brian Catling
Saga by Brian K. Vaughan and Fiona Staples
Float by Daniel Miyares
Sidewalk Flowers by JonArno Lawson and Sydney Smith
The Bear Ate Your Sandwich by Julia Sarcone-Roach
Crazy Horse's Girlfriend by Erika T. Wurth
Written in the Stars by Aisha Saeed
Counting Crows by Kathi Appelt & Rob Dunleavy
The Jumbies by Tracey Batiste
Roller Girl by Victoria Jamieson
El Deafo by Cece Bell
Elvis and the Underdogs by Jenny Lee
The Detective's Assistant by Kate Hannigan
Unusual Chickens for the Exceptional Poultry Farmer by Kelly Jones
The Truth About Twinkie Pie by Kat Yeh
Boy, Snow, Bird by Helen Oyeyemi
The Carnival at Bray by Jessie Ann Foley
The Princess in Black by Shannon Hale, Dean Hale and LeUyen Pham
The Darkest Part of the Forest by Holly Black
Show and Prove by Sofia Quintero
Supermutant Magic Academy by Jillian Tamaki
Pretty Deadly by Kelly Sue DeConnick and Emma Rios
ODY-C by Matt Fraction and Christian Ward
Last Stop on Market Street by Matt de la Peña and Christian Robinson
The Princess and the Pony by Kate Beaton
Shadowshaper by Daniel José Older
Cuckoo Song by Frances Hardinge
The House of Shattered Wings by Aliette de Bodard
Courtney Barnett, "Pedestrian at Best"
The Girl With All the Gifts by M. R. Carey
Boots of Leather, Slippers of Gold: the history of a lesbian community by Elizabeth Lapovsky Kennedy and Madeline D. Davis
Art and Fear by David Bayles and Ted Orland
First off, sharing a stage with Nilah Magruder, Nicola Yoon, Cindy Pon, and Greg van Eekhout for the Normalizing Publishing panel was absolutely a highlight of my time at the San Diego Comic-Con.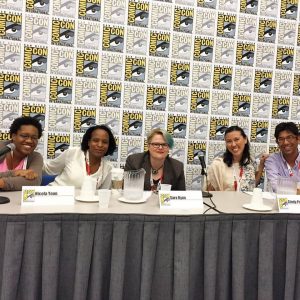 We managed to cover a lot in a short amount of time! Including but not limited to:
the importance of in-person as well as online communities for creators from marginalized groups
in framing the conversation about a book, comic, etc., how it's equally important to highlight a work's diverse qualities and to not relegate it to only being discussed in the context of those qualities
how alienating it is to grow up never seeing characters or creators who reflect your culture and experiences
how when you're trying to create characters outside your own culture and experiences, research and respect are key
We also mentioned a lot of specific resources! Also including but not limited to:
We Need Diverse Books and its publishing internship program
The Publishing Diversity Baseline Survey spearheaded by Lee and Low Books, which also offers the New Voices and New Visions awards
The Carl Brandon Society and its Con Or Bust support for people of color to attend science fiction & fantasy conventions
Voices At VONA, a multigenre writing workshop for people of color
Lambda Literary Emerging LGBTQ Voices writers retreat
Writing The Other by Nisi Shawl and Cynthia Ward
Thanks to all who came to the panel, and I'm happy to update this post with more info & links I've forgotten in post-con exhaustion!
So, I do intend to write about my experience as the Genre Fiction instructor for the Lambda Literary Retreat for Emerging LGBTQ Voices, which was amazing, and not just because of this delightful coffee mug: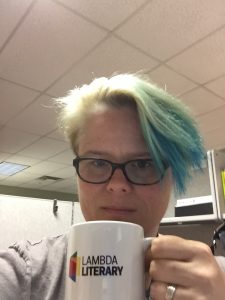 But now I want to tell you what I'm doing at Comic-Con!
I'm a Featured Guest, I'll be at II-10 in Artist's Alley  and I'm on two panels:
Historical Comics and Graphic Novels: Thursday, July 9th, 1 PM
Not all comics are about superheroes. In fact, there are some amazing graphic novels, comics and web comics that deal with events from history. Some are personal stories, some are historical accounts and some are the creator's own take, but they all bring history alive. Creators Peter Bagge (Hate, Woman Rebel: The Margaret Sanger Story), Ed Piskor (Hip-Hop Family Tree), Matt Phelan (The Storm in the Barn), Sara Ryan (Escape From Alcatraz), and Lora Innes (The Dreamer), discuss their historical works with moderator Douglas Wolk (Reading Comics).
Normalizing Publishing: Sunday, July 12th, noon
I'm looking forward to both of them, but I'm particularly excited about the second one. See, as a guest, I get a "spotlight panel", which means that basically I can do whatever I want for fifty minutes.
I decided what I wanted was to share the stage with smart interesting people and talk about stuff that matters.
See you in San Diego!
Journal excerpt, 1991:
I got into Clarion. It's a highly intensive writing workshop for writers of sf and fantasy. 
Has me scared shitless.
Five Reasons I Was Scared Shitless (An Incomplete List)
1. Even though it was only an hour away from where I lived, it would be the longest I'd been away from home. I didn't know how my absence would affect my relationships.
2. I didn't know any of the other students. What if they didn't like me?
3. I didn't know what the instructors would expect. What if they didn't like me?
4. I desperately, desperately wanted to be a writer. What if they didn't think I could be a writer? What would happen to my identity?
5. And speaking of my identity: I'd only recently begun to understand that I was queer. How would others react if I came out? Should I come out? How would I feel if I didn't? How would I feel if I did?
…I wanted to remind myself what it was like to be just about to be a student at an intensive writing workshop, because now I'm just about to be an instructor at one: the Genre workshop at the Lambda Literary Retreat for Emerging LGBTQ Voices.
Here are a few excerpts from the notes I took in 1991. (Yes, I still have the notebook.)
From a Tim Powers talk:
What another student wanted to see in one of my stories:
From an Ellen Kushner talk:
Note to myself with an idea for a story I did not end up writing for reasons that may rapidly become apparent:
A reality check from Karen Joy Fowler:
And another one from Kate Wilhelm and Damon Knight. I think I can call myself a case in point:
When you're dealing with difficult things but they're the same difficult things you've been dealing with for years, and you sort of want to talk about them but you're also tired of hearing yourself talk about them, and you send a few messages, start and delete several others, and go to a movie alone and step out afterwards into a big Midwestern parking lot and the moment before the distraction provided by the film dissipates, you hold your phone up to the sky.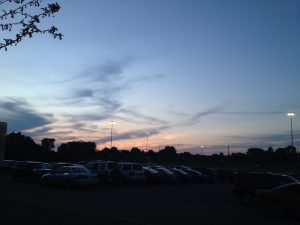 More Recent Articles