Suddenly it's more than halfway through September and I haven't posted since July. The longer it's been since my last post, the harder it is to decide what to tell you. What's been happening when perhaps it seems like nothing has been happening?
Well: a lot. A few highlights:
I visited Jessamyn, and she took me to some of her favorite libraries. (Not all pictured.)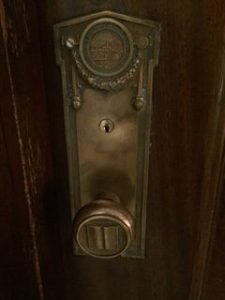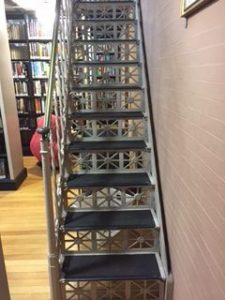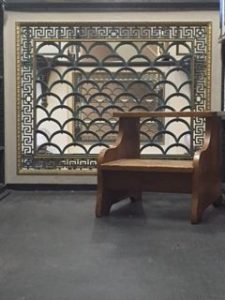 The BGLiterary retreat happened. It corresponded with both an air show and the Perseid meteor shower. So, in between, and sometimes during, discussions of craft and business, we stared at the sky.
I tabled and spoke on a panel at the excellent Boise Library Comic Con. Notable table interactions include the teen who told me they like "anything non-hetero" and the parent who talked about the limitations of the gender binary.
I moved a lot of furniture, including this filing cabinet.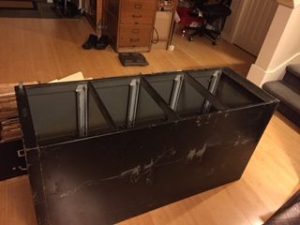 I taught a Writing the Other class focused on comics.
I hung out on the periphery of the second day of XOXO.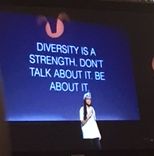 Next month I'm teaching a week-long writing workshop for Graphic Storytelling students.
I met some alpacas.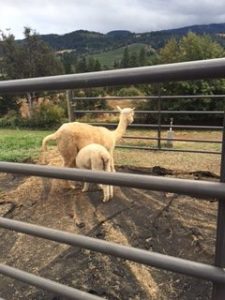 As always, I'm trying to figure out how to make the best use of my time. Opportunities to teach are exciting but require a lot of preparation. The dayjob takes at minimum 40 hours per week. Spending time with friends & family is essential. (Spending time with alpacas is perhaps not strictly speaking essential, but is pretty great and was done with a friend, so.) Writing requires — well, again, a lot, including but not limited to focus, momentum, and stamina. I'm striving to get and/or maintain all three.
Hoping you all are finding focus, momentum and stamina for your endeavors, and that you also have chances to encounter, if not alpacas, then equally delightful equivalents.
I was/am honored to be invited to teach a class that falls under the Writing the Other umbrella. I've been recommending the book by Nisi Shawl and Cynthia Ward for years, and admire the ongoing work that they, K. Tempest Bradford, and others are doing to teach and expand on the concepts and strategies the book offers for writing characters and settings outside writers' own experiences.
Here's the class description:
Comics is a visual medium. Not everything about a story is apparent from a quick glance, but comics readers can tell a lot simply by flipping or scrolling through pages about who is, and is not, included. The class will be an overview of strategies for Writing the Other sensitively and convincingly in comics, including character and setting design, finding useful reference for your artist (including when the artist is you), dialogue and captions, and staging scenes.
You can register for it beginning August 6th, unless you're a Writing the Other alumnus, in which case you can register for it Right Now.
It will be September 10th, 3-5 PM Eastern/12-2 PM Pacific, online via GoToMeeting. If you're thinking of taking the class and there's something you especially want me to cover, let me know!
And please also check out the other upcoming classes!
I wasn't going to write anything about Orlando. So often, when something brutal and devastating happens, the last thing I want to do is post about it, and mostly I don't. And yet as I tab back and forth, social media to my manuscript to this window I'm typing in right now, I can't stop thinking about something a friend said the other day, in comparing the ways we navigate our jobs and lives with respect to identity: "You're in deep cover." My Wikipedia entry notwithstanding, if you know me in my day-to-day life, my queerness is invisible unless I talk about it, and I don't always talk about it.
But today I can't not talk about it. I want you to know, whoever you are reading this, that I feel gutpunched, that I sent money to the Zebra Foundation as a small but hopefully useful action, that I listened to Nia King's We Want the Airwaves podcast and read from The Collection: Short Fiction From The Transgender Vanguard and Glitter and Grit: Queer Performance from the Heels on Wheels Femme Galaxy and As The Crow Flies because I needed to experience queer voices, and that I'm trying to work on my own book-in-progress but I can't stop thinking about all the voices that have been silenced.
I'll be tabling and speaking at my first Denver Comic Con in just a few weeks, June 17-19. I've heard great things about this show; I'm excited to participate! Here's my panel schedule:
How Educators and Librarians Can Collaborate to use Comics in the Classroom Friday, June 17 10:30 am 11:20 am Room 302 – Education
LGBT Comics You Should Be Reading Friday, June 17 5:15 pm 6:05 pm Room 401 – Comic Books – Mainstream
Genderbend It! In writing Saturday, June 18 11:00 am 11:50 am Room 502/503 – Literary / Authors
All in the Comics Family Saturday, June 18 1:30 pm 2:20 pm Room 607 – DCC Presents
How Comics are Focusing on Women Characters to Encourage Female Readership Saturday, June 18 2:45 pm 3:35 pm Room 303 – Education Classroom
It's Okay to Be (Geeky and) Gay Sunday, June 19 2:00 pm 2:45 pm Lab 8bit Stage
Hope to see Denver folks there!
This past weekend, the vast majority of posts showing up on my various social media feeds were from or about AWP. Now I'm starting to see a flurry from comics comrades about ECCC, and from library pals about PLA.
When many of your colleagues and friends are at Professionally Useful Gatherings (let's call them PUGs) and you're not, it's easy to feel like you're Seriously Missing Out.
Even the complaints about PUGs can seem enviable. Your PUG-attending pals have bags under their eyes from being out so late! They've lost their voices from talking to so many people! They've wrenched their backs from carrying all the amazing books & swag!
When you're wishing you were where all the Cool Kids (of whatever variety is appropriate for your endeavors) seem to be, here are three things you can do besides endlessly scrolling and feeling sorry for yourself:
1. Look up information about next year's event. Could you propose one or more sessions? How much would travel & lodging cost? Have you got friends in the area you could stay with? Are exhibitor booths/tables available and can you afford one? If you'll be selling your work, how much would you need to make to break even? If you think it would truly benefit your career and/or morale to participate in the event, start planning how you can get there in the future.
2. Make plans with a local friend. If it's nice out, you can go for a walk.
3. Do the work. Whatever the thing is that the PUG you're coveting is about, get off the Internet and do that thing; it'll get your mind off wishing you were somewhere you're not, and you'll have more experience by the time the next PUG comes around.
More Recent Articles