I want to write a bit here about taking a break from social media — which I'm doing through November at least. Maybe longer.
What I love about social media: feeling connected to distant friends. Being able to educate myself through listening to voices I wouldn't otherwise encounter. A sense of being (relatively) well-informed, of being part of a conversation. And of course, adorable animal photos.
What I hate: time slipping away while I scroll. Anxiety mounting. Feeling as though I should do something about everything that's wrong that people are talking about. Continuing to scroll instead.
It's been just about a week sans Facebook and Twitter. It feels like my brain is rewiring itself a bit, and also like I've gone back in time.
And yes, it does seem to help with writing, which is the other reason for the break.
You can still reach me through the contact form here and email, I haven't gone entirely offline. But. It's quieter.
So far I like it.
It got to be October.
A lot has happened that I haven't written about here.
I did a bunch of traveling. Here are a few worn surfaces I saw in Covington, Kentucky.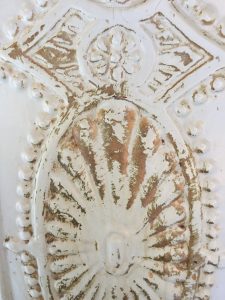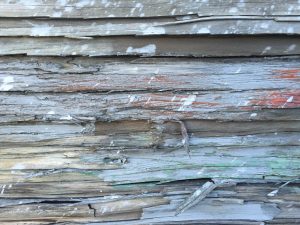 Also a couple of ominous panels from a civic installation.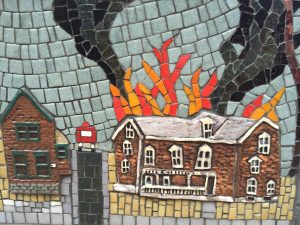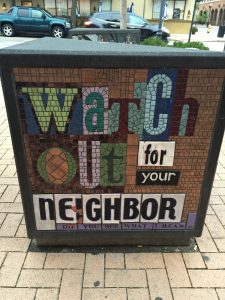 I joined a critique group. I helped start a learning community. I spent time at a site formerly occupied by a telegraph relay station and (later) a cult.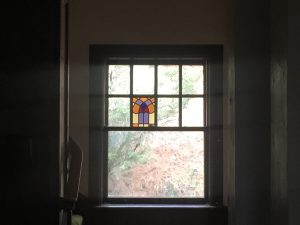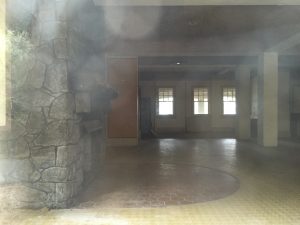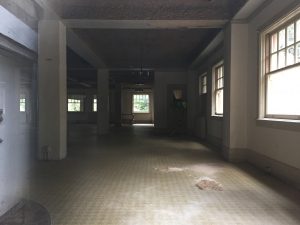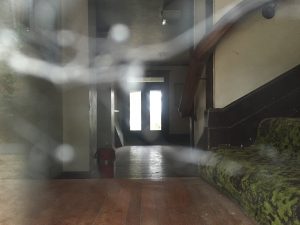 I've been sick, the kind of sick where you begin to suspect your immune system of going on strike so you'll just, like, stop a minute.
Listening to Hamilton a ludicrous number of times, alternating with several different Mary Renault books; all rereads, via the audio versions. Marveling about how much of the violence and politics in Renault's work my teen self elided over to get to the next description of a theatrical, musical, or poetry performance, and/or the next emotionally intense scene between Alexander and Hephaistion, or Alexander and Bagoas, as the case may be. (Yes, I've been listening to work about two historically significant Alexanders, both of whom had complex love lives.)
Today was the first day in a week or so that I've felt more or less like a human. Hoping you're the same.
Unless you'd prefer to be a nonhuman entity of some variety; in which case, I hope you're that.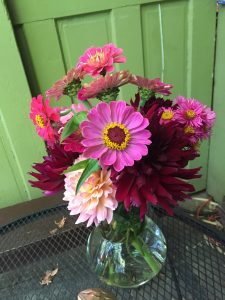 Here's a tweet from the week I taught the Genre Fiction workshop at the Lambda Literary Emerging Writers Retreat:
It's hard to overestimate the value of a specifically queer writers' retreat (while recognizing that not everyone is a fan of the word queer). Despite the enormous variation in people's individual experiences of sexuality and gender (and everything else), there was an overall sense of community and connection not simply within each individual workshop cohort, but among and across them all — poetry, nonfiction, fiction, playwriting, and the one I taught: genre fiction with a dual focus in comics and YA.
I really appreciated how a shared understanding of queerness informed the way people responded to each other's work. When no one has to spend time explaining or justifying queer themes, characters, etc., it creates more room in a workshop to focus on other aspects of craft and storytelling.
As someone whose queerness can often be invisible, I also welcomed,well, being welcomed in a queer space.
And speaking of space, I'm certain that the sense of community I referred to above was significantly enhanced by the fact that we were all, faculty and Fellows, staying in the same dorm, which had a shared courtyard where many folks chose to gather in the afternoons & evenings. (Sometimes very late into the evenings…)
We had a faculty reading and Q&A the first night, on campus:

l-r: me, Justin Torres, Linda Villarosa, Kazim Ali with the mic, Cherríe Moraga, and Lambda Literary Executive Director Tony Valenzuela at the lectern. It was an enormous honor to share a stage with this group of people! (Also: I'm pretty sure this photo was taken at a serious moment, but I'm amused in retrospect by how the rest of us are all looking thoughtful in different ways as Kazim speaks.)
Oh and here I am, very professorial (the lectern helps, as does the jacket) while reading from Bad Houses: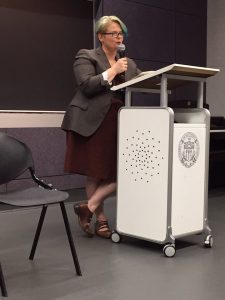 Besides the faculty reading, there were three nights' worth of Fellows readings. We also got to hear from Amy Scholder and Ryka Aoki — these talks were ostensibly for the Fellows, but I think all the faculty attended each one, too.
You can watch the Fellows readings and I highly encourage you to do so. I think it's so smart of Lambda to build public readings into the retreat. Not only is it great practice — a lot of writers don't get many opportunities to do readings — but the presence of other Fellows and faculty makes for an incredibly enthusiastic audience response! (Said response may or may not include referring to and cheering for the various cohorts as Hogwarts houses; in 2015 the poets were Slytherin and the Genre folks were Hufflepuff.)
I'll quote what Malinda Lo said in the post she wrote about teaching in 2013: "Even though I didn't have my own writing workshopped at the retreat, I thought a lot about my writing too. I thought about what I owe to other queer readers, and what I owe to myself as a queer writer."
It's very easy for me to focus so hard on trying to solve problems in what I'm writing — and there are always problems — that I forget why I write in the first place.
Teaching at Lambda helped me remember.
I'm so grateful to Lambda for inviting me to teach, and to the terrific Genre Fellows whose talent, hard work, and mutual support made it such a pleasure. Here I am with them all: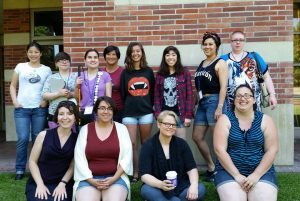 l-r: Top row: Karen Yin, Parker Goodreau, Caitlin Hernandez, Kate Goka, Isabel Galupo, Jasmine Molina, Sarah Jiménez, M-E Girard. Bottom row: Catherine Healy, Pam Watts, me, Meg Allen. Remember their names!
As has become traditional (see 2014, 2013, 2012), here are some recommendations from folks at this year's Barry Goldblatt Literary retreat. And even though the post is called book recommendations, there are also things that aren't books.
I always enjoy finding the link for each thing; book trailers, author sites, publisher pages, reviews, interviews. One of the links below is to a glowing review that also contains adorable photos and a brownie recipe. (And now you'll click them all, won't you?)
In no particular order:
Yes Please, particularly the audiobook, by Amy Poehler
Young Elites, Marie Lu
Wolfie the Bunny by Ame Dyckman and Zachariah OHora
I Don't Like Koala by Sean Ferrell and Charles Santoso
The Fantastic Jungles of Henri Rousseau by Michelle Markel and Amanda Hall
The Iridescence of Birds by Patricia MacLachlan and Hadley Hooper
Tricky Vic: the Impossibly True Story of the Man Who Sold the Eiffel Tower by Greg Pizzoli
Circus Mirandus by Cassie Beasley
Station 11 by Emily St. John Mandel
Armand Gamache mysteries by Louise Penny
The Walls Around Us by Nova Ren Suma
All the Rage by Courtney Summers
Bone Gap by Laura Ruby
Greenglass House by Kate Milford
Salvage by Alexandra Duncan
Glory O'Brien's History of the Future by A.S. King
Uprooted by Naomi Novak
His Fair Assassin series by Robin LaFevers
The Thing About Jellyfish by Ali Benjamin
The Sixth Gun by Cullen Bunn and Brian Hurtt
Unbeatable Squirrel Girl by Ryan North and Erica Henderson
Nimona by Noelle Stevenson
Journey by Aaron Becker
Locomotive by Brian Floca
The Adventures of Luke Skywalker, Jedi Knight by Tony DiTerlizzi
Southern Reach trilogy [aka Area X] by Jeff VanderMeer
The Vorrh by Brian Catling
Saga by Brian K. Vaughan and Fiona Staples
Float by Daniel Miyares
Sidewalk Flowers by JonArno Lawson and Sydney Smith
The Bear Ate Your Sandwich by Julia Sarcone-Roach
Crazy Horse's Girlfriend by Erika T. Wurth
Written in the Stars by Aisha Saeed
Counting Crows by Kathi Appelt & Rob Dunleavy
The Jumbies by Tracey Batiste
Roller Girl by Victoria Jamieson
El Deafo by Cece Bell
Elvis and the Underdogs by Jenny Lee
The Detective's Assistant by Kate Hannigan
Unusual Chickens for the Exceptional Poultry Farmer by Kelly Jones
The Truth About Twinkie Pie by Kat Yeh
Boy, Snow, Bird by Helen Oyeyemi
The Carnival at Bray by Jessie Ann Foley
The Princess in Black by Shannon Hale, Dean Hale and LeUyen Pham
The Darkest Part of the Forest by Holly Black
Show and Prove by Sofia Quintero
Supermutant Magic Academy by Jillian Tamaki
Pretty Deadly by Kelly Sue DeConnick and Emma Rios
ODY-C by Matt Fraction and Christian Ward
Last Stop on Market Street by Matt de la Peña and Christian Robinson
The Princess and the Pony by Kate Beaton
Shadowshaper by Daniel José Older
Cuckoo Song by Frances Hardinge
The House of Shattered Wings by Aliette de Bodard
Courtney Barnett, "Pedestrian at Best"
The Girl With All the Gifts by M. R. Carey
Boots of Leather, Slippers of Gold: the history of a lesbian community by Elizabeth Lapovsky Kennedy and Madeline D. Davis
Art and Fear by David Bayles and Ted Orland
First off, sharing a stage with Nilah Magruder, Nicola Yoon, Cindy Pon, and Greg van Eekhout for the Normalizing Publishing panel was absolutely a highlight of my time at the San Diego Comic-Con.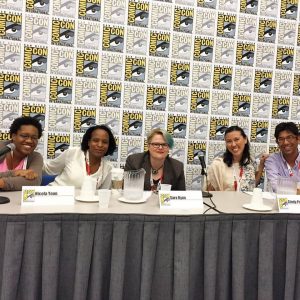 We managed to cover a lot in a short amount of time! Including but not limited to:
the importance of in-person as well as online communities for creators from marginalized groups
in framing the conversation about a book, comic, etc., how it's equally important to highlight a work's diverse qualities and to not relegate it to only being discussed in the context of those qualities
how alienating it is to grow up never seeing characters or creators who reflect your culture and experiences
how when you're trying to create characters outside your own culture and experiences, research and respect are key
We also mentioned a lot of specific resources! Also including but not limited to:
We Need Diverse Books and its publishing internship program
The Publishing Diversity Baseline Survey spearheaded by Lee and Low Books, which also offers the New Voices and New Visions awards
The Carl Brandon Society and its Con Or Bust support for people of color to attend science fiction & fantasy conventions
Voices At VONA, a multigenre writing workshop for people of color
Lambda Literary Emerging LGBTQ Voices writers retreat
Writing The Other by Nisi Shawl and Cynthia Ward
Thanks to all who came to the panel, and I'm happy to update this post with more info & links I've forgotten in post-con exhaustion!
More Recent Articles