(Stickers are all the same design; they look like the traditional "HELLO my name is" style, but instead say "HELLO I wish I could…" People have filled them out expressing the following wishes: escape debt, have collective resources, feel safe, eat three meals a day, retain long term residents, change city policies, get affordable groceries without getting on a bus, protect my children from being shot, respected by whites, afford to live in my own neighborhood, not be profiled when I walk in a store, trust my neighbors.)
I just got back from YALSA's YA Literature Symposium. Although this photo is from a few weeks ago and today I'm wearing a different hoodie, me and the cat are in a similar position as I type this.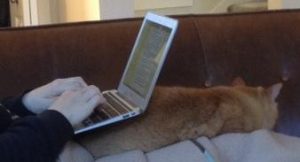 Here are a few things I saw while wandering Austin: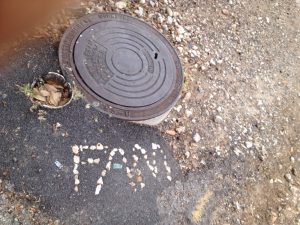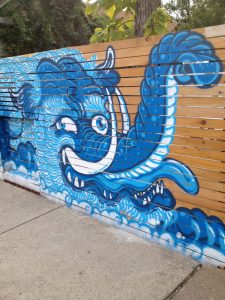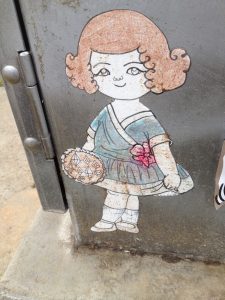 I really enjoyed being part of the "YA Realness: what makes 'contemporary realism' feel true to readers?" panel with Matt de la Peña, Coe Booth, Jo Knowles, and Sara Zarr.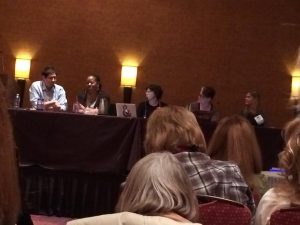 (photo by Kim Johnson Dare, found via Facebook.)
We didn't have a moderator, just asked questions of each other, and I liked operating that way; it felt more like we were having the kind of conversation that usually happens outside of official conference sessions, in the hallway or a restaurant or the hotel lobby late at night.
I had many of those latter kinds of conversations too, and I was often reminded of a post I wrote a few years back, "Shapeshifting," about how the role someone has when you first meet them — how they're described, or describe themselves, when you're introduced — is almost certainly not either a. the only role they occupy or b. the one they'll be in when you meet them again.
Here are before/after pictures of my table at the Book Blitz, an event during which authors are set up at tables with big stacks of their books. Attendees get a small number of tickets that they then 'spend' to acquire copies of said books (generously donated by our publishers).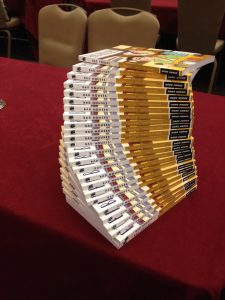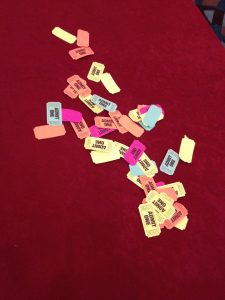 It was pretty chaotic but in a lovely way. Kudos to the folks responsible for merchandising the books. That curving stack of copies of Bad Houses was merely one among many examples of niftily displayed titles.
Since you're reading this post I bet you will also find the handouts from GenreQueer: Exploding the Closet and Who gets to tell our stories? Authentic portrayals of Trans* Youth in YA Fiction relevant to your interests.
And a few books I'm reading either directly or indirectly because of the symposium: The Devil's Highway by Luis Alberto Urrea, Swati Avasthi's Chasing Shadows, S. Bear Bergman's The Nearest Exit May Be Behind You, & Kekla Magoon's How It Went Down.
I had a great time teaching comics writing workshops for kids & teens at Columbus Metropolitan Library! Here's the group at the Franklinton branch as we're looking at Carla Speed McNeil's pencils and inks for a wordless page from Bad Houses, to show that we need to write scripts even for scenes where no one's talking: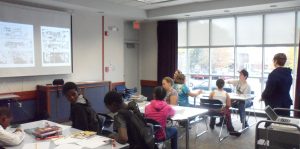 You know what else we need? Diverse books. If you haven't contributed to the Indiegogo campaign yet, what are you waiting for?
A little background: "diverse books," like "graphic novels," is a phrase that may not seem especially resonant if you haven't been immersed in the circles where it's in common usage. "Diverse books" is shorthand for books by and about people who've been marginalized — whose stories haven't had the opportunity to occupy much, if any, bookstore and library shelf space — and We Need Diverse Books is a grassroots organization created to address the lack of diverse, non-majority narratives in children's literature. It's important work. Help make it happen.
Speaking of diverse books and encouraging writers from marginalized communities, I'm really proud to say that I'll be the Genre Fiction instructor for the Lambda Literary Foundation's Retreat for Emerging LGBTQ Voices next summer! I'll be focusing on YA and comics writing. Apply!
Finally, very soon, I'm going to Austin for YALSA's YA Literature Symposium to be on a panel with Sara Zarr, Coe Booth, Jo Knowles & Matt de la Peña on YA Realness: what makes 'contemporary realism' feel true to readers? I look forward to seeing some of you there!
1. I'm working in a new space, in my old neighborhood which I haven't had much occasion to frequent in the decade-plus since I've lived there. So the commute puts me in a weird mental state: focused simultaneously on the future and the past.
2. Which I guess is also a thing that happens when seasons change.
3. I got a 2015 calendar from NeuYear.net and am both comforted and aghast by how much is already on it.
4. Took this photo last week at the Oak Harbor Library. I like to think the possum is squinting to see what the owl is reading.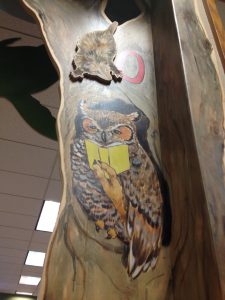 5. If you're in Columbus, Ohio, next week you can go to several comics workshops; some taught by Gene Yang,  some by me!
More Recent Articles
---
Click here to safely unsubscribe from "Sara Ryan." Click here to view mailing archives, here to change your preferences, or here to subscribe • Privacy