Less of it than many other places, but more severe than we usually get. Side effects of weather included the car's demise and the concomitant need to acquire a different (but similar) car, which required time and agitation. I had a fervent desire not to become an extra in a dealership's production of Glengarry Glen Ross. I managed to mostly escape hard-sell tactics though a salesman did set a fire on a car's hood (not the one I bought) to demonstrate the magnificence of the space-age coating they had on offer (I did not buy the coating either).
But what I really wanted to tell you about was the reading I went to tonight; the inaugural edition of Camp Cataract, named in homage to a Jane Bowles short story.
It was at Floyd's Coffee, and Donal Mosher and Sara Jaffe and Chelsey Johnson all read and Sharon Van Etten played two lovely haunting songs.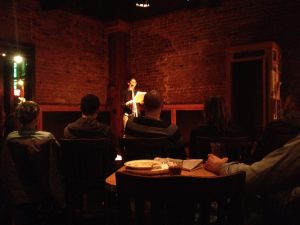 All the selections were both funny and poignant, with distinctly queer sensibilities that I really appreciated. I'm glad I was there, and I'm excited for the next installment of Camp Cataract!
I've been home from my most recent travels for a little over a week. I thought I was leaving winter behind in the Midwest & East, but as I type the wind is so loud outside that if I didn't know I was inland I'd swear I was hearing the ocean.
When I was in Philadelphia I went to the Mütter Museum and took a few photos on the sly. Tweeted this first one and will repeat myself: Appropriate subject juxtaposition on handsome old card catalog drawer.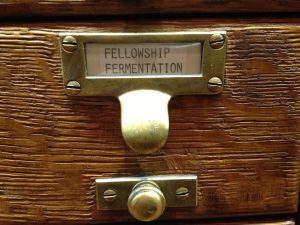 Shadow of a skeletal torso on the fancy carpet.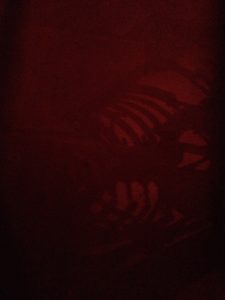 Glass eye.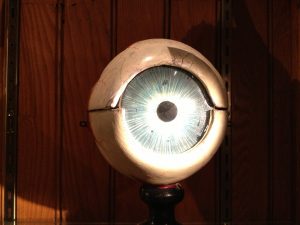 I also made a pilgrimage to the excellent comic shop/gallery/publisher Locust Moon. If you're in Philadelphia go thou and do likewise. I bought a bunch of stuff:
And enjoyed the aquarium,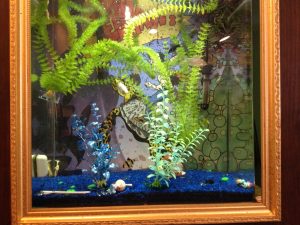 the locusts & moon,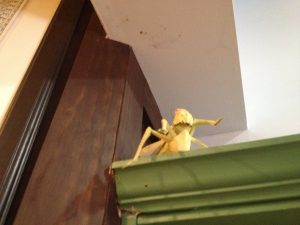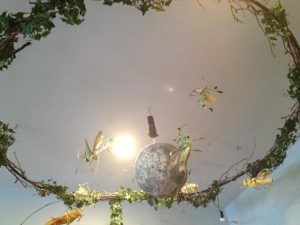 and the conversation, not pictured.
I saw some street art!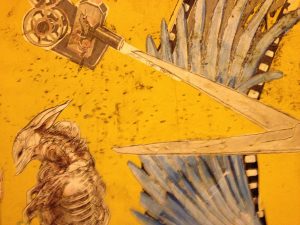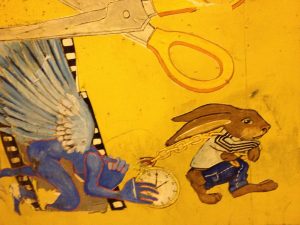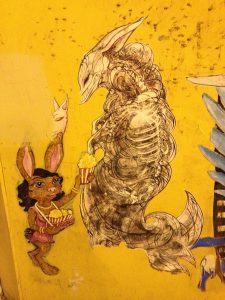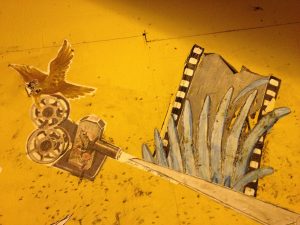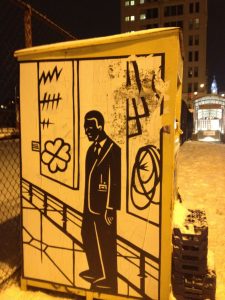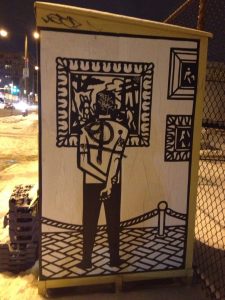 I signed a whole bunch of copies of Bad Houses! 
And drew wall-eyed owls in many of them!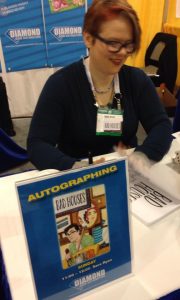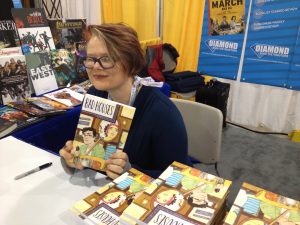 This is my friend & co-worker Lucien; yes that's right, he is a Portland person but he came to Philadelphia for my signing! (N.B. that is not really why he came to Philadelphia.)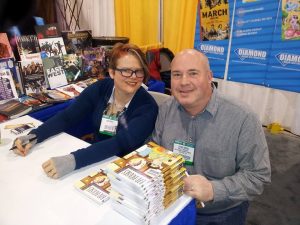 While in Philadelphia I got some swell news: in the fall I'll be presenting along with Sara Zarr, Jo Knowles, Lauren Myracle, Matt de la Peña and Coe Booth at YALSA's Young Adult Literature Symposium!
Finally, unrelated to any of the above: I can't stop listening to the new Against Me! album Transgender Dysphoria Blues. Here's the title song: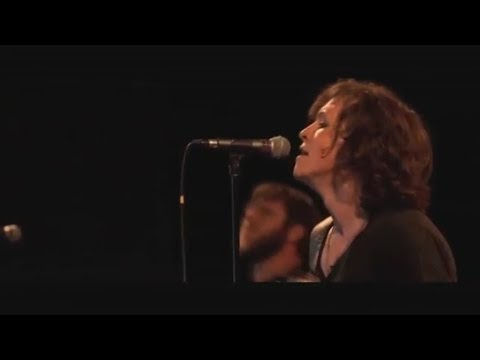 Full disclosure: this post is sort of cheating, in that I'm really just focusing on one artist and not making connections beyond her work. But seeing as this whole series is idiosyncratic, and also seeing that the work itself makes any number of connections, I'm not going to worry about it.
I went to the Fabric Workshop and Museum and saw the Sarah Sze installation. I didn't know anything about Sarah Sze's work, but after a long stretch of travel and convening, a museum seemed like the right place to go, and this one happened to be both conveniently located and open.
I put down my bulky coat to take pictures. Thought about taking a picture of my coat on the floor next to this coat, adding an element to the installation, but didn't.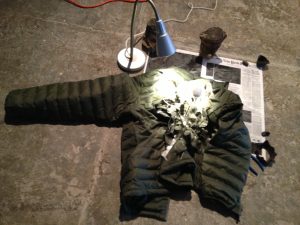 In this part of the installation, Sze used a lot of newspaper pages, replacing the photos on each with pictures of timeless, elemental substances — snow, water, ice, wood, rocks, sky, fire — sometimes with other items placed on top.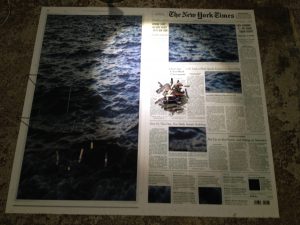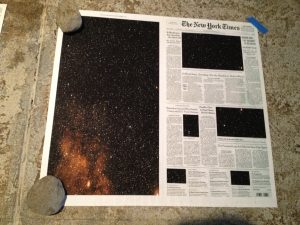 I particularly liked this one, the circular blue painter's tape contrasting with the squares & rectangles of flame.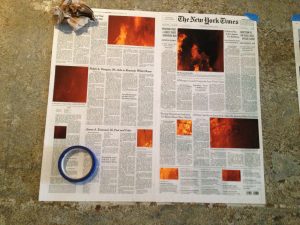 And this one, rocks and sky and light blue shards of…what? Not sure, but I love its placement.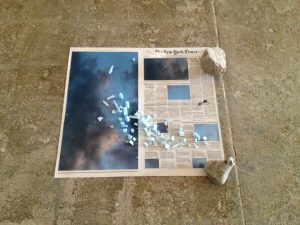 She clearly seemed to be incorporating the floor into the installation as well; its colors & textures acting as a frame/background.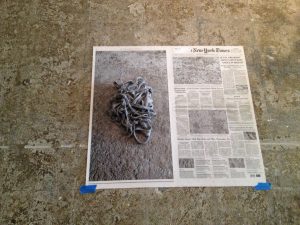 I can't really convey the overall scale, but here are a few photos that give something of a sense of it: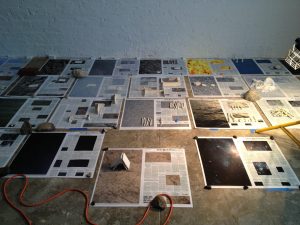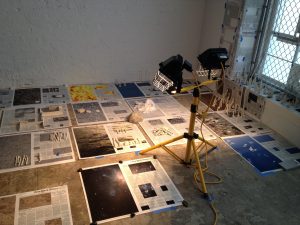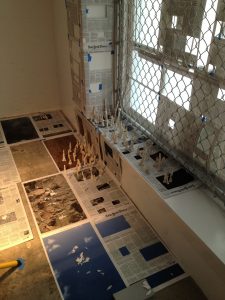 Two elements of the installation struck me the most solely because of my connection-craving brain. I asked the guide if there was any deliberate relationship between the articles in the newspapers and the images with which Sze replaced the accompanying photos. Apparently not; but these two juxtapositions of headlines & images worked especially well for me:
"There's Lots to Gain by Keeping It Simple"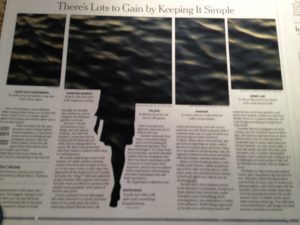 "Playing With Risk And Constraint"
"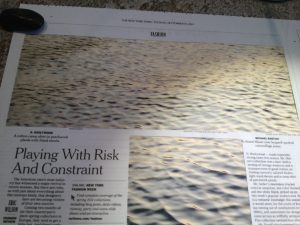 And I highly recommend this PBS video: Sze describing & showing some of her other work.
Yesterday I found this book on a free shelf.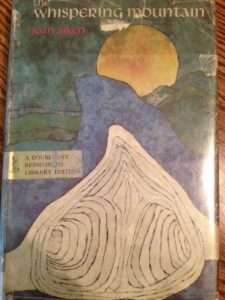 I remembered liking Joan Aiken's writing, though it had been a long time since I'd read anything of hers. I was also desperate for reading material.
I was not disappointed. The Whispering Mountain turns out to be a prequel to the Wolves Chronicles, of which the best-known title is probably The Wolves of Willoughby Chase.  I've decided I need to reread them, since I seem to have missed several volumes. (Warning: the summaries given for the books on the site I linked above are spoilery. Which I suppose is only reasonable for books several decades old. But still.)
One of the many delightful words in The Whispering Mountain is dod-gasted, which I thought I remembered T.H. White's King Pellinore using about his Questing Beast. A cursory search failed to confirm that particular connection, but did turn up an excellent article about obscenicons, aka grawlixes, aka the strings of characters used in place of swears in comics.
Another word from Whispering Mountain, bach, a Welsh term of friendly endearment, connected me to another book. The term is used liberally by passionate theater director Geraint Powell, a significant character in The Lyre of Orpheus, the concluding novel in the Cornish Trilogy by Robertson Davies. That link is to an interview with Davies which contains this quote: "I write novels that I hope will be interesting just as stories, but they also have implications and byways which I think would interest people who have more information." Which perhaps is why I'm so fond of his books; not that I necessarily always have the "more information" he refers to, but that I am the kind of person who likes to ferret it out.
But any book set in Wales, which Whispering Mountain is, will connect me most strongly with a series that I, like many other readers, imprinted on at an early age: Susan Cooper's The Dark Is Rising sequence. Not all the books in the sequence take place in Wales, but Wales is an important setting, and Cooper herself has strong ties to Wales.
Last connection: there's a quote from The Dark Is Rising that keeps running through my head:
For all times coexist, and the future can sometimes affect the past, though the past is a road that leads to the future.
In Cooper's context, times coexisting has to do with the work of the Old Ones and the struggle between the Light and the Dark. In mine, it evokes the fractured world that people with memory loss experience. Visiting, and hopefully comforting, someone with memory loss is the reason I am where I currently am; where I discovered that copy of The Whispering Mountain.
More Recent Articles
---
Click here to safely unsubscribe from "Sara Ryan." Click here to view mailing archives, here to change your preferences, or here to subscribe • Privacy