This past weekend, the vast majority of posts showing up on my various social media feeds were from or about AWP. Now I'm starting to see a flurry from comics comrades about ECCC, and from library pals about PLA.
When many of your colleagues and friends are at Professionally Useful Gatherings (let's call them PUGs) and you're not, it's easy to feel like you're Seriously Missing Out.
Even the complaints about PUGs can seem enviable. Your PUG-attending pals have bags under their eyes from being out so late! They've lost their voices from talking to so many people! They've wrenched their backs from carrying all the amazing books & swag!
When you're wishing you were where all the Cool Kids (of whatever variety is appropriate for your endeavors) seem to be, here are three things you can do besides endlessly scrolling and feeling sorry for yourself:
1. Look up information about next year's event. Could you propose one or more sessions? How much would travel & lodging cost? Have you got friends in the area you could stay with? Are exhibitor booths/tables available and can you afford one? If you'll be selling your work, how much would you need to make to break even? If you think it would truly benefit your career and/or morale to participate in the event, start planning how you can get there in the future.
2. Make plans with a local friend. If it's nice out, you can go for a walk.
3. Do the work. Whatever the thing is that the PUG you're coveting is about, get off the Internet and do that thing; it'll get your mind off wishing you were somewhere you're not, and you'll have more experience by the time the next PUG comes around.
I'm looking forward to being one of the editors for the Twist Fate Challenge! Let me quote from the press release:
Two popular apps that support young artists and writers are calling on teens to create works, twisting the fate of heroes and villains. "Twist Fate," an art and writing challenge for 13 to 17 year olds, is being hosted by DeviantArt, the world's largest community for visual art, and by Wattpad, the world's largest community of readers and writers.

"Wattpad and DeviantArt are home to some of the most active and inspiring creative youth communities on the net. They offer a rich and motivating context for young people to connect, learn, and get feedback from others who share their interests and passions," said Mimi Ito, co-founder of the Connected Learning Alliance and UC Irvine cultural anthropologist who specializes in learning. "This challenge is an opportunity for more educators and youth to tap into this creative energy and experience how social online platforms can fuel learning and engagement in the arts."

Young people are invited to submit entries on the website of either DeviantArt or Wattpad from March 6 through April 6. The best stories, comic panels, illustrations or other creations will be chosen as finalists that will be reviewed by a panel of editors who will decide which ones to publish in a book. And, the book will be made available to the public in libraries across the country.

The editors are: writers Sara Ryan (author of "Bad Houses," "The Rules for Hearts" and "Empress of the World") and Lauren Kate Morphew (author of "Fallen," Torment," "Passion," "Rapture," "Fallen in Love" and "The Betrayal of Natalie Hargrove"), Disney/Pixar artist and animator Brian Kesinger and Antero Garcia, assistant professor of English at Colorado State University.
I'm excited to see what heroes and villains the writers & artists choose, and what forms the entries will take!
If you or someone you know wants to enter, the challenge is open from March 6 – April 6, and you can submit via either WattPad or DeviantArt.
The worst question to ask a writer is not: "Where do you get your ideas?"
This is a clichéd question, yes. But precisely because it's a cliché, we probably have a stock response. Even if we don't, it's fairly easy to come up with some kind of answer, whether flip or serious, about where our ideas come from. ("Overheard conversations, other books, music, art, strange objects seen on the street, the Internet.")
The worst question to ask a writer is not: "How much money do you make?"
This is mostly an annoying question. If we're not inclined to share our yearly profit-and-loss statements with the questioner, we can deflect it gracefully and with humor, e.g. "Not enough to quit my day job!" or "Wealth beyond the dreams of avarice." Or, if we're feeling feisty, with "How much money do you make?" But "How much money do you make?" is fundamentally an answerable question.
The worst question to ask a writer is not: "What are you working on?"
This can be a tricky question. We don't always want to reveal too much about projects that don't yet feel fully formed. We might have signed nondisclosure agreements. (Although if we have, we can give a very fancy, high-status-sounding answer: a slight smile, a shrug, and the acronym "NDA.") We might worry that if we describe the project, the questioner won't respond in a way that feels positive and we'll start to doubt ourselves. But "What are you working on?" is also absolutely an answerable question.
The worst question to ask a writer is: "Are you still writing?"
It immediately gives the impression that the questioner thinks we might not be, that writing was a passing fancy for us, that perhaps we've decided instead to work on baking a perfect Victoria sponge, or squatting three hundred, or learning calligraphy — all of which, of course, are estimable and worthy activities, no shade to anyone engaging in any or all of the above.
But "Are you still writing?" is almost a "Have you stopped beating your wife?" question. It puts us immediately on the defensive. We could answer by listing off our most recent and forthcoming publications. But we might worry that we'll come off sounding like we're bragging, or that our most recent publications were too long ago, our forthcoming too far in the future, or that regardless, they somehow wouldn't count in the eyes of the questioner (wrong genre, wrong audience, inadequate distribution, etc.) There's also the point that the fact that the questioner is asking implies that they aren't aware of said publications, which means that we haven't done a good enough job getting the word out about them.
If we don't have recent or upcoming publications, "Are you still writing?" adds insult to injury. We're almost certainly already beating ourselves up about it, and now we feel like the questioner may actually be asking "You mean you haven't given up the ridiculous idea that you're a writer?"
We could answer by saying what we're working on, but that's not what the questioner asked. A simple "Yes!" feels too terse. We'd like to think the questioner means well, but again, if they are, why would they ask about our writing in a way that casts doubt on whether or not it's still happening?
And if you're reading this and thinking, "Geez, what's the big deal? It's a totally innocent question. Stop being so sensitive," I might venture to wonder whether you've had many interactions with writers.
I saw the excellent Alien She exhibit, a look at the impact & influence of Riot Grrrl, not once but twice. The first time my friend and I obeyed the sign that said no photography. When I came back with another friend, the person who took our coats & my backpack said "Don't forget your cameras!" Hence the photos below.
My favorite part was discovering Allyson Mitchell's work. These first several images are from "Recommended Reading," hand-drawn wallpaper of queer & feminist texts (and the occasional object, e.g. Hothead Paisan coffee mug), many familiar, several of which are on my own bookshelves. I think these drawings are also part of "A Girl's Journey to the Well of Forbidden Knowledge." Mitchell describes them on her website: "These laborious renderings pay homage not only to the Lesbian Herstory Archives, but to all feminist presses, bookstores and libraries that have worked valiantly to advocate for the significance of women's stories, histories and acts of resistance, often in the face of sexism, homophobia and financial constraints."
I'm fairly certain that commodification is not the point but am compelled to say that I would totally buy this as actual wallpaper.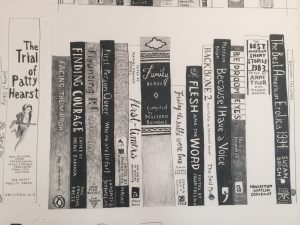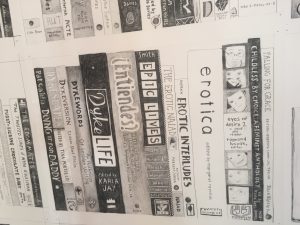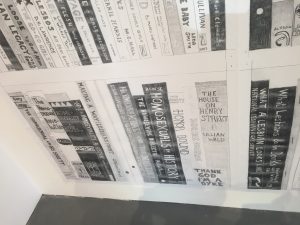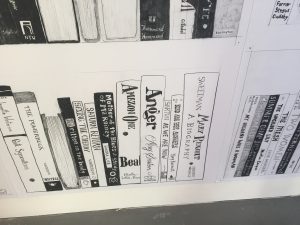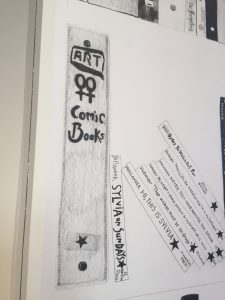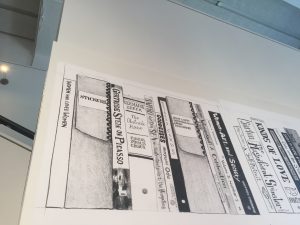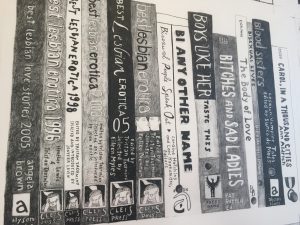 The exhibit also featured some of Mitchell's Ladies Sasquatch and their small pink companions.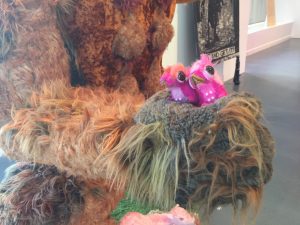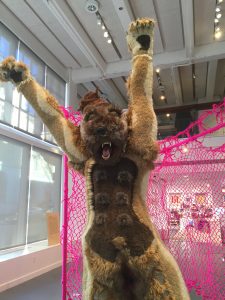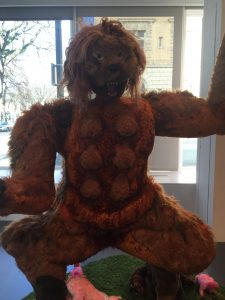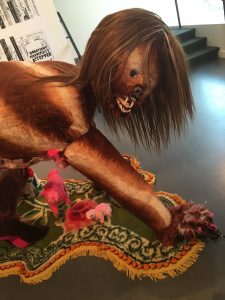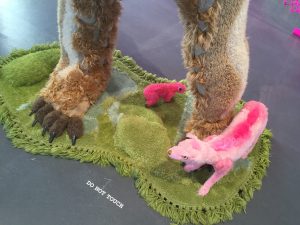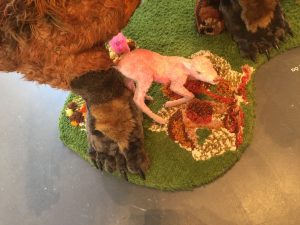 It's only up until January 9th, so if you're in Portland I recommend you get to it before it closes. I also quite liked the Big Miss Movieola/Joanie 4 Jackie videos and zines in the exhibit, though I simultaneously felt irritated at my past self for not knowing about the project while it was in its heyday. (I've never wanted to make movies, but the idea of getting video chainletters from women filmmakers sounds excellent.)
Other highlights of the year so far:
Finding an excellently warm and water repellent Irish coat at Rerun for twenty dollars, which became forty-four cents with my consignment credit…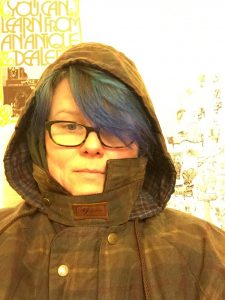 …right before the snow.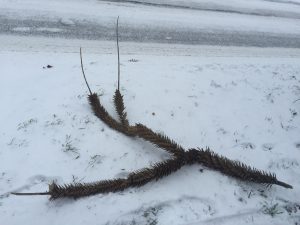 I got a special named after me at Handsome Pizza and I can report that it is extremely delicious: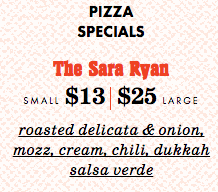 And last but certainly not least I've been making my "Session Target" wordcount progress bar turn green in Scrivener. More like this, 2016.