The lump in this photo is my cat in his current favorite location, under blankets. Which, right, technically is not subterranean per se as he is not actually underground, but work with me. Things are happening below the surface.
Have been reading Hilary Mantel, late onto the Cromwell trilogy bandwagon (and how amused her version of Cromwell would be at the notion of a "Cromwell bandwagon") delighted by its nuance and sweep. Evocative prose on a sentence-by-sentence level, incredible command of the setting and giant cast.
Have also been reading Diane Ackerman, specifically Dawn Light, and appreciating her close and lovely observations of the natural world & the seasons (not really separable, I suppose, which is part of the point). Not a book I would have sought out, but when it appeared unexpectedly, it seemed only right to pick it up.
It's a quiet January, getting things done & trying to be grateful for what's possible rather than regretting what isn't.
I used two tools to come up with a basic overview of what-I-did-in-2014: my calendar, and the bookkeeping program I use to track my freelance work. A bit reductionist, but they do serve to more or less document what I was up to.
Four university events in 2014: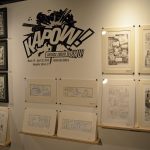 Kapow! at Eastern Michigan University, a comics art exhibit and panel discussion; also a chance to see old friends who braved the ghastly weather.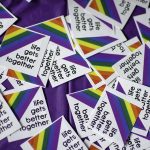 Syracuse University's student-organized Life Gets Better Together conference, where I was on the keynote panel about the cultural climate for LGBT folks and taught a writing workshop.
University of Michigan's Kids Read Comics in the Classroom preconference, another panel! And another opportunity to see old friends, better weather this time.
At Western Oregon University, all by myself this time, talking about Bad Houses with Shaun Huston's Cultural Geography class. Favorite student response: "Today Sara Ryan came in and she seems pretty kick ass … She has an awesome vibe and spoke about the process of making Bad Houses with great enthusiasm."
I was a guest at four comic conventions: Emerald City, Wondercon, Kids Read Comics, and the Rose City Comicon.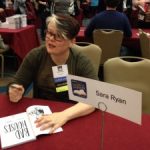 I was on yet another panel at YALSA's Young Adult Literature Symposium, this one on YA Realness: what makes 'contemporary YA' feel true to readers? Also participated in the very exciting Book Blitz, where the above photo was taken.
And I taught a couple of workshops, one on comics writing, one with Rosanne Parry on writing with cultural responsiveness, at the Society of Children's Book Writers & Illustrators Oregon conference. Also a writing workshop at the Ann Arbor District Library, and four comics writing workshops for teens at Columbus Metropolitan Library.
Whew.
…but wait, did you actually write anything? 
Yes I did: a more-than-usually-self-disclosing essay for an anthology, and a short comic featuring an extremely well-known character for another anthology. Neither has yet appeared but I will tell you when they do. And also other things, which are In Progress.
In 2015, so far I'm most looking forward to teaching at the Lambda Literary Foundation Retreat for Emerging LGBT Voices, being a special guest at the San Diego Comic-Con, and — needless to say — progressing on the things that are In Progress. Further bulletins as events warrant.
through the blinds of an upstairs window.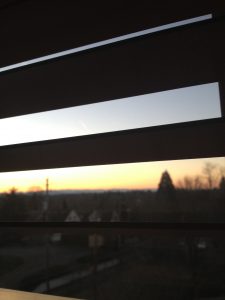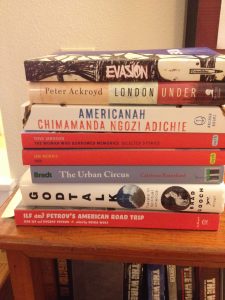 Books have always been my favorite items to give and receive. This holiday friends & family presented me with the following:
If I don't post again before 2015, the above should explain why.
If you follow me on Twitter, you know I often post photos captioned only with the word "Sighted."
I thought about posting these that way, but I think they have greater impact when viewed as a group. They were all posted on a wooden security fence around one of the many buildings under construction in the neighborhood, close-in southeast Portland, on Division Street.
There were more stickers than I photographed, but we were on our way to (Re)Writing The Future: Social Justice and Science Fiction, and thought, correctly, that there'd be a packed house.
I'd love to properly credit the origin/creators of the stickers; if anyone who sees this knows the story, let me know.



(Stickers are all the same design; they look like the traditional "HELLO my name is" style, but instead say "HELLO I wish I could…" People have filled them out expressing the following wishes: escape debt, have collective resources, feel safe, eat three meals a day, retain long term residents, change city policies, get affordable groceries without getting on a bus, protect my children from being shot, respected by whites, afford to live in my own neighborhood, not be profiled when I walk in a store, trust my neighbors.)
---
Click here to safely unsubscribe from "Sara Ryan." Click here to view mailing archives, here to change your preferences, or here to subscribe • Privacy