Someone's going to be Beach-Fire-Building Alpha. If that's not you, assist them by gathering kindling, carrying foodstuffs to be carbonized, and not complaining when smoke drifts your way. If you're the Beach-Fire-Building Alpha, rule benevolently, and gracefully accept all praise of your skills.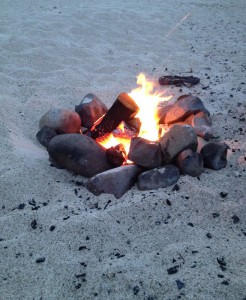 Consider not taking sunset photos because geez, aren't there enough of them in the world already?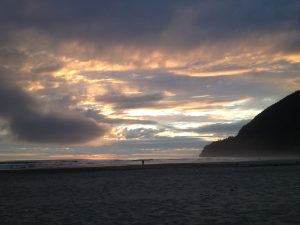 Reconsider.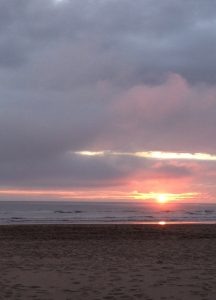 Feel grateful.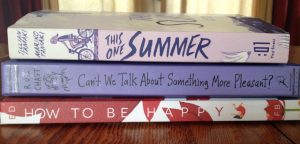 Can't We Talk About Something More Pleasant?
*    *    *    *    *    *
This One Summer, by Mariko Tamaki and Jillian Tamaki, perfectly evokes the early-adolescent state where sometimes you want to be older, sometimes younger, where the issues of the adults around you intersect and influence your world even when, especially when, they try to shield you from them, and what it's like to be in the place that has always meant one thing but now is starting to mean something else.
Can't We Talk About Something More Pleasant?, a graphic memoir by Roz Chast, is about dread, denial, dementia, decline, and death, and still manages to be funny. Especially recommended for anyone who is, has been, or anticipates becoming a caregiver for aging parents.
How To Be Happy by Eleanor Davis is a collection of short, spare, lovely and haunting graphic stories. Some of them are funny, too. Among my favorites: "The Emotion Room,"  "How To Be Strong," and the one-pager that opens the collection which begins: "Write a story. A story about yourself. A story about your life. Now, believe it."
I've been watching a lot of Justified. I was a little surprised to discover I like it.
But it's not that shocking, considering I like Elmore Leonard's ear for dialog and the ever-present evidence in his books that he follows his own writing advice. I liked discovering that producer Graham Yost gave the writers of the show WWED bracelets.
I've also been appreciating:
Timothy Olyphant's half Jimmy Stewart, half Jack Nicholson affect.
Herky-jerky Jeremy Davies, who manages to seem simultaneously like someone who'd be running the shooting range at a seedy carnival and a semi-functional toy you'd win there.
Commanding Margo Martindale, who gets a remarkable amount of depth and complexity into what is basically a Big Bad character.
Walton Goggins (whose actual name would also work well for his character), buttoned-up and wild-eyed, with ever-precise diction.
I could go on naming actors; there are a lot of strong performances.
There are missed opportunities, too. I especially wanted more in Noble's Holler; more characters (where were the women?), more scenes, more nuance.
But overall, good, compelling TV. Will watch again.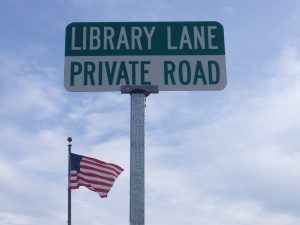 I'm just back from Ann Arbor, where I tabled at Kids Read Comics and taught a writing workshop at the Ann Arbor District Library.
I kept using the phrase "cognitive dissonance" to express how it felt to be in my old home town after many years away, and it's close, I suppose, but inadequate.
I wasn't discomfited per se by seeing how Ann Arbor has (and hasn't) changed, but I became hyperaware of how site-specific memory can be; how experiences you've had in a particular place can suddenly return when you're physically present.
I'd forgotten, for example, about Dominick's. But as soon as I was standing inside, conversations I'd had in grad school over sangria came back; some, in fact, with these people (Dave Carter, Jim Ottaviani, & Kat Hagedorn):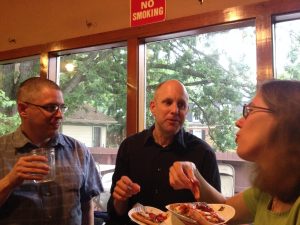 I tried to do an update of this old photo taken outside the Clements Library where my dad used to be a curator: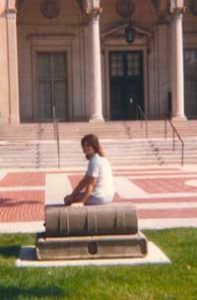 but decided to respect the boundary around the book statue: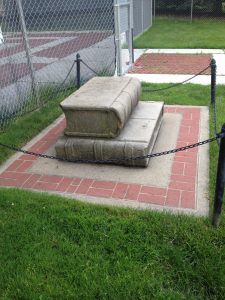 I went to some places that didn't exist in the 1990s, too: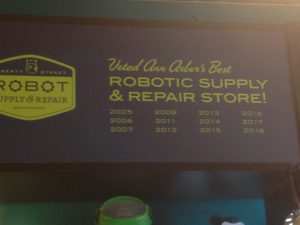 At Liberty Street Robot Supply & Repair, aka 826 Michigan, I bought Don't Forget to Write: 50 Enthralling and Effective Writing Lessons for the Secondary Grades.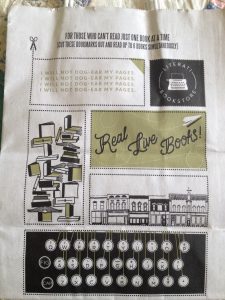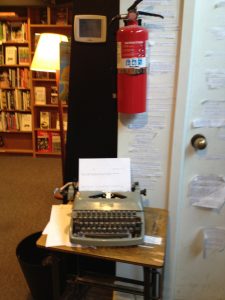 And at Literati Bookstore (which has splendid graphic design in addition to its well-curated title selection) I got Roz Chast's graphic memoir Can't We Talk About Something More Pleasant?
Perhaps the experience that best encapsulates the visit was going to Seva; a restaurant I remembered fondly which has recently relocated.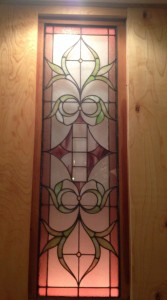 They kept stained glass from the old location, but display it in a different arrangement. They kept some items from the old menu, but added dishes. The result: a comforting, tasty blend of familiar & new.
Representing today & tomorrow for teen & adult readers at the Ann Arbor District Library's Kids Read Comics festival — really fun to be back in the library I grew up using. If you're in or near Ann Arbor, come say hi!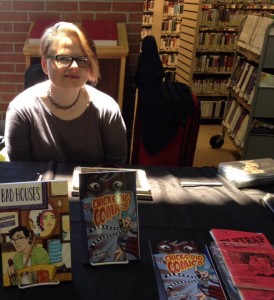 More Recent Articles
---
Click here to safely unsubscribe from "Sara Ryan." Click here to view mailing archives, here to change your preferences, or here to subscribe • Privacy