Nice solid mirror.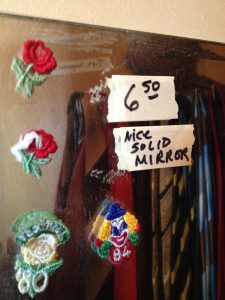 It was difficult to resist this aghast-looking greenish ceramic spaniel, particularly set off as it was by the dazzling paisley curtains, but I managed.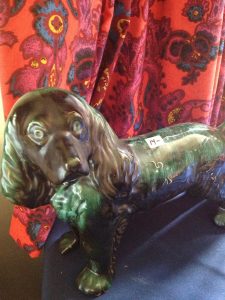 Does your growth measure up?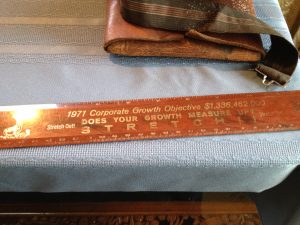 All 5.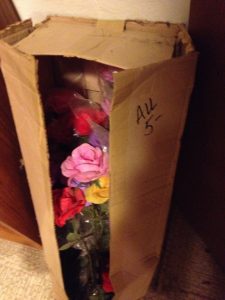 P.S. Bad Houses recently made a couple of appearances in distinguished company: Paste Magazine's 10 Best Comics of 2013, TIME Magazine's 10 Best Comics and Graphic Novels of 2013.
P.P.S. And in case you were wondering if I bought anything at today's sale the answer is yes: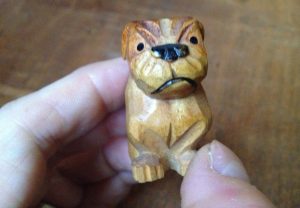 He was fifty cents.
As required by law I'm posting on Black Friday about my newest book which you might wish to purchase. Here are a bunch of reviews!
Publishers Weekly starred review: "Ryan's well-rounded sympathetic characterization and the scrappy energy in McNeil's art make this a drama with true depth."
Unshelved book club: "I've always thought that I could never live in a small town because I couldn't stand everyone knowing my business. But I loved how this story unfolded to show that Failin had plenty of secrets."
USA Today Pop Candy's Week in Pop: "Ryan deserves props for her examination of why some people can't let go of their stuff (physical and emotional), and Finder creator McNeil impresses me again with her ability to lure me into a comic within the first few panels."
Reading Rants: "Each person in this intricate character-driven graphic novel will feel familiar as someone you know or love, and each one will lodge deeply in your heart…A well-told and astutely drawn story of fate and forgiveness."
Darling Dork: "In my opinion, Bad Houses is one of the best graphic novels I've read in the last year, and I say that in spite of my general distaste for comics that aren't at least a little fantastical. The writing is funny, smart and moving, and the art manages to serve the story well."
Paste Magazine: "Bad Houses is not only notable among Dark Horse's large catalog, where it could easily lie buried, but it deserves your attention as an excellent quarter life crisis work of graphic art."
And because it wouldn't truly be shameless self-promotion without links to ways to buy the book:
Thanks to everyone who's been reading & spreading the word about Bad Houses!
Since Bad Houses is the first full-length graphic novel I've written, it's likely to be some comics readers' first experience of my work. If that describes you and you'd like to know more, a while back I had a great conversation with Sara Zarr on her This Creative Life podcast about everything from my writing routine to what I love about writing comics & collaborating with artists, to recurring themes in my work and whether or not I feel boxed in as an LGBT writer.
I also enthuse at some length about this excellent & creepy piece of art in my writing space: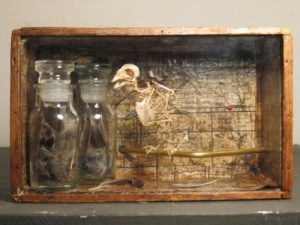 Some of my other comics: a story in Hellboy: Weird Tales volume one with Steve Lieber, the only comic in the Welcome to Bordertown anthology with Dylan Meconis, a story in Comic Book Tattoo with Jonathan Case, a short-short called "Orienteering" with Erika Moen, and three stories about characters from my first novel Empress of the World, all included in the expanded reissue edition that came out last year.
Beyond that, although it is not itself in comics format, my essay in Chicks Dig Comics is very explicitly about my journey from comics reader to comics creator. Spoiler alert: it involves Elfquest. And Sandman.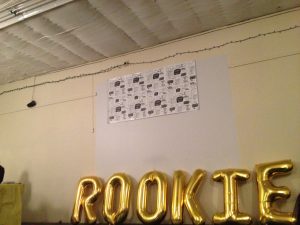 Last night I went with a friend to the Rookie Yearbook Two event sponsored by Reading Frenzy, held at the Q Center. We arrived early enough to help set up chairs and observe the process of the excellent letter balloons getting inflated via bicycle pump. I cannot tell you for sure but I bet the balloons were this kind. They added a fine shiny festive quality to the stage.
There were a lot of people. This isn't even everybody.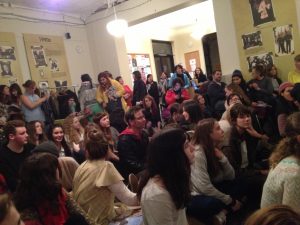 If you are unfamiliar with Rookie you may be wondering what exactly brought out this crowd. Rookie is a magazine for teenage girls that is okay with people who do not fit that demographic enjoying it too. The interviews are particularly good; try, for instance, The World Is Bound With Secret Knots and Girls With Power and Mystique.
Rookie has many contributors, but its driving force is founder and editor in chief Tavi Gevinson. Gevinson's sensibility — curious, smart, and much more interested in appreciating than in denigrating — informs the magazine.
I've been following Gevinson's work since the early days of her style rookie blog, and it was very cool both to see her and to see the crowd seeing her.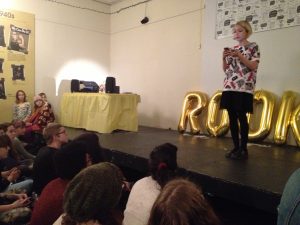 She read on her phone from what will be the December Rookie editor's letter on the theme of Forever, and then took questions for a while. Yes, she's going to college — she's applying now. No, she doesn't know what her major's going to be. She regretted her inability to make a judgment call on birthday cake Oreos. Rookie behind-the-scenes involves but is not limited to long email chains, a private Facebook group and Skype sessions. To the girl who asked about finding similarly-minded friends, she recommended "everyone in this room. You have one thing in common already, right?"
Indeed.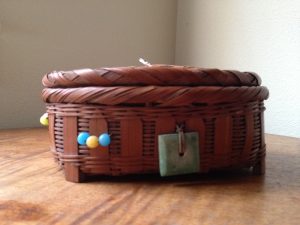 In the afterword to Bad Houses, I mention my grandmother's sewing box. That's it in the photo above.
I don't intend to turn this into ALL PROMOTION ALL THE TIME, but I do want to mention:
Rich Barrett at Mental Floss calls it one of the 5 most interesting comics of the week.
And Hillary Brown at Paste has a lovely thoughtful review.
More Recent Articles
---
Click here to safely unsubscribe from "Sara Ryan." Click here to view mailing archives, here to change your preferences, or here to subscribe • Privacy