It stars Tonya Pinkins, Dianne Wiest, Patricia Connolly and Darren Goldstein.
Joel Drake Johnson's new play is under the direction of Cynthia Nixon, making her directorial debut
.
Wow! What an afternoon. Aside from it conjuring all sorts of office PTSD for me, I found the play to be uncomfortable and quite terrifying, although quite hilarious. It's the best and worst kind of comedy - the one that punches you in the stomach and makes you think about it's message for maybe ever...and hopefully it reached out and changed a few minds. The story is set in a doctor's office. The main characters are two administrative assistants who seem to be friends and amiable co-workers until their boss stirs things up by promoting the older white one in order to get less experienced black one. Nobody will say what they really mean and it's a itchy dance around racism and prejudices, both perceived and very real.
I felt so challenged as a white person in the midst of some very diverse audience demographics. I was sitting beside an older white woman and the two of us were sandwiched between black women. The audience was a pretty mixed racially, although I was among the few younger seat fillers. All of the black women in our row were ready for Tonya Pinkins to take them to church, as it were. They were having a great time! Meanwhile, I felt nervous on a number of levels. There are office politics, scary co-workers and manipulation flying around the room. The whole kettle threatening to boil over at any minute and it has everybody on edge. Each of the characters (and probably every last audience member) had some prejudice whether they admitted it, much less realized it.
The play was superbly acted, which should not surprise anybody considering the pedigree of its actor and director (Tonys, Emmys, Oscar, etc galore). As usual, I had a hard time keeping my eyes off Tonya Pinkins. She's a magnet, cool and gorgeous and so very, very real in every movement. Dianne Wiest is sheer perfection at playing meek and unsure of herself and falls apart in front of the audience's eyes. Darren Goldstein smarmy and disgusting and quite perfect as the manipulative, upper middle class white doctor (ugh, my bosses were not doctors, but lawyers and I could see his type coming a mile away). Patricia Connolly is wonderfully oblivious as the little old lady patient - she has no idea that she's saying anything wrong at all and quite outrageously threatens to steal the whole show.
Rasheeda Speaking
is on until March 22nd produced by The New Group at The Pershing Square Signature Center in the The Romulus Linney Courtyard Theatre, 480 West 42nd Street. I used
Broadwaybox
for discounted tickets.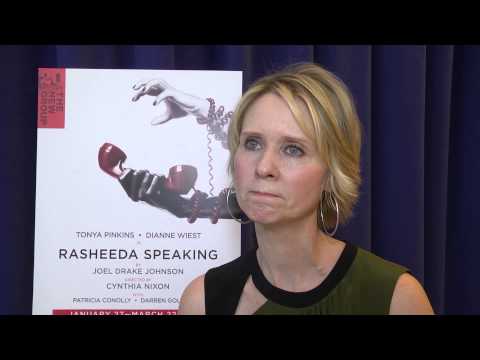 Last week
Debbie Voigt
presented the new York City premier of her one woman show "Voigt Lessons" at the 92nd Street Y last Thursday night. And girl, there were lessons to be learned.
Deborah Voigt is one of the greatest dramatic sopranos of modern times. I have seen her sing opera and lieder at the Met Opera and Carnegie Hall. I saw her in my first Wagner,
Tristan und Isolde
and later in my first Ring Cycle,
Gotterdammerung
and
Siegfried
and earlier, in two Richard Strauss operas,
Elektra
and
Die ägyptische Helena. At Carnegie, I heard her sing Strauss' Last Four Songs with the Met Opera and in her own lieder recital. Hearing her was thrilling, indeed.
Aside from loving her singing, Debbie is a personal heroine of mine: she has shared her journey of conquering her compulsive overeating and addiction, weight issues, and other personal hurdles. She published her memoirs,
Call Me Debbie: True Confessions of a Down-To-Earth Diva
, in January.
Voigt Lessons, a lovely evening of song and story, is a beautiful companion to her published memoirs. The piece was created by Deborah Voigt, Terrence McNally (Tony award winning playwright and book writer) and opera and theatre director Francesca Zambello. Richard Jay-Alexander staged the evening. Debbie was accompanied on piano by her music direct, Kevin Stites.
Debbie talked of learning to sing in the choir as a little girl in church to her time in high school musical theatre to learning to sing opera on the largest stages in the world. She punctuated her very personal history by sharing some of her favorite songs from The Carpenters, musical theatre, old hymns and even Strauss and Brahms lieder. She teased us with the opening bars to the second act of
Tannhäuser.
She especially wowed us with her rendention of the tenor aria
Nessun Dorma. She even thru in a
'Ho-jo-to-ho'! She closed the evening with the old gospel, His Eye is on the Sparrow.
She is warm, funny and beautiful. She worked from a script for the evening, but at times spontaneously and to our great delight, went off book from time to time bring even greater joy to the evening. Debbie did say shes still has some of the great roles in her, for which I cheered as loud as I could: Kostelnička (
Jenufa
), Ortrud (
Lohengrin
), Dolly (
Hello Dolly!
) and
Mame
(Hell Yes!). This was an evening of range - range of music and emotion - and I have no doubt she's up to any and all of these roles.
I found the evening to be quite cathartic. I found myself in tears from the honest emotion and stories she shared. I'm very grateful that she has been brave enough to own up and tell us all about all of this. It's not easy. As a woman who has struggled with compulsive overeating for as long as I can remember, I identify with her story and I know it's the hardest thing to work on much less talk about. Everything and anything is easy compared to this, at least for me. After the concert, I waited in line to have her sign my copy of her book and I'm so glad I did. I felt a boost to continue working on my goals just being able to tell her thanks for being so brave. Thanks very much indeed, Debbie.

Debbie Voigt with Kevin Stites, photo by Richard Termine
Bonus: Because it's adorable and because my pal Jesse North is also in this video: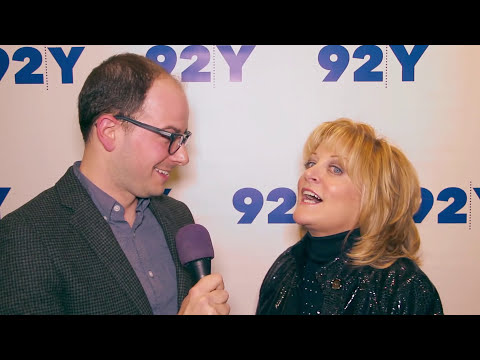 I was so delighted to see
Keen Company's
new production of
John & Jen
on Friday night. The two-hander musical stars
Kate Baldwin
and newcomer Conor Ryan.
It is a sweet, charming, funny, poignant musical with a great score and clever lyrics by Andrew Lippa and Tom Greenwald. Orchestrations are by another Broadway composer, Jason Robert Brown.
I loved the inventive music - from fun and very catchy to heart-string pulling.
The production is slight, leaving the actors to convey all of the changing times with their craft and they manage it very well. Both actors have to play children to young adults, little brother and big sister in the first act and son and mother in the second act. It's a beautiful coming of age story set during the 1960s into the 1980s.
Conor is adorable at all times. He does funny very well and his smile is contagious. He had me laughing so much with his antics, which seems effortless. He's got a great voice too. I can't wait to see more of him.
As for Kate, she never disappoints me. Seeing her in the tiny space at The Clurman in Theatre Row is a magical experience. The opportunity to see her on this stage is not to be missed - she's transcendent. Her character - big sister then mother - ages from 13 to late 30s. Her transition is seamless and breathtaking. She played all of the emotions so well and had me on the edge of my seat. I really think there's nothing she can't do.
John & Jen
plays until April 4th and I really think I will have to revisit this one. Tickets are available at the Theatre Row box office at 410 West 42nd Street (btw 9th and 10th) or via Telecharge. I used a
Broadwaybox
discount for $50 tickets.
This is Keen Company's 20th Anniversary Production and to that they deserve many happy returns. I have seen so many of their productions over the years and am never disappointed. They offer a satisfying variety of drama and comedy, plays and musicals (their production of
Marry Me A Little
with Lauren Molina and Jason Tam is one of my favorite things ever and they also gave me a chance to see the incomparable Kathleen Chalfant in
Painting Churches
).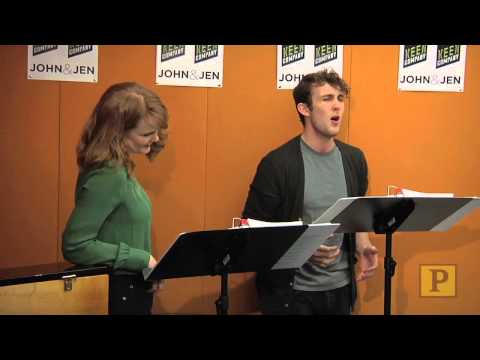 Henry James' thriller
The Turn of the Screw
is currently on at
Everyday Inferno Theatre Company
. This stylized production is adapted by company member Jamie Wylie and is eerily set in the
Morris-Jumel Mansion
, Manhattan's oldest house.
Setting the production in the Morris-Jumel is certainly inspired. It was built in 1765 and served as headquarters to General Washington during the Revolutionary War. It is said that ghosts are in residence and on a chilly night in a very quiet section of Washington Heights, I certainly felt a chill.
Ms. Wylie has set James' tale in the late evening after a dinner party: a well heeled guest shares a supposedly true story of suspense over after dinner drinks. It's far past dark and the only lighting is moody and fraught with anticipation. The production is simple and elegant, nuanced by Anais Koivisto's direction and period costume design. She allows the evening gloom at Morris-Jumel be a character in this production.
The piece moves seamlessly and swiftly and is very well acted, particularly by Meg Kiley Smith as the Governess slipping into madness and Victoria Blankenship as the well-meaning Mrs. Grose. The are joined by a fantastic company of Leslie Gauthier, Leslie Marseglia, James McCloskey, Graham Miles, Sam Ogilvie and Scott David Reeves. Ms. Marseglia is admirably calm as the eerie Miss Jessel. Most of the company does double duty portraying characters and effectively transition. Suprises in scenes had me gasping and jumping in my seat, a testament to the execution of this company.
The combination of execution of this classic story, an inspired destination setting and the season guarantees a satisfying evening for any thrill seeker....much more satisfying and immersive than any contrived haunted house during this Halloween season.
Everyday Inferno Theatre Company offers this production
The Turn of the Screw
at the The Morris-Jumel, just two blocks off the C train stop at 163rd Street, through November 2nd. Tickets are available via
Brown Paper Tickets .
photo by Anais Koivisto

photo by Anais Koivisto



More Recent Articles