For two weeks this summer, opera diva Renée Fleming is in a PLAY. When Renée told me that she would be doing a play this summer, my reaction was to screech, "A PLAY!?!" No need to panic though, it's a play with music about a famous opera diva. On Saturday, Karigee and I drove up to Williamstown, Massachusetts to see this very play at the Williamstown Theatre Festival.


In
LIVING ON LOVE
, Renée plays Raquel, an aging, egotistical, yet insecure but famous opera singer who is married to an aging, egotistical, yet insecure Italian maestro Vito, played by Douglas Sills. The maestro is sort of working on his memoir with a ghost writer played by Justin Long. The writing isn't going well and a brave, ambitious and comely assistant, played by Anna Chlumsky, is sent by the publisher in to threaten the maestro into finishing his work or else return the sizeable advance. Further antagonizing the action are two well healed and talented butlers played by played by Blake Hammong and Scott Robertson.
Joe DiPietro's
LIVING ON LOVE
is adapted from Garson Kanin's 1985 play
Peccadillo
. Admittedly I have not read
Peccadillo
and it has only been produced regionally, however Garson Kanin was one of the best when it came to madcap rom com writing:
My Favorite Wife
,
Pat and Mike
,
Born Yesterday
,
Adam's Rib
, among dozens of others both for film and stage. Incidentally, Garson's uniquely brilliant wife Ruth Gordon passed away in 1985. He married Marian Seldes in 1990. He passed away in 1999 at the ripe old age of 87.
Lest you think it's type casting, the only real similarity between Renée and her character Raquel is that they are both famous sopranos. Raquel is every stereotype in the book when it comes to her ego and operatic personality. Renée plays up all of that and then some. I was so nervous for her "acting" but I shouldn't have feared. She's absolutely charming and is very funny. She didn't miss a beat.
It's more accurate to confess that I did see a few other similarities between Renée and Raquel - they are both beautiful, stylish and have beautiful voices that make people melt (she does this to Justin Long more than once.) "Knowing" her as I have for these past years, I do know that she's very quick and humorous - brilliant people usually are.
Fortunately, Renée does sing in many of the scenes - mostly it's snippets of arias and her recording of Vissi d' Arte is played on a record player (a scratchy quality is added to make it sound "period"). Renée also sings some of her lines - it's silly, sing songy - fun, but of course, it's the beautiful voice so always satisfying. In one of her singing entrances, she stops to ponder if it's the birds singing, "Why no, it's just me!" Adorable.
There are so many funny moments so well executed that it's impossible to relay them all - everybody was hilarious and my sides are still splitting from laughing so much. I nearly fell off my chair when "Raquel" was conveying her dismay that she might be losing her power as a soprano and headed toward being a
mezzo.
Douglas Sills was the Captain of Laughs with his ridiculous Italian accent, antics, tantrums, jealousy of Leonard Bernstein....he pomaded his hair with maple syrup in a quick attempt to impress his visit from Anna Chlumsky in one of the funniest gags ever on a stage. I loved Anna Chlumsky (
My Girl! Veep!)
and Justin Long (
Ed
,
New Girl
,
King of the Hill
).
I think my favorite scene was Raquel's reenactment of her famous Mimi in the La Scala
Boheme
for Justin Long. Renée never performed in
La Boheme
so to me it seemed even funnier when she went way, way off from the story by having Justin Long strip off his shirt and rub olive oil all over his chest. He's a well built young man so it was easy to admire, but also hysterically nerdy as he kept on his tie. When they are interrupted by the maestro, his reaction was "Why he shiny?" In the awkward moment, Justin Long covered his nipples with his tie. The cast did their very best not to break character, but it was a very long pause as the audience roared with laughter.
It is a romantic comedy so there's the inevitable-jealousy making and love-making. It's all predictable, but very charming in its old fashioned sensibility and style. On Saturday night, the pacing was crisp and it all went by too quickly. Kathleen Marshall's direction is smart and takes advantage of all of the madcap skills of her cast. The set and costumes are gorgeous. The whole show is as sparkling as a glass of champagne.
The play ends with Renée and Doug waltzing and singing the Irving Berlin tune "
I'll be Loving You Always
." It's perhaps one of the sweetest endings I've seen....and I keep thinking that I'd really like Renée to record it on some hoped-for future standards album. As we were waiting to say hello to Renée after, Justin Long passed us whistling the tune. That was just about the sweetest ending too.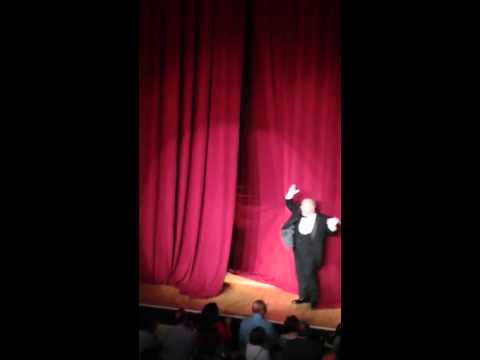 Finally the longest running show in Broadway history has modernized with color blind casting and it's brilliantly done. Starring as the latest
Phantom of the Opera
is the dashing African American
Norm Lewis
. It's extra auspicious that Norm is realizing his dream to play this role.
Having seen POTO only once before - May 24, 2003 - I decided to give it another go when I was invited to a Buzzmaker Evening for bloggers. It was fun to see some familiar blogging colleagues at a pre-show cocktail party and then enjoy lovely orchestra seats.
I saw POTO the first time with a pal visiting from Texas on a very cold and wet Memorial Day weekend. It was before I started seeing opera and the show was lost on me. It was very expensive and my companion was not an easy going visitor. I only remember feeling very annoyed with the entire weekend.
What a difference almost exactly 11 years makes! Being an opera veteran may have enhanced my enjoyment this time around. I was thoroughly entertained by the charming production and I found the cast to be quiet effective. Norm Lewis and his leading lady, Sierra Boggus as Christine Daae, were fabulous. It's richly sung and performed. The story is ridiculously over the top, but opera generally is so it worked for me. The costumes and sets are eye-popping and the production is larger than life, just like the opera. It's easy to appreciate why this is such a long running old-fashioned theatrical favorite.
As for the color blind casting, I found myself wondering if most of the audience really was blind to the fact that Norm is African American. The stage lighting is effectively dim and most of his skin is covered in costume. He sang it like nobody's business with a gorgeous satisfying baritone. Either way, the audience was spectacularly satisfied and didn't hold back with their appreciation.
Any theatrical production should be color blind - theatre is all about suspension of disbelief after all. It's what actors do regardless of age, creed or color. The actual opera has been doing it for decades - casting for voice rather than skin or looks so it's only fitting that a show about an opera finally joins its muse.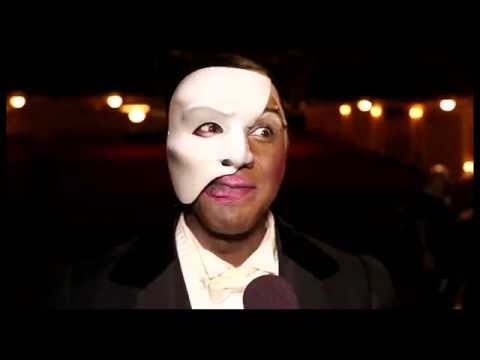 There's a marvelous production of "King John," one of William Shakespeare's rarely seen "History Plays" on through May 18th by the
Frog & Peach Theatre Company
.
As is custom, director Lynnea Benson has employed a most talented company of Shakespearean actors to bring the history of King John to life. Intimate and accessible, this royal family drama comes alive cleverly and concisely. Some of us only know King John as the tyrant foiled by Robin Hood. This play tells the rest of the story: adultery, claims to the throne, illegitimacy, wars, crazy mothers...Eric Doss as King John brilliantly plays the mama's boy ruler who takes the throne only by default after the adored Richard the Lion Heart dies in the Crusades. It's fun to see him pouting and grasping at power. Joining him as Queen Mothers are the wonderful Karen Lynn Gorney and Amy Frances Quint.
Having seen Miss Quint in a number of Frog & Peach productions, I was blown away by her mature and intense performance here as Constance, the mother of a would be successor to King John. Her grasp of the text was powerful indeed. She teeters on the edge of desperation and sanity and is perfectly cast.
Completely enthralling was newcomer Luke Edward Smith as the Bastard of Faulconbridge, dubbed Richard after his resemblance to Richard the Lion Hearted. Mr. Smith hails from Sydney Australia and has the richest, most pleasing voice I've ever heard (I want him to read
everything
to me
all the time
).
David Elyha steals scenes as scheming, red sock wearing Cardinal Pandulph - his deliverance as the conniving man of the Roman Catholic Church during the time of the Crusades brings chills.
Another Frog & Peach newcomer is Randy Howk as Hubert. He is the antidote to the Royal madness and brings beautiful calmness and confidence to the stage.
Additional Frog & Peach company members bringing this story to life are Matthew Gunn Park, Ken Straus (F&P debut), Mark Weatherup (F&P debut), Jonathan Reed Wexler, Jane Morison, Ilaria Amadasi, Victor Carinha, Hamish Carmichael, and Gabriel Christian (F&P debut).
The Frog & Peach Theatre Company tags itself as "Shakespeare Revisited." Indeed with rock music setting the mood before curtain and during the intermission, simple sets and a cleverly designed mesh of modern and period dress (Nina Vartanian for costumes), this production, as well as all of the Bard's works I've seen this company do, has a very satisfying, kick-ass modern feel. I go in expecting to be treated to really
hearing
and
being
in the text and I'm never disappointed.
Running during William Shakespeare's 450th birthday month, the Frog & Peach Theatre Company is presenting the perfect way to celebrate the Bard. Don't miss this opportunity for terrific classic theatre.
"King John" runs to May 18th at the West End Theater, 263 West 86th Street (upstairs at the Church of St. Paul and St. Andrew). Tickets will run you less than a movie in Manhattan and will be infinitely more satisfying: $18! Seniors are discounted with code ELINOR and students are discounted with code HUBERT for just $12 bucks through May 11th. Ring the Smarttix box office at
212-868-4444
or purchase online at
www.smarttix.com
.
This production of the Scottish play is the largest I've seen live. It's directed by Jack O'Brien and boils it into a almost overflowing pot that fairly assaults the senses visually and audibly causing the skin to tremble and heart to pound. The costumes by Catherine Zuber are a character in themselves, particularly as worn as haute couture by a lithe but fragile Lady Macbeth, played Anne-Marie Duff. Ethan Hawke takes on Macbeth and keeps him on the edge of insanity. He was completely weird and mad in the role. I found him enthralling yet loathsome and almost couldn't wait for him to meet his end.
The other principals are Richard Easton as Duncan, Francesca Faridany as Hecate, Brian D'Arcy James as Banquo, Jonny Arsini as Malcom and Daniel Sunjata as Macduff. The meddlesome witches were gamely and brilliantly gender-bended by John Glover, Malcolm Gets and Byron Jennings. I especially wanted to re-wind Glover's recitations - he managed to make me laugh and shiver simultaneously.
To experience this production at a discount, visit
Telecharge and enter the code MACBLOG
for
$75 Orchestra/$45 Loge tickets, a 67% savings.
To further immerse myself in all things Shakespeare, I have been watching PBS' Shakespeare Uncovered. This week's timely episode features Ethan Hawke as he researches Macbeth in preparation of taking on the role. You can watch online or check your local listings. It's a very necessary and satisfying series.
We are just weeks away from the annual
Pipes of Christmas
. It's the best holiday celebration in New York City, and this comes from a cynical soul who has all but given up on Christmas. It also stirs up my wee dram of Celtic blood and makes my soul soar! I plan my entire December around the Pipes of Christmas concert.
In New York City, the concert is at Madison Avenue Presbyterian on December 14th at 2 and 7 pm. On Sunday the 15th, the concert is held at Summit, New Jersey.
Tickets are available via
Smarttix online
or by calling (212)868-4444.
The Pipes of Christmas is presented by Clan Currie and is in its 15th year. It's a joyous event that also raises funds to support music scholarships for educational institutions offering Celtic music programs, including the Royal Conservatorie of Scotland, the Gaelic College of Arts, and the National Piping Centre.
The traditional and spiritual concert features music and readings from the Celtic ancestry of Scotland, Ireland and Wales. Features performers include James Robinson ("Braveheart"), New England fiddle champion Paul Woodiel, "Riverdance" uilleann piper and flutist Christopher Layer, Gaelic Mod champion harpist Jennifer Port of Golspie, Scotland, and the Pipe Major Kevin Ray Blandford Memorial Pipe Band from Redlands, CA.
The concert will also debut composer Steve Gibb's "Lullaby for a Prince," specially commissioned to mark the birth of HRH Prince George of Cambridge. Gibb, of Inveness, Scotland, debuted his beautiful composition "Balmoral Snow" in honor of HM Queen Elizabeth's Diamond Jubilee at last year's Pipes concert.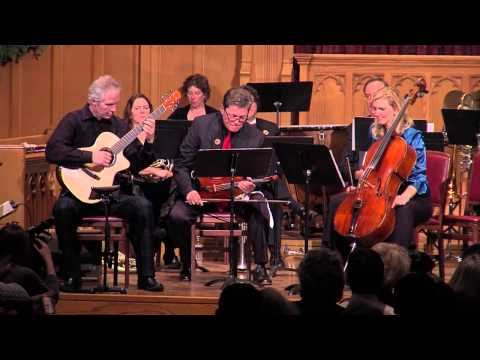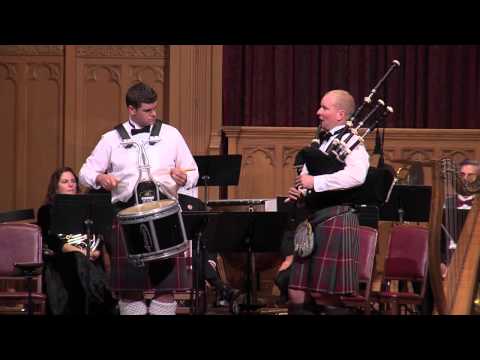 More Recent Articles
---
Click here to safely unsubscribe from "Adventures in the Endless Pursuit of Entertainment." Click here to view mailing archives, here to change your preferences, or here to subscribe • Privacy