I am SUPER EXCITED to announce that
Lauren Meader
; client/boss, my dear friend, and owner of
My Time Made Easy™ LLC
made it to the next round of voting! Help get MTME products on the shelves of
Walmart
!!!! Vote for her using the below link!!! You can vote
DAILY
until September 1st. Share the link and PLEASE VOTE!
CLICK THIS LINK OR THE IMAGE BELOW TO VOTE!!!
Lauren Meader
; client/boss, my dear friend, and owner of
My Time Made Easy™ LLC
was contacted the other day and received an amazing opportunity to be considered by Walmart to have my products sold at Walmart.com & possibly in Walmart stores. MTME is undergoing review, and if we make it to the next round we will let you know on the
MTME Blog
!
*Walmart is interested in hearing YOUR feedback*
Please watch the video, share it, like it, and if you have used our products and have anything to share, or a project to show,
PLEASE leave a comment on our YouTube page!!!
Click the picture above or the link below to view the video on YouTube:
http://www.youtube.com/watch?v=XVyVwt9FVtg&feature=youtu.be
Click here to read more from Lauren herself
.

My friend and one of
My Time Made Easy's
seasoned design team members,
Tangii Crain
, wanted to know how she could change the color of a more difficult to work with piece of digital paper we have in the store. Because of the great detail in the pattern it is a bit of a task to use traditional tools to get a nice clean color change. So I showed her a little trick which I have decided to share with all of you as well! Yet another reason why digital paper is so great to work with. If you don't like the color then, guess what, you can change it without having to hunt and/or buy another sheet! If you'd like to see the result Tangii please
click this link to view it on her blog
!
In this tutorial I will be using
GIMP 2.8
. Why? Because it's FREE!!! I know that older versions of GIMP will also have all the options I use here as well as Adobe Photoshop CSx Extended and even the cheaper Adobe Photoshop Elements. In other programs the steps may be a little different but with this knowledge you may be able to figure it out on your own. I know that GIMP and Photoshop are laid out very similarly. If you are wondering if your current graphics program will do this look to see if you have the option to add layers and if the layers have different blending modes as I discuss below. If you need help please comment here or on
this blog post at the My Time Made Easy blog
and I will look into it personally.
In this tutorial I will be using the Bangin' Burlap Acorn Squash and Bangin' Burlap Ganache from the
Gardening Greats Acorn Ganache © digital paper set
. The darker paper will give a bit of a darker result than the lighter paper, therefore I will be showing you the result of both.
This a a very QUICK 6 step procedure so get ready for the EASY! Don't let the legnth of the blog post intimidate you. It's only long as I have provided screenshots of each step. :D
Below is the color overlay on the lighter and darker colored papers to show you the difference. Also feel free to use different Modes from step 5 for different results:
I hope this comes in handy for you! If you have any question please comment here or on
this My Time Made Easy blog post
.
Have a wonderful day!

This is my twin sister Nancy and her newest family member Myles. They're TV stars now so I just wanted to brag! :D Isn't she beautiful and her new son is just the BEST!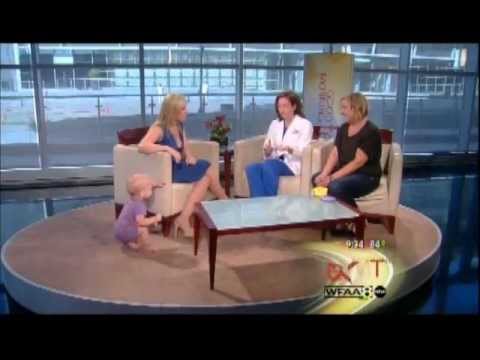 He has overcome some difficult odds and I am just so proud of him and the whole family! I love you Nancy, Muncle, Carly, Carson and Myles!

I love the idea of sending loved ones serving our country a care package wrapped in this great package. It will take some time to put this one together but it's well worth it to show your special soldier how much you care!

More Recent Articles