Lately, I have been playing around with my Sizzix dies to make other projects besides cards. Here are a couple of the results. What do you think?
I made both of these necklaces using the Beautiful Butterflies die (one of my favorites) from Stampin' Up, catalog #114507. For this first necklace I used some makeup bags that my daughter was throwing out because they had broken zippers.
For this second one, I cut the butterflies from upholstery material I picked up from the clearance bin at the fabric store. Then I sewed them onto a fabric collar I made from some black denim.
Hello Stamping Friends. I am so excited to share this project with you. These "secret" boxes are really fun to make, but the instructions are rather lengthy. I finally found some time this week to edit down the video tutorial I shot. Because of youtube.com's (the video host) 10 minute limit, I had to break the tutorial into 3 parts. However, I think that maybe this works out better. You can watch one part, then finish your project to that point before watching the next part. There's a supply list below. Have fun with this one!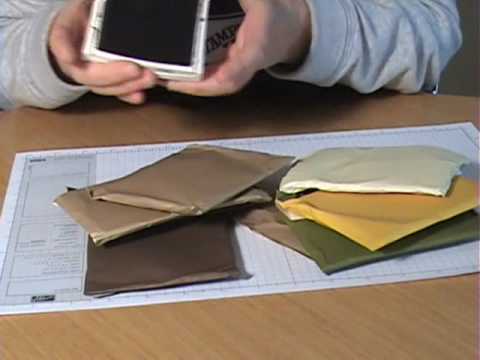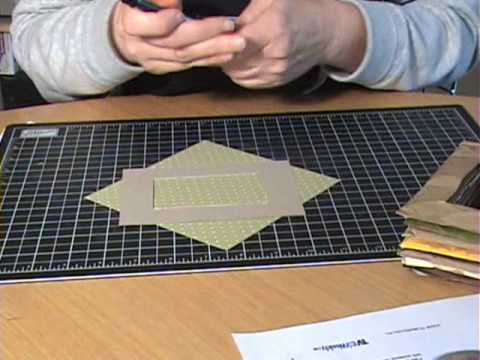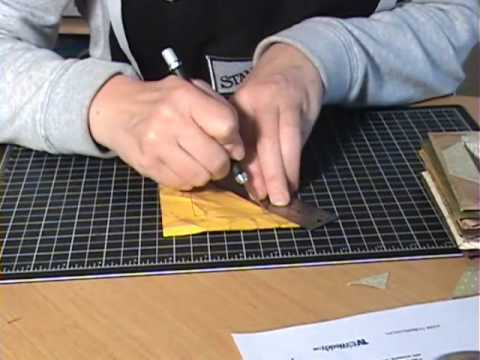 Supply List:
10 Envelopes in a variety of colors
9 pieces of cardboard to fit inside envelopes
Note card to match top envelope
Piece of card stock for template
Decorative paper for lining
Adhesive
Rubber stamps & ink
Ribbon or string
Bone folder
Scissors
Craft knife & cutting mat
Metal ruler
Marker
Tip:
I forgot to mention in the video; to give your envelopes a more aged look, use a distressing tool or sanding block along the edges to lightly fray the paper.
Do you have a favorite "go to" rubber stamp related magazine for tips or inspiration? Whether you are a faithful subscriber or not, there are a number of online sources where you can access free tips and projects ideas. It is an excellent way to "sample" before you commit or in this case, subscribe. Here are a few.
Craft Stamper
This is currently one of my favorite magazines. Published in Great Britain, Craft Stamper magazine covers a wide variety of stamping projects. I purchase copies at my local Barnes and Noble. The magazine's website has a couple of excellent resources for novice stampers. A glossary
here
provides descriptions of stamping terms, products, and techniques. An article
here
titled "Get Started with Stamping" has helpful information on what to buy and how-to instructions on creating your first stamp images.
Paper Crafts
Under the Downloads heading on the Paper Crafts website
here
you will find several card patterns and sentiments you can download and print out. There is even an embroidery stitch guide. Paper Crafts publish several special issues throughout the year highlighting card and gift projects. You can access a list and purchase them
here
.
Rubber Stamp Madness
Rubber Stamp Madness magazine has been around for ages and focuses exclusively on rubber stamping. Their website features a comprehensive list of stamping tips
here
for all levels of stampers.
CardMaker
As the name suggests, CardMaker magazine specifically features cards. Currently under the newsletter heading on the website's menu bar
here
, you will find a tutorial on dry embossing. CardMaker magazine is one of the few magazines to offer a digital subscription which not only allows you instant access to the current issue, but also access to the past two years of issues. You can view a sample issue
here
.
Love to hear of any magazine related resources you all know of. Please leave your suggestions under comments.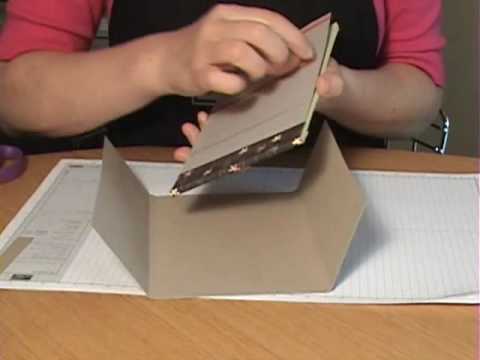 Materials & measurements:
5" x 8" Memo pad
8" x 11" card stock (scored at 2 3/4", 3", 8", 8 1/4")
(3) #5 Manila shipping tags
(4) 2 1/2" x 7 3/4" Pattern paper/card stock
(1) 2" x 5" Pattern paper/card stock
Elastic cord or ribbon
Sticky strip
Adhesive
Samples
This is the one I showed in the video.
Here is another one I made some time ago. I thought I would include it to show you another example of this project.
More Recent Articles