Destiny, Rewritten. Kathryn Fitzmaurice. 2013. HarperCollins. 176 pages.

I really enjoyed The Year The Swallows Came Early, and I loved, loved, LOVED A Diamond in the Desert. How did I feel about Destiny, Rewritten? I really, really liked it. I appreciated so many things about the heroine, Emily Elizabeth Davis. She's a heroine who needs to believe in happy endings, who writes out her favorite happy endings from books, who checks to see that there is a happy ending before even reading books, who regularly writes Danielle Steel. She's presented as smart and kind, a girl you want for a best friend, a sister, a daughter. But her life isn't perfect. Emily feels some slight pressure from her mom to live up to her destiny. Emily doesn't embrace poetry; she doesn't feel called to BE a poet just because her mom named her after Emily Dickinson. The inspiring story about how her mom found a first edition complete poems of Emily Dickinson just days before she was born? Well, it makes her love and appreciate her mom--the book of poems is updated in the margins with details from her life--but it doesn't make her want to write poetry or even write about poetry.

One day, this treasured book is LOST, donated by accident. Emily and her friends and family come together to search the city for this one-of-a-kind book. Her mom is relaxed, reassuring. If the book is meant to come back to her, then it will. Her mom is all about how destiny can't be forced or rushed, that you just have to accept it, embrace it one day at a time. Emily NEEDS the book, NOW. Why? She's just learned that the name of her father is hidden inside its pages. She never discovered this because she's never read it cover to cover. (Her mom won't tell her who her father is, won't explain why he's not a part of their lives.)

So will Emily get her happy ending?!

I definitely recommend this one! I really love Kathryn Fitzmaurice's writing. One of the reasons I love her writing is the great characterization.

© 2013 Becky Laney of Becky's Book Reviews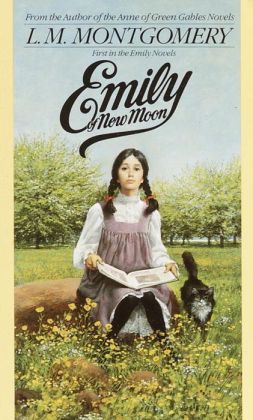 Emily of New Moon. L.M. Montgomery. 1923. Bantam. 352 pages.
Have you met Emily Starr? Fifteen years after introducing children to the oh-so-lovable Anne Shirley, L.M. Montgomery introduces another young orphan to the world: Emily Starr. While Anne Shirley had no memories of her parents, Emily Starr remembers her father very well. In fact, readers meet him as well. When Emily of New Moon opens, Emily is about to learn the devastating truth: her father has only a few more weeks to live. He is dying; there is no cure, no hope for a cure. After her father dies, the relatives gather together. They hated Emily's father and have had nothing to do with Emily all these years. But now there is one question to be settled: who will get the "privilege"of taking Emily Starr home to raise?! She goes with Aunt Laura and Aunt Elizabeth to Prince Edward Island.
How does Emily Starr compare to Anne Shirley? Well, she's imaginative, spirited, struggles to adapt to school at least at first, loves to write...but in many ways she is quite unique. While she doesn't automatically love Aunt Elizabeth and her new home, she does come to peace with her new life. And there are many things she LOVES. Aunt Laura, Cousin Jimmy, Ilse Burnley, and Teddy Kent come to mind! But Teddy Kent is not the only boy in her life, there is also that Perry Miller and Dean "Jarback" Priest!
I do love Emily of New Moon. I'm not sure I LOVE this book as much as I love the earliest Anne books (Anne of Green Gables, Anne of Avonlea), but, there are many things I do LOVE about it. It is always great to spend time on Prince Edward Island. And L.M. Montgomery's characters can't help feeling
human
. She had such a great gift for bringing all of her characters to life!
Favorite quotes:
"It had always seemed to Emily, ever since she could remember, that she was very, very near to a world of wonderful beauty. Between it and herself hung only a thin curtain; she could never draw the curtain aside-- but sometimes, just for a moment, a wind fluttered it and then it was as if she caught a glimpse of the enchanting realm beyond-- only a glimpse-- and heard a note of unearthly music."
"Ten good lines out of four hundred, Emily—comparatively good, that is—and all the rest balderdash—balderdash, Emily."
"I—suppose so," said Emily faintly.
Her eyes brimmed with tears—her lips quivered. She could not help it. Pride was hopelessly submerged in the bitterness of her disappointment. She felt exactly like a candle that somebody had blown out.
"What are you crying for? demanded Mr. Carpenter.
Emily blinked away tears and tried to laugh.
"I—I'm sorry—you think it's no good—" she said.
Mr. Carpenter gave the desk a mighty thump.
"No good! Didn't I tell you there were ten good lines? Jade, for ten righteous men Sodom had been spared."
"Do you mean—that—after all—" The candle was being relighted again.
"Of course, I mean. If at thirteen you can write ten good lines, at twenty you'll write ten times ten—if the gods are kind. Stop messing over months, though—and don't imagine you're a genius, either, if you have written ten decent lines. I think there's something trying to speak through you—but you'll have to make yourself a fit instrument for it. You've got to work hard and sacrifice—by gad, girl, you've chosen a jealous goddess. And she never lets her votaries go—not even when she shuts her ears forever to their plea."
"Tell me this--if you knew you would be poor as a church mouse all your life--if you knew you'd never have a line published--would you still go on writing--would you?'
'Of course I would,' said Emily disdainfully. 'Why, I have to write--I can't help it at times--I've just got to."
© 2013 Becky Laney of
Becky's Book Reviews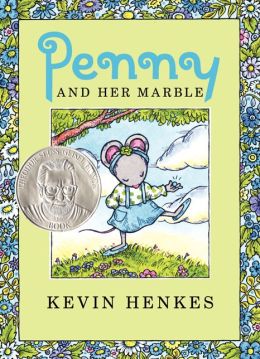 Penny and Her Marble. Kevin Henkes. 2013. HarperCollins. 48 pages.
Penny was pushing her doll, Rose, in her stroller. They went back and forth on the front sidewalk. "Only go as far as Mrs. Goodwin's house," called Mama. Penny pretended they were in a big city. "Look at the tall buildings, Rose," said Penny. When they got to Mrs. Goodwin's house, they turned around. Then Penny pretended they were in a forest...
I am really loving Kevin Henkes new series starring Penny and her family. I have loved each of the books in the series so far. Penny is such a fun heroine! The first book was Penny and Her Song; the second book was Penny And Her Doll. In her latest adventure, Penny struggles with her conscience. That day she picked up a marble she found in her neighbor's yard or perhaps on the sidewalk in front of her neighbor's house. She took it without thinking of it being someone else's property. And at first, she takes pure delight in it! Though small, this marble is bringing her nothing but joy. But then she starts thinking that maybe someone is missing it, maybe it wasn't hers to take after all. Penny and Her Marble is a thoughtful book for young readers, and it's a book with a happy ending!
© 2013 Becky Laney of
Becky's Book Reviews
Kept in the Dark. Anthony Trollope. 1882. 512 pages.
I love, love, love Anthony Trollope. Kept in the Dark is a novel about relationships. Cecilia Holt, our heroine, when we first meet her is engaged to be married to Sir Francis Geraldine. While she was madly in love with him for a few brief weeks, she soon begins to see that he is not the one for her. There is something not quite right about him, something that worries her. So. She tells him that she's changed her mind. She will not be marrying him. His vanity is wounded, so he goes and boasts that he changed HIS mind. She doesn't care that much at the time; after all, the important thing is that the engagement is over. Even Cecilia's three closest friends don't know what to believe in the matter. Cecilia chooses not to gossip, not to add to the rumors. A few months later Cecilia and her mother are traveling around in Europe. She meets a man just a few years younger than Sir Francis. (Sir Francis was quite a bit older than Cecilia). He tells her after a brief acquaintance that he's suffering from a broken heart. A young woman, a beautiful woman, (a SILLY woman) has broken their engagement; she's fallen in love with a younger man, a Captain Geraldine. Cecilia's only known George Western a week! He's opened up his life to her, sharing his thoughts and cares, but how should she respond? She's certainly not brokenhearted herself, and except for the fact that there was not another man, her case superficially resembles his. She did "jilt" an older man. So she remains silent. As time goes by and they meet again and again in their travels, the two fall in love. Cecilia has an idea that she should tell him about her former engagement, but, the time doesn't seem right. To interrupt during the proposal would be awkward at best. She at first plans to tell him before the wedding, but, then her determination weakens. In a matter of months, the two are wed and her husband is still being "kept in the dark."
Most of the novel focuses on her husband's reaction to the news. For those that have read He Knew He Was Right, George Western does not do a Louis Trevelyan. Not quite. He leaves her quite suddenly, and he does insist on a permanent separation. But he offers her the country house, his home, and all the money she wants. She refuses these "kindnesses" which seem so cruel. She returns to her mother's house...but that is not the end of the story!
Unlike previous Trollope novels, readers only meet a few characters. The other two characters we spend time with are Sir Francis Geraldine and Francesca Altifiorla. Miss Altiforla was a "dear friend" to Cecilia Holt at the start of the novel; but she is VICIOUS. We also get a quick glimpse or two of Lady Grant, George's sister. I really loved this minor character!
I enjoyed this one. I really did.
Quotes:
People are taken and must be taken in the position they frame for themselves. (6)
"Do you measure the one thing by the other," said Lady Grant; "a man's desires by a woman's, a man's sense of honour by what a woman is supposed to feel? Though a man keep such secrets deep in his bosom through long years of married life, the woman is not supposed to be injured. She may know, or may not know, and may hear the tale at any period of her married life, and no harm will follow. But a man expects to see every thought in the breast of the woman to whose love he trusts, as though it were all written there for him in the clear light, but written in letters which no one else shall read." (55)
"Lies are a sort of thing which are very commonly told, and are ordinarily ascribed to the world at large. The world never quarrels with the accusation. The world has told most infernal lies to this man about his wife. (124)
© 2013 Becky Laney of
Becky's Book Reviews
More Recent Articles
---
Click here to safely unsubscribe from "Becky's Book Reviews." Click here to view mailing archives, here to change your preferences, or here to subscribe • Privacy