Here is a sample subscription for you. Click here to start your FREE subscription
My family is on our way to Ohio to see Grandma perform in The Glass Menagerie and to celebrate her 8oth Birthday!
It was on a long drive to Ohio back in 2008 when I realized that we needed  AuPairMom — so in celebration of (yet another) 8.5 hour ride, here's an open thread for the long weekend.
This open thread has a special twist though:  
To contribute, you must use the phrase "I am grateful for our AuPair because…"
Then add anything you want to about why you're grateful for her/him.   You don't have to use this exact phrase– a reasonable facsimile will do.  Any threads that diverge from this concept of gratitude will be pended for another day.  Let's see what we can make with this challenge!
(Au Pairs-- of course you can join in! Just tell us what you're grateful for about host families, host kids, this au pair adventure, … )
This question came up in conversation over the weekend, when I was talking with some host parents about how what people expect from male au pairs seems to differ from what they expect of female au pairs.
"Male au pairs aren't expected to do housekeeping chores like laundry as well as female au pairs," said one host mom.
That's because, as she explained, male au pairs are less likely to have done their own laundry, or vacuuming, or cooking at home.
Host parents who've had both male and female au pairs:
Has this been true for you?
I can understand how our gendered expectations of what men and women do (e.g., men take out the trash vs. women wipe out the refrigerator) might influence what we unconsciously or even consciously expect from au pairs.
At the same time, a whole lot of great female au pairs need to be taught how to cook, vacuum and do laundry.
It's not like all the women arrive 100% ready to do childcare chores, right?
What we need from au pairs stays pretty much the same. But what we think is acceptable performance differs from au pair to au pair.
(Yes, I think we often 'settle' for less-than-desireable performance in some areas to make up for bonuses in others.)
Male au pairs:
Do you think host parents expect you to do different kinds of household childcare chores than you think your female au pair friends do?
Female au pairs:
Do the male au pairs you know seem to have fewer household chores than you do?...
ReturningHM claims that they do:
We have had three major turnaround situations over the 8 years we've been hosting, two of which happened on the cusp of rematch, so they do work out some of the time!
I have to believe this is true– with all the good advice that gets shared here, surely someone's been able to put it to good use. Right?
But how does a 'turnaround' actually work?
What happens after the "reset" conversation?
How much time do you give it before you relax?
How much do you have to lower/change your expectations to make it work?
Host Parents– if you've been able to create a turnaround, will you tell us about it?
Au Pairs — if you've made a turnaround successful– or even started one yourself– do you have some tips?
See also: Your Summer Re-Set Conversation: What should you cover?
Prompted by our conversation over the weekend about the au pair who was unhappy with the ratio of chores-to-child interaction in his work week, I'm reposting something from 2009:
One super-helpful piece of advice my friend Adelaide gave me when we got our first au pair was
"Be Sure to Share the Cream."
Share both the good parts (the cream) as well as the tough parts of the job of caring for children.
Adelaide's advice has stuck with me because it's so appropriate to the challenges of sharing childcare.
When you have childcare help, as we do when we have au pairs, it can be tempting to give our helpers all the yucky or boring work (changing diapers, doing laundry, sitting at home watching the child sleep, cleaning up after meals) — while we take all the cream (going to the park, a fun play date, snuggling in the glide rocker with a book, interacting with the darling child).
The balance can also go the other way, where the host parent manages all the drudgery while the au pair does crafts, sports, and sing-alongs.
I've been on both sides of the equation myself, where I've found myself feeling grumpy and put upon as I cooked while the au pair and kids played, or feeling sheepish when I realized that our au pair was doing more housekeeping than I seemed to be.
Certainly, when an au pair ends up with the 'skim milk' part of the deal, we can address this concern by reapportioning who does what. If we're lucky,...
20 Fun Things You Can Do with Family on Thanksgiving
Hi Host moms—  I found this great list of ideas for Thanksgiving on the DumbLittleMan Tips for Life blog. It's such a great list that there is no way to summarize it and do it justice, so I'm excerpting it in large chunks… but if you want the whole thing and/or if you want to print it out for later reference, please click back to DumbLittleMan so that they get credit for the page views.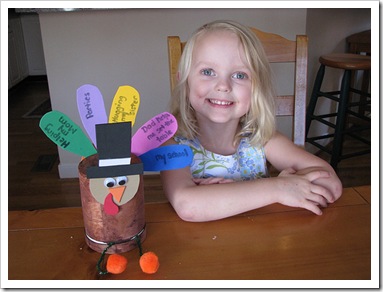 "We all know some of the favorite things people like to do on Thanksgiving: watch football, watch The Macy's Day Parade, and of course taking a nap after gorging on Turkey. Well the purpose of this article is to inspire everyone who reads it to turn off the TV (web, video games) for part of the day and really spend some quality time with your friends and family. You'll have have fun doing it and you'll create fun, fond memories."
1. Take a Walk. Pick an enjoyable destination.
2. Play Touch Football. Or soccer, tag, hide-n-seek, etc. Just get outside with the gang and do something that involves running around and taking in some nice fresh air.
3. Boardgames!
4. Play Charades. This doesn't take much. Make your own rules as you go. Have fun!
5. Sing-a-Long. Karaoke. Make up a contest.
6. Memory Sharing. Share stories. You can pick a theme such as:
The greatest day of my life.
The best thing that happened in my life this year.
My...
More Recent Articles