Here is a sample subscription for you. Click here to start your FREE subscription
Community Counselors, LCCs and ARs, are the unsung heroes of the au pairing community. 
A fabulously great community counselor is rare, a good community counselor is often taken for granted, and an underperforming community counselor can sink an entire cluster of au pairs.
Given the importance of their roles, it's kind of surprising how rarely any CCs, LCCs and ARs email us at AuPairMom.
I don't think we've ever received an email asking for advice on working with a cranky Host Parent, or for advice on mediating between competing demands, or…. actually… anything.
[Maybe there is a secret AP CC blog, just for them?? ]
Au Pair Community Counselors are a bit of a mystery to me.
Which is a challenge, because in a few weeks I will have the chance to speak with a group of Community Counselors about AuPairMom.com as a community and as a blog. I'm not sure what to say.
Normally, when I plan a talk (or a workshop or a regular class) I like to think about what the participants or audience cares the most about, and try to anticipate what they want to know or learn or create. I'm not sure what CCs would ask, if they could ask anything about AuPairMom.
So, if you don't mind, I'd like to toss a few questions out to CCs, LCCs, and ARs –
What would you like to know about the AuPairMom community and the people who convene here?
(e.g., favorite topics, most frequent questions, what host parents fear the most, what host...
Special Halloween Edition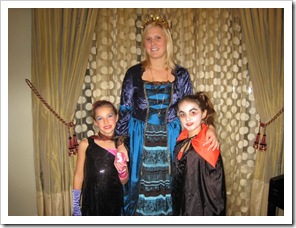 Halloween is one of my favorite holidays to share with Au Pairs. Unlike some holidays, Halloween doesn't seem to trigger a whole lot of nostalgia and homesickness. For au pairs who 'do' Halloween in their home countries, it's a chance for her to share traditions from her culture. And, if your au pair is new to Halloween, you get to introduce her to all the fun.
Over the years, we've done a lot of different things as a family to celebrate the holiday and the season, adjusting as the girls have gotten older. Halloween is one holiday where including our au pair in whatever we're doing has increased the fun every time. Here are some Halloween activities you might consider:
1. Get your Au Pair a costume. At our house, I've always encouraged our au pairs to "get in the spirit" by putting together a costume. We've done the purchased costume from Target, the costume assembled from the kids' dress up chest, and the completely original cardboard box "creature."    
2. Bring your au pair to a Halloween Party. My daughters' school has an annual Fall Festival, with a haunted hallway and square dancing, and we've always dragged our au pairs along. In part this gets me another set of eyes to watch the girls run around the auditorium, but also it gets our au pairs out into the community to see the Halloween fun that goes beyond just the candy.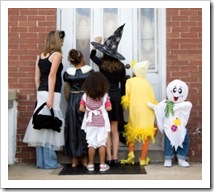 3. Have your au pair greet...
Homesickness is completely predictable
Homesickness is something that every au pair should anticipate, and that every au pair should make a commitment to work through.
If you're signing up to spend a year in another country, in another family, then you are committing to working through any homesickness that occurs between month 1 and month 11.
It irks me when au pairs present 'homesickness' as a reason to break their contracts and go home, especially when everything else is working just fine.  If we aim to screen out any au pair candidate who seems like s/he might be susceptible to homesickness, then we'll be left with a pretty tiny pool of remaining candidates.
So even though MGHostMom asks for advice on screening out au pairs that could potentially experience homesickness, I'd like to ask:
Families, how have you dealt in advance with the threat of homesickness? Did you try to screen out au pairs who seemed especially vulnerable, and/or did you try some of the advice about socializing your au pair asap?
Au Pairs, what do you tell yourselves and each other about homesickness? Do you try to coach each other in dealing with it, or encourage each other to give up and go home?
Here's MGHostMom's email with her details– let's reply to her and at the same time talk about the big picture of homesickness…

I'm a first time host mom. I read aupairmom in depth this summer in advance of searching for and...
It's a lot of work to set up your au pair's smart phone so that it has all the apps, all the contacts, and all the info you think s/he'll need.  
This is great work to do on behalf of keeping everyone organized and connected.  How can you keep this information year to year, au pair to au pair, without having to do it over every time?
QuirkyMom has an idea….
Our family has iPhone on a family plan, and we give our au pair an iPhone 5C to use while she's here. 
Last year, our au pair bought herself an iPad, and since she'd set up her own iTunes account, she used her own account for the au pair phone.   That was nice but— the end result was that I had to do a factory reset when she left to get rid of all her apps, emails, texts, etc.
The hard reset also resulting in erasing our shared calendar and all the the necessary contacts, etc. that we had added to the phone. This also meant that I had to start over and re-calendar everything.  I decided that I never want to go through this again, so this time:
1) I've set up a generic au pair Gmail account, which for us is .
This email is what I use to send calendar updates, etc. Our new au pair can add her own personal email account and delete it when the year is up to keep her data private, but the shared calendar will stay current.
This Google account also allows me to set up Google Maps with favorite places, so that won't have to be...
Some readers have teased me about my systems.
Labelers, dots on my fancy knives, saving my ice skates, stuff I tell myself so I calm down, the checkout task list …
But any time I write about one of my systems, a few brave ones of you will mention systems of your own. (Clearly I'm not the only one that codifies, checklists, and organizes her way into a semblance of sanity.) We've even had some wonderful guest posts where you've shared how you've organized and systematized you way through some pretty classic host family challenges. So, I'd like to introduce a new kind of semi-open thread:
Share Your System!
Here's the plan:  
Whenever I open up a Share Your System page, you all can add a longish comment about one of your systems.
After about 5 different contributions, we'll close the page.
Then, I'll reblog the systems as individual posts from you. (That will make it easier to search and find the tips later.)
If you share a system, when it goes up you can revise what you commented and add pictures, to flesh it out into a fully-formed guest post.
Let's see how this works?!
See also:
Note: You detail-oriented readers might note that the title of this feature is different from when the post first went up.
Turns out that "What's Your System" ...
More Recent Articles