Here is a sample subscription for you. Click here to start your FREE subscription
How might Agencies keep bad Host Families from cycling from one Agency to the next, without getting removed from the program entirely?
We worry not only about bad Au Pairs getting recycled though the system, but also about rematch Host Families getting one chance after another to strike out with an Au Pair.
It should be relatively easy for LCCs and ARs to identify families who've gone into rematch for taking advantage of their au pairs and/ or not following the rules, and then drop them from the Agency's roster.
The harder challenge, though, is preventing those same Host Families from pretending they'll follow the rules and joining up with another Au Pair Agency.
"Do we know if au pair agencies maintain a list of banned families?", asks the Host Mom, below.
Some LCCs and ARs from different agencies but in the same community might informally share information about bad families, but I doubt that Agencies coordinate. I'd love to be wrong about that.
Writes the Host Mom,
Do we know if au pair agencies maintain a list of banned families?
We live in an area where there are a lot of au pairs. Our former au pair had a very good friend who found herself in a horrible situation – the host parents were in the process of divorcing and the host father made a pass at her. I knew this girl very well and she had a breakdown in my kitchen after it happened. I made her call her host mom and tell her about it and the LCC. She was immediately placed...
We all believe that Au Pair Agencies should be as transparent as possible about what sends Au Pairs and Host Families into rematch.
We don't want to recycle problem Au Pairs and problem Host Families, hoping that they can make some kind of barely adequate rematch that avoids anything illegal or unsafe, just so they can finish out their contracts.
Certainly, there are a lot of concerns about what information to share.  With some rematches, both sides get angry or frustrated and want to present their side of the story in the best light.   How would we know — and how would an Agency know– who's version of the story is actually true?
But, Host Parents need more details. We need to know if the rematch was really triggered by a "personality conflict" or by the third driving accident. We need to know if the previous Host Family was really unreasonable and broke the rules, or if they asked their Au Pair to work two Saturday nights in a row.
SameMistakeTwice Host Mom writes about this situation as both a remathcing Host Mom and a Host Mom looking at transition / rematch Au Pairs.
Is there a way to get the information she needs, where the information is reasonably reliable, without her having to go to some private Facebook group filled with vitriol?

Dear AuPairMom —
We are supposed to be in rematch or transition with our Au Pair Agency and I am extremely concerned.
It seems that we have to take the Agency's word about the au pairs...
A PopularAuPair candidate faces an embarrassment of riches.
Lots and lots of  families are contacting her via the website where she's posted her application.  She's got many to choose from as she accepts or declines invitations for interviews.  But she's not 100% sure of the criteria she should use.
She explains:
I'm a 20 year old American girl looking to au pair in Europe. I seem to be very popular in the applications (over 80 in 2 weeks!) and I'm getting a little overwhelmed. I've started to exclude any families that seem to pressure me too much (always with a very polite denial!) as I am generally a person who finds it difficult to say no.
Several of these families I'm emailing with seem really lovely.
I have about 10 families that I'm currently in the active phase of talking to. I think I can narrow it down to 5 that I wish to seriously continue getting to know. But I worry that I'm being misleading! It's like dating many people at once!
How do you recommend that an au pair decide among several good options?
Should I feel okay just "going with my gut"?
But at the end of the day, I think I might have found the family that feels 'right'.
They weren't the first family I was messaging with — I'd already interacted with several families before connecting with them. They actually contacted me — I remember passing over their profile initially because it was structured...
Picture yourself in this room.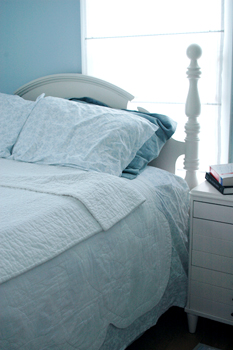 Imagine that you've just spent 8 hours with energetic kids, talking in your second language, driving on unfamiliar streets on the wrong side of the road.
Wouldn't it be lovely if you could walk upstairs, open the door, and step into a room like this?
It doesn't have to be fancy, it doesn't have to be big… but your Au Pair's bedroom should be a place where s/he can feel comfortable, rested and welcomed.
Guiding Principles for an Au Pair's Bedroom:
Your Au Pair's room should be a welcoming refuge– light, fresh, clean.
Your Au Pair should have the opportunity to personalize the room a bit to reflect her personality and tastes.
The room should have any and all electronic entertainment items that you can afford, so that your Au Pair can enjoy her leisure time and privacy.
The room should be supplied with any kind of item that makes it easier for her to keep it up to your standards. (e.g., Unless you want laundry on the floor, give her a laundry basket).

The room should be all hers. There should be no junk of yours or your kids taking up floor space or visual space.
Required Items for an Au Pair's Bedroom
Comfortable bed.
It doesn't need to be larger than a twin (although that would be nice) but it does need to have a decent mattress. If the mattress smells, is visibly dirty, or is lumpy, saggy and uncomfortable, replace it. Don't make the Au Pair sleep on a mattress...
When we know an Au Pair is doing something that contradicts our house rules, but we aren't able to present positive proof of this, what can we do?
We don't want to be accusatory.
But then again, we're sure we're right. We don't need to see him or her rinsing out the bong in the laundry room sink to know.
Dear Au Pair Mom — 
I can't believe I'm in a bind again. We recently rematched and our new AP has been here for a little over 2 weeks. She's adjusting and of course it's too soon to know how things will work out.
But here's the problem: we smelled marijuana in our hallway 2x already.  Marijuana use is not legal in our state.
The first time my husband and I thought we were crazy. He went around the house and found no evidence of the smell coming from anywhere else around our home. Now that it's happened again, it's kinda obvious. We have never smelled marijuana in our home before and the smell is strongest in the hallway right by her room.
We wanted to give her the benefit of the doubt but we aren't stupid. I have no idea how to bring this up since my only proof is my nose. Any suggestions for how to even start addressing this issue? I'm not even sure I'm thinking of all the angles here. Am I overreacting?
To be clear, she's underage and we live in a state that is pretty strict (possession is still illegal). We have a clear section in our handbook about...
More Recent Articles