Here is a sample subscription for you. Click here to start your FREE subscription
Time for an open thread– and an upgrade in our commenting practices!
I'd like to introduce a new tool, a tool that I've been using 'behind the scenes' — on about 20% of the comments — to help keep our commenting easy to read and easy to respond to.
You might know it by sight or recognize it by its symbol. You might use its old-fashioned name, "The Carriage Return", or its newfangled moniker "Enter".
Whatever you call it, this tool makes every comment better.  
Long comments are become readable. Short comments become more pithy. Even spelling mistakes disappear when this tool is used. Srsly!
Try it — it's available to anyone, over there on the right-hand side of your keyboard. You can reach it with a slight streeeetch of your pinkie.
Just do this,
a
nd you'll save me from the silly editing work of adding line breaks and creating paragraphs.
Bonus:  You'll make your comments easier to read, and easier to enjoy.
Now go try it, in the open thread, below!
I'm known for losing things.
Sunglasses, cell phone, car keys, arguments, emergency chocolate, the Costco card… . I try hard to hold on to things, but the absent-minded part of being a professor is really strong with this one.
My own sensitivity to losing things has led me to compensate for potential losses in two ways.
First, I work to have a system — a firm place that things go, an extra one hidden somewhere — to cut back on the problems that losing things can cause.
Second, I try to cut other people some slack when they mess up.
That said, when other people lose things repeatedly, I get pretty irked. I want people to treat things with respect and to take care of their things. With au pairs, I want them not only to take care of what they are in charge of, but also to teach my kids how to treat things responsibly.
[See:  When Your Au Pair Loses Your Smart Phone]
MKK Host Mom emailed about some trouble she's been having with her au pair –
Her Au Pair has lost and 'left behind' kid items like sweaters, toys, books and mittens. Recently the au pair left a pair of the kids' tap shoes at dance class, and the shoes disappeared before the Au Pair thought to return to look for them. MKK Host Mom says –
I have never asked our Au Pair to replace these items, but my husband thinks we should.
What do other families do when items are lost forever and must be replaced? What would happen if our au pair forget our...
Whoa there Nellie.  Get down off that exercise equipment.
Host Mom Mimi dropped an aside that felt like a bomb.
In her comments on Slush Funds vs. Petty Cash jars, Mimi mentions:
 "If our AP takes the kids to the gym while she is on the clock, she is responsible for babysitting room fees."
What?
HRHM asks in a more polite way:
"Just curious if your kids like going to the gym babysitting? Mine would not and I don't think I'd allow it, even if she was paying the fees. I'm assuming your  kids do…"
I understand that if a host parent can use the babysitting at the gym, one might think it's fine for the Au Pair to do the same, but…. that wouldn't fly in my house. Am I over-reacting? Please advise.
Image: University of Madrid
Few events clarify the gap between how working parents and their school age kids respond to changes than the announcement of a snow day.
When I was little, I thought snow days were magical.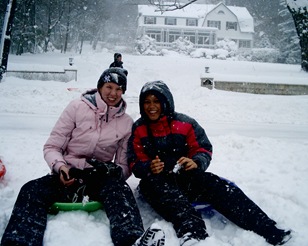 An overwhelming amount of snow combined with a day off from school seemed like a gift from the heavens — to me.
Not so to my single working-outside-the-home mother.
She'd be left scrambling, looking for a high school student or neighbor able not only to keep an eye on me and my sisters, but also willing to deal with the snow pants, sleds, freezing fingers and clamor for hot cocoa that always, always goes along with a snow day.
Snow Days are magical moments for appreciating the flexibility of au pair childcare. 
With your au pair right there, no one needs to dig a tunnel through the drifts to your house so that your kids can be cared for while you look for your other snow boot and wonder how late the train will be.
Help Your Au Pair Make The Most of a Snowday
Gently ask your Au Pair to change her plans.
Re-jigger your carefully-composed au pair schedule to carve out hours from somewhere else in the week. Maybe you can give your au pair some different time off, that might feel like a treat.
Make sure you have a saucer or sled big enough for kids AND a grown up.
Tell your Au Pair where in the garage the sled might be found. It will not be where it's supposed to be.
Buy your sled in August when Costco actually has them in stock....
Imagine it — you have an au pair you love. She didn't want to extend. Now she's changed her mind, but the agency says it's too late.
Is it really too late?
Dear Au Pair Mom–
We just ended the year with the world's best au pair.  She is a part of our family. The kids miss her terribly as do my husband and I.

We invited her to extend and she was very torn – and in the end decided to decline our offer. On her last day with us she sobbed and told us she wished she had extended.  We were sobbing too.  That was January 5.

Now she's in her travel month. Cultural Care says they cannot extend her J-1 visa at this point because her "program" has ended.

What I want to know is this – what's the deal with staying in the country with an expired J-1? Has anyone ever heard of a "reinstated" J-1? And has anyone ever heard of Cultural Care "reinstating" an Au pair in their travel month?

Do I need a friend at the State Department or is this a lost cause?
Thanks in advance for any help, thoughts, or information the you and the AuPairMom community might be able to offer  -- FingersCrossed Host Mom
Image: Too Late, by Jo Hathaway on Flickr