Northern Soul marked the birth of late-night dance culture in Britain. Paul Mason, economics journalist and once a regular at the famous 'all-nighters' at Wigan Casino, discovers the origin of this underground music scene and why it continues to inspire such devotion.
Many of the songs that eventually became Northern Soul classics were once rejected or unreleased. Recorded in the 1960s by African-American artists attempting to replicate the successful Motown sound, these discarded tracks would later be rediscovered and revered by white working-class dancers and music fans in the north of England.
Paul Mason tells the extraordinary story of Northern Soul and the dance culture that sprang up around it, influencing musicians, choreographers and filmmakers and growing into a global phenomenon.
"With most gigs, people are turned toward the DJs looking at what you are doing. It becomes a performance," explains 2ManyDJs' David Dewaele. "With Despacio, the sound is the star. In Manchester, people didn't want to take pictures with the DJs, but with the stacks."
It looks like the Grammys have done their EDM homework this year, as the dance nominations look fairly reflective of the general landscape of EDM culture, with Daft Punk, Disclosure, Calvin Harris, Kaskade, Pretty Lights, Zedd, Duke Dumont and Armin Van Buuren all gaining nominations. London Beatsmith James Blake even landed a nomination for 'Best New Artist'.
Props to the HHA. Craig and Luke tear it up on the turntables. So hot right now!
Terri Walker – He Loves Me
Jill Scott – Slowly Surely Inst..
Jeremy Juno – Just Say No HHA Edit
Over12 & E-jay – Porque Eu Sou Teu Fa
Vincent Kwok – Afrique
Femi Kuti And Gi Gi – Anikulapo
Gene King & Dovie Cote' – Dance Of Life
Goran Tech – Life Is A Playground
Manoo – Kromosome X
Pat Bedeau – The Door of No Return
Irfan Rainy & Rex Leon – It's Your World HHA Edit
Timmy Regisford And Adam Rios – Street Player
Gerald Henderson – WTF HHA Edit
The Close Up – Better with You HHA Edit
Patrick Bo – Go On HHA Edit
Jacopo Gagliardi – Tech It Easy HHA Edit
Blaze ft Palmer Brown – Shine BNY R/T
Lynn Lockamy – Hostile Takeover HHA Edit
Thoth – The Atlantean HHA Edit
Baldo – My Kingdom HHA Edit
Deetron & Ben Westbeech – Rhythm
Rocco ft. Khensy – Still Water
Blaze ft Joi Cardwell – Be Yourself BNY R/T
MenaKeys & Marlon D – Ride The Storm
Sai & Ribatone – Avenue of Dreams
Uness & Hallex M ft. Loic L – Sahara
Sheree Hicks – A Song For You
Tony Lionni – Shining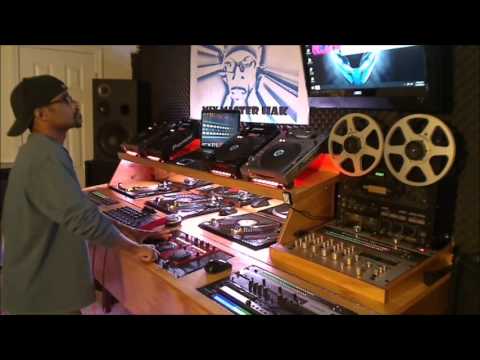 Mix Master Hak, Hakadapolis Studios.  Special.