---
Where did the time go? Recently It dawned on me that I've been making cooking videos for Weelicious for over 7 years. I started creating them to help show parents how to make easy recipes and learn time-saving cooking techniques. Since 2007, I've continued to put them out every week and am always grateful for the feedback I get from Weelicious readers. However, some of the best comments I have received over the years have come from kids.
Back when I started making videos, I never imagined that kids would enjoy watching them. I was never sure if it was the presence of my own kids cooking in the videos with me that made them more compelling to younger viewers, but to this day parents continue to write to me about how the videos inspire their kids to get in the kitchen and cook. Often parents would write me on behalf of their kids, who had a lot of great suggestions of their own! Knowing that parents and kids are cooking together makes my heart sing, and that's why I...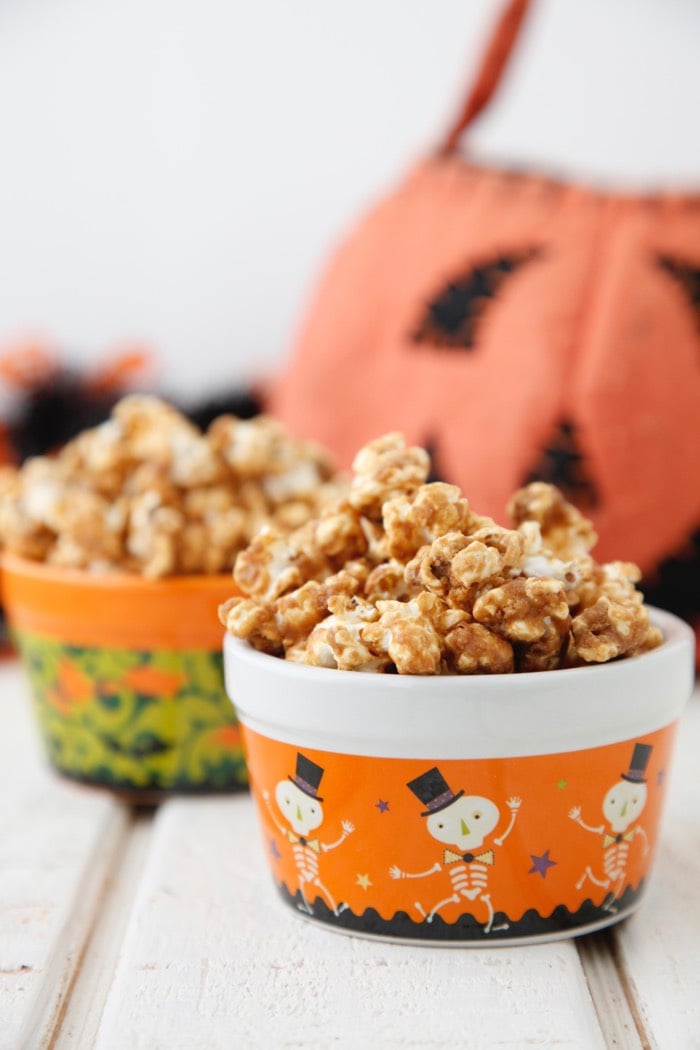 I arrived in Santa Rosa last night to start shooting another season of Guy's Grocery Games for Food Network. The show is a ton of fun to do, but I have to say that from the second I get on the plane, my heart starts aching terribly for my babies. I simply can't stand being away from them for even a day.
Knowing that I would be leaving town, I spent this past week making a ton of fun treats for my kids (and my hubby) to enjoy while I'm away. Caramel Popcorn was a childhood favorite of mine and it's quickly become one of Kenya and Chloe's as well.
The first batch I made went over like gangbusters as neither kid had never tried it before. I brought little bags to school when I picked them up at the end of the day and they both shared it with their friends. There's nothing like combining a gaggle of starving kids after a long day of school and a big bag of Caramel Popcorn — what a ruckus (note to self: next time bring more than two bags to school).
...
This summer when our family was in Italy we visited a crypt in a teeny tiny town in Umbria. Due to a naturally occurring spore in the dirt below the crypt, the crypt houses the almost perfectly mummified remains of bodies which are hundreds of years old. Spooked out yet? I was. When you're in a dark room with real mummies (some still dressed in the clothes they expired in) and hundreds of bones and skulls that have been piled up over the centuries it's kinda freaky. The kids were a little weirded out, but also quite intrigued.
I'm sure you can imagine where I'm going with this. Halloween + a good Italian bone story = Pizza Dough Bones. See, you can find inspiration even in the least appetizing of places.
It's always the simplest recipes which make the biggest impact on my kids. Then, add the word "pizza" in the recipe title and you can be assured they'll both be all thumbs up. These Pizza Dough Bones came out so well the night I made them that Chloe wanted to have...
It only took my kids two weeks of deliberating to decide what they want be for Halloween, but decisions have finally been made, costumes have been picked and now we're ready for the big day. I wish we didn't have to wait two weeks more for the big day, but knowing that Halloween falls on a Friday this year means we can stay up late, and that makes our whole family — even me — really excited. I'm sure you've got lots of spooky recipes planned for your celebration, but I'm here to offer you another fun one: Ghoulish Punch!
We've been buying fresh lychees at our local farmers' market for some time. My kids go nuts for them. The more I stared at them in my kitchen, the more I realized they looked like eyes and they inspired today's recipe. If your fingers can handle peeling tons of these naturally sweet little gems, go for it. But if you're like me, a can of lychees is a much easier way to go . I whizzed up some all natural, dye-free cherry punch...
For the past five or so Halloweens our family has celebrated October 31st at my friend Keri's house for her annual party. We show up on the doorstep of her "haunted" house along with tons of other families, adults and kids alike dressed up in their costumes and ready to bob for apples, create Halloween arts and crafts, get their palms read by a fortune teller and — of course — eat lots and lots of spooky food before setting out to walk the neighborhood in search of candy! Going to Keri's is one of those traditions that makes the holiday feel all the more special.
I always bring enormous batches of Pizza Mummies and Freaky Franks to Keri's, which are usually gone within minutes (what kid doesn't devour pizza and hot dogs when given the chance). Last year I was running so late that I had to finish cooking everything at Keri's and ended up having to put a bunch of kids to work (the food actually turned out better than ever). This year I'm...