---
Banana bread is one of those classic recipes that you probably grew up making with your mother in the kitchen. I made this recipe with my mom so often and now I love getting in the kitchen with my own kids to make a family favorite. Kids enjoy peeling and mashing the bananas, as well as mixing it all together and sneaking tastes before it goes into the oven.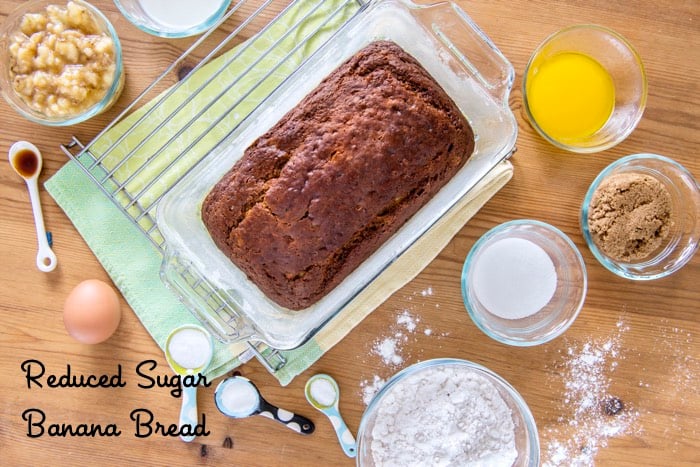 I've teamed up with Truvia sweetener to bring you this favorite classic recipe using less sugar than the original. This recipe is great for beginners and will have your kitchen smelling heavenly while you rest assured knowing it's a healthier choice for your family. Watch the video above for how to make reduced sugar banana bread and then get in the kitchen with your family to make some delicious memories!
The post Reduced Sugar Banana Bread...
Dear cornmeal,
How I love you so. You remind me of my grandmother and all of the incredible recipes she would make with you especially during the fall and winter. She taught me how to make you plain and simple, sometimes in recipes like Cornbread Cranberry Stuffing and other times in Tiny Corn Muffins. Then when I grew up and had kids of my own I used you to make Corn Dog Muffin Bites and Banana Corn Fritters. You're so easy to work with and make the kitchen smell like absolute heaven.
As I write out my holiday list you're at the top of the list. Always a favorite, a tried and true. For any friends out there looking for a Thanksgiving Stuffing recipe I implore them to watch this Cranberry Cornbread Stuffing Video where you truly shine like a star.
No need for boxed mixes as you could be easier to use in Basic Cornbread. Crunchy outside, light and fluffy inside, with butter, celery, onions and cranberries to mix in you really shine like a star. I promise everyone will be talking...
You're probably only days away from preparing tons of delectable Thanksgiving recipes. This time of year is golden for those who love to cook! I try to stay in the moment, but I'm already thinking about all the Hanukkah dishes we'll be making from December 6th-13th this year. There are a few traditional recipes we make during these eight nights like Rugelach (which I made with Kenya and Chloe's classes several years in a row), Missouri Cookies, Matzah Brei, Poppy Seed Sugar Cookies, Mini Matzah Balls Soup and Nut-Free Matzah Sandwiches, but the kids all time favorite are latkes. In fact, if I made latkes 365 days a year I know the kids would be over the moon!
Most people have tried Potato Latkes topped with tons of apple sauce and sour cream, but there are also variations on the idea like these Carrot Parsnip and Sweet Potato Latkes. They're super easy to make, are packed with vegetables, crispy inside and tender outside. The best part is that you can pick them up with your...
I drove down the street yesterday enjoying the 70 degree Los Angeles weather and couldn't believe my eyes when I saw the Christmas tree stand being set up for the next few weeks. Is it really time to start holiday shopping already!? As much as I like buying gifts, I have to say that making holiday gifts can be just as much fun.
Over the past few weeks I've been making batch after batch of these Pumpkin Spice Mixed Nuts and Seeds. I keep jars of them in my purse and car to enjoy on the go or to serve in little dishes when we have friends over.
They have a toasty maple flavor with a hint of pumpkin pie spice from the cinnamon, nutmeg, ginger and allspice. You can make them with a combination of almond, cashews, walnuts, macadamia nuts or whatever other nuts you have on hand or use pumpkin or sunflower seeds for a friend who prefers a nut-free version.
I sent Kenya and Chloe to school with Ball Jars filled for their teachers which make great gifts as you can re-use the jar...
Nothing excites me more then getting to share two things in one: Middle Eastern-Ish One Sheet Chicken Dinner and Dinner Solved Giveaway!
This recipe was a revelation to me. How I haven't cooked an entire meal on one sheet pan is beyond me. Talk about easy! Toss everything on a cookie sheet with some olive oil and spices, mix it up and roast until nice and crispy. Even better was having Kenya and Chloe strategically place all of the vegetables around the chicken in a "pretty pattern" as Chloe called it.
The second part is sharing the Dinner Solved cookbook. My dear friend, Katie Workman, created this bible for families showing you how to turn one recipe into two ideas or more. Every recipe is better than the one before and the food photography is just like what you will be cooking in your kitchen. Even if you're an occasional cook, you can pull these recipes off!
Katie is offering three lucky Weelicious readers a chance to own Dinner Solved! Just tell me the...