---
Dying Easter eggs is a favorite holiday activity, but have you ever tried making dye-free eggs using all natural fruits, vegetables and spices? Now take it a step further by peeling your hard boiled eggs to make luscious and colroful deviled eggs. If you feel like you botch dozen after dozen of eggs every time you try to make them watch this How to Boil and Egg Video for a full-proof method to making Perfect Hard Boiled Eggs every time. It's got everything I learned over the years learning to make one an easy food I always keep in the fridge year round.
This Dye-Free Deviled Eggs Video will show you a ton of fun tips, tricks and ideas to making a side dish that will totally wow your little (and big) guests this Easter. I did a test run with the kids you can see here. I wish you could have seen their faces as they watched the egg white halves absorbing the natural colors which got deeper and darker the longer the cooked egg whites sat in the dye-free solutions of water, the natural...
Potatoes are the basis for some of America's favorite foods: potato chips, tater tots, french fries, loaded baked potatoes. Unfortunately, those potato based foods aren't a group you can be serving to your family day after day. The potato's oft-ignored little sister, however, is something that can and SHOULD be incorporated into more of your meals. That's right, we're talking about sweet potatoes.
Chock full of vitamins A and C, beta carotene, iron and calcium, sweet potatoes should be a staple in your kitchen. And if it's not for the health benefits, then it should at least be for some of the fun and tasty things you can do with them–which is basically everything you can do with a regular potato, just healthier!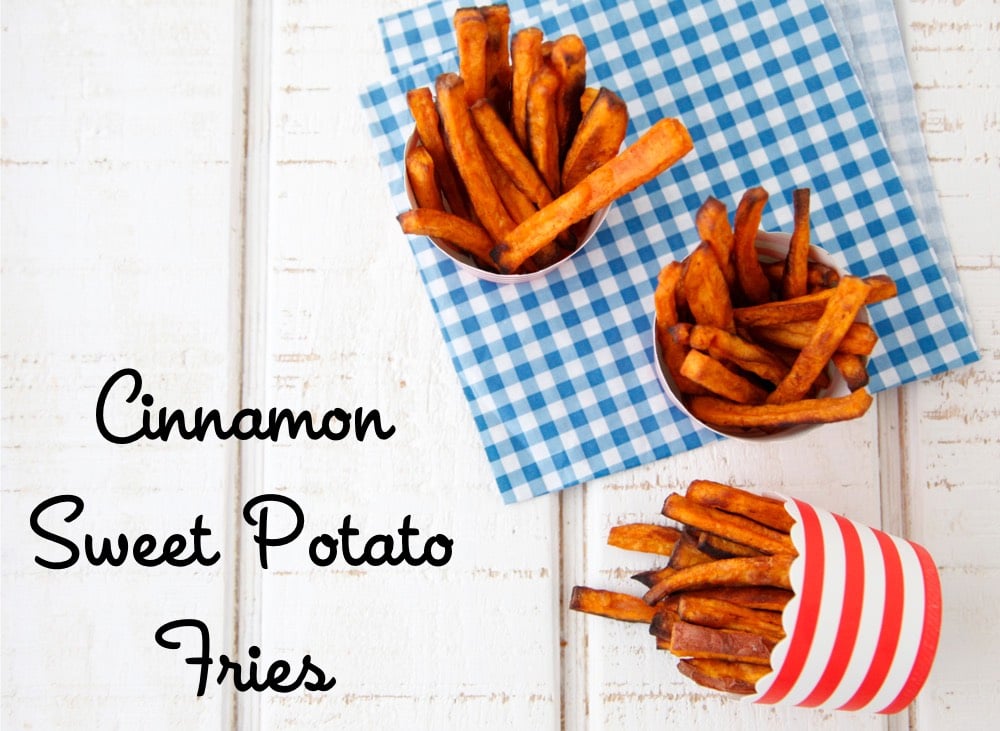 Cinnamon Sweet Potato Fries
Nowadays it seems like sweet potato fries are an option at almost all places that serve hamburgers or other fast food fare. Try making this Cinnamon version for something a little different.
Every mom needs a few recipes in her cooking arsenal that she can fall back on Monday to Friday in order to get dinner on the table pre-meltdown by the troops! One of my go-to recipes to prepare every week is Chicken in a Crock Pot which I've been making for years. I started jazzing it up a bit and made it into this Herbed Chicken in the Crock Pot. As good as the juicy, melt in your mouth chicken tastes on it's own, the addition of the herbs takes it to the next level.
Before I leave for school pick up I pop it into my slow cooker and race out the door, and then come home right before dinner needs to be served to a piping hot meal that just needs a simple side dish like Balsamic Roasted Onions, Asian Succotash or Lemony Quinoa Salad. The best part is that you should have enough leftovers to make recipes the following day like Mac, Chicken and Cheese Bites or Mexican Enchiladas.
Putting a whole chicken in a slow cooker is also economical compared to buying chicken breasts or cut...
In most parts of the country, flu season is unfortunately still well underway. If you've been feeling sluggish or under the weather my prescription for you is to watch this Slow Cooker Bone Broth Video to get in on one of the best kept culinary secrets that's loaded with major nutritional value and restorative properties!
First, let's get down to the basics. What exactly is bone broth? Bone broth is a broth that you make using bones from preferably organic or grass-fed animals (beef or chicken) and adding tons of vegetables and herbs like carrots, celery, onions, parsley, bay leaves and more.
Bone broth is nutrient-rich and contains just about everything your body needs. It aids in digestion, keeping joints healthy, detoxification as well as providing a myriad of vitamins and minerals that are good for your body no matter what your age.
I used to always make bone broth in a large stock pot, but with my crazy schedule I'm always running around, and so I prefer the slow...
Have you ever been wandering down the grocery store aisle, kid in tow, when from the corner of your eye you see that your little one managed to sneak some colorfully wrapped, greasy or sugary snack into your cart? Of course you have.
As a parent, you'd like to serve your kids only the healthy snacks instead of the additive riddled junk food they seem to love so much. But, whether it be from the soft spot in your heart or a sweet tooth of your own, these snacks somehow find their way into your house.
Luckily, many of your favorite snacks can be recreated in the kitchen, creating a much cheaper and healthier option for you and the kids. And since you can't be home to monitor what they eat once they jump off the school bus, these are great things to make in bulk and keep in the pantry for their sticky fingers to find.
Below are just a few at-home favorites that can be done in your very own kitchen.

Whole Wheat Cheddar Crackers plus a video for extra help.
From Cheez-its to...