---
Even here in Los Angeles I can feel fall settling in big time. That means I've been trying to put all the apples I got at the farmers market to good use! I've had the best time making apple desserts treats over the past few weeks, so if you want to get in on the fun you have to watch this Apple Butter Turnovers video.
Last Friday I helped over 20 kindergardeners in Chloe's class make them. The kids cut out the pastry dough with these adorable apple cookie cutters, filled them with apple butter, topped them with another apple pastry, pressed the dough together and then we baked them up (except that the school had detached the gas line from the oven, so it took a few hours for the oven to heat up, but that's a whole other story. You can see a pic of their hard work here, but honestly, the kids made them look incredibly easy to make!
I wanted to make an Apple Butter Turnovers video to give you a few tips for preparing them, so I grabbed two of my favorite gals The Girls With...
Once in a while after school I take Kenya to Whole Foods to grab a snack or pick up whatever odds and ends I may be missing from our pantry. On one of our recent jaunts there he discovered a "toy" that totally blew his mind: the nut butter grinding machine! In my countless visits to the market I don't know how I overlooked it time after time, but believe me, from now on there won't be a trip there without a stop to use it.
Ironically, Kenya's not a huge nut butter lover. My husband however goes through a lot of almond butter so to Kenya there was nothing more exciting than pressing the start button and holding the clear plastic container under the spigot to fill it "for Daddy" while watching solid nuts transform into swirls of warm, fresh almond butter. The smell was outrageously intoxicating and I could see Kenya getting his tastebuds tempted. Not two steps out of the store, plastic spoon in hand, he shoveled almost a quarter cup down his...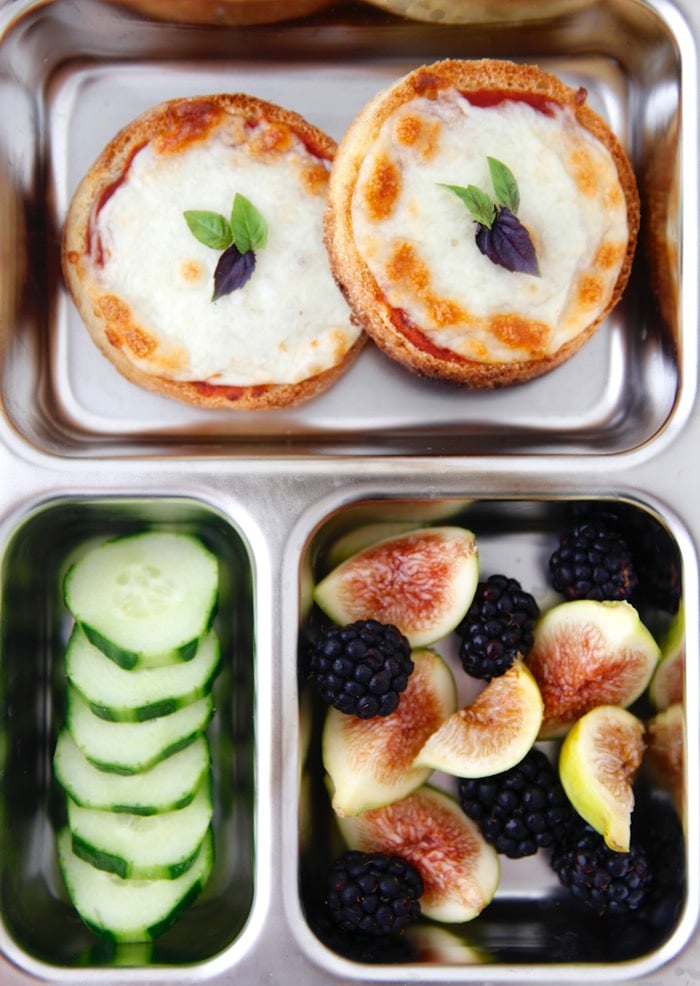 I've gotten serious about trying to get my kids more involved with what goes in their lunch boxes. This past Sunday I was out of town and, as a result, I missed my usual weekly farmer's market shop. Sigh. When I arrived home from the airport later that day, Chloe and I decided to have a little mommy-daughter time, which involved a grocery shop at Trader Joe's (my happy place). We had taken the Weelicious cookbook along with us so Chloe could pick a few recipes from it that she wanted to see in her lunch box. When she zeroed in on the whole wheat English muffins, I asked her what she thought of me making her an English muffin pizza. Her eyes lit up like light bulbs (I'm now thoroughly convinced that if you can figure out how to tag the word "pizza" on to a recipe it's destined to become a hit with kids).
This year has become even more busy than last for our family, with more homework, more after school activities and just more general running around. As a...
As much as I try to focus on getting solid breakfasts, lunches and dinners into my family's bellies everyday, serving up snacks I feel good about can be more challenging. I simply focus more on cooking meals than I do snacks — they're almost an afterthought — and so I tend to put less time into planning them. However, my kids usually want them, especially after school. While grabbing a bag of chips, a pre-packaged power bar or even a frozen treat from the ice cream truck can all be easy between-meal go-to's for many parents, are there snack choices that are just as easy on us parents but at the same time nutritious? Indeed there are, and this easy On-The-Go Snacks video will give you all kinds of simple snack ideas and tips you may never have thought of before.
As much as I try to focus on getting solid breakfasts, lunches and dinners into my family's bellies everyday, doing the same with snacks I feel good about serving can be more challenging. Grabbing...
When it comes to mealtime, I know plenty of kids who frequently ask for (and generally get) plain pasta with butter. My kids — especially after hearing their friends request it — are no exception, but I try hard to avoid falling into the plain pasta trap.
This Lemon Spaghetti with Toasted Walnuts is one of my ways around that pasta pitfall. The dish retains the simple appearance of pasta and butter that kids find so appealing, but it is by no means plain. Simply adding the lemon and walnuts gives dull pasta and butter added protein, tons of flavor and Omega-3′s. It's a good step forward for a lot of so-called picky eaters and my kids and hubby LOVE it.
This is one of those weeknight recipes that couldn't be easier to prepare and has the added bonus of making your kitchen smell amazing in the process. The first night I made it my kids quickly clued into the fact there were nuts toasting away on the stove. Then, when I took the microplane and started grating...