---
The first time I made Gluten-Free Banana Porridge for my family, they went nuts. I make it all the time now even though we're not gluten-free. Having said that, my husband and I would both admit we feel better when we consume less gluten.
Danielle Walker's first book — which contains the aforementioned Banana Porridge recipe — was (and still is) a gangbuster hit, so trust me when I tell you that her second book, Against All Grain: Meals Made Simple, is just as exciting and eye-opening when it comes to eating a gluten free and/or paleo diet. I was looking to try out a recipe or two from the book but while reading it everything looked so amazing I ended up putting tabs on more than half of the pages. That didn't exactly help me narrow down my choices for what to test, so remembering how much my brood loves Danielle's Banana Porridge recipe, I decided that another breakfast recipe like this Nut-Free Granola had to be a score.
A simple honey syrup is made and then...
What foods do you most associate with the fall? For me it's pumpkin, squash and lots and lots of apples, the latter of which are finding their way into lots of new Weelicious recipes.
Yesterday I shared with you my super easy deconstructed apple pie recipe, Apple Pie Cups. Today I'm introducing you to a super healthy recipe that you will want to make a batch of to offer up at breakfast, put in school lunch, keep on hand for snacks and then freeze as many as possible to have on hand. What's the secret? Watch this Apple Applesauce Muffins video and find out the tips to making them so darn tasty.
For me, muffins are a no-brainer when it comes to simple, handheld foods that even the tiniest of kids can enjoy, yet many muffins found at the supermarket can be laden with tons of unnecessary additives, fat and calories and can really weigh you down. These Apple Applesauce Muffins, however, are lighter than you might expect. Made with apple sauce to replace some of the butter,...
Wonder what happens when I go apple picking? I tend to get a just a wee(licious) bit over zealous and bring home bushels and bushels of apples. At the Glen Oaks Orchard I picked everything from Galas to Granny Smiths to Arkansas Blacks and more. Some of the apples I gave away to friends, some I sent with the kids to school for snack and the rest I used to make a bunch of apple recipes like Apple Butter Turnovers, Apple Chips, Fruit and Oat Crumble Bars and these Apple Pie Cups.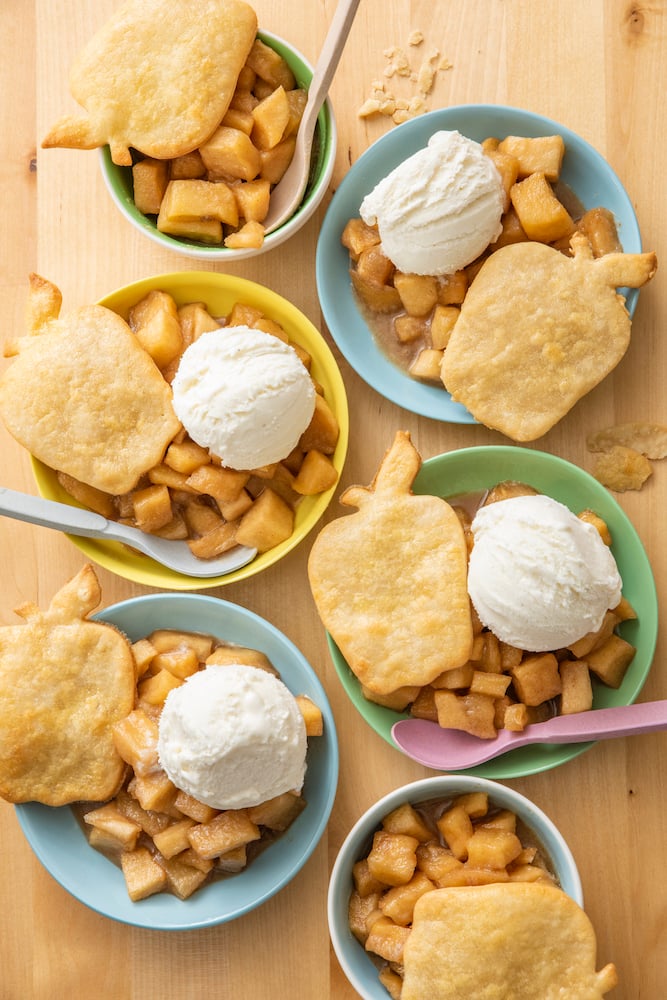 I really enjoy making a homemade apple pie, but it takes some time and I wanted to come up with a version that was a bit less labor intensive. My thought was to deconstruct the traditional apple pie and make something whimsical and less formal than what we're used to eating.
These Apple Pie Cups not only deliver as a serious treat, they're incredibly simple to prepare. I started by sautéing the apples and baking the apple cutouts in the afternoon and then assembling the dessert that...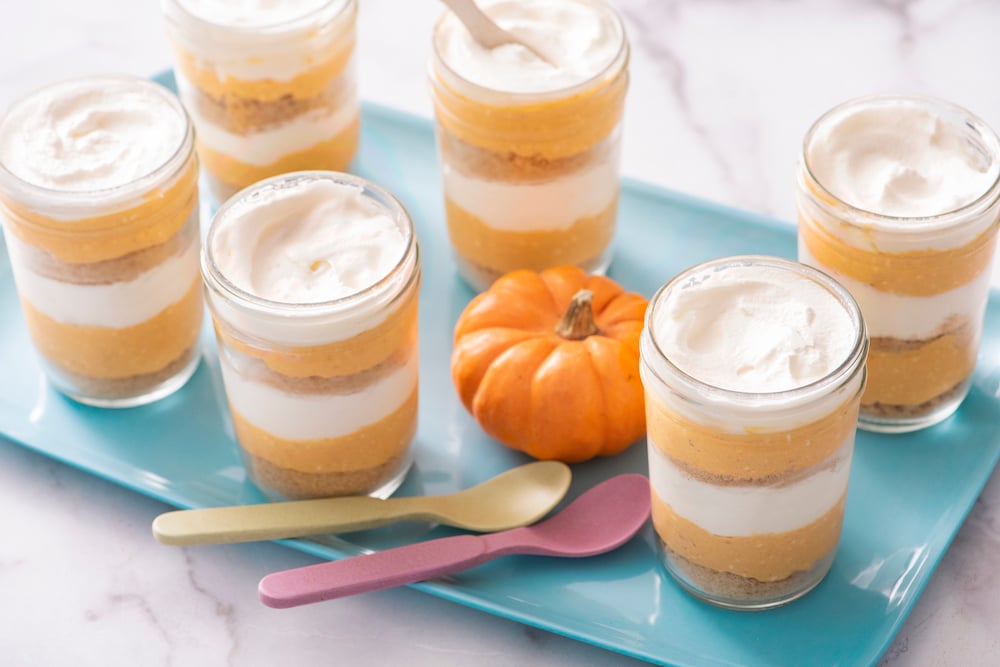 PUMPKIN! Whether you roast your own pumpkin to whiz up into a silky puree or use it from a can (Martha Stewart admits preferring canned to fresh, so it must be ok) you need these 20 Easy Pumpkin Recipes. Super duper easy and kid friendly. Whether you make them for school lunch, with kids for a class project or for a gathering, they're seasonal favorites!
Pumpkin Pie Parfaits (above): I made these with Kenya's class last year. Big hit!

Pumpkin Waffles: We've made these for Christmas every year since I can remember. Great sandwiched with Pumpkin Butter and cream cheese for school lunch too!

Pumpkin Spice Oatmeal in the Crock Pot: We make this once a week during the winter. Makes your kitchen smell insanely good first thing in the morning!

Pumpkin Muffins with Cream Cheese Icing: If you have a child with a fall birthday, these are a birthday party must!

Pumpkin Apple Muffins: These are one of the first recipes I made for Kenya when he was a toddler. Great...
One of the ways that our school raises money is to offer what are called "party books". Basically, families offer to host a party or activity at their house for other parents to attend and you sign up and pay to be part of the fun. I've gone to a cocktail making class, hiked and had lunch in the park, and went on a tour of the Los Angeles Zoo with my kids. This year I hosted a party book by offering up myself to teach a cooking class on easy weeknight meals. A group of mamas showed up at my house one night to have a drink as we cooked and ate our hearts out. I demonstrated to them how to easily prepare Red Beet and White Bean Hummus, Baked Potato Chips, Easy Chicken Nuggets, Kale Pesto, Potato Chips and Crock Pot Mexican Lasagna as a few ideas for quick dinners. It was a fun night for a good cause.
When I asked the moms how many of them had a slow cooker, only half of the room raised their hands. I went on and on...