---
We just got back from a freezing cold spring break to Boston where my husband has been working. It has been a brutal winter on the East coast. No matter how much I miss the seasons, making snowmen and cold nights by the fire with mugs of soup and hot chocolate, my bones are still achy from being in the windy, cold wintery weather for weeks… in March and April!
Now that we're back and in the swing of things for school I'm wanting to come up with a few simple school lunches that are easy to prepare and remind me of real southern California warm weather flavors that we all love and missed. These Hummus Veggie Wraps are just what the doctor ordered! I featured them in my Parents Magazine "Snack Mom" column because they're great as a lunch, snack or even light dinner recipe. The wraps are slathered with a thick layer of protein packed vegetarian hummus and topped with crisp veggies like cucumbers, carrots and bell peppers, but you can use anything you enjoy and have on...
One of the biggest stresses when you or someone in your family has food allergies is how to make small changes in a recipe without affecting the taste of a recipe. Not every single one will work, but this Allergy Substitutions Video will give you a bunch of ideas and solutions to help you make small changes whether you have a gluten, diary, nut or egg allergy so you can enjoy eating and feel as good. If you have any other ideas, please leave them in the comments below!
Gluten Substitutions
Cup4Cup Gluten Free Flour Blend
This was created by Chefs Lena Kwak and Thomas Keller as a baking substitute. Follow the directions on the bag to use as a substitute in your favorite baked goods recipes. I've used it to make sugar cookies this past Christmas with great results.
Mary's Gone Crackers
Gluten-free and vegan, these crackers are great for adding to school lunch or serving as a snack with dip.
Bob's Red Mill Mighty Tasty Hot Cereal
Certified gluten free and a great way...
When most people hear the word "turkey" they think of the big bird that takes 12 hours to cook on Thanksgiving. For many, though, turkey is a once a year food, when really it should be a year round staple. Turkey is delicious, easy to cook, and serves as a great substitute for–or maybe even a break from–beef and chicken.
"But what can I do with turkey?" you may be asking. Well, it's simple. Ground turkey isn't an exotic meat. It has a great, mild flavor and you can do with it nearly everything you can with ground beef. Plus, with it's combination of iron, B-vitamins, and zinc, it's a healthier alternative to the constant stream of red meat.
If you're in the habit of buying grass fed beef (which I highly recommend due to the amount of antibiotics traditional corn fed cattle can consume), ground turkey also serves as a frugal option–especially if your family is eating a lot of protein at dinnertime.
Here are some of my favorite ways to use ground...
This past October, January and February we shot tons of episodes of Guys Grocery Games up in Santa Rosa, CA. It's always a ton of fun eating what the chefs make for us (some recipes being a lot better than others), but after a long day of shooting all I generally want is something simple and heartwarming. There's a Whole Foods near our hotel, so it's always easy to find something reasonably healthy and tasty, but one night I zeroed in on their burrito bowls and since then I can't get enough of them.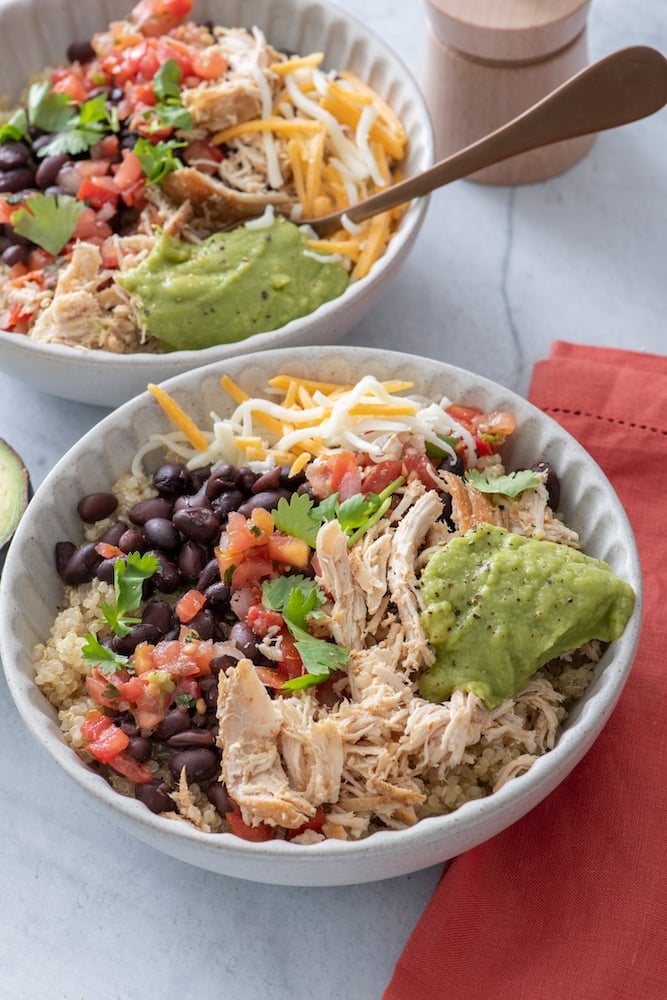 For New Years night this year we invited some good friends over to celebrate the first day of 2015. I wanted to make something special, but their son has specific food restrictions, so the idea of a DIY build your own burrito bowl sounded like the perfect solution. Start with a big bowl for yourself with quinoa (you could also start with a base of brown rice) and top it with tender, juicy chicken, guacamole, salsa, black beans, a good handful of chopped cilantro or whatever else...
When I was writing the Weelicious Lunches cookbook I asked readers on Facebook what recipe they would most like to see in the cookbook. I can't tell you how many people asked for a Nutrigrain Bar style recipe and why not?! They're a favorite snack of many kids, filled with a sweet jam and wrapped inside a soft grain filled exterior. The idea sounded simple enough except for the fact that this type of bar is made by a machine, not a mom. I can't tell you how many times I tested this recipe before nailing it.
You can make it with any type of jam, jelly or preserves you enjoy, but homemade Strawberry Preserves are so sweet and luscious in these making them a total score. If you want to see how to make them just watch this Strawberry Preserves Video.
For Kenya's past two birthdays he's asked me to make them for his class birthday party. They ask parents to make a small treat to serve the kids, so these feel like just the right kind of sweet treat to enjoy, especially...