---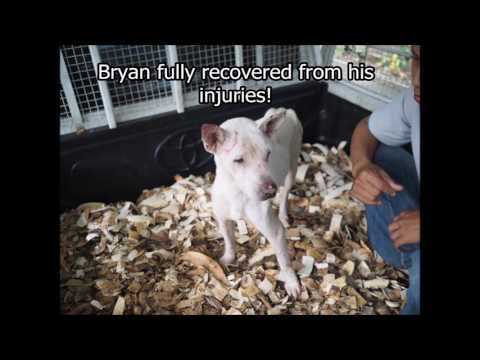 Do you remember Bryan? We rescued him last month from a suspected car accident. Our amazing Vet team treated his injuries with Manuka Honey and we are pleased to report Bryan made a full recovery.
Thanks to donations from our generous supporters we can continue to save dogs like Bryan. Please click the below link to join our team and make a donation, thank you!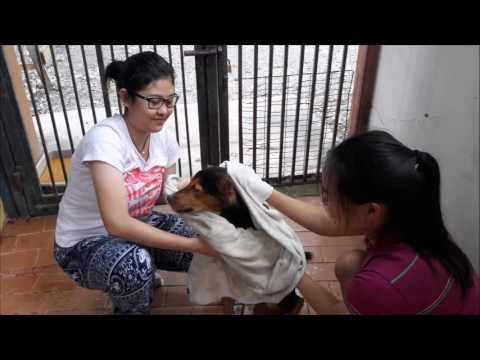 We had an amazing group of volunteers this past month! A huge thank you to our local and travelling volunteers for their dedication and hard work. Volunteers play a vital role in the daily lives of the dogs through dog walking, grooming, socializing and more. Many volunteers form lasting bonds with the dogs which greatly improve their trust with humans and improves their chances of rehoming. We made a short video of our compassionate volunteer team. Please enjoy the video, we tried to get as many volunteers as possible in the video!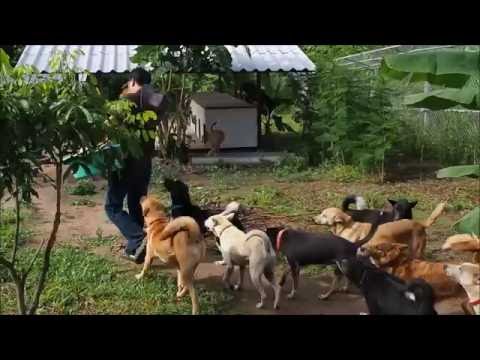 Our Caretakers at the New Hope Training Center have been busy these past few months.  The Training Center houses some of our most difficult and challenging dogs.  Have you ever wondered how we feed 25 dogs in a single enclosure?  Anyone that has volunteered with us will know how chaotic feeding time can be. Watch the video above to see how well our caretakers have trained the dogs for feeding time!  Thank you to all the supporters that have donated towards this project.
We appreciate the support from the local community! Baan Songjum Home Stay donates a portion of their water sales from each guest. Every baht helps to make a difference. The following list of businesses collect donations for us, Piccola Roma, Citrus Pharmacy »» Big C Hang Dong, ร้านไม้มุงเงิน-Silver Birch, Small Animal Hospital, Perfect Blend Coffee@Chang Klan Road, Ban Mha Ka Maew Animal Hospital be sure to support them as well. Thank you!
Meatball is another successful rescue case! He was brought to us last month with infected bite wounds and mange. Our Vet team has been treating him daily for the past 5 weeks and their hard work has paid off. Meatball's wounds are no longer infected and he has fully recovered.
Please help us save more dogs like Meatball by making a one-time or recurring donation. Meatball thanks you for your support!
Need to get in touch with
Care for Dogs
? - Email us at contact@carefordogs.org
Alternatively, you can
visit the web site
http://www.carefordogs.org
and read more information about our activities.