I'm not really sure why I hadn't posted about it here in the past, but it's true: I'm part of the Google Glass Explorer Program. And last weekend, I went to New York City to go pick up my pair from Google.
I think part of it is I am a little embarrassed about it. I mean, they're just a bit nerdy, don't you think? Sure, there's a slightly "hip" characteristic to them and by themselves they are a beautiful piece of technology; but it's putting something on my face that automatically showcases that I'm different. Technology usually doesn't do that. Usually, you need to at least reach into your pocket and show off your new gadget. In this case, not so much. Now you stick what amounts to being a smartphone on your face, the one thing that human brains are really good at recognizing and detecting differences on.
I also am a little embarrassed about the price I paid. Contrary to popular belief, when I "won" the #ifihadglass context (with this tweet), it was not a giveaway. Instead, it gave me the ability to go buy this device. At $1500 per pair (plus tax), it wasn't the most expensive dev kit I've ever used (FPGAs, yo), but it's also simultaneously far and away the priciest gadget I've ever bought. In fact, I bought a phone to utilize 4G speeds and get better battery life so I could use Glass on a cellular connection. Price paid for my new (to me, it was used) phone? $250. So between Glass, the ticket to NYC, the new phone and the food while I was in NY (stayed with an old friend, which was great): probably about the same I paid for my CNC milling machine. That's kind of extreme.
As for the device, it's really slick. And if you consider it a development platform (which at this price, my brain is insisting I do), then it is quite polished. I'm already on the 7th generation of firmware (XE7) and it will only get better. I enjoy the navigation, the picture taking (with the very wide angle lens) and am looking forward to other apps I'll be able to put onto it. Hopefully I'll also get off my bum and develop for it. I have a long list of potential ideas waiting in the wings; mostly my time is at a premium as I hope to get Contextual Electronics off the ground. I say a little bit more about my plans in this recent video I made:
So aside from that, I don't have much more to say about it. Really it's about putting them on every day and getting used to wearing them in public. The lower population density in Cleveland means I don't encounter as many people staring at me on the subway (we do have one here, btw) as I did in NYC. But it also means that fewer people have them around here and when I'm wearing them, I stick out even more than before.  After that, it's about making stuff to use with them…and hoping other people decide to buy and use Google Glass as well.
"But Chris, what happened to your milling videos?"
"Well, the same thing that happens to lots of projects, they got re-prioritized!"
I really enjoy working with my new mill! It's awesome and I've learned a ton. I didn't post it to this site as a separate blog post on this site, but I did post two new videos to my YouTube channel. Both were failures…but that's ok! A large part of the decision to get the mill was the learning process. The first was figuring out problems in using a half inch cutter and the second in doing profile cuts. But since then, I took a break.
I've been trying to take a new approach in 2013 to projects by focusing on 1 (2 at most) things at a time. As such, when a new project pops up that is more important, others fall behind (believe me, the state of maintenance of my house would agree).
So what?
Well, this is all because of my newest project, which has been brewing for a while. I'm calling it Contextual Electronics. This will be a 10 week course all about how to build hardware. Not only that, it will also have instructional videos about the particular part of the circuit we're designing or troubleshooting, as we work on it. The information will be learned on an "as needed" basis, just like designers (like me!) need to do in the real world. People who participate in the class will also be able to build hardware all at the same time, so we can learn at the same time; this will be especially important for a skill like troubleshooting, which can be a very nebulous topic to people just getting into hardware.
Here is the introductory video:
Also of note is something which hasn't been announced previously on this blog, though I've talked about it on The Amp Hour. I've been selected as one of the first 8000 to be able to buy Google Glass. While this does mean I'll still need to purchase the glasses, I'm excited for them. Even moreso now that I can use them to livecast troubleshooting sessions and other events for Contextual Electronics using Google+ hangouts.
So that's all for now. If you're interested in this idea and want to be alerted to updates as we move towards the start date of the course, fill out the form below and be sure to confirm through email. I'm excited! Hope you are too!
So I finally got my new end mills in the mail and got to the store to buy some 6061 aluminum (good prices on the clearance rack at The Metal Store!)
Anyway, here is my super simple first cut. As I said on Twitter, it feels much like the first time I made a PCB. Nothing even remotely special about this cut, just that I was the one to do it. Guess that's the power of making.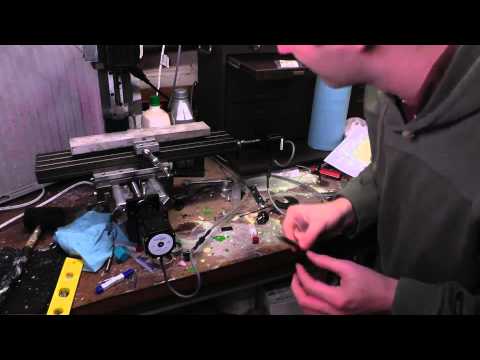 This is the first time I try cutting anything on the new mill. It's also the first time I have a full beard on camera (and last!).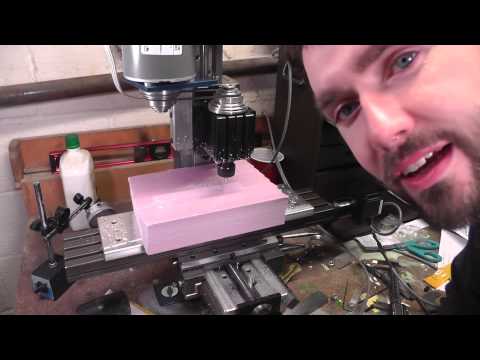 The result was mediocre but acceptable for a first try. Stay tuned to see more cuts!
If it hasn't already been painfully obvious, I'm trying to learn mechanical stuff. Odd for a site that's supposed to be about electronics, but I'll get back to that on here eventually. Hopefully you'll stick around until then. I've found that working with the mill has me looking at mechanical problems in a completely different light and has made me a better system designer overall.
As for these videos, I took the whole thing apart, mounted the base to my bench, put it back together, oiled it (not shown in video), leveled it and attached the stepper motors. I now have a functional machine!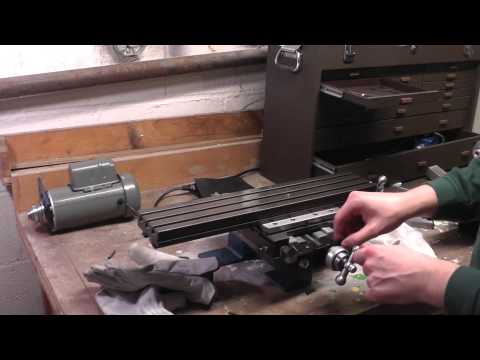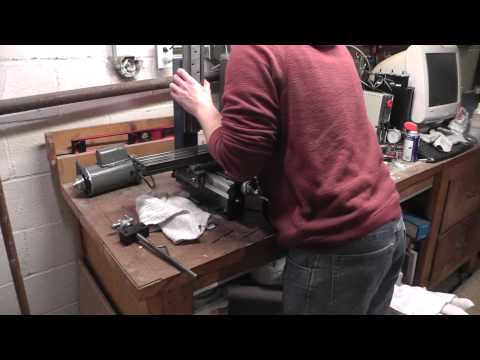 Thanks to megananne for the featured image photo
---
Click here to safely unsubscribe from "Chris Gammell's Analog Life." Click here to view mailing archives, here to change your preferences, or here to subscribe • Privacy