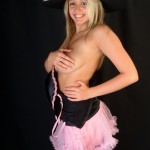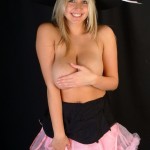 Loading the player…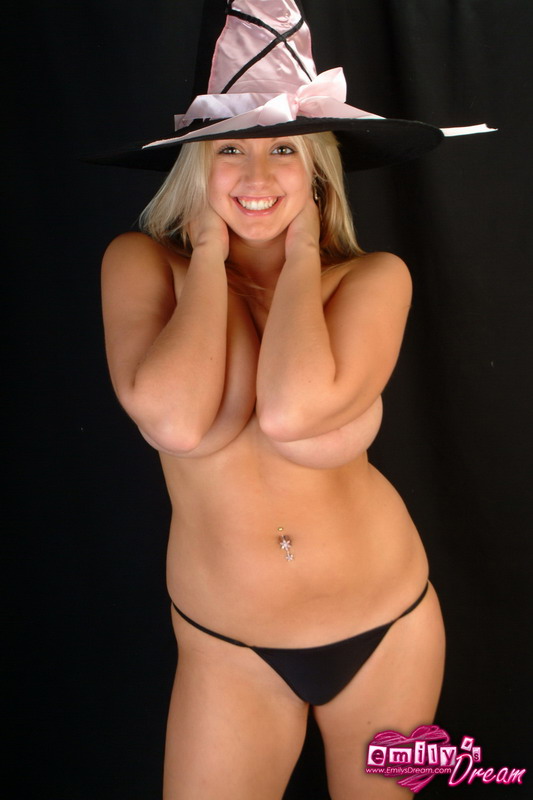 CLICK HERE TO SEE EVEN MORE OF EMILY
Webmasters

Knocking on our second Hallowe'en door this week, we're still on the lookout for scary-sexy sweeties with huge knockers.
We are greeted by the heavy-hootered Brit-witch (mmm… Britwich) that is Ashley Sage Ellison.
Ashley is 26 years old and hails from Manchester…
Manchester is now a Metropolitan County all of it's own, but historically was in the county of Lancashire. She is not from Yorkshire, as specified by some sources.
Again, historically, Yorkshire and Lancashire were mortal enemies and, to be honest, not much love is lost between the two camps these days either.
The white (Yorkshire) rose and the red (Lancashire) rose are what give us the name of The Wars Of The Roses which you are probably aware of.
…in the North West of the UK.
Keeping with the history, Ashley has featured on AshleySageEllison.com, ScoreLand (here is her Score profile page) and DreamOfAshley.com.
Here, from the latter, we have 32JJ (AKA K) (AKAK amuses me way too much) Ashley, all witchified in scarlet.
Fondling those mammoth mammaries, blue-eyed, blonde bombshell Ashley does devilish things with her Satan's trident.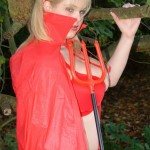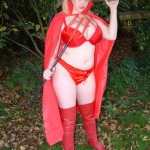 Loading the player…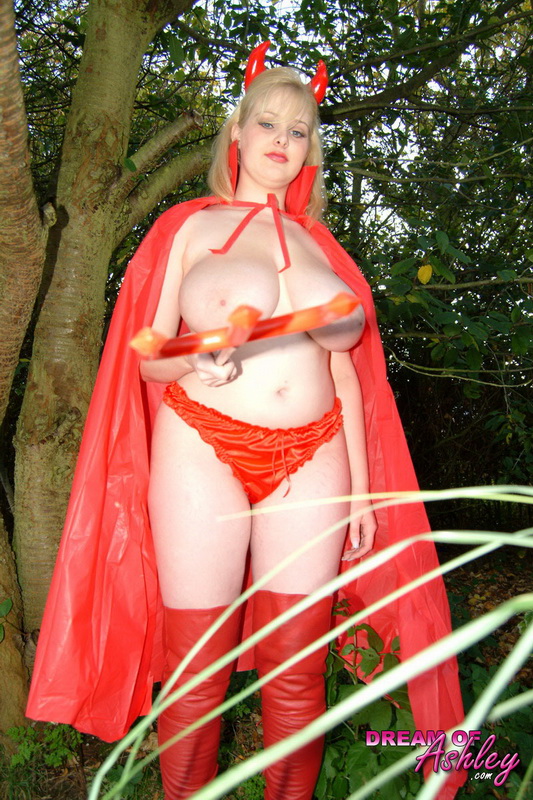 K-cup knockers. It's no trick, it's a Hallowe'en treat.
CLICK HERE TO SEE EVEN MORE OF ASHLEY
Webmasters

With Hallowe'en at the end of the week, I thought I'd go knocking on doors to see what Hallowe'en treats I could fetch.
The first door I happened to cum upon, at the start of the street, was that of Dors Feline's old site*.
So they're not new pictures, by any stretch of the imagination but I do love the previous incarnation of the sex-kitten, when she had 34 K-cups.
All the pictures on DorsFeline.com are from, I believe, before this British .alt girl had her breast reduction which took her to a C-cup.
What was behind the door then? The photos and video below are spooky scenes, but the video is also hilarious.
("Because my bum is cold!" being a favourite quote, here.)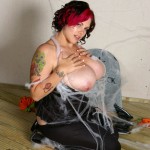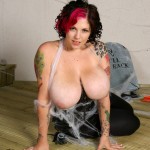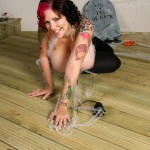 Loading the player…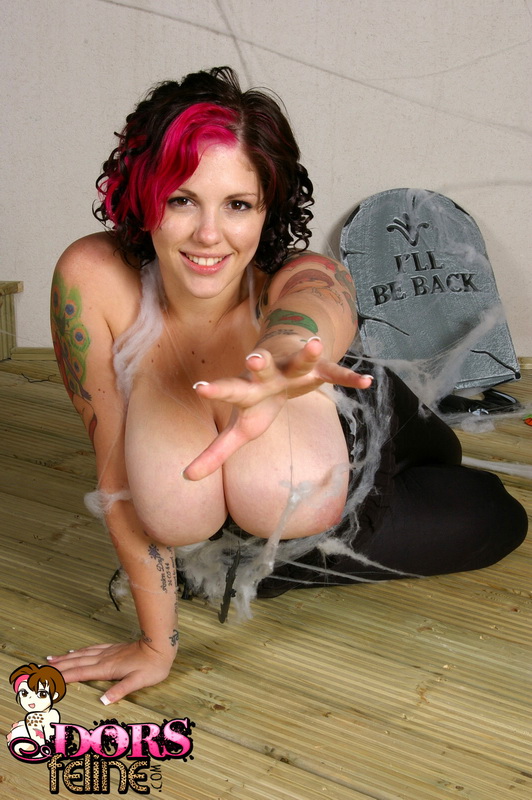 *Of course, if there's an old site, then there must surely be a new site, right?
Right, indeed. It's BustyDorsFeline.com. However, I didn't find any Hallowe'eny titty-terror treats there.
Maybe the whole thing has been a trick, after all.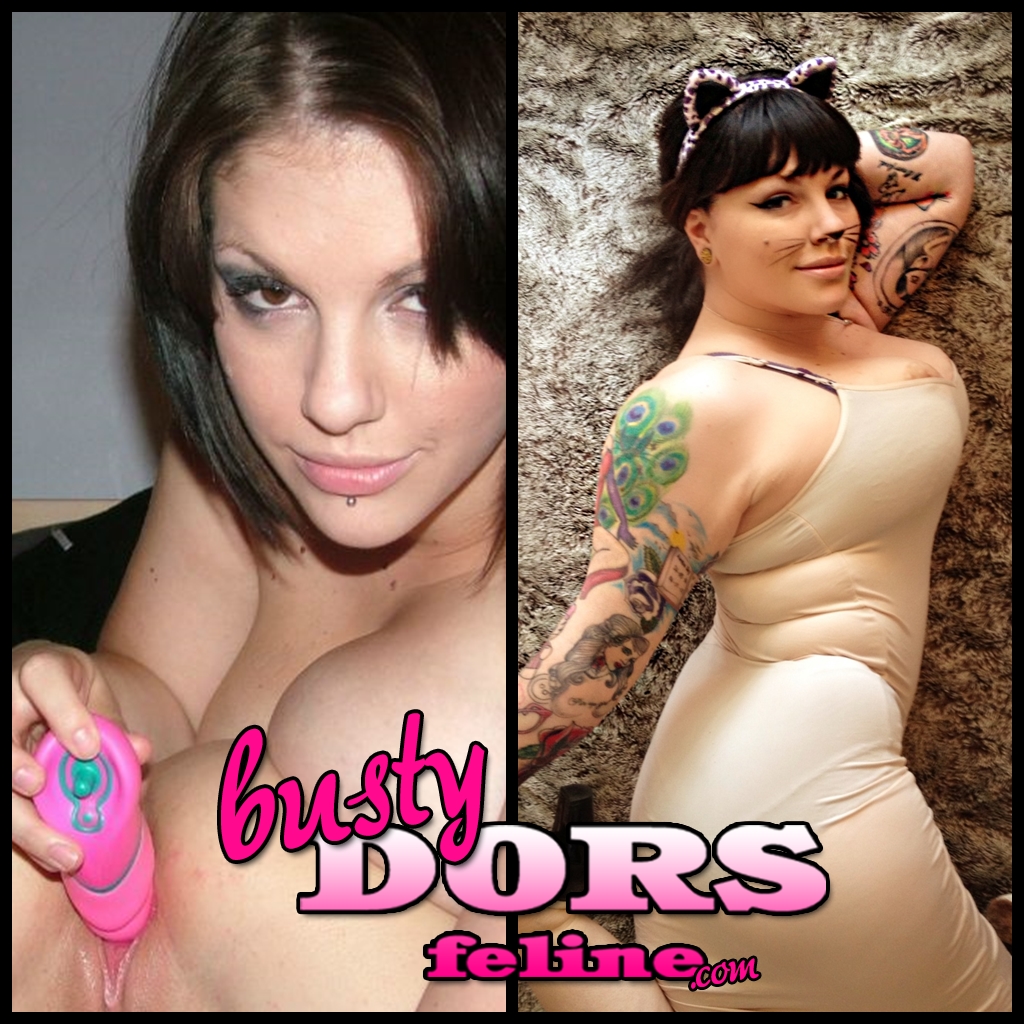 CLICK HERE TO SEE EVEN MORE OF DORS FELINE

Webmasters

When the lovely people at DivineBreasts sent me an email, over the weekend, with the following set from SuzieqHasBigBoobs.com, I saw the thumnail and was shocked.
Shocked as Suzie (AKA SuzieQ44Ks, Suzie, Suzie-Q, Suzy), the 44 M-cup, king-sized-knocker-bound babe doesn't show her pussy, as a rule.
Neither do many of the models on DivineBreasts, for that matter.
The clue is in the name, I guess.
Disappointed is truly not the word but I was surprised as the cunt we get so see is not Suzie's but instead belongs to April McKenzie.
Heavily hooter-hung April (AKA April Juggs, April McKinzi), is from Georgia in the US.
She is 30 years old and wears a 38H bra.
Here, the two top-heavy honeys are feeling playful.
Suzie pours her drink all over April's jumbo-juggs, leaving her tits sticky from the splashes.
Only one thing to do… jump in the shower.
April gets wet and slippy as she rubs her hands over her sudsy curves.
Lifting her huge hooters to soap them all around, the bubbles tumble below and her hand follows.
Rubbing her vulva, caressing her cunt to cleanliness.
Loading the player…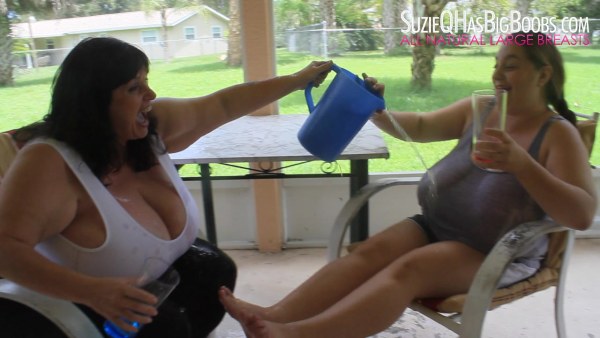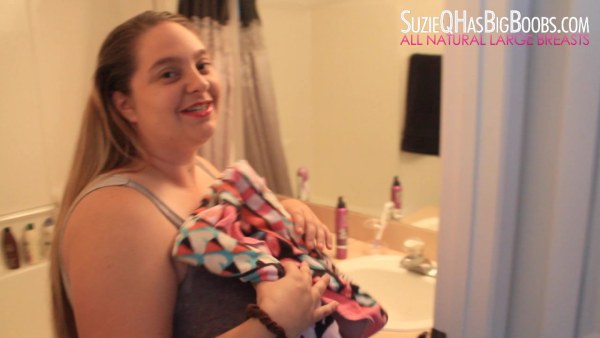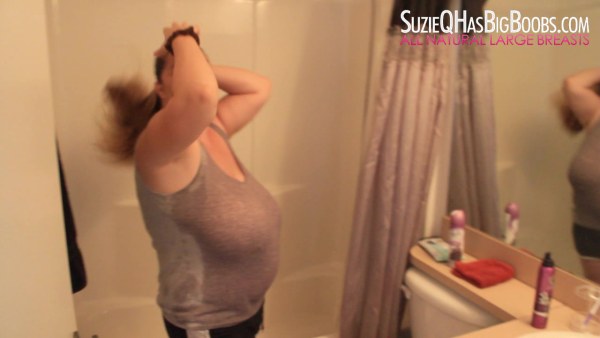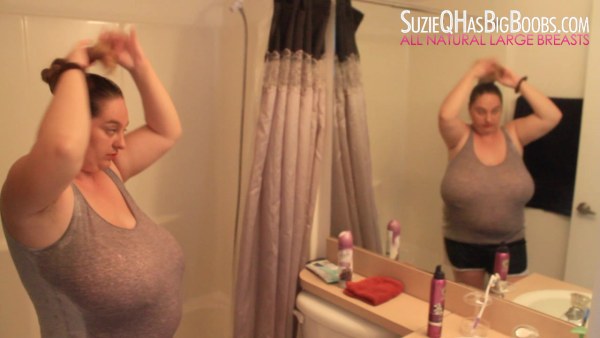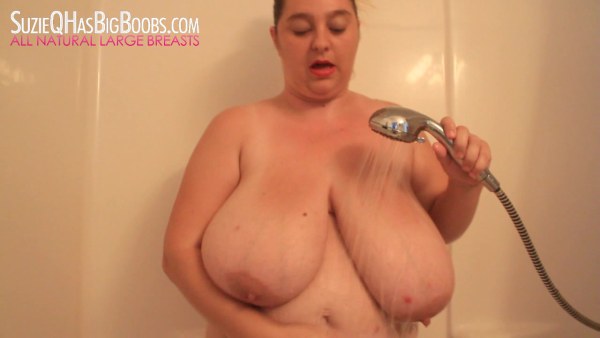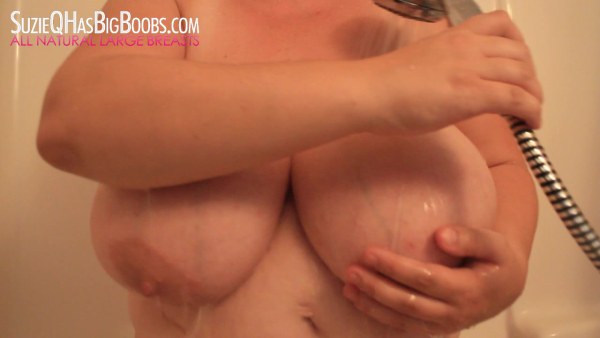 CLICK HERE TO SEE MORE FROM APRIL McKENZIE & SUZIE Q



You might think I am a bit bonkers for this, but I think that in this picture…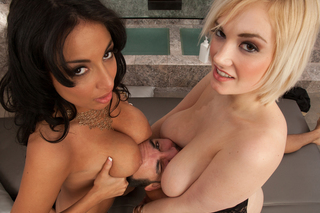 …Siri (for it is she) looks a bit like the blonde in the picture to the right, on the top row, below…
OK, thinking about it, it is the thought of Siri looking up like that which really got me comparing them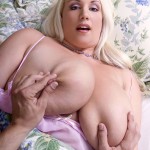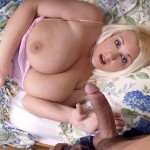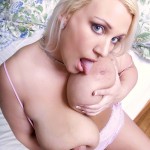 The buxom, blue-eyed blonde is Canadian Trisha Banks.
38F Trisha is quite elusive, on the 'net, and this seems to be her only hardcore scene, so far.
I had a good ferret about and managed to find the following pictures of Trisha's huge, heavy-hanging hooters but, alas, no more.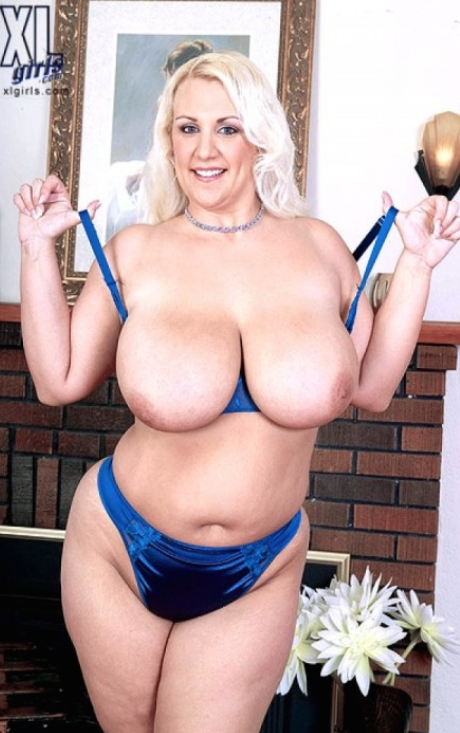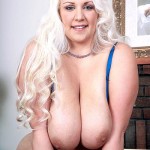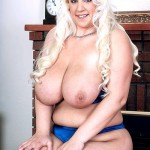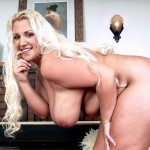 Click here to visit Trisha Banks at XLgirls.com
More Recent Articles
---
Click here to safely unsubscribe from "My Boob Site." Click here to change subscription preferences, or here to subscribe • Privacy