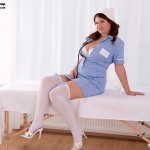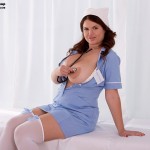 In a totally unrelated video, here, Vicky is off for a jog.
In possibly not the best outfit for a work-out, Vicky bounces down the street and her massive mammaries bounce straight out of her top.
Who'd have thunk it.
Click here to visit Vicky Soleil at Scoreland.com

A far more convincing G-cup here, in the form of the terrific tits of Sheridan Love.
Sheridan measures up at 42-25-37 and wears a 34G bra.
Hailing from Dallas, Texas, Sheridan is 29 years old and pretty as a picture.
Sucking and fucking a huge dildo, Sheridan shows us her slit as she stuffs the massive member-substitute in her hot honey hole.
Reportedly pierced on both nipples, her nose and her clit hood, we only see her upper lip metalwork, in this scene.
The busty babe is a titty tease, keeping her tight top on, with her dark nipples showing through, until she is ready to reveal the well hung hooters.
As she masturbates on video we can see cunt take in the dimensional dildo deep.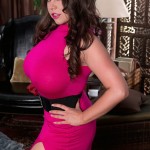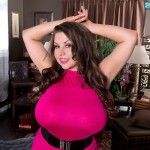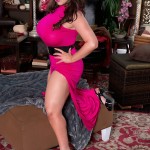 Click here to visit Sheridan Love at Scoreland.com

Nineteen in ten days time (17th December, 2013) Christmas chick with natural 34G norks, Noelle Easton, started modelling at 18 years old.
She says that she has had more porn sex than she has had non-porn sex. Amazing.
She is probably going to be disappointed with any subsequent lovers she may have, what with the huge cocks she gets fucked by in her hardcore scenes.
Of course, there are guys with porn-star dicks in the real world (thankfully for a size queen like me). But they are not as prevalent outside of porn. Maybe all the really big guys get into the business. No, not all of them – they (you?) are out there. I know, because I have had some of them in there.
Slim, stacked and sexy, Noelle was botn in Louisiana, and measures 42-26-44 and wears a 34G bra. Her tiny tight teenage tunnel gets a good seeing to in these photos and video from Scoreland.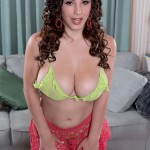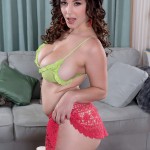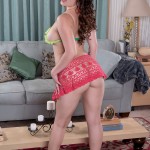 Click here to visit Noelle Easton at Scoreland.com

Now 41 years old, Amber Lynn Bach is showing little sign of her age. The (obviously enhanced) MILF is svelte and sexy here in a tight sweater.
As she pulls that sweater up and over those 32F fun bags, they pop out and bounce in a fairly natural looking way.
Amber measures up at 38-24-35, so has quite the hourglass figure, showing that she works out and, I think, showing that she is probably not a mother. Can you be a MILF without having whelped?
Reese says that she would have been called mature, until quite recently, when things seem to have changed. A Mother I'd Like to Fuck previously being a woman in the 25-30 age range. Like someone you might see collecting the children from school. Is it just that people are whelping at an older age or is it because there are now models working that are considerably older?
Either way, Amber Lynn looks damn fine.
Especially when she pushes a couple of fingers into that tight pussy and licks her fingers to taste her cunt juices, in a tease to tempt us to do the same.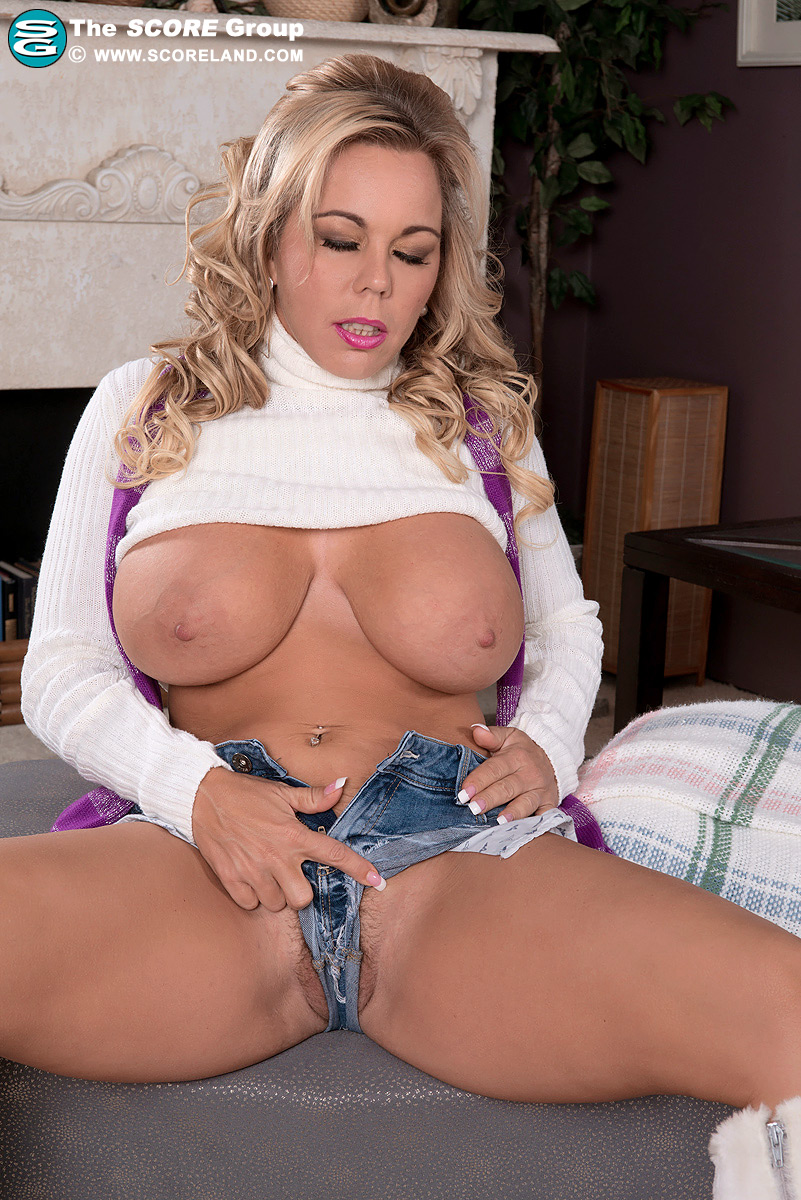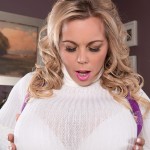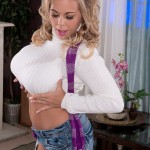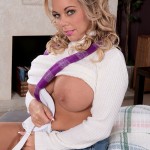 Click here to visit Amber Lynn Bach at Scoreland.com

No, not that Divine Miss M, but Maria Moore, who has not had her own post here on MyBoobSite since April 2012.
In which, there was this video where Maria is swinging, jiggling, bouncing and pulling those massive mammaries, smiling all the while.
Loading the player…
(click here to download video preview)
Maria Moore has more recently featured on MyBBWsite, where she is in a girl on girl video with Samantha 38G.
Hailing from Philadelphia in Pensylvania, 38 year old 38K Maria measures up at 47-33-39, apparently. Hm. Maybe once. I think she is seriously thicker than that around the middle, these days, but no-one seems to have updated their biography details on her, so maybe I'm wrong.
Maria is here in a superbly sexy silver suit, slipping those tremendous K-cup tits out to allow us a good look.
Click here to see more from Maria Moore in sexy silver
If you're a fan of the outdoors, here's a fabulous al-fresco photo-set of Maria. Again, Maria takes her time to trot out the tata's, adding to the tension we can feel in our underwear, as we watch her slowly reveal those gigantic udders.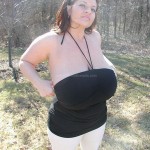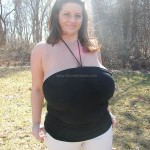 Click here to see more from Maria Moore al fresco
CLICK HERE TO SEE EVEN MORE OF MARIA MOORE ON DIVINEBREASTS.COM


More Recent Articles
---
Click here to safely unsubscribe from "My Boob Site." Click here to change subscription preferences, or here to subscribe • Privacy