Philadelphia Fire by John Edgar Wideman

My rating: 2 of 5 stars

I wanted to like this book so much. It was ostensibly about a hideous and important piece of history that too few people know about, which is why I wanted to read it. And it has beautiful, poetic (if sometimes unnecessarily pretentious) writing. If I had read certain bits of it as separate short stories or poems, I would have loved those bits. But all together it just doesn't work. It was all over the place.

There is very little about the actual Move bombing or group in the book. So if you are looking for that you will be disappointed. It is more about the history and social problems in Philadelphia. Which might have been fine. Except that it is written in a very stream of consciousness style, which I despise. The characters are impossible to give a shit about; most of them are barely fleshed out anyway. And the one you spend most time with is an asshole. He is, like the book, incredibly self-absorbed.

Except for a few moments when I was able to get lost in the prose, I spent most of the book thinking that I wish he would get to the point. A point. Any point. Are you throwing up your personal anguish just to do it? Or are you using your personal anguish to understand deeper things about yourself, the people around you, society? Too often it felt like throwing up thought. Like a first draft with potential. Like he said, "Screw it. I'll let the reader edit."

And how do you write a book about government murdering people and the society that allows that, but spend more time on the main character's creepy voyeurism than on the actual people killed?

I get the symbolism. I get that it is up to individuals to do something and that those individuals need to somehow find a way out of their traps and issues. I get that this giant mess of a web was pulling in important bits in unique ways. Sometimes it even kind of worked a little. But isn't there something more important?

One of the lines in the book is "Better to light one little candle than to sit on one's ass and write clever, irresponsible, fanciful accounts of what never happened, never will. Lend a hand. Set down your bucket." And that line comes in a fanciful book that was ruined by cleverness.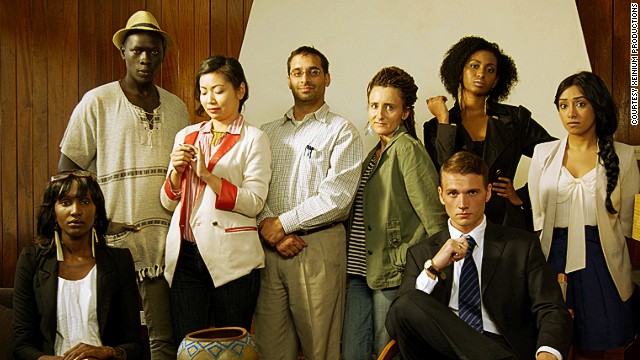 St. Louis PD shot sixteen other people before Michael Brown in 2014.
I do not encourage contacting the police. Usually, when I read a story about someone calling the cops, it ends with somebody getting beaten or shot who shouldn't have. But I send sincere thanks to the woman who turned in her phone so that the police department could go after the pig that texted "I wish someone would pull a Ferguson on them and take them out. I hate looking at those African monkeys at work…I enjoy arresting those thugs with their saggy pants." She cannot be too popular amongst the PD right now.
Speaking of bad outcomes after the cops are called. The eight-year-old who was tased? The state attorney claims the cops were totally justified. Ummm. If you cannot handle an eight-year-old, knife or not, perhaps you aren't cut out for "protecting and serving."
Or how about the guy who called the cops who shot a Walmart shopper. He isn't suspicious or anything.
Glen Ford from Black Agenda Report has been on fire the last few weeks. Here is an interview he did on This is Hell! focused mostly on police militarization and the counter-insurgency army that cops really are, with a little misleadership class sellout on the side.
Very interesting interview with Professor Angela A. Allen-Bell about Terrorism, COINTELPRO, and the Black Panther Party
Further to that robot conversation from a few posts back, now you can be freaked out about robots and the cloud together. You're welcome.
Yes, for the millionth time, the stats about sex workers are bullshit.
There is a big brouhaha because the leader of Greenpeace has been jetting back and forth between Luxemburg and Amsterdam on a weekly basis. The focus is mostly on the hypocrisy of racking up that massive carbon footprint, with a little bit of wasteful spending outrage on the side. But what about the fucking class issues? Ugh. These are the kind of horrible assholes I have to deal with on a regular. The kind who pat themselves on the back for helping the world as they live the bougiest of lives.
Also under the heading of repulsive nonprofits, Pathways to Housing has not been paying the rent for their mentally disabled clients. This is despite the fact that these people have been turning over their social security checks to the agency. But don't worry "The group's president, Sam Tsemberis, made nearly $300,000 in 2013. Boothe made $174,000 last year, and four other Pathways executives cleared six figures, including a $182,000-a-year psychiatrist." So the really important people are totally covered.
I really need to check out that Samaritans show.
Mentally ill inmates in a Michigan women's prison are being tortured.
The bombing in Chile is being blamed on anarchists. It is also being used to resurrect/reinforce some Pinochet era anti-terrorism laws. You may recall that, just a bit over a month ago, the Inter-American Court of Human Rights (IACHR) ruled that several Mapuche "activists' rights to freedom of expression, presumption of innocence and their right to question witnesses had been violated when they were tried and found guilty under the anti-terrorism law. The law allows the accused to be held without bail before trial, to receive higher penalties for crimes and to be sentenced based on anonymous testimony." What a coincidence.
Meanwhile, Latin America has horrifying rates of violence against young people . And gun deaths in Honduras have doubled in less than a decade. A total of "49,294 homicides were reported during the 2005-2013 period".
I also saw a report of anarchists being targeted and imprisoned in Egypt. But I'm not finding much on this. Anyone?
Guess who has the highest housing costs in the USA? We're number one, DC!! Maybe it is time to get in contact with OneDC.
I'll leave you on a slightly more positive note. Restorative justice in Illinois schools. It works.
At the beginning of August there was an Alliance for Healthcare forum on Health Care Behind Bars. One of the panelists was Debra Rowe of Returning Citizens United. This isn't the first time I have heard Debra talk about this. I was lucky enough to be on the Criminal Injustice Committee with her. I'm not sure that the full impact of what she is saying comes through in such a formal talk. So I'll share what I remember from the talks I heard.
When Debra was incarcerated in the 80s, her and the other women found themselves providing hospice care for people dying of AIDS. There was virtually no health care and they had to fight to get even minimal attention paid to the inmates who were sick. But that's not all. Prisoners were being tested for HIV. Reports were coming out about HIV infections in prison. But they weren't telling the prisoners they were sick. The people only found out when they started becoming symptomatic.
Not much has changed. Despite prisoners being blood tested upon entering prisons, they are not being told what the results are. Debra recounts an instance where a man was tested several times by several different prisons and never once told that he had Hepatitis C. The rates of Hepatitis and other infectious diseases are incredibly high in prison. One study estimates that 17.4% of those in prison have Hep C. If they are left untreated, those people could die. 
People who know they have a health issue struggle to get any kind of care in prison. One woman who wrote in for the mother's day issue of Tenacious: Art and Writings by Women in Prison explains:
Betty, one of our Golden Girls, fell on the uneven pavement on Sunday morning, Sept. 8th, while walking back from an Art Therapy class with interns from the Gerontology Department at USC. Luckily she had put in a co-pay the day before, and so would likely be seen in the next day or so. A copay is a prison system alert that some kind of care is needed; it is called a co-pay because the system charges an inmate $5 for every visit. Cheap by free world standards, but enormously expensive for inmates as this reflects about 33% of their monthly average salary at an 8 cents an hour job…

despite many health care visits, the foot is still broken, still untreated, now nineteen days since the fall, but the system will assure you that she is being seen and taken care of.
Suffering with a broken foot for 19 days and having paid for the privilege. That's the prison health care system.
Though prisons have not figured out how to do even minimal care, they have figured out how to make millions of dollars. At least 20 states have outsourced all or part of their prison health care to private for-profit organizations like Corizon, about whom you can read a damning list of abuses and scandals around the country in this piece on Prison Legal News.
Another corporation getting into the prison medical business is Centene. Centene had 2013 service revenue of $ 10,526,040. Not all of that was for prison health care. In fact, much of it was saving governments money on medicare spending. In other words, they make most of their money off of "the families of low-income single mothers." You can read all about their famous cost cutting and army of lobbyists here.
It isn't surprising that they are so good at getting government contracts considering how well-connected they are.  The board includes Former Majority Leader Dick Gephardt and former Governor of Wisconsin Tommy G. Thompson. Of course, there are plenty of banks, insurance companies, and the obligatory Microsoft guy on the board as well.
One other thought about the health care forum I linked to above. For a minute I thought that nobody was going to bring up racism or poverty. That it would just hover there unspoken. Luckily, another Criminal Injustice person, popped up during the question and answer session and made sure nobody forgot. Christopher Glenn also brought up the 500 mile rule for DC inmates, which is something I should write about soon.
The New York City school teachers who wore t-shirts to school showing their support for NYPD can go straight to hell.
Related to my last post, The new Luddites: why former digital prophets are turning against tech
Another black person with a gun license had a run-in with cops. This time, rather than arrest, they just beat him up.
That cop that likes to rape black women in Oklahoma also killed a guy.
Another killer cop decided to light the woman on fire afterwards.
Balko comprehensively covers how poor people in St. Louis County are getting screwed by the injustice system.
What happens when a cop tries to do the right thing? The police department starts investigating them.
Someone was just saying the other day that they thought the militarization of police was a good thing because it made all sorts of military equipment more available for appropriation. Considering that police departments keep losing stuff, that isn't so far-fetched.
Thirty years in prison for a crime they didn't commit.
Nice piece about Tenacious: A Zine of Art & Writing by Women in Prison, which we should all be subscribed to.
Someone please explain to me how 181 pre-K students and 201 kindergarten students were suspended from school for violence, drugs, alcohol and/or weapons in the 2012-2013 school year.
There is so much wrong with this story about a 14-year-old who had sex with a 20-year-old (statutory rape), found out six years later that she had his kid, and is now having his wages garnished for child support.
I've been saying for years that age segregation is a disaster. I started noticing the problem in activist spaces that are almost always segregated (usually with those in the kid years completely absent).
Hats off to LulzSecPeru for stirring up shit over there.
I thought I had posted a link to this talk about anarchist fiction with Ursula K. Le Guin and Margaret Killjoy, but maybe not.
And last, but not least, Chinese artist Ai Weiwei gives us a DIY tutorial on blocking a surveillance camera (pictured).
On Friday I put up a link to Kevin Carson's post called Capitalism, Not Technological Unemployment, is the Problem. He says,
The problem arises, not from the increased efficiency, but from the larger structure of power relations in which the increase in efficiency takes place. When artificial land titles, monopolies, cartels and "intellectual property" are used by corporations to enclose increased productivity as a source of rents, instead of letting them be socialized by free competition and diffusion of technique, we no longer internalize the fruits of technological advance in the form of lower prices and leisure. We get technological unemployment.
In response, AR shared some links, including a short video on robots called Humans Need Not Apply. You really should watch it. It is hard to wrap your head around just how many jobs will disappear and how quickly it could happen. I'll wait.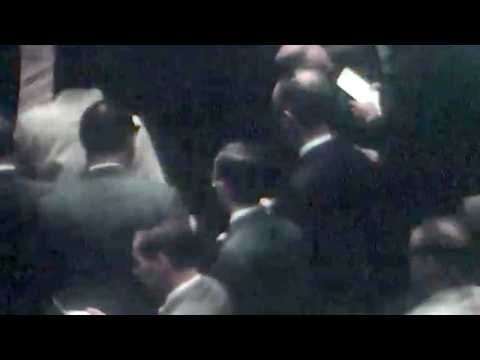 Of course, as
David Graeber pointed out
, many (if not most) of us are working at completely useless, bullshit jobs now. And we know it. But "t
he ruling class has figured out that a happy and productive population with free time on their hands is a mortal danger." And so we must continue to believe that our primary value is in our employability at something – regardless of how useless or even evil it is. 
Those of us who hit the accident of birth lottery spend a vast chunk of our waking hours renting our asses out to sit in office chairs. Some who were perhaps slightly less lucky take jobs keeping the masses in line. And the rest we just lock up. But we make sure to lock people up in a way that makes money for people whose asses are sitting in chairs.
Every time somebody talks about a jobs program, we should just show them that video. Every time someone talks about an education program – even a more practical one like the community college plug Robert Reich just did – we should make them read that Graeber post. We need to start believing that people have inherent worth. And if you cannot manage to do that, then you should at least be able to manage the understanding that none of the technology that some wiz kid invented to make life easier would have been possible without the people feeding and clothing that kid – not to mention the generations of knowledge all of it is based on.
We better get a massive change in attitude, a revolution in how we perceive who deserves to live and how we perceive those who prevent things from being shared. And we better get it quick. Or there will be a lot more of us in prison. There will be a lot more of us as guards. There will be just enough of us pushing papers while our insides atrophy to keep things passive.
Or perhaps, if we cannot be allowed to live human and pursue things that are actually of value, we will all just start dying of hopelessness like the Russians seem to be doing.
More Recent Articles
---
Click here to safely unsubscribe from "BroadSnark." Click here to view mailing archives, here to change your preferences, or here to subscribe • Privacy