Remember the good old days? The Leave it to Beaver years. They were simpler times. When white people wanted to hang black people for drinking out of white water fountains. When workers would find nooses hanging at their workplaces. When cops put dogs on unarmed protesters. When curmudgeonly, white supremacist stereotypes yelled "cut your hair, hippy Navajo kindergartner!" or kicked black teens out of school for dreadlocks. Oh wait. That's all now.
A seventeen-year-old from Ferguson writes about being Tired and Fed-up.
This guy shows how frequent the Fergusons have been in our history.
Never ever speak to cops. Not that you have a right to remain silent.
This charming cop offered to help "straighten out" his niece. By which he meant rape her and make her be his maid. He was found out after she tried to kill herself.
This Oklahoma cop likes to rape black women.
Cops and coroner claim a handcuffed man shot himself in the chest.
The 84-year-old Asian man who was slammed to the ground by NYPD for jaywalking is suing.
In Chicago, a candlelight vigil was being held for another teen killed by cops. Police attended the vigil to do their usual intimidation and harassment thing. One attendee believed they saw the actual shooter. Then things got real as people started throwing things at the PD and one woman ran into a cop with her car. Let's all take notes from that one.
Data on police killing people is impossible to find, though the feds are responsible for tracking it. This guy has started his own project.
There is a petition circulating to try to get compassionate release for Robert C. Fuentes who is dying of liver cancer.
System Failure was uploaded back in 2007 by the Ella Baker Center for Human Rights. It is about abuse in California juvenile facilities. Gives you a very good feel for what happens in these places.
This is a long, but worthwhile discussion about "incarceration and resistance (with) Ashanti Alston (former BLA member and Prisoner of War, current co-chair of the Jericho Movement)…Victoria Law (author, Resistance Behind Bars: The Struggles of Incarcerated Women) …Matt Meyer (editor of Let Freedom Ring: A Collection of Documents from the Movement to Free Political Prisoners) and Lynne Stewart (attorney and contributor to Let Freedom Ring)".
Where does that hard-working, pull yourself up by the bootstraps mentality get you? It gets you four jobs and dead in your car.
All the more shameful since we could all be working a few hours a day if the system wasn't about fetishizing work and making sure that a disproportionate few benefit from technology and increased productivity.
This interview with Boots from the Coup where he tells the woman they are "a punk-funk Communist revolution band…trying to…make everyone dance while we're telling them about how we need to get rid of the system" is just priceless.
Very interesting research on who participated in the Rwandan genocide. It was those with larger social networks that were more likely to participate in atrocities. Especially important was the influence of family and neighbors.
And then there is this on how we decide who is innocent, their death being a tragedy, and whose death we shrug off.
Finally, anybody know anything about Friendica? Or maybe you host a Diaspora server. I really need off of Facebook.
____
HT to @BrendasJustice for photo
By now you have undoubtedly heard how The New York Times is getting a lot of backlash for calling Michael Brown "no angel." Specifically they wrote
he was caught on a security camera stealing a box of cigars, pushing the clerk of a convenience store into a display case. He lived in a community that had rough patches, and he dabbled in drugs and alcohol. He had taken to rapping in recent months, producing lyrics that were by turns contemplative and vulgar. He got into at least one scuffle with a neighbor.
A couple days ago, Ta-Nehisi Coates wrote about just how typical Brown's behavior was. In fact, he wrote, "if Michael Brown was not angelic, I was practically demonic." And he goes on to list how much more than shoplifting, drugs, alcohol, and (gasp) rap music there was in his teenage years.
It occurs to me that this might be an exercise for all of us. Half of the adults in this country have smoked pot. The vast majority of teens have tried alcohol, and a fairly significant percentage binge drink on a regular. And whoa, vulgar music and scuffles. Well who has ever been involved with those?
By the time I was 18 years old, I had:
Been drinking for 6 years (quite a bit)
Regularly raided mine and my friend's parent's medicine chests for drugs
Smoked pot
Did acid and ecstasy
Ran away…a lot
Quit school
Went back to school
Got suspended (a lot)
Got kicked out of school
Got kicked out of my house
Got caught shoplifting
Stole liquor from a bar after a little illegal entry (after convincing my friends the cameras were fake)
Rode in numerous stolen vehicles. (Did you know old C

amaros

could be started with a screwdriver?)
Listened to some really disturbing music (I Saw Your Mommy and Your Mommy is Dead..anyone?)
And so much more…
Do you know what happened when I got caught shoplifting in Rite Aid? I didn't get shot. They called my parents and banned me from the store. Do you know what happened when my friend and I appropriated her mom's car and got into an accident without either of us having a drivers license? I didn't get shot. The cop brought us back to her parent's house. Do you know what happened on the many occasions cops caught me and my friends with booze and weed? I didn't get shot. They confiscated it for themselves.
I never even got arrested. Not once.
Don't think I am saying that cops have changed. Seems like almost everyone I knew had some sort of record. Many of my friends ended up face down on a roadside with a cop's knee in their back over a speeding ticket. I didn't go through that because I as a girl and white and lived in a middle class suburban house with "good" parents. Despite being "no angel" I have been allowed to grow up, been given the benefit of the doubt, been assumed to be redeemable.
It is the people that obey all the rules and, most especially, the people who get their jollies from enforcing them, that we need to be worried about. I never killed anybody. And neither did Michael Brown. But here I am. And he is dead. For nothing.
But maybe what the NYT meant by "no angel" was that he wasn't a little blonde girl like the one in that picture.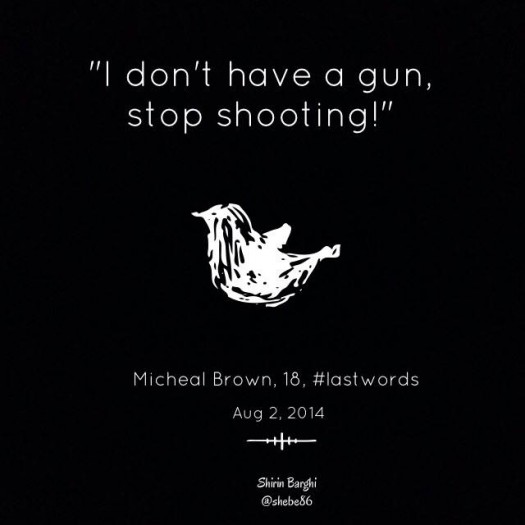 This is gonna be a long one. And I'm saving some for next week. Apologies. Not only did I miss last week, but I also did a lot of catching up on reading. And, of course, I have been obsessively following Ferguson.
I know none of you have missed what has been going on in Ferguson. But I will drop a few of the more important links:
Ferguson isn't the only place people have had enough. In the Mandalay Region of Burma/Myanmar, farmers had their land taken away by the military. They protested by, for example, plowing the fields that had been stolen from them. The cops came and started shooting. The protesters, along with local villagers who ran out to help, "detained 37 police personnel". The rest ran away. Nicely done, farmers.
While we wait to hear whether or not the cop will be charged in Ferguson, we know that Shaneen Allen is going to be prosecuted for gun possession.
San Bernardino PD tased a man to death last week. Maybe they were trying to one up the South Dakota PD who tased an 8 year old?
In New Orleans, a man was shot in the head and the PD didn't report it for two days. And in LA, they refused to release the autopsy of the man they shot.
If You Were Gunned Down By Police, What Photo Would the MSM Use to Portray You?

You have probably seen the picture going around of all the people killed by police. But maybe you missed this series of Last Words: A Visual Tribute to Men Killed By Police.

Nobody knows how many people cops murder every year.
I don't know if this new police accountability app will do any good. But these teens are clearly awesome.
Prisoners in PA have been protesting and need some support.
We don't hear enough of the stories from people in prison, especially not women in prison. Which is why this account from a woman at Virginia Correctional is so important. And why people should support films like this one about Marcia Powell, a sex worker who died in prison.
It turns out that Telling White People the Criminal Justice System is Racist Makes them Like it More. Awesome. 
In Memphis, a teacher punched a five-year-old girl in the face.
Good news is, LA says they are trying to shut down the school to prison pipeline. Bad news is, they are arming Compton school PD with AR-15s. What could go wrong?
Mothers are still be arrested for letting their kids play in parks and for swearing in front of them. (Newsflash: If you put your kid in a car, you are risking their life far more than any of this bullshit.)
Baltimore Jimmy Johns workers are now IWW.
Also in Baltimore, an out of control judge ordered a pro se defendant to be tased in court.
One could argue that a dildo is even more dehumanizing than this very life-like Japanese sex doll. But as a human and a sapiosexual, I'm finding the claims about it being a legit girlfriend replacement a little incomprehensible and (frankly) sad.
They better send a whole crap ton of those dolls to Brazil considering that women need virginity tests before they can get a job.
Sooo. That whole Affordable Care Act thing. How is it that hospital CEOs are seeing massive pay increases? Almost as big as the insurance premium increases we have been getting.  Hmmmmmm.
Finally, a Honduras morgue director is reporting that at least 5 of the children deported back to Honduras are now dead.
Nonprofit Quarterly has a piece about how nonprofit nursing homes outperform for-profit ones. It got me thinking about the categories that we put organizations into and the criteria by which we judge an organization's worth.
Here we have for-profit vs. nonprofit. The evaluation looks at outcomes for patients, as it should. But we don't have much about how the workers are treated. Nursing assistants are absurdly low paid. The median wage is $11.97 per hour. In Minnesota, a main argument against the minimum wage was that nursing homes would have to close if they were forced to pay their workers $9.50. In New Jersey, nursing home workers cannot afford health insurance.
Those nonprofit nursing homes may have better health outcomes and they keep higher levels of staffing. But that doesn't mean that they treat their employees well or pay them a living wage. It doesn't mean that the people who work there have any autonomy or democracy in their workplace.
What about food labels? I've written before about how workers are ignored in the movements for a better food system. Nothing about an organic or free-range label tells you how the humans are treated. A label of local doesn't tell you much when people haven't even decided how far away local actually is. How much does fair trade tell you really? Fair in comparison to what?
The Human Rights Campaign has an annual Corporate Equality Index. It measures things like whether or not a company has a sexual orientation discrimination policy or offers same-sex partner health benefits. HRC has consistently given Wells Fargo a 100% human rights rating, presumably encouraging GLBT people to bank there. Meanwhile, Wells Fargo is a major investor in private prisons and their racist, predatory loan practices were a key driver in the foreclosure crisis.
What about pressure campaigns against giant companies? There are multiple current campaigns against Coca Cola. Each of them run by a different organization. When one organization wins something, they wrap it up and congratulate Coke and tell everyone they can start buying from them again. No thought to the other campaigns that keep going. No thought to how the greenwashing may actually keep a company in business.
Boycotts? What happens if I boycott BP, but I'm still buying gasoline from Exxon or Shell? Is that really helping anybody? What about boycotting Starbucks, but still buying coffee from another chain whose workers don't have a union? What if your local indie coffee shop treats their workers like shit too? What about boycotting Walmart but still buying from Target, which is just as anti-union?
I'm not saying we should give up trying to make ethical choices. I'm not saying you are a shit if you ever buy anything from someplace that does horrible things. There is no way to avoid completely interacting with organizations that, in a better world, would not exist. But can't we at least get it together enough to evaluate them in a way that isn't so disjointed, that is based on more than just some narrow set of issues? Can't we look at purpose, size, democracy, profit, community involvement….everything? And can't we be smarter about what kinds of things we boycott and what we offer as alternatives?
Don't tell people to leave Wells Fargo for Bank of America. Don't just find any old credit union either. Don't care only about environmental issues and ignore workers. Don't assume that nonprofit means anti-capitalist or that people are treated well. Don't start a campaign to boycott one organization in an entire sector that runs the same way. What is the point in that?
Consumer choice can help. I feel most hopeful when I am surrounded by co-op people who are trying to build the new world inside the old. But not all decisions that are made out to be ethical are. And we aren't going to consumer choose our way into a revolution, especially not if we are just choosing between Walmart and Target.
I watched dirt track racing this weekend. Apparently, that's a thing. A very loud and surprisingly fun thing. You can make a race car out of anything.
Very much looking forward to seeing how the amazing Andrea Bowen takes Garden State Equality past the gay marriage fight. Andy has actually gotten me to help call people for an advocacy day, so you know she can make pretty much anything happen.
I think many people forget that a lot of chains are actually owned by locals who just wanted a small business of their own. Though it sounds like McDonalds is trying to get rid of those people. In any event, when a franchise owner basically comes out in support of a union for fast food workers, that's news.
Moving on up the chain of evil corporations, a bunch of memos have been released showing Chiquita's support of the death squads in Colombia.
Setting aside the Obama apologism and apparent belief that the CIA is or should be salvageable, this isn't a bad summary of the torture investigation history.
Where is the nationwide torture investigation of US police? Like the ones in New Mexico that like to anally rape people for kicks.
Or these cops who went to the wrong house and dragged a woman naked out of her apartment.
Those cops will not be punished in the slightest. Meanwhile, a five-year-old has sexual misconduct on his record for pulling down his pants at school. You read that right. A five-year-old.
Looks like people in Colorado are staying home to get high instead of going out and getting in car accidents. Seriously though, the chicken littles are just going to look sillier and sillier as drugs are legalized and the world doesn't fall apart.
If you are trying to help things fall apart, then you'd be better off sending in some aid. Perhaps you can send USAID to pretend to humanitarians working for an AIDS organization in Cuba.
Or maybe you can NGOize a small country that has been pummeled by natural and political disasters so that NGOs and contractors can make gazillions of dollars and thwart any chances for autonomy or democracy or justice…
Or you can just sell out to the highest bidder while still patting yourself on the back for being a good guy.
At least with Chiquita, nobody really pretends they aren't evil.
In Delhi, The Hindu did an investigation of the reported rape cases. One of the things they found is that many of the cases were controlling parents who filed rape charges against the man that their daughter eloped with. Authoritarian parenting at its worst. Happens here too.
Leo Hollis calls out the bullshit that is "startup urbanism" for the gentrification that it actually is.
DC has now been added to the list of cities where a posh building agrees to provide affordable housing, but has the poor people use a separate door. The twist here is that they claim the low-income tenants wanted it that way in order to preserve their community. Can't really blame them for not wanting to deal with all the douchebags that live in places like that. It is tragic to see how the neighborhood relationships break down with gentrification.
And finally, Victoria Law has a new piece on compassionate release.
More Recent Articles
---
Click here to safely unsubscribe from "BroadSnark." Click here to view mailing archives, here to change your preferences, or here to subscribe • Privacy