---
Music Monday
168 :: Jon Batiste and Stay Human "Express Yourself" on The Colbert Report
What an exciting and energetic performance from
Jon Batiste
and Stay Human on The Colbert Report in August 2014. Playing various instruments along with endless dancing and further encouraging the audience's participation = a huge block party.
So much fun. Enjoy.
Interactive Image: My Summer 2014 Tech Travel Pack
My summer travel plan is in full effect.
Destinations
Akron, Ohio
Washington, DC
New York, NY
Montreal, Quebec
Cairo, Egypt
This is a shorter trip than trips in the past and I've tried to cut down on packing. However, I still have a need to have my technology when I travel. I like to document the sights and sounds and just tech out new gadgets.
With that in mind, ladies and gentlemen, I present to you ... my
Summer 2014 Tech Travel Pack
!
I used
Thinglink
for this interactive image, so just click on the icon that correlates with the item to hear more about the item.
My Favorite iPad Apps :: Part 3 of 3
The apps in this short series are in my regular rotation - I use them daily.
Evernote
: A note-taking application.
Pros:
This app has proven useful for me for grocery lists. I make the grocery list on one device and then make sure I sync devices before heading to the grocery store. The inclusion of the check box is simple yet helpful.
I audio record my students presentations, usually about 5 minutes. I also tag the notes and they're easy to access for grading.
For taking notes, meeting minutes and outlining presentations, it's nice to have some formatting options like italicizing and indentation.
My Instagram pics are automatically synced to Evernote thanks to ifttt.
The Evernote app is great for capturing business cards and organizing them, however, make sure you double check the details to make sure that it's correct.
Before I travel, I use Evernote Clipper to capture and file notes on places to go and things to do. I assume that I won't have Internet access and I'll activate Evernote Premium to access the folder offline.
I don't really use a calendar/task app, I sync my Google Calendar with my iPhone/iPad. Simple and easy. I also don't use the reminder option since I use that feature exclusively with Google Calendar.
Cons:
I think the paid platform is too expensive for what you get and have access to.
With the paid platform, you get offline access, however, you have to download and sync in advance. Depending on the size of the notebook that you want to access offline, it could take some time for it to download.
I know that Evernote and Moleskin have a happy relationship, however, I have the Evernote Notebook by Moleskin and I'm not seeing the big difference between it and any other notebook.
Evernote is available for the iPad, iPhone and Android devices.

I hope that you've enjoyed the My Favorite iPad Apps series. Please share your thoughts on the Evernote app and the other apps in the series in the comments.


Music Monday
167 :: Snoop Dogg "Gin & Juice" LIVE w/The Roots
Just in time for summer ... a live concert performance of what will surely be a classic (a little premature to make that claim; at least in my book).
This is not my favorite song, but I do love a party starter and this is that. And to have this performance backed up by The Roots, who I love unconditionally, is certainly one way to win me over.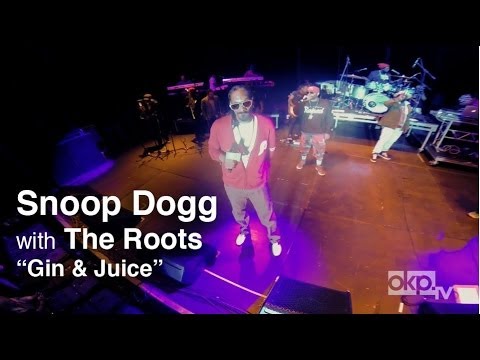 It's not too late to get in shape ... not for summer, but for life!
It's typical for me to troll YouTube seeking workout videos. My preference is for vids that are short but effective. Sometimes I want to move, but I don't have the energy. Other times, I want high impact.
The
FitnessBlender
vids are interesting. They're usually short, but you will do either 2 or 3 rounds - or you can just do what you have time to do or what you can do.
The instructions are perfect and of course there's the visual to help offer guidance as well.
This particular vid is great because you have a bit of a pause between each 40-second exercise; and there are eight (8) exercises in the round. It ends up being about 22 minutes in total.
So get movin and give it a try.
Beginner Boot Camp Workout -- Easy Toning & Low Impact Cardio Workout