Contacts: Lt. Jeff Hallock, 714.904.7042, JHallock@ocsd.org/Emily Osterberg, 714.647.1840, EOsterberg@ocsd.org
SANTA ANA, Calif. – (October 24, 2014) – The Orange County Sheriff's Coroner Division seeks the public's assistance identifying a deceased male found in the early morning hours of October 11, 2014 along the shoreline near 32nd Street and Oceanfront in the city of Newport Beach. He appears to be of Caucasian, Asian, or middle-eastern descent, 15-25 years old, 5'9" tall, 130 pounds, with long black hair and brown eyes. He has a small healed surgical scar on the right side of his neck. He was wearing orange and white Hawaiian print swim trunks and a black button up dress shirt with faint vertical lines.
Anyone with information about this person is encouraged to contact the Orange County Sheriff's Coroner Division at (714) 647-7411 and reference case number 14-03965-MM.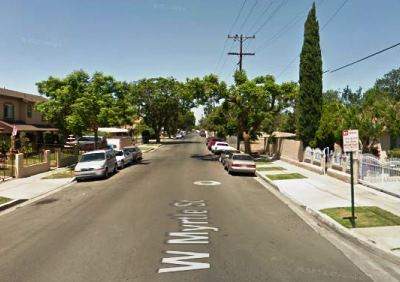 Area of halfway home at 1700 W. Myrtle block of Santa Ana, Picture Courtesy of Google
Police pursued a fleeing vehicle on surface streets to a home in Santa Ana in connection with a purse robbery by a suspected named Charles Dorsey, 49, that occurred on Thursday, at about 1:40 p.m., at the Macy's at the Brea Mall, according to a Lt. Derrin Deveroux with the Brea Police Department, as reported by KTLA.
Dorsey is reported to have stolen three purses valued at $700 around 1:38 p.m. from the Macy's women's department at the Brea Mall before getting into an altercation with loss-prevention officers, according to the O.C. Register.
Dorsey fled in a black BMW, but he returned two hours later to pick up a suspected female accomplice, but when he returned to the mall, he discovered the woman – Natasha Benton-Grays, a 37-year-old Anaheim resident – had already been arrested and charged with burglary and conspiracy.
Brea Police conducted a pursuit of Dorsey after he left the mall a second time but they stopped when he resorted to very high speeds.  Sheriff's deputies tracked Dorsey as he fled south and he was eventually arrested by Santa Ana police at a halfway home he was living at, at the 1700 block of West Myrtle Street, at 4 pm on Thursday, on charges of strong-armed robbery, according to Santa Ana police Cpl. Anthony Bertagna, as reported by MyNewsLA.
October 28, 2014
10:00 am
to
11:00 am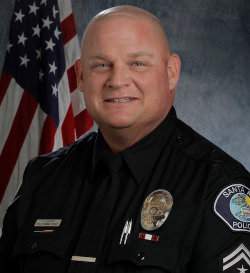 Donate Life California, which encourages people to register as organ donors, and the California Peace Officers' Memorial Foundation will hold a special Donate Life Rose Dedication Ceremony on Tuesday, October 28 at 10 a.m. honoring fallen law enforcement officers and their families. A beautiful rose in honor of the officers will be included in the Dedication Garden on the Donate Life Float in the 2015 Rose Parade, held in Pasadena on New Year's Day. The officers' families are invited to personalize the tribute.
Tuesday's ceremony will be held at the Orange County Sheriff's Training Academy, located at 15991 Armstrong Avenue, in Tustin, from 10 to 11 am.
The speakers at this event will include Santa Ana Police Cpl. Steve Ahearn (pictured above), who is in dire need of a new kidney.  Click here to read more about Ahearn's condition and his service to our community.
Other speakers at the event will include:
Charlene Zettel – CEO, Donate Life California
Tom Mone – Chairman, Donate Life Rose Parade Float Committee
Wayne Quint – Executive Director, California Peace Officers' Memorial Foundation
Kevin Mickelson – President, California Peace Officers' Memorial Foundation
Sheriff Sandra Hutchens – Orange County Sheriff's Department
Chief Sergio Diaz – Riverside Police Department
Corporal Steve Ahearn – Santa Ana Police Department, kidney transplant candidate
Officer Bobbie Norman – Los Angeles Police Department, kidney transplant recipient from wife andfellow officer Sara Faden
Officer Sara Faden – Los Angeles Police Department, living kidney donor to husband and fellow officer Bobbie Norman
Officer Ivan Sablan – San Diego Police Department, living kidney donor to Jeff Monis
Jeff Monis – San Diego Police Department, kidney transplant recipient from Officer Ivan Sablan
Contact: Brianne Mundy Page, Donate Life California, brianne@donateLIFEcalifornia.org, 619-940-7084/Michelle Mendoza, California Peace Officers' Memorial Foundation, cpomf@camemorial.org, 916-443-1797
Donate Life California is the nonprofit, state-authorized organ, eye and tissue donor registry. As a public service, theregistry assures all personal information is kept confidential and stored in a secure database, accessible only toauthorized organ and tissue recovery personnel at the time of an actual donation opportunity. The registry isadministered by Donate Life California and California's four nonprofit, federally designated organ recoveryorganizations: California Transplant Donor Network (CTDN), Lifesharing, OneLegacy and Sierra Donor Services. For more information about Donate Life California; how organ, eye and tissue donation saves and improves lives; and to sign up, please visit www.donateLIFEcalifornia.org or in Spanish at www.doneVIDAcalifornia.org.
Statistics from U.S. Health and Human Services: http://www.organdonor.gov/ about/data.html.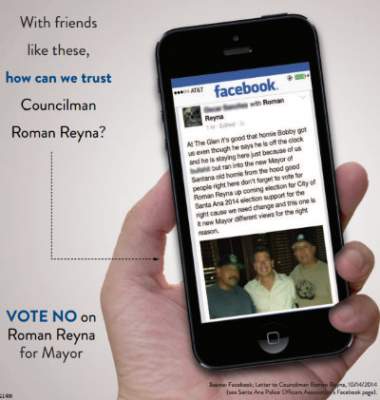 Just like that – Santa Ana Councilman Roman Reyna's political ambitions are done and his Mayoral campaign is finished.  The Santa Ana Police Officers Association (SAPOA) which represents the men and women of the Santa Ana Police Department, asked Reyna to explain himself after a picture of him posing with members of a criminal enterprise appeared on Facebook.  He didn't and now a mailer is going to be hitting our mailboxes – letting the voters know that Reyna "has a close relationship with these offenders."
In the words of SAPOA, "how can we trust Reyna to genuinely fight crime when he has ties with criminal elements?"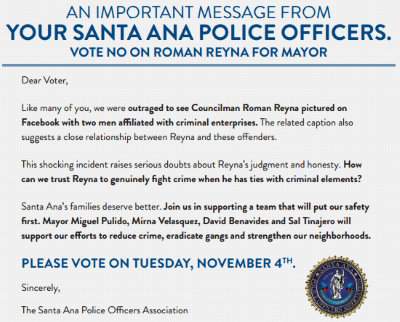 SAPOA also stated "this shocking incident raises serious doubts about Reyna's judgement and honesty."
Reyna has now become toxic to Team Santa Ana – including Council Members David Benavides and Michele Martinez as well as SAUSD School Board candidates John Palacio and Valerie Amezcua (whose father Al makes a living defending gang bangers and drug dealers in court).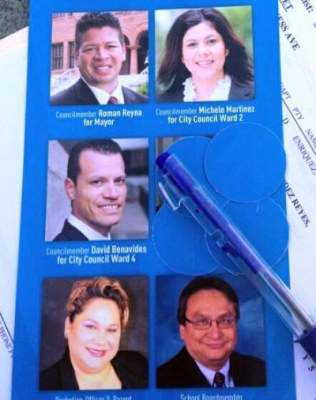 Shame on the OC Register and the Voice of OC for not writing about what has become the biggest scandal in Santa Ana politics this year.
For many of us the fall of the Roman empire did not come as a surprise.  He apparently dropped out of high school and reportedly his brother died in prison.  His Mayoral campaign was clearly an attempt by the gangs in our city to take over City Hall.   Thank God that Reyna blew it – and now he might well be facing a recall.