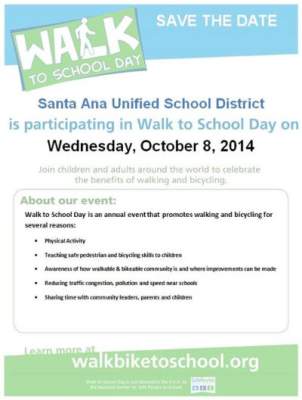 Contact: FOR IMMEDIATE RELEASE
Deidra Powell, Chief Communications Officer October 1, 2014
(714) 558-5555 Office/(714) 673-4995 Mobile
Media Advisory: Fitness and Safety Promoted at Walk-to-School Day – October 8, 2014
Event: Join the Santa Ana Unified School District (SAUSD), the Orange County Health Care Agency, the Santa Ana School Police and Santa Ana Police Department as they participate in the Annual International Walk to School Day. Students, parents, and community members will take part in this global event to bring awareness to the importance of practicing safe walking, biking, and traffic skills. In addition, participants will review ways to maintain secure routes before, during and after school hours throughout the city of Santa Ana, while promoting physical activity.
Walk to School day will be held throughout the city of Santa Ana; however, a program will only be held at Franklin Elementary School, located at 210 West Cubbon Street, immediately after the walk at 8:00 a.m. Specific routes are designated in the Franklin Elementary School neighborhood for elected officials, law enforcement and community members to participate with students and parents.
Who:
· Excited students throughout the city of Santa Ana will walk to school and demonstrate good physical activity and pedestrian safety.
· Walkers will be joined by parents, community members, teachers and staff
· SAUSD Board of Education Members
· Santa Ana School Police Department and Santa Ana Police Department
When: Wednesday, October 8, 2014
Walk commences at 7:40 a.m. Meeting points are as follows:
Ø Broadway St. and Russell Ave.
Ø Cubbon St. and Ross St.
Ø Cypress Ave. and Cubbon St.
Ø Richland St. and Sycamore St.
Ceremony begins at 8:00 a.m.
Where: Franklin Elementary School
210 West Cubbon Street
Santa Ana, CA 92701
Photo Ops: Students, parents, members of the SAUSD Board of Education, community members, and law enforcement walking. Program with excited children about pedestrian safety.
###
Orange County District Attorney Press Release
For Immediate Release: October 1, 2014
Case # 11CF3067
MAN CONVICTED OF SEXUALLY ASSAULTING TWO GIRLS BETWEEN AGES 9 AND 12 AFTER MEETING THEM AT CHURCH AND BEFRIENDING THEIR FAMILIES
SANTA ANA – A man was convicted today of sexually assaulting two girls between ages 9 and 12 after meeting them through church and befriending their families. David Elifar Verduzco, 35, Santa Ana, was found guilty by a jury of three felony counts of lewd acts upon a child under 14, one felony count of sexual penetration with a child 10 years or younger, one misdemeanor count each of child annoyance and disorderly conduct. The sentencing enhancement allegations for substantial sexual conduct with a child and lewd acts on multiple children were found true. He faces a maximum sentence of 30 years to life in state prison and mandatory lifetime sex offender registration at his sentencing on Oct. 17, 2014, at 9:00 a.m. in Department C-43, Central Justice Center, Santa Ana.
At the time of the crime, Verduzco was a parishioner of Agape House of Prayer in Anaheim, where he was a worship team leader and gave electronic keyboard lessons. The defendant met both of the victims and their families at the church and befriended them.
Between Jan. 1, 2011, and Sept. 27, 2011, Verduzco gave 12-year-old Jane Doe #2 keyboard lessons. During the lessons, the defendant kissed her on the cheek and inappropriately touched the victim's thigh. Verduzco also sent Jane Doe #2 inappropriate text messages to her cell phone.
On Aug. 28, 2011, after befriending 9-year-old Jane Doe #1's family, Verduzco began babysitting Jane Doe #1 and two other little girls while Jane Doe #1's parents were at the hospital. After putting the two youngest girls to bed, Verduzco digitally penetrated Jane Doe #1 in her bed.
The Tustin Police Department, who investigated this case, recovered a deleted video recording from the defendant's cell phone that was taping video while positioned underneath Jane Doe #2's skirt while she was singing and playing the keyboard.
Senior Deputy District Attorney Jana Hoffmann, formerly of the Sexual Assault Unit, and now Assistant Head of Court in the Harbor Justice Center, is prosecuting this case.
###
Tony Rackauckas, District Attorney
401 Civic Center Drive West
Santa Ana, CA 92701
Contacts:
Susan Kang Schroeder
Chief of Staff
Office: 714-347-8408
Cell: 714-292-2718
Farrah Emami
Director of Public Affairs
Office: 714-347-8405
Cell: 714-323-4486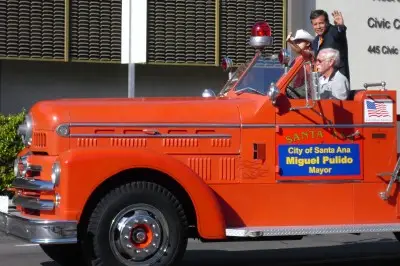 The Orange County Professional Firefighters Association has announced that they are endorsing Santa Ana Mayor Miguel Pulido in this year's November General Election.
This is the second major public safety endorsement that Pulido has picked up this week.  He was endorsed yesterday by the Santa Ana Police Officers Association, as we reported.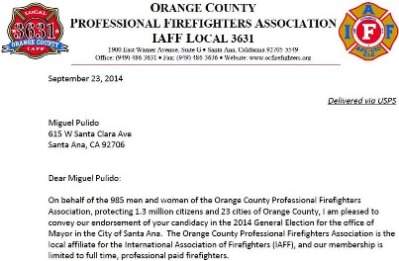 Public safety accounts for over half of the city's budget.  Most residents will agree that making our city safer is their top priority.
These associations will typically support their endorsed candidates with precinct walking and campaign mailers so these endorsements are much appreciated by the candidates.
Two candidates are running against Pulido in the General Election.  First term Councilman Roman Reyna is one of them and resident Mark I. Lopez is the other.
Since he was first elected to the Santa Ana City Council in 1986, Mayor Miguel Pulido has been a major force in the renaissance and economic revitalization of the City. He is currently serving his sixth term as Mayor and has proven to be a leader, not only within the community, but regionally and nationally. Mayor Pulido has focused his efforts on improving the quality of life for all Santa Ana residents. During his tenure the City has experienced a 58 percent reduction in crime, an increase in home values, a rise in the number of business licenses, an enhancement of the economic opportunities for the private sector, an overall revitalization of the City's infrastructure and an expansion in social and culture venues.
Click here to read the rest of Mayor Pulido's bio.
October 4, 2014
9:00 am
to
2:00 pm
34th State Senate District candidate Jose Solorio is inviting his friends and supporters to work on his campaign on "Super Saturday," Oct. 4, 2014, from 9 am to 2 pm, at1325 W. Warner Ave., in Santa Ana & 4714 Los Coyotes Diagonal, in Long Beach.
Activities will include precinct walks, phone banking, lawn sign pickups & deliveries.  Breakfast snacks and lunch will be provided.
Regular Phone Banking Schedule:
Now – October 31
Monday – Thursday from 5-9 p.m.
Regular Precinct Walk Schedule:
Now – October 31
Saturdays: 9 a.m. to 1 p.m. & 1 to 5 p.m.
Sundays: 1 to 5 p.m.
If you would like to RSVP, please contact Amalia Mejia at 714-557-2438 or via email at Amalia@SolorioForSenate.com.
FOR MORE INFORMATION:
Please call Solorio's office at (714) 557-2438, or visit www.solorioforsenate.com
PS. Save the Date! October 25th – Final Solorio Super Saturday walk before our big push for GOTV weekend! More details to come!
October 4, 2014
7:00 am
to
7:00 pm
October 5, 2014
7:00 am
to
7:00 pm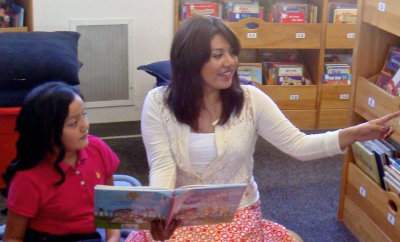 SAUSD School Board candidate Angie Cano has planned a precinct walk for this weekend as follows:
Saturday: 7:00 am-11:00 am and/or 5:00 pm – 7:00 pm
Sunday: 7:00 am-11:00 am and/or 5:00 pm – 7:00 pm
RSVP to Angie at (714) 957-5744 or by email to rcano@uci.edu