Responding officers located subjects on bicycles that answered the description given previously.
Extensive graffiti was observed by officers to the rear of the business and the subjects fled once they saw the police. Two of the subjects managed to make their escape but one individual abandoned his bike and was found hiding on a roof in a nearby condominium complex. When approached by officers that subject, later identified as Gustavo Estrella Rojo, 20, of Santa Ana jumped off the roof and continued to run.
Rojo was soon detained by other officers. Rojo, a Post-Release Community Supervision offender with outstanding no-bail warrants, was booked at Orange County jail on the warrants and charges of felony vandalism.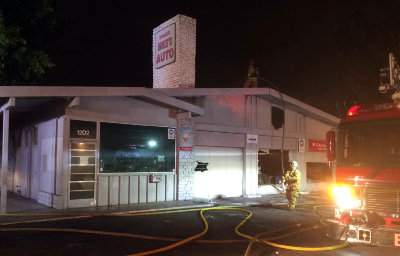 Mike's Automotive was badly damaged in a fire on Friday night at around 9:15 pm, according to the O.C. Register.
The Orange County Fire Authority Tweeted that they were able to knock down the fire with 27 firefighters, after the first alarm.
The fire apparently was caused by an electrical malfunction, according to Orange County Fire Authority Capt. Larry Kurtz.
The shop's garage was already completely burning when the first fire truck arrived.  Damage to the garage and a vehicle that was inside it as well as other contents is estimated at $300 K.
Mike's Automotive is located at 1202 E. Edinger Ave., in Santa Ana.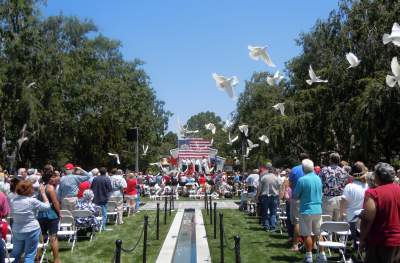 SANTA ANA
Fairhaven Memorial Park's 23rd Annual Memorial Day Service
Monday, May 25 at 10:30 a.m.
1702 E Fairhaven Ave., Santa Ana, CA 92705
More Information
SANTA ANA
Memorial Day Program at the Santa Ana Cemetery
Monday, May 25, 2015 at 10:00 a.m.
1919 Santa Clara Ave., in Santa Ana.
More Information
SANTA ANA
May 25 – Sep. 7
Free Admission to the Bowers Museum for Military Personnel and their families
2002 N. Main St. in Santa Ana
More Information
ANAHEIM
Memorial Day Services
Monday, May 25th at the Anaheim
Cemetery
11 am – Program
1400 E. Sycamore St., Anaheim, CA 92805
More Information
BREA
Veterans Field of Honor "Avenue of the Flags"
Monday, May 25th at Memory Garden
Memorial Park
11 am – Program
455 W. Central Ave., Brea, CA 92821
More Information
BUENA PARK
34th Annual Memorial Day
Monday, May 25th at Bellis Park
8 am – Breakfast • 10 am – Program
7171 8th Street, Buena Park, CA 90621
CYPRESS
Memorial Day Ceremonies
Monday, May 25th at Forest Lawn
Cemetery
10 am – Program
4471 Lincoln Ave., Cypress, CA 90630
More Information
FULLERTON
Honoring the Greatest Generation
Monday, May 25th at Loma Vista
Memorial Park
10 am – Program
701 E. Bastanchury Rd., Fullerton, CA 92835
More Information
IRVINE
May 24, at 4 p.m.
Northwood Gratitude and Honor Memorial
4531 Bryan Avenue, Irvine
More Information
IRVINE
May 25, from 10-11:30 a.m.
City of Irvine's Annual Memorial Day Ceremony
Colonel Bill Barber Marine Corps Memorial Park
4 Civic Center Plaza, Irvine. Guests are encouraged to park in the lot at Harvard Avenue and San Juan Street
More Information
LAKE FOREST
El Toro Memorial Park Tribute
Monday, May 25th at 11 a.m.
25751 Trabuco Road, Lake Forest.
More Information
LA PALMA
Memorial Day Ceremonies
Monday, May 25th at City's Eternal Flame
9:15 am – Program
La Palma Civic Center
7822 Walker St., La Palma, CA 90623
More Information
YORBA LINDA
Monday, May 25th at the Nixon Library
11 am – Wreath Laying Ceremony
1 pm – Memorial Day Commemoration
3:30 pm – Concert by Placentia Symphonic
Band
Richard Nixon Presidential Library &
Museum
18001 Yorba Linda Blvd.
Yorba Linda, CA 92886
More Information