---
July 30, 2014
6:30 pm
to
8:00 pm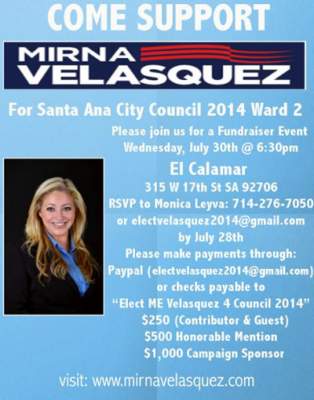 Mirna Velasquez, a candidate for Ward 2 on the Santa Ana City Council, is holding a fundraiser on Wednesday, July 30, 2014, at 6:30 pm, at El Calamar, located at 315 W. 17th St., in Santa Ana.  The event is hosted by Hugo Camacho.
Ruben Mata, a trainer, author, & coach, will be speaking at this event.
RSVP to Monica Leyva at 714-276-7050 or electvelasquez2014@gmail.com.
Velasquez is running against longtime incumbent Michele Martinez, who lost badly when she ran for the 69th Assembly District in 2012, although Martinez spent over $200K on her campaign.  She came in second to last.
July 27, 2014
11:00 am
to
3:30 pm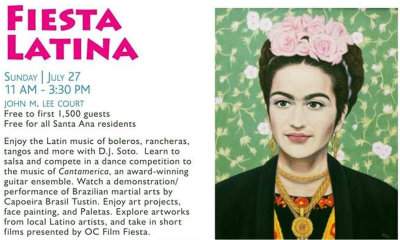 Bowers Museum's Fiesta Latina Celebrates Art, Culture, Community on July 27
Admission Free to First 1,500 Visitors and to All Santa Ana Residents
Santa Ana, Calif. — The Bowers Museum announces a new community program, Fiesta Latina, as part of the New California Treasures project supported by the James Irvine Foundation.
For one day only, Sunday, July 27, 2014, the Bowers will offer free admission to the first 1,500 visitors, plus free admission to all Santa Ana residents, to see its wonderful exhibitions and take advantage of this fun-filled day. The Fiesta Latina takes place from 11am-3:30pm at the Bowers Museum.
Visitors will enjoy the Latin music of boleros, rancheras, tangos and more with DJ Soto. Guests can learn how to dance salsa and compete in a dance competition to the live music of Cantamerica, an award-winning guitar ensemble, as they perform in the John M. Lee Court from 2 pm to 3:30 pm. A demonstration/performance of Brazilian martial arts will take place by Capoeira Brasil Tustin at 1:30 pm.
Families can enjoy art projects, face painting and Paletas (frozen fruit bars) in the historic Key Courtyard from 11 am until 3:30 pm. The Norma Kershaw Auditorium will feature film screenings presented by OC Film Fiesta from 11 am until 12:30 pm.
Fiesta Latina will also celebrate local Latino artists with a display of artworks by Matt Southgate, Marina Aguilera, Victor Lopez, Jenny Ygual, Abe Moya and Yenny Bernal, among others.
BOWERS MUSEUM is located in the heart of Southern California at 2002 North Main Street in Santa Ana, just one minute from the 5 freeway at the Main St. South exit, and just a few minutes from the 22, 55 and 57 freeways. Regular operating hours: Tuesday through Sunday, 10 AM to 4 PM. For more information, please visit www.bowers.org.
Address: 2002 North Main Street, Santa Ana, CA 92706
Tickets and Information | 714.567.3600
Group Tours: grouptours@bowers.org | 714.567.3680
Membership: membership@bowers.org | 714.567.3639
For more information, visit our website at www.bowers.org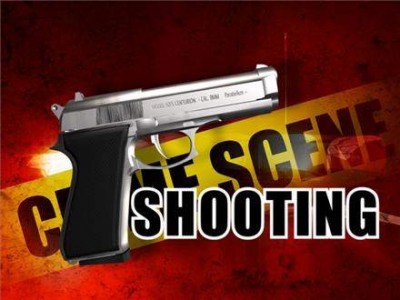 Police are investigating a Tuesday night shooting that left a 20-year-old man injured on the sidewalk at  the 1900 block of West Myrtle Street, as reported by the O.C. Register.  The victim was shot multiple times in the upper torso.
Eleven members of the West Myrtle Street Gang, who are active in that area, convicted after a two-year investigation by Santa Ana police and federal agents, under Racketeer Influenced and Corrupt Organizations Act (RICO) charges, in May of 2007, according to the Los Angeles Times. That was the first time that the RICO Act was used to bust local gang bangers.
The local drug trade in 2007 was controlled by Peter Ojeda, 64, whom federal authorities identified as the ranking Mexican Mafia soldier in Orange County. Ojeda oversaw many gangs including the West Myrtle Street Gang.
Santa Ana Council Member Michele Martinez has admitted to selling drugs when she was 17, and allegedly she too was working for gangs affiliated with Ojeda.
The L.A. Times also reported in 2007 that:
According to court records, the gang controlled an area between the 1900 and 2200 blocks of West Myrtle Street in Santa Ana, using violence and intimidation to protect its turf. Drug dealers were required to pay a tax to sell narcotics in the gang's territory. The gang, in turn, would pay the Mexican Mafia a tax for narcotics sales by its members.

Membership in the West Myrtle gang was by invitation only, according to court documents. Some members were "jumped in" by other gangsters who beat them up so the neophytes could prove their toughness. Others were given a pass if they grew up in the gang's territory or if they had family members in the gang.

When the arrests were announced in 2005, law enforcement officials said, the gang had been largely dismantled.
Apparently the West Myrtle Steet Gang is back in action.
| | | |
| --- | --- | --- |
| August 2, 2014 4:00 pm | to | August 3, 2014 1:30 am |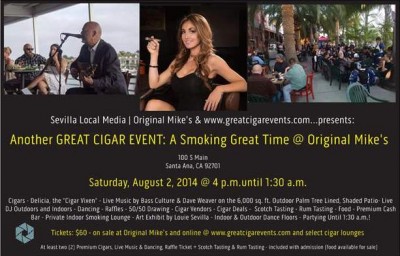 A Cigar Event will be hosted on August 2, 2014 at Original Mike's, located at 100 S. Main St. in Santa Ana.
The event will include Cigars, Live Music, Scotch Tasting, Rum Tasting, a live DJ, and Dancing.
The event will be held on their beautiful 6,000 sq. ft. outdoor patio.  There is also a private Smoking Lounge inside and a fully stocked Premium Bar.
Great food and Taco Man outside on Patio
Each guest will receive no less than two (2) Premium Cigars
Cigar Deals! Box purchases with free gifts
Rum Tasting by Nica Travel
Scotch Tasting
Live Music on the patio by Bass Culture and Dave Weaver (Jazz/Blues Guitarist)
Live DJ beginning at 8:00 p.m. outside
R&B Funk/Oldies Band inside – beginning at 8:00 p.m.
Artist – Louie Sevilla (art work on exhibit and for sale)
50/50 Raffle
Raffles for great merchandise – GRAND PRIZE is a 7 day/6 night Beach House stay in beautiful Nicaragua!
An FDA Comments table will also be set up; make your comment to the FDA on proposed harmful legislation before August 8, 2014.
September 12, 2014
September 13, 2014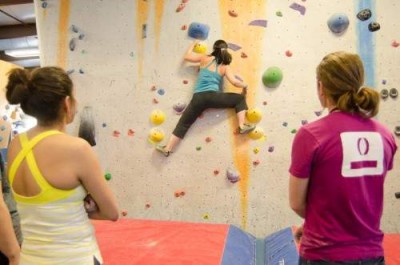 A one-of-a-kind ovarian cancer fundraising event is coming to the Orange Coast, specifically to Chris Sharma's Sender One Climbing, located at 1441 S Village Way, in Santa Ana. On Sept. 12 and 13, ovarian cancer survivors, their families and friends, and rock climbers of all ages (wee ones to seniors), abilities and skill levels will join together at the first annual Climb4Life California to climb and raise funds for ovarian cancer research and awareness initiatives.
This is the signature fundraising event for the HERA Women's Cancer Foundation, a national ovarian cancer nonprofit, which holds the Climb4Life in Colo., Boston, D.C., New York and now, Calif. The Santa Ana fundraising goal is $30,000.
The original Climb4LifeSM event was conceived in 2001, while HERA Founder, Sean Patrick was recovering from her seventh ovarian cancer surgery. She felt a rock climbing event would put a different face on ovarian cancer and get people involved in the cause. Realizing the Climb4Life would raise awareness in women who are healthy and active, Patrick saw greater potential: the event would enable women to be introduced to the sport of climbing, and its physical and mental benefits.
Whether you're a beginner climber or hiker, an experienced mountaineer, a courageous cancer survivor, a person whose life has been affected by cancer, or just someone looking for a weekend of fun – Climb4Life is for you! Turn your passion into action at HERA's very first Climb4Life California.
Because there is no effective early detection test for ovarian cancer, only 20 percent of cases are caught before having an reached an advanced stage. With your help, we can raise awareness about this serious, yet under-recognized disease that affects one in 72 women.
Sender One is the first indoor rock climbing facility owned and designed by the world's most iconic rock climber, Chris Sharma. Conveniently located at McFadden Place, Santa Ana, Orange County, CA. Sender One is easily accessible from the 55 and 5 freeways.  Click here for details about climbing at Sender One.
Learn more about the 2014 Climb4Life California.
Event Quick Links:
More C4L Info: