On November 1, 2014 at 9:10 p.m. Daniela Palacios, 44, of Anaheim was struck by a pick-up truck as she rode her bicycle near the intersection of La Palma Avenue and Magnolia Avenue in Anaheim.  After the collision, the pick-up fled the scene and the suspect remained at-large.  Palacios was transported to a local trauma center and succumbed to her injuries shortly after 1:00 a.m. on November 2, 2014.
Since the fatal hit and run, Anaheim Police Traffic Investigators have been working to locate the suspect vehicle and its driver.  With the assistance of Orange County Crime Stoppers, Junior Rigoberto Lopez, 30, of Buena Park was arrested this morning at the Anaheim Police Department.  He is suspected to be the driver of the vehicle that struck Palacios and he has been booked at our temporary detention facility for felony hit and run.  His bail is $50,000.
Lopez's vehicle, a white 2013 Ford F-150 extra cab, has been seized as evidence.  Investigators are not seeking additional suspects.  The case will be presented to the Orange County District Attorney's Office for filing consideration.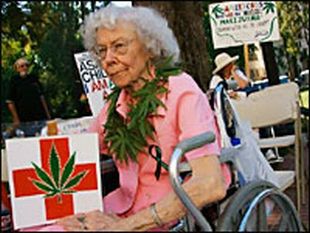 The City of Santa Ana has begun its application process for those interested in opening a medical marijuana collective in town, after residents voted Nov. 4 to legalize and tax medical marijuana shops, according to the O.C. Register.
Fees associated with the process include $1,690 for the registration application and $12,086 for the regulatory safety permit.  If you are lucky enough to win the City's marijuana dispensary lottery you will essentially have a license to print money.
Here is additional information including a link to the City's medical marijuana dispensary application:
Registration Application Packet - Now Available
Important Dates:
December 16, 2014 – Resolution adopting Medical Marijuana Registration Processing fee and Regulatory Safety Permit fee
December 17, 2014 - Release Medical Marijuana Registration application
January 15, 2015 – Medical Marijuana Registration application submittal deadline (5:00 p.m.)
February 5, 2015 - Hold Selection Process to determine qualified registration list
February 6, 2015 - Regulatory Safety Permit Application period begins
Additional Documents and Information:
For questions about the City's Medical Marijuana Ordinance or to sign up to receive future updates, please send an e-mail to:CannabisCollectives@Santa-Ana.org or call all (714) 647-5646. Please be sure to leave your contact information including your name, phone number and e-mail address in either the e-mail or message.
For more information click here.
December 18, 2014
5:00 pm
to
7:00 pm
The Spurgeon Social Justice Club is hosting a Noche de Justicia" on Thursday, December 18th, from 5-7 pm in the C-Quad at Spurgeon Intermediate School on Fifth and Fairview in Santa Ana, CA. It is a celebration of the Brown vs. Board of Education Decision that desegregated public education in the United States. The event is open to students, parents, SAUSD staff, and community members. There will be music, performances, and food. There is no charge for the event.
It will be a great event filled with Danza Azteca, great music from the Valley Marching Band (including Spurgeon students) and the Spurgeon choir, spoken word from the community, great speakers, and the unveiling of the mural "In Defense of Santa Ana" created by the Spurgeon students who attended the "History of Santa Ana" class this summer at Spurgeon. They will end the evening with a plate of tamales for everyone!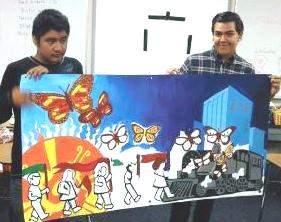 For further information you can also reach the teacher who is coordinating the event, Mike Rodriguez, at 310-916-8787.

Noche de Justicia Program
Aztec Dancers (15 minutes) 5:00-­‐5:15
Announcements: Child care and translation equipment (5 minutes) 5:15-­‐5:20
Introduction–Masters of Ceremonies, Olivia Fregoso and Blanca Moreira (5 min.) 5:20-­‐5:25

What is the Social Justice Club?
Why are we here?

Valley Marching Band (20 minutes) 5:35-­‐5:55
Spurgeon choir (20 minutes) 5:55-­‐6:15
Book Club Presentation: The Importance of Literacy 6:15-­‐6:25
Brown v. Board Video (10 minutes) 6:25-­‐6:35
Abraham Medina-­‐Keynote speaker (6:35-­‐6:50)
9. Unveiling of Mural–Diego and Virginia (10 minutes) 6:50-­‐7:00

History of Social Justice Club
Mural unveiling

Organizations of presentations–30 seconds each (10 minutes) 7:00-­‐7:10
Closing and Thank you's–Blanca and Olivia (10 minutes) 7:10-­‐7:20
Food and Tabling of organizations. The Strings segment of the Band will be performing. (30 minutes) 7:20-­‐close
Organizations/Clubs setting  up booths for the event:
Rainbow Warriors
Book Club
RAIZ
Senator Lou Correa
Parents with Civic Engagement Power/Padres con Poder Civico
Parent Institute for Quality Education
Santa Ana Boys and Men of Color
El Joven Noble-­‐Noble Youth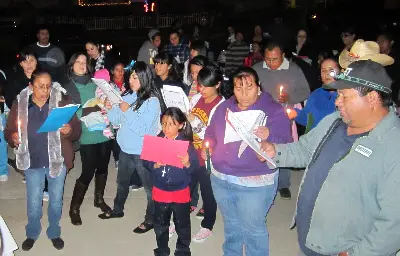 Residents in Santa Ana's Riverview Neighborhood have been making a difference in their community by celebrating the Posadas Navideñas for the past four years. The Posadas Navideñas is a traditional Mexican reenactment of the search for lodging that Mary and Joseph did nine days before the birth of Jesus.
The Gallardo family in Riverview schedules a night for the Posada to be held at their home, starting on the 16th of December and finishing on the 24th of December, which is called Noche Buena.
The founder of this event, Manuel Gallardo, along with his family and neighbors continue to preserve this wonderful and beloved holiday tradition and culture. This is their 7th year doing this wonderful event.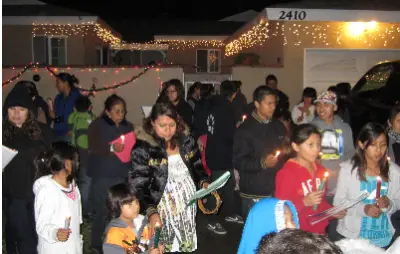 In Spanish, Las Posadas means "lodging" or "inn." Las Posadas reenact Mary and Joseph's cold and difficult journey from Nazareth to Bethlehem in search for shelter. Las Posadas are held on each of the nine nights leading up to Christmas, from December 16th to December 24th. The nine nights are said to represent the nine months that Jesus spent in Mary's womb.
Every night Las Posadas being with a prayer at 6:00 pm at a home. Three children are dressed with costumes of Mary, Joseph and the Angel. Everyone receives a candle and a booklet with prayers and songs. After the prayer, Mary, Joseph and the Angel lead the event as they go caroling/singing down the streets until they arrive at the home that will give them Posada. The home hosting the Posada will welcome people with a humble beverage/food/candy bags or piñata! They do this for 9 wonderful nights.