Franco's ex-girlfriend called the SAPD when he arrived, but he took off just before the cops showed up. He went back to the store at about 10:25 a.m. and this time he drove an SUV right through the front entrance of the store, breaking the glass windows and doors.
Franco was not supposed to be anywhere close to the victim because the SAPD had gotten a protective order against him, overnight. The victim was at the store at the time, which was closed. Fortunately no one was injured.
Though the ex-girlfriend was not hurt she was taken to a hospital with what was described as emotional trauma.
Franco tried to get away but was caught and arrested a few blocks from the scene, where he was bleeding from a minor injury.
Franco was arrested the night before at about 11:30 p.m. and charged with suspicion of malicious damage to property after the SAPD received a domestic violence call.
Franco had allegedly broken a bathroom window and tried to enter the home that his ex-girlfriend shared with a roommate. She had broken up with Franco recently after they were together for six years. The ex-girlfriend was afraid for her life due to Franco's outrageous alleged behavior.
Franco was booked again by the SAPD, after he allegedly drove his car into his ex-girlfriend's place of business, on charges of assault with a deadly weapon and violating a protection order.
City of Santa Ana
Community Alert: Mother of Samantha Runnion Advocates against Child Abuse at Prevention Workshop / Taller de Prevención de Abuso Infantil
The Santa Ana Public Library proudly presents an adult education workshop for preventing child abuse and abduction. The program will be presented by Erin D. Runnion, founder and director of The Joyful Child Foundation, a non-profit organization dedicated to the prevention of child sexual abuse and abduction.
In Memory of Samantha Runnion, this nonprofit organization is dedicated to preventing crimes against children through programs that educate, empower, and unite families and communities. Samantha was kidnapped and murdered in 2002. Erin is dedicated to ensuring Samantha's tragic death continues to be a catalyst to engage adults in our collective responsibility in protecting our nation's children.
As Co-Founder of The Joyful Child Foundation as well as The Surviving Parents Coalition (SPC), and a member of the Board of Directors for the National Association to PROTECT Children, Erin has become a highly respected spokesperson, spreading her message in frequent media appearances, keynote addresses, and presentations for both government and private organizations.
The workshop cultivates awareness of predatory crimes against children, offers specific steps to reduce the risk of victimization, and encourages ongoing prevention education in communities. The Joyful Child trains volunteer Ambassadors to give groups of parents and caring adults important information and strategies to help keep children safe from abuse and abduction through a 60-minute presentation titled, "Preventing Child Abduction."
Event details: Wednesday, May 11, 2016 from 6:30 p.m.-8:30 p.m.
The program will be presented in English, but Spanish translation will be available for those who request it. 2-hour parking validation will be available for program attendees. Space is limited, please arrive early.
The Santa Ana Public Library is located at 26 Civic Center Plaza, Santa Ana, CA 92701 (corner of Civic Center and Ross Street).
For more information, call (714) 647-5267 or keep up with the Santa Ana Parks, Recreation and Public Library on social media @SantaAnaPRCSA
+++++++++++++++++++++++++++++++++++++++++++++++++++++
Taller de Prevención de Abuso Infantil
La biblioteca pública de Santa Ana presentara un taller educativo para adultos sobre la prevención de secuestro y abuso de menores. El programa será presentado por Erin D. Runnion, fundadora y directora de The Joyful Child Foundation, una organización sin fines de lucro dedicada a la prevención del abuso sexual y secuestro infantil.
Esta organización fue fundada en Memoria de Samantha Runnion, y se dedica a la prevención de crímenes contra los niños por medio de programas que educan, fortalecen y unen a las familias y comunidades. Samantha fue secuestrada y asesinada en 2002. Erin se dedica a asegurar que la trágica muerte de Samantha continúe siendo el vínculo para que los adultos se comprometan colectivamente a proteger los menores de nuestro país.
Como co-fundadora de The Joyful Child Foundation y de la Alianza de Padres Sobrevivientes (Surviving Parents Coalition 'SPC') y de parte de la Junta Directiva de la Asociación Nacional para la Protección de los Niños, Erin se ha convertido en una respetable emisaria, difundiendo su mensaje frecuentemente por los medios de comunicación, en discursos y presentaciones tanto al gobierno como a organizaciones privadas.
El taller crea conciencia sobre los crímenes predatorios contra los niños, ofrece medidas para reducir el riesgo de victimización y fomenta la educación constante de prevención en las comunidades. El Joyful Child entrena a embajadores voluntarios para que ellos presenten a los padres y adultos interesados un programa de 60 minutos titulado, "Como Prevenir el Secuestro de Menores", y de esta forma compartan información importante y estrategias para ayudar a proteger a los menores
Detalles del Evento: miércoles, 11 de mayo del 2016 desde las 6:30 p.m. hasta las 8:30 p.m.
Este programa será en inglés. Habrá medios disponibles para aquellos que requieran transcripción en español. Se ofrecerá 2 horas de parqueo gratis para el público que asista al programa. El espacio es limitado, por favor llegue temprano.
La Biblioteca Pública De Santa Ana está situada en: 26 Civic Center Plaza, Santa Ana, CA 92701 (esquina de las calles Civic Center y Ross).
Para obtener más información, llame al (714) 647-5267 o manténgase al día de las actividades por medio de las redes sociales de Parques, Recreación y Biblioteca Pública de Santa Ana @SantaAnaPRCSA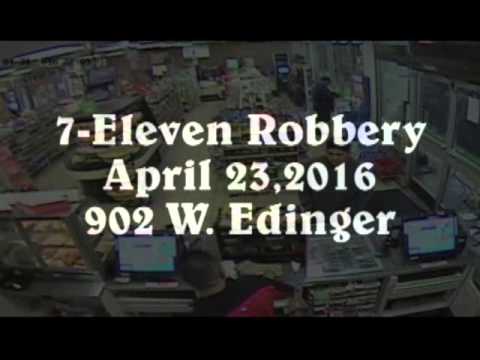 Santa Ana Police Department
Advisory: SAPD Detectives request public's assistance in identifying two suspects involved in 7-Eleven robbery series
Arrested: Miguel Baltazar Ledesma (23), two counts of robbery
Suspect 2: Male, Hispanic, 20's, 6'0, 200 lbs., brown hair, brown eyes
Suspect 3: Male, Hispanic, 20's, 5'8- 5'10, heavy set, brown hair, brown eyes
Location of occurrence:
• 818 W. 17th Street (3 occurrences)
• 2112 S. Main Street (4 occurrences)
• 902 W. Edinger Avenue (2 occurrences)
• 1441 W. MacArthur Blvd. (1 occurrence)
• 2910 S. Main Street (1 occurrence)
Since April 9th there have been eleven robberies of 7-Eleven stores in the city of Santa Ana, the last occurring on April 26th. From surveillance footage, it appears there are a total of four suspects involved in the series. Three suspects operate with one suspect approaching the clerk and simulating a weapon in his waistband. While this suspect is with the store clerk, the remaining suspect(s) standby as lookouts.
On 4/24/16 Miguel Baltazar Ledesma was arrested while loitering outside the 2112 S. Main Street Store. The clerk recognized him from a prior robbery and called 911. Police units responded and took Ledesma into custody. It is believed the store clerk prevented another robbery from occurring. Ledesma has been charged in connection with two incidents in the series, with video surveillance from both incidents corroborating his involvement.
Anyone with information is asked to please contact Orange County Crime Stoppers at 1-855-TIP-OCCS.
City of Santa Ana, Downtown Orange County
Community: 2016 Cinco de Mayo Festival / Festival Anual de Cinco de Mayo
The City of Santa Ana's 17th Annual Cinco de Mayo Festival is taking place on Saturday, April 30th and Sunday, May 1st. The festivities begin at 12 noon each day on Fourth Street in historic Downtown Santa Ana. This annual tradition celebrates Santa Ana's vibrant Mexican culture with live entertainment including top level performers each night, delicious food, affordable shopping, interactive art activities, and exciting carnival rides for children of all ages. The Festival will also include the "Plaza de la Cultura," a visual art display commemorating the history of Cinco de Mayo as well as a beer garden (for adults only) to enjoy cold, refreshing beverages.
On Saturday, April 30th, the highly popular Kevin Ortiz will be performing on the Festival's main stage. Kevin Ortiz is a Latin pop singer from Pasadena, California. At a young age, he began playing accordion, learning polkas, rancheras, and conjuntos. Recipient of the Univision Youth Revelation Award, Kevin Ortiz is a talented artist you will not want to miss!
Joining Kevin Ortiz on the main stage on Saturday April 30th, are the beautiful and talented Hermanas Arteaga. Back by popular demand, this musical trio from the great state of Zacatecas will bring the best of Mexican regional music to this year's event. The sisters will be performing with the ever popular Banda La Nueva Aventura.
On Sunday, May 1st, soulful singer Diana Reyes's performance will be the Festival's culminating act. Born in Puerto de la Paz in Baja California, Reyes recorded her first norteño record at the age of eight. Performing throughout the early '90s, she gained the attention of important figures in the regional Mexican music world. Her first full-length record entitled A Todo Norte opened doors all throughout her family's home state of Sinaloa. Her third gold record was released in 2007, entitled Te Voy a Mostrar. Come see this powerhouse singer light up the stage!
The Cinco de Mayo event is produced by the City of Santa Ana. Booths and sponsorship opportunities are still available. For more information, please contact the Parks, Recreation and Community Services Department at (714) 571-4227.
+++++++++++++++++++++++++++++++++++++++++++++++++++++
Festival Anual de Cinco de Mayo
La Ciudad de Santa Ana celebrara el 17o Festival Anual de Cinco de Mayo el Sábado, 30 de Abril y el Domingo 1ro de Mayo, 2016. Las festividades darán inicio ambos días a las 12 del medio día en la Calle Cuatro en el centro histórico de Santa Ana. Esta tradición anual celebra la vibrante cultura Mexicana en Santa Ana con entretenimiento incluyendo artistas de primer nivel cada noche, comida deliciosa, artesanías tradicionales, y actividades interactivas incluyendo grandes juegos mecánicos para niños de todas las edades. El Festival también incluirá la "Plaza de la Cultura", una exhibición de artes visuales conmemorando la historia de Cinco de Mayo, así como un jardín de cerveza (abierto sólo para adultos) para disfrutar bebidas refrescantes.
El sábado, 30 de Abril, el altamente popular Kevin Ortiz se presentará en el escenario principal del Festival. Kevin es una cantante de pop latino de Pasadena, California. Desde joven, Kevin comenzó a tocar el acordeón, aprendiendo polkas, rancheras y conjuntos. Recipiente del Premio Revelación Juvenil de Univisión, Kevin Ortiz es un talentoso artista que usted no se querrá perder!
También en el escenario principal el sábado 30 de abril, regresaran la bellas y talentosas Hermanas Arteaga. Nuevamente por demanda popular, este trío musical del gran estado de Zacatecas nos trae lo mejor de la música regional mexicana. Las hermanas se presentarán con la Banda La Nueva Aventura.
El domingo 1 de Mayo, la espectacular cantante Diana Reyes cierra con broche de oro el Festival. Nacida en La Paz, Baja California, Reyes grabó su primer disco de música norteña a la edad de ocho años. Durante los años 90, ella ganó la atención de importantes figuras de la música regional mexicana. Su primer disco, titulado A Todo Norte, abrió puertas en Sinaloa, el estado de su familia. Su tercer disco de oro fue lanzado en 2007, titulado Te Voy a Mostrar. ¡Venga a ver a esta cantante iluminar el escenario en esta celebración!
El evento Cinco de Mayo es producido por la Ciudad. Para más información sobre el evento, favor de llamar a la Agencia de Parques, Recreación y Servicios Comunitarios al (714) 571-4227.