A Fundraising Fair is being held today from 8 a.m. to 2 p.m., to benefit the Availa-Espinoza family who lost their home and a car January 7th on Camile Street due to a fire.
Mexican food and snacks are now being sold until 2 p.m,, today at Russell Elementary School, 600 South Jackson Street, Santa Ana, CA, 92704.  For more information please call Erika 1714.788.1737 or Adalid 1714.273.0563.
If you happen to have a car you are selling and you wish to donate, you are wonderful!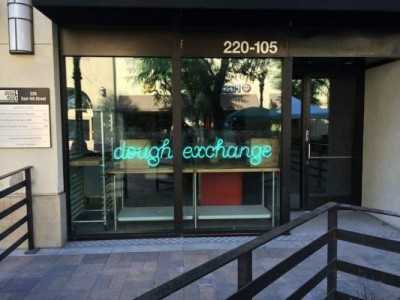 "In late 2014, Jason Quinn, the chef-owner of The Playground, opened Dough Exchange next door to his critically acclaimed restaurant in downtown Santa Ana. But the Fourth Street bakery has struggled to generate foot traffic and sales, forcing Quinn to toss out freshly baked goods and breads every night," according to the OC Register.
In attempt to resuscitate the storefront, Quinn told the Register on Thursday that he's going to offer baked goods for free starting Friday. Dine-in customers will be limited to two items such as doughnuts, pastries, and meat pies. In exchange for the free food, Quinn is asking customers to fill out a form that provides him feedback on what they like and dislike about the food and prices.
This is pretty hilarious considering that Quinn famously has rejected all input from his customers!  His philosophy has been that he is the Chef and you will eat what he cooks the way he cooks it – your opinion be damned.
In one glaring example a customer of Quinn's overpriced Playground restaurant gave it a 1-star rating on Yelp with a comment that was over five paragraphs long, touching on everything from the forced 3% gratuity, refusal to cook Kobe Beef well done, chef's family walking around "trying to be restauranteurs," and soggy french fries, according to Food Beast.  Quinn's response was to tell the customer to fu*k off and burn in hell!
So why is the Dough Exchange failing?  Simple – the DTSA gentrifiers have never cared about the people who already live here in Santa Ana.  They market only to outsiders – and they charge too damn much!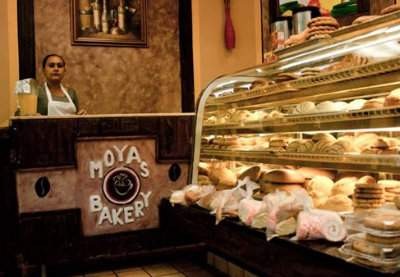 The Dough Exchange cannibalized what used to be Moya's Bakery – a panaderia where you could buy pan dulce for about fifty cents a piece.  The owner of Moya's Bakery was pushed out by the landlord so that Quinn could sell overpriced donuts.  Karma!
So what about the food at the Dough Exchange?  Here are what Yelpers have to say about it:
This place sucked! Stale donuts with no flavor. if I can give no stars I would. no more spending money in a sucky a*s place.
I had a salted caramel glazed doughnut and coconut cream coated croissant. Each was tough. The big boo boo was not checking the condition of the underside of the croissant. It was black. Not dark golden, not brown. But black. Charred and bitter.
I ordered the pumpkin spice and the donut holes. The pumpkin spice was okay, a light pumpkin flavor but cold and a little dry. The donut holes turned out to be very dry and very cold. I don't expect it to be hot and fresh out of the oven, but it tasted like it's been sitting around for too long. The donuts were also too dense. I like my donuts light and fluffy.

Oh sigh. Quite disappointed…

Tried their ham and white cheddar cheese croissant which was mediocre at best. Lacking in cheese and ham was a thin strip and not like normal ham in a croissant. So stingy!! Also tried their lemon thyme donut and I tasted the light lemon (which was good) but not the thyme. The dough itself was bad bad bad. Not cakey like those typical blueberry donuts and not light/airy like normal donuts. The result? A dry donut that resembles a Chinese donut (for my Asian peeps who know what I'm talking about).

I was excited to see hear about another premium doughnut shop in Orange County. In fact I have never been to Downtown Santa Ana until I sopped here. And I was greatly disappointed. We ordered 2 of each (we had high hopes) but each doughnut was extremely dry (even the ones they just dressed) they were tasteless. The doughnut holes were awful (were they leftover from yesterday)? My husband who will eat anything did not care for them (WOW).. Apparently burger talent does not transfer to doughnuts.
I perused their doughnuts and pastries and ended up with the pizza doughnut. The dough was like a doughnut with some cheese melted on top. Even warmed up, I wasn't a fan. There wasn't actually any marinara to go with it. Maybe that should be a side to enhance the pizza flavor, but as is, it's simply dough greased by the hardened cheese on top.
Ordered the ham and cheese croissant, which was too salty. Lemon bar was too sweet and not tarty enough, the carne asada empanada was ok. All three items for $14.
I was expecting these donuts to be light and fluffy. They were a bit too chewy for me. Also I felt these donuts are overpriced.
I've tried 4 different items so far. While I'm sure they've used top quality ingredients that cost a premium (and result in a premium price for everything), unfortunately I can't really say that I can taste the premium-ness. The descriptions of the items sound great like Vietnamese Coffee Glazed Donut and Yuzu Jelly Filled but everything has been a little disappointing compared to the anticipation. For instance, I really couldn't taste anything in the Vietnamese Coffee donut that would suggest its namesake. And I'm Vietnamese! D'oh!
Sweets have been a disappointment overall, the cookies besides the somoa have been very dense, donuts are eh but also very dense, croissants are not flaky enough and again very dense. the ham n cheese croissant was tasty but like a brick.
Overpriced food?  The food isn't good?  Recipe for FAIL!
I can't wait for the Orange County Health Department to visit the Dough Exchange.  Just look at the health violation record of the Playground:
The Playground was inspected on June 27, last year, and issued these health violations:
Improper Warewashing/Inoperable Dishmachine
Evidence of Vermin Activity/Presence of Animals/Insects
Lack of/Unsanitary/Condition Walls/Floors/Ceilings
Improper Holding Temperatures of PHF
Unsanitary Equipment/Utensil/Linen/Plumbing
A previous inspection of the Playground on Jan. 30, last year, resulted in these health violations:
Eating/Drinking/Smoking in Food Storage/Prep Areas
Evidence of Vermin Activity/Presence of Animals/Insects
Improper Food Storage/Receiving
Inoperable/Lack of Food Thermometer
Lack of/Unsanitary/Condition Walls/Floors/Ceilings
Uncleanliness of Premises/Trash Storage
Improper Holding Temperatures of PHF
Unsanitary Equipment/Utensil/Linen/Plumbing
If you are going to overcharge for food at least serve it in a clean and healthy setting!
So is the failure of the Dough Exchange a hint of things to come in DTSA?
February 1, 2015
11:00 am
to
4:00 pm

MEDIA ADVISORY
WHAT: Asian Lunar New Year Free Family Festival at Bowers Museum Sunday, Feb. 1
WHEN: Sunday, February 1, 11am-4pm
WHERE: Bowers Museum, 2002 N. Main St., Santa Ana, CA 92706
COST: Free For All
ADDITIONAL INFORMATION:
Celebrate the Year of the Ram at the Bowers Museum's Asian Lunar New Year Free Family Festival on Sunday, February 1 from 11am to 4pm.
This fun and family-friendly celebration is free and open to the public, and features Lion Dancers, live classical Asian music by the Pacific Symphony String Quartet, Chinese folk dances, traditional dances of Vietnam, a Qi Gong demonstration, youth art activities, storytelling with Miss Cynthia, a special presentation of the children's book The Year of the Sheep with author Oliver Chin and more.
The celebration will also include free admission to the Bowers Museum and the Bowers Kidseum, and the first 1,500 attendees will receive free admission to the specially-ticketed China's Lost Civilization: The Mystery of Sanxingdui exhibit.
The Bowers Museum is located at 2002 N. Main St. in Santa Ana. For more information, visit www.bowers.org or call 714-567-3600.
###
Sunday, February 1, 2015
Asian Lunar New Year Family Festival
Norma Kershaw Auditorium
11 AM             Oliver Chin: A presentation on his children's book, The Year of the Sheep (For Sale in the Gallery Store)
Margaret and Cleo Key Courtyard
11 AM – 4 PM:
Face painting, art projects (Dragon Puppets and Brush Painting) Fortune and Almond cookie tasting
12:00 PM         Lion Dance by JC Culture Troupe
12:20 PM         Sunshine Academy String Ensemble play "Jasmine" and "Joy of Spring," under the guidance of Mr. Leonard Liu
12:45 PM         Traditional dances of Vietnam
1:00 PM           Pacific Symphony String Quartet plays classical Asian music
1:40 PM           Hoang Hac Khi Cong by Golden Crane Qi Gong. Based on 4 basic movements: press, circle, stress and release
2:00 PM           "Changing  Faces," by Master Zhong Wei Qi
2:30 PM           Dance Impressions Production performs Chinese Folk Dances
Free admission to specially-ticketed exhibition China's Lost Civilization is limited to the first 1,500 people on a first come, first served basis. Each recipient must be present. Tickets can be picked up in the North Wing. Free admission is also included to Bowers Museum permanent exhibitions including: Sacred Realms: Temple Murals by Shashi Dhoj Tulachan; Spirits and Headhunters: Art of the Pacific Islands; California Legacies: Missions and Ranchos; Vision of the Shaman, Song of the Priest; California: The Golden Years; Ancient Arts of China and limited engagement exhibition Heavenly Horses, which closes February 22.
KIDSEUM is FREE and OPEN 10 AM – 4 PM
HIGH-TECH & INTERACTIVE FOCUS on ART & ARCHAEOLOGY
Art Projects: Mini Paper Lanterns, Year of the Ram Head Pieces, and Face Painting
Join Master Storyteller, Miss Cynthia, for presentations at:
10:30 AM        Mr. Seahorse  Written by Eric Carl
11:30 AM        Coyote and the Colorado River (Native American)
1:30 PM           How the Tortoise Got Her Shell (The Greedy Farmer)
3:30 PM           The Big Turnip (Russian)
ORANGE COUNTY DISTRICT ATTORNEY PRESS RELEASE
January 23, 2015
Case # 12ZF0147
MAN SENTENCED TO 40 YEARS TO LIFE IN PRISON FOR SHOOTING-MURDER OF HIS FATHER IN IRVINE HOME
SANTA ANA – A man was sentenced today to 40 years to life in state prison for murdering his father by shooting him in their Irvine home. Steven Joseph Bruno, 23, Irvine, was found guilty by a jury Oct. 29, 2014, of one felony count of second degree murder with a sentencing enhancement for the personal discharge of a firearm causing death.
At approximately 9:00 p.m. on Aug. 30, 2012, Steven Bruno murdered his 60-year-old father Ernest Bruno in the victim's home by shooting him in order to take the victim's car and money to visit a girlfriend in another state. The defendant locked his father's body in a bedroom and fled the scene in the victim's car. Steven Bruno drove his father's car to Colorado.
At approximately 1:30 p.m. the following afternoon, family members went to the victim's home and called 911 after discovering a large pool of blood inside. The Irvine Police Department (IPD) responded to the scene and located the victim in the locked bedroom.
IPD provided a description of the defendant and the vehicle to law enforcement partners. At approximately 5:30 p.m. on Aug. 31, 2012, the Logan County Sheriff's Department in Colorado arrested Steven Bruno during a traffic stop.
During the sentencing today, a victim impact statement letter was submitted to the court by the victim's sister. She said in part, "Today, I am haunted by images of Ernie's murder – knowing that the last thing Ernie saw was his son Steven walking toward him, pointing a gun at his head and pulling the trigger." She went on to say, "I believe Steven is a menace to society and should never be set free. In 38 years, he will be a year younger than my brother Ernie was when Steven murdered him. Steven should not be allowed to live out his life in freedom when he robbed my brother Ernie of that opportunity."
IPD investigated this case. Senior Deputy District Attorney Cynthia Herrera of the Homicide Unit prosecuted this case.
###
TONY RACKAUCKAS, District Attorney
Susan Kang Schroeder, Chief of Staff
Office: 714-347-8408
Cell: 714-292-2718