SANTA ANA – A man is scheduled to face trial tomorrow for stabbing and murdering his former girlfriend in a Santa Ana alleyway. Luis Antonio Garcia Morales, 26, Santa Ana, is charged with one felony count of special circumstance murder by lying in wait with a sentencing enhancement for the personal use of a deadly weapon. If convicted, Morales faces a sentence of life in state prison without the possibility of parole. Opening statements are scheduled to begin tomorrow, Oct. 30, 2014, at 9:00 a.m. in Department C-35, Central Justice Center, Santa Ana.
On the evening of Nov. 13, 2012, Morales is accused of arranging to meet with 21-year-old Maria Isabel Cerrillo, with whom he had a previous romantic relationship, by pretending to be someone else. The defendant is accused of meeting his ex-girlfriend in an alleyway in Santa Ana, murdering her by stabbing her repeatedly, and fleeing the scene. The victim died from multiple stab wounds.
Morales was arrested on the morning of Nov. 15, 2012, by Santa Ana Police Department officers, who investigated this case.
Senior Deputy District Attorney Jim Mendelson of the Homicide Unit is prosecuting this case.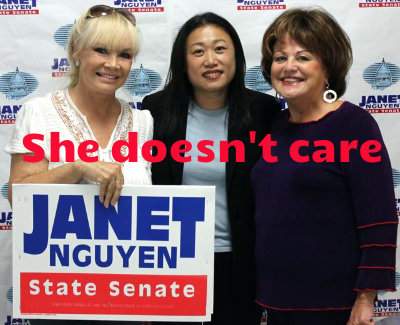 MEDIA ADVISORY: October 28, 2014
Contact: Lynn Nguyen, 714-488-6506
Vietnamese community blasts Janet Nguyen for poverty wages
Caregivers who make just $9.30/hour will hold street demonstration in Westminster on Thursday
On October 30th, the Vietnamese community along with other members of the homecare community, are coming together to demand that Orange County Supervisor Janet Nguyen help local caregivers, seniors, and people with disabilities. Nearly 200 Vietnamese community members will gather to protest poverty wages for caregivers and demand better from our elected leaders.
In Orange County there are as many as 18,000 caregivers through the state's In-Home Supportive Service program (IHSS), 4,000 of whom are Asian women, many are Vietnamese. Homecare workers provide care to our county's most vulnerable residents, yet they are only paid $9.30/hour and haven't seen a raise in over five years. Caregivers are asking the county for a seventy-five cent raise, which would be reimbursed by the state of California.
Caregiving is the fastest-growing occupation in the country and yet homecare workers in Orange County barely make above minimum wage. Nationwide many homecare workers, the majority of whom are women and people of color, depend on public assistance. In Orange County, Janet Nguyen and the Board of Supervisors have offered caregivers a raise of just twelve pennies and is refusing to invest available state and federal dollars into care for local residents in need.
Who: Vietnamese community members, local caregivers and homecare clients
What: Street demonstration urging County Supervisor Janet Nguyen to support caregivers, seniors and people with disabilities
Where: 9200 Bolsa Avenue, Westminster CA 92683
When: October 30, 2014, 11:30am – 1:30pm
Why: To challenge Janet Nguyen to stand with caregivers and agree to the seventy-five cent raise—12 pennies is not enough!
###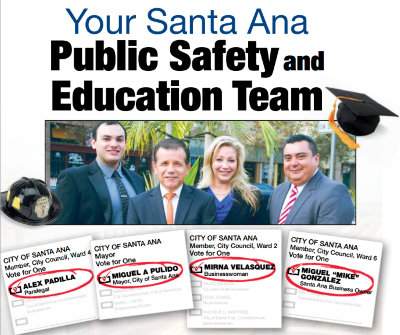 The election is almost upon us and the latest news is not good for the splintered Team Santa Ana.  A major labor association has conducted secret polling that shows that Santa Ana Mayor Miguel Pulido's team of City Council Candidates are in a dead heat with the splintered Team Santa Ana.
This is huge news as the Team Pulido slate, which includes Ward 2 candidate Mirna Velasquez, Ward 4 candidate Alex Padilla and Ward 6 candidate Miguel Gonzalez, has much less political experience than the longtime Council incumbents they are facing off against – Councilman David Benavides, Councilwoman Michele Martinez and Mayor Pro Tem Sal Tinajero.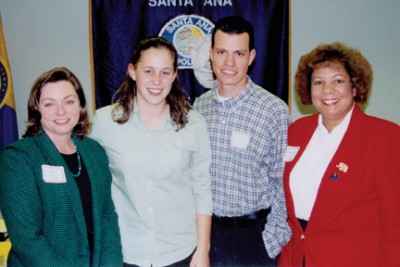 Benavides and company face an uphill battle as the toxic mess that is their pal Roman Reyna has tanked his Mayoral Campaign by getting caught posing in a Facebook picture with seasoned cholos who the police described as "members of a criminal enterprise."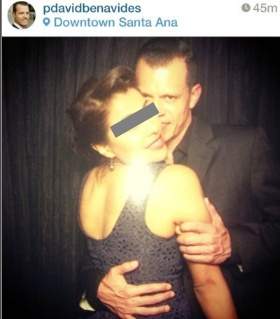 Benavides himself appears to be living La Vida Loca.  He walked away from his wife and family during his ill-fated Mayoral campaign in 2012.  And now he can't stop posting pictures of himself with his wife's replacement.  He gets creepier by the minute.
The Benavides of old arrived her as a youth minister with his young public school teacher wife.  The new Benavides is promoting a 4 am closing time for bars and wants to build more high density apartment building.  What the heck happened to this guy?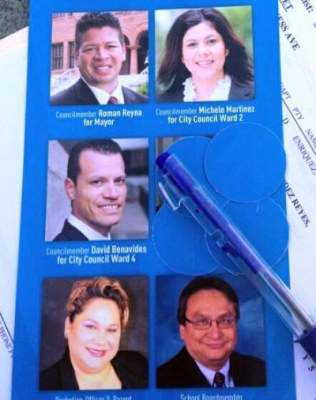 The ridiculous Team Santa Ana slate is now missing Tinajero as he cut bait and turned on Benavides.  That might have salvaged Tinajero's political career.  He once wisely did the same thing to his former SAUSD School Board colleague Nativo Lopez.  The voters went on to recall Lopez but Tinaajero survived that fiasco and ended up on the City Council.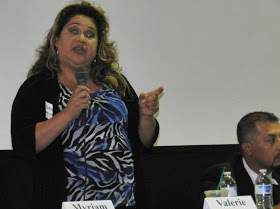 The rest of Team Santa Ana is equally ridiculous.  It includes terrible SAUSD School Board candidates John Palacio – who fashions himself the political guru of Team Santa Ana; and Valerie Amezcua, the daughter of gang banger lawyer Al Amezcua, who himself lost badly to Pulido in the 2010 Mayoral contest.
I can't imagine how Palacio and Amezcua will beat the far better qualified SAUSD School Board candidates – Dr. Rigo Rodriguez and retied teacher Shuntele Andrews.  In fact I think even dark horse candidate Angie Cano has a good chance of winning as her base of voters is exactly the voter demographic expected to turn out in November.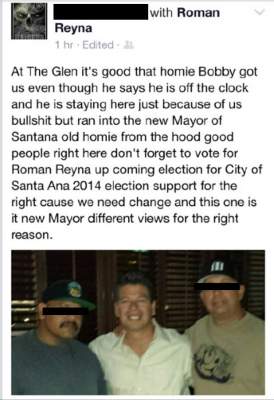 So what about Pulido?  The poll in question shows him far ahead of Reyna, who is now quite possibly facing a post-election recall.
Polls can be unreliable but we do know that the voter turnout in June's Primary Election was very low.  I suspect the November General Election will be equally low turnout.  The voters will skew older and more conservative, which bodes very ill for Team Santa Ana.
Team Pulido on the other hand is positioned to win.  Their base is just about guaranteed to turn out to vote.
ORANGE COUNTY DISTRICT ATTORNEY PRESS RELEASE: October 27, 2014
TONY RACKAUCKAS, District Attorney
Case # 12HF0258
FORMER TEACHER SENTENCED TO THREE YEARS AND FOUR MONTHS IN PRISON FOR UNLAWFUL SEX ACTS WITH 14-YEAR-OLD FEMALE HIGH SCHOOL STUDENT AFTER SNEAKING HER PAST HIS ROOMMATES
SANTA ANA – A former JSerra Catholic High School (JSerra) teacher was sentenced Friday to three years and four months in state prison and mandatory lifetime sex offender registration for engaging in unlawful sex acts with a 14-year-old girl he met at the school. Ricardo Aldana, 40, was found guilty by a jury on May 29, 2014, of three felony counts of lewd acts upon a child.
At the time of the crime, Aldana was a Spanish teacher and boys' soccer coach at JSerra in San Juan Capistrano. He met 13-year-old Jane Doe while she was a student at the school. He befriended the victim and gained her trust.
In June 2011, after Jane Doe had turned 14 years old, Aldana inappropriately massaged Jane Doe's shoulders over her clotheswhile they were alone in his classroom. He continued to groom the victim by frequently exchanging text messages and speaking with her on the phone.
In September 2011, Aldana picked up Jane Doe in his vehicle near her home while the victim's mother was out of town. He drove the victim to his Dana Point residence and snuck her into his bedroom to avoid being seen by his roommates. Aldana engaged in substantial unlawful sex acts with Jane Doe. At approximately 4:00 a.m., Aldana dropped Jane Doe off at her home.
The Orange County Sheriff's Department began investigating this case after an out-of-state honors academic camp instructor became suspicious after overhearing statements by the victim to other students.
During the trial, a prior victim testified that she had engaged in sexual intercourse with the defendant multiple times when she was 16 years old and the defendant was in his early twenties. The jury heard the defendant begging Jane Doe in a recorded call to not to discuss anything about the case.
During the sentencing, Jane Doe delivered an impact statement to the court. She said in part, "Aldana stole my innocence. He stunted my emotional and spiritual growth. He showed me humanity's deepest evil. I have come to the realization that this pain I feel will never go away. Forever I will have to live with the fact that I was raped by my Spanish teacher, 23 years older than me, when I was only 14."
Senior Deputy District Attorney Jana Hoffmann, formerly of the Sexual Assault Unit, and now Assistant Head of Court in the Harbor Justice Center, prosecuted this case.
###
TONY RACKAUCKAS, District Attorney
Susan Kang Schroeder, Chief of Staff
Office: 714-347-8408
Cell: 714-292-2718