Contact: Deanne Thompson, Orange County Health Care Agency, (714) 834 7649, dthompson@ochca.com
(Santa Ana, CA) — Emergency planning is well underway in Orange County in response to the 2014 Ebola outbreak in the West African countries of Guinea, Liberia and Sierra Leone.
The risk of contracting Ebola in the United States and in Orange County is very low; there are currently no cases of Ebola in California and no suspect cases. County officials are reviewing communicable disease response plans and conducting drills to exercise those plans.
County officials have developed extensive preparedness procedures in coordination with other local, state and national partners, including the Orange County Health Care Agency, Orange County Sheriff's Department and its Emergency Management Division, John Wayne Airport,the California Department of Public Health (CDPH), the national Centers for Disease Control and Prevention (CDC) and the Los Angeles County Public Health Lab, which is a CDC-designated site with the capability to test for Ebola.
"Health and public safety are our first priority and we are prepared to respond if necessary,"Board of Supervisors Chairman Shawn Nelson said.
In the event of a case in Orange County, the county's emergency operations plan will be used to ensure a coordinated approach to monitoring and limiting the spread of the disease. The Health Care Agency routinely works closely with hospitals, health care providers, law enforcement and other government entities to ensure that Orange County is well prepared for any public health threat, including Ebola.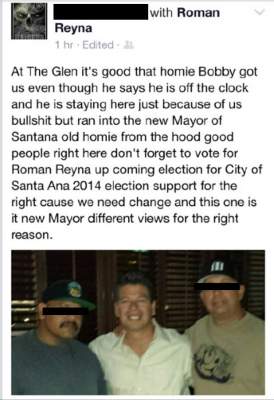 The OC Register and the Voice of OC continue to ignore the biggest story in the 2014 Santa Ana City Council races as the Santa Ana Police Officers Association (SAPOA) has asked Santa Ana Councilman Roman Reyna to explain why he was caught posing with hard core gang bangers in a picture that was circulated on Facebook.
Today SAPOA sent a second letter to Reyna, stating "In no way was this letter meant to be judge and jury of your active participation or association with known criminal enterprises however as supporters of your 2012 City Council campaign we felt strongly that a formal response was necessary."  
Reyna of course did not respond to SAPOA's first letter, which was sent to him on October 14, 2014.  SAPOA wrote in their follow-up letter, "It appears that you have chosen not to respond, which is disheartening.  In a time when anti-law enforcement sentiment is at an all-time high, your silence on the issue has destroyed our confidence in your leadership and support for Santa Ana law enforcement personnel who put their lives on the line for your community every day."
SAPOA also stated that "The Santa Ana Police Officers Association no longer supports you in your role as a member of the Santa Ana City Council and Public Safety Committee."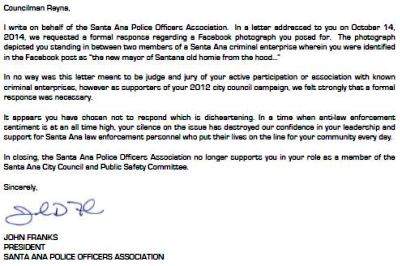 This comes on the heels of the announcement today that two more law enforcement associations, the Anaheim Police Association and the Peace Officers Research Association of California, have both rejected Reyna – and they have also declined to endorse Councilwoman Michele Martinez and Councilman David Benavides.
In a city where fighting and lowering crime remains the top issue for most residents, these developments bode ill for Team Santa Ana – Benavides, Reyna and Martinez.  No wonder Mayor Pro Tem Sal Tinajero cut bait and left their teetering alliance.
Reyna's campaign for Mayor is effectively over.

Orange County District Attorney Press Release
For Immediate Release: October 21, 2014
"THE BOW STREET RUNNERS" BAND FORMED BY MULTI-PLATINUM ARTISTS IN ORANGE COUNTY TO END MODERN-DAY SLAVERY
*DONATING ARTISTS INCLUDE STAN FRAZIER AND MURPHY KARGES OF SUGAR RAY, RYAN SHUCK AND AMIR DERAKH OF JULIEN-K (FORMERLY ORGY), AND LEWIS RICHARDS (PRODUCER OF DIRTY HEADS AND SLIGHTLY STOOPID)
SANTA ANA – "The Bow Street Runners" featuring Stan Frazier and Murphy Karges of Sugar Ray, Ryan Shuck and Amir Derakh of Julien-K (formerly Orgy), Lewis Richards (producer of Dirty Heads and Slightly Stoopid), Quinn Archer and the Outriders, Griffith Clawson, Foster, Sabrina Hong, Tony Howell (Parkaimoon), and Damon Tucker (Parkaimoon) will perform live on Friday, Oct. 24, 2014, at Chapman University at 5:30 p.m. The concert is free for everyone to attend at Chapman University's Attallah Piazza. Free concert shirts will be handed out to the first 700 guests.
The name for the band is derived from the first police force established in Bow Street, London in the early eighteenth century. In 1753, upon the recommendation of the magistrate and novelist Henry Fielding, more forces were created in London. The Bow Street Runners served writs and arrested offenders on the authority of the magistrates, traveling nationwide to apprehend criminals.
"It is an honor to have world-renowned recording artists so generously donate their time and talent to bring awareness to the abuse inflicted by these modern-day slave owners," stated District Attorney Tony Rackauckas. "This is a perfect example of how each one of us can utilize our unique talents to end modern-day slavery."
"As a father of a 9-year-old daughter, I cannot fathom that this type of abuse is happening right in our backyard. We must do all we can to stop the exploitation of children and young women," stated Frazier. "I am looking forward to joining law enforcement, community organizations, and elected officials to raise awareness of this problem and to end modern-day slavery."
For more information on the concert and on the day-long symposium, please visit: http://bit.ly/BeatHEAT.
STAN FRAZIER
Frazier is the co-founder, songwriter, and drummer for Sugar Ray. Frazier continues to create new music with his partner musician Steve Fox. Together they have songwriting and producing credits with acts such as Ashlee Simpson (5 million sold) and The Dirty Heads (500,000 sold). Frazier was a key member for artist development for Dirty Heads, one of the most prominent new reggae groups. Frazier is also the winner of BBC America's "Chef Race: U.K. vs. U.S." during the November "Sweeps" in 2012, winning the top prize of $100,000. In this reality TV cooking show challenge, Frazier was one of only two non-trained chefs on the show. He successfully defended America against Britain's culinary heavy hitters in a cross-country trek. The show was also produced by mega-chef Jamie Oliver and viewed by audiences in several different countries around the globe. Frazier is a successful restaurateur and is co-owner of Sgt. Pepperoni's in Newport Beach.
MURPHY KARGES
Songwriter and bassist Karges co-founded Sugar Ray. For 24 years, Karges toured, wrote, recorded, appeared in TV and films, and performed for fans all over the globe. He is the president of Suspended Sunrise Recordings with Aaron Rodgers of the Green Bay Packers. Karges is also a writer, directing many music videos and commercial spots through his company Karges Media. Some of his clients include Universal Music Group, Quiksilver Performance, Roush, The National Academies, the City of Newport Beach, and numerous non-profit organizations like the John Wayne Cancer Foundation and Children's Hospital of Orange County.
RYAN SHUCK
Shuck is a singer, songwriter, guitarist, composer, and producer. He is a founding member of the successful industrial rock band Orgy. He previously wrote songs for Korn. Currently, he is the leader of an electronic rock band called Julien-K and is the backing vocalist of Dead By Sunrise, an alternative rock side project of Chester Bennington of Linkin Park. Shuck is also a co-owner of popular Orange County restaurants including three Gypsy Den Restaurants, Lola Gaspar, and PBLC/TRDE.
AMIR DERAKH
Derakh is a guitar and synthesizer player, composer, and world-renowned producer. He is a founding member and guitarist in the multiplatinum group Orgy. Derakh was also a guitarist for Rough Cutt & Jailhouse. Currently, he is the guitarist for the bands Julien-K and Dead by Sunrise (the latter featuring Chester Bennington of Linkin Park on lead vocals). He also co-owns the popular Orange County restaurants Lola Gaspar and PBLC/TRDE.
LEWIS RICHARDS
Richards is the co-writer/producer of the #1 rock song "Lay Me Down," which enjoyed the longest stint atop of the Billboard Rock Songs chart for an independently released title in history. Richards has worked with artists such as Sublime, Slightly Stoopid, The Dirty Heads, Micah Brown, and music legends, The Police, Sting, and R&B diva Mary J. Blige. Richards owns 17th Street Recording Studio and plays in and produces for many bands including Micah Brown and Quinn Archer and the Outriders.
QUINN ARCHER AND THE OUTRIDERS
Archer is a musician heralded by Vanity Fair magazine as "Britain's next great soul singer" and made her debut solo performance joining Jon Bon Jovi, Taylor Swift, and James Blunt at Prince William's Winter Whites Gala at Kensington Palace. Archer's EP "Dark Places" debuted in July 2014.
GRIFFITH CLAWSON
Griffith Clawson is a 17-year-old University of California, Los Angeles student and a local Orange County musician who performs in various venues in Orange County and has donated proceeds from concerts to 44 Women for Children, an auxiliary of Orangewood Children's Foundation.
GINO DEFALCO
After completing his tour of duty in the US Army, DeFalco used his GI Bill to go to college. He graduated from Southern Illinois University with a Bachelor's Degree in Biological Sciences and a minor in Chemistry. He moved to Belize one week after graduation and, after a short time, he started playing music at the biggest clubs and resorts in Belize (including Fido's) for nine years before moving to Sunset Beach, California, and playing regularly around Orange County.
FOSTER
Foster is an American rock musician and star on the Discovery Channel show, Bering Sea Gold. His music has been described as, "With a pop-centric sound as infectious as Coldplay, Foster ties in elements of southern rock and soul through mellow guitar work closer to John Mayer's later sound, tying it nicely together with upbeat tempos reminiscent of a Train hit backed by retro bass lines that break the mold of today's repetitious radio ear worms." Foster has played in various worldwide and has produced two albums.
SABRINA HONG
Hong is a 21-year-old singer, songwriter, and a classically trained pianist who has performed in various venues in Southern California. Hong is a senior on the competition cheerleading squad at the University of Southern California, preparing to attend law school. Hong was formerly an intern at the OCDA Public Affairs Unit and for the Office of U.S. Representative Ed Royce.
TONY HOWELL
Howell is a guitarist, singer, and founding member of Parkaimoon with Damon Tucker. Parkaimoon has released two EPs and three full albums and plays approximately 100 shows a year. Howell also performs at various venues as an acoustic act and is a member of the U2 tribute band One.
DAMON TUCKER
Tucker is a guitarist, bassist, singer, and founding member of Parkaimoon with guitarist Tony Howell. Tucker is also bassist for Gino DeFalco and is a member of the U2 tribute band One. He currently serves as OCDA Supervising Investigator.
###
Tony Rackauckas, District Attorney
401 Civic Center Drive West
Santa Ana, CA 92701
Contacts:
Susan Kang Schroeder
Chief of Staff
Office: 714-347-8408
Cell: 714-292-2718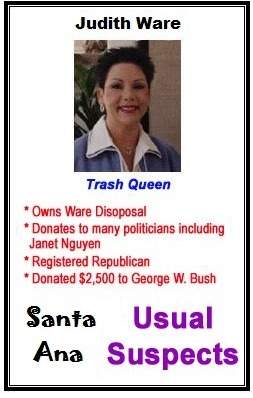 Orange County District Attorney Press Release
For Immediate Release: October 20, 2014
JUDITH WARE, OF WARE DISPOSAL, TO SPONSOR "BE-WARE OF H.E.A.T." LUNCHEON AT 2ND ANNUAL "KEEP CALM AND BEAT H.E.A.T. ROCKING & RALLY"
SANTA ANA – The Orange County District Attorney's Office (OCDA) and the Orange County Human Trafficking Task Force (OCHTTF) are pleased to announce that Judith Ware and Ware Disposal Company, Inc. (Ware Disposal) will sponsor the "Be-Ware of H.E.A.T." luncheon at the 2nd annual "Keep Calm and Beat H.E.A.T. Rocking and Rally" at Chapman University. The luncheon will feature elected officials, dignitaries, VIP guests, and a question and answer session with three brave human trafficking survivors.
Ware Disposal
Ware Disposal's operations in Orange County provide vital services to homes, schools, businesses, and government facilities. Ware Disposal is committed to lessening their carbon footprint, running a fleet of 100 compressed natural gas trash hauling trucks. The central focus at Ware Disposal is making communities cleaner, safer, and stronger. The family-owned company embraces the opportunity to be a good corporate citizen and is involved in local community and business organizations in addition to making donations and offering support services to a variety of local events.
"As a businesswoman, I have made it a priority to get people back on their feet. As a mother, it's unthinkable to me that children would be exploited and abused in this despicable way. We all need to do what we can to end modern-day slavery," said Judith Ware.
"Judith Ware has been a dear friend for a very long time, and she truly cares about her community. She started a successful business by selling her own car to purchase a garbage truck and built her business from the ground up. Judith is an inspiration to others, especially women. Her life story shows what can be accomplished when a woman is determined and hardworking. I am honored that she wants to give back. If we are going to end modern-day slavery, we must have this type of public-private partnership," said Orange County District Attorney Tony Rackauckas.
In April 2013, OCDA formed the HEAT Unit, which targets perpetrators who sexually exploit and traffic women and underage girls for financial gain, including pimps, panderers, and human traffickers. Often the perpetrators are gang members and/or career criminals. To date, the Unit has completed the prosecution of 56 cases with a 100 percent conviction rate, with sentences up to life in state prison.
The second annual "Keep Calm and Beat H.E.A.T Rocking & Rally" at Chapman University is part of an initiative to go after perpetrators of human exploitation and trafficking with vigor, while taking a comprehensive approach to solve the problem and bring community stakeholders together. The symposium will be held to increase community awareness of human exploitation and trafficking, the second-largest criminal enterprise in the nation behind narcotics trafficking and a $32 billion a year industry. A free rock concert will immediately follow with Director of Music Stan Frazier, of Sugar Ray, at the helm. Frazier is coordinating a group of local musicians who donate their talent and services.
Co-Sponsors
The OCDA would like to thank the co-sponsors for this event.
Elected Officials
U.S. Representative Ed Royce, Chairman of the House Foreign Affairs Committee; U.S. Representative Loretta Sanchez; State Board of Equalization Vice Chair Michelle Steel; Senator Lou Correa; Senator Mimi Walters; Assemblyman Donald Wagner; Chairman of the Orange County Board of Supervisors Shawn Nelson; Orange County Supervisor Janet Nguyen; Rancho Santa Margarita Councilman Steve Baric; Diamond Bar Councilwoman Ling Ling Chang; and Anaheim Councilwoman Kris Murray, Chairman Scott Baugh of the Republican Party of Orange County
Law Enforcement
OCDA Tony Rackauckas, his Chief of Staff Susan Kang Schroeder, Anaheim Chief of Police Raul Quezada, The Orange County Human Trafficking Task Force, The Association of Orange County Deputy Sheriffs, Anaheim Police Department, Brea Police Department, California Highway Patrol, Costa Mesa Police Department, Cypress Police Department, Fountain Valley Police Department, Garden Grove Police Department, Huntington Beach Police Department, Irvine Police Department, Laguna Beach Police Department, La Habra Police Department, La Palma Police Department, Newport Beach Police Department, Orange Police Department, Orange County Sheriff's Department, Placentia Police Department, Santa Ana Police Department, Tustin Police Department, and Westminster Police Department.
Non-Profits
Community Service Programs, Inc.; The Pepper Project; Casa Youth Shelter; iSanctuary; Get Safe USA; The Joyful Child Foundation; Magnolia Baptist Church; Human Trafficking Survivors Foundation; Parents of Murdered Children; United Nations Association of Orange County; Cottonwood Church; Free Them; Justice & Trafficking Initiative at Saddleback Church; Junior League of Orange County, California, Inc.; and Women's Transitional Living Center.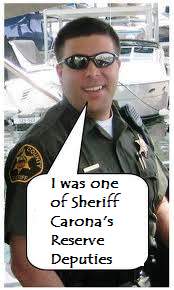 Private Citizens
Mike Schroeder; Jon Fleischman and FlashReport; Kris Plourde and N-Effect Productions; Julianna Nagle, a 17-year-old Girl Scout Ambassador who raised over $500 for this event; Gibson Dunn and Crutcher, LLP; Newmeyer & Dillon, LLP; and Robinson Calcagnie Robinson Shapiro Davis, Inc. Anyone interested in becoming a co-sponsor can contact Chief of Staff Susan Kang Schroeder at (714) 347-8408 or email beatHEAT@da.ocgov.com.
Additional sponsors will continue to be announced. Tax deductible event sponsorship opportunities are available at $500, $1,000 and $5,000 levels. All event sponsors will receive two tickets to the luncheon event and access to the VIP area at the concert, as well as program recognition. Supporters who contribute on the $1,000 and $5,000 levels will be given full table sponsorship, as well as additional tickets to the VIP areas of the concert. All funds will go to underwrite the event and any money left over will go directly to help victims.
For more information, and to RSVP on Facebook, please visit http://bit.ly/BeatHEAT.
###
Tony Rackauckas, District Attorney
401 Civic Center Drive West
Santa Ana, CA 92701
Contacts:
Susan Kang Schroeder
Chief of Staff
Office: 714-347-8408
Cell: 714-292-2718