WESTMINSTER, Calif. – Two men were sentenced today formoney laundering and conspiring to sell counterfeit electronic goods valued at nearly $3 million, including counterfeit iPhones and iPads, following an investigation by the U.S. Immigration and Customs Enforcement's (ICE) Homeland Security Investigations (HIS) and the Fountain Valley Police Department (FVPD).
Eyad Najjar was arrested by HSI special agents and detectives from FVPD on Dec. 10, 2014. Rateb Najjar surrendered himself to the court on Dec. 17, 2014.
Rateb Najjar and Eyad Najjar were convicted of and Shaerzadeh is accused of the following:
Between January 2010 and December 2011, the defendants owned and operated businesses in Fountain Valley that sold counterfeit merchandise imported from Hong Kong and China. They conspired to import and distribute counterfeit trademark items, possessed counterfeit trademark items offered for sale, and engaged in money laundering conspiracy involving numerous registered trademarks including Apple, Nokia, Blackberry, Ferrari, Nintendo, and Google.
The defendants laundered over $5 million and possessed counterfeit merchandise with a retail value of more than $2.8 million including cell phones, tablet computers, portable media players, and game consoles.
"People who sell counterfeit products are essentially stealing from legitimate companies, along with the men and women who depend on those businesses for their livelihoods," said Claude Arnold, special agent in charge for HSI Los Angeles. "Beyond undermining our economy and robbing Americans of jobs, the sale of product knockoffs often goes to fund other illegal enterprises. Counterfeit goods trafficking poses a threat on many levels and we're determined to see that those who attempt to profit from it pay a price for their crimes."
In November 2011, an investigation began after officers with U.S. Customs and Border Protection intercepted a shipment of tablets that were found to contain counterfeit software. During the investigation, FVPD and HSI seized a significant volume of counterfeit merchandise from the various businesses tied to the defendants, along with more than $500,000 in cash inside a safe and funds seized frommultiple bank accounts.
The International Anti-counterfeiting Coalition estimates that product counterfeiting costs U.S. businesses $200 to $250 billion a year in lost revenue.
FVPD and HSI investigated this case. Deputy District Attorney Chuck Lawhorn of the Major Fraud Unit/White Collar Crime Team is prosecuting this case.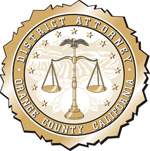 ORANGE COUNTY DISTRICT ATTORNEY PRESS RELEASE
Case # 15NF2343
Date: August 28, 2015
TWO MEN AND TWO WOMEN CHARGED WITH PIMPING AND PANDERING SEVEN WOMEN OUT OF THREE DIFFERENT BROTHELS DISGUISED AS MASSAGE PARLORS
SANTA ANA, Calif. – Two men and two women were charged today with pimping and pandering seven women out of three different brothels disguised as massage parlors in Orange County. Ion Bivol, 27, Huntington Beach, Hien Thi Nguyen, 26, Huntington Beach, Ngoc Bao Nguyen, 25, Santa Ana, Quynh Thuy Nguyen, 30, Santa Ana, are each charged with seven felony counts of pimping, and seven felony count of pandering. If convicted, the defendants each face a maximum sentence of 14 years in state prison. The defendants are being held on $500,000 bail and must prove the money is from a legal and legitimate source before posting bond. Bivol, Quynh Nguyen, and Hien Nguyen were arraigned today and are scheduled for pre-trial on Sept. 3, 2015, at 8:30 a.m. in Department N-3, North Justice Center, Fullerton. Ngoc Nguyen is scheduled to be arraigned at a later date.
Circumstances of the Case
The defendants in this case are accused of being pimps who exploits women for financial gain. Between December 2014, and August 2015, Hien Nguyen is accused of owning and operating brothels disguised as massage parlors in Midway City, Anaheim, and Westminster. Bivol is accused of managing the Anaheim brothel, Quynh Nguyen is accused of managing the Westminster brothel, and Ngoc Nguyen is accused of managing the Midway City brothel. Bivol, Quynh Nguyen, and Ngoc Nguyen are accused of knowingly creating work schedules for the victims to engage in commercial sex acts at their assigned brothel. The defendants are accused of pimping the victims by accepting payments from sex purchasers to derive support from the earnings and proceeds made from the victims engaging in commercial sex. Hien Nguyen is accused of collecting the money from her co-defendants managing the different brothels.
Members of the Orange County Human Trafficking Task Force (OCHTTF) and the Orange County District Attorney's (OCDA) Office work proactively to protect women and minors from falling victim to commercial sexual exploitation. This case was investigated by the Huntington Beach Police Department (HBPD) with assistance from the Anaheim Police Department (APD) and OCHTTF, a partnership between APD, California Highway Patrol, Federal Bureau of Investigation, HBPD, OCDA, Orange County Sheriff's Department, and community and non-profit partners.
Deputy District Attorney Brad Schoenleben of the HEAT Unit is prosecuting this case.
Proposition 35 and HEAT
In November 2012, California's anti-human trafficking Proposition 35 (Prop 35) was enacted in California with 81 percent of the vote, and over 82 percent of the vote in Orange County, to increase the penalty for human trafficking, particularly in cases involving the trafficking of a minor by force.
A component of the OCHTTF is the OCDA's Human Exploitation And Trafficking (HEAT) Unit, which targets perpetrators who sexually exploit and traffic women and underage girls for financial gain, including pimps, panderers, and human traffickers. The HEAT Unit uses a tactical plan called PERP: Prosecution, to bring justice for victims of human trafficking and hold perpetrators responsible using Prop 35; Education, to provide law enforcement training to properly handle human trafficking and pandering cases; Resources from public-private partnerships to raise public awareness about human trafficking and provide assistance to the victims; and Publicity, to inform the public and send a message to human traffickers that this crime cannot be perpetrated without suffering severe consequences.
Under the law, human trafficking is described as depriving or violating the personal liberty of another person with the intent to effect a violation of pimping or pandering. Pimping is described as knowingly deriving financial support in whole or in part from the proceeds of prostitution. Pandering is the act of persuading or procuring an individual to become a prostitute, or procuring and/or arranging for a person work in a house of prostitution.
Penal Code Section 236.1 defines:
(1) "Coercion" includes any scheme, plan, or pattern intended to cause a person to believe that failure to perform an act would result in serious harm to or physical restraint against any person; the abuse or threatened abuse of the legal process; debt bondage; or providing and facilitating the possession of any controlled substance to a person with the intent to impair the person's judgment.
(2) "Commercial sex act" means sexual conduct on account of which anything of value is given or received by any person.
(3) "Deprivation or violation of the personal liberty of another" includes substantial and sustained restriction of another's liberty accomplished through force, fear, fraud, deceit, coercion, violence, duress, menace, or threat of unlawful injury to the victim or to another person, under circumstances where the person receiving or apprehending the threat reasonably believes that it is likely that the person making the threat would carry it out.
(4) "Duress" includes a direct or implied threat of force, violence, danger, hardship, or retribution sufficient to cause a reasonable person to acquiesce in or perform an act which he or she would otherwise not have submitted to or performed; a direct or implied threat to destroy, conceal, remove, confiscate, or possess any actual or purported passport or immigration document of the victim; or knowingly destroying, concealing, removing, confiscating, or possessing any actual or purported passport or immigration document of the victim.
(5) "Forced labor or services" means labor or services that are performed or provided by a person and are obtained or maintained through force, fraud, duress, or coercion, or equivalent conduct that would reasonably overbear the will of the person.
(6) "Great bodily injury" means a significant or substantial physical injury.
(7) "Minor" means a person less than 18 years of age.
(8) "Serious harm" includes any harm, whether physical or nonphysical, including psychological, financial, or reputational harm, that is sufficiently serious, under all the surrounding circumstances, to compel a reasonable person of the same background and in the same circumstances to perform or to continue performing labor, services, or commercial sexual acts in order to avoid incurring that harm.
(i) The total circumstances, including the age of the victim, the relationship between the victim and the trafficker or agents of the trafficker, and any handicap or disability of the victim, shall be factors to consider in determining the presence of "deprivation or violation of the personal liberty of another," "duress," and "coercion" as described in this section.
###

Social Services Agency's No Wrong Door Policy
By O.C. Supervisor Lisa Bartlett
Orange County's Social Services Agency (SSA) has developed the "No Wrong Door Service Delivery Model," which aims to connect the community with the services and resources that they need. Any individual or family that enters a county facility to seek help will be served regardless of which door they entered. To ensure that those seeking help have a supportive and quality experience, SSA utilizes the 3Cs of the customer service delivery model: Collaboration; Coordination; and Communication.
SSA staff has developed a "No Wrong Door" logo, a poster to be placed in SSA regional and satellite Offices, and an intranet resource page so staff can easily access other agency and outside information. With the implementation of the No Wrong Door Service Delivery Model, SSA staff will be able to properly assist the community and link them to the resources they need.
The Orange County Social Services Agency (SSA) operates under the policy direction of the Orange County Board of Supervisors and the California Departments of Social Services and Health Services. SSA is responsible for planning, implementing, and operating many of the social services programs provided by the County of Orange. Funding for programs comes from state, federal, and county sources. Please use this website to learn more about us and how we may be of service to you.
SSA prepares an annual Business Plan document to guide us in our provision of services. The Business Plan contains the Vision, Mission, and Goals for SSA, which are highlighted below. The Business Plan also contains strategies that we will pursue to achieve those goals. The Agency Fact Sheet is an excellent snap shot of our operations whereas the Budget will provide you a quick glimpse of the budget and fiduciary responsibility for SSA.
ORANGE COUNTY DISTRICT ATTORNEY PRESS RELEASE
Case # 11CF2327
Date: August 28, 2015
TWO MEN SENTENCED TO LIFE IN PRISON FOR SEXUALLY ASSAULTING THREE YOUNG BOYS
SANTA ANA, Calif. – Two men were sentenced today to life in state prison sexually assaulting three young boys. Jimmy Ernest Hutton, 27, Ooltewah, Tennessee, was found guilty by a jury on April 27, 2015, of five felony counts of lewd acts on a child under 14, one felony count of attempted lewd act upon a child under 14, and sentencing enhancement allegations for committing lewd acts upon multiple victims and substantial sexual conduct with a child. Hutton was sentenced today to 30 years to life in state prison and mandatory lifetime sex offender registration.
Dustin James Elwood, 24, Tustin, was found guilty by a jury on April 27, 2015, of 15 felony counts of lewd acts on a child under 14, one felony count of using a minor for sex acts, one felony count of possession and control of child pornography, and sentencing enhancement allegations for committing lewd acts upon multiple victims and substantial sexual conduct with a child. Elwood was sentenced today to 45 years to life in state prison and mandatory lifetime sex offender registration.
Beginning in September 2008, Elwood gained access to three young boys, ages 7 to 11 years old, who were family friends. He sexually assaulted each of the boys on more than one occasion.
Elwood took at least one photograph of himself sexually assaulting one of the children. In August 2011, the victim's mother discovered a flash drive belonging to the defendant and found the pornographic photograph. Elwood was also in possession of several non-sexual photographs of him posing with as-of-yet unidentified children ranging in age from approximately 7 to 17 years old. The victim's mother immediately contacted the Tustin Police Department (TPD). Elwood was arrested Aug. 23, 2011.
In the course of the investigation, TPD determined Hutton also gained access to the victims through Elwood. Hutton and Elwood are accused of being friends prior to the sexual assaults. Hutton is accused of sexually assaulting two of the boys. Hutton inappropriately hugged another 12-year-old boy, with whom he was acquainted.
Hutton moved to Tennessee and was arrested Oct. 11, 2011, by detectives from TPD, Hamilton County Sheriff's Office, and Investigators from the Orange County District Attorney's Office. He was extradited to Orange County on Oct. 13, 2011, to face the sexual assault charges.
At the time of his arrest, Elwood was employed in Costa Mesa at Sky High Sports, a trampoline venue that caters to children.
At the sentencing today, one of the victims, a mother, and a grandmother to one of the victims, delivered impact statements to the court pursuant to Marsy's Law. The victim spoke about how the defendants stole his innocence and they deserved the maximum sentence. A mother to one of the victims described how the defendants have given the children a life sentence because of the horrible crimes they committed upon them and the emotional effects it will have on them for the rest of their lives. A grandmother to one of the victims described how the case had been dragging on for four years to consider the rights of the defendants while not considering the rights of the victims.
Senior Deputy District Attorney Heather Brown of the Sexual Assault Unit prosecuted this case.
###
TONY RACKAUCKAS, District Attorney
Susan Kang Schroeder, Chief of Staff
Office: 714-347-8408
Cell: 714-292-2718