SANTA ANA – A man was convicted today of shooting and murdering a 17-year-old rival. Reda Hassan Safieddine, 20, Fountain Valley, was found guilty by a jury of one felony count of second degree murder with a sentencing enhancement for the personal discharge of a firearm causing death and one misdemeanor count of brandishing a firearm. He faces a maximum sentence of 40 years to life in state prison at his sentencing Nov. 7, 2014, at 9:00 a.m. in Department C-40, Central Justice Center, Santa Ana.
At the time of the crime, Safieddine, then 18 years old, and the victim had an ongoing rivalry. A few hours before the shooting on Aug. 13, 2012, the defendant encountered the victim and argued with him in a residential neighborhood in Santa Ana. After the verbal confrontation, the two went separate ways.
At approximately 1:20 p.m. the defendant drove and parked his car in a convenience store parking lot in Fountain Valley. The defendant then grabbed a shotgun from the backseat of his car upon seeing the victim drive into the parking lot.
Safieddine stood outside his car as the unarmed victim walked toward the defendant's vehicle. Safieddine murdered the victim by firing one round from his shotgun and hitting the victim's neck. The victim died at the scene.
Fountain Valley Police Department (FVPD) officers arrived at the scene and arrested the defendant.
FVPD investigated this case. Senior Deputy District Attorney Steve McGreevy of the Homicide Unit is prosecuting this case.
The OC Vector Control District's Trustees never tire of raising your property taxes!
Today, the Orange County Vector Control District's Board of Trustees "will consider contracting with the Discovery Science Center for a decade of exhibit space costing $1 million – averaging out to $100,000 a year," according to the O.C. Register's Watchdog.
Naturally, the OVCD's staff is recommending a hike of about $1 a parcel that would bring in some $500,000 annually to pay for this exhibit.  They want to raise our property taxes even though the OCVCD is awash in cash – they have a cushion of almost 70 percent of what it spends in a year.
As we suggested in a recent post, this is the epitome of a bloated County agency that really should be absorbed into the OC Health Care Agency – and all of their field spraying and extermination activities should be outsourced to contractors.  This agency owes millions of dollars in unfunded pension and health benefit liabilities that we could avoid further via outsourcing!
What is driving all of these ridiculous actions by the OCVCD?  The West Nile Virus – this is their latest bogeyman.  They used to harp about the Fire Ants , in fact nearly half of the OCVCD's budget – $4.1 million – comes from the per-parcel assessment approved by voters in 2004 to combat fire ants.
The OCVCD told the Watchdog that, "As of Sept. 13, O.C. had logged 127 infections and three deaths from West Nile virus, which is carried by mosquitoes. The hardest hit city has been in Santa Ana, with 48 infections."
As we have reported before, the Center for Disease Control says that:
Fortunately, most people infected with WNV will have no symptoms. About 1 in 5 people who are infected will develop a fever with other symptoms. Less than 1% of infected people develop a serious, sometimes fatal, neurologic illness.
As for the cases in Santa Ana, it turns out that the reason Santa Ana has had more West Nile Virus infections is not their population at large but rather one specific demographic – the homeless as we reported here.  They sleep outside and as such are exposed to mosquito bites more than the rest of us.
The non-profit Community Action Partnership of Orange County distributed 2,600 packets of insect repellent on Saturday and Sunday, during the Fiestas Patrias event in Downtown Santa Ana, to protect the homeless at the Civic Center, last weekend.
The OCVCD paid for those packets – and that was actually a good way to spend our tax money.  The question is why didn't they focus on the homeless in the first place instead of threatening to spray homes in Santa Ana's inner city?
The reality is that OC Vector Control does this sort of thing periodically to justify their massive budget.  And now they want more of our money.
I must call BS on that!  We need to contact the OC Board of Supervisors and the OCVCD Trustees and make this an election year issue!  This agency needs to go away, the sooner the better.
Two of the 35 OC Vector Control District Trustees
Now here is more bad news.  The OCVCD's Board of Trustees is a scary collection of squishy RINOs and Democrats including these OC politicians:
Phil Tsunoda, Aliso Viejo City Councilman (Democrat)
Roy Moore, Brea City Councilman (RINO)
Wendy Leece, Costa Mesa Councilwoman (RINO)
Jan Flory, Fullerton City Councilwoman (Democrat)
Beth Krom, Irvine City Councilwoman (Democrat)
Dave Leckness, Mission Viejo City Council (Former Democrat now a RINO)
Cecilia Aguinaga, City of Santa Ana (Democrat)
Sergio Contreras, Westminster City Council (Democrat)
Here is the contact info for our OC Board of Supervisors:
September 25, 2014
6:00 pm
to
8:00 pm
September 26, 2014
1:00 pm
to
7:00 pm
September 27, 2014
9:00 am
to
12:00 pm
October 6, 2014
6:00 pm
to
8:00 pm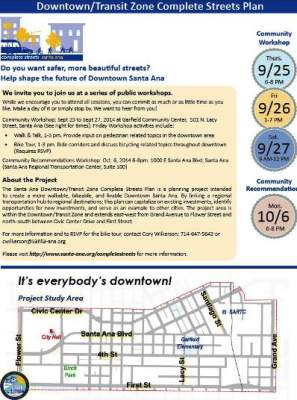 City of Santa Ana
Community Alert: City of Santa Ana Seeks Public Input with Plans to Make Walking and Bicycling Safer and Easier in Downtown Santa Ana
Public invited to attend 3-day design workshop on September 25-27
SANTA ANA, CA – Imagine downtown Santa Ana as a bicycle and pedestrian-friendly environment that encourages visitors and residents to park their cars and enjoy the city up close! That is the goal for Santa Ana city planners and a team of consultants who are embarking on development of the Downtown/Transit Zone Complete Streets Plan.
Complete Streets provide opportunities for increased physical activity by incorporating features that promote regular walking, bicycling and transit use into just about every street. A benefit that results from this approach would include improvements that make it easier and safer to travel between the Transportation Center and Downtown Santa Ana on foot, by bicycle or public transit.
Destinations such as schools, offices, retail shops, restaurants, and other places of interest can become much more welcoming for bicycling and walking. The project will also elevate the attractiveness of the community and promote the cultural, economic and artistic qualities of the neighborhoods and businesses.
Community involvement is central to the success of Downtown/Transit Zone Complete Streets Plan. Workshops will be conducted over a three-day period from Thursday evening, September 25 through Saturday, September 27. The public is encouraged to attend.
• Thursday evening is a presentation kicking off the design workshop which will include the draft vision, goals, project process and outreach for the plan. Displays and information boards will be available to provide comments.
• Friday afternoon, attendees can participate in a walk audit or a bike tour of the study area. Immediately after, the design workshop will ask participants to identify overall opportunities and constraints, and site specific issues.
• Saturday morning, a solutions workshop will be conducted asking participants on what types of solutions they would like to see based on previously identified issues.
The City has also formed a Community Advisory Committee comprised of individuals who reflect the diversity of stakeholder interests in and near Downtown Santa Ana. They are tasked to ensure that the recommendations meet the needs for all users.
For more information and to stay involved, please see the City webpage http://santa-ana/completestreets/default.asp, or contact Cory Wilkerson cwilkerson@santa-ana.org at, 714.647.5643
– end -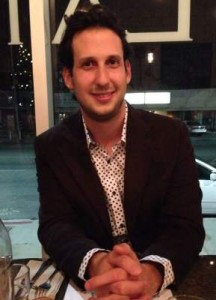 Santa Ana Councilwoman Michele Martinez has reason to worry as she prepares for her reelection campaign in the upcoming November General Election.  But from what I hear she is not overly concerned about Mirna Velasquez, who appears to be her top challenger.  No, Martinez is losing sleep over a candidate most Santa Ana residents have never heard of.  His name is Gilad Salmon.
Salmon's Facebook page says he grew up in Anaheim Hills but it also says he worked at a Jewish Community Foundation in San Francisco.  Salmon is not running much of a campaign for Ward 2 but he might benefit from a three way vote split by the Latino candidates, which include Martinez, Velasquez and a fellow named Rene Gomez.
Gomez has no business being in this race but the OC GOP apparently recruited him even though Velasquez, a moderate independent, was already in the race.  He is a salsa instructor and while he has no chance of winning his presence on the ballot serves to undermine the other Latino candidates.
Salmon could win.  He could become Santa Ana's first Jewish Councilman.  He is a bay area liberal.  Probably completely out of touch with most of our residents.  But he might luck into a Council seat.
We saw in the 2012 General Election that you don't have to put much effort into winning a City Council seat if the starts align correctly.  Totally unknown Angie Amezcua won in Ward 3 and she did not campaign at all.  Her victory was based on her ballot title – teacher.  Salmon must have been paying attention because his ballot title includes the word "Educator."
Judging from Salmon's Twitter feed he is a one-dimensional candidate.  His entire focus appears to be Downtown Santa Ana.  Also, he just got married – which is something given that Santa Ana is dominated by families and Martinez remains single and childless.
You can learn a bit more about Salmon on his Instragam page.  But not much more.
According to his Linkedin Page, Salmon appears to be a web developer and he is very involved in various Jewish organizations.
There are not many Jews in Santa Ana.  But you might recall that former Mayor Pro Tem Claudia Alvarez got into a lot of trouble when she compared local Jewish developer Irv Chase to Hitler.
The only other time I can recall anything involving Jews in the headlines here in Santa Ana is when local Palestinian American activist Alex Odeh was allegedly murdered by a member of the Jewish terrorist group called the Jewish Defense League.  There is a statue of Odeh on the lawn of the Santa Ana Public Library.
I doubt there were ever any other Jews elected to our City Council given that Orange County was founded by members of the KKK and Santa Ana was full of them back in the day, as reported by the OC Weekly.  So if Salmon gets elected he will be making history in Santa Ana as our first Jewish Council Member.
My fear is that Salmon will side with the gentrifiers who have already made such a mess of DTSA.  Perhaps there will be more to him than meets the eye.  We can only hope so.
I really can't come up with any reasons to back Martinez.  Our City Council is the worst in Orange County.  Consider the headlines in the past few weeks!  This Council was asleep at the wheel when OC Vector Control wanted to spray homes in our inner city with insecticides that really weren't needed here.  No one on the Council spoke up when the SAPD fired 25 school crossing guards just as kids were returning to local schools.  And the Council approved the waste of a half million dollars shutting down medical marijuana dispensaries when they really ought to be devising a conditional use permit so these operations can function legally, and be taxed, in our city.  And you all know by now that our city is caught up in a huge increase in gang violence – which Councilman Benavides says is an anomaly.
I have endorsed Velasquez and I hope she wins.  But don't be surprised if this Salmon character becomes the next Angie Amezcua.  It could happen!