This disturbance has not been reported in the local media but it does show up on Crimeapping.com, which notes that there was a "Disturbing the Peace" arrest at the 300 block of N. Spurgeon St., in DTSA, at 11:51 p.m. on August 1.
There was also a riot in 1989, when six people were arrested after a fist-swinging brawl broke out among more than 50 militant gays and fundamentalist Christians at Orange County's first Gay Pride Festival, as reported by the L.A. Times.
A retired SAPD officer told my source that this year's Pride Festival had a very low attendance.  They used to block off the whole west end of 4th St. for this annual event. This year most of the Pride Festival appears to have taken place at the Yost Theater.
I am not really sure why the Pride Festival is held in Santa Ana in the first place.  This is most certainly not an event that most of our residents would ever attend.  Who knows how much money the SAPD wasted in responding to the disturbance on Saturday night?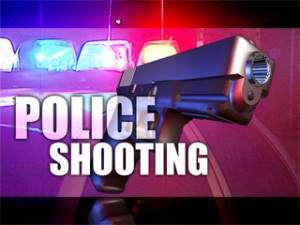 Another defendant in the Gang Injunction in Santa Ana's Townsend Neighborhood has been allegedly shot by the SAPD, according to Santa Ana community activist Igmar Rodas, who says he got the information from a "G.Hernandez."
Rodas claims that the unnamed defendant was hit by six bullets.
The shooting has now been corroborated by the O.C. Register, which reported that "at about 6:15 p.m. Santa Ana police fired at a suspect in the 800 block of South Townsend Street.  A weapon was recovered at the shooting scene, but police didn't immediately disclose how it related to the situation."
Rodas also is claiming that those opposing the gang injunction are being targeted by the police however he offered no proof of this.
Angel Arellano, a 17-year-old documented Townsend Street gang member, was shot on Christmas Eve, last year, as we reported.  He died from his injuries.  The SAPD offered a reward for tips about who shot him but no one was ever arrested.
The O.C. District Attorney cited Arellano's death in a press release that stated that the recently-approved permanent injunction was in response to "decades of violent crimes committed by this gang and numerous residents pleading with law enforcement to eliminate the gang presence so that they no longer have to live in fear."
The injunction against the Townsend Street gang sought by District Attorney Tony Rackauckas restricts the otherwise legal, everyday activities of the gang's members in a .39-square-mile area dubbed a "safety zone," that is bordered by McFadden Avenue, and Raitt, Sullivan and First streets, according to the Voice of OC.
Those enjoined would be prohibited from associating with gang members in public spaces within the safety zone, with the exception of certain spaces such as schools or churches.
The residents who are challenging the DA's injunction say that they are not active participants in a gang.  But take a look at the crimes that have happened in their area in the past month.  Clearly things are out of control in the Townsend neighborhood.  Whether or not a gang injunction is the cure may be debatable.  What we do know is that gangs are the biggest problem in our city – not the police, who are severely undermanned.
If the police did shoot someone tonight I am looking forward to finding out what he did to put himself in that situation.
Thousands Will Walk In Orange County To Honor Children Lost to Stillbirth, Infant Death, and Pregnancy Loss
TUSTIN – More than 4,000 people will gather at the 11th Annual OC Walk to Remember to Remember, a Forever Footprints event, sponsored by VIaSat. It celebrates the lives of babies that have died. The 5K Run, The Memorial Service, Walk and Celebration of Angels event will be held on Saturday, October 10, at The District at Tustin Legacy from 7 a.m. to 11 a.m.
Nearly 5,400 babies will die today in the United States, and one in four Orange County women will experience miscarriage, stillbirth, SIDS, pregnancy loss and infant death.
The event will begin with the 2nd Annual Forever Footprints 5K Run, followed by a Memorial Ceremony where babies' names will be read. Afterward, a sea of personalized posters, T-shirts with babies' photos and balloons will pave the streets as families connect with other families and walk in remembrance of the child or children each has lost. Music, food and celebration will welcome each of the families at the finish line during the Celebration of Angels, featuring participating District stores and restaurants.
Forever Footprints (OC Walk to Remember) is the only organization of its kind in Orange County. Money raised by Forever Footprints helps us support local hospitals and families and allows us to donate books, brochures, memory boxes, sibling backpacks and many other needed resources. The organization also has a local Support Group, The Balancing Life & Loss: Parenting After Loss Group which is a free support group that addresses the needs of bereaved parents who, after a tragic loss, need to continue living and parenting their surviving children. Forever Footprints also partners with UC Irvine Health Paloma Comfort Care Program, CHOC Children's Hospital and Kaiser Irvine. In addition, calls and emails for support are answered by a licensed clinical social worker.
"We will be streaming the Memorial Ceremony, parts of the Walk, and Celebration of Angels live from our website, www.foreverfootrprints.org, for those who are unable to attend the event", said Farnsworth. "People unable to attend the event, who live out of the area, can still Virtually Register from our website."
The OC Walk to Remember, a Forever Footprints event is sponsored by ViaSat, White Nelson Diehl Evans, CNI College, The District at Tustin Legacy, Creative Resources Technology Group, Pacifica Wealth Advisors, The Dot, Green & Hall, Fairhaven Memorial Services, Pacific Edge Hotel and Renegade Racing.
Over 3.500 people participated in the 2014 Walk, and more than 4,000 are expected this year. Past walkers have included: parents who lost a baby due to miscarriage just days before the walk, a mother who lost her son to SIDS over 30 years ago, and nurses who care for babies who die at birth.
The Walk and organization were cofounded by Orange resident Kristyn von Rotz, mother of Joseph Thomas von Rotz (who died at birth on July 8, 2004).
Join the Walk: Saturday, October 10
Location: The District at Tustin Legacy
Time: 7:00 a.m. 5K Run, 8:15 a.m. Remembrance Ceremony; 5K Walk directly following ceremony, Celebration of Angels following the Walk.
To sign up for the run or walk in advance: go to www.foreverfootprints.org or call: 800-714-9320.
Donations: Please send checks to Forever Footprints, 151 Kalmus Drive #L-4, Costa Mesa, CA 92626 or go to www.foreverfootprints.org.
For information on corporate donations or if you would like to volunteer for the Walk, please email: info@foreverfootprints.org.
Media Contacts: Sheri Gomez, Director of Operations, sgomez@foreverfootprints.org; Ryan Farnsworth, Executive Director, 657-212-6500, rfarnsworth@foreverfootprints.org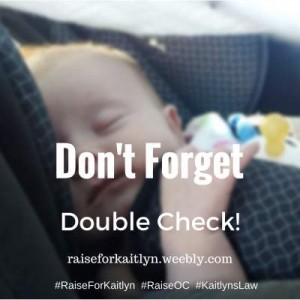 MEDIA ALERT
For Immediate Release: July 31, 2015
Contact: Elizabeth DenBleyker,  (714) 541-7734
THE RAISE FOUNDATION LAUNCHES KAITLYN'S LAW AWARENESS CAMPAIGN-DON'T FORGET. DOUBLE CHECK
(August 2015) Leaving a child unattended in a car in California is both illegal (Kaitlyn's Law) and dangerous no matter what the weather conditions. Joining together to get this lifesaving message out during August is The Raise Foundation — Orange County's Child Abuse Prevention Council — in collaboration with the Orange County Social Services Agency, the Orange County Fire Authority, and the Orange County Sheriff's Department. Also championing the cause are many local car dealerships, banks, hospitals and medical clinics, colleges, stores, companies, youth groups, places of worship, and others. A comprehensive social media campaign, onsite presentations, radio spots, and information booths at community events will aide in educating and reminding the public.
"The Orange County Social Services Agency encourages and supports The Raise Foundation's efforts to educate the community and raise awareness on this important issue," said Mike Ryan, Director of the County of Orange Social Services Agency.
On average, 37 children die each year from heat-related deaths after being left inside a car. As of June 2015, 32 children nationwide have perished this way. In California, the law is named for a southern California infant, Kaitlyn, who at 6-months-old perished from heat-related complications after being left unattended in a motor vehicle. California is one of 19 states to have such a law.
"Most often, the loving parent, grandparent, friend, or caregiver has simply forgotten or didn't realize the child was even in the car," noted Eldon Baber, Executive Director of The Raise Foundation. "The 'Don't Forget. Double Check." awareness campaign message is to help families remember; yet we also ask the entire community to become and remain vigilant. No matter how rushed a person is, please glance into cars — especially at baby car seats — to ensure no child is left unattended."
What should someone do if they see a child left unattended in a car? Call 911 immediately. Alert the parent/caregiver and a security guard if they are nearby. Check the door. If it is unlocked, open the door. If it is locked, talk to the child with a comforting tone and ask the child if they can unlock the door. Other frequently asked questions and answers, reminder tips, and downloadable fliers can be found at www.RaiseForKaitlyn.Weebly.com.
###
The mission of The Raise Foundation, a nonprofit headquartered in Costa Mesa, is to prevent and stop the cycle of child abuse and neglect in Orange County. In 1974, the County Board of Supervisors named the organization as its Orange County Child Abuse Prevention Council. With the help of county funding and generous individual and corporate donors, the organization provides services through Family Resource Centers, assists with food distributions and other community efforts, takes its Resources In Motion (RIM) mobile family resource center vehicle into underserved neighborhoods, hosts an annual countywide educational conference for parents and professionals who dedicate themselves to the wellbeing of children, and coordinates awareness events and campaigns such as Blue Ribbon Child Abuse Prevention Month in April and this campaign. To learn more, call (714) 884-3421, ext. 104, or go to www.theraisefoundation.org.