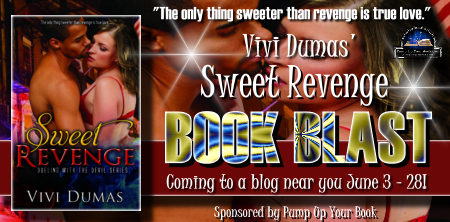 Join Vivi Dumas, author of the paranormal romance, Sweet Revenge: Dueling with the Devil Book 2, as she tours the blogosphere June 3 – 28 on her first Book Blast with Pump Up Your Book! Vivi will be giving away a $25 Amazon GC/Paypal Cash to one lucky reader! To enter, fill out the Rafflecopter form on the participating blogs below July 3 – 28 and good luck! If you would like to host Vivi, please leave a comment below or email Dorothy at thewriterslife (at) gmail.com.

ABOUT SWEET REVENGE: DUELING WITH THE DEVIL BOOK 2
Hell hath no fury like a woman scorned. What if that woman is a demon, in fact Lilith's very own daughter? Isabella LaCoste vowed to get her revenge on her ex and his new human fiance. She didn't commit fifty years of her life to be thrown out like last season's runway fad. But taking vengeance on an upper level Shifter Demon and the newly crowned Voodoo Princess might not be a one demon job. She volunteers her services to Lucifer to deliver Angel and Jacque in exchange for his help. She never expected her new partner in crime would fill the void in her broken heart.
Not even death brought him peace. Xavier Toussant wanted out of his contract and the killing business. His last assignment was his own brother and he failed to deliver. Lucifer didn't appreciate his valor in dealing with his brother, Jacque. In fact, it only created more problems. Xavier's back on assignment to capture his brother and the Voodoo chick. Only this time, he's shackled to the craziest female in the Underworld. Xavier finds Isabella LaCoste might be the one thing to put his soul at ease.
Sweet Revenge: Dueling with the Devil Book 2 was a Finalist in the Music City Melody of Love Contest.
Purchase your copy at AMAZON

ABOUT VIVI DUMAS
Although Vivi Dumas grew up an Army brat, she calls Louisiana home, but have endured the hot summers and cold winters of Maryland for the last 16 years. She is a graduate of Mount St. Mary's University with an MBA in Finance and Marketing. Her analytical side has honed a career in the financial industry for almost twenty years. To balance her logical, numerical day job, she unleashes her creativity in her writing.
Vivi pens multicultural paranormal romance, mixing the two genres she loves. Her steamy paranormal romances indulge in worlds inhabited by demons, werewolves, vampires, and other supernatural beings. She has published works with Decadent Publishing, Ravenous Romance, and Breathless Press.
Her latest book is the paranormal romance, Sweet Revenge: Dueling with the Devil Book 2.
Visit her website at www.ViviDumas.com.
Connect & Socialize with Vivi!

Pump Up Your Book and Vivi Dumas are teaming up to give you a chance to win a $25 Amazon Gift Card or Paypal Cash!
Here's how it works:
Each person will enter this giveaway by liking, following, subscribing and tweeting about this giveaway through the Rafflecopter form placed on blogs throughout the tour. This promotion will run July 3 and ending on July 28. The winner will be chosen randomly by Rafflecopter and announced on July 6. Each blogger who participates is eligible to enter and win. Visit each blog stop below to gain more entries as the Rafflecopter widget will be placed on each blog. If you would like to participate, email Dorothy at thewriterslife(at)gmail.com. Last day to sign up is May 30. What a great way to not only win this fabulous prize, but to gain followers and comments for your blog, too! Good luck everyone!
ENTER TO WIN!
———————–
Sweet Revenge Book Blast

———————–
Still accepting blog host requests!

Monday, June 3 – Gina's Library
Tuesday, June 4 – Moonlight Lace & Mayhem
Wednesday, June 5 – The Top Shelf
Thursday, June 6 – Not Now…Mommy's Reading
Friday, June 7 – You Gotta Read
Friday, June 7 – The Avid Reader
Monday, June 10 – Sapphire's Book Reviews
Monday, June 10 – Dr. Pepper Diva
Tuesday, June 11 – Thoughts in Progress
Tuesday, June 11 – Fictional Candy
Wednesday, June 12 – Community Bookstop
Wednesday, June 12 – Inside BJ's Head
Thursday, June 13 – Literary Escapism
Thursday, June 13 – Books-N-Kisses
Friday, June 14 – Carol's Notebook
Friday, June 14 – The Solitary Bookworm
Saturday, June 15 – Ramblings From This Chick
Sunday, June 16 – My Book Addiction and More
Monday, June 17 – Celtic  Lady's Reviews
Tuesday, June 18 – Literary Winner
Wednesday, June 19 – Mary's Cup of Tea
Thursday, June 20 – Hezzi D's Books and Cooks
Thursday, June 20 – Paranormal and Romantic Suspense Reviews
Friday, June 21 – Lori's Reading Corner
Monday, June 24 – Cheryl's Book Nook
Monday, June 25 – Chapter by Chapter
Tuesday, June 25 – The Writer's Life
Wednesday, June 26 – Authors & Readers Book Corner
Thursday, June 27 - Literarily Speaking
Friday, June 28 – Mom in Love with Fiction
Friday, June 28 – My Devotional Thoughts