---
There's nothing quite like the flavors of Summertime – lemon, orange, lime. But during the heat of the Summer, no one wants to heat up the kitchen to make dessert. These Key Lime Cheesecake Trifles go together in minutes, are no bake, and have a delicious lime flavor. What better way to celebrate National Cheesecake Day?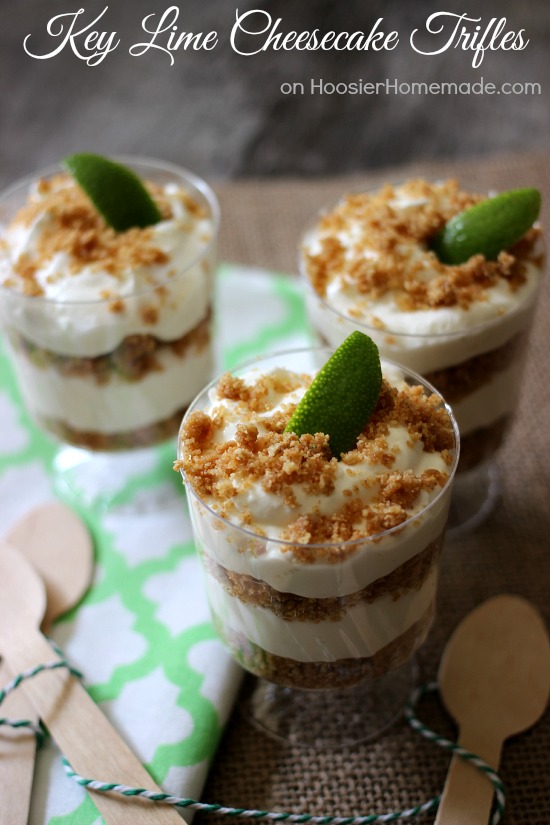 Serving an impressive looking dessert that takes minutes to make is exactly what I love. And when it comes to serving guests or creating a delicious dessert for my family, I love to serve in individual containers.
This recipe for Key Lime Cheesecake Trifles has very simple ingredients, starting with a similar recipe that I have shared several times before, Cotton Candy No Bake Cheesecakes, Lemon Berry Cheesecakes, Cheesecake Trifles, Caramel Pecan Cheesecake Trifles, and Cheesecake Trifles: Dessert in a Jar. As you can see, with just one recipe, you can make several different variations.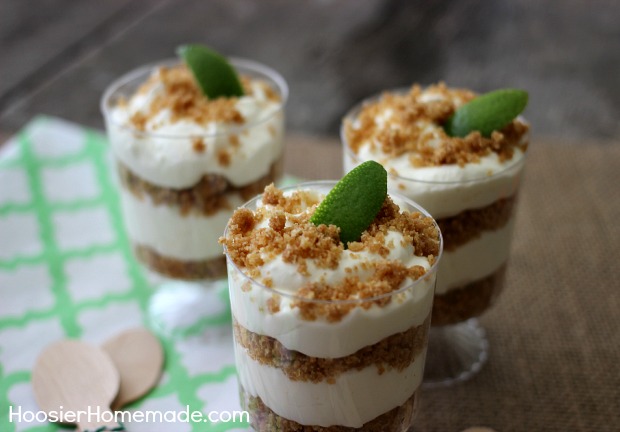 As I've mentioned, Trifle Desserts are so easy yet impressive. They can be served in a large clear glass bowl, or small individual servings. These footed containers are plastic and the perfect size for these luscious Key Lime Cheesecake Trifles.
After whipping together the Cream Cheese, Cool Whip Whipped Topping, Sugar and Lime Juice, it gets layered with a Graham Cracker and Butter mixture. A couple of layers in the containers, and a small piece of lime for garnish.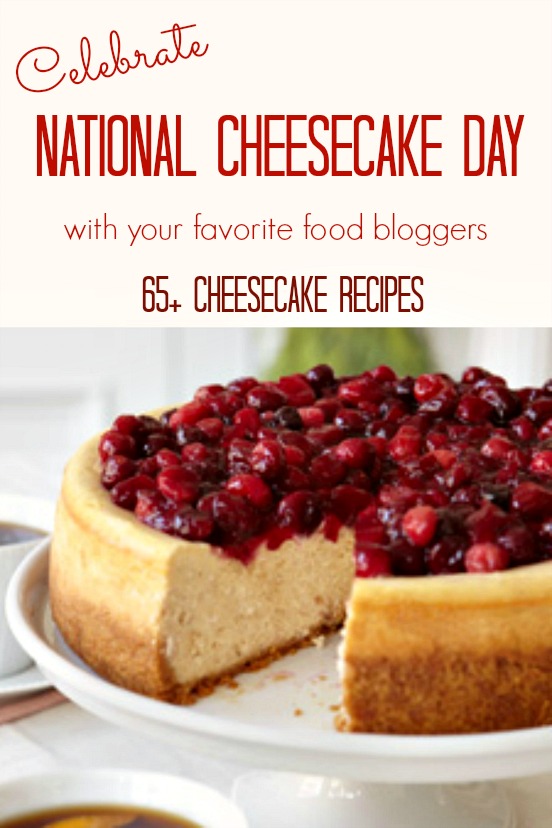 To celebrate National Cheesecake Day, I'm joined by fellow food bloggers to share with you lots of Cheesecake Recipes…
Baked Cheesecakes:
No Bake Cheesecakes:
Cheesecake Beverages:
Cheesecake Cookies and Bars:
Cheesecake Desserts and Treats:
Frozen Cheesecakes and Treats:
Key Lime Cheesecake Trifles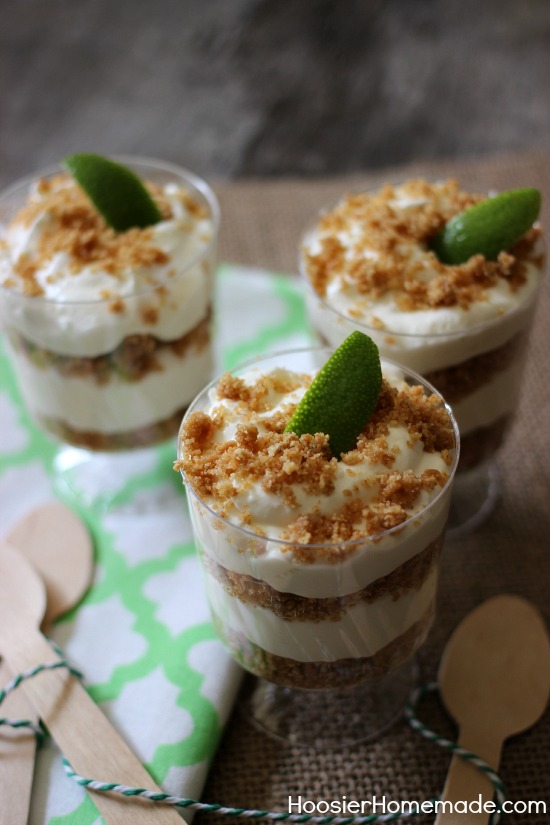 Easy, no bake dessert with a hint of lime. Recipe on HoosierHomemade.com
Ingredients
1 package (8 oz) PHILADELPHIA Cream Cheese, softened
1/3 cup sugar
1 tub (8 oz) COOL WHIP Whipped Topping, thawed
2-3 tablespoons Key Lime Juice, fresh is best
1 sleeve (9 crackers) of graham crackers, crushed (about 1 1/4 cups)
1/4 cup butter, melted
Instructions
Combine Cream Cheese, Lime Juice and Sugar in a large bowl until smooth, fold in COOL WHIP Whipped Topping
Crush graham crackers. Melt butter and stir into graham cracker crumbs until combined.
Add a heaping teaspoon of graham cracker crumbs to the bottom of container, pat down with Tart Shaper or back of spoon
Add Cheesecake mixture to a resealable bag and squeeze about 2 tablespoons into the container.
Repeat layers of graham cracker mixture and cheesecake. Top with a sprinkle of graham cracker mixture.
Place in refrigerator at least 3 hours to chill
Notes
Servings will depend on how large your container is. Any size will work.
http://hoosierhomemade.com/key-lime-cheesecake-trifles/


Related Stories
It's that time of year, time to invite your friends and family over to celebrate the gorgeous weather. Today we are keeping it simple, easy and creative, we are adding an easy centerpiece and a creative No Sew Burlap Placemat with our Outdoor Entertaining tips.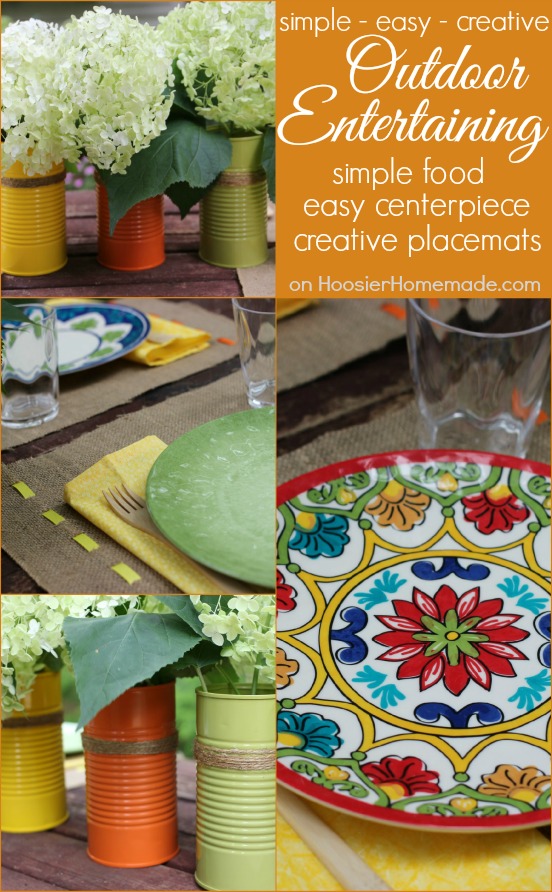 I've learned the hard way over the years that entertaining doesn't have to be stressful. Keeping it simple is key to you and your guests enjoying their time at your home. Many years ago, I would work for days preparing the house, making a grocery list, cooking and baking, decorating and more – just to be totally worn out by the time the party day arrived.
Now don't get me wrong, I love still love to do all of those things, but I have learned to scale it back and keep it simple. Whether it's letting others bring food to share for a potluck, an easy centerpiece or even a fun table setting on No Sew Burlap Placemats, it's always great to host a get together.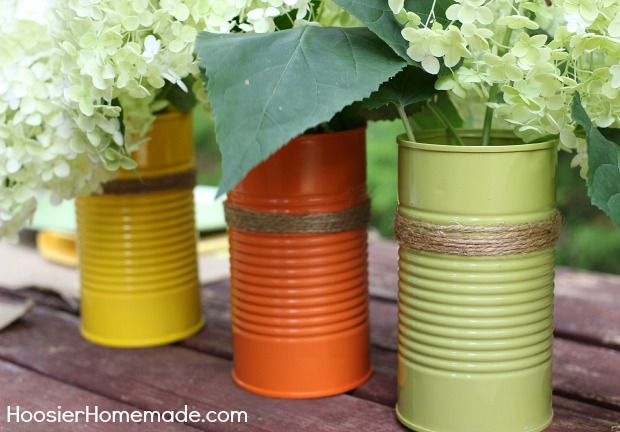 For the centerpiece, we used baked beans cans, (any can will work) washed them out, and used Krylon ColorMaster Spray Paint on them.  Doug added 2-3 coats, letting them dry about 10 minutes in between coats, then they were ready to handle in a couple hours.
After the paint has dried, wrap twine around, securing with a dab of hot glue. Fill with water and add your favorite flowers. I used Hydrangeas from our yard.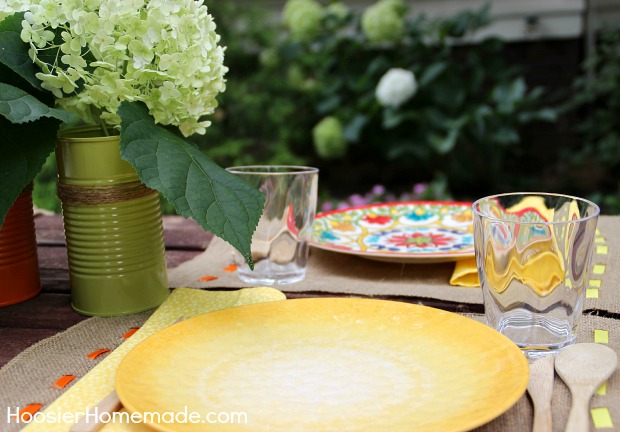 We set the table with plates from Better Homes and Gardens line at Walmart. Although the dishes look like they are ceramic, they are melamine, making them light weight, easy to handle and care for, and perfect for an Outdoor Party.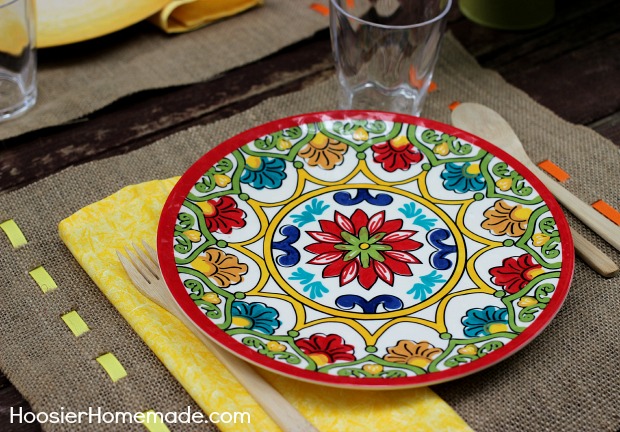 Under the table setting we made No Sew Burlap Placemats with coordinating ribbon colors to match the plates.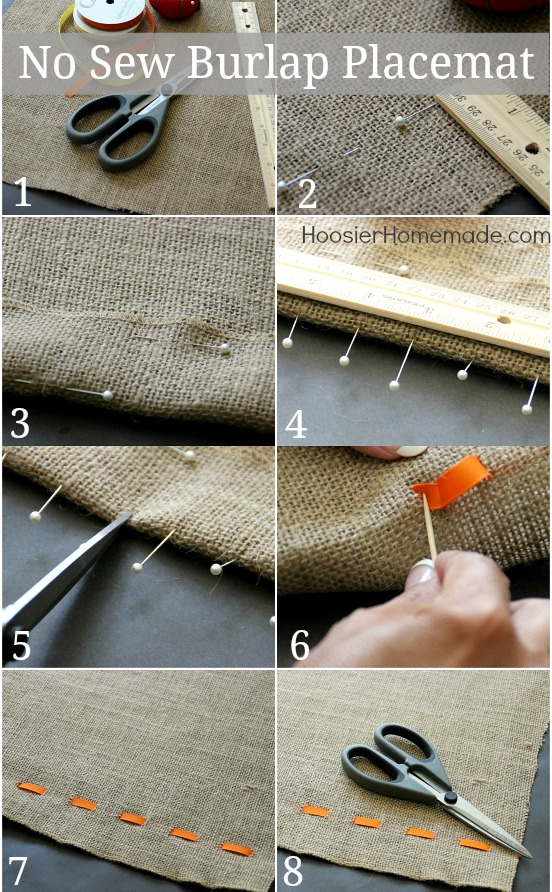 How to Make No Sew Burlap Placemats
Gather your supplies – Burlap; we used a table runner and cut pieces 15 1/2 inches wide, 3/8 inch Ribbon; we found some in the craft department at Walmart for under $2, Scissors, Ruler and Straight Pins; found in the craft department near the sewing supplies.
After your placemat is cut, measure 2 inches along the side and mark with a pin
Then fold the edge up along the pins, and secure with more pins
Mark the edge of the placemat every inch with a pin
Snip about 1/4 inch at every pin
Remove the pins and begin adding the ribbon through the openings. I used a toothpick to help.
Weave the ribbon back and forth through all the openings
Then trim the ribbon even with the placemat. Use a bit of glue to secure the ribbon if necessary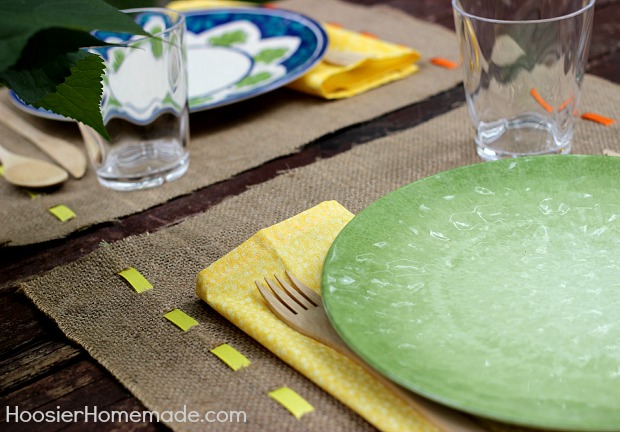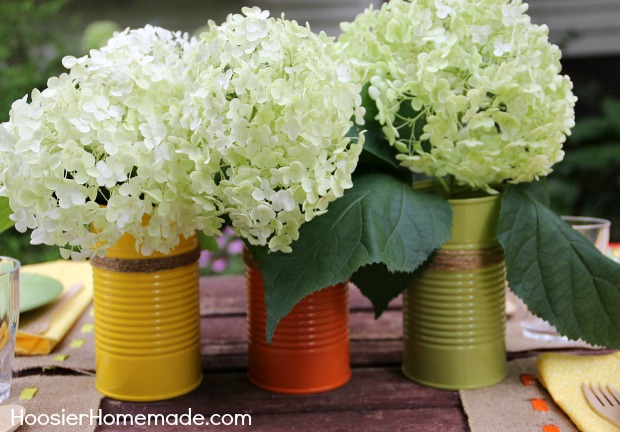 See how we created this Simple – Easy – Creative Outdoor Space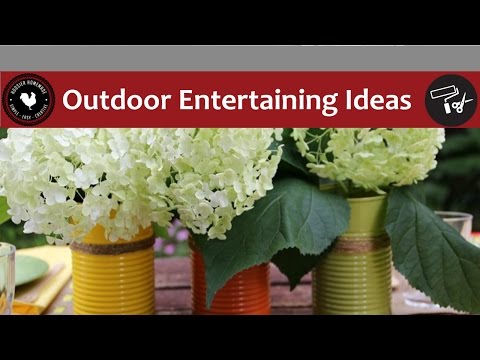 Related Stories
Fresh squeezed lemons and fresh raspberries makes this Summertime drink delicious! Make it special for adults by adding Vodka!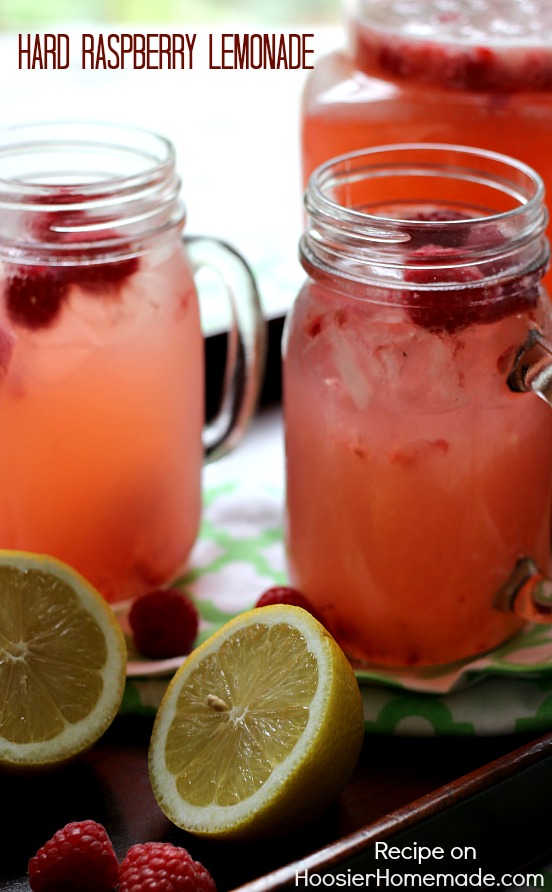 Truth be told, I don't drink very much, in fact rarely, but once in awhile, it's so nice to sit and relax with a refreshing cocktail. When I drink though, I want it to taste refreshing and really good. This Raspberry Lemonade is perfect on a warm evening, while sitting on the deck visiting with friends.
We started by making a Simple Syrup with warm water and Truvia natural sweetener, squeezed lemons for a fresh taste and mashed fresh raspberries to bring out the extra flavor. A little more water and extra Truvia to taste, along with Vodka, and we have Hard Raspberry Lemonade.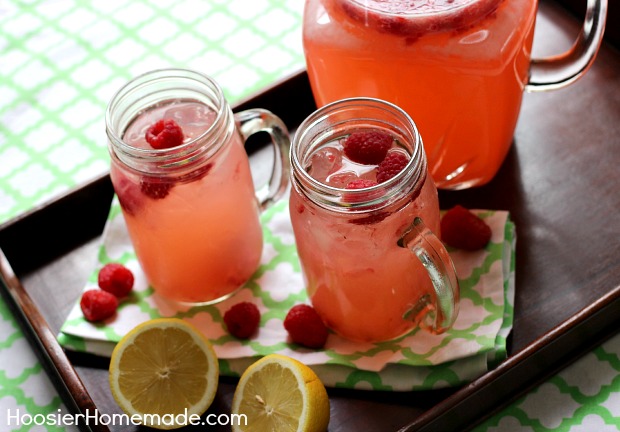 Not only is this Raspberry Lemonade delicious, it's also made with fewer calories thanks to Truvia natural sweetener. Truvia recently attended Tales of the Cocktail in New Orleans, after introducing the exclusive tasting of TRU Cocktails, great tasting, low calorie cocktails sweetened with Truvia.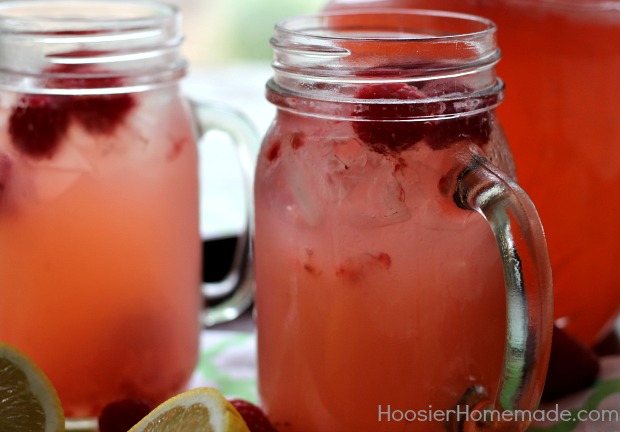 Make this Raspberry Lemonade kid friendly simply by leaving out the alcohol. I like to serve it in mason jar mugs with a few raspberries for garnish.
Hard Raspberry Lemonade
Ingredients
Simple Syrup

1 cup warm water
7 tablespoons Truvia

Raspberry Lemonade

3 cups fresh lemon juice, about 14 large lemons
3 cups water
8-10 fresh raspberries, mashed
Fresh raspberries for garnish
Truvia to taste
1 oz. Vodka, optional
Instructions
In a measuring cup, add warm water
Whisk in Truvia until completed dissolved, set aside to cool
In a small bowl, add 8-10 raspberries and mash with spoon
Squeeze juice from lemons
In a large pitcher, add Lemon Juice, Mashed Raspberries, Water and Simple Syrup, mix well
Add more Truvia to taste, if desired
Fill glass with ice, add Vodka if desired, and fill with Raspberry Lemonade, stir well
Serve immediately
http://hoosierhomemade.com/hard-raspberry-lemonade/
Try one of my recipes using Truvia Spoonable and Truvia Baking Blend!


Related Stories
One of my biggest struggles with our home is getting and staying organized. Raising a family, and accumulating things over the many years of marriage, it's difficult to keep things organized. And then we add working at home and running a business from our home on top of it, our home was in desperate need of some Simple Organizing. Join us as we transform our Living Room to our Studio.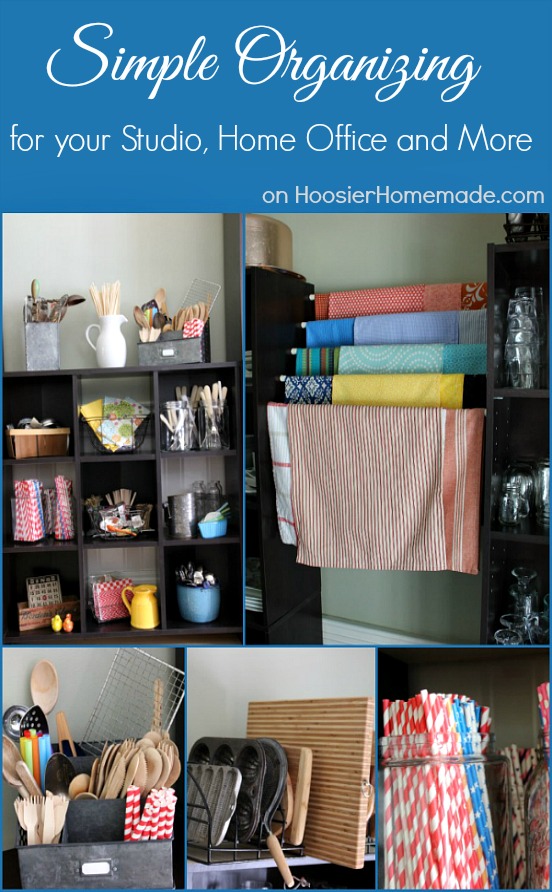 As our business grew, we gradually added more and more dishes, towels, napkins, and supplies to use in the photography shoots. Having a lot of props to choose from is awesome, but it can also be an issue when it's time to find something specific you know you have, but can't find.  And it's also difficult when the props and dishes are in several different areas of the home.
I often drive my husband and boys crazy with wanting to move things around, so when I wanted to move all of the Living Room furniture into the Dining Room, and turn that room into our Family Room, and then turn the Living Room into a Studio, they were not surprised, but also not too thrilled about the moving process.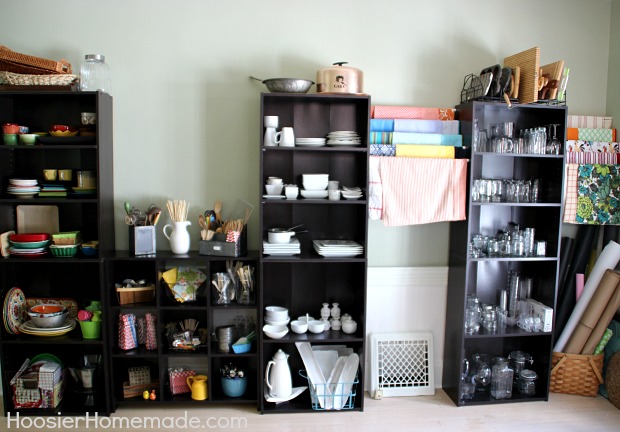 Shortly after we switched the rooms, I was contacted my Sauder and asked to share their Furniture for Home Office, so it was perfect timing.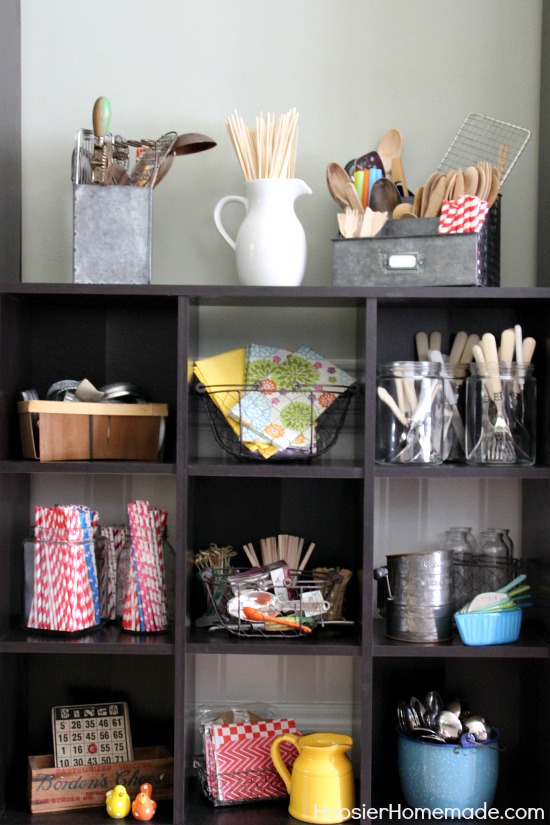 Now, before we go any further, I know what you are thinking – but I don't have all those dishes and props, I'm not a Food Blogger or I don't own a business. The great thing – this system will work for any Home Office, Kitchen, Child's Room or even a Homeschool Room.
Let me start with where we began…
This is the Living Room during the moving process. The room is very long and narrow, and even after living in this house for 6 years and trying every combination of furniture placement I could think of, it was just never comfortable. We were either too far away from each other to chat, or too far away from the television to see it. The only thing the large room was really good for was a party or when we had several friends over, but that only happens a couple times a year.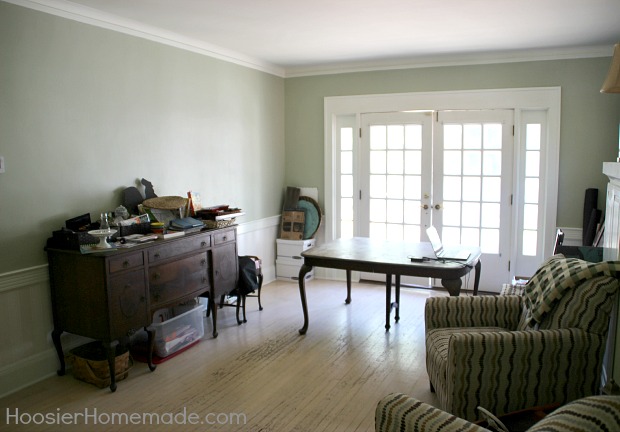 So we moved the Dining Room table into the new Studio because we shot most of our photography on it, left two arm chairs positioned in front of the Mantel, and moved the Buffet against the wall for storage. We decided it was best to use the Studio for a little while before adding all the shelving units from Sauder, just to be sure we would like being in this room. The great part, it didn't cost us a penny to move the furniture around and see if we liked it first.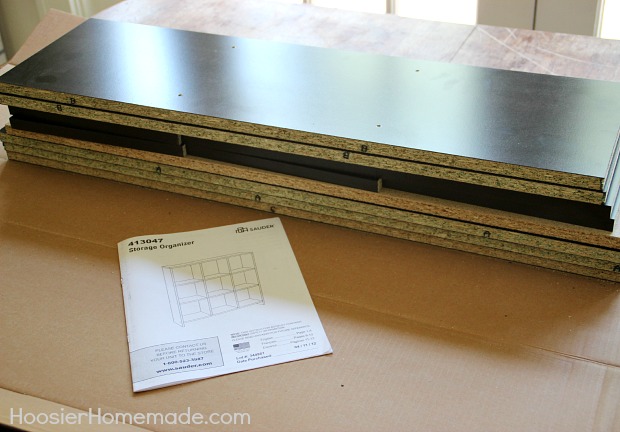 After working in the new Studio for a little while, we decided it would work out great. So we measured and drew out a plan of how we thought it would work best for us. Then headed to the Sauder website to see what they had available.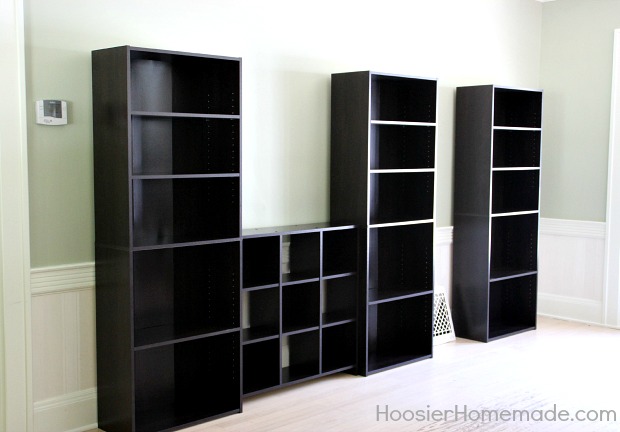 We ordered 3 of the 5-Shelf Bookcases from the Beginnings Collection, and the Storage Organizer also from the Beginnings Collection. Since the shelves were going to hold breakable dishes that were heavy, Doug attached them to the wall with the brackets that came with the shelving units.
The Sauder website was super easy to use with each piece giving full dimensions and a helpful photo. I was shocked when our order arrived just 2 days after ordering.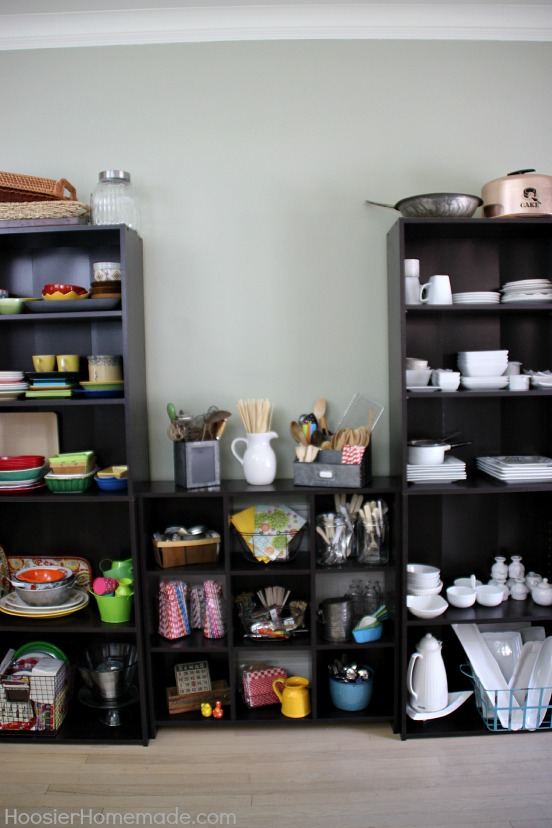 Then we began the process of going through all the dishes and props, and deciding which ones we used the most and wanted to have on the shelves. We figured it would work best to keep all the white dishes together, the clear together and all the colored together.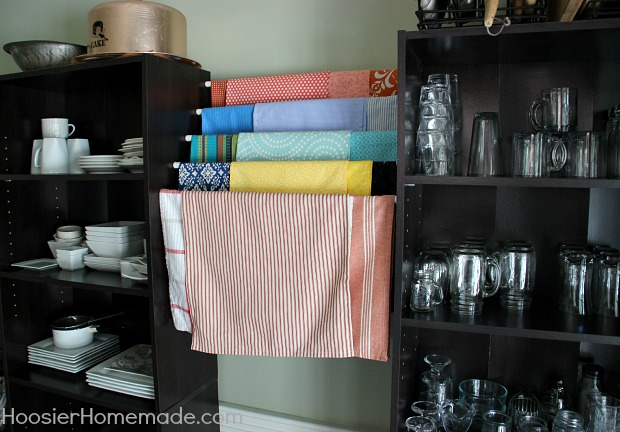 Another problem that we wanted to tackle were the towels and napkins. Honestly, I have tried probably 10 different ways to keep them organized, and this is the first idea I have come up with to keep them from getting wrinkled. When we were planning what shelves to use, we ordered units so we could position them close enough together to run a tension rod for the towels and napkins.
We could have also put a regular curtain rod or a dowel rod in, which we thought about, but ultimately decided on the tension rods so that if we ever want to use the shelves in the future, they won't have holes in them from curtain rods. The tension rods worked out splendidly!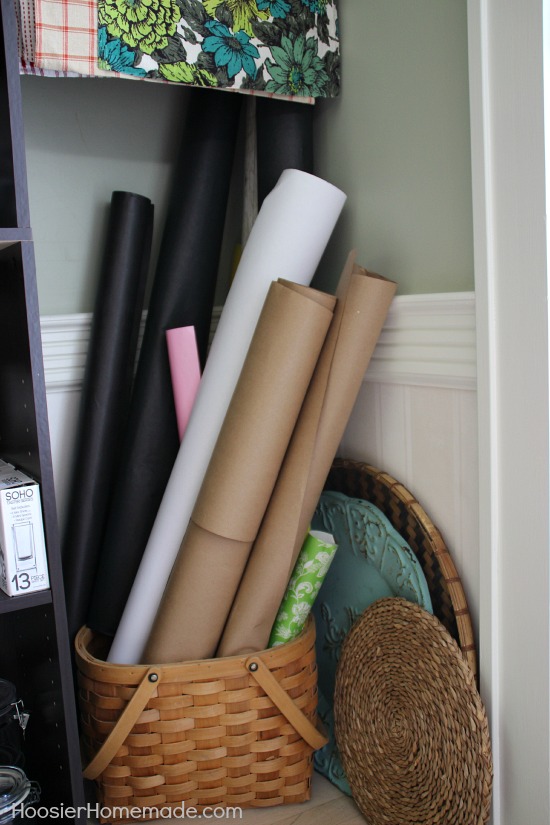 We used 10 tension rods, that were 18 inches. Under the second set of rods, we stored some of the backgrounds we use in a tall basket.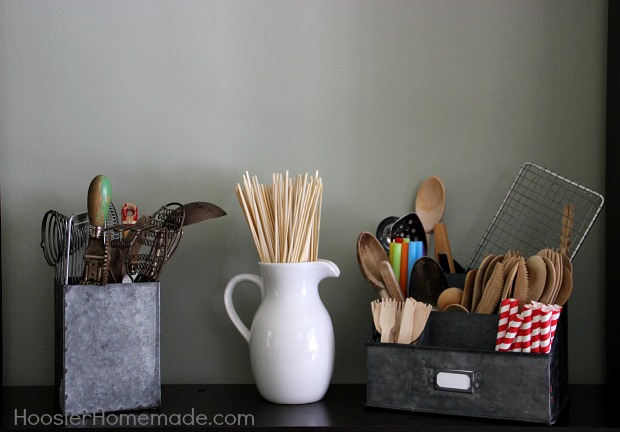 After all the dishes and towels were in place, it was time to have a little more fun with the props. I wanted something that not only would hold the utensils, straws, skewers, etc., but would also flow with our Vintage decorating theme. I found the metal container (left) and the letter organizer (right) at Marshall's. The white pitcher is one I had already.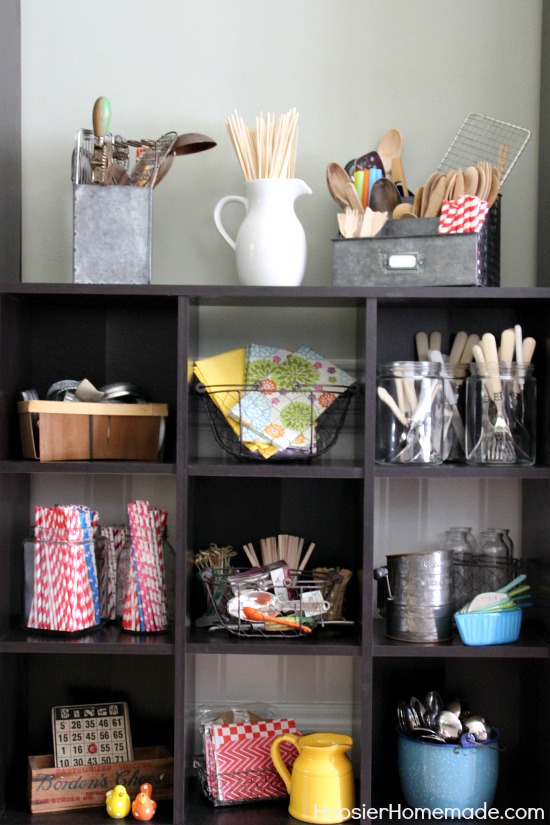 Then I filled the rest of the shelves in with other supplies. The silverware is in jars that I found at Michael's on clearance for $1.20, and all the other items were things I already had.
Stay tuned as we share a new cart we are transforming for more supplies, our video section, the transformed Dining Room and more!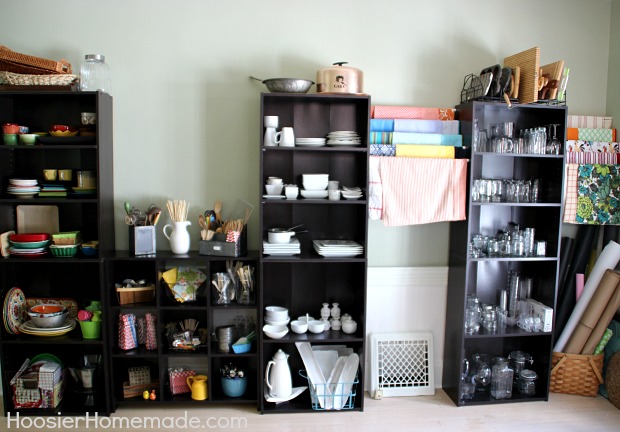 This is a sponsored conversation written by me on behalf of Sauder. The opinions and text are all mine.


Related Stories
What comes to mind when you think of the two most popular foods for children? For me it's Peanut Butter and Jelly Sandwich and Rice Krispie Treats. So I've combined the two and came up with Peanut Butter and Jelly Krispie Treats for you! 
Many, many years ago, I began making Rice Krispie Treats with Sugar, Corn Syrup and Peanut Butter. They are soft and taste a whole lot better than the treats made with marshmallows. And they are super easy and go together in about 5 minutes.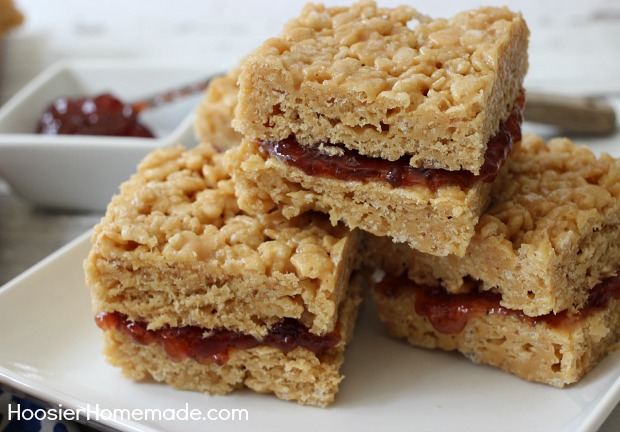 Our middle son who is 20, plays college baseball, and during the Summer months, he is on a travel team. So far this Summer, he has played – and we have watched – about 60 games, averaging about 8 per week. On the weekends, they host double header games, having 2 games back-to-back, so the coach began grilling hot dogs for them to eat between games and a couple of the Moms would bring food for the players to go along with the hot dogs. We always took Watermelon and Rice Krispie Treats. The boys loved them, and even though they are older, they all seemed to love the Peanut Butter in them.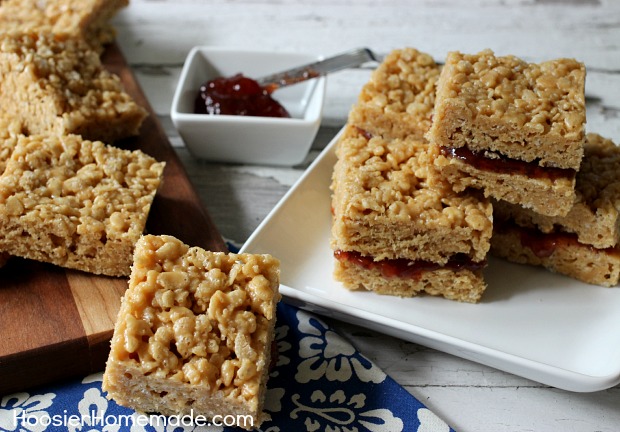 Adding the Jelly in the center and making a sandwich with the treats was a no-brainer, because of course, what goes better with Peanut Butter than Jelly.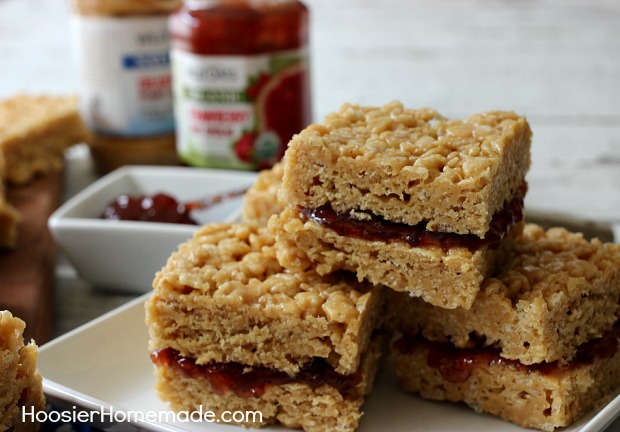 This time around though, I used the new line of Organic Products at Walmart, Wild Oats. Wild Oats Marketplace has been in the food industry over 25 years, making great food to those that care about what food they eat and where it comes from. Wild Oats recently launched a new line of Organic products at Walmart – and you guessed it, they are affordable. The 16 ounce container of Peanut Butter is priced just under $3, making it comparable to non-organic brands. We recently used the Wild Oats Beans and Pasta in our Healthy Three Bean Pasta Salad and loved it!
I haven't really used organic products much in the past, because frankly they were expensive. But with this new line of Wild Oats products, they will definitely be on my grocery list now.
Peanut Butter and Jelly Krispie Treats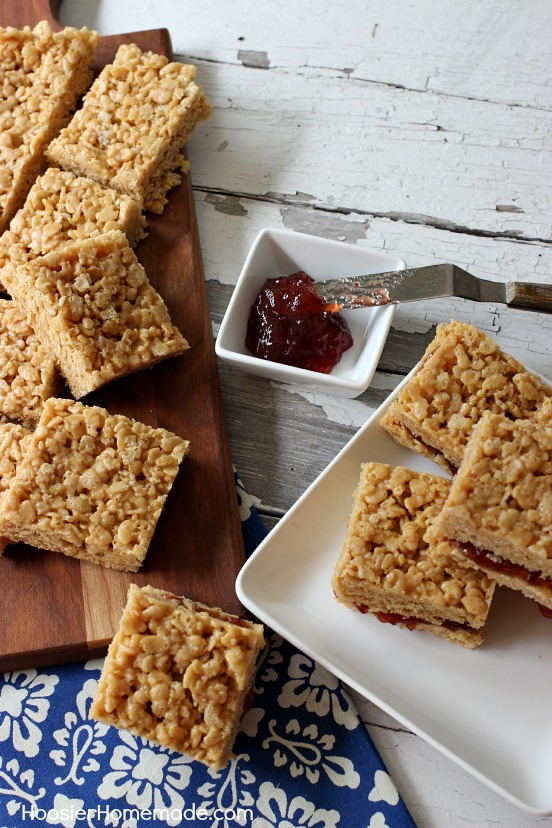 The BEST Rice Krispie Treats you will ever make! Recipe on HoosierHomemade.com
Ingredients
6 cups Krispie Treats
1 cup Sugar
1 cup Light Corn Syrup
1 cup Peanut Butter
Jelly to spread
Instructions
Add foil to a 13x9 pan to make cutting the treats easier
Add cereal to a large bowl
In a small saucepan, combine sugar and corn syrup
Bring to a bubble (NOT BOIL) over a medium heat
Remove from heat and stir in peanut butter, until smooth
Add to cereal and stir until all cereal is coated well
Pour into foil lined pan and spread evenly
Leave on counter to set, about 30 minutes
Remove from pan using edges of foil, cut into squares
Spread Jelly on bottom of square and top with another square, push together slightly
Notes
These are great even without the Jelly.
http://hoosierhomemade.com/peanut-butter-and-jelly-krispie-treats/



Related Stories