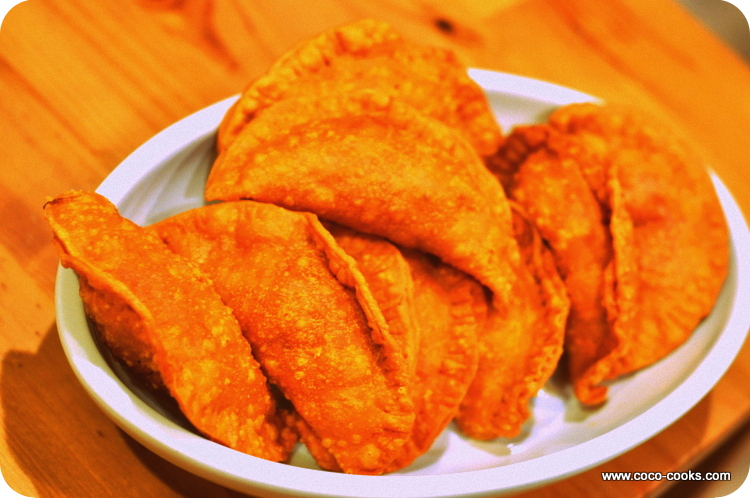 Here is another recipe I developed , incorporating Old El Paso Traditional Refried Beans.These Latin inspired hand pies, empanada's, can be filled with many sweet and savory fillings.Using  Old El Paso Refried beans with chicken and cheese add an extra creaminess. I used premade empanada dough discs , which can be found in the  Latin food freezer section in specialty supermarkets. You can also use a basic premade refrigerated  pie dough. Or if you have the time, patience, and skill, try making your own empanada dough. Either way your guests will enjoy these snacks, or even a meal in one. Play with sizes to determine your portions or style of serving.  The accompanying sauce has  a zesty coolness  of cilantro and lime. Perfect for dipping.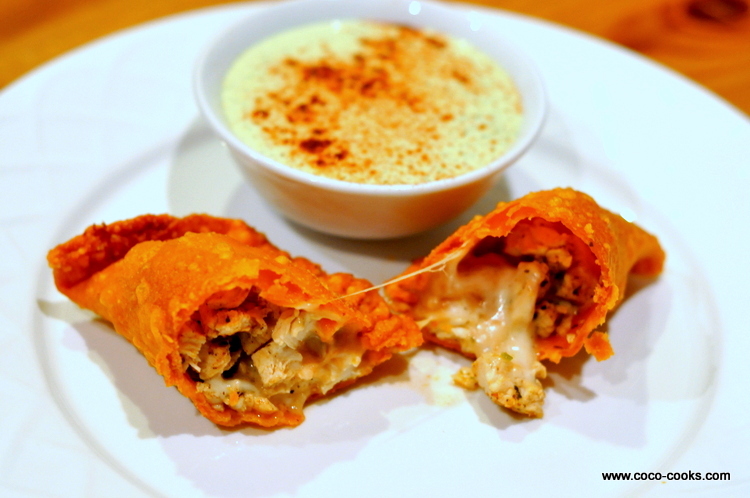 Empanada's can be baked or fried. In this recipe I fried them. If you fry at the optimal temperature( around 350 degrees minimum), the result is perfect and food is not greasy. I love how frying blisters the dough and makes it perfectly crunchy and flakey. If you choose to bake your empanada, bake in 400 degree oven for 15 minutes on a silicone mat lined baking sheet. Be sure to brush tops with a bit of oil.
So you see the methods and options for empanada's are endless. Savory, sweet, vegan, meat filled. Enjoy. And remember using a product like Old El Paso Refried beans adds more creaminess and goes with a multitude of filling options.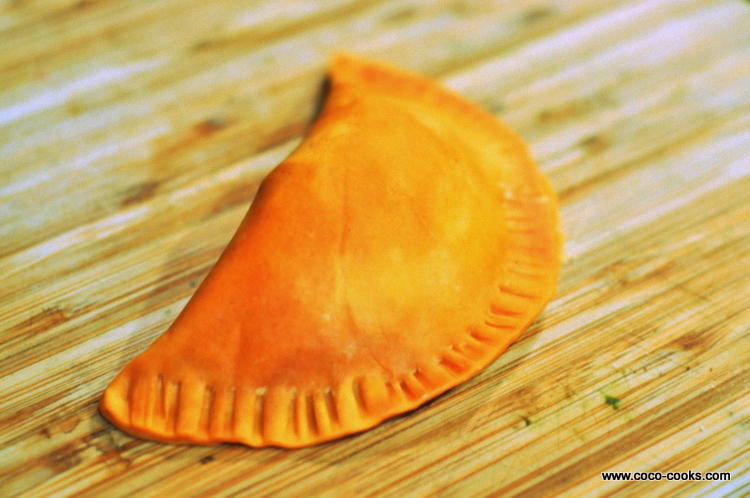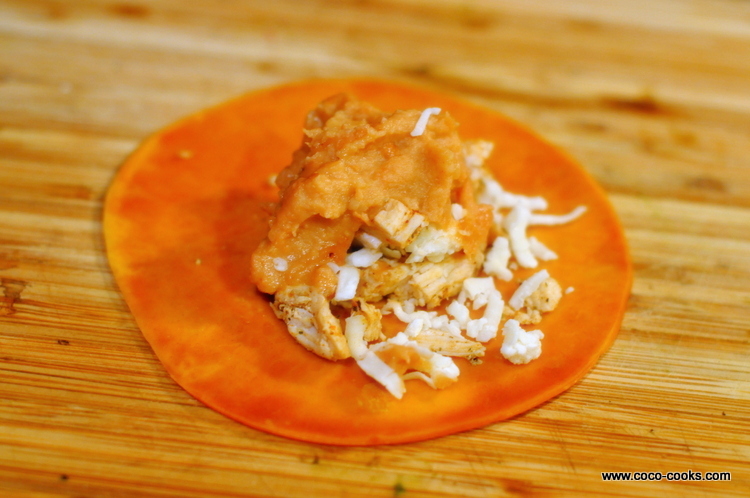 *Disclosure
This is an endorsement of product from General Mills/ Old El Paso in which I developed a few recipes for compensation.
| | | |
| --- | --- | --- |
| Old El Paso Refried Beans,Chicken,Cheese Empanadas with Creamy Lime Cilantro Dip | | |
Total time:
1 hour 15 mins
Empanadas
10 premade empanada discs or ready made pie crusts cut into rounds( approximately 4 premade rolled crusts)
1 cup boiled chicken breast, diced or shredded
1 teaspoon chili powder
1/8 teaspoon black pepper
1/8 teaspoon kosher salt
1/8 teaspoon garlic powder
1/2 cup Old El Paso Traditional refried beans
1/2 cup shredded mozzarella
Vegetable Oil for deep frying.( amount varies on size of deep fryer or skillet)
Creamy Cilantro Lime Dip
1 cup sour cream
Juice of 1 lime
¾ cup cilantro chopped
1/2 small onion minced
For Empanadas
Heat deep fryer to 350 º
In a small bowl mix diced chicken, chili powder, salt, pepper, and garlic.
Take a small rounded tablespoon of seasoned chicken and place atop disc.
Add a bit of cheese, and refried beans.
Do not overstuff.
Take each end of dough to fold over into half moon shape.
Seal edges shut by pressing dough together, and then laying down on flat surface and using a fork to press in edges to seal.
Fry empanadas a few at a time. Do not overcrowd fryer.
Drain on paper towel. Keep warm on a parchment lined baking sheet in a 200 º oven.
Creamy Cilantro Lime Dip
In a small food processor or bowl/cup of immersion blender, add all sour cream, lime, cilantro, and onion.
Pulse to blend.
Refrigerate until ready to serve with empanadas.
You can use pre made refrigerated pie crust.
If you make your own empanada dough, try coloring it with annatto.
You can vary size of discs, empanadas, just remember not to overfill.
You can use leftover rotisserie chicken, or other meats as a filling with Old El Paso Traditional Refried Beans, and Cheese of your choice.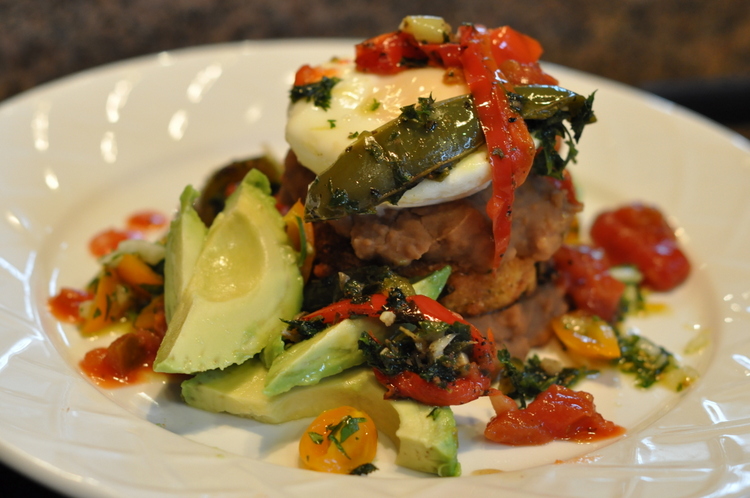 The people at Old El Paso asked me to create a few recipes with their Traditional Refried Beans. I love refried beans and typically use them in a loaded nacho  type of dish. When given this assignment, all sorts of other ideas came to mind for me. I decided to do and elegant brunch dish working with a microwave egg poacher gadget. Using Old El Paso Traditional Refried Beans , I created a Latin inspired creative take of the classic Eggs Benedict. Rather than an English muffin, Hollandaise, etc, I'm  using a crunchy meal corn cake, topped with Old El Paso Traditional Refried Beans, poached eggs, sauteed peppers, Pico de Gallo and salsa. Your breakfast or brunch guest will be wowed with the presentation.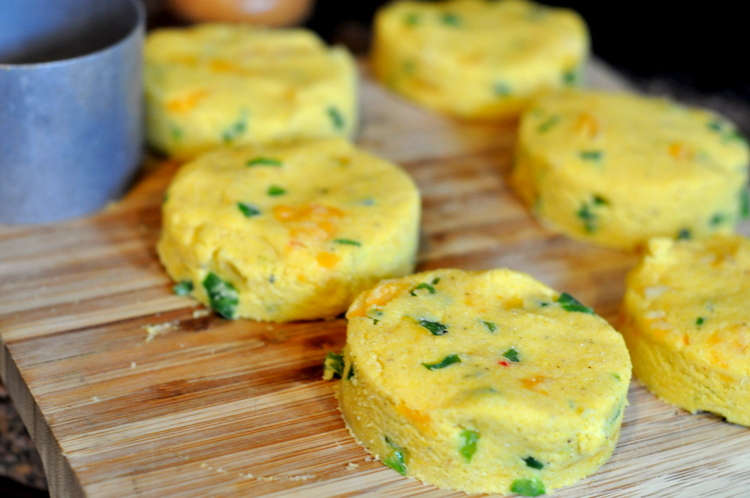 This is recipe that you can make many variations on. Here are my tips:
This would make a great Sunday Brunch Dish in which some components ( pico de gallo, sautéed peppers, can be made ahead to cut time.

The cornmeal cakes and eggs should be made closer to serving time.

Feel free to build upon topping with sour cream, more shredded cheese, chorizo, etc.

Use a microwave egg poacher dish, for quick, perfectly formed poached eggs.
| | | |
| --- | --- | --- |
| Huevos Old El Paso with Traditional Refried Beans | | |
Author:
Total time:
1 hour 30 mins
A brunch dish of cornmeal cakes, Old El Paso Refried Beans, Poached eggs, sautéed peppers, pico de gallo and salsa.
Corn Meal Cakes
1 1/2 cups corn meal
1 teaspoon baking powder
1 teaspoon Kosher salt
1 large egg beaten
3 tablespoons melted unsalted butter
1/2 cup warm milk
1/4 jalapeño pepper diced fine
1/2 cup grated cheddar or Colby Jack Cheese
1/2 cup vegetable oil for frying
Pico De Gallo
1 cup grape or cherry tomatoes quartered
2 tablespoons chopped cilantro
1 tablespoon lime juice
2 tablespoons minced yellow onion
Kosher Salt to taste
sautéed Peppers
1 Green Pepper
1 Red Pepper
2 tablespoons minced parsley
1 tablespoon vegetable oil
Kosher Salt and Ground Black Pepper to taste.
1 16 oz can Old El Paso Traditional Refried Beans
2 avocados
6 poached or sunny side up fried eggs
1 16 oz jar Old El Paso Thick and Chunky Salsa
*Pats of Butter for spreading on corn meal cakes optional
Seed and slice peppers into strips.
In a small skillet, heat oil and on medium high heat saute peppers until softened.
Toss peppers with salt, pepper, and minced parsley.
Set Aside until plating.
In a small sauce pan. Heat milk and butter, until butter is melted.
Set aside.
In a small bowl, mix together corn meal, baking powder, egg, salt, jalapenos, cheese, and milk and butter mixture, until mixture holds shape.
Turn out onto a clean surface and roll to about 1/2 inch in width.
Take a round cookie cutter and cut out6 cakes.
Heat vegetable oil in a skillet to medium high.
Drop corn cakes carefully into skillet and fry for 2- 3 minutes on each side until golden.
Drain on paper towel and keep warm in a warming oven at 200º
In a small bowl, add quartered grape tomatoes, cilantro, lime juice, onion, and salt. Toss to mix and set aside for plating.
Heat the Old El Paso Refried Beans according to package instructions.
Fry or poach your eggs to order.
Peel and slice the avocado. Add some lime juice to prevent browning.
On a plate, put a dollop of refried beans, add hot corn meal cake. Spread some butter on corn cake.
Add a smear of Old El Paso Traditional Refried beans on top of buttered corn meal cake.
Add the egg.
Add A few assorted pepper slices ( green and red).
Top with Pico de Gallo and Sliced Avocados and garnish plate with some.
Serve with Old El Paso Thick and Chunky Salsa.
*

Disclosure
This is an endorsement of product from Old El Paso/ General Mills , in which I developed a few  original recipes for compensation.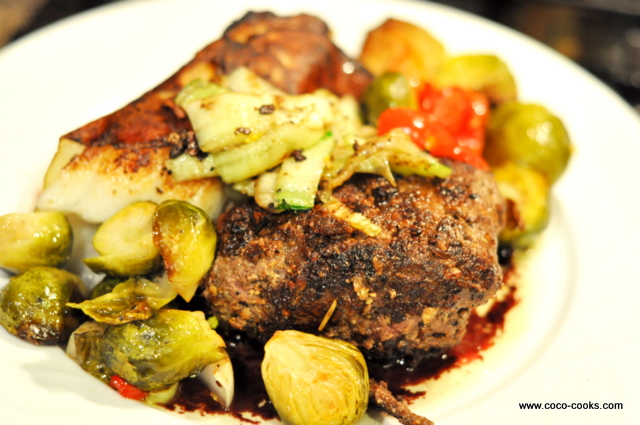 Here is a meal sure to please the one you love. This porcini rubbed fillet and potato wrapped sea bass  were served last week for Valentines Day. I've been working with Certified Steak and Seafood recently and love trying to amp up basic fillet and sea bass with creativity.
Like here
.
When another shipment arrived, I wanted something quick, but elegant. Being winter ,tons of potatoes arrive  in my organic delivery. In order to use them up,I've been playing with potato galettes and other dishes.Is there anything more elegant than a paper thin slice  from a mandolin? I knew sheer potato slices  would be perfect for the fish. For the beef fillet, I pulverized dried porcini mushrooms into a fine dust and seasoned with salt and pepper.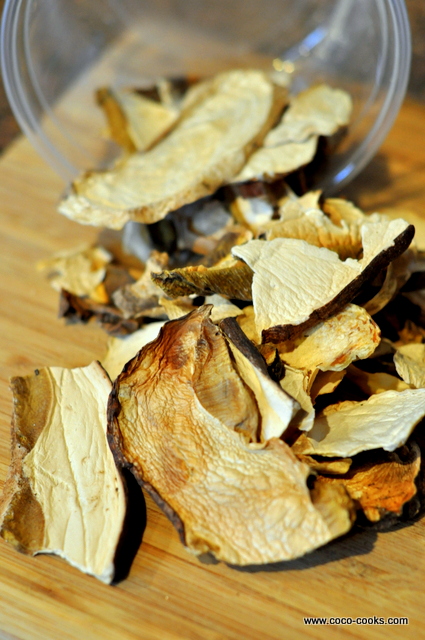 This meal didn't take long, and within 45 minutes to an hour, I had dinner on the table for two. The key is preparation. You want to slice your potatoes quickly and season, and wrap. The recipe I used for inspiration for the sea bass can be found here. I skipped the chilling part, and dealt with unraveling potatoes , which I saved. So I suggest you chill your fish. I used the wine sauce as a bed for both the fish and steak served with roasted vegetables.
1 pint dried Porcini Mushrooms
2 Fillets of Beef
sea salt and ground black pepper
olive oil
In a food processor or spice meal, grind the dried porcinis to a fine powder.
Toss the fillets in the Porcini powder to coat.
Heat non stick skillet to med high with olive oil. You will have to adjust heat if too high, etc.
Add fillets to pan and season with salt and pepper.
Sear each side 8 min on each side for rare, Increase time to desired level of doneness.
Let sit/rest for a few minutes and serve.
Certified Steak and Seafood is offering you $25 off your entire order. I think you will pleased with the high quality of their products.
 This sponsorship is brought to you by Certified Steak & Seafood Company who we have partnered with for this promotion.