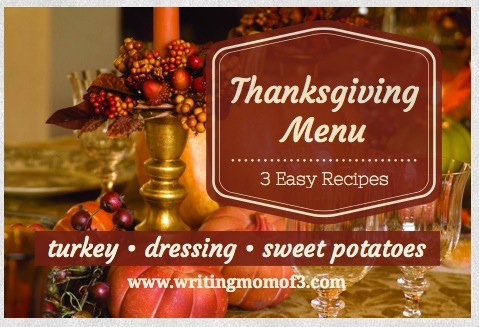 It's not too late to do your grocery shopping and cook an amazing feast for Thanksgiving dinner. I'll be doing that Thursday, using my mom's delicious recipes. Follow these recipes and you'll have an amazing meal, I promise!
Thanksgiving Dinner Menu and Recipes
A Perfect Turkey
one 16-pound turkey, thawed
one onion
two celery stalks
one stick of butter
1 cup of cold water
1 lemon, cut in half
kosher salt
ground black pepper
garlic powder
3-5 sprigs of fresh rosemary (parsley, sage, and/or thyme would work well, too)
Preheat oven to 350 degrees.
Remove giblets. Rub outside of turkey with salt and sprinkle generously with pepper and garlic powder. Inside the cavity, place one peeled onion, two celery stalks, one stick of butter, one cup of cold water, lemon, and herbs.
Wrap the whole bird in heavy aluminum foil, checking to see that it is snug and tight. Put wrapped bird in roasting pan and cover with the lid. Or, to make your own roaster, use two aluminum roasting pans to form a top and bottom.
Cook for one hour at 350 degrees. Then lower the temperature to 275 degrees. Cook for thirty minutes per pound (about eight hours for a 16-pound bird).
During the last hour (eighth hour), lower the oven to 250 degrees. At the end of that hour, turn the oven off. Allow turkey to sit in the cooling oven for about thirty minutes.
Cool turkey completely before slicing.
***
I know the timing can be a little tricky to figure out. Here's a sample schedule (I'll be doing something like this on Thanksgiving Eve):
8:00-8:30 Prep bird for baking
8:30-9:30 Cook at 350 degrees
9:30-4:30 Cook at 275 degrees
Set alarm for 4:30 to change oven temp
and go back to bed
4:30-5:30 Lower oven to 250 degrees
5:30 Turn oven off
5:30-6:00 Turkey sits in off and cooling oven
Move turkey to cool in refrigerator
11:30-11:45 Slice turkey and plate
Noon Eat Thanksgiving dinner
Cornbread Dressing
Make a pan of cornbread according to package directions. Allow it to cool, then cut and crumble it into bite-size pieces.
Chop one onion, two stalks of celery, and three cloves of garlic. Saute onion, celery, and garlic in 1/2 stick of melted butter.
Stir mixture into crumbled cornbread. Add salt and pepper and dried sage to taste. Add 1/2 cup of chopped parsley. Slowly add chicken or turkey broth by cupfuls until desired consistency (about 2-4 cups); we like it kind of mushy but not too watery.
Pour into a greased casserole dish. Bake at 350 degrees for 40-50 minutes until the casserole is browned and bubbly.
Sunday Sweet Potatoes
3 c. mashed yams (sweet potatoes) in sweet syrup (about 40 ozs.), drained
1 c. sugar
1/4 c. milk
1/3 c. melted butter
2 eggs
1 tsp. vanilla extract
1 small can crushed pineapple
1 c. mini marshmallows
Combine all ingredients and put into baking dish.
Topping:
1 c. coconut
1 c. chopped pecans
1 c. brown sugar
1/3 c. flour
Blend ingredients with 1/2 c. melted butter and sprinkle over top of potatoes. Bake at 375 degrees for 20 minutes, uncovered.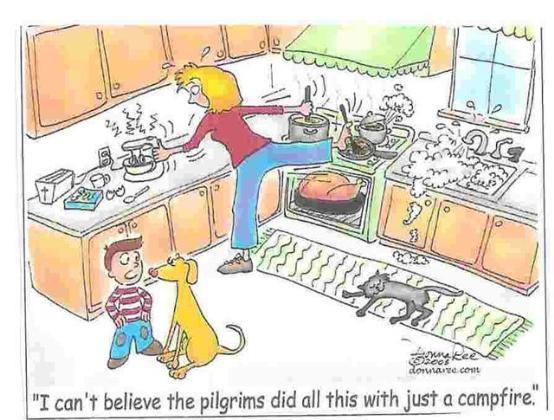 Disclosure: I occasionally feature affiliate links in my blog posts. Should you follow my link and make a purchase or join a membership website, I will be compensated for my referral.
Thanksgiving Dinner Menu and Recipes is a post from: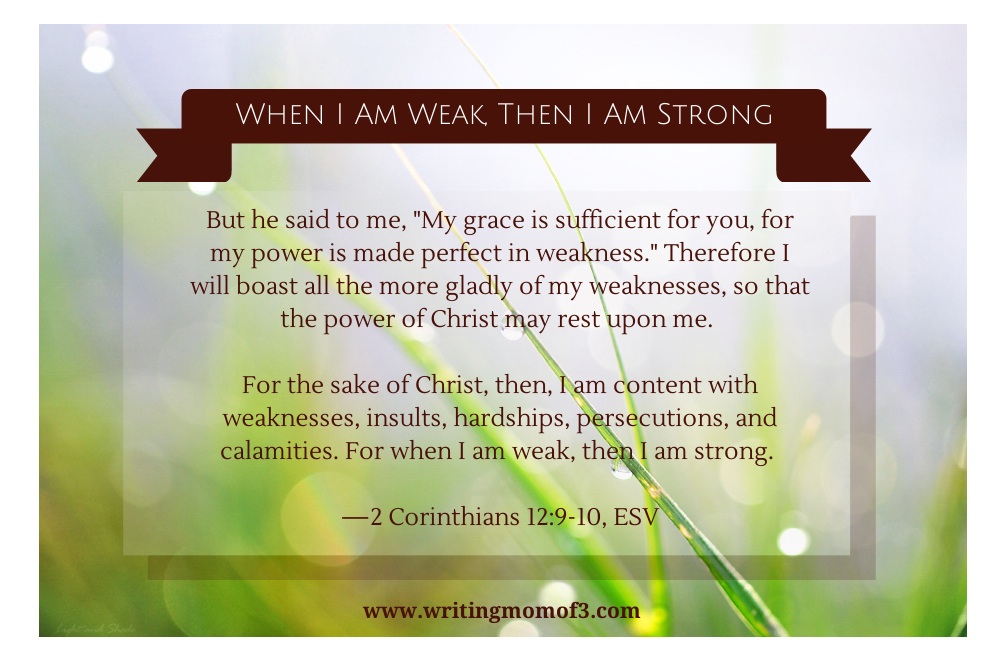 Something woke me in the middle of the night. It had been a few days since we found out that my husband was unemployed—with an increasingly sinking account balance and no immediate prospects for a job.
As I tossed a bit and tried to get comfortable in another sleeping position, the thought came booming through, out of nowhere.
I am powerless. Powerless.
And a feeling of vulnerability and weakness washed over me.
In the next thought, though, I reassured myself that powerless was exactly what I should be.
It's strange to be there—in that moment of paradox. Utterly dependent yet completely confident. Scared to death and perfectly at peace.
Weak yet strong.
9 But he said to me, "My grace is sufficient for you, for my power is made perfect in weakness." Therefore I will boast all the more gladly of my weaknesses, so that the power of Christ may rest upon me. 10 For the sake of Christ, then, I am content with weaknesses, insults, hardships, persecutions, and calamities. For when I am weak, then I am strong. —Romans 12:9-10, ESV
Disclosure: I occasionally feature affiliate links in my blog posts. Should you follow my link and make a purchase or join a membership website, I will be compensated for my referral.
When I Am Weak, Then I Am Strong is a post from: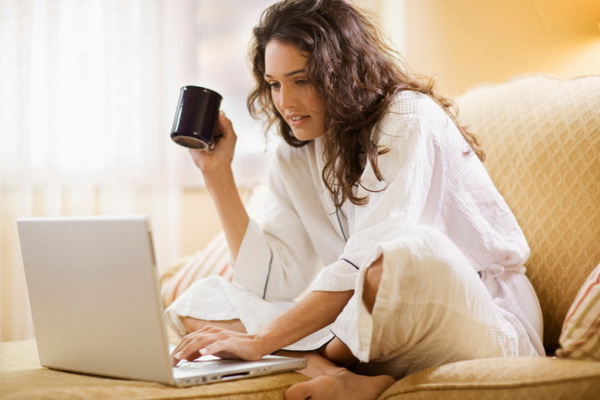 Since I've had children and left full-time work, I've looked for ways to make money online. I've searched for legitimate work-at-home jobs, part-time gigs, and freelance projects that would pay decently and still allow me to enjoy work/family balance.
I won't bore you with all the details, but suffice it to say that I've tried a wide variety of the "home party" model businesses, dabbled in Internet marketing, and clicked through survey after survey.
The result? A little bit of change.
But now? I've absolutely re-discovered a legitimate way to make money online, which involves minimal effort.
Swag Bucks Is A Quick, Easy, Legit Way to Make Money Online
I have written about using Swag Bucks before, but then I kind of abandoned it and honestly, forgot about it. I've come back to it, though, and have found it incredibly robust. Today's site is full of awesome deals and easy online "tasks" to perform for Swag Bucks—likely tasks that you're already doing anyway (like searching and online shopping).
My goal is to earn at least a $50 gift card so that I can do some Christmas shopping this year. That will come in handy since my husband has not been employed full-time this fall.
Is Swag Bucks For You?
• Yes! If you spend even one hour daily online checking email or Facebook, then you MUST sign up for Swag Bucks. It's a no brainer.
You can click through quick surveys or watch videos while you're also taking care of routine online tasks. Boom. You've just earned 4 or 5 Swag Bucks.
• Yes! Do you shop online? You MUST sign up for Swag Bucks. It's a no brainer.
Simply go through the Swag Bucks site to get to your shopping destination, and all of sudden you're earning SwagBucks – just for placing the order you were going to place anyway. It's like a double discount.
I'm Your Special Swag Bucks Friend
Think of my as your personal Swag Bucks Guide.
Join my email list and I'll keep you informed of any special news I get from the Swag Bucks team. You'll be the first to hear of daily special codes and other offers.
I'm so excited to share with you now a wonderful special offer from Swag Bucks!
Special offer === >>> Sign up using my SwagBucks referral link before December 21  AND earn 1500 SB before January 1, 2014  and you will automatically get a bonus of 500 SB!
Hello, people! That's like $5 just for signing up (think Starbucks latte)!
I also receive daily Swag Bucks codes. These are special codes that are only valid for a brief amount of time during the day but oh, so easy to redeem.
I'd love to add you to my email list for the Daily Swag Bucks Code. Just sign up at the end of the post.
If you're like me, you spend a lot of time on the computer anyway and you'd love to make some extra money.
Give Swag Bucks a try. What are you waiting for?
Sign Up Now
Just pop your name and email address into the box below and you'll be included in my special email list to receive offers, alerts, and news from Swag Bucks!
Photo Credit: Noemi Rita Kennedy via Compfight cc
Disclosure: I occasionally feature affiliate links in my blog posts. Should you follow my link and make a purchase or join a membership website, I will be compensated for my referral.
A Quick, Easy, and Legit Way To Make Money Online is a post from: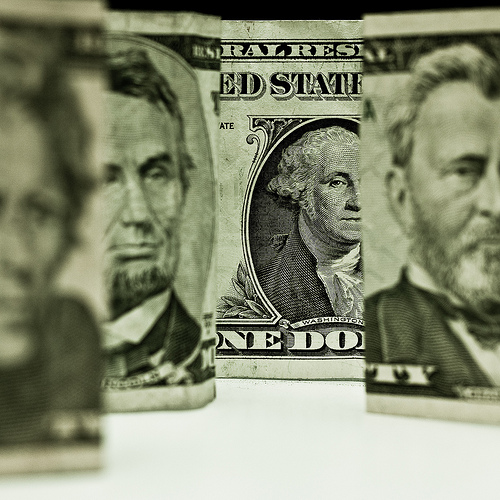 Going through a crisis has the strangest way of exposing all sorts of things about you, your beliefs, your feelings, your relationships, and your sin.
Please don't misunderstand me. I'm not saying that any of these things—or your doing or not doing something—causes the crisis or that God is somehow punishing you with a crisis because of something you did or did not do.
Certainly, of course, a crisis may result from the natural consequences of one's actions (mismanagement of money leads to bankruptcy), but God never sends calamity as punishment for your sin (as Pat Robertson is likely to teach).
What I'm saying is that while one is going through crisis, God will use the time and the circumstances to reveal many things to you. During our time of unemployment, a dwindling bank account, a diet of rice and beans, and a stripped-back life of just the essentials, God has hit me in the face with my sin of idolatry of money.
I know that I've struggled with this forever. But I'm telling you: until I've been in this utterly dependent situation, I've not fully confronted the depth of how committed I've been to this sin.
I love money. I love having enough and more than enough. I love pretty things, I love convenience, and I love comfort. I love being able to coast along on auto-pilot without much regard for stewardship or planning.
I resent people who have more money than I have. I'm constantly plagued by comparing myself to others and their monetary situation. I am jealous and critical. And then I become depressed. Depressed that I don't have enough and depressed that I'm a lousy steward of what I do have. Depressed that this particular sin has taken up primary residence in my heart.
I don't have a magic formula for identifying sin, confessing and repenting of it, and moving past it. No. But I do know that as I've found myself in this crisis, I do believe that God is working in many ways — and on this specific way with me.
Seeing My Sin, Confronting It, and Repenting
First, I had been praying that God would reveal my sin to me. Yea. A dangerous prayer, but important nonetheless.
Second, I continue to pray for his revelation of my sin to me.
Third, I pray that he—in all of his perfection—would be everything and more to me than my idols. This is an ongoing exercise that's a mix of prayer, journaling, meditation, and talking to myself. I am fully dependent and trusting on God—not material items.
Finally, and this is a biggie!—I pray that God would empower me to turn from my sin and deliver me from my own insecurities and jealousies.
Photo Credit: MickWatson via Compfight cc
Seeing My Sin In The Middle of a Crisis is a post from: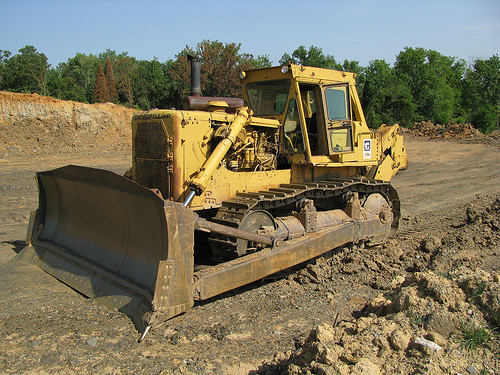 I work with the amazing Dr. Meg Meeker who wrote The 10 Habits of Happy Mothers (no—I'm not working in pediatrics; I work with the marketing firm that helps her with branding, social media, and other promotional projects). Anyway—in this book, she talks about the benefits to mothers, especially, for having a singular focus.
A singular focus goes against the very grain of who I am. I've written before about this struggle, and sadly, I don't think I've made much progress in this area.
See, I have BSOS (bright shiny object syndrome), FOMO (the fear of missing out), and I believe that anything is possible.
This is a dangerous combination, people.
You need your yard excavated? You rent the bulldozer and I'll figure out how to operate it. Washing machine broken? No problem. YouTube videos can walk me through the repair. Make $1000 next month? Yes, I can. Make my kids smarter? Why, yes, I need to implement your program right away. Lose 30 pounds? Definitely! I'll plug your routine into my calendar.
The Internet is my dream come true turned worst nightmare. I'm the girl who would save daily newspapers and issues of Time and Newsweek because I had to thumb through them before tossing them out. Had. To. I was convinced that each contained some kernel of knowledge that I needed. To carelessly toss away unread periodicals? Horrific! Unthinkable!
So, when Friend-From-Middle-School-Band Facebook Friend or My-Sister's-Friend-From-Church Facebook Friend posts an "amazing" article to my Facebook feed? Torture, I tell you. T-O-R-T-U-R-E not to investigate it.
You see where this goes pretty quickly? I'm surfing through irrelevant (though interesting!) articles, such as how to make homemade sauerkraut, quizzing my kids with flashcards, and researching heavy machinery operation, all while counting off sets of push-ups.
And then I crash and burn from the dizzying effect of it all.
And then I stop everything cold turkey to recover.
And then I become bored because all I'm doing is the boring, mundane stuff of life. Cook, laundry, clean up poop. Rinse. Repeat.
And then—as my personality demands, my eye catches another BSO and FOMO leads me, once again, to lose two hours inside my Facebook feed.
Rinse. Repeat.
Am I the only one who struggles with this???
Sometimes, I feel so alone. My husband is terrific at singular focus and solidarity of purpose and energy.
I stink at it and when I do it, I become bored and depressed. And then in trying to compensate, I go overboard.
I know. I know. I shouldn't compare myself. I hear 'ya. And I know there's not enough of me or enough hours in the day to stay this splintered with my attention and energy. Yet, I'm not sure how to fix it without denying part of who I am.
Help?
There has got to be a beautiful compromise out there that will honor who am I and what I need to accomplish.
Photo Credit: dbro1206 via Compfight cc
Disclosure: I occasionally feature affiliate links in my blog posts. Should you follow my link and make a purchase or join a membership website, I will be compensated for my referral.
Seeking Singular Focus is a post from:
---
Click here to safely unsubscribe from "The Writer's Block." Click here to view mailing archives, here to change your preferences, or here to subscribe • Privacy