I drink in this time of year.
I absolutely love Easter and the springtime that surrounds it. Creation testifies what we Christians know to be true—Christ is risen!
What could be more encouraging and powerful than being assured of the newness of life, the new day that is sure to dawn, the new heavens and the new earth in which we will walk?
Two years ago, we buried my mother. I miss her every day. But I miss her especially now. At Easter. In the springtime.
It seems appropriate that her favorite hymn was "Morning Has Broken," which, to me, has "Easter" written all over and through it. My mother faced her death with great courage and confidence because she knew the hymn lyrics were true:
Mine is the sunlight, mine is the morning
Born of the one light, Eden saw play
Praise with elation, praise every morning
God's recreation of the new day
My mother celebrated 77 Easters on this earth. How many pairs of high heels did she wear with new dresses all those years? How many Easter (and Holy Week-themed) sermons did she hear? How many hams did she bake? How many asparagus casseroles did she make?
Every year, my mother celebrated the resurrection of Christ as she did the year before and the year before that. It was the day that officially initiated the wearing of white shoes and the carrying of white handbags. It was a special occasion to gather the family for a hearty meal that always featured baked ham, scalloped potatoes, asparagus casserole, strawberry shortcake, and congealed salad.
It was the one day each year when the entire church sang loudly, "Christ The Lord Has Risen Today," when the excitement was palpable inside the First Presbyterian Church sanctuary in Shelbyville, Tennessee. The altar cloths had been changed to white, signifying new birth. Easter lilies dotted the pulpit. Sunlight beamed through the stained glass windows. Everything seemed brighter, lighter, and full of joy.
Indeed, every bit of my Easter experience announced the resurrection and the newness of life—the rebirth. The clothes, the food, the music, the flowers, and the colors screamed out, "Jesus lives!"
And my mother gladly joined in. On this earth, she gave her family traditions, so that we could hang our remembrances upon meaningful symbols of Easter.
And I'm so glad she did. Because when each Spring rolls around, even though I miss my mother, I have overwhelming hope.
Because I know that she is living Easter right now. Every day. Every moment. She was (and is) such a picture of grace and courage in the face of death. In the end, her theme song proved true and she rejoiced because she knew that the flimsy hospital gown she wore as she took her last breath was not her final apparel.
She knew on the other side waited her new Easter dress, the robe of Christ's righteousness.
Yes, my mother gets to celebrate Easter all the time.
And I wouldn't be surprised if, somehow, she gets to enjoy a new pair of white shoes and a serving of asparagus casserole every now and then, too.
~~~~
I'm participating in Throwback Thursday Stories today at The Mom Creative. Click below to read more Throwback Thursday Stories.
~~~~
Want to make your own asparagus casserole?
Here's a recipe that tastes just like my mom's.
Asparagus Casserole

2 cans asparagus tips

2 cups medium white sauce

6 hard boiled eggs

1 cup buttered cracker crumbs

1/2 cup grated American cheese

salt and pepper to taste

Add cheese to white sauce. In a buttered large casserole dish, in alternate layers of asparagus, white sauce, and sliced eggs.

Cover top with buttered cracker crumbs.

Bake in 350-degree oven for 20 minutes.

Instead of using milk in your sauce drain your asparagus and use the liquid.
Disclosure: I am not a medical doctor. Any statements made on this blog about essential oil use are not meant to treat, diagnose, or cure any condition. My statements about essential oils are my opinion and are based upon my own experiences and research.
I occasionally feature affiliate links in my blog posts. Should you follow my link and make a purchase or join a membership website, I will be compensated for my referral.
Until We Celebrate Easter Everyday is a post from: Mary Bernard
My daughter is 11 now and already involved in the middle school years (since fifth grade is in the middle school here). We talked last week about what activities she's going to do next year. Before the conversation was over, she had mentioned dance, softball, band, cheerleading, and gymnastics.
I said to her, "Well, you're going to have to decide on one or two and do those. I mean, if you're cheering at a game on Thursday night, you can't also be at softball practice or a dance lesson. There will be overlap, and you can't do it all well."
Inside, I cringed, thinking, Do as I say, not as I did.
My husband turned to me and whispered, "She's your daughter, alright."
From as early as I can remember, I have been busy. Too busy. Involved and committed and overextended.
As an elementary child, I danced, took piano lessons, and was in Girl Scouts. In middle school, I added band to the mix. In high school, almost every afternoon and every weeknight were jam packed with activities. In addition to the aforementioned activities, I also become involved in a service club, student council, and drama. I was drawn to leadership positions, so I also committed more time and energy as an officer. Throw in a year of cheerleading and being an active member (and officer) of my church youth group, and you've got a good picture of my teen years. College was no different with leadership positions in my sorority and the campus TV station and part-time jobs and internships.
I'm happy to report my grades never suffered; but honestly, looking back, I'm not sure how I did it. Most evenings in high school (and later, college), I wouldn't get home until at least 9 p.m. I'd start homework around 10 p.m. and was rarely in bed before midnight. I do remember that I was tired ALL the time.
So, my grades were fine, and I got a great scholarship to college. I was socialized and "well-rounded." What's the big deal? you may ask.
Well, I think doing all this activity firmly established patterns, which set me up for a lifetime of struggle.
A friend recently said to me, "You can do anything, but you can't do everything." I couldn't agree more—now. But at 10, 13, 18, and 22? I was convinced I could do everything.
And I wore myself out.
I think we children of the 70s and 80s—especially we girls—left our teeenage and college years believing that we could do anything (and everything) we desired. I remember my mother saying on numerous occasions, "When I was growing up, I could be one of three things: a nurse, a secretary, or a teacher." (She chose teacher.) She was super-excited that her daughters had incredible opportunities for education, experience, and independence.
I really believe it was a generational thing. My parents and teachers (even college professors) subscribed to the belief that if I could do anything, I may as well do everything. Not once did any adult sit me down and say, "Where's your passion? What ONE THING would you rather do more than anything else? Where do you most feel God's pleasure?"
It's been hard, believing that I could do all things well. Because I can't. To this day, I struggle with distraction and unrealistic expectations for myself in all my roles.
I want to steer my daughter away from "everything" and help her focus on one or two things. I think it's important to realize that God is a God of focus, completion, singularity, excellence, and uniqueness. Sure, he's a "multi-tasker," but he's a perfect God.
---
God is a God of focus, completion, singularity, excellence, and uniqueness.
Click To Tweet - Powered By CoSchedule
---
I want to teach her that she will best glorify him when she identifies and uses those few skills, talents, and gifts he's chosen uniquely for her. That's when she'll be most at peace, most productive, and most at ease.
Most of all I want her to know that she can do anything, but she can't and shouldn't do everything.
That's a secret definitely worth sharing.
Disclosure: I am not a medical doctor. Any statements made on this blog about essential oil use are not meant to treat, diagnose, or cure any condition. My statements about essential oils are my opinion and are based upon my own experiences and research.
I occasionally feature affiliate links in my blog posts. Should you follow my link and make a purchase or join a membership website, I will be compensated for my referral.
The Dirty Little Secret I Hope My Daughter Never Finds Out is a post from: Mary Bernard
Many of you have heard my crazy story of finding out we were having twins. Yes—it was one of those revelatory moments that you see in movies. OK–it wasn't quite the Cosby Show scenario where Sondra and Elvin don't tell their families about the twins until AFTER they are born.
But still.
Finding out we were having twins is one of the most exciting—if not, the most exciting—things that's happened to me. And definitely the most surprising. Seriously.
Our daughter, Susanna, was born in 2003. After about 15 months of trying to conceive, we succeeded. In hindsight, we believe the delay resulted from undiagnosed endometriosis.
So, when Susanna turned one, we started itching for another baby. My friend, Jennifer, calls that the bewitching age. You know, when the kids are cute and are sleeping great and well before the tantrums and potty training. It's when you think, "Hey! This parenting thing? I got this! No problem. Let's do it again!"
A couple of months later, we decide to begin trying for our second baby. We were really uncertain as to how long it would take to get pregnant, if we would succeed, if we would need some type of intervention, or if we even wanted to go through that.
I remember our taking a walk one evening, and Chris and I discussing our contentment with our family of three, if that was God's choice for us.
And then, about the second month of trying, we conceived. Just like that. I was pregnant.
We would have baby #2 in May 2005. I thought that was so cool because #1 was born in 3/03 and #2 would be born in 5/05. My parents' third grandchild was born in 3/03 and their fifth would be born in 5/05. Yep. I had fun with all these little details.
Around 8 weeks, we went to my OB/GYN's office for the first prenatal visit, where they performed a basic ultrasound. Everything looked great and we saw our little pinto bean on the screen—strong heartbeat flashing.
About a week later, I experienced some bleeding. I wasn't terribly concerned until it progressed during the course of a few hours, becoming quite heavy.
I'm having a miscarriage. This is it. I thought.
I called the doctor on call (not my doctor), and he prescribed bed rest and to call my doctor first thing Monday morning. He offered the rather unhelpful, "Well, if it's a miscarriage, it will just continue and will happen. If it's not, it won't."
OK.
So, I hit the bed and waited. I was stunned when the bleeding slowed down and actually stopped. By Monday morning, I felt so "normal" that I actually had to remind myself to call the doctor.
The doctor was a bit concerned and wanted to see me. I was so certain that there was nothing wrong that I almost didn't call Chris. But on second thought, I decided I'd need him by my side in case we did receive news of a miscarriage.
So, Chris met me at the doctor's office. They shuffled me to the front of the line and quickly hooked me up to the ultrasound machine. (Since they made me such a priority I realized this whole bleeding thing was a really big deal after all.) I was getting a little anxious now.
But again, that little baby looked great on the screen. The heartbeat was strong and steady.
"Well, there's the baby and it looks great. Hmmm, I don't see any problems or any explanation for the bleeding," said my nurse practitioner.
But my doctor wasn't entirely satisfied. He explained that their office ultrasound was like a Volkswagen, and he wanted me to have an ultrasound of Cadillacesque caliber. He was concerned there was some hidden reason for the bleeding—maybe a hemorrhage? and a fancier machine could certainly find it if it were there.
We went across town for our Cadillac ultrasound. The tech got all the probes in place and flipped the screen around. Chris saw them immediately. I was squinting trying to find hemorrhages, not knowing at all what I was looking for or what I was seeing.
"Hmmm … well, there are the babies. And they look great."
"Excuse me?" I asked.
"There are the babies. Heartbeats look good and strong."
"Bab-EES??? Babies? Two babies?"
"Yes. Babies," she said. "Wait. You did know you were having twins, right?"
"No!" Chris and I shouted together.
"Well, you're having twins, and they actually look great. And how many ultrasounds did you say you've had?"
"Two. And one was an hour ago!"
And I proceeded to laugh and cry at the same time, and I'm sure that lady thought I was nuts.
~~~
Today my precious identical twin boys are almost 9 years old. I like to say they came to us as a "spontaneous act of God." In all instances of new life, God reveals himself in a miraculous way. But I have to say that having twins spoke (and still speaks) to me about God in ways that just can't be communicated otherwise.
Conceiving, carrying, and giving birth to identical twins further displays how amazing our Creator is. Biologically, one's chance of conceiving identical twins is about 1 in 300. My boys are identical mirror-image twins, which means the fertilized egg split late in the process (at least a week after conception). Mirror-image twins, then, have reverse asymmetric features. For example, one of my boys is left-handed and the other is right-handed. (Isn't that coolness????)
When I sometimes become distant from God or those shreds of doubt start to creep in around the edges of my mind, I need only look to my twin boys to be reminded of God's incredibly creative power, that is perfect in its detail.
This is my prayer most everyday:
"[Jesus said,] 'All things are possible for one who believes.' Immediately the father of the child cried outand said, 'I believe; help my unbelief!'" —Mark 9:23b-24
God in his mercy daily helps me believe when I consider my precious kids, especially my identical twins.
~~~
How did YOU find out you were expecting twins? I'd love to hear your story! Leave me a comment and let me know.
Disclosure: I am not a medical doctor. Any statements made on this blog about essential oil use are not meant to treat, diagnose, or cure any condition. My statements about essential oils are my opinion and are based upon my own experiences and research.
I occasionally feature affiliate links in my blog posts. Should you follow my link and make a purchase or join a membership website, I will be compensated for my referral.
How We Found Out We Were Having Twins is a post from: Mary Bernard
Today, I had an amazing experience with using Grapefruit Essential Oil. I actually created a video to tell you about my experience. I hope you'll watch it and let me know what you think.
After the video, you'll find a quick summary of what I reveal on the video (in case you'd rather read it than watch), a picture of my lunch that I couldn't finish, and a recipe for that awesome gluten-free salad.
I hope you'll join me for the Oil of the Month Club in April. I can't wait to see what we discover about Clarity next month! Find the link to join at the end of the post.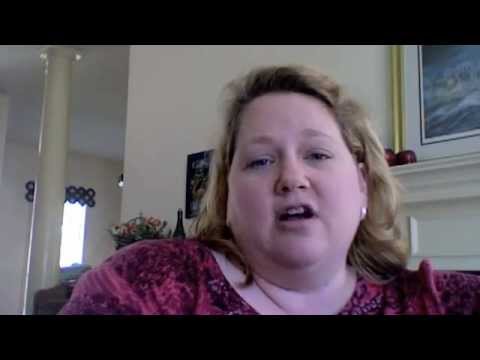 Video Summary
I had read somewhere that about 20 drops of grapefruit essential oil should be taken daily in order to see weight loss. I have about 60 lbs. to lose, so today at lunch I decided to drink a glass of water with 10 drops of grapefruit oil in it.
I had prepared myself a large (dinner plate sized) southwest chicken salad (see recipe below). This is a fairly standard meal for me. Lately as I have been eliminating gluten, flour, and sugar products from my diet, I have found my self hungrier, not satisfied, and often fighting cravings.
Well, about mid-way through my salad, I looked at it, and I thought, "Hmm. I'm full. I really don't feel like eating anymore." And then I silently argued with myself, "No. You really are hungry. You had a normal breakfast; you ought to be hungry! Hey, your stomach was even growling in church. You better finish your lunch. You're not even half-way through. Half a salad? You usually get seconds! Why aren't you hungry?"
And then I looked at my glass and it was an A-HA! moment — grapefruit oil!!!! It's so hard for me to explain. I wasn't JUST physically full. There was a mental and emotional fullness, too. There was a really distinct sense of "that's enough." True satisfaction and satiation. And that's what made it so easy to simply stop eating.
If you are an emotional eater or struggle with cravings, you know what I'm talking about. It must be something in the grapefruit oil that is deeply satisfying, which is HUGE for me, friends!!!! (Granted, I have made several changes in diet, nutrition, and using EOs in the last 4-6 weeks, so it could be some combination of those—BUT today with the grapefruit oil, I really felt a breakthrough.)
The main reason I even tried grapefruit essential oil is that I am participating in the Oil of the Month Club and grapefruit is our featured oil for March. This club is awesome for becoming acquainted with new oils—many of which I'd probably never pick out on my own. I doubt I'd have tried grapefruit without the prompting of the Club.
Check out the Oil of the Month Club here and sign up for April now!
~~~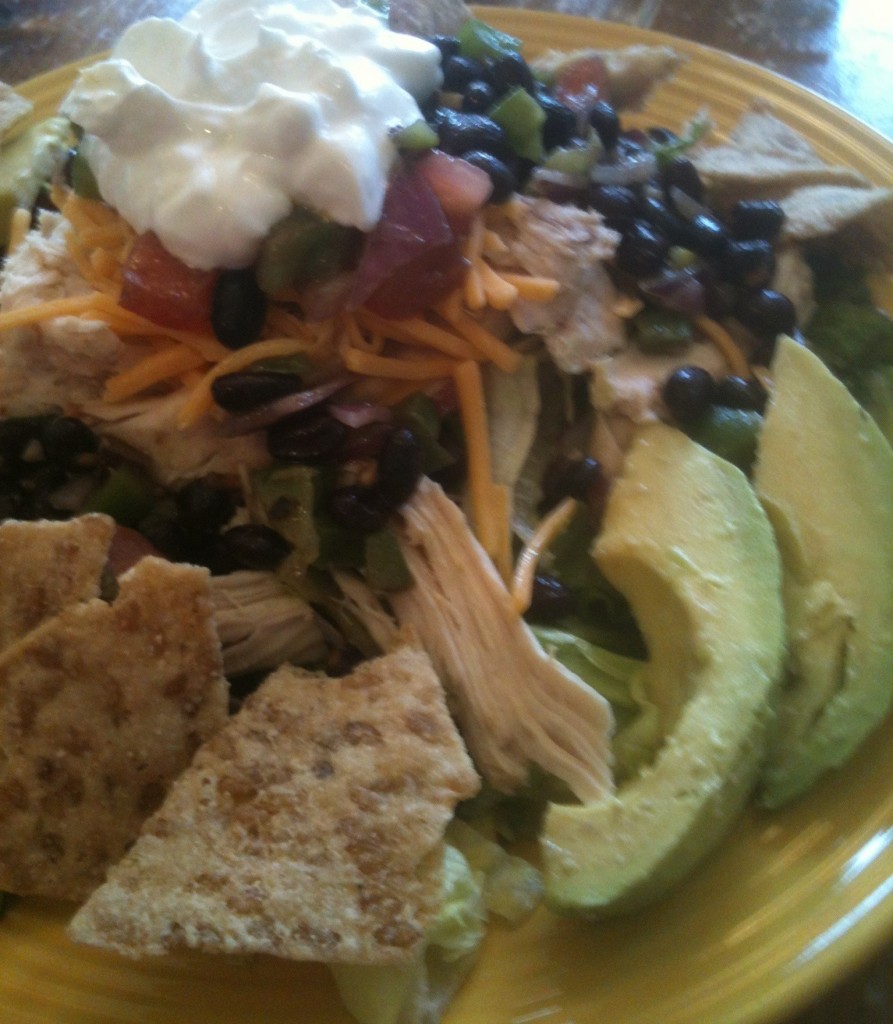 Southwest Chicken Salad

Ingredients:

1 can black beans, rinsed and drained
1/2 c. chopped green pepper
1/2 c. chopped red onion
1 small tomato, chopped
juice and zest of one lime
1/4 cup red wine vinegar
1/4 t. ground cumin
1/4 t. chili powder
1 clove garlic, chopped
1/2 cup chopped cilantro
1 c. olive oil
stevia and cayenne pepper to taste
salt and pepper to taste
Romaine lettuce/salad mix
roasted chicken
shredded cheese
sour cream
avocado slices

Assemble the salad:

Combine beans, onion, pepper, and tomato in a bowl and set aside. In a glass jar or dressing carafe, combine the lime zest and juice, vinegar, cumin, chili powder, garlic, cilantro, stevia, cayenne pepper, and salt and pepper. Add olive oil and shake or whisk vigorously to combine.

Pour dressing over the bean mixture to desired "juiciness."

Plate salad in the following order: lettuce, bean mixture, shredded chicken, shredded cheese, sour cream, and avocado slices. Drizzle dressing over layered salad as desired.

Serve with tortilla chips or rice chips.
Disclosure: I am not a medical doctor. Any statements made on this blog about essential oil use are not meant to treat, diagnose, or cure any condition. My statements about essential oils are my opinion and are based upon my own experiences and research.
I occasionally feature affiliate links in my blog posts. Should you follow my link and make a purchase or join a membership website, I will be compensated for my referral.
Why I Could Only Eat Half Of My Lunch Today – Losing Weight With Grapefruit Essential Oil is a post from: Mary Bernard
This week, it dawned on me.
I've felt rotten about 75% of the time during the last decade or so.
During the past two weeks, I've begun making some major changes in diet and supplements, and I feel soooooooo much better. I have more energy, clearer thinking, motivation, and a positive outlook.
Funny how you don't really know how bad you feel until you feel well.
Creeping weight gain, migraine headaches, depression, irritability, sleep issues, achy joints, thyroid issues, sugar cravings—all of these things have characterized the last few years of my life.
Finally, a couple of weeks ago I went to a new doctor who specializes in chiropractic and holistic medicine. I was blown away at all the testing he did on me. He discovered that, indeed, I have some functional issues, as well as nutritional deficiencies. He also found that I have some sensitivities to gluten and should begin going gluten free.
It's not going to be easy, but since I'm already feeling better, I'm encouraged to keep going.
We've been coasting on auto-pilot the last few years. It's easy to just do the same ole thing every day. You're in the groove; it's familiar, and it gets the job done. And when you feel rotten anyway, it makes it even harder to expend the energy to do something different. It's all a self-perpetuating cycle.
Earlier this year, we began using Young Living Essential Oils, and I'm learning as much as I possibly can about them. I'm seeing a chiropractor and taking new nutritional supplements. I'm revamping our menus and pantry to go gluten free, and I've given up all carbonated beverages for Lent.
If you don't feel "quite right," I highly encourage you to seek out alternative therapies and consider changing your diet. It's amazing how your whole life and outlook shift when you physically feel well. Also, check out essential oils and how they can help you. And join me here as we take the journey together! Yummy gluten free recipe below!
~~~
Are you gluten free? What are some tips you can share with me? Let me know in the comments.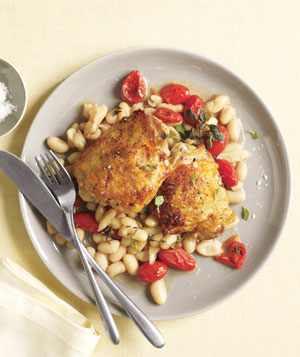 Chicken With White Beans and Tomatoes from Real Simple
(my revisions are in blue italic)
Ingredients
2 15.5-ounce cans cannellini beans, rinsed
1 pint grape tomatoes (or one can of diced tomatoes)
4 sprigs fresh thyme (or 1 tsp. dried thyme – or to taste)
4 sprigs fresh oregano, plus leaves for garnish (or 1 tsp. dried oregano – or to taste)
2 garlic cloves, smashed
1/4 teaspoon crushed red pepper
2 tablespoons olive oil
kosher salt and black pepper
8 bone-in, skin-on chicken thighs (about 3 pounds total) (or boneless, skinless thighs)

1 cup shredded mozzarella cheese
Directions
Heat oven to 400° F. In a 9-by-13-inch (or some other large) baking dish, toss the beans and tomatoes with the thyme and oregano, garlic, red pepper, 1 tablespoon of the oil, ½ teaspoon salt, and ¼ teaspoon black pepper.
Place chicken on top of the bean mixture. Rub with the remaining tablespoon of oil; season with ½ teaspoon salt and ¼ teaspoon black pepper.
Roast until the chicken is golden and cooked through, 35 to 45 minutes.
Sprinkle mozzarella cheese on top of hot chicken and allow it to melt.
Tip
For even richer flavor, add 1/2 cup dry white wine to the bean and tomato mixture before cooking.
Beginning the Gluten Free Journey is a post from: Mary Bernard
---
Click here to safely unsubscribe from "Mary Bernard ." Click here to view mailing archives, here to change your preferences, or here to subscribe • Privacy