---
What comes to mind when you think of the two most popular foods for children? For me it's Peanut Butter and Jelly Sandwich and Rice Krispie Treats. So I've combined the two and came up with Peanut Butter and Jelly Krispie Treats for you! 
Many, many years ago, I began making Rice Krispie Treats with Sugar, Corn Syrup and Peanut Butter. They are soft and taste a whole lot better than the treats made with marshmallows. And they are super easy and go together in about 5 minutes.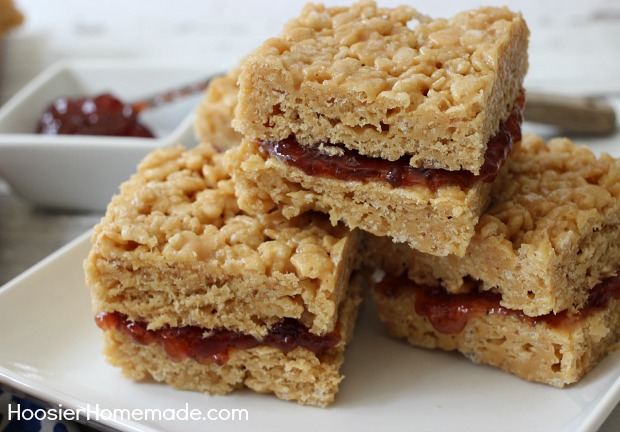 Our middle son who is 20, plays college baseball, and during the Summer months, he is on a travel team. So far this Summer, he has played – and we have watched – about 60 games, averaging about 8 per week. On the weekends, they host double header games, having 2 games back-to-back, so the coach began grilling hot dogs for them to eat between games and a couple of the Moms would bring food for the players to go along with the hot dogs. We always took Watermelon and Rice Krispie Treats. The boys loved them, and even though they are older, they all seemed to love the Peanut Butter in them.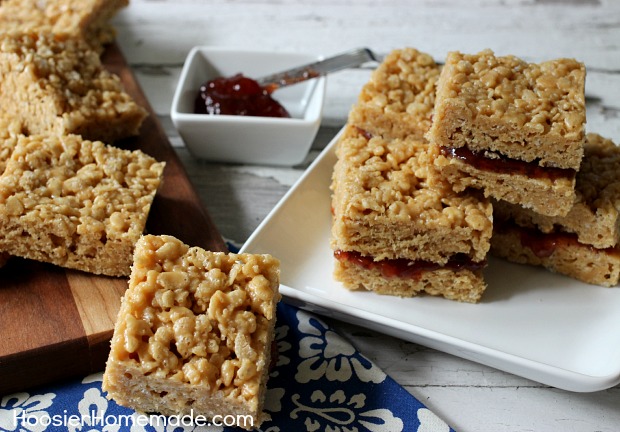 Adding the Jelly in the center and making a sandwich with the treats was a no-brainer, because of course, what goes better with Peanut Butter than Jelly.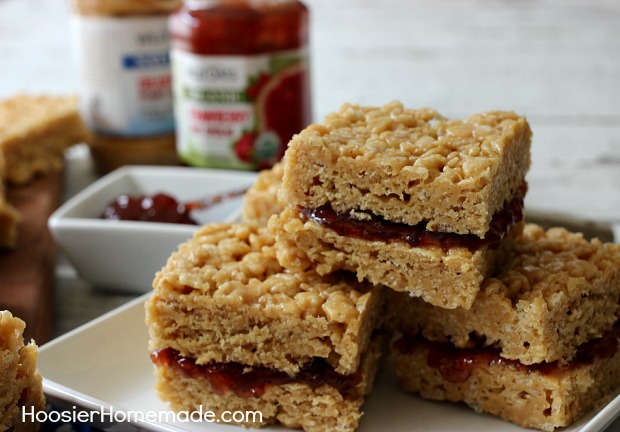 This time around though, I used the new line of Organic Products at Walmart, Wild Oats. Wild Oats Marketplace has been in the food industry over 25 years, making great food to those that care about what food they eat and where it comes from. Wild Oats recently launched a new line of Organic products at Walmart – and you guessed it, they are affordable. The 16 ounce container of Peanut Butter is priced just under $3, making it comparable to non-organic brands. We recently used the Wild Oats Beans and Pasta in our Healthy Three Bean Pasta Salad and loved it!
I haven't really used organic products much in the past, because frankly they were expensive. But with this new line of Wild Oats products, they will definitely be on my grocery list now.
Peanut Butter and Jelly Krispie Treats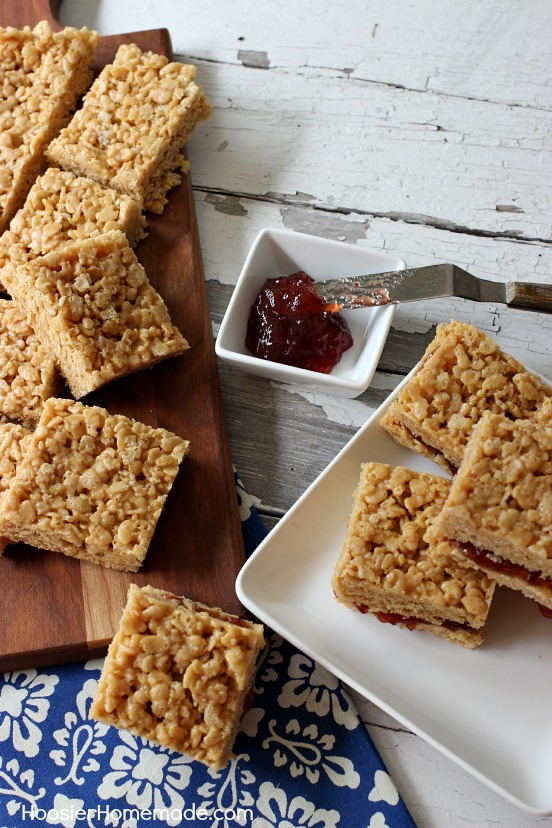 The BEST Rice Krispie Treats you will ever make! Recipe on HoosierHomemade.com
Ingredients
6 cups Krispie Treats
1 cup Sugar
1 cup Light Corn Syrup
1 cup Peanut Butter
Jelly to spread
Instructions
Add foil to a 13x9 pan to make cutting the treats easier
Add cereal to a large bowl
In a small saucepan, combine sugar and corn syrup
Bring to a bubble (NOT BOIL) over a medium heat
Remove from heat and stir in peanut butter, until smooth
Add to cereal and stir until all cereal is coated well
Pour into foil lined pan and spread evenly
Leave on counter to set, about 30 minutes
Remove from pan using edges of foil, cut into squares
Spread Jelly on bottom of square and top with another square, push together slightly
Notes
These are great even without the Jelly.
http://hoosierhomemade.com/peanut-butter-and-jelly-krispie-treats/



Related Stories
Did you know that July is National Ice Cream Month? Of course we all love ice cream, but how about Ice Cream Cone Cupcakes?
Ice Cream Cone Cupcakes are super easy to make, the decorating options are endless and they are just plain fun to eat! Today I thought it would be fun to feature some of the Ice Cream Cone Cupcakes that I have made and a few that I found while browsing around Pinterest. And also, show you how to bake cupcakes in the ice cream cone.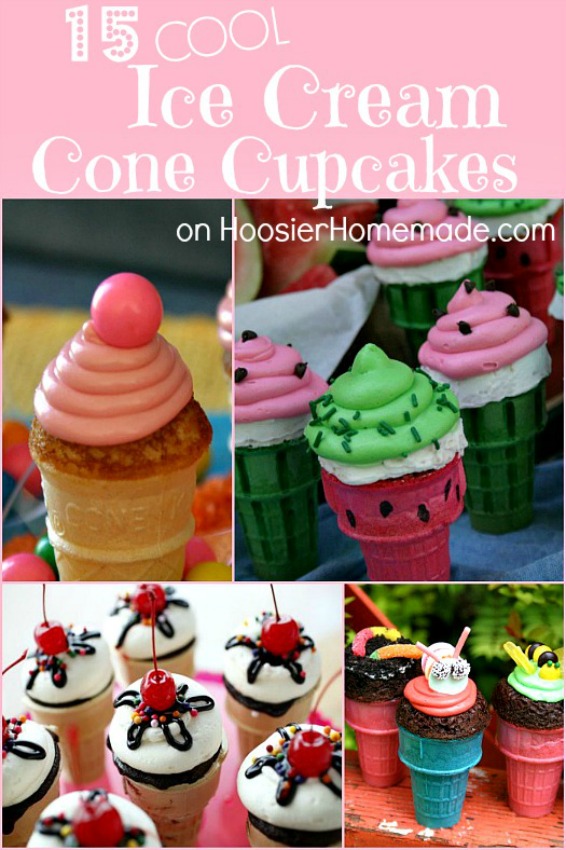 Happy Cupcake Tuesday! I'm so excited you are here! Looking for a cupcake recipe? Be sure to check out the Cupcake Heaven page, there are over 250 cupcake recipes and decorating ideas!
Let's start with some of my favorites that I have shared here on HoosierHomemade…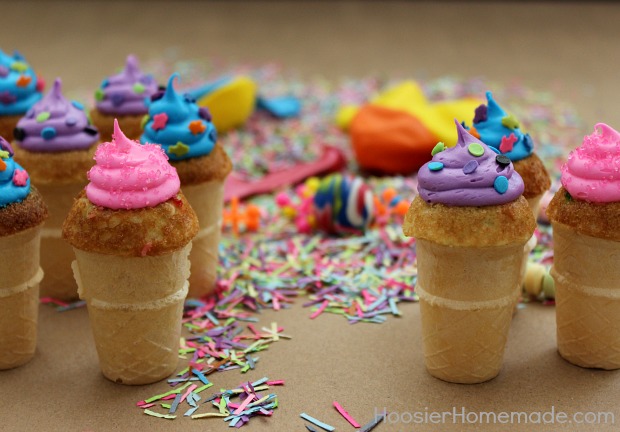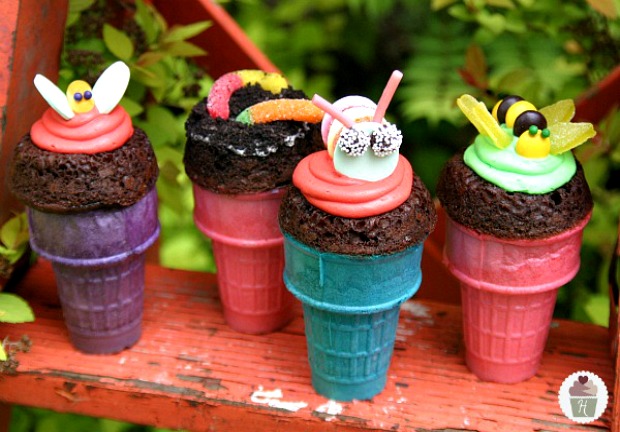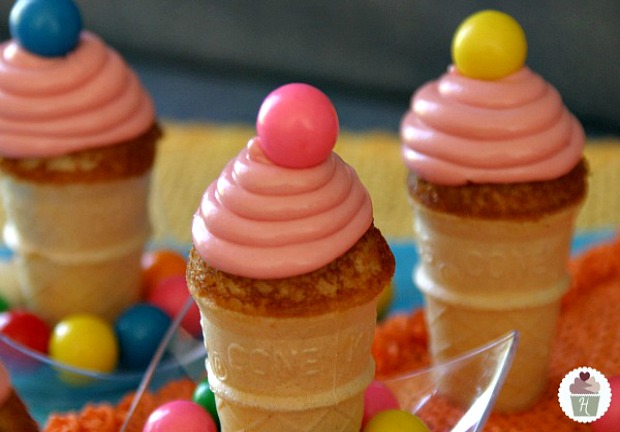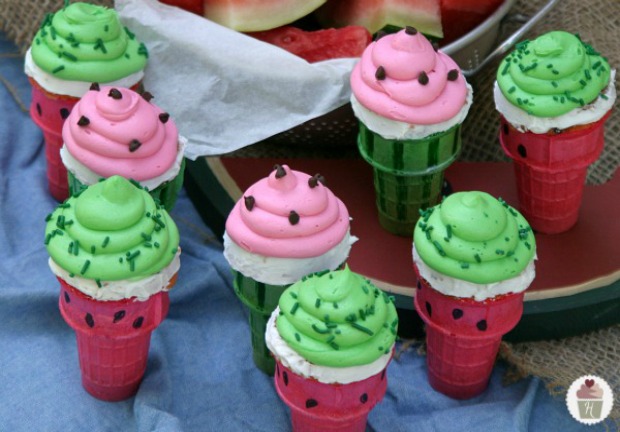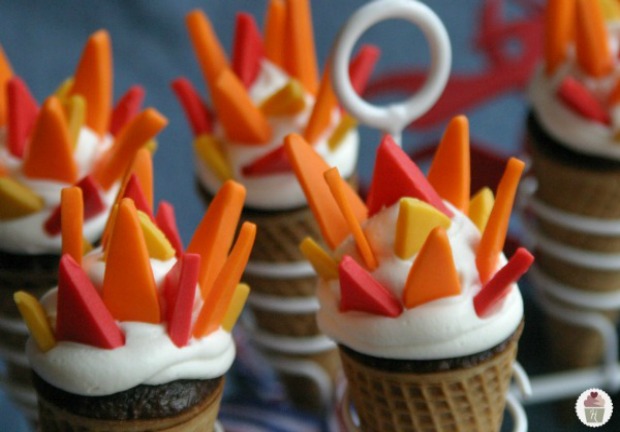 can also be used for Campfire Cupcakes
And how about some fun Holiday Cupcakes using Ice Cream Cones?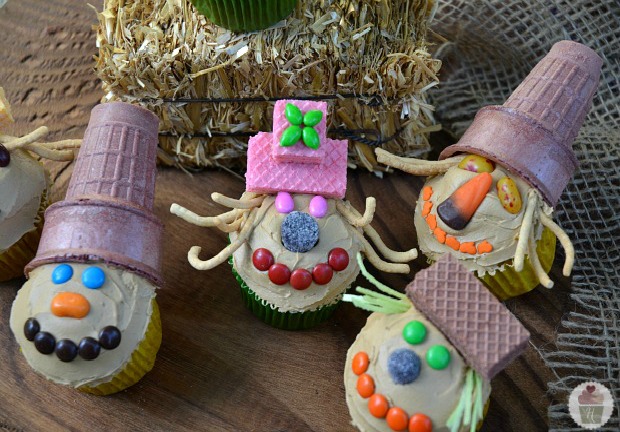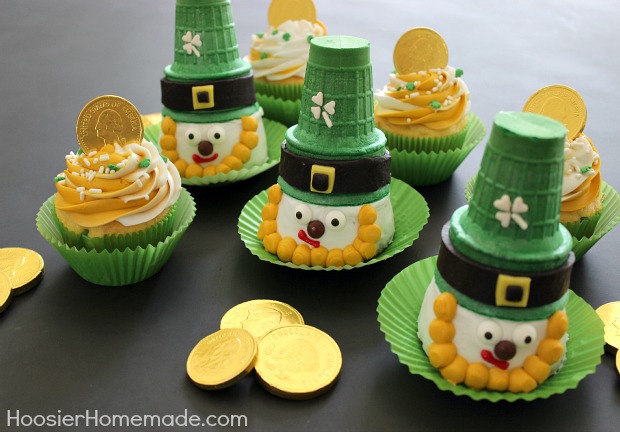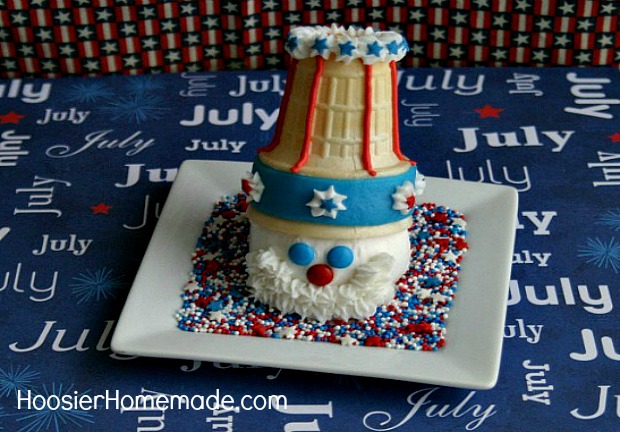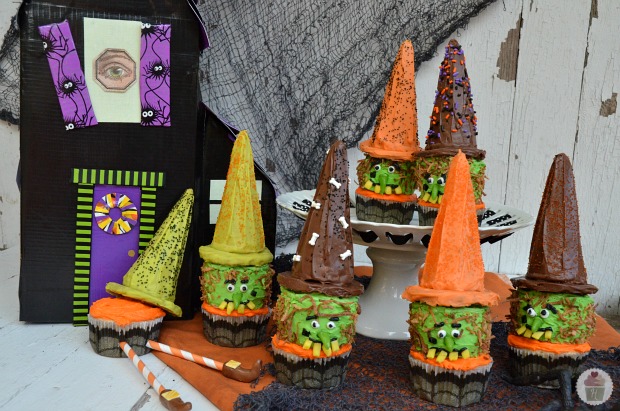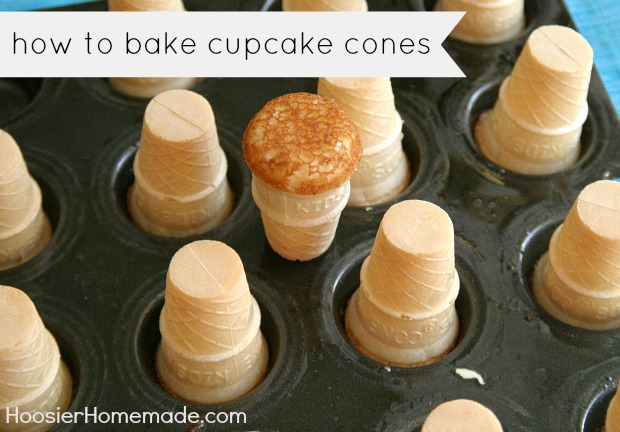 And here are a few more that I'm sure you will love! Be sure to pin from the original source, please!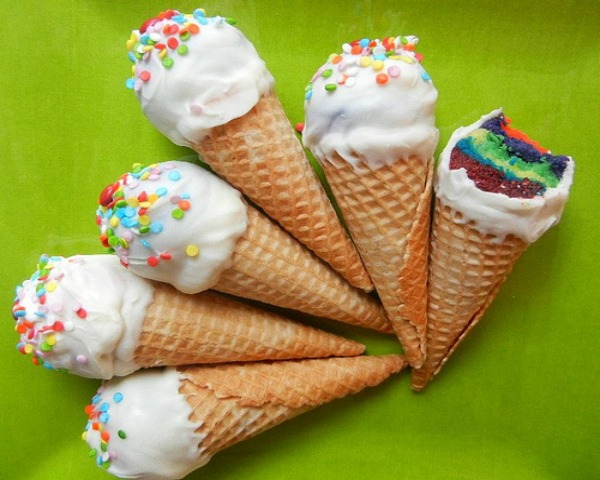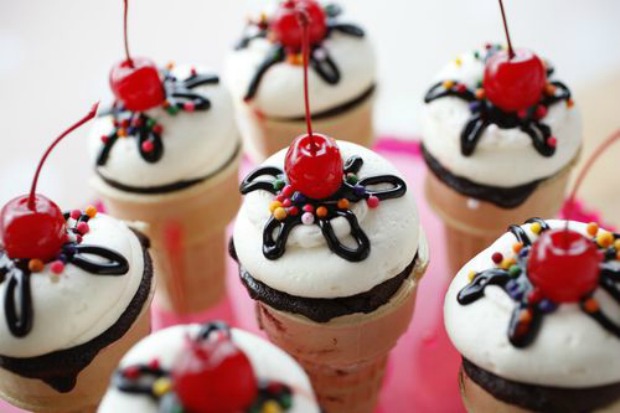 Related Stories
Inspired from a favorite quick bread, this Blueberry Pie is not your normal pie, it has Fresh Thyme, Lemon Zest and Goat Cheese along with Blueberries in a Cornmeal Crust.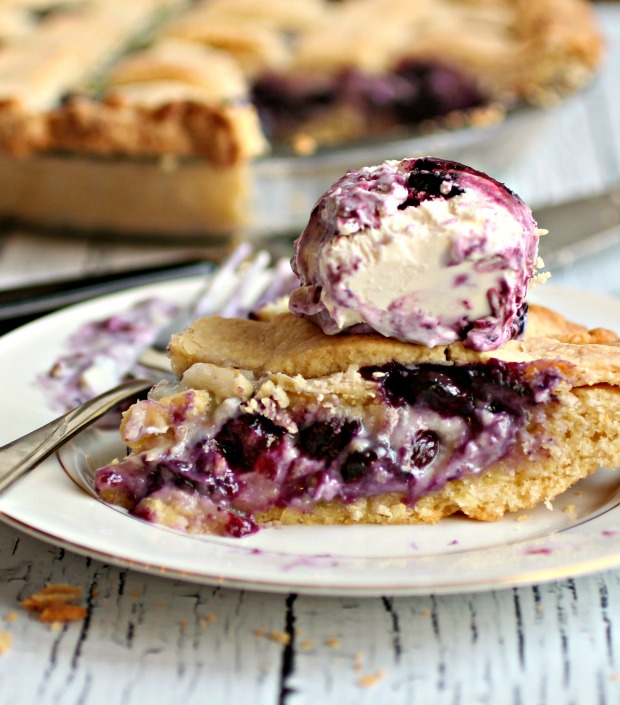 I'm super excited to introduce you to Anita from Hungry Couple! She is joining our Hoosier Homemade Team and will be sharing a delicious recipe with you each month! You can find more of her recipes on Hungry Couple and A Cocktail Life, follow her on Pinterest, Facebook, Twitter and Google+.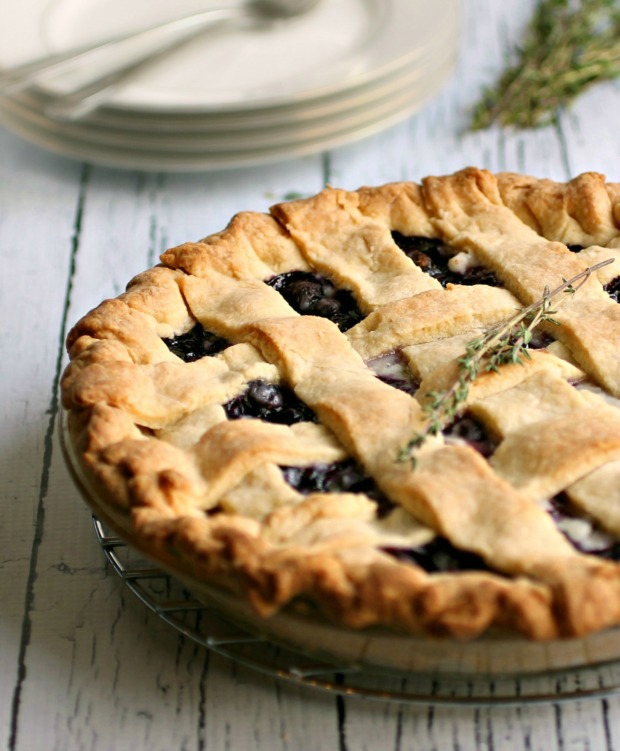 Let's talk about pie. Sweet fruit baked into tender, flaky pastry, served warm with maybe a scoop of ice cream on top. It's been way too long and I needed some pie. The only question was which kind.
All winter I mourn the slim fruit pickings and long for the bounty of summer. Now I couldn't decide. I mentally ran through the list of fruit options and almost everything appealed to me. But I'm the kind of cook that let's the market selection dictate my choices so, I took myself shopping at my local farmer's market. No lack of options there but a basket of beautiful, glistening blueberries called my name.
Back home I decided to borrow some ideas from one of my favorite quick breads and include lemon zest, fresh thyme, cornmeal and goat cheese. I honestly wasn't completely sure what to expect but my first taste of the pie made me think I'd never want any other kind again. Check out this post from The Kitchn for a great tutorial on making a lattice crust.
I served this with a scoop of my Homemade No Churn Blueberry Cheesecake Ice Cream. Enjoy!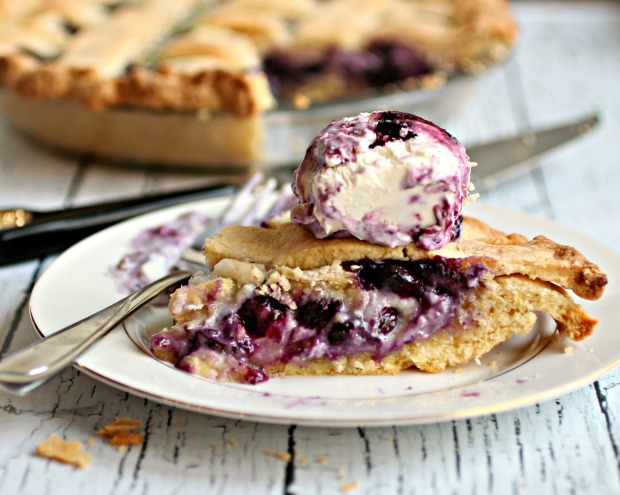 Blueberry Pie with Lemon and Thyme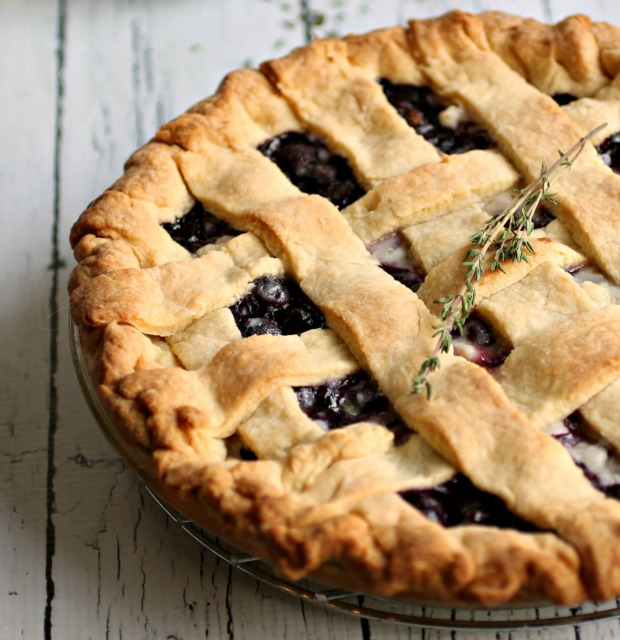 Blueberry Pie packed with flavor from Lemons, Thyme and Goat Cheese. Recipe on HoosierHomemade.com from Hungry Couple
Ingredients
Crust

2 Cups all purpose flour
1/2 Cup cornmeal
2 Sticks unsalted butter, well chilled and cut into 1" pieces
1/4 Cup sugar
1 teaspoon baking powder
1 teaspoon salt
1/2 Cup ice water

Filling

3 Cups blueberries
1/3 Cup sugar
1/2 Cup crumbled goat cheese
Zest of 1 lemon
1 teaspoon fresh thyme leaves
1 Tablespoon all purpose flour
Pinch of salt
Instructions
Crust

To make the crust, combine the flour, cornmeal, butter, baking powder, sugar and salt in a food processor with a steel blade and pulse just until it resembles course crumbs. Slowly pour in the ice water and pulse until a dough ball forms. Wrap the dough in plastic wrap and refrigerate for at least one hour.
When ready, cut the dough in half and return one half to the refrigerator. Roll out the other half on a well floured surface until you have about a 10" round. Place the dough round into a 9" pie dish and crimp the edges slightly.

Filling

To make the filling, in a large bowl combine the blueberries, sugar, goat cheese, lemon zest, thyme, flour and salt. Pour into the prepared bottom crust.
Roll out the second half of the dough and cut into strips (I used a pizza cutter). Weave the strips into a lattice top and crimp the edges.
Bake the pie in a pre-heated 375 degree oven for 30 - 40 minutes or until the crust is a light golden brown.
http://hoosierhomemade.com/blueberry-pie-with-lemon-and-thyme/


Related Stories
Earlier this month, I told you about my trip to Ohio where I helped to transform some outdated furniture and make a boring screened in porch look fabulous. Well, the time has come for the big reveal of the porch, and I couldn't be more excited to share it with you. You also have a chance to win great Krylon products, so be sure to vote for #teamMamboPink!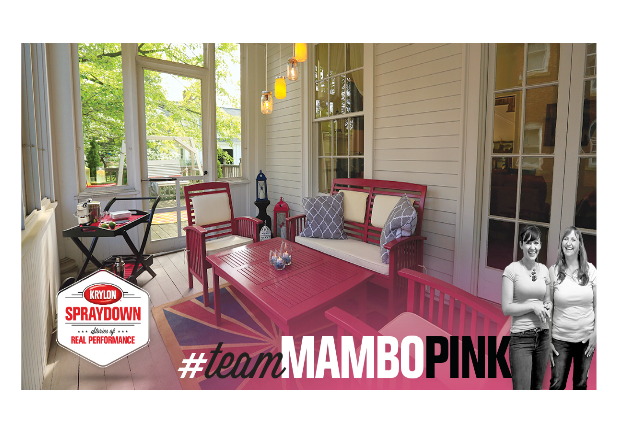 Theresa from My Fix It Up Life and I teamed up to turn a boring screened in porch into a fun and vibrant space. We were given $100 to spend at a local Garage Sale and given a challenge to create an Outdoor Space. We used fun colors of Krylon ColorMaster, like Mambo Pink and Raspberry Gloss, to bring this space to life. Check it out…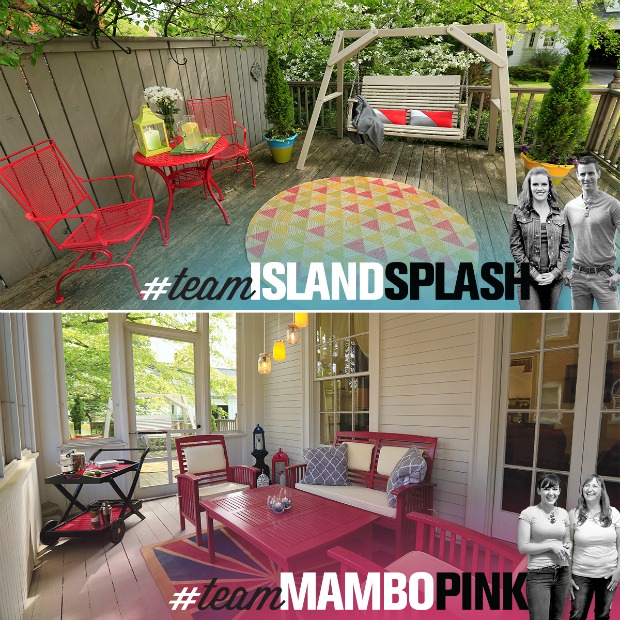 I think both spaces turned out fabulous! I'm on the hunt now to find a beverage cart to add some new life to for my own home. But my favorite is the Mason Jar Light Fixture, so cool! You can download all the instructions for these projects and give your space a whole new look!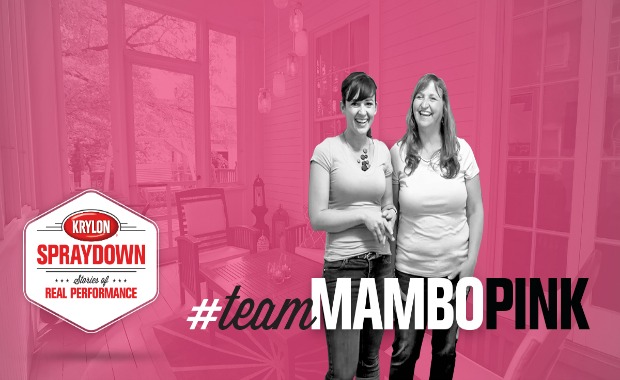 Now it's time for YOU to Vote and WIN! There are 2 ways to vote!

1.  Head on over to the Krylon Facebook Page, each day you can vote for a chance to win Krylon Products. Be sure to use #teamMamboPink
2.  Tweet by clicking on the picture below. #teamMamboPink
Note: Winners are only chosen on the Krylon Facebook Page




Related Stories
Well the time is almost here, school is right around the corner. Time to get back into a routine, pack lunches and tackle homework. Along with homework time comes snacking, these Back to School Snacks are sure to keep your student happy. Delicious mix ins to jazz up Macaroni and Cheese, Snack Mix made with a salty – sugar mixture and a fun Popsicle that every kid will love.
I don't know about you, but in our house, the first thing the boys do when they come from school is hit the fridge. And often times, the snacks need to be quick and easy, whether they are working homework or getting ready to head to practice or a game. We were given 3 different products and asked to come up with some Back to School snacks that kids can make.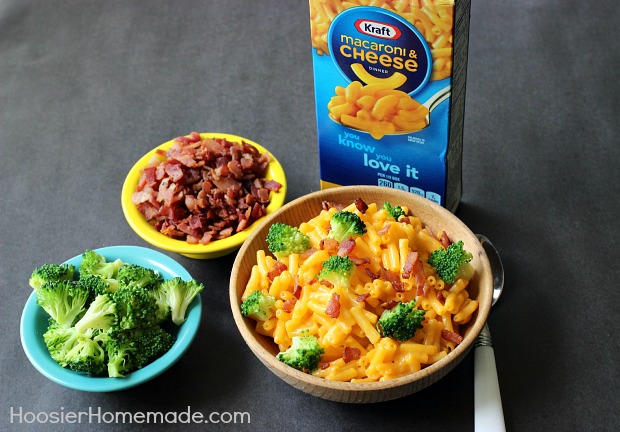 The Macaroni and Cheese Bar does require some supervision, depending on the age of your child, but what kid doesn't love Kraft Macaroni and Cheese? Kids also love having choices, so why not add some steamed broccoli or bacon bits for them to add in if they want. Kraft Macaroni and Cheese is available at Walmart in a 5 count package.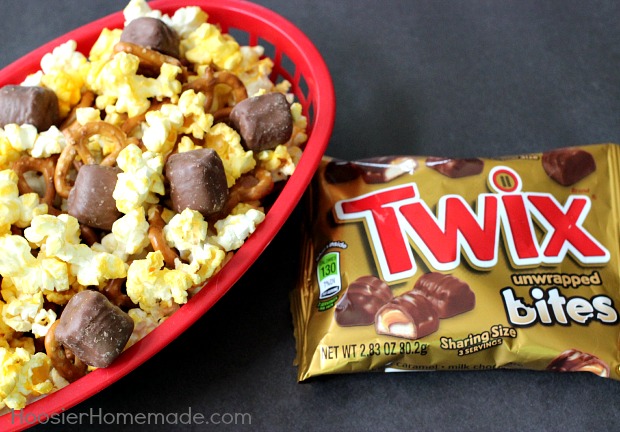 Popcorn is an all time favorite with kids, so why not let them combine Popcorn, Pretzels and Twix Bites for a fun treat. This back to school snack is one that they can certainly make themselves. And if there are leftovers, it would work great in the lunchbox. These Twix Bites are the same candy bar you love, but in bite size pieces.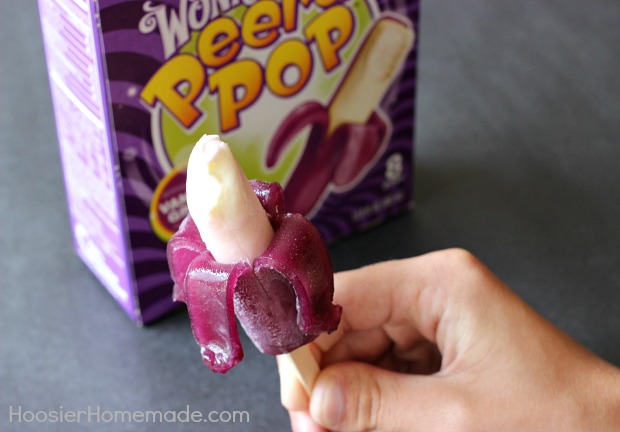 Kids love popsicles and these fun Peel-A-Pops from Nestle Wonka are sure to be a hit. The dessert pops look and peel them just like a banana, but the peels are edible. They come in two flavors – Vanilla Banana or Vanilla Grape. We have had these in a our freezer for several days, and every day our youngest, who is 17, has asked if I was done taking pictures of them. He was so excited to try them, and he was not disappointed, he loved them.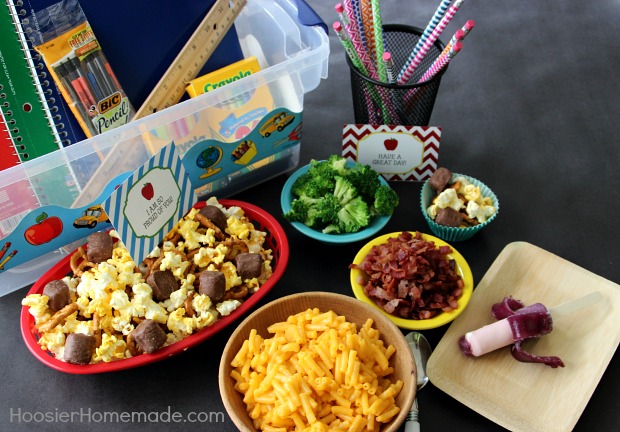 So as this school season begins, why not make homework time more fun with these snacks that are sure to put a smile on the kids face!



Related Stories