---
We are smack dab in the middle of Winter and it feels like Spring will never come. When the weather hits- as it always does during the Winter- the kids may be super excited but us parents, well, we can struggle with the endless days stuck inside. There are only so many movies you can watch, video games you can play or books to be read. This Snow Day Survival Guide is a great roundup of ideas for you to use to make it through another day inside without losing your sanity.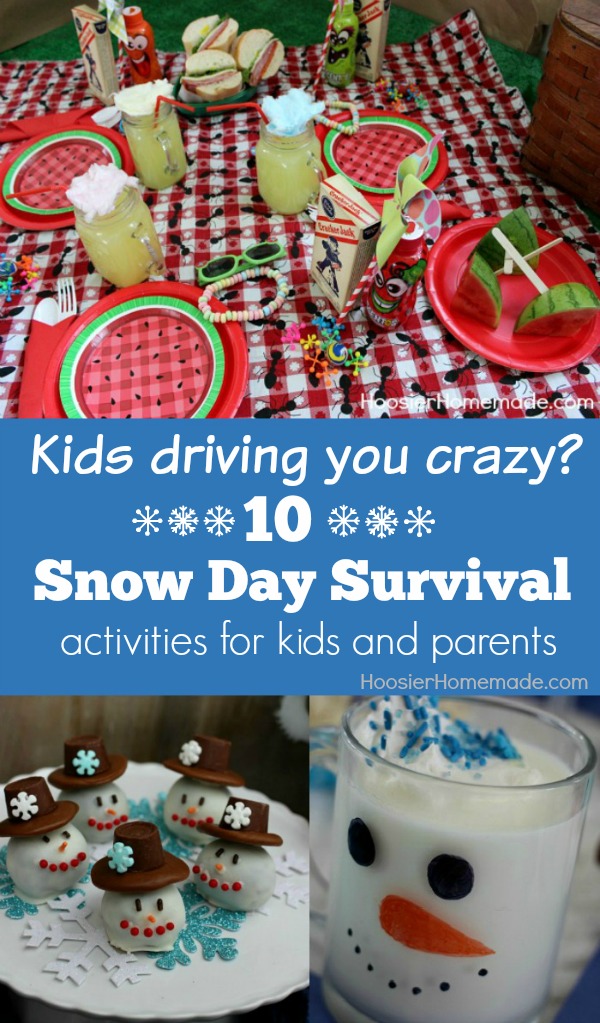 With the weather being less than stellar, chances are you won't be able to go outside to locate supplies, so these ideas will entertain your kids with items already found in your home.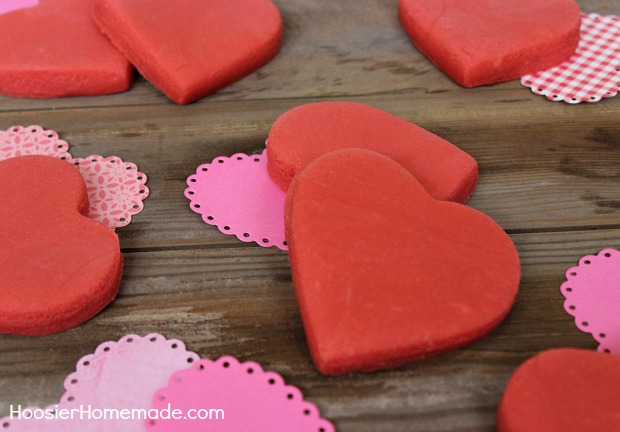 Kool-Aid Play-Doh – If play-doh is something your kids haven't played with in years, then it might be time to mix together your own batch of sweet smelling dough. Pull out the cookie cutters and have some fun. This can even be done with older kids who haven't played in years and forgotten how fun it can be. Parents must play, too! 
Recycled Robot – Before you take that bin to the curb, pull some of those recyclables out and make a robot! You could cover it with foil, as shown in the pictures, paint it grey, cover it with Duck Tape or keep it wild and crazy without any rhyme or reason to the design. It doesn't matter, as long as you're having fun! 
Homemade Paint for Kids' Crafts – Everything you need to make paint for your kids to use on their projects is found inside your kitchen. This is great when you run out of yellow, want to mix up a color you don't currently have or you don't have any paint at all. It's easy-to-make and if the kids haven't painted in a while, it is sure to keep them entertained. 
Snowman Oreo Cookie Balls – When snack time rolls around, let the kids know you'll be having snow balls! Whip those up with just oreo cookies and cream cheese. If you happen to have chocolate for dipping (leftover from holiday baking, like me) you might just be able to make the snowballs into snowmen!
DIY Sock Snowmen – Put all those socks who are missing their match to good use by creating a sock snowman. Adorn him or her with a shirt that's headed for the donation pile and make a whole family of these adorable creatures.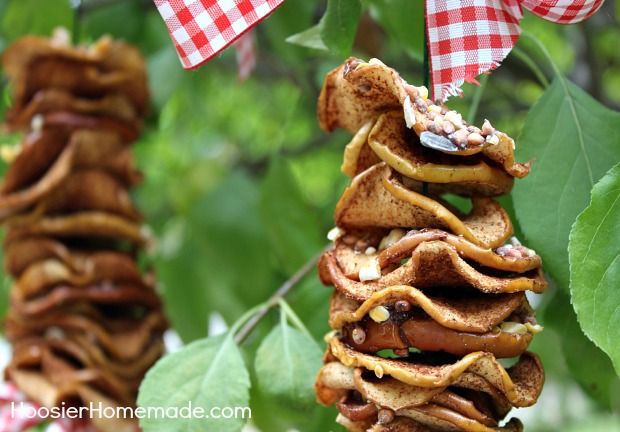 DIY Dried Apple Bird Feeders – The birds and squirrels need some love when it's cold, too. Create these great feeders for your backyard visitors with foods from your kitchen. Don't have bird seed? Use nuts and seeds or even dried corn (think popcorn). 
Snow days aren't complete without a little baking and hot chocolate! Try a few of these ideas and recipes to make your day indoors a little bit sweeter.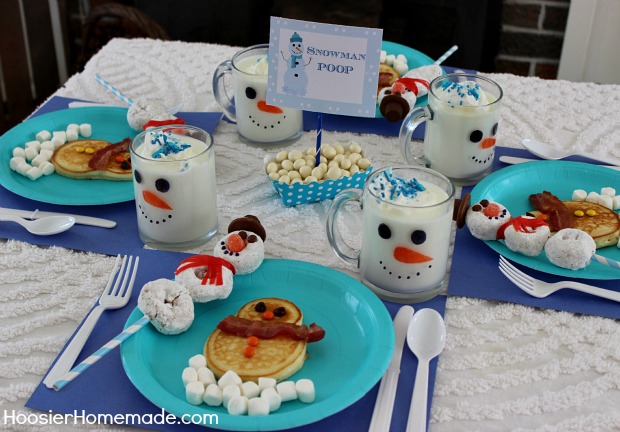 Snowman Breakfast – Start the day off with some fun snowman inspired treats. Snowman pancakes and glasses of milk made to look like a snowman (even permanent marker will come off after being on glass, as long as you don't bake it). If you have powdered donuts (or want to make some yourself), make a snowman with them as well. The kids will love coming down in the morning to this delicious and fun table! 
Cat in the Hat Muddy Buddies – We all know this beloved story and most of us have it on the shelf as well. Read this family favorite together while snuggled in your living room fort or hula hoop tent then whip up some delicious Cat in the Hat themed muddy buddies. 
Indoor Picnic – Pull your picnic basket. tablecloth and other picnic inspired accessories out so you can enjoy a "Spring is Coming" picnic. Use craft and construction paper to create a big tree as well as some flowers that will help you remember that spring is just around the corner. Then pack up a picnic lunch and enjoy lunch on the floor while you imagine yourself surrounded by a whole lot less snow and cold. You could even turn up the heat a bit and put on your summer clothes!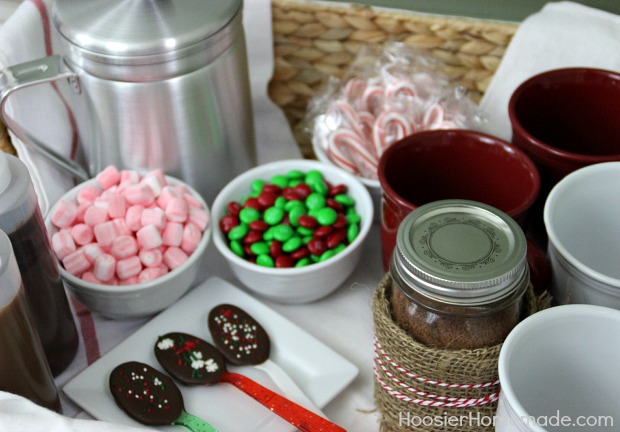 Hot Cocoa Bar- No snow day is complete without hot chocolate! After the kids have exhausted themselves playing in the snow and come inside cold and soaking wet, surprise them with a hot cocoa bar complete with chocolate spoons, sprinkles, whipped cream and more. They'll love it (and let's be honest, you will too)!
There is so much fun to be had on a snow day! Even when it feels like winter is never going to end and it feels like you've exhausted all the fun to be had in your home, there's always something that can be created from what you have around the home. You are sure to make memories of a wonderful day indoors that will be with your kids for many years to come!


Make this DIY Valentine Wreath to hang on your door, decorate your home or give as a gift.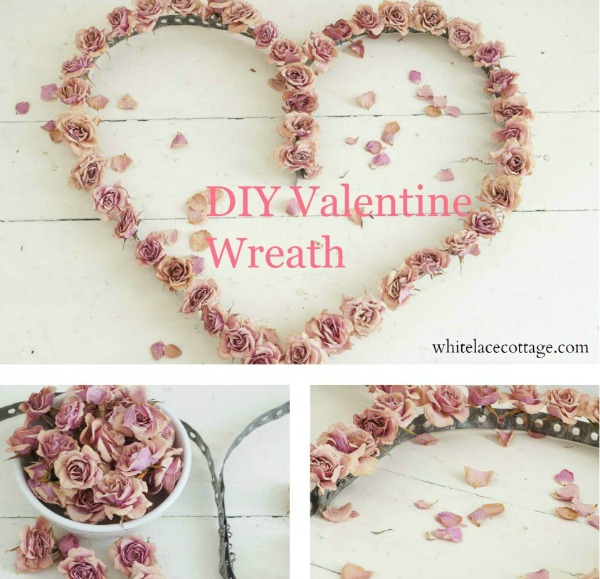 Hi I am Anne from White Lace Cottage. I am thrilled to be guest posting here at Hoosier Homemade! I want to thank Liz for inviting me today!
Let me share a little about me. Over at White Lace Cottage, I share a little DIY, and decorating tips while on a budget. My style is vintage, Shabby Chic and a little farmhouse. I love treasure hunting at thrift shops. Most of my home is filled with pieces that were found while treasure hunting.
Today, I wanted to share how simple it is to make a wreath using a pipe hanger. This was something I found while I was treasure hunting. When I found this I had no idea of what I would do with it. But I knew eventually I would figure something out. I usually have no idea of what I will do with some of the things I find. But I always find a use for them.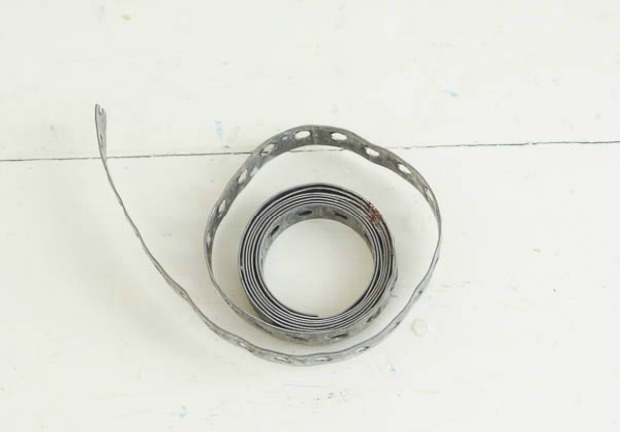 When I came across this pipe hanger at a thrift store, it caught my eye. I knew what it was, but it had a industrial look to it. And for .49 it was the deal of the day! Valentine's Day is only a few weeks away. So I thought, it would be fun to make a DIY Valentine Wreath.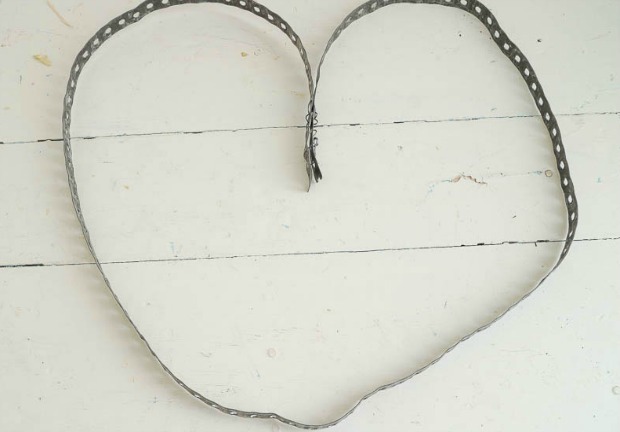 I started to unroll the piece of metal. The great thing about using this metal is that it's very bendable and makes it very easy to sculpt. I know it doesn't look like a very pretty heart shape yet. But before I share more, I wanted to show you how I attached this heart. I used some wire I already had on hand, and thread it through the holes.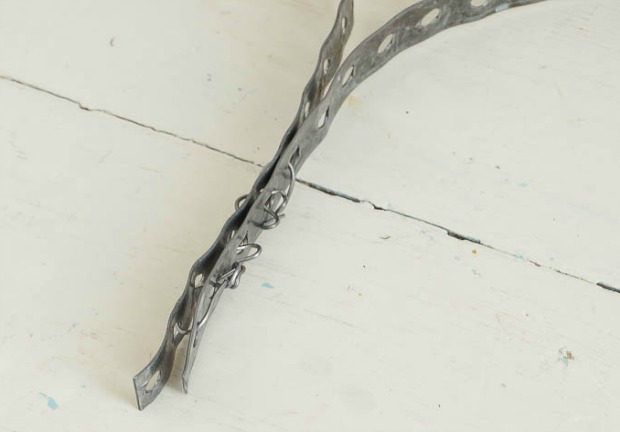 Once it's threaded I twisted it using my pliers. After attaching the two pieces of metal, it was much easier to start shaping my heart.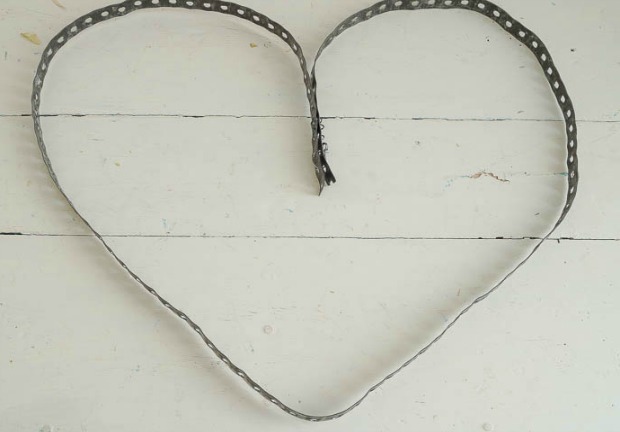 Much better! You can keep shaping this piece until you get it the way that you want it. I liked the shape of mine. I never look for perfection, I think a piece is more interesting if it's not perfect.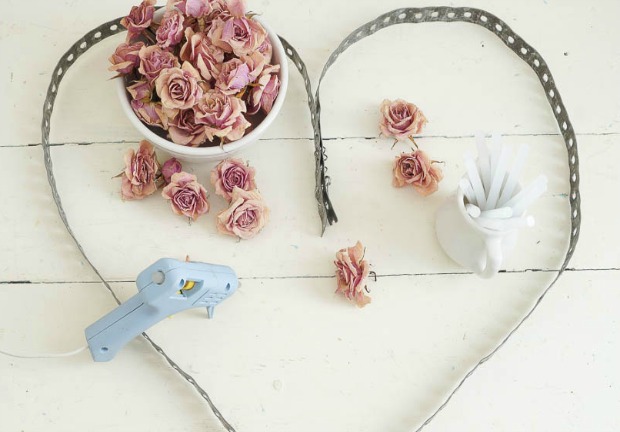 To give this piece a Shabby Chic look, I hot glued dried roses that I already had. It's pretty cold and gloomy here in the Midwest during the winter months. My home is always decorated with fresh rose's. Because they are my favorite flower. I like the look of the metal, so I glued the rose's to the top and kept the metal exposed. I dabbed a little hot glue on the bottom of the rose and placed it right on the top edge part of the frame.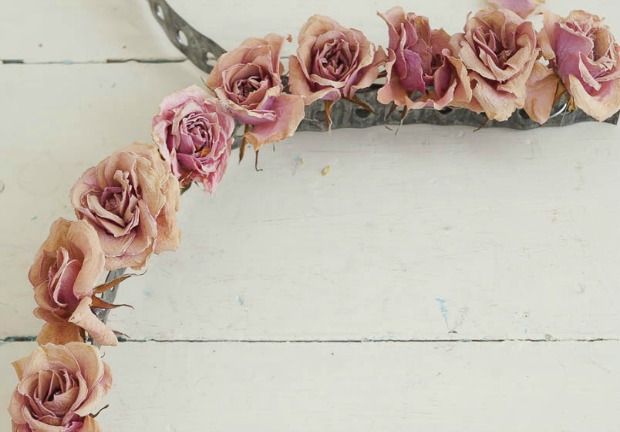 I continued working around my heart shaped frame. If you are not sure that you will have enough rose's to cover your wreath, then keep working back and fourth on both sides. I think this wreath would also look pretty if it was only half filled with rose's.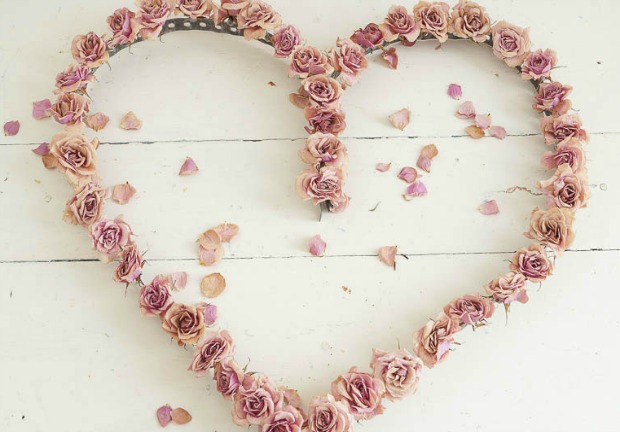 And here it is all finished. To hang this just add wire through the holes of this frame at the top portion of your wreath. Here is another side view of the wreath.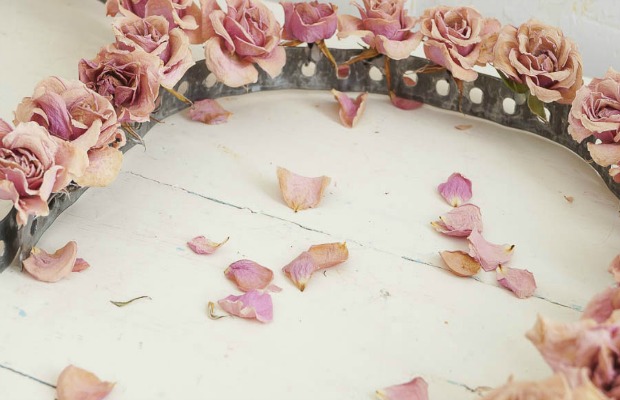 This show's that you can make a wreath out of just about anything. Keep your eyes open for fun and unusual pieces while you are out thrift shopping or at a garage sale. I love looking through the hardware section at a thrift shop. I always find cool junk!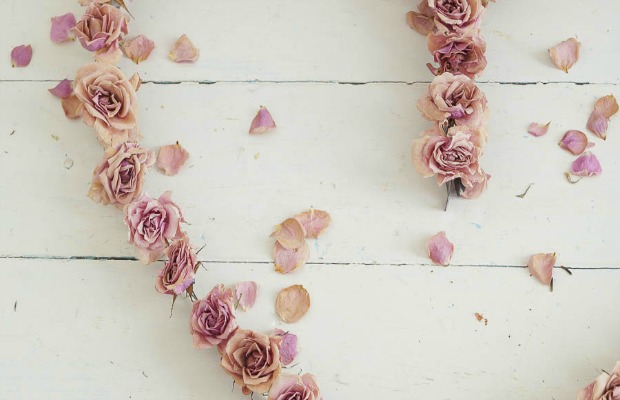 Think outside of the box when you are making crafts. I already had all of this in my home. Before you go out looking for craft supplies look in your home or garage. You may find what you need is already in your home.
**************************
For more DIY ideas and decorating vintage style on a budget please visit:White Lace Cottage

Show your love with these adorable Valentine Cupcake Charms. They make a perfect Valentine's Day gift, great for family, friends, and especially your sweetie!
We are super excited to offer you another Cupcake Charm in our new product line. We kicked it all off with the Reindeer Cupcake Charms and then we added some adorable Snowman Cupcake Charms! And now these Valentine Cupcake Charms are so sweet!
The Valentine Cupcake Charms look just like the Pink Velvet Cupcakes! They are simply adorable!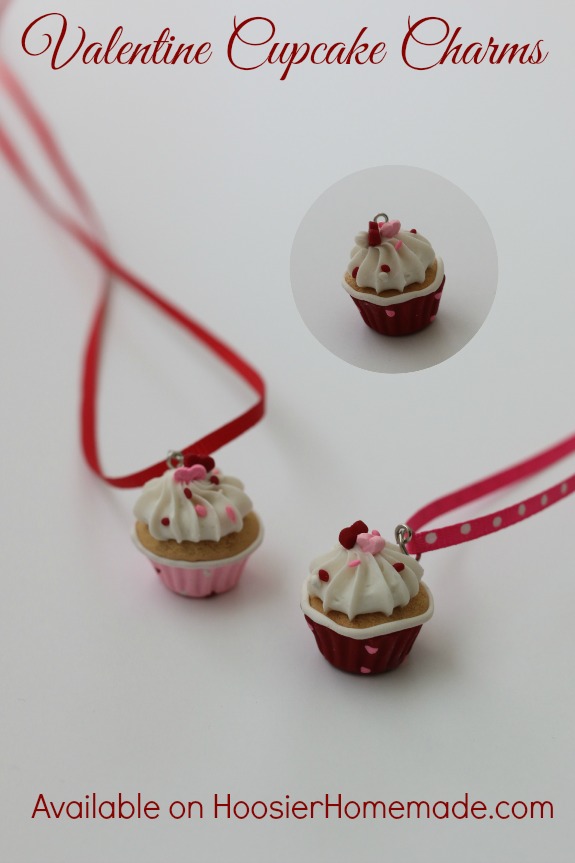 Each of these Valentine Cupcake Charms is about the size of a quarter. Because of the handmade nature of the charms, each one is unique.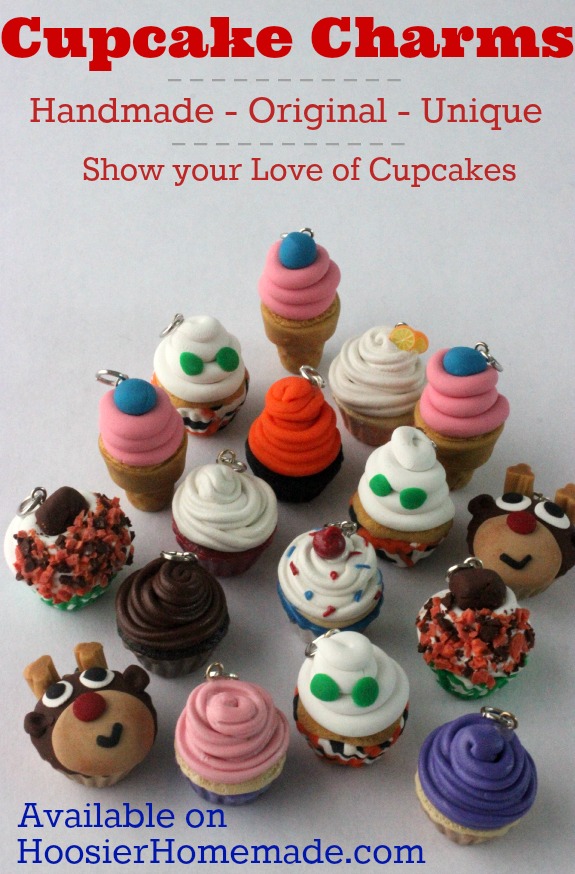 Each month we will be featuring a new Cupcake Charm for you to add to your collection. And each charm will include an exclusive cupcake recipe or design for you! Here is what we have planned:
January – Snowmen
February – Valentine's Day
March – St. Patrick's Day
April – Easter
May – Spring
June – Ice Cream Cone Cupcakes
July – 4th of July
August – Butterfingers
September – Fall
October –  Halloween  Ghosts
November – Pumpkin
December –  Christmas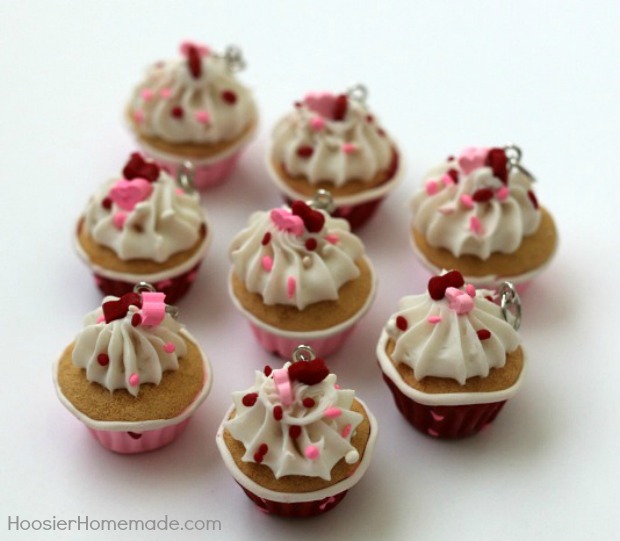 The purchase of the Valentine Cupcake Charm includes –
1 Charm
Recipe card with instructions on baking a cupcake to match
Cupcake Charms shipped 1-2 business day after payment
Charms should arrive within 7-10 days
US shipping only included in the price – or email me for a shipping quote
Questions? email hoosierhomemade@gmail.com


You will never miss the sugar in these delicious sugar free Hazelnut Waffles! A light, fluffy waffle made from scratch yet it takes minutes.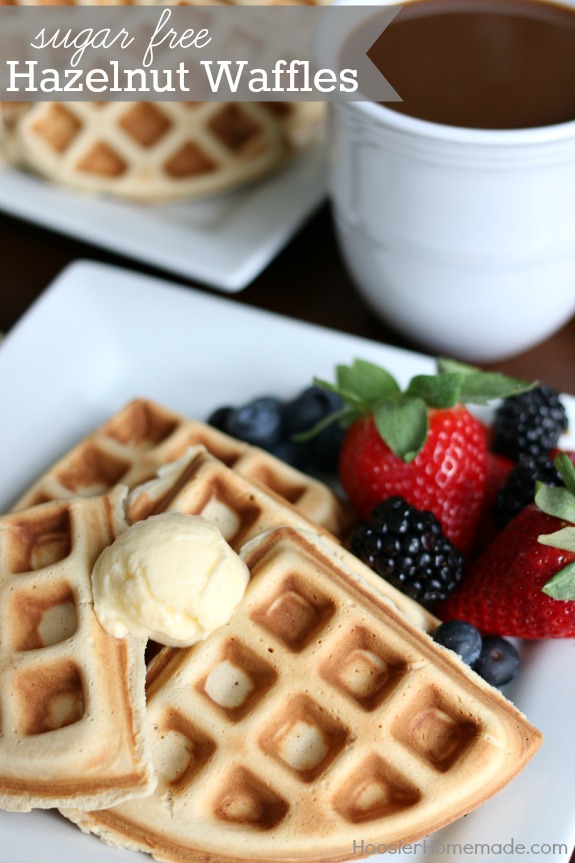 We have been on a bit of a waffle kick lately here in our house. For Christmas, Doug got me one of those cool waffle makers that you can make 2 waffles at a time, kind of like the ones in hotels. Pour the batter into the waffle iron, close, then flip it over to make the second waffle. There's nothing worse than trying to feed the family and not be able to eat together because you are waiting on the waffles to get done.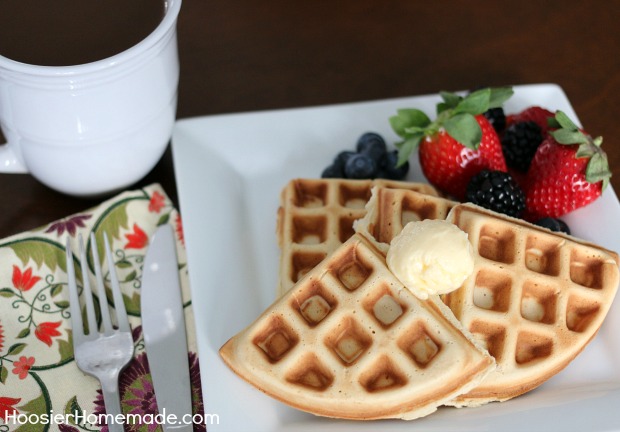 Over the years I have made countless recipes that were passed down from my Mom. I'm blessed to have her recipe box. There are many recipes that we love, but a couple stand out the most that I use time and time again. The Old Fashioned Homemade Pancakes and these Waffles. They go together quickly, are light, fluffy and delicious!
Here's a quick tip to make these Hazelnut Waffles fluffy – divide the eggs, then whip the eggs whites and fold them in at the end.
Since pretty much everyone I know is watching their weight and sugar intake, I thought it would be perfect to create a sugar free version of these waffles.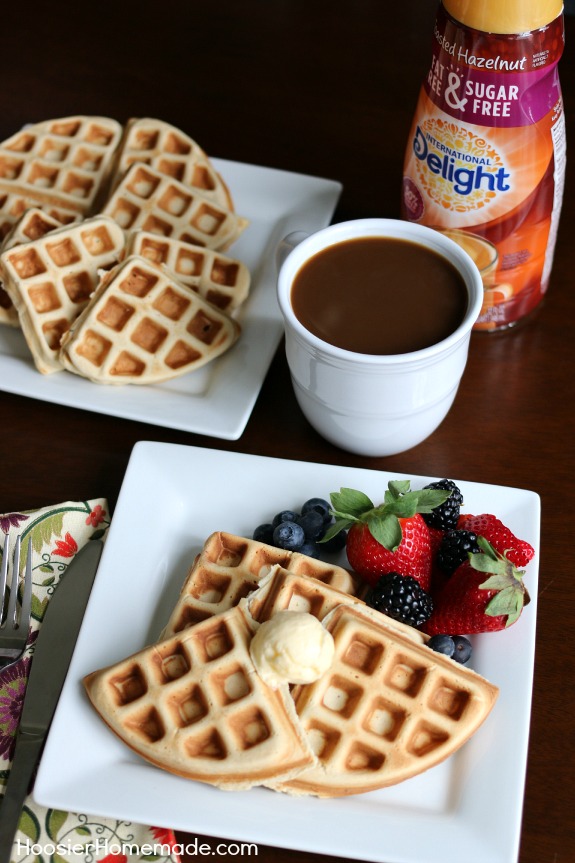 Enter one of my favorite products that I've confessed my love for – International Delight Coffee Creamer, and how I use it in many different baked goods to add delicious flavor. Not only is it perfect to add to cupcakes and desserts, it's also perfect for breakfast!
The new Sugar Free, Fat Free Toasted Hazelnut is the star of these waffles. Don't care for Hazelnut? No worries, International Delight has 5 other flavors that are sugar free and/or fat free to choose from; French Vanilla, Chocolate Almond Biscotti, Caramel Marshmallow, Caramel Macchiato and Caramel Creme.  I think any of these would be delicious in these waffles.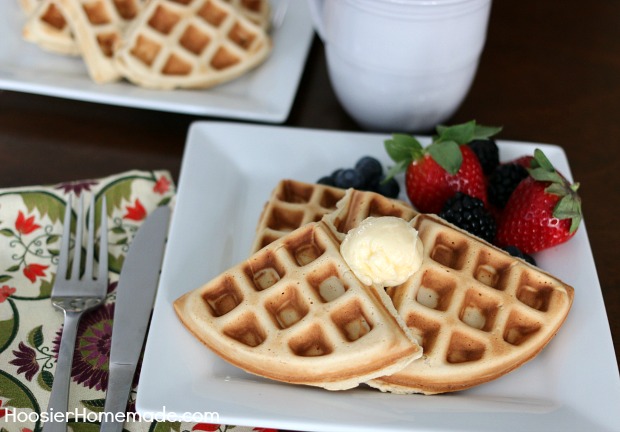 We served these Hazelnut Waffles with fresh fruit. I think a dusting of powdered sugar would be great, but then of course, they wouldn't be sugar free.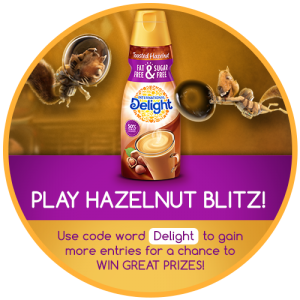 Pop on over and play the new Hazelnut Blitz game! You can win daily prizes and it's FUN!
And for more recipes, follow International Delight on Pinterest and Facebook
Sugar Free Hazelnut Waffles
Author:
HoosierHomemade.com
2 cups flour
1 tablespoon baking powder
½ teaspoon salt
2 cups International Delight Toasted Hazelnut
2 eggs, divided
⅓ cup oil
Heat waffle iron and spray with non-stick cooking spray
Add dry ingredients to large bowl, whisk lightly to combine
Divide eggs
Add hazelnut creamer, egg yolks and oil
Whisk until smooth
Whisk egg whites until very foamy
Fold egg whites into waffle batter
Pour batter into waffle iron and cook according to manufacture directions
Serve immediately
This is a sponsored conversation written by me on behalf of International Delight. The opinions and text are all mine.


There's nothing quite like homemade candy and these Homemade Creamy Caramels make the perfect treat!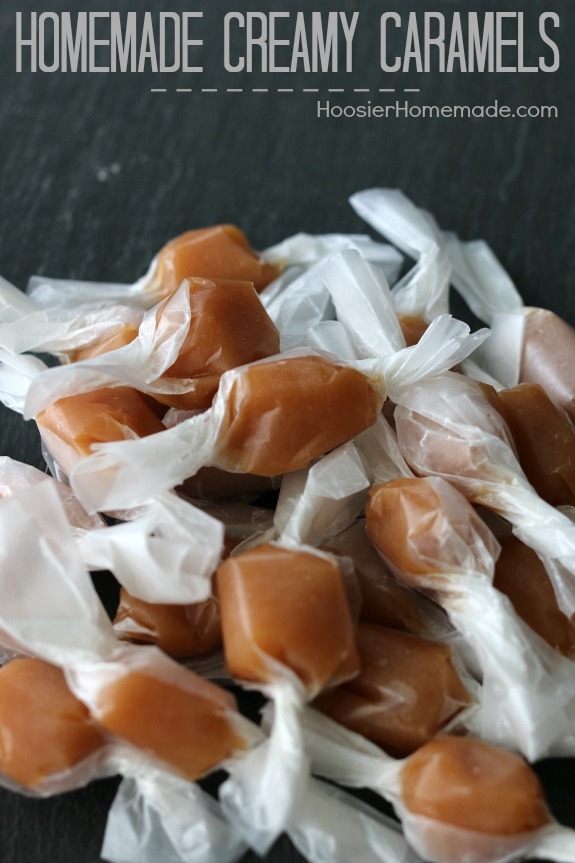 Whether you call it "kar-uh-muhl," "kar-uh-mel" or "kar-muhl," caramel is delicious. From ice cream to coffee to cookies, I love anything with caramel on it. And having tried many different types, I know that creamy caramels made at home are some of the best around. They are soft and chewy, and the flavor just doesn't compare to store bought.
Caramels aren't difficult to make, it just takes patience and attention. Keeping an eye on the thermometer and watching so the caramels don't cook too fast is the key. If you can do that, you'll have great tasting caramels every time.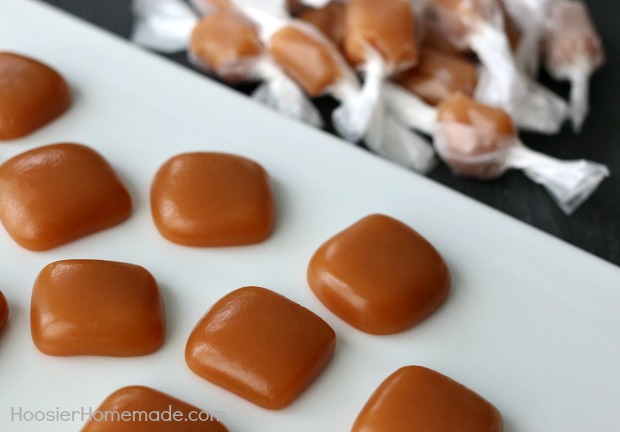 As part of the Become a Better Baker Blogger Ambassadorship, Karo® Syrup asked me to give their Creamy Caramels recipe a try. Now, I have to admit, I've made lots and lots of recipes over the years, and some of them have been candy. However homemade caramels have been on my must-try list for several years, so it was perfect timing to give them a try.
Honestly, it did take me two tries, but not because of the recipe, only because I cooked them too long the first time. The second try was better, although they probably could have been cooked a little longer this time. I think I was doubting my candy thermometer the second time around.
But, what I do know – they taste amazing!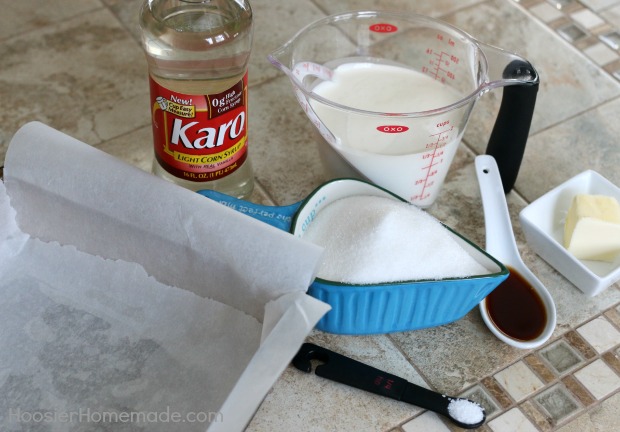 I also learned that it's best to have all the ingredients and tools ready that you may need. The Homemade Creamy Caramels Recipe is very simple with KARO Corn Syrup, sugar, heavy whipping cream, milk, vanilla, salt and butter. The only ingredient that I changed from the original recipe on the Karo® website was the butter. It did make the caramels a bit well – buttery, but I don't think I will add it next time, the caramels were fine without it. Be sure to have your square pan ready and lined with parchment paper.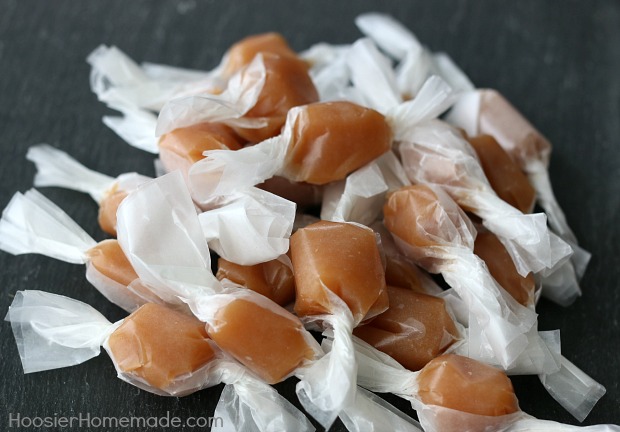 After the caramels set for a couple hours and cooled to room temperature, we wrapped them in wax paper. We cut the caramels about 1 inch square and used 3 inch square pieces of wax paper for wrapping.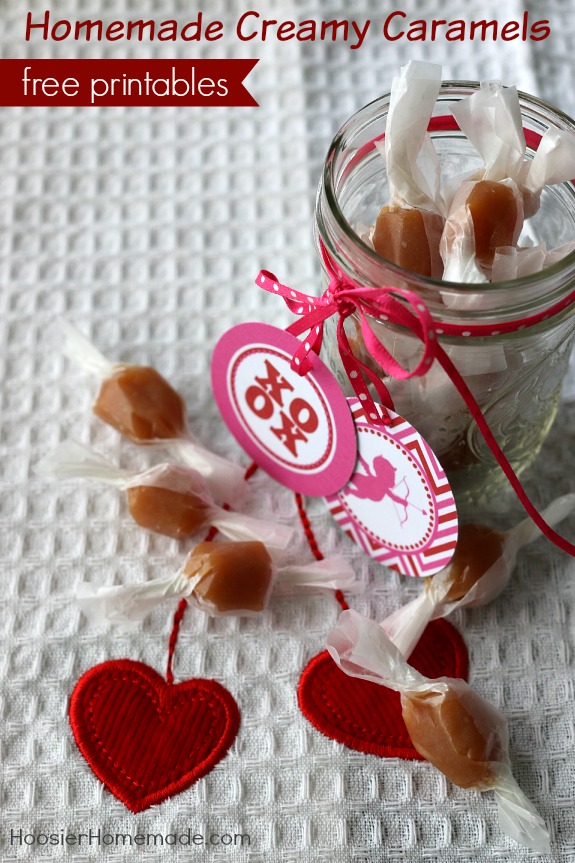 These Homemade Creamy Caramels would be great as a gift for Valentine's Day. Dress up a Mason Jar with a ribbon and a Valentine's Day tag on it and give it out as gifts to friends, co-workers and teachers.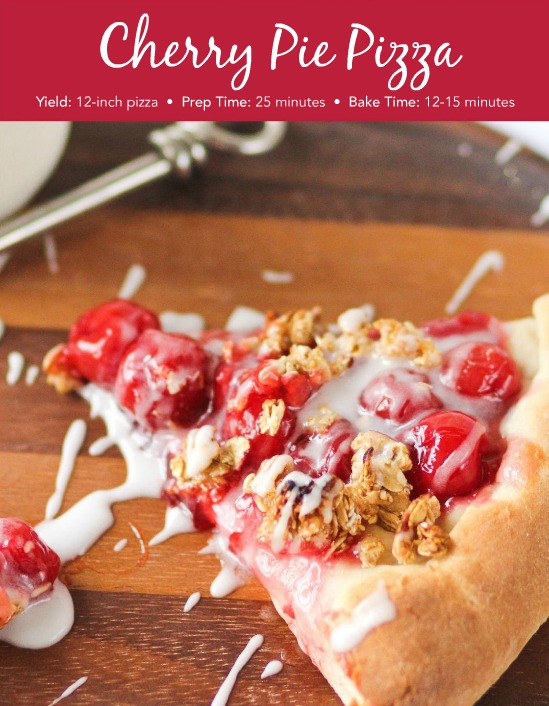 Homemade Creamy Caramels
Author:
HoosierHomemade.com
1½ cups Karo® Light OR Dark Corn Syrup
2 cups heavy or whipping cream, divided
1 cup milk
2 cups sugar
¼ teaspoon salt
2 tablespoons butter
1 tablespoon Spice Islands® Pure Vanilla Extract
Line 8-inch square pan with parchment paper
Combine corn syrup, 1 cup cream, milk, sugar and salt in a 4-quart saucepan. Bring to boil over medium heat, stirring occasionally.
Reduce heat to medium-low and continue cooking (at a low boil) and stirring occasionally until temperature on candy thermometer reaches 234°F
Be patient, this can take about 40 minutes.
Gradually add remaining 1 cup cream in a thin steady stream, stirring constantly.
Continue cooking over medium-low heat, stirring frequently being careful not to scrape the sides of the pan, until temperature on candy thermometer reaches 244°F.

For more delicious recipes, follow Become a Better Baker on Baker on Pinterest, and KARO Syrup on Facebook .