---
For those times when you need or want to give a little something to someone without spending too much money, these Cream Cheese Mints will be exactly what you need. There are just four ingredients so it comes together quickly and easily. It truly is, "just a little something" to give out to those you want to thank or share in the holidays.
100 Days of Homemade Holiday Inspiration continues with Day 70! Each day we are inspiring you with  recipes, decorating ideas, crafts, homemade gift ideas and much more!  
These mints aren't just for the winter holidays. They'd be great for baby showers, teacher appreciation gifts or for guests when you are entertaining. The colors could also be changed for whichever occasion you are celebrating.
Thanks to Lindsey from Real Women of Philadelphia for sharing this delicious idea for an Edible Holiday Gift with us for our 100 Days of Homemade Holiday Inspiration!
Find the recipe by clicking the link below…


From holidays to weddings to showers to birthday parties, photo booths are all the rage right now! Why not create one for your next celebration? They are super fun and this easy DIY Photo Booth is perfect for any occasion!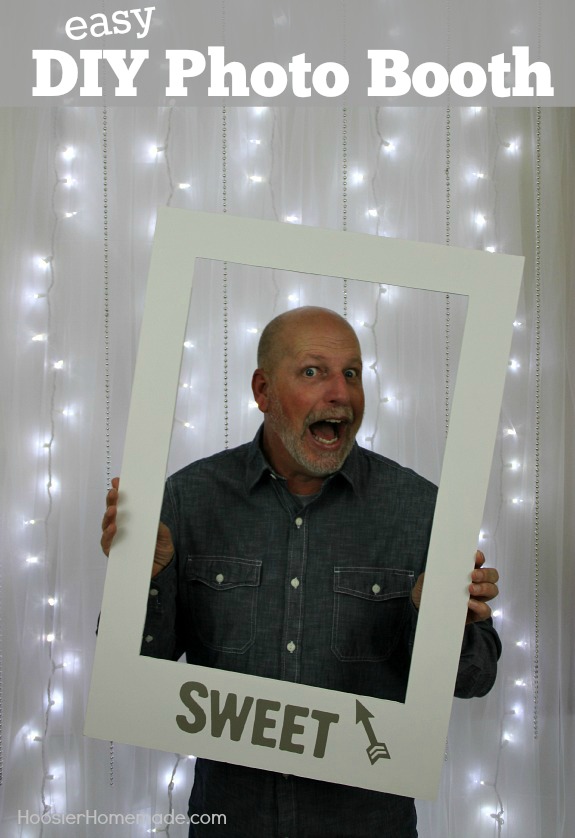 To say we had fun, is an understatement, we laughed until we cried! We will be hosting my son's college friends for a Christmas party in a few weeks, and I can hardly wait to see what fun we have with the Photo Booth. The celebrations and prop ideas are endless. Bored during the Winter and need something for the kids to do? Create a Photo Booth, hunt through the closest for old clothes and let them play. Creativity is a great thing!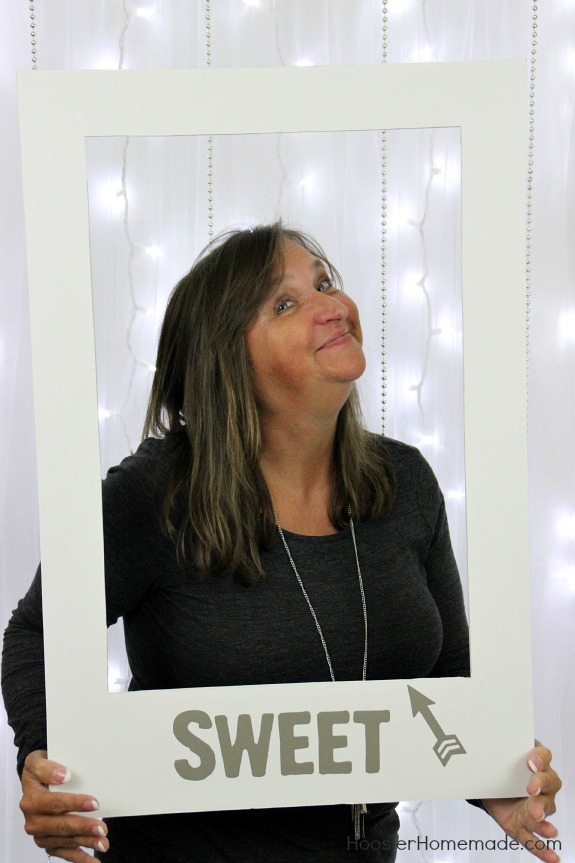 Yesterday we shared the DIY Photo Booth Props, they are simple, easy and take very little time to make. We used foam core poster board and a few other supplies, head on over and learn how to make them!
The Photo Booth was also easy to make, let me show you how…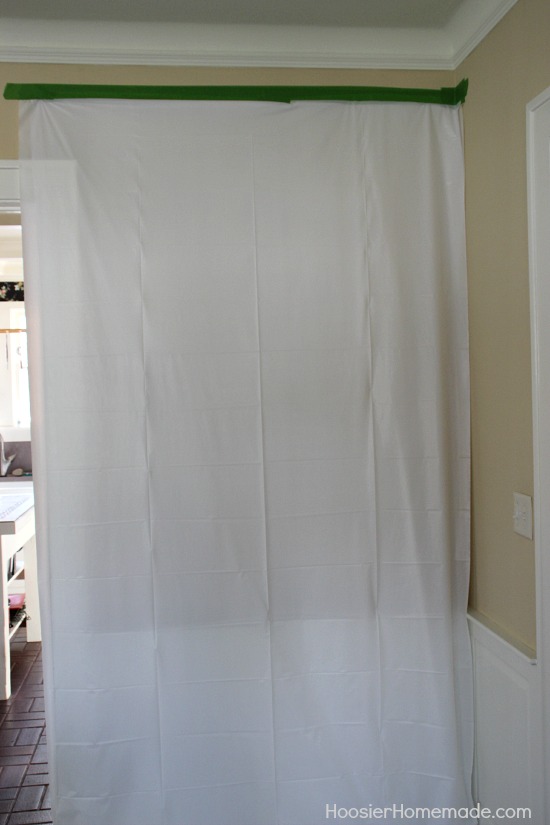 First you will need to choose the location, any wall or doorway should work, depending on the flow of traffic in your home or location of your party. We used a corner in our family room.
To make the Photo Booth, the first thing to do is cover the wall. We used white plastic tablecloths, and used Frog Tape painters tape to attach them to the wall.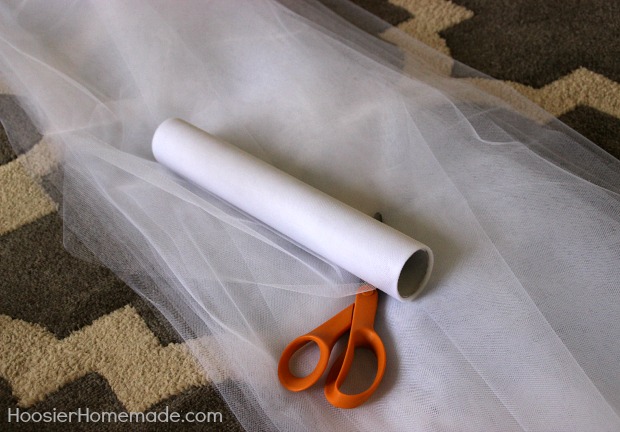 Because we knew the tablecloths would have wrinkles and we also wanted to give the back drop a little texture, so we used 12 inch white tulle. It comes on a large roll in the wedding area at Walmart. We measured the first piece, then laid the other pieces on the floor, stacking them and then cutting.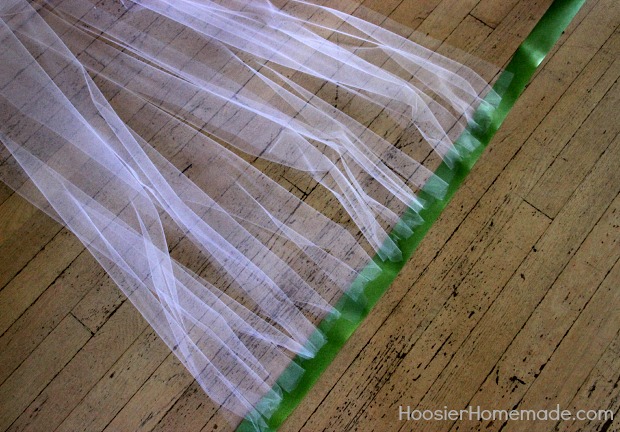 To attach the tulle to the wall, we laid a long piece of painters tape on the floor, upside down. Then each piece of tulle was gathered and stuck to the tape. This made hanging the tulle a snap.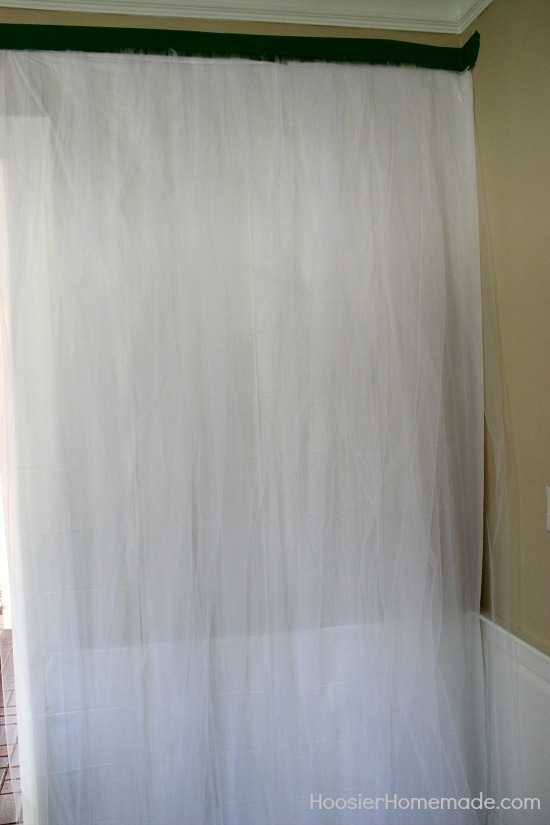 Then we simply attached the painters tape to the wall and straightened the tulle.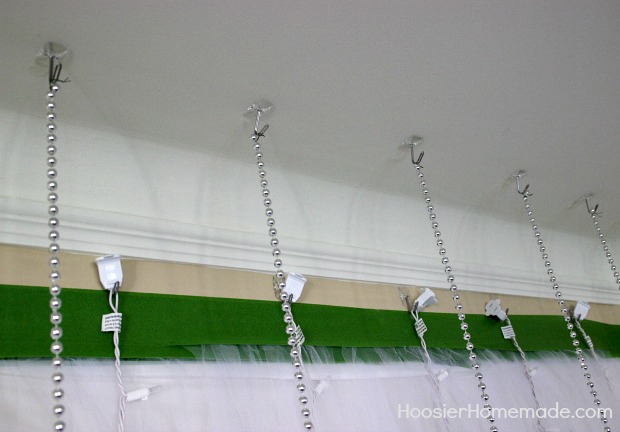 To hang the lights and beads, we attached Command Hooks to the ceiling and wall.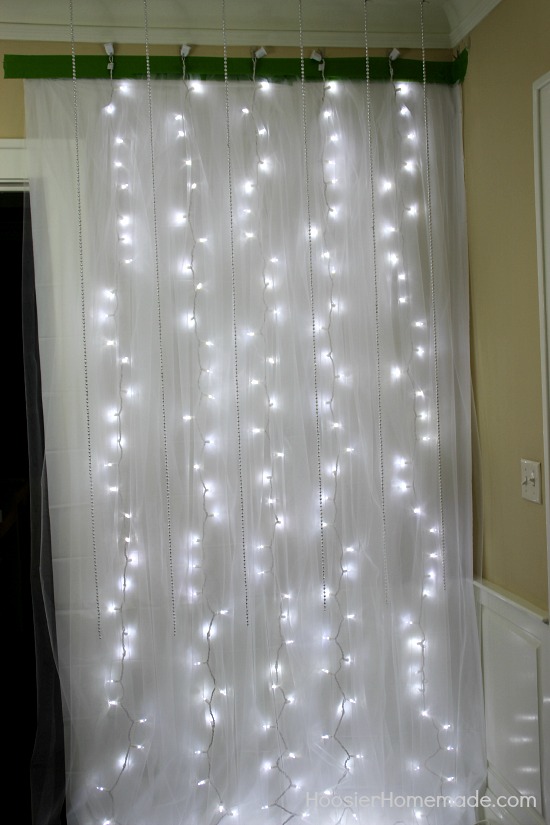 And then the lights and beads were hung. We used strands of 50 cool white LED mini Christmas Lights and hung them so the plug was at the bottom, making it easier to plug them in. And the silver beads were from the Christmas decorations at Walmart, they are 18 feet long, so we cut them into thirds and have 6 strands.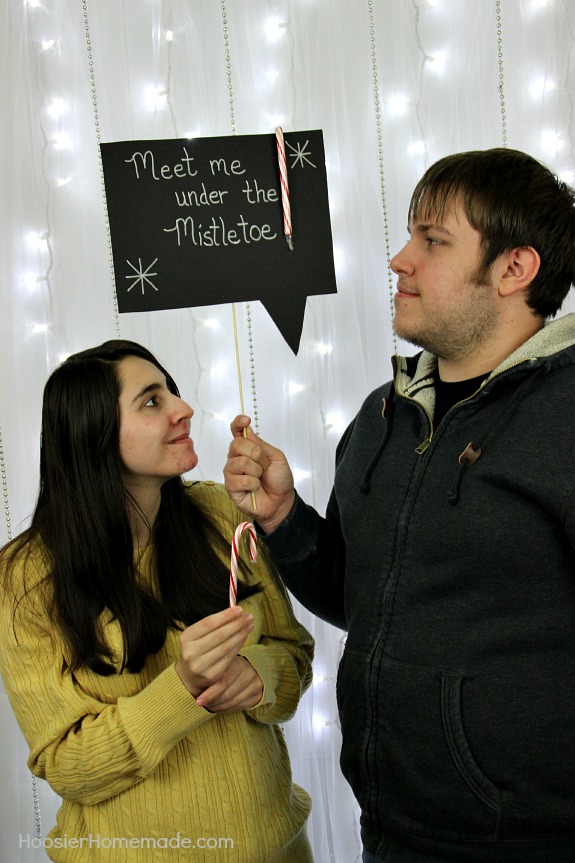 Then the fun came, we gathered the kids and had a blast taking lots of pictures.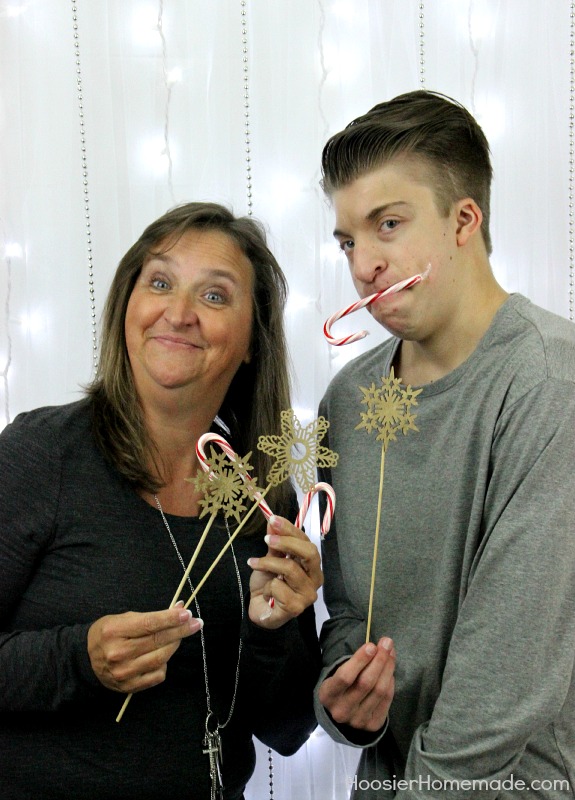 White Plastic Tablecloth – we used 2 for extra coverage
12 inch White Tulle – found in the wedding section at Walmart
Silver beads – found in the Christmas section at Walmart
Scissors
Wire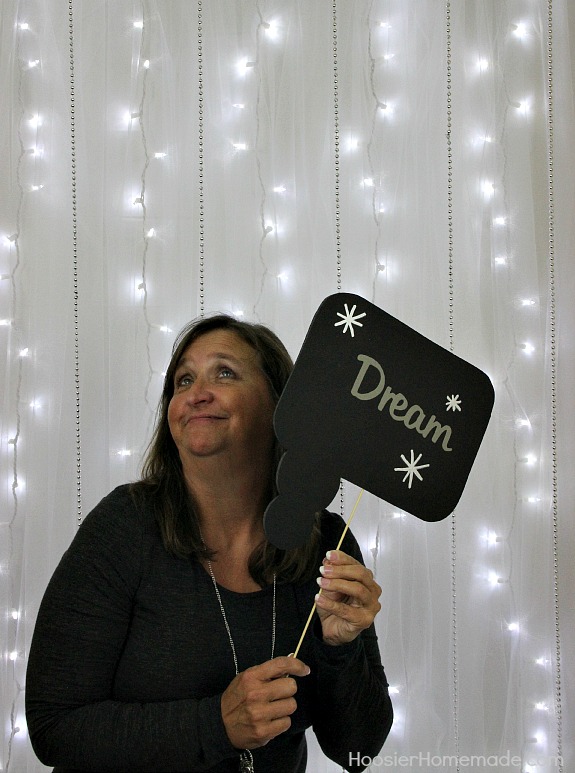 I'm dreaming of a wonderful Christmas!



Every Christmas tree needs a bit of color and whimsy. If you are looking to add those to your tree this year then creating these felt Christmas ornaments might be right up your alley. This can be made without sewing by using a hot glue gun and will look great hanging from your tree!
100 Days of Homemade Holiday Inspiration continues with Day 69! Each day we are inspiring you with  recipes, decorating ideas, crafts, homemade gift ideas and much more!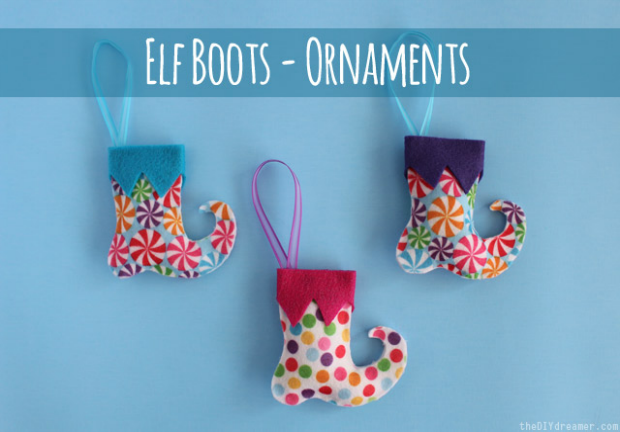 Hit up your scrap box or the clearance bin at the craft store. You don't need that much felt to create one of these boots. You could even personalize them with the names of your family members. Or give them double duty by acting as name tags for the gifts you are giving.
Thanks to Christine from The DIY Dreamer for sharing these darling Felt Christmas Ornaments with us for our 100 Days of Homemade Holiday Inspiration!
Find the full instructions by clicking the link below…


The age of selfies and photo booths is upon us my friends. It's time to kick up your heels, put a smile on your face and just have fun! These DIY Photo Booth Props are super easy and lots of fun to create, with just a few simple supplies you can create a one-of-a-kind photo booth for the holidays, your next party or celebration!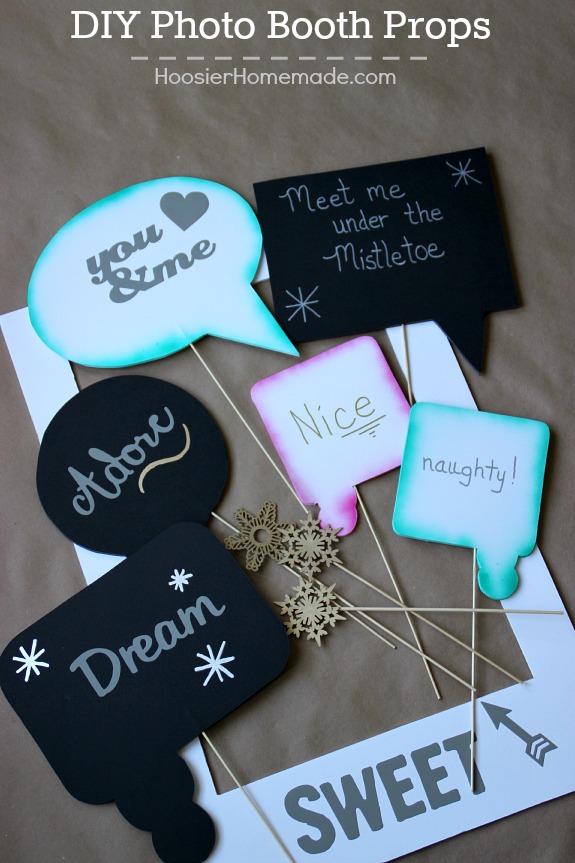 I have to admit, creating this Photo Booth was one of the silliest yet coolest things we have done in awhile. We laughed until we cried. The kids were a little hesitant at first, we have never done anything like this. But we all had a blast.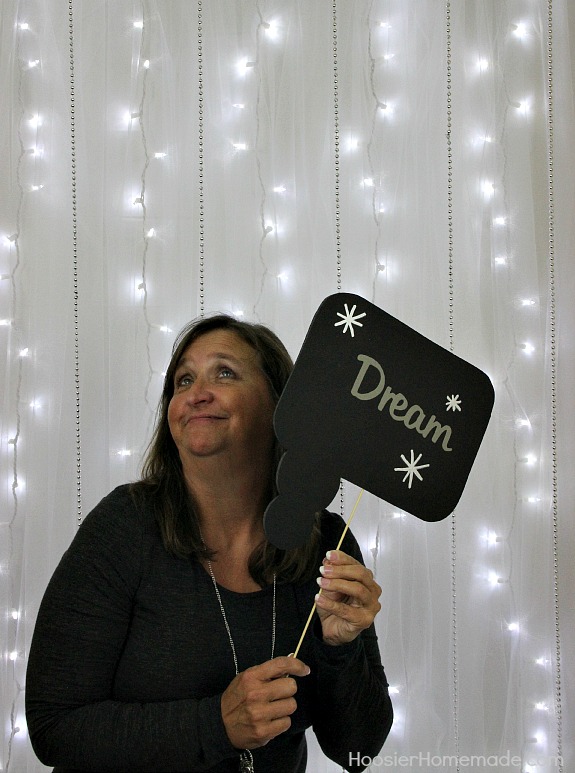 Let the dreaming begin…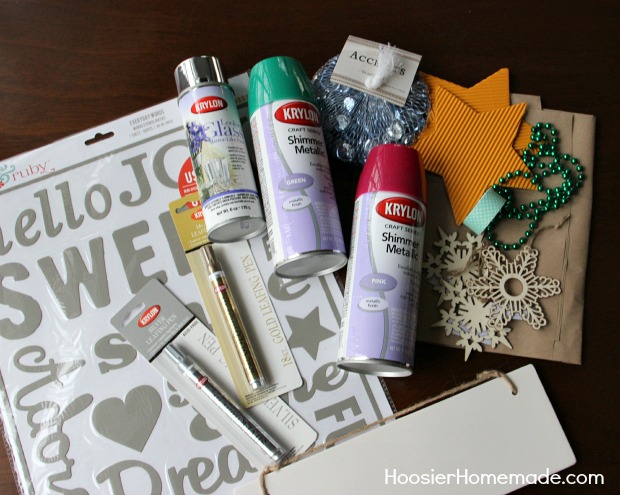 It all started with the Krylon Mystery Box that arrived on our door step. What? Photo Booth Props from this? Yes, it took a very large thinking cap and a lot of creativity, but we came up with some really fun ideas to share with you.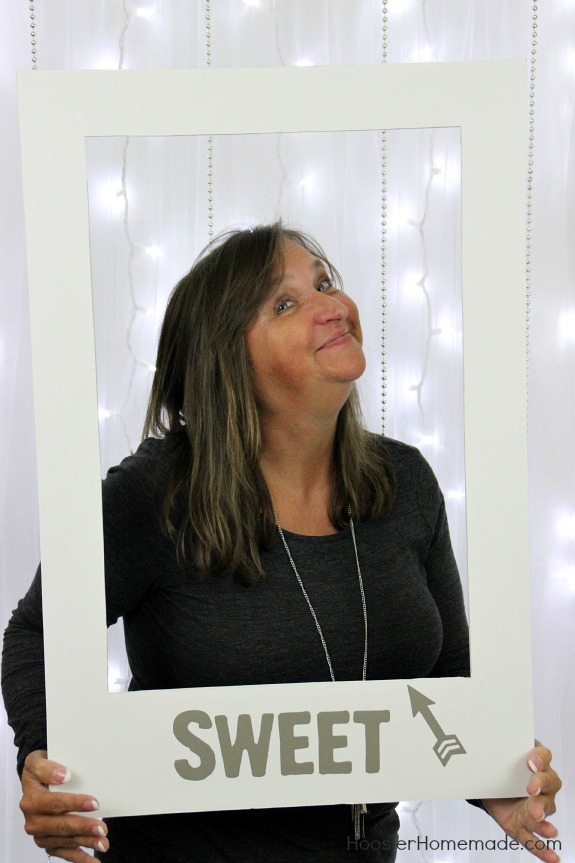 First is our photo frame made with foam core poster board. We simply added the peel-away words to the bottom.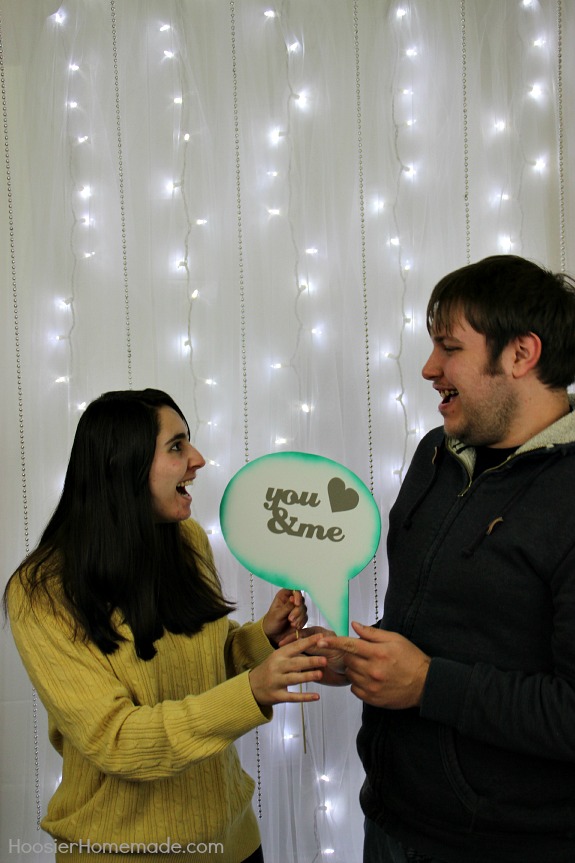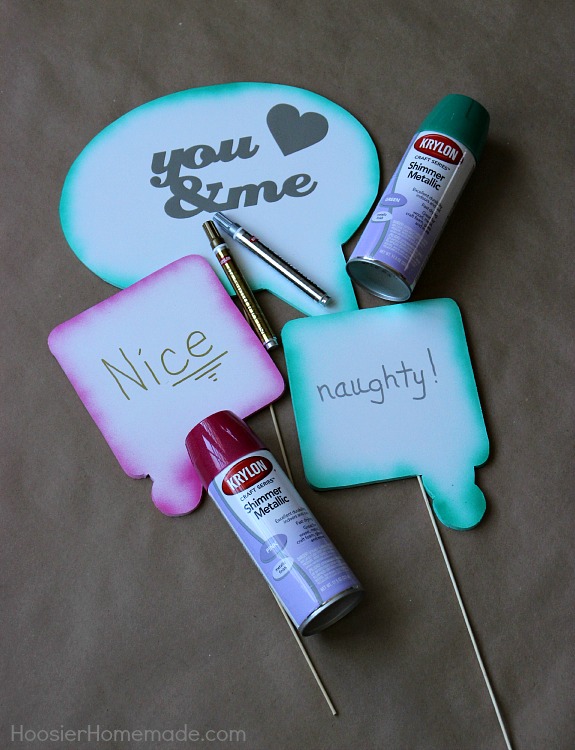 Then with the inside that we cut out of the foam core board, we created conversation bubbles. I used different size plates for a template, traced around them and cut it out with a craft knife. Then using the Krylon Shimmer Metallic Paint, tipped the edge of the bubble for added color. Then more of the peel-away words that came in the Mystery Box, they were super easy, just peel and stick in place.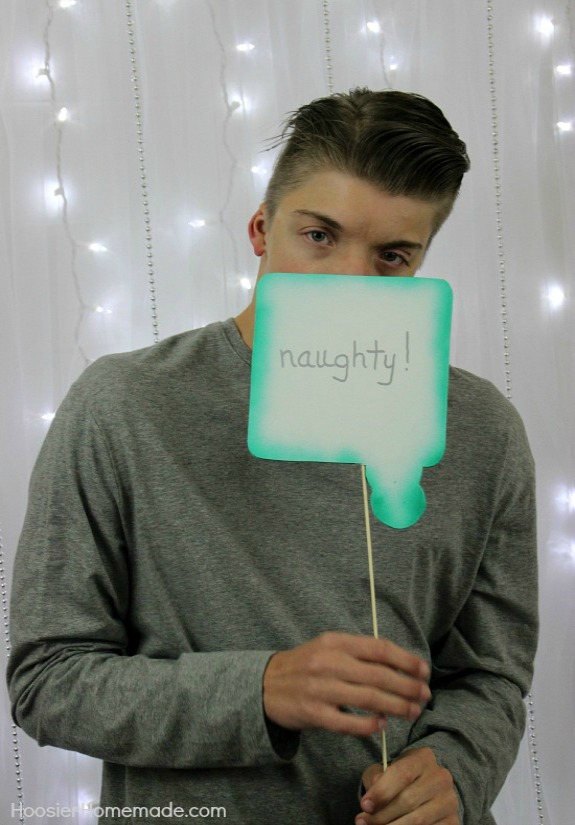 Have you been naughty or nice? Again we cut out a conversation bubble, and tipped the edge with Krylon Shimmer Metallic Paint in green. This time I used the Krylon Silver Leafing Pen Pen to write the words on the bubble.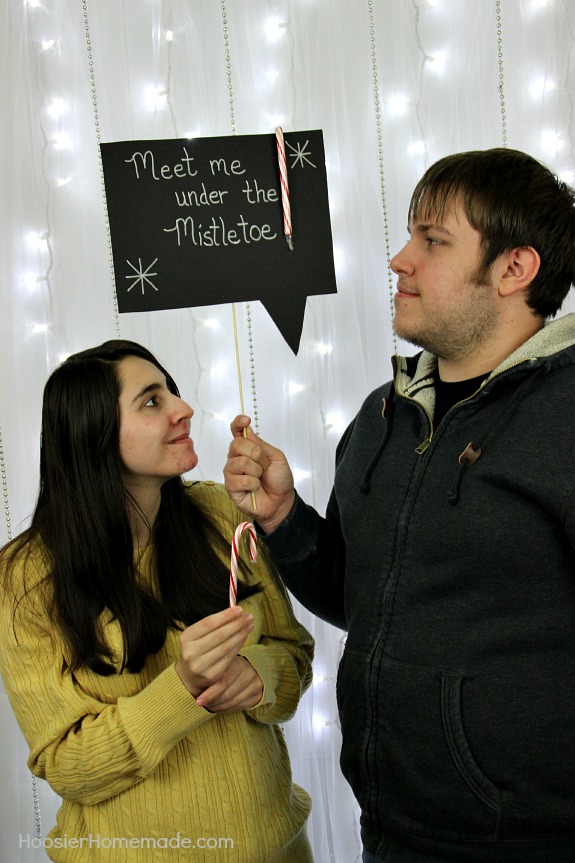 For some of the signs, we used black foam core board and simple wrote on them with the Krylon Silver Leafing Pen. Depending on the holiday, party or celebration, you can certainly change the words on the bubbles, the ideas are endless.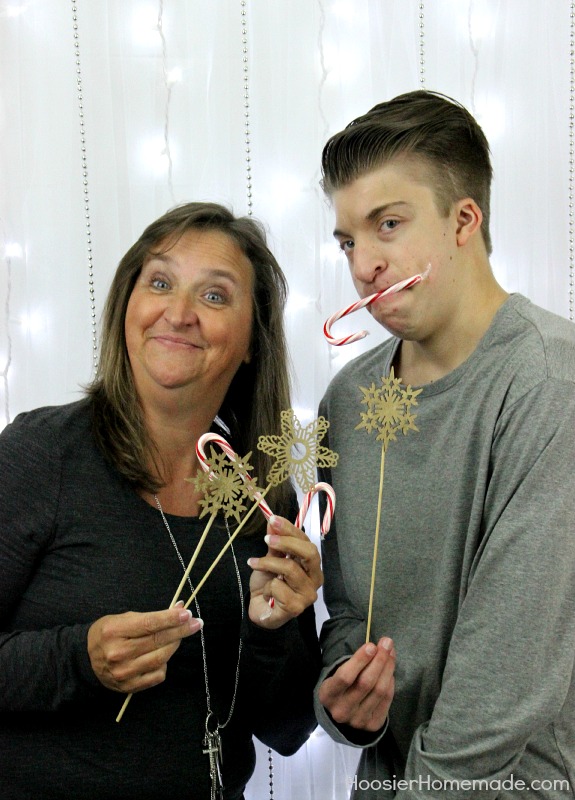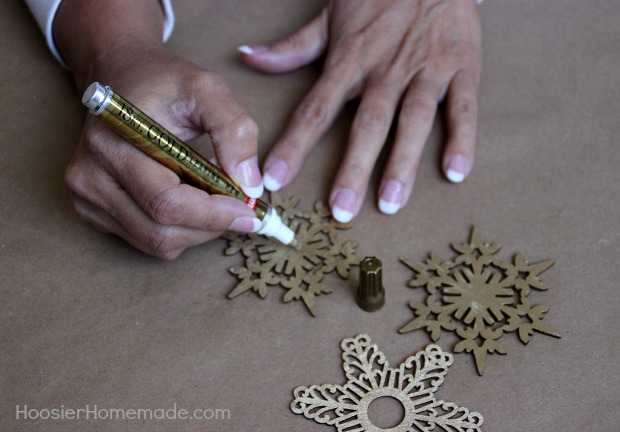 The wooden snowflakes that came in the Mystery Box, were painted with the Krylon Gold Leafing Pen. We attached a wooden skewer to the back with glue. And for the holidays, candy canes.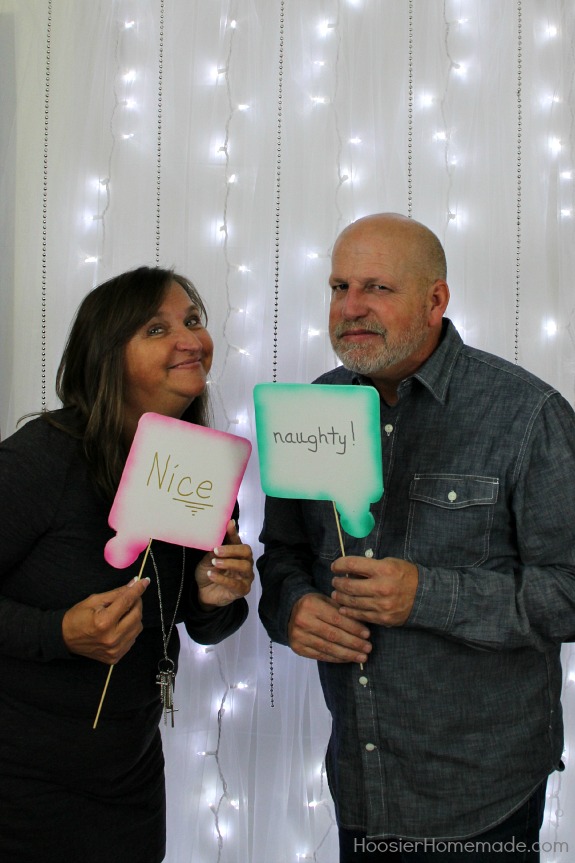 Hmm…naughty or nice? Of course, I like the nice sign more. To add some more color we tipped the edge with Krylon Shimmer Metallic Paint in pink.

Watch for our instructions on how to create the Photo Booth, tomorrow
Foam Core Board – white and black
Krylon Shimmer Metallic Paint – any color you like
Letters available on craft stores
Wooden Snowflakes available at craft stores
Skewers available in housewares department at Walmart
For more fun ideas from the Krylon Mystery Box Bloggers, visit the Pinterest Board!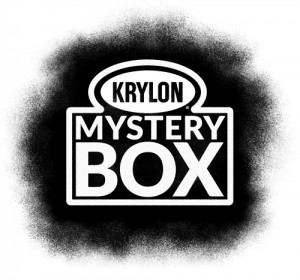 Crafts made with kids are some of the best things to display during the holidays. I still have ornaments and wall hangings that I made as a child, thanks to my mom saving them all these years. And I'm certainly going to save things my own children have made, especially if they are as cute as this kids Christmas craft idea. Using recycled bottle caps, you can make some adorable reindeer with your children to hang on your tree.
100 Days of Homemade Holiday Inspiration continues with Day 68! Each day we are inspiring you with  recipes, decorating ideas, crafts, homemade gift ideas and much more!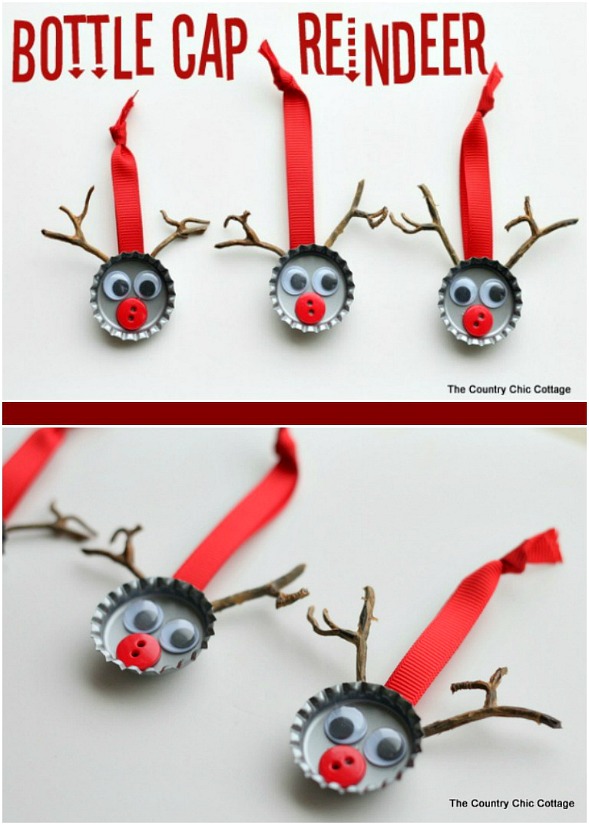 If you don't have buttons laying around the house, small red pom poms would work, too. Or even a small piece of red modeling clay rolled into a tiny ball. These will look so cute hanging from your tree or off a bow tied to a gift you are giving out this holiday season.
Thanks to Angie from The Country Chic Cottage for sharing this darling Kids Christmas Craft Idea with us for our 100 Days of Homemade Holiday Inspiration!
Find the instructions by clicking the link below…