---
You are out to dinner with your husband, his boss and a couple co-workers. Dinner is almost done and your husband says to his boss, we would love for you to stop by the house for dessert. Yikes! Really? Even though you love to bake, you have nothing ready. So your mind starts racing through the ingredients in your pantry and fridge – oh what to make, what to make – then you remember this quick, 15 minute dessert you saw recently – Sweet Cream Banana Tartlets. Perfectly! They aren't too heavy after dinner, they go together in under 15 minutes, and they look impressive like you spent all afternoon on them!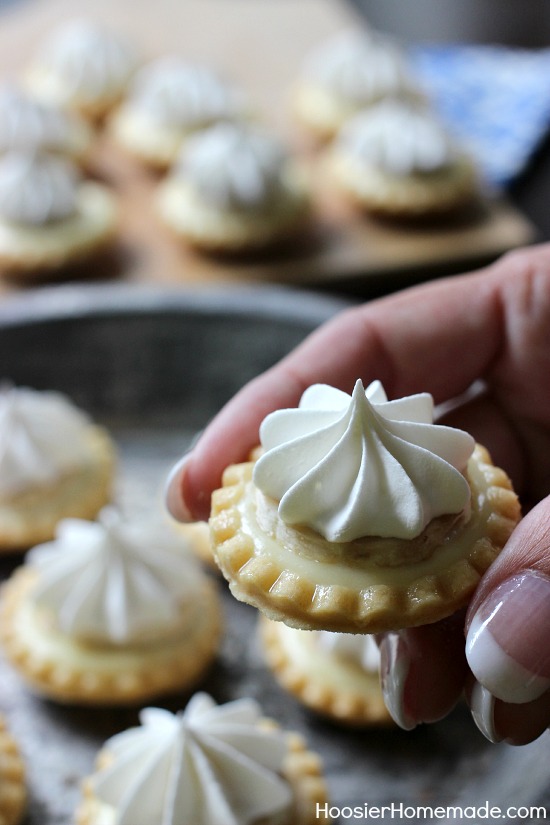 This recipe is brought to you by International Delight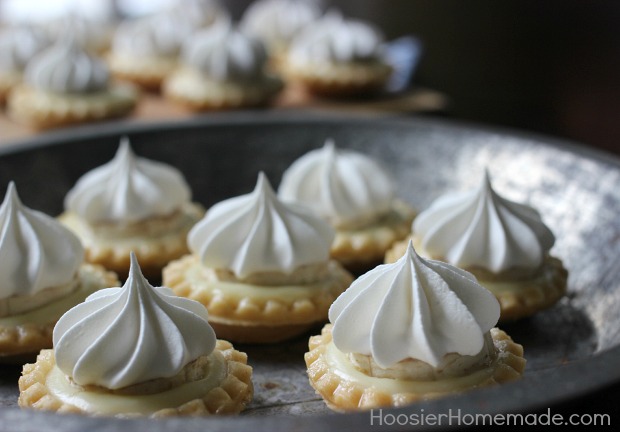 Sometimes I make a dessert that I know will be delicious, but then it just blows my socks off! These Banana Tartlets were that way. I love banana, love pudding, love whipped topping, love pie – but these, these I really loved! And you know the best part – they are done in under 15 minutes with little effort, yet they look impressive.
The other day in my Better Homes and Gardens post, I shared why I do what I do. Then I was later asked, if you could put what you do into one sentence, would people "get" it. So you tell me…
Simple – Easy – Creative ideas for the everyday Mom
Do you love it? I do, it's why I work so hard to share my passion with you. It's why I make 15 minute desserts and share them with you because let's face it my friends, YOU are Busy, with a capital "B".  And who doesn't want to be able to spend more time with their families? I know I do.
So let's learn how to whip up these delicious Sweet Cream Banana Tartlets…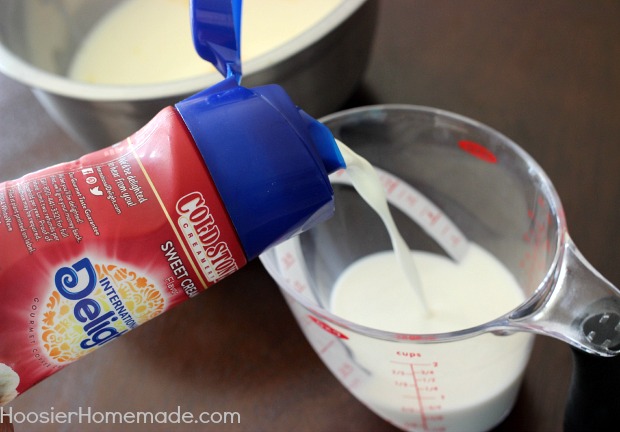 The secret ingredient here is International Delight Coldstone Sweet Cream Coffee Creamer. Who doesn't love the flavor of Ice Cream mixed into their pudding?  I have used many different flavors of International Delight in a variety of baked goods. The Butter Pecan Poke Cake I made a couple months back was a huge success! And the York Peppermint Pattie Cupcakes and Irish Cream Push Pops were also delicious!
It doesn't get any easier than changing the flavor of pudding with a flavored creamer. I used half creamer and half milk because I didn't want the pudding to be too sweet, and the flavor turned out amazing. You could also use any flavor of creamer you like along with vanilla pudding for a totally different dessert.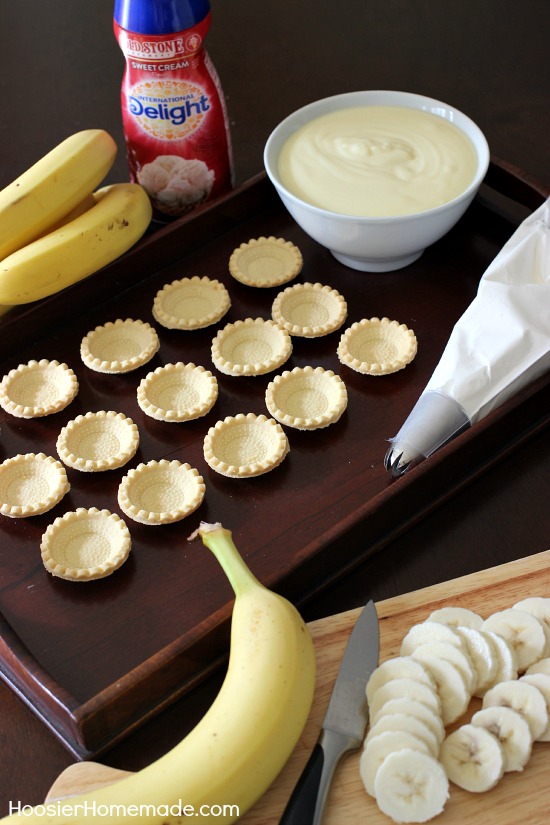 For the pie shells, I used Shortbread Tartlet Shells that I found at Kroger in the baking aisle, fresh bananas, and whipped topping. Yes, they are that easy!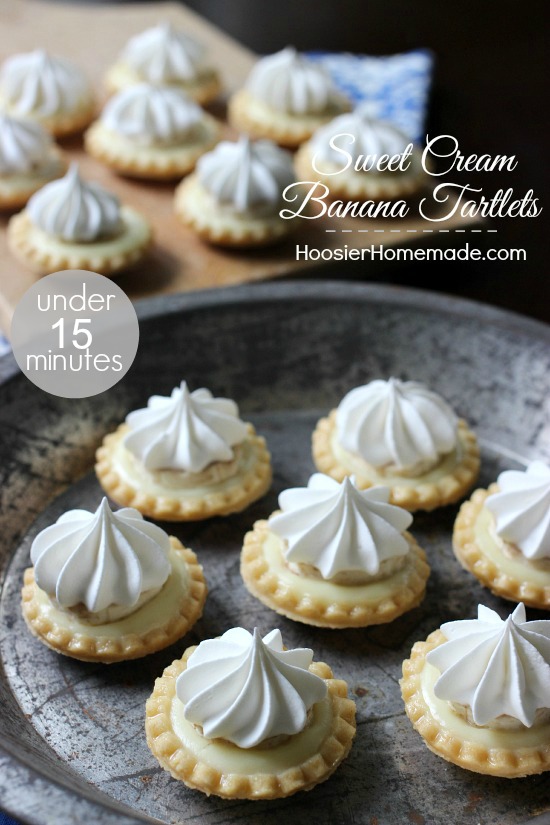 Like I said, you can have these done in under 15 minutes, here's how…
Combine the pudding, International Delight Coldstone Sweet Cream Creamer and milk in a bowl and whisk. Place in fridge.
While the pudding is setting up, open the Tartlet Shells and place on a tray
Get the bananas out and ready. You don't want to slice too early though, they will brown quickly.
Grab the whipped topping, a decorator bag and a jumbo star tip. I found my decorator tip at Bake Pretty.
Place the tip into the bag, snip off the end of the bag, and fill with whipped topping.
Now, the pudding should be ready (give it about 5-8 minutes to set), whisk it a bit
Fill shells using a small cookie dough scoop, I added about 1 tablespoon of pudding to each shell
Slice the bananas, add 1 slice to each tartlet.
Pipe on a dollop of whipped topping
And that's it! Serve your beautiful desserts!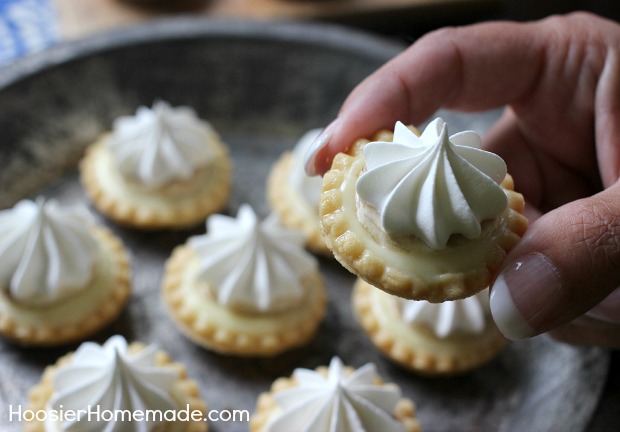 Sweet Cream Banana Tartlets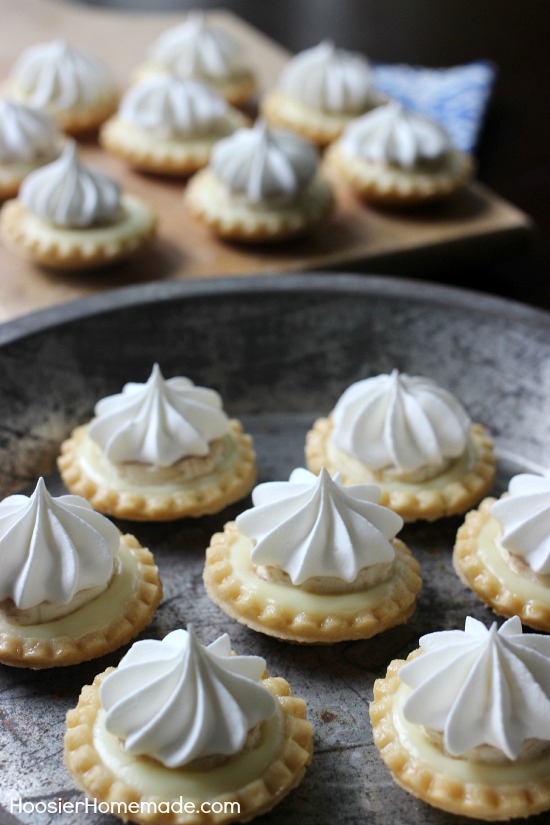 Delicious and impressive looking dessert that you can make in under 15 minutes. Recipe on HoosierHomemade.com
Ingredients
1 small box instant Banana Pudding
1 cup International Delight Coldstone Sweet Cream Creamer
1 cup milk
1 box (16 shells) Shortbread Tartlet Shells (found at Kroger)
1 large Banana
1/2 cup (from 8 oz container) whipped topping, thawed
Instructions
Combine pudding, creamer and milk, Whisk until slightly thickened. Place in fridge to set 5-8 minutes
Remove tartlets from box and place on tray
Add whipped topping to decorator bag
Remove pudding from fridge, spoon about 1 tablespoon into each tartlet. You will probably have leftover pudding.
Slice banana and add a piece onto of pudding
Pipe on dollop of whipped topping
Serve immediately or place in fridge up to 3 hours
Notes
You can also make this same recipe into a large pie. Use a store bought gramah cracker crust. Slice bananas and place on bottom of crust, top with pudding. Place in fridge at least 3 hours.
http://hoosierhomemade.com/sweet-cream-banana-tartlets/
This is a sponsored conversation written by me on behalf of International Delight. The opinions and text are all mine.


Have you ever had something that you worked super hard for become a reality? Well it happened to me. Over the last 5 years of this blogging journey, I have worked many, many hours to share with you all what I love – to help you bake delicious treats for your family – to show you how to decorate your home without breaking the bank – to teach you how to make something you can be proud of - and ultimately, help you be heroes to your family. That, my friends, is why I do what I do, because let's face it, I believe that we can all live a more simpler life, have fun with our families, and be encouraged along the way.
Over the past 30 years, Better Homes and Gardens has been a company that I have loved and been inspired by daily. As we have grown the blog they have always been a company that have shared the same values as we do. The reality came true earlier this month when I had the opportunity to join the BHG Live Better Blogger Network and visit their headquarters. Over the next year, I will be sharing fun ideas for your home that are affordable, and that I know you will love. Let me give you a sneak peek into my trip…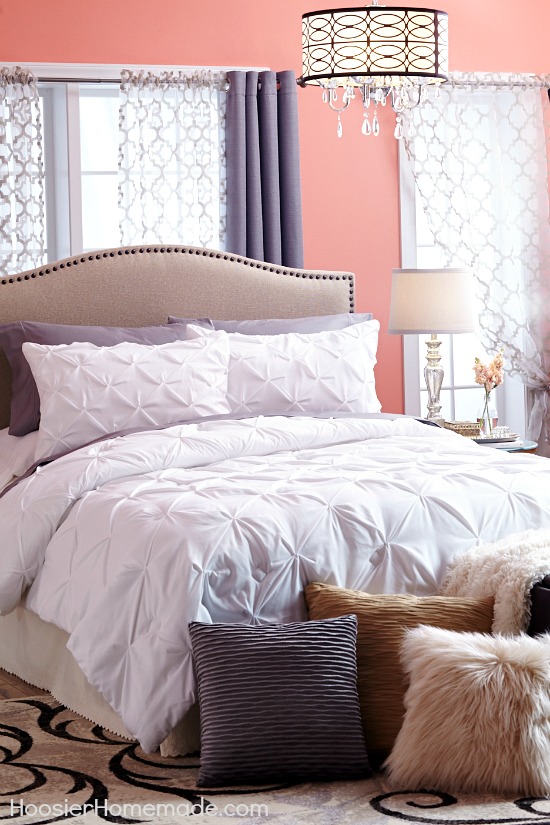 The trip was full of amazing insights into the world that goes on behind the scenes at Better Homes and Gardens headquarters in Iowa. I have shared some of the cool BHG products at Walmart, like our popular Wood Pallet Deck that we decorated with BHG Outdoor Furniture, and our new Family Room with some fun products to make your room cozy.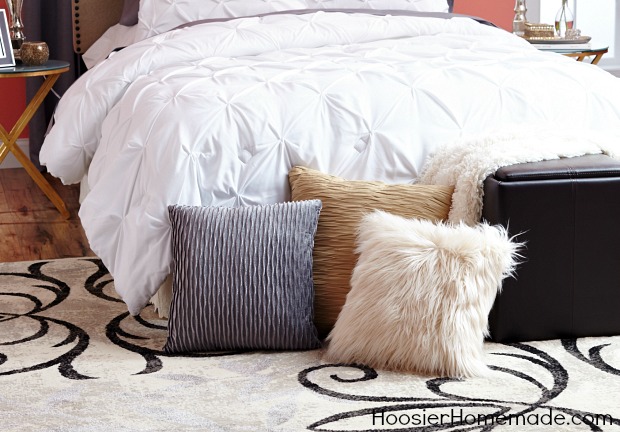 We learned a lot about styling and decorating your room, like adding texture with fun pillows. I love the furry pillow, not only for a bedroom, but they are fun addition to a chair in your Living Room as well.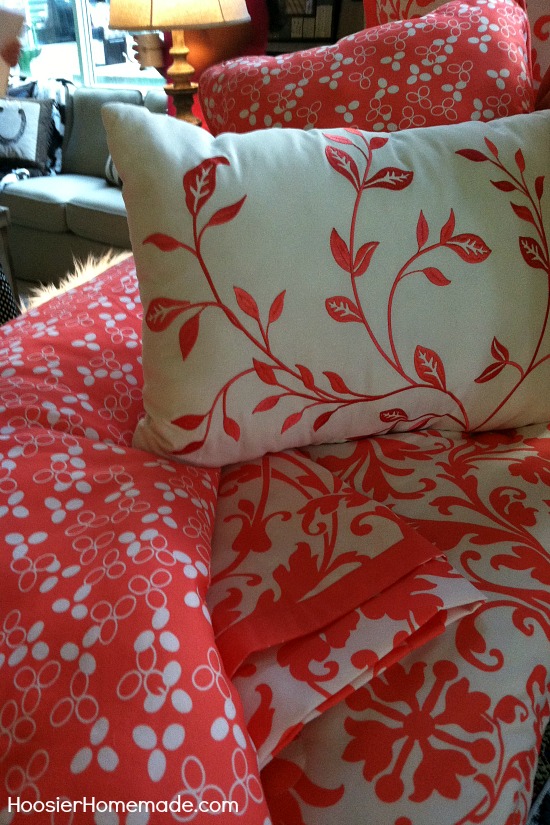 All of the products we saw are fabulous, honestly, I could have filled my entire home with these items. They are high quality, amazing designs and the best part – they are affordable. Could you see yourself snuggled up in bed with a good book, surrounding my these sheets and comforter.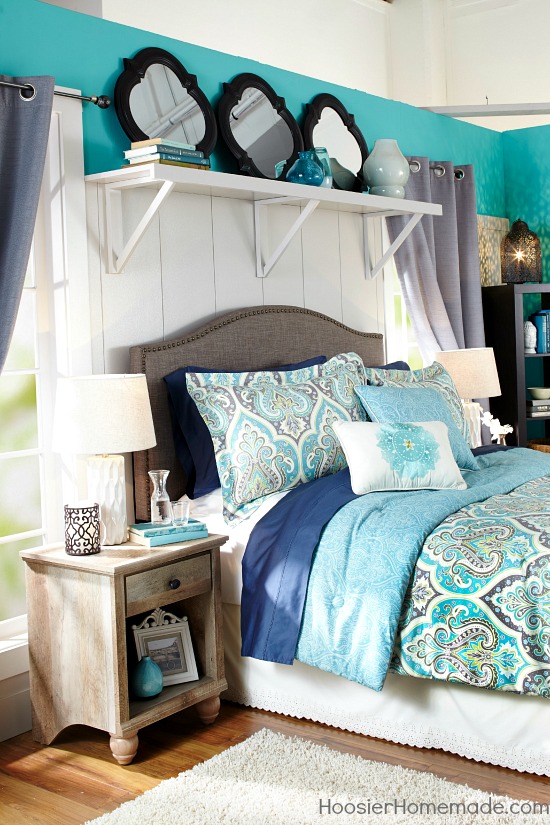 Perhaps you are like me and like the more rustic look. I love the colors in this room.  I used to think that you needed to match your sheets, but a layered look with different colors really makes a statement. And that headboard is fantastic! It would go with just about any style that you have. The headboard is available on Walmart.com and comes in multiple sizes and colors.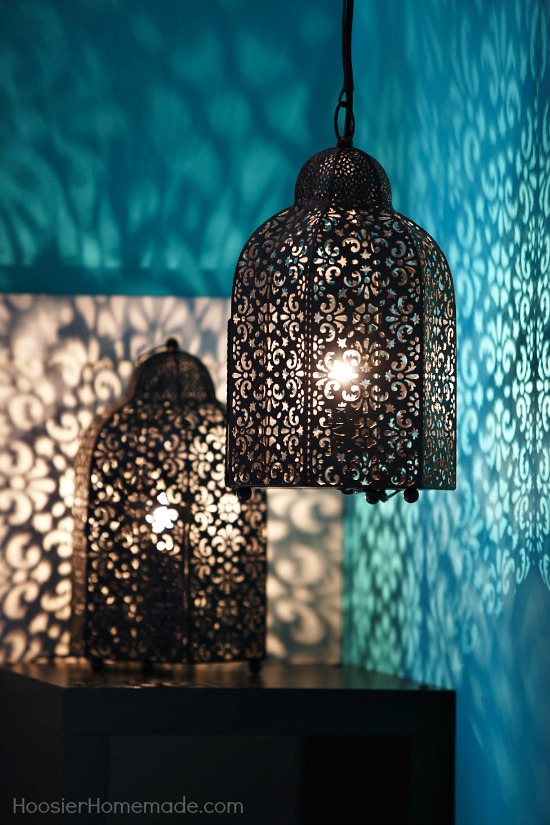 These lanterns would make any boring corner of your home more interesting. The glow they create on the wall is fabulous.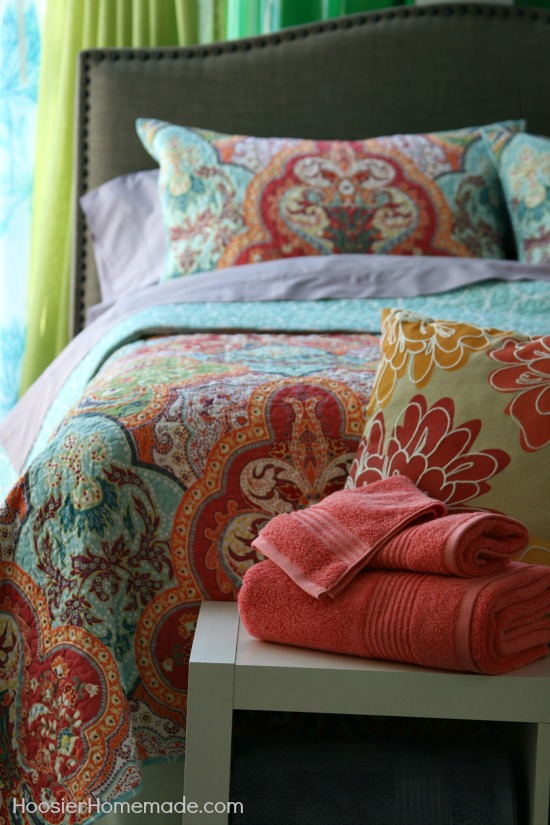 And from the BHG Quilt Collection, this Jeweled Damask is a favorite of mine. It's reversible, machine washable and comes in multiple sizes. Pair it with that cool headboard and pillows, it looks amazing!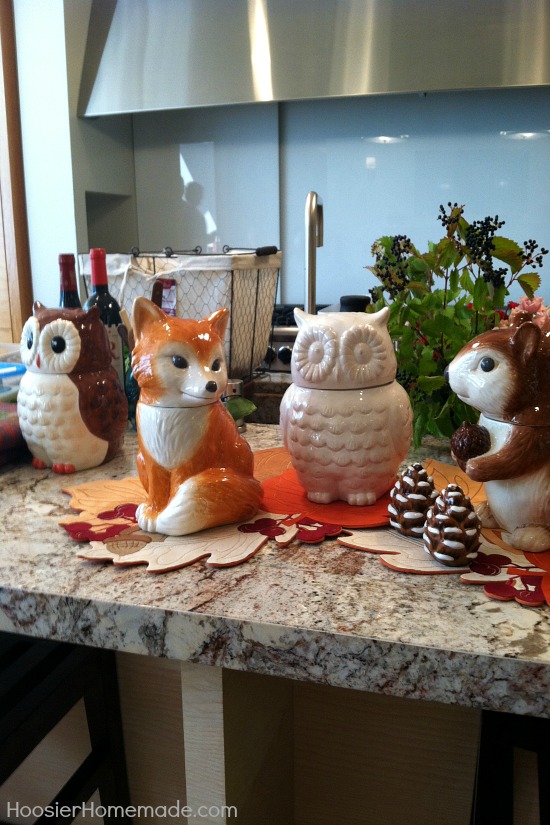 Not only did we get to see gorgeous bedrooms, but also fun items for the kitchen. These woodland cookie jars are just adorable! Which is your favorite? I can't choose, I think I need all four of them.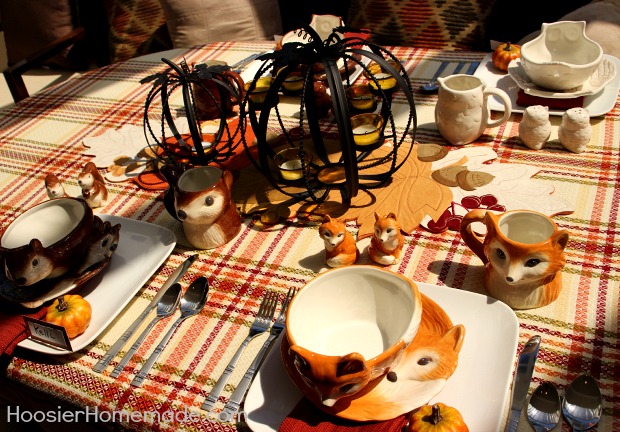 Along with the cookie jars, these adorable woodland plates and accessories will be available this Fall at Walmart. They remind me of the Fall Party we did last year.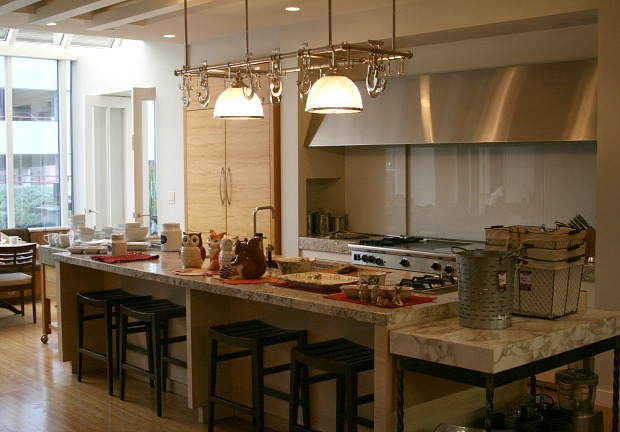 The visit wasn't all about the products, although I loved that part. I also got to see the Better Homes and Gardens Kitchens, and learn from the very best.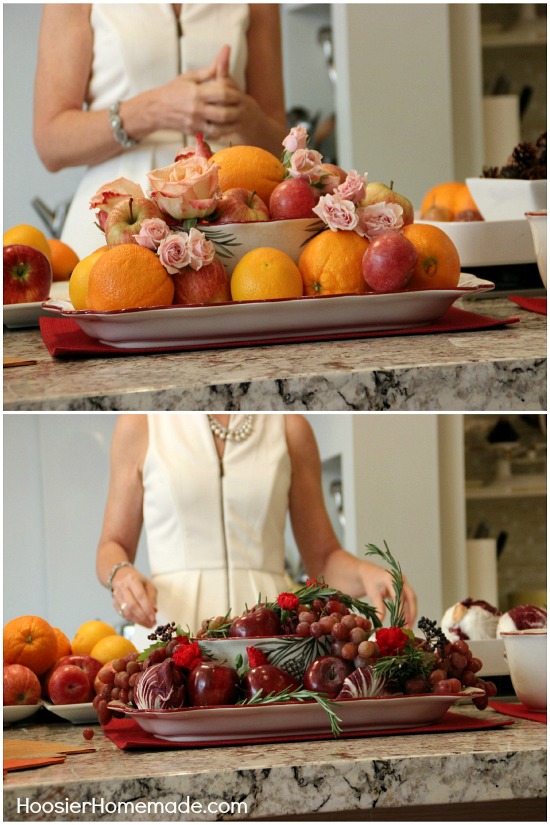 I could have sat all day and listened to Senior Editor Nancy Wall Hopkins teach us about styling. Here she took the same platter and bowl from the Christmas dishes and styled them in minutes. The top photo is the Fall centerpiece filled with fruit and roses. And the bottom photo is for the Holidays with all shades of red and fresh rosemary.
Nancy taught that entertaining doesn't have to be a difficult thing. It seems like more and more we are all so busy that we don't take the time to invite friends over for a last minute dinner, or pack a picnic to enjoy with friends during a hike. I loved her concept because it's what I try to teach you all every day, it really can be simple.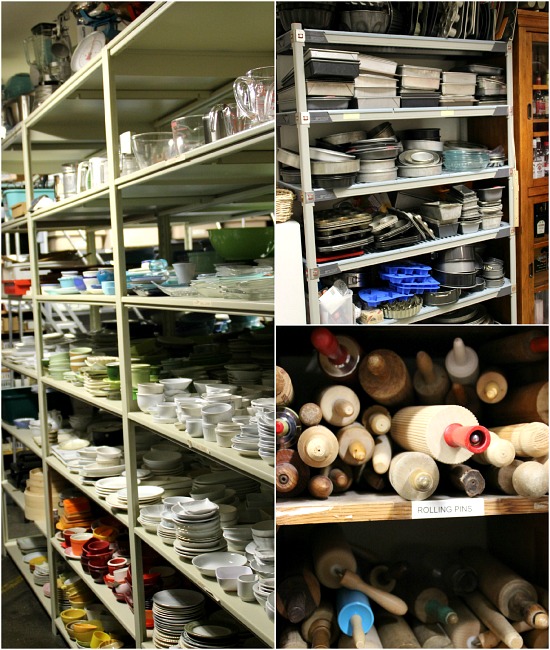 And speaking of kitchens, how about these pans, dishes and rolling pins? There are rooms and rooms filled with props that they use for the magazine photos and for the test kitchens. I could have stayed in there all day.
It was an honor to meet Editor Eddie Ross. He taught us how adding simple embellishments like tape and ribbon to everyday basics for your home take your style to the next level. Check out his blog and Instagram photos for more inspiration.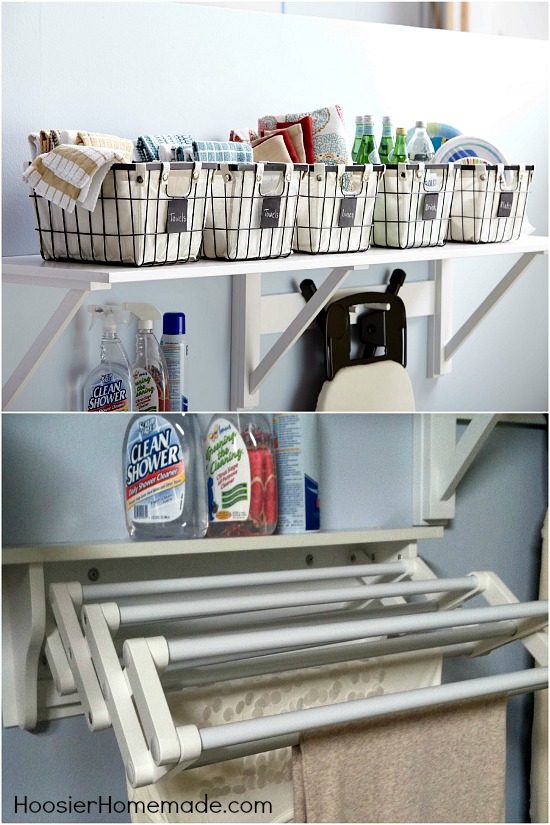 Moving onto the Laundry, we can't forget about that. I'm loving the lined baskets to hold lots of things from towels to pantry items to supplies for an impromptu picnic. And this wall mounted drying rack is of course perfect for the Laundry Room, but how about for towels in the kitchen or in your closet to hang your delicates. I'm going to grab one to hold scarfs and necklaces.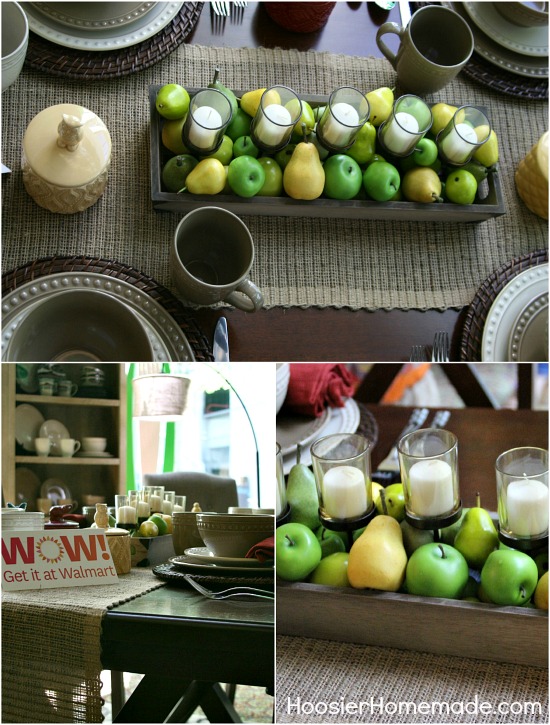 Here is new look for your table, a simple table runner, layered dishes and a fun centerpiece.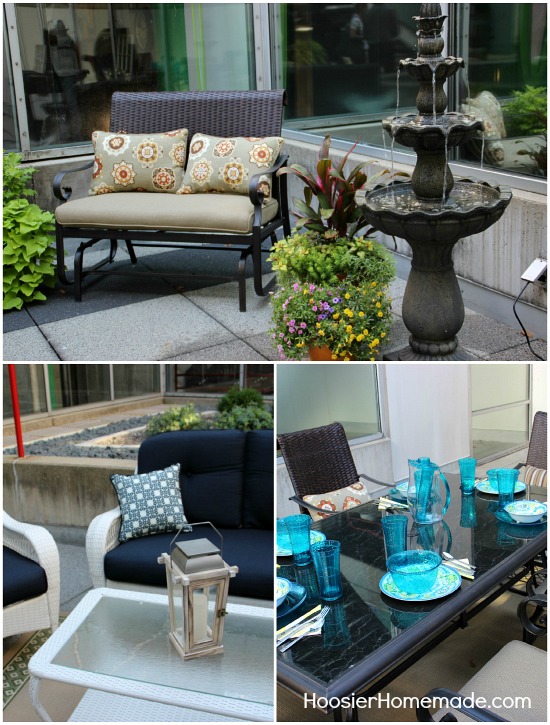 Bring the inside of your home out, and creating a relaxing space to sit or entertain is fun. The outdoor furniture was fabulous too! I have been wanting a set of white wicker for several years now. All of these pieces will be available next Spring.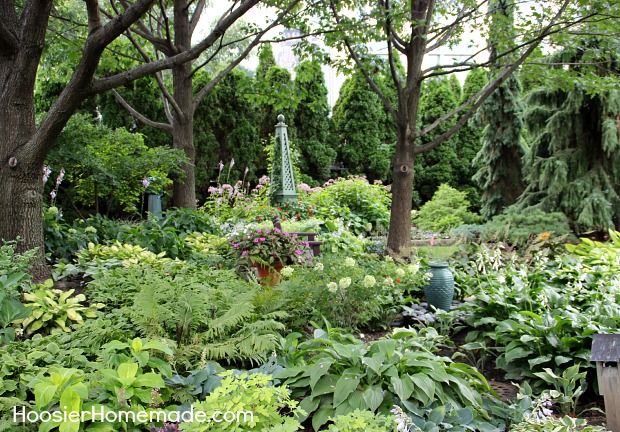 Across the street from the Better Homes and Gardens headquarters, is their Test Gardens. I can't begin to tell you how gorgeous this is. They created these gardens to be able to test different plants.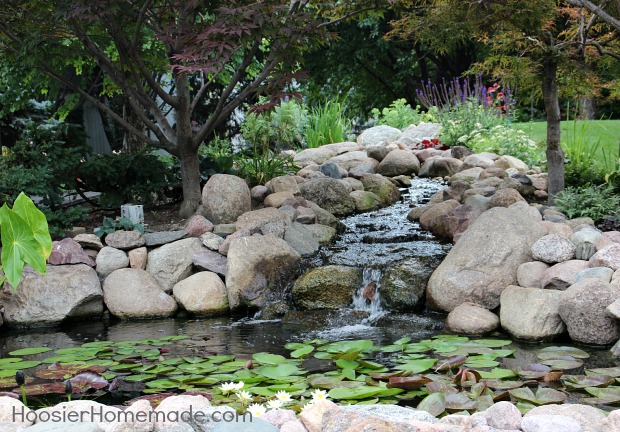 It is such a relaxing place, I would love to just sit all day and read a book by the pond.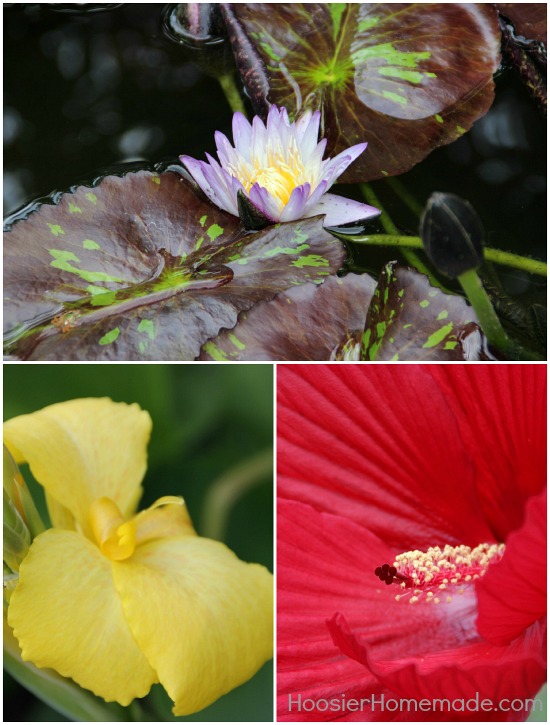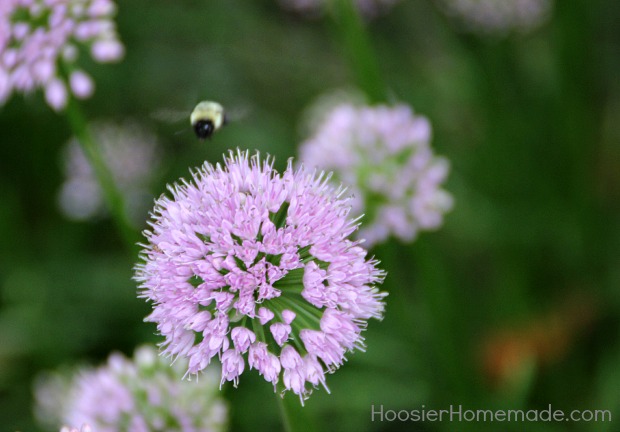 This is my favorite shot that I captured in the gardens.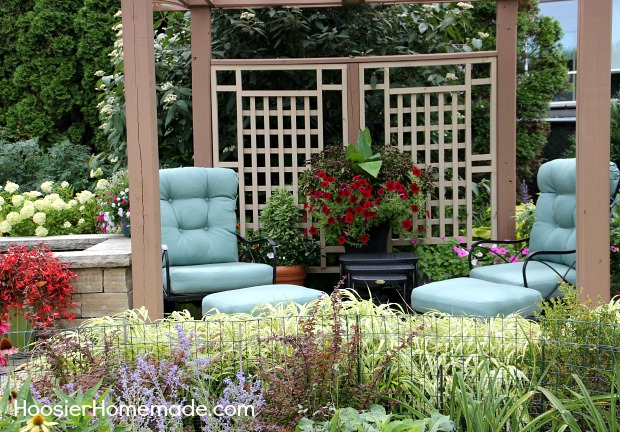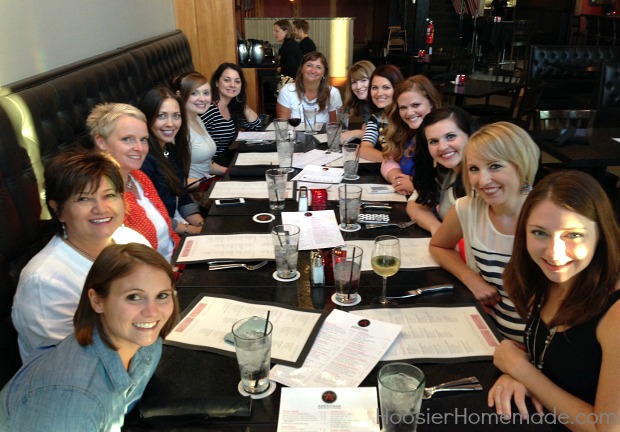 I'm very honored to be included with these wonderful bloggers!
For more inspiration visit Better Homes and Garden Live Better on Facebook  and Pinterest!



Childhood Hunger is a huge problem in our world today.  It just breaks my heart to know that there are little ones who will go to sleep tonight feeling hunger pangs or worse due to the lack of nutrition.  That's why I'm so grateful to Truvia for doing their part to help with this huge calamity that is plaguing our world.  I already love Truvia for their excellent products, but this project makes me appreciate them even more.

Truvia has partnered with the United Nations World Food Program to help reduce childhood hunger in Bolivia. During Truvia's "Sharing a Sweet Future" charitable initiative, nearly $1 million in contributions will be used to help develop sustainable communities in Bolivia, a region of critical need with one of the highest rates of nutritional deficiencies in South America.
In Bolivia, 40 percent of families struggle to support their children's most basic food needs. In addition to the children its helped feed, Sharing a Sweet Future has provided 97 metric tons of vitamin-fortified vegetable oil for healthy meals and trained residents to build 125 safer, fuel-efficient stoves in rural communities, which will benefit over 17,000 children in the years to come and minimize environmental destruction.
You can help too! Head on over to World Food Programme to make a donation.
Check out the following facts about the child hunger problem in Bolivia:
Two-thirds of the Bolivian population is below the poverty line
The majority Bolivian children do not receive the minimum daily caloric intake and are suffering from nutritional deficiencies
The widespread use of primitive cook stoves resulting in harmful smoke exposure has led to a number of health issues for Bolivian families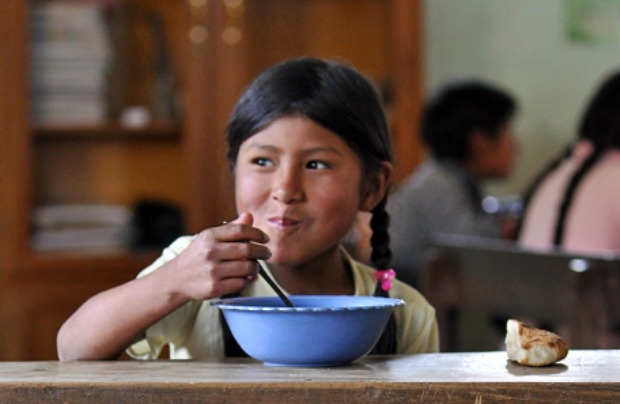 Matthew Jacobs, international product line manager for Truvia was recently quoted to say "By providing two meals a day to children in schools, we are providing nutrient-rich meals and motivating children to come to school and learn, the goal of this initiative is ultimately to help establish a self-sufficient community and the best way to do that is through better nutrition and education."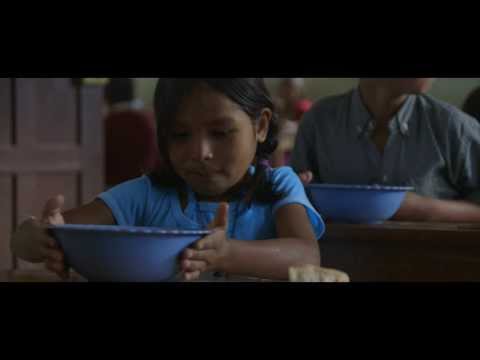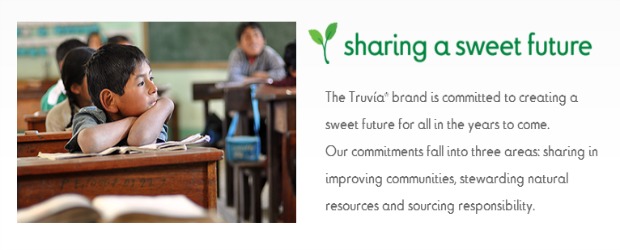 Learn how you can help Truvia give back to the community in the coming years by voting for their next charitable partner! Cast your vote!
I hope you would consider sharing some of these videos with your friends and family to help raise awareness for childhood hunger in Bolivia.  If you choose to share, please use #SweetFuture to help spread the word.


I have a question for you. How many cellular phones does your family have? We have 5, and I have the $350 phone bill to prove it!
Every month I pay the bill and say to Doug, we have to find a way to reduce this amount, seriously this is a car payment for the opportunity to have phones. And short of making the boys pay for their own phone contracts, we have not found a way to bring down the cost of our monthly plan. We need our smartphones for our business and we do want the boys to have their own phones so we have the security of being able to communicate when they need us and when they are away from the house.
Seriously I don't know how our parents survived the stress of teenagers without having cellphones.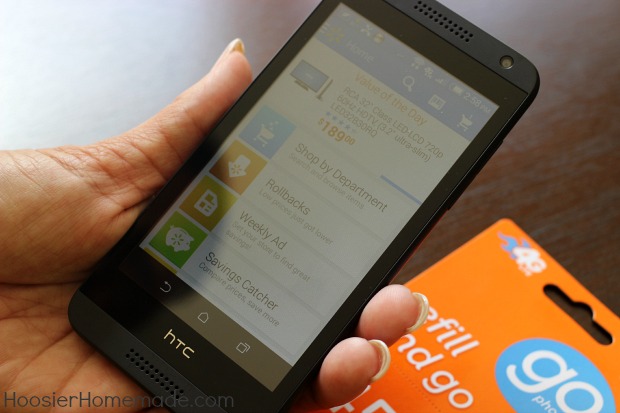 But keeping within a reasonable monthly budget recently has become difficult. I have a few friends and people we work with that have made the switch from a long term contract with their cellular carrier to one of the monthly pay as you go plans you see available at stores. And after some good reports from them I got to thinking that this could be a real opportunity to save some money.
There are a lot of options out there when it comes to monthly pay-as-you-go cellular plans. I've always been leery of them, but recently the major cellular providers have gotten in on the action. AT&T has their GoPhone program available at Walmart with several phone options and service plans, one of the best is exclusive to Walmart, a plan that includes unlimited talk, text and 1GB of data for $45.00 per month with no annual contract.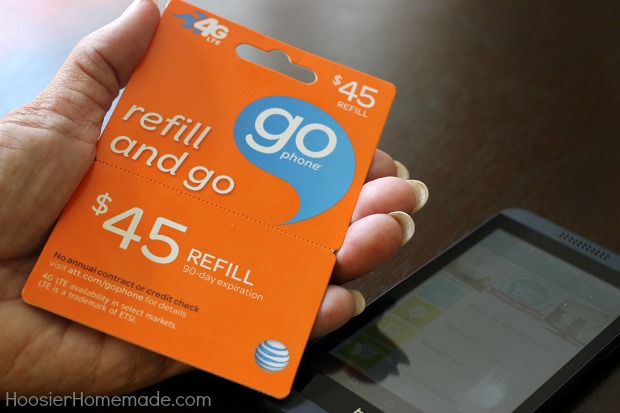 Not only do you get the coverage of AT&T's 4G LTE network, you also get unlimited text to Mexico, Canada and over 100 countries. It even lets you use your phone as a WI-FI hotspot to share data with other devices such as tablets, laptops and other phones.
All you need is a smartphone that is compatible with AT&T, if you have one great, a simple visit to the store and you can make the switch. If you need a new smartphone they have you covered there as well, you can pick up a new phone like the HTC Desire 610 for under $200.00.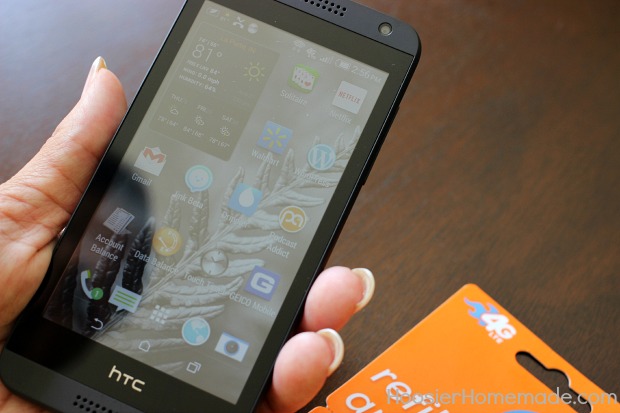 For the last month I've had the chance to try out the HTC Desire 610 on the AT&T network with the GoPhone $45 monthly plan. I have to say that I was really impressed.
It's not easy for me to make changes, I am very protective of the business I've built and part of that is knowing that the tools I use for it are going to work when I want and how I want. After trying this program out for 30 days I'll tell you that I wouldn't hesitate to make the switch to the GoPhone.
Now I just have to figure out how to get out of my annual contract to make the switch.
What service do you have? Do you like it? Or feel stuck in a contract?



Move over burgers! There is a new sandwich in town! This Grilled Steak Sandwich is easy to make, delicious and perfect for the upcoming football season. You are sure to be the hit of the tailgate party with these sandwiches!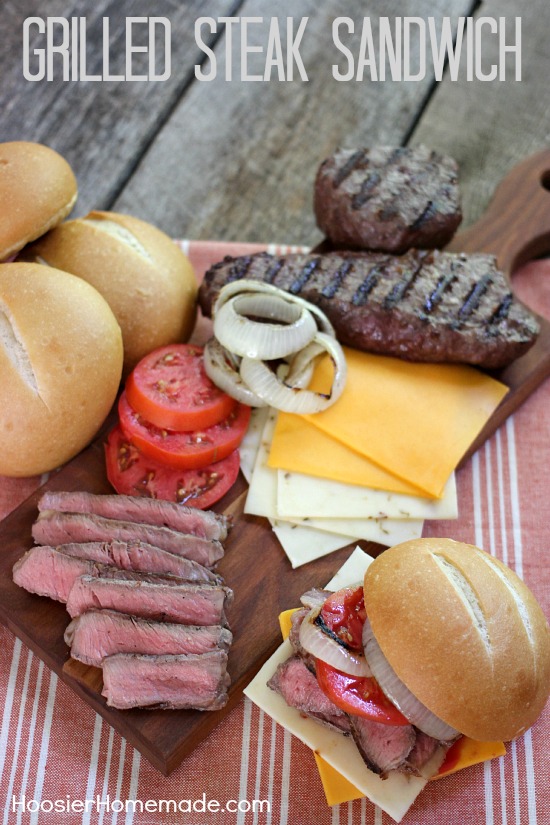 Last year was the first year that we experienced college football. While they don't have a huge tailgate party at Manchester University where our middle son goes, we did enjoy grilling and spending time with friends. Now that we have the "lay of the land," and know what to expect, this year is going to be a lot more fun.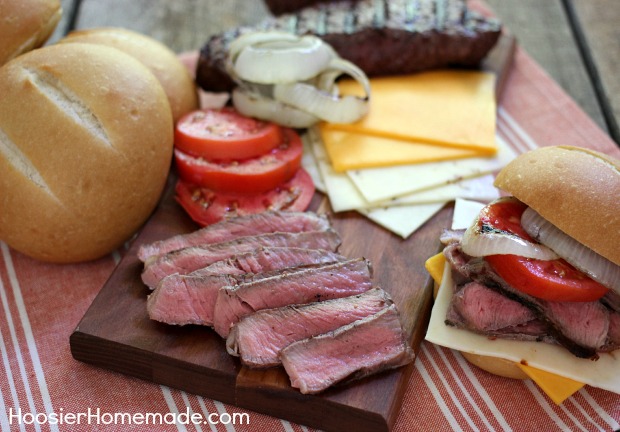 Living in a house full of men, steak is definitely top on the list. We don't serve it too often, so when we do I want it to be the best steak you can buy!
The ingredients in these Steak Sandwiches are very simple, you want the delicious flavor of the steak to shine through. All you need is cheese, we served Pepper Jack and Cheddar, Tomatoes (from our garden), and Grilled Onions on a soft bun from the bakery. We used Strip Steak, commonly known as New York Strip, it's available in both boneless and bone-in, it cooks quickly and is lean and tender.
The Strip Steak is Certified Angus Beef® brand, a high quality brand of beef that you can trust every time. The Certified Angus Beef® brand must pass through 10 stringent quality specifications to earn the premium mark. You can find your closest grocery store or restaurant on their website.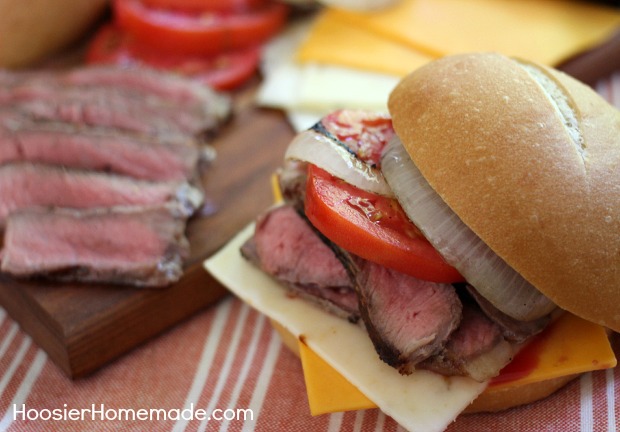 For best results when grilling your steak, we have found a simple salt and pepper to season it works best. When grilling, begin with a hot grill and don't overcook the steaks, we use an instant read thermometer. After removing them from the grill, cover and let them rest for about 5 minutes so the juices redistribute.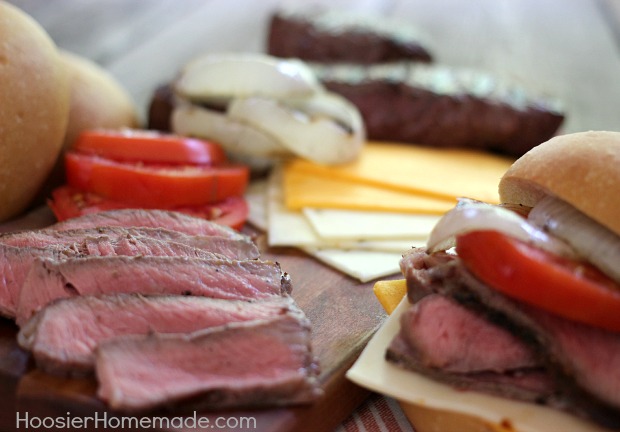 For more recipes and information about Certified Angus Beef® brand follow them on Facebook, Twitter, Pinterest, Instagram, Blog , Website
Grilled Steak Sandwich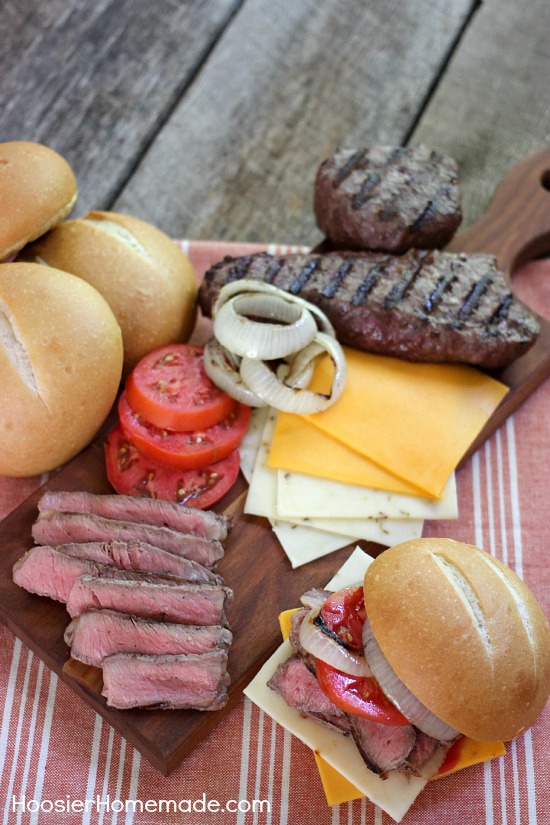 An easy sandwich, perfect for a cook-out or tailgating. Recipe on HoosierHomemade.com
Ingredients
1 (12 oz) Certified Angus Beef Strip Steak
Salt and Pepper to taste
3 Buns
Cheese - your favorite
Tomatoes
Onions
Brown Mustard
Instructions
Preheat grill to medium-high heat
Add salt and pepper to taste, place on grill.
For medium-rare, cook about 10-15 minutes, flipping once, until internal temperature reaches 140 degrees.
Remove and let rest 5 minutes, slice thinly across grain and assemble sandwiches
http://hoosierhomemade.com/grilled-steak-sandwich/
This is a sponsored conversation written by me on behalf of Certified Angus Beef via Burst Media. The opinions and text are all mine.