---
Are you ready for Halloween? Well, if you are anything like me, life gets in the way and we need a quick, easy last minute idea. Whether it's a snack to send to school for a Classroom Party or just a fun idea to surprise the kids with.
Here are 10 Last Minute Halloween Ideas for you that can be made in minutes!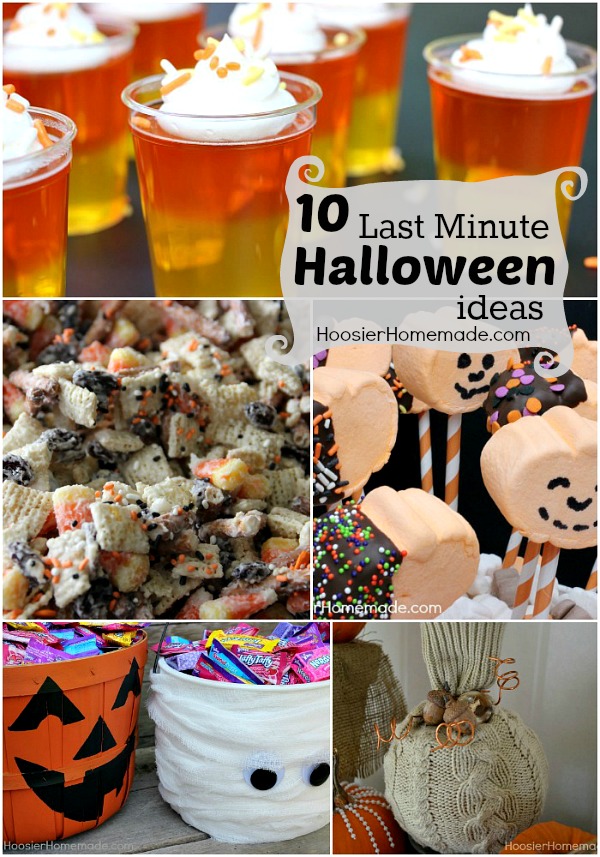 Surprise the kiddos and create one of these fun Halloween ideas! They only take minutes!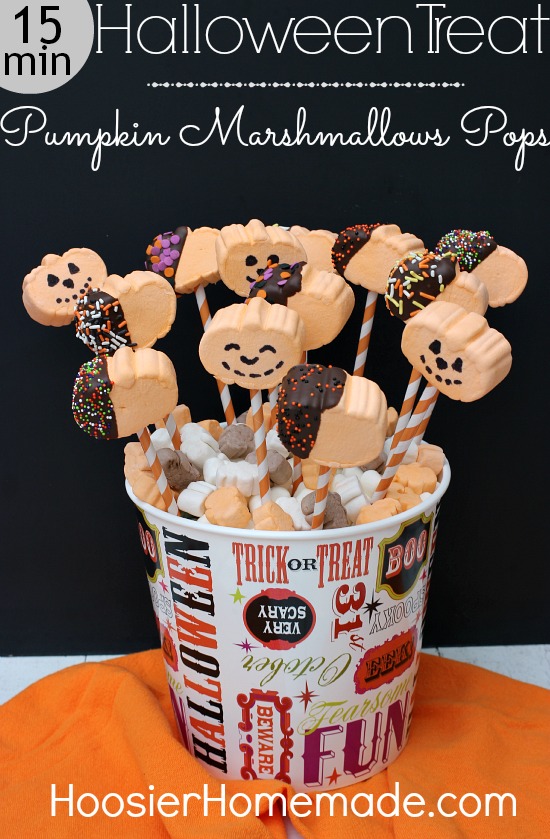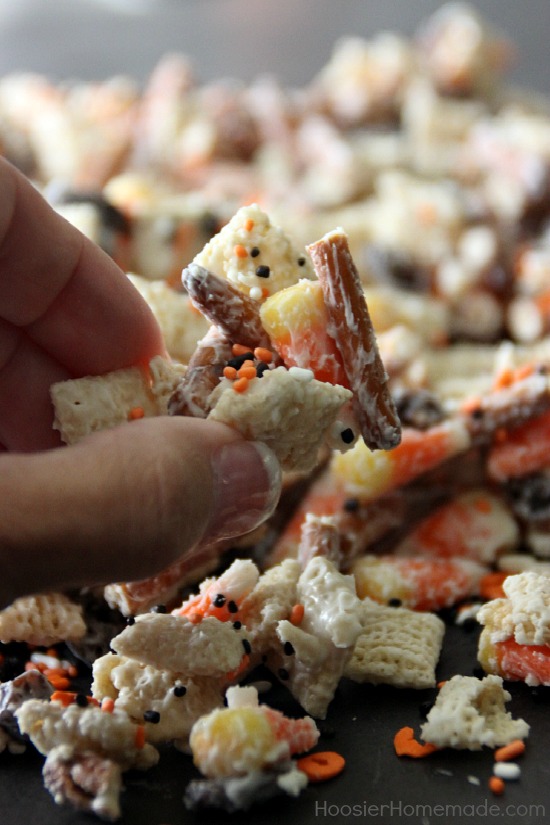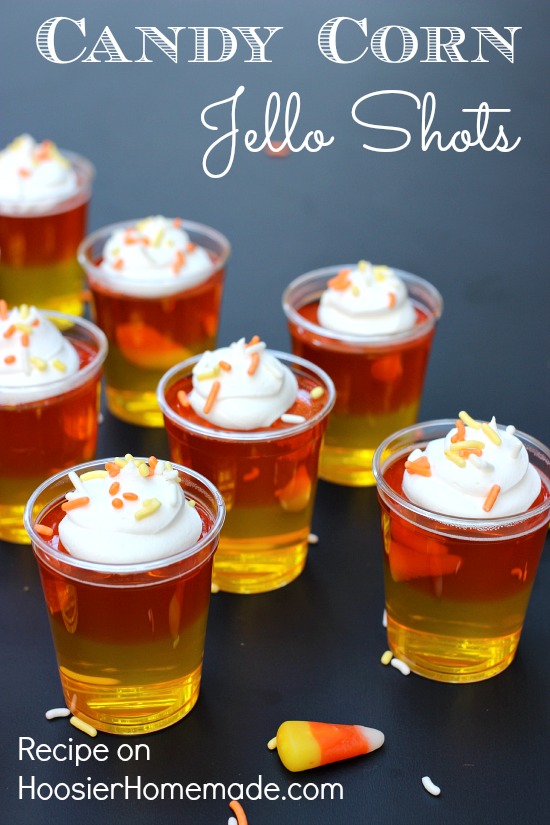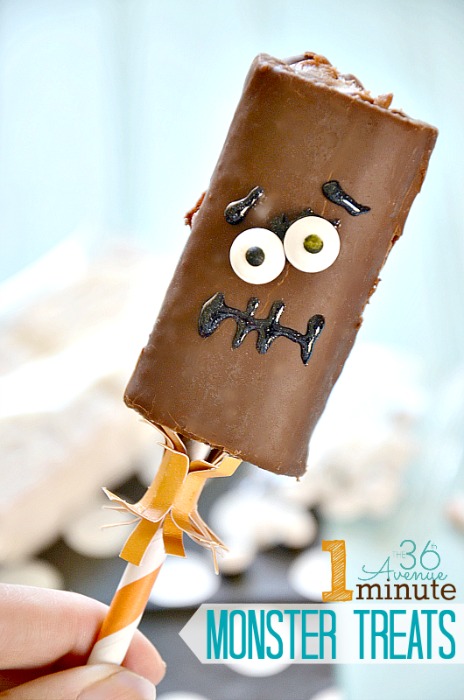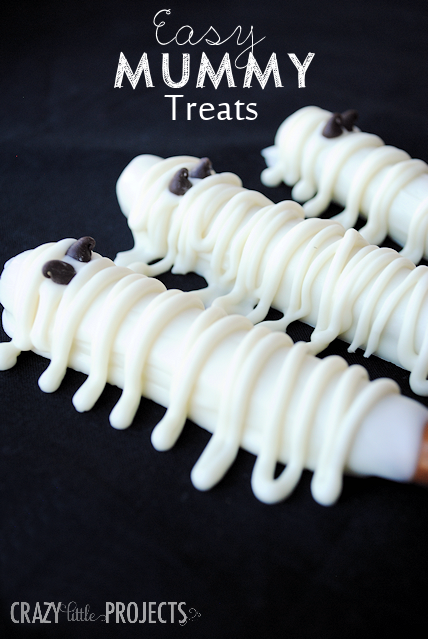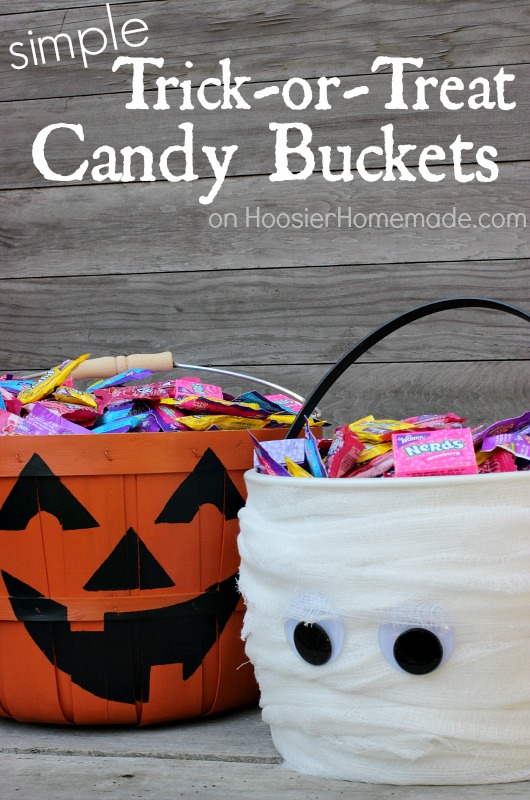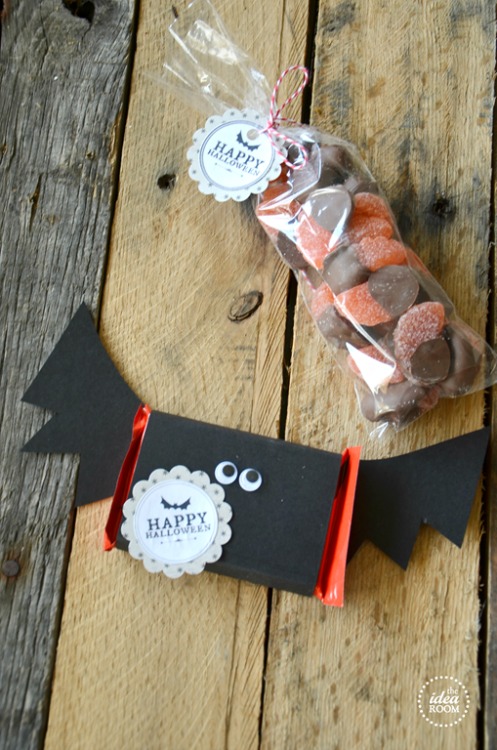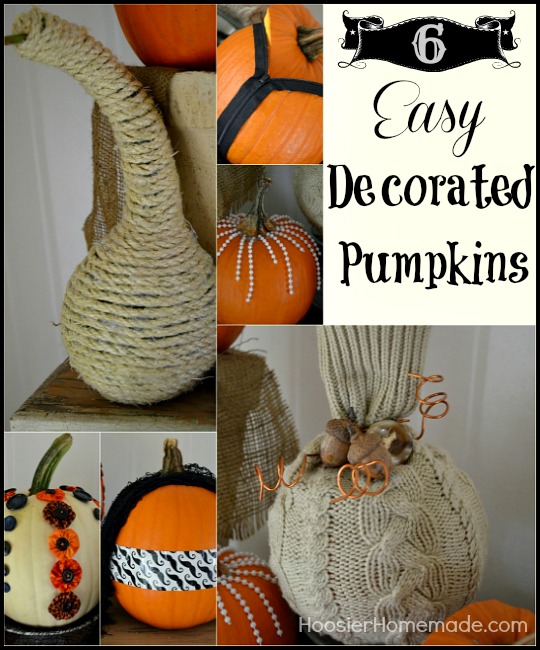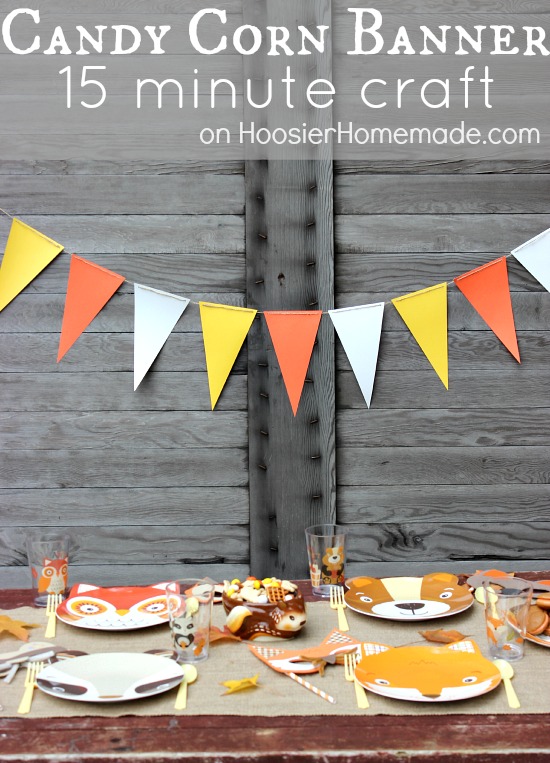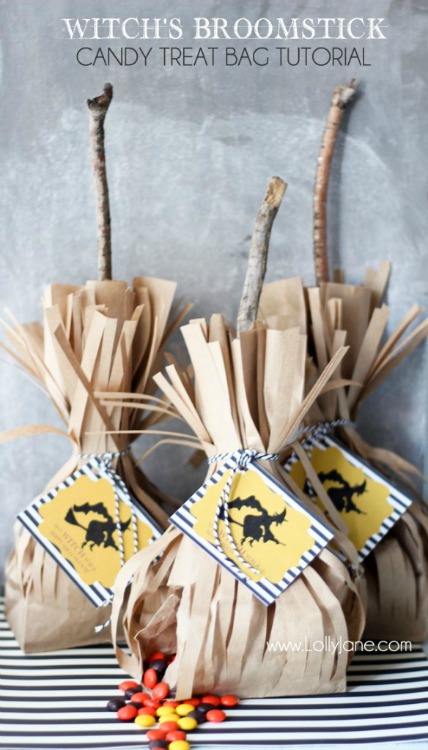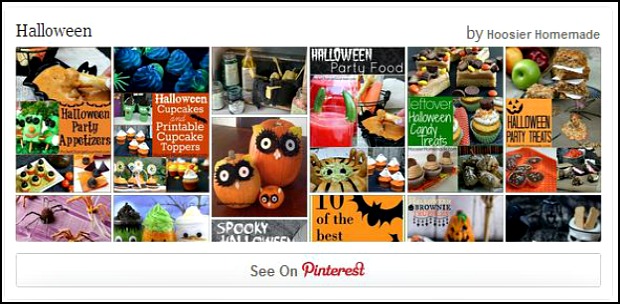 Follow along with my Halloween Pinterest Board for more recipes and crafts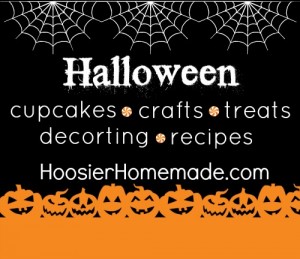 It's time to start thinking about your holiday decorating. And what could be better than a natural looking Christmas door decoration inspired by home designers? (The answer is nothing!) These moss covered JOY letters would be a great addition to your outdoor decor this year.
100 Days of Homemade Holiday Inspiration continues with Day 46! Each day we are inspiring you with  recipes, decorating ideas, crafts, homemade gift ideas and much more!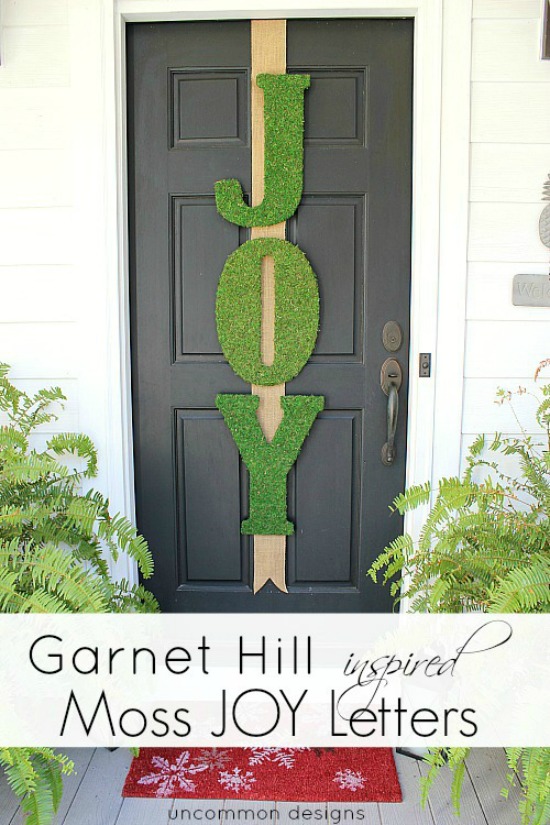 These look so simple to create and I love the addition of the burlap runner behind them. That really makes them pop! Your level of Christmas door decorating could definitely be raised up a notch or two with the addition of this great craft!
Thanks to Trish and Bonnie from Uncommon Designs for sharing this fun to make Christmas Door Decoration with us for our 100 Days of Homemade Holiday Inspiration!
Find the full instructions by clicking the link below…


Is there a coffee lover in your family? We have one confirmed and one budding coffee fiend in our house so when it comes to gift ideas for the holidays I know that a new coffee cup or brewer is a perfect gift. For the avid coffee lover the NEW Keurig® 2.0 K500 Brewing System is the perfect gift.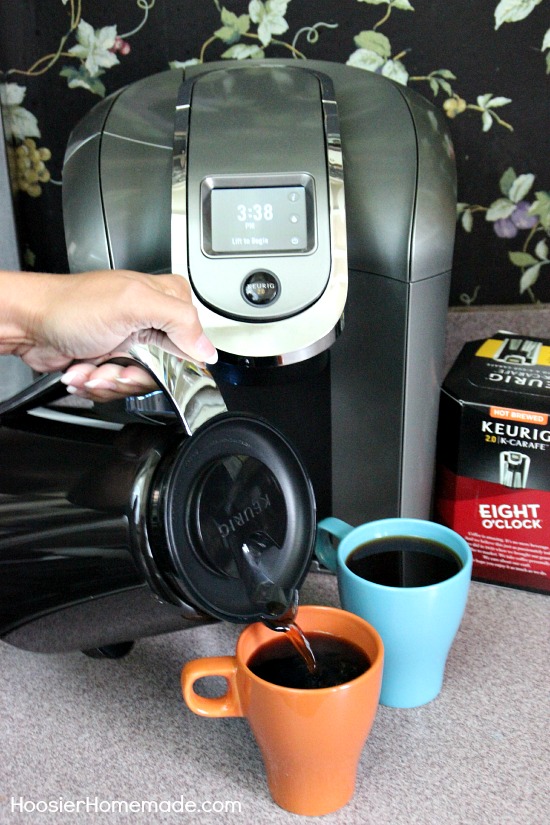 I was given a Keurig® 2.0 K500 from Walmart to try out, well really Doug tried it out since he is the coffee fanatic around here. He's very familiar with the Keurig® brand, I think this will be the 4th Keurig® brewer we have had on our kitchen counter. And since they last so well, we have passed the older models down to our son who is using it to fuel his late night study sessions at college.
When the package with the K500 was delivered it didn't take long for Doug to unpack the system and check it out. The New Keurig® 2.0 K500 is very similar to past models. It operates is the same manner that current Keurig® users are familiar with, but the first thing you will notice once you turn on the power is a touchscreen on the front that controls all the brewing functions.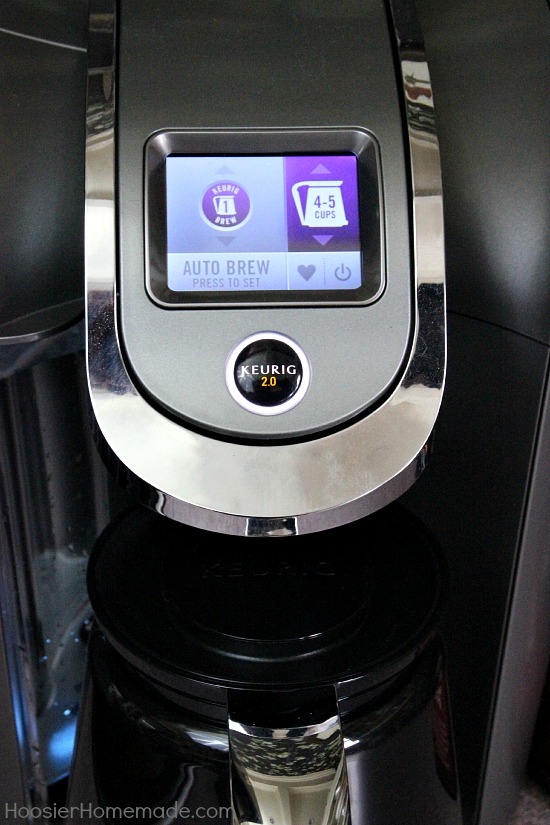 The touchscreen is very easy to understand and use, however I suggest you take 5 minutes and read through the User Guide. It took Doug over a week to find that there was an auto brew mode for the carafe.
Oh yeah, this thing can brew into it's own carafe making up to 5 cups of java at one time. So now you have a choice, brew one perfect cup of coffee at a time or a whole carafe of perfect coffee!
If you have done some online research you will notice there is some controversy around the new K-Cup® or maybe I should change that to the old K-Cup®s. I personally experienced this issue, see the new system requires new K-Cup®s that are printed with a special ink and older cups made prior to February 2014 will not work in the 2.0 system.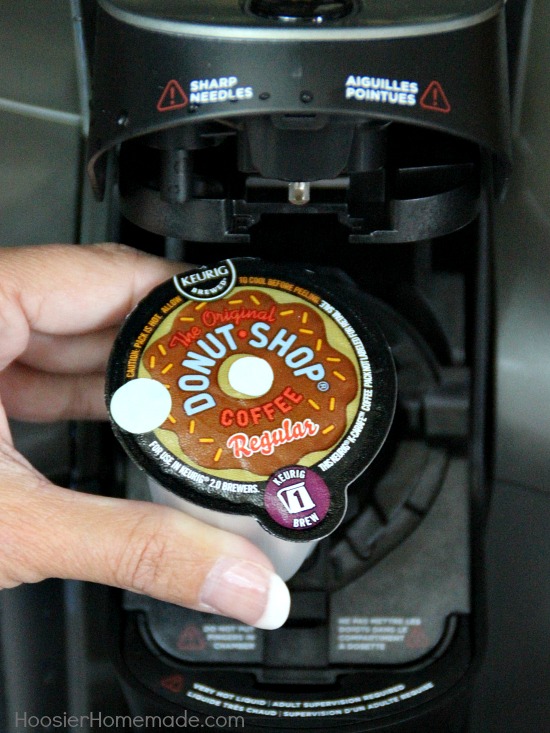 The 2.0 system uses the information printed on the top of each K-Cup® lid to deliver a perfect cup or carafe each time you brew your coffee or tea.
Here's the pros and cons with the Keurig® 2.0 K500 in our opinions.
Pros
Easy Set-up, I don't know how it can get any easier.
We love the touchscreen control panel, it makes it so easy to customize your brewing.
You can save your favorite settings for a perfect brew everytime, cup or carafe.
You are no longer restricted to brewing one cup at a time. Great for when you have guests or have a heavy coffee drinker in the house.
Carafe Auto Brew Setting. This is one thing that I have always wished for from past Keurig systems.
Cons
The carafe that is included with the Keurig® 2.0 K500 System is not insulated. You can purchase an insulated carafe separate from the main system. The insulated carafe will keep your drink hot for an hour or so, based on our experience.
Wish the water reservoir was larger. This may sound odd since it is the largest reservoir yet on a Keurig® brewer but since we make carafe's almost exclusively we have to add water every time. I guess I'm just a little nit-picky on this one.
Some final thoughts, many people have been used to not using K-Cup®s in past Keurig® brewers and so I wanted to make sure that you realize that if you have older K-Cup®s or bulk coffee you have two choices.
Hold on to the older system until you have used up all your old coffee and K-Cup®s.
Contact the Keurig® Customer Care Team with your concerns, they will help ease your concern.
The Keurig® 2.0 K500 System is available at Walmart or Walmart.com for $169.00 until October 31st, after that the price goes up to $189.00. It's a perfect item to put on Lay-a-way for Christmas.



You all probably know by now that we love Halloween at our house. And serving fun Halloween food is something that we look forward to each year. Today we have pulled together Halloween Party Food Recipes for you – appetizers, main dishes, side dishes, drinks and of course dessert. Whether you need an Appetizer or Dessert or anything in between, I have the perfect recipe for you! They are all kid friendly recipes that your whole family is sure to love.
Whether you serve them before or during your Halloween Bash, these Halloween Appetizer Recipes are sure to be a hit!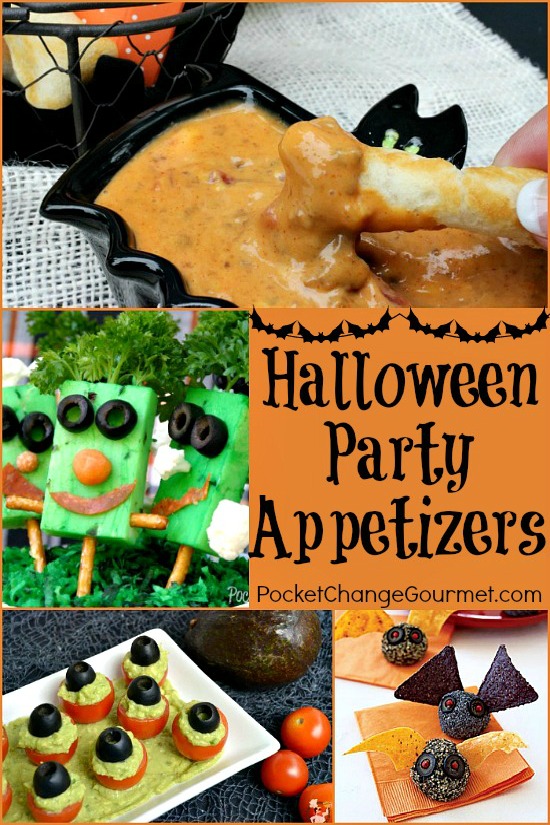 Halloween Appetizer Recipes

Serve up a fun Spider Taco Ring or maybe a Mummy Calzone to add a little spirit to the festivities.
Halloween Party Main Dishes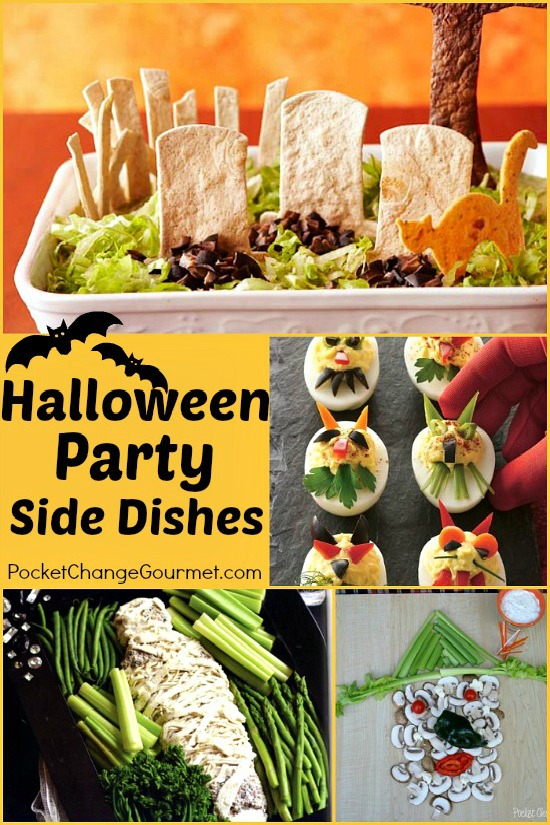 Side dishes always seem like an after-thought for me. These Halloween Party Side Dishes are easy and fun to create.
Halloween Party Side Dishes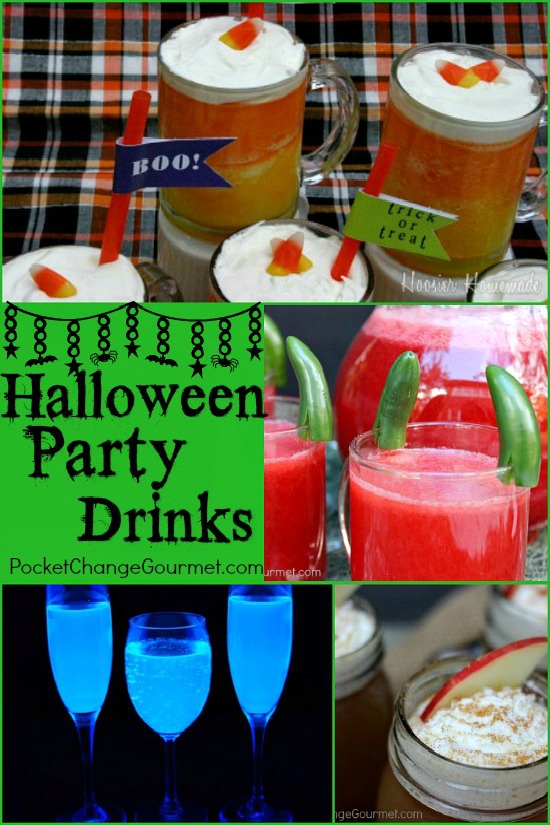 Bubble – bubble – toil and trouble – stir up one of these fun Halloween Drinks for your party!
Halloween Party Drinks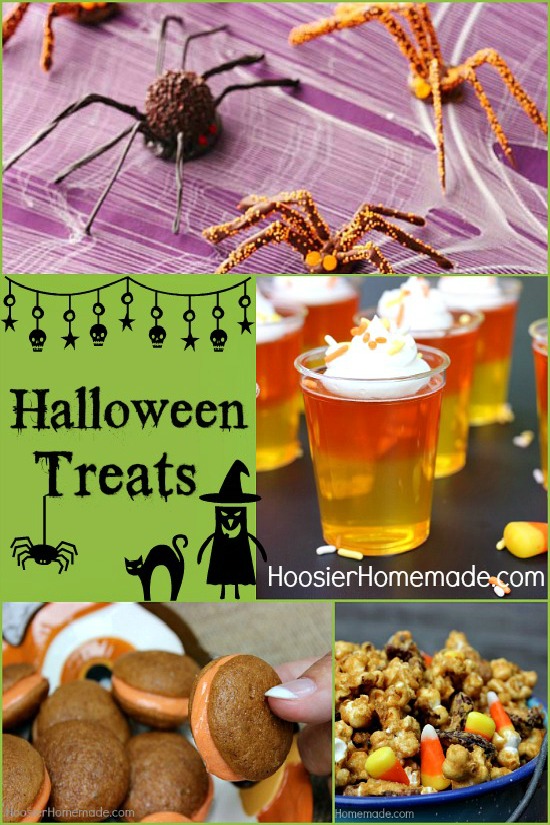 Halloween Party Treats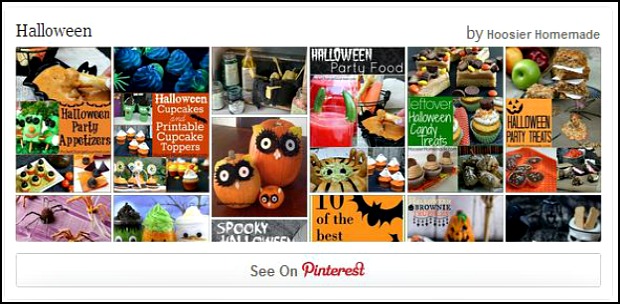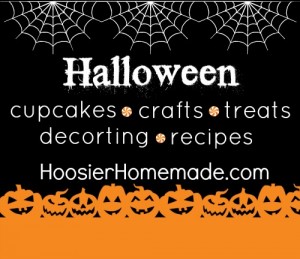 We all know the person who seemingly has everything, right? They are difficult to buy for each and every birthday or holiday season. We spend countless hours walking the mall in search of something, anything to give them and always leave empty handed. The answer to this dilemma is a Christmas Food Gift Basket! Give a delicious basket of homemade breads, jams and fruit butters this year to that person who is so difficult to buy for and today's post will give you the perfect recipes to do just that.
100 Days of Homemade Holiday Inspiration continues with Day 45! Each day we are inspiring you with  recipes, decorating ideas, crafts, homemade gift ideas and much more!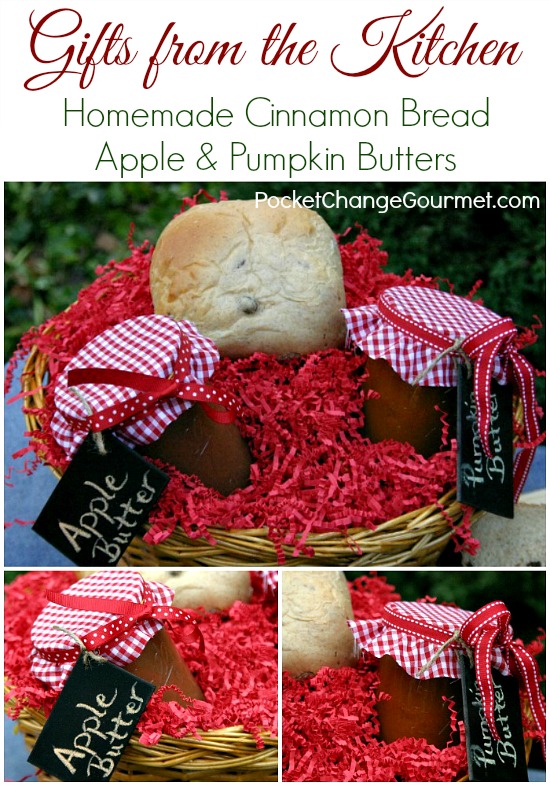 These would also make a great hostess gift when you visit friends and family this holiday season. Now is the time to buy up pumpkins and apples fresh from local fruit and vegetable stands, these will make your butters taste absolutely amazing!
Pocket Change Gourmet is sharing this wonderful Christmas Food Gift Basket idea with us for our 100 Days of Homemade Holiday Inspiration!
Find the Recipes by clicking the link below…