---
It's time to raid the garage, your dad's old tool shed or troll your neighborhood yard sales. You are going to want to find an old, used, wooden ladder after reading this great post. Whether you have a home full of eclectic mid-century decorations, a modern home full of sleek lines or an old farmhouse filled with antiques, this post can offer you inspiration for turning that old ladder into a fabulous Christmas tree!
100 Days of Homemade Holiday Inspiration continues with Day 41! Each day we are inspiring you with  recipes, decorating ideas, crafts, homemade gift ideas and much more!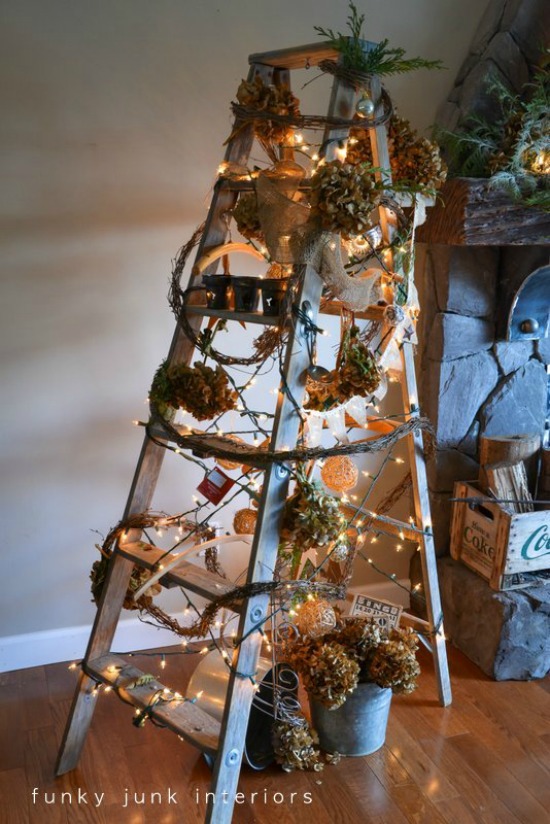 I'm pretty sure if I put one of these up in my home, especially one that looked like the one in the picture, I would leave it up all year long. I love the combination of textures, greenery, modern and antique that is juxtaposed together to make this amazing tree.
Thanks to Donna from Funky Junk Interiors for sharing this amazing idea for a Christmas Tree with us for our 100 Days of Homemade Holiday Inspiration!
Find the instructions by clicking the link below…


Decorating our home for the holidays is something we all love to do. The inside of our homes is pretty easy, decorated Christmas trees and Mantels, but what about the outside? I'm super excited to be teaming up with The Home Depot for the DIY Workshop in November. We will be building a Lighted Holiday Yard Tree, and you can too!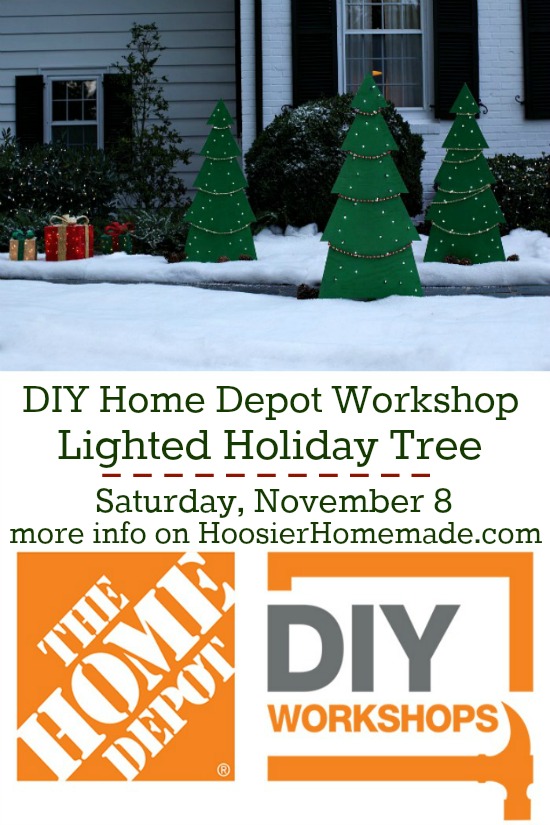 Do-It-Yourself (DIY) Workshops are great for anyone who wants to learn how to take on more of their home projects and upgrades. The Home Depot offers free workshops for do-it-yourselfers of all ages and experience levels. This Lighted Holiday Yard Tree workshop will be held across the country at different store locations, but I will be helping out at the Indianapolis/Castleton store on Corporation Drive (address below).  I'd love to meet you, so stop on by!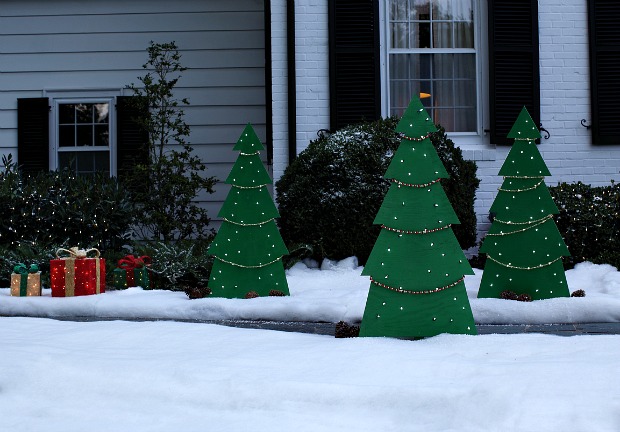 The holiday DIY Workshop will take place at your local The Home Depot store! Here are the details…
When: Saturday, November 8 from 10:00 – 11:30 a.m.
Where: The Home Depot Store, Castleton Store #2018, 9320 Corporation Dr. Indianapolis, IN 46256
Register:  Online HERE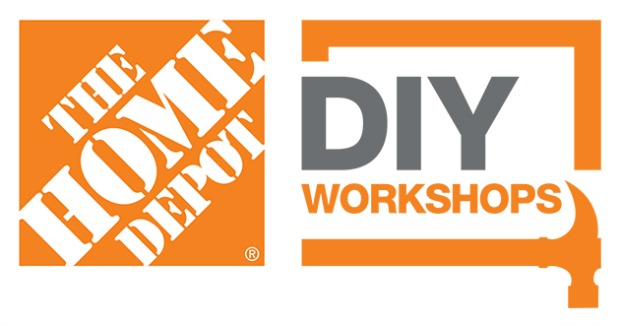 In case you don't live in Indiana, join one of my fellow bloggers…

For more inspiration…



Is there a better flavor combination than chocolate and peanut butter? Probably not!  These treats are made with those two wonderful items and are perfect for holiday parties, gift giving or leaving for Santa when he visits.
100 Days of Homemade Holiday Inspiration continues with Day 40! Each day we are inspiring you with  recipes, decorating ideas, crafts, homemade gift ideas and much more!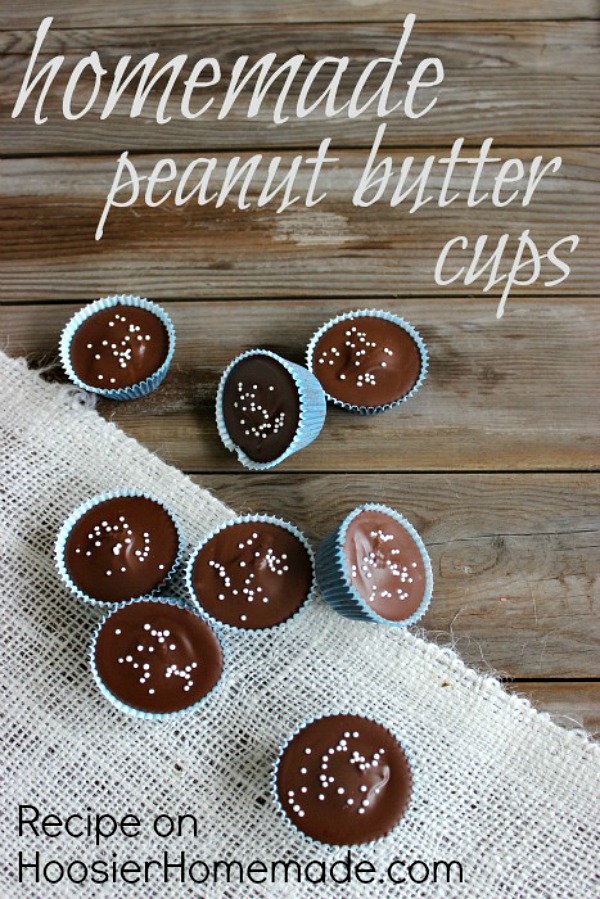 These homemade pieces of deliciousness are easy to make and can be personalized with the addition of decorative sprinkles or by putting them into molds that fit the season. Who wouldn't want a bag of these in their stocking this holiday season?
Find the recipe by clicking the link below…


It's 9 p.m. Everyone is in bed. You are sitting for a little quiet time. THEN, all of a sudden…down the steps bounds your 8 year old…he forgot that he signed you up to take a Halloween treat for his classroom mates!
Sound familiar? Oh yes…happened to me more than once!
So what's a Mom to do? Run to the pantry and in about 5 minutes, toss together Candy Corn Party Mix!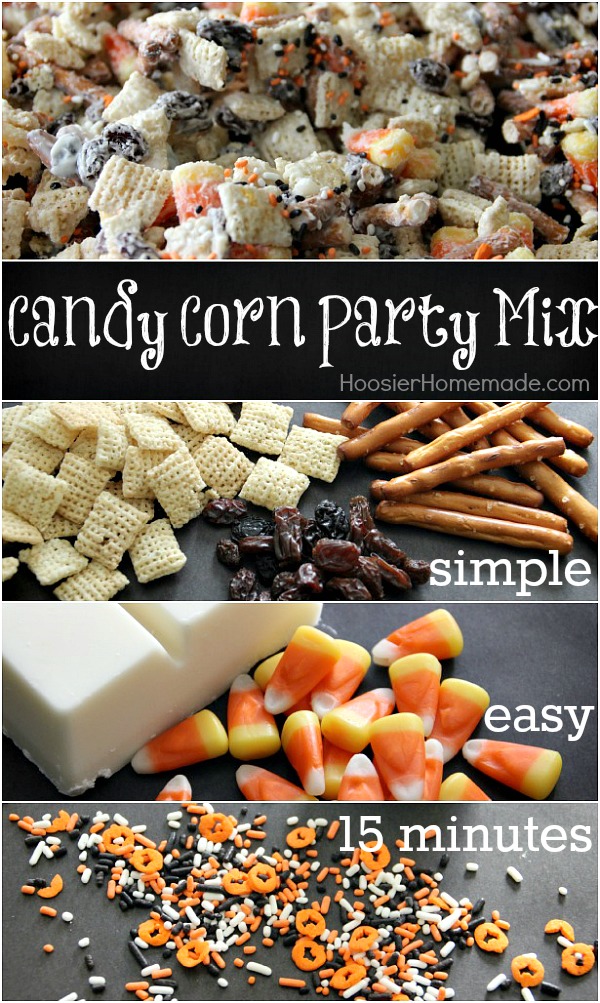 With just a few ingredients, a bowl, spoon and microwave…you can have this Candy Corn Party Mix done in minutes and you can go back to your quiet time. It's perfect to send in for Halloween Classroom Parties, give to neighbors, friends, even family!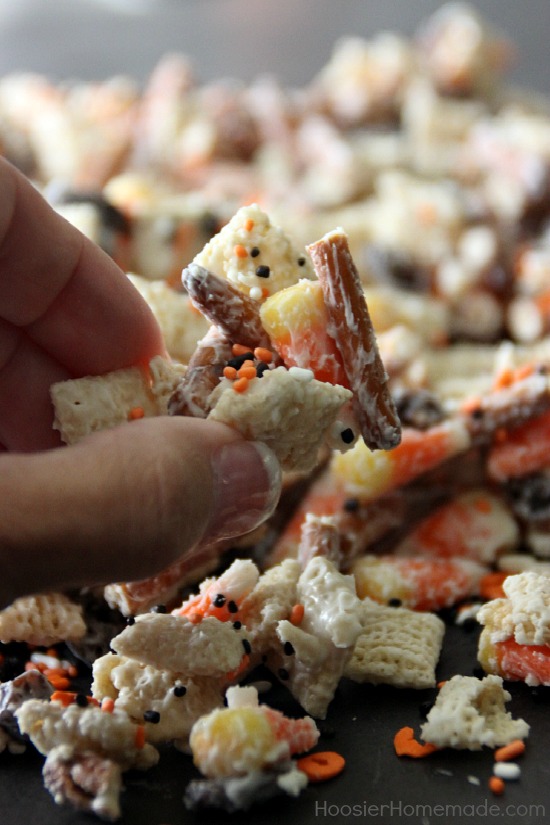 I used Gluten-Free Chex cereal and Gluten-Free Pretzels, making this a great Gluten-Free Treat. There are also raisins, candy corn and fun Halloween sprinkles. And to hold it all together, and because chocolate makes everything better, I melted white chocolate Almond Bark. But you can certainly substitute whatever you have on hand or what your family likes best, using white chocolate is the best though.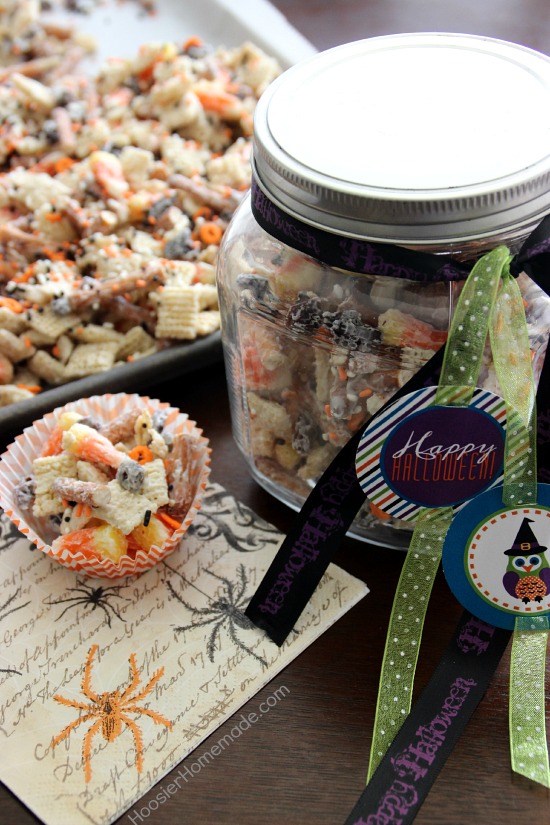 To give the Candy Corn Party Mix for a gift, you can fill cellophane bags with the mix and tie with a ribbon. Or for a little larger gift, add the Candy Corn Party Mix to a jar and tie with a ribbon. You can find the FREE Printables over on the Halloween Printable Page.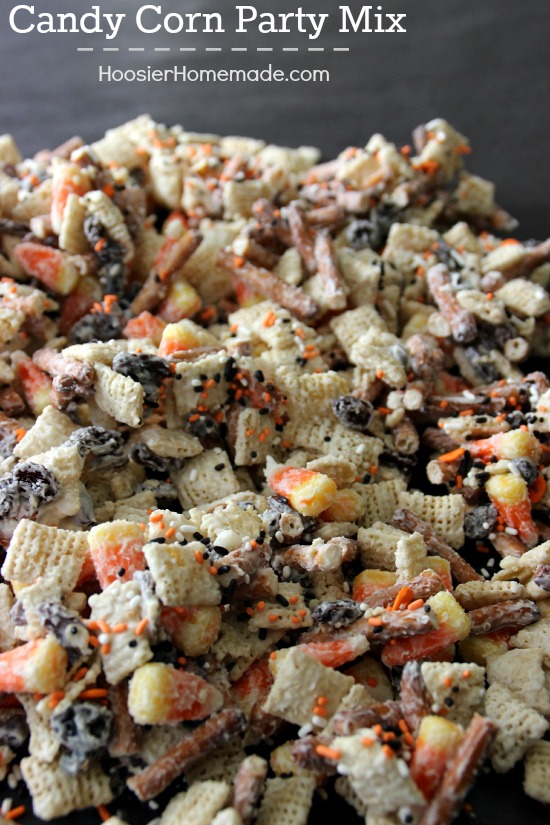 Candy Corn Crunch Halloween Mix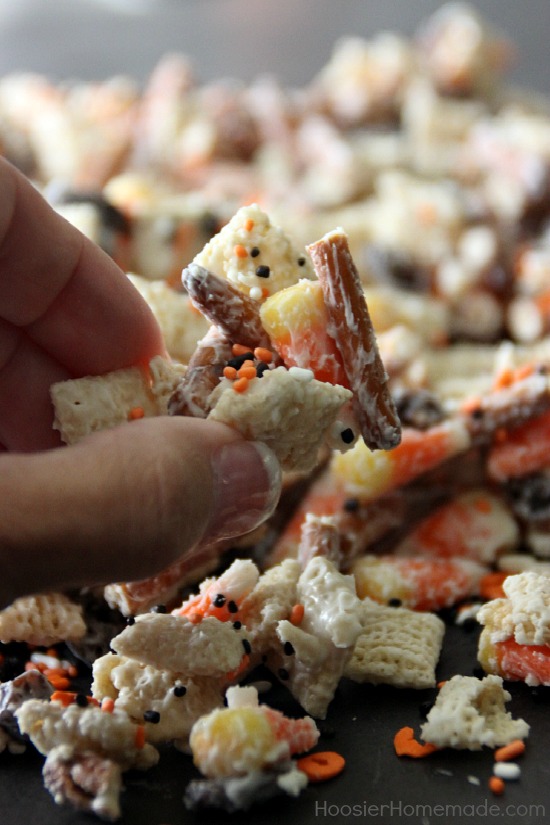 Be the Rock Star Mom who serves up this fun Halloween Mix. Recipe from HoosierHomemade.com
Ingredients
White Almond Bark - you need 1/3 of the bar or 4 squares to equal 8 oz.
4 cups Corn Chex or Rice Chex cereal
2 cups bite-size pretzels - I used Gluten-Free sticks broken in half
1/2 cup raisins
1 cup candy corn
1/4 cup Halloween sprinkles
Instructions
Cover a cookie sheet with wax paper
In a large bowl, toss together the Chex cereal, pretzels and raisins
In a microwave safe bowl, melt the Almond Bark for 1 minute in the microwave. Stir and continue heating for 10-15 seconds at a time, stirring each time until completely smooth
Pour over cereal mixture and toss to coat
Quickly stir in Candy Corn
Spread mixture onto cookie sheet, add sprinkles
Let set about 15 minutes until cooled and chocolate is set
Break apart and place in bags for a gift or enjoy straight from a bowl for a fun family treat
Notes
This Halloween Mix makes a fun classroom treat, neighbor gift or just a yummy family movie night snack.
http://hoosierhomemade.com/candy-corn-crunch-halloween-mix/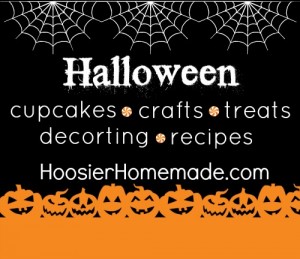 Halloween Crafts, Decorating and Treats on HoosierHomemade.com


Help your friends and family welcome winter in with a delicious cup of steaming hot cocoa or coffee with these adorable and completely personalizable chalkboard painted mugs. These will make great gifts for the teacher, administrative assistant, stylist or anyone special in your life!
100 Days of Homemade Holiday Inspiration continues with Day 39! Each day we are inspiring you with  recipes, decorating ideas, crafts, homemade gift ideas and much more!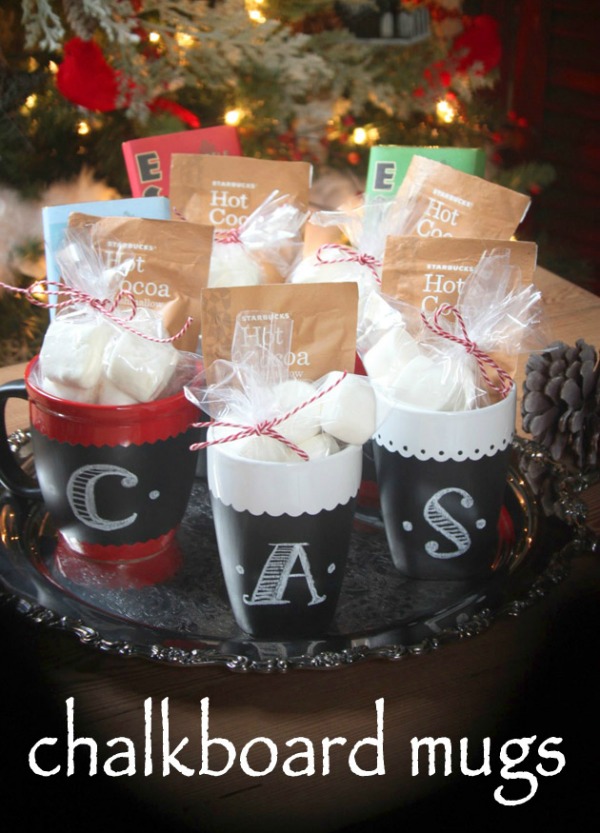 The creation of the scallop edges with painters tape, freezer paper, a border punch and decorative scissors is absolutely brilliant! It really adds a nice pop to the mug.I'm picturing a cold winter's evening, a warm cup of cocoa and a fabulous quote (or maybe a witty remark) written on each mug before handing them off to my kids, hubby or guests. Cheers!
Thanks to Brittany from Pretty Handy Girl for sharing this awesome homemade Christmas gift idea with us for our 100 Days of Homemade Holiday Inspiration!
Find the full instructions by clicking the link below…