---
How zesty is your kitchen? With Spring here and Summer on it's way, the last thing we want to do is spend a ton of time in the kitchen. But we also want to serve flavorful meals to our family.
One of our favorite light dinners is Deli Style Pasta Salad made with Kraft Zesty Italian Anything Dressing! So when I was asked to share a recipe or two with you featuring Kraft Zesty Italian, I couldn't resist!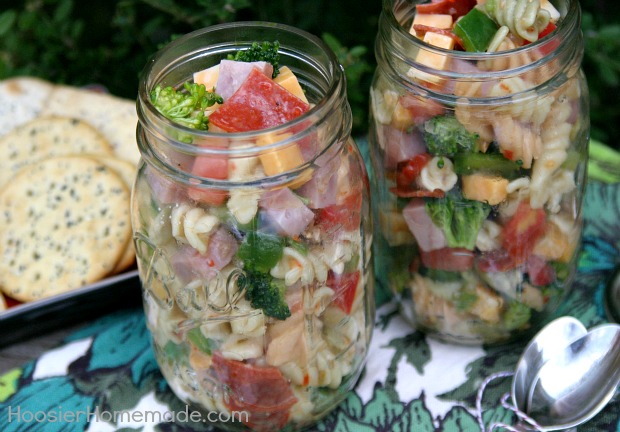 Kraft and the Get Zesty Guy are steaming up the kitchen with fun and flavorful ways to dine at home, by adding a little zest to your everyday meals with its Zesty Italian Anything Dressing.
You can now get cheeky in the kitchen, with your friends and family by sending a personalized ZestyGram to add a little zest to everyday moments and special occasions.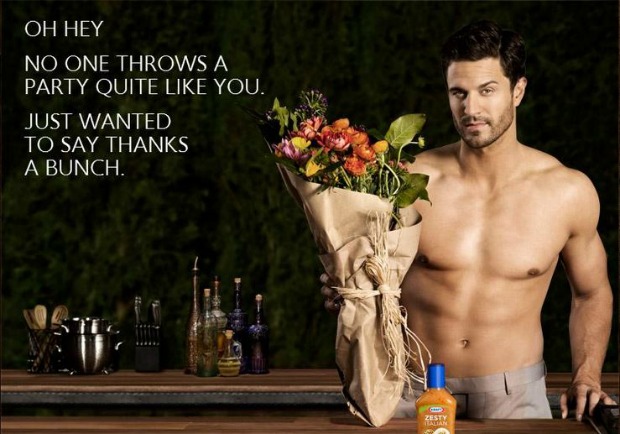 The Zesty Guy is looking to zest up a spring recipe with Kraft Zesty Italian Anything Dressing. Perhaps you would like to try the Zesty Italian Chicken Salad, a simple, yet playful dish that will surprise even the biggest mainstream foodie. Or maybe the Primavera Pasta Toss with a little added zest to fettuccine and veggies Zesty Italian Dressing turns the most basic meal into a steamy, palette-able adventure.
For more Zesty Guy-approved visit Kraft recipes, follow them on Facebook or follow Zesty Guy on Twitter
GIVEAWAY GUIDELINES: PLEASE read the Official Guidelines 
Entries only accepted on this page. Facebook, Twitter or email entries do not count. Open to US Residents only.
One lucky winner will receive a bottle of a zesty Italian perfume, such as Versace.

Please note that if you are enjoying this post via email subscription or in a reader, you will need to visit the blog to enter
Disclaimer: : I am part of the Mom It Forward blogger network. Mom It Forward and Kraft partnered in support of this campaign. Kraft compensated me for participation in this campaign. However, all thoughts and opinions are my own.
Let's be honest, nobody likes to diet. Especially since we live in a world of indulgences and have grown accustomed to living in the land of plenty. When I first took this review on I really didn't know what to expect but I had some preconceptions like a lot of other people I'm sure of that. But Nutrisystem is not just about dieting, it's about eating right and getting the nutrients our bodies need through good food choices.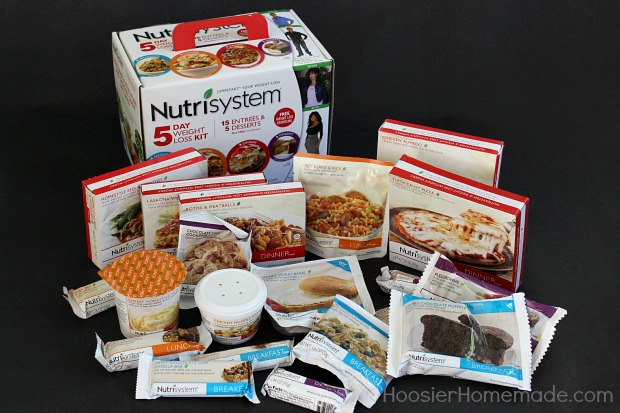 Being a child of the 60′s and growing up when many of what we take for granted today for modern conveniences were just coming into the mainstream of society. I can remember my mom battling with her weight issues most of her adult life. Trying everything she could, the tiny scale on the kitchen counter to measure out her tiny portions. The weekly check-ins in front of everyone else that was trying to lose the weight they had gained over the years. It always seemed to be more demoralizing than helpful standing up in front of everyone, they called it "support".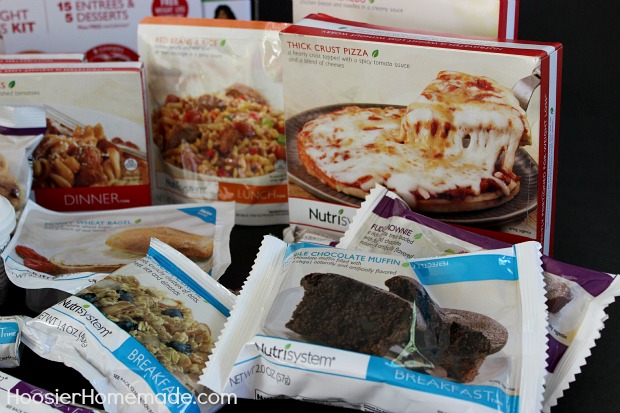 Nutrisystem is a better way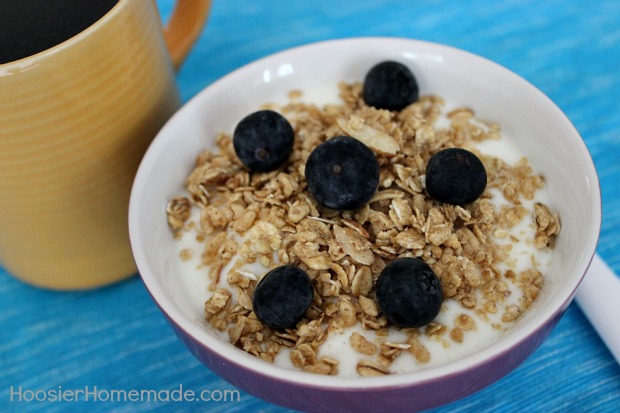 Nutrisystem has a different way of looking at things, getting healthy not just losing weight is the goal. And you don't have to commit to a long term contract or anything. Try it for 5 days to see for yourself! Walmart now offers a Nutrisystem 5 Day Weight Loss Kit so you can see for yourself how easy it can be to change your life, maybe even your lifestyle. There's even a kit especially for developed for those of you with diabetic issues.
It's all laid out for you, breakfast, lunch, dinner,  even a yummy dessert. It's not just eating frozen food, it is truly a complete system. They provide the major menu choices and you get to add some of your own choices from their recommended grocery food additions; PowerFuels, SmartCarbs, Vegetables and Extras.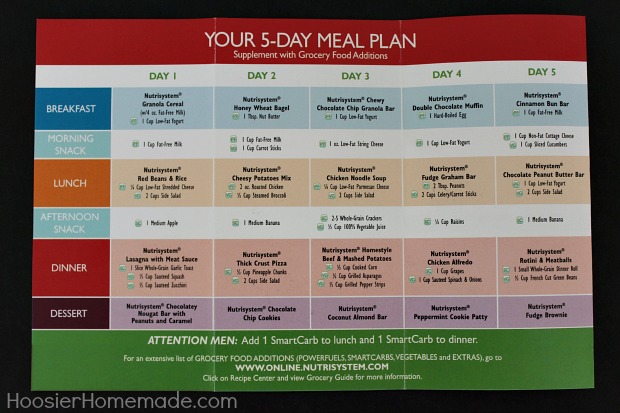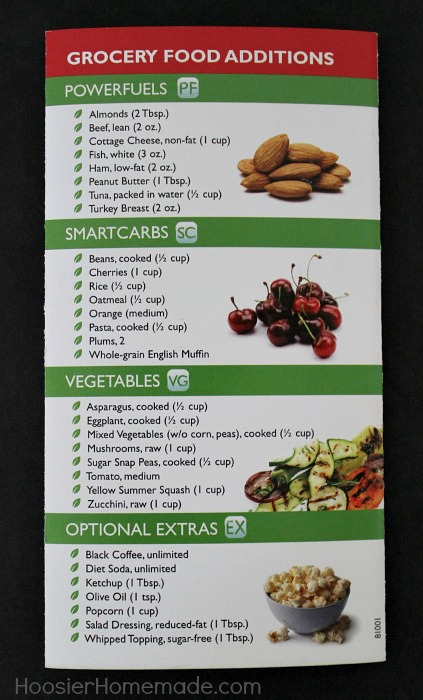 But just because you can purchase these meals at your local Walmart and enroll on-line doesn't mean you have to go it alone. You get free counseling through Nutrisystem to help you get over the rough patches.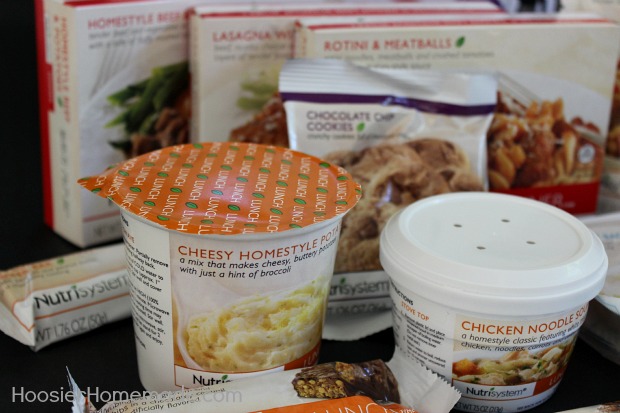 Bike riding is one of my favorite activities, something I have loved since I was a young girl. May is National Bike Month and what better way to celebrate than with a new bike. When we moved into our home about 6 years ago, the folks that lived here before us left a couple of old Schwinn bikes, and up until last week, I had been riding one of those.
But after seeing a Bike Makeover on Pinterest, I just knew I had to find a cool vintage bicycle and give it a new look. So we headed over to an older gentlemen in our town that fixes up bikes and sells them. I was tickled to find a vintage Sears bicycle.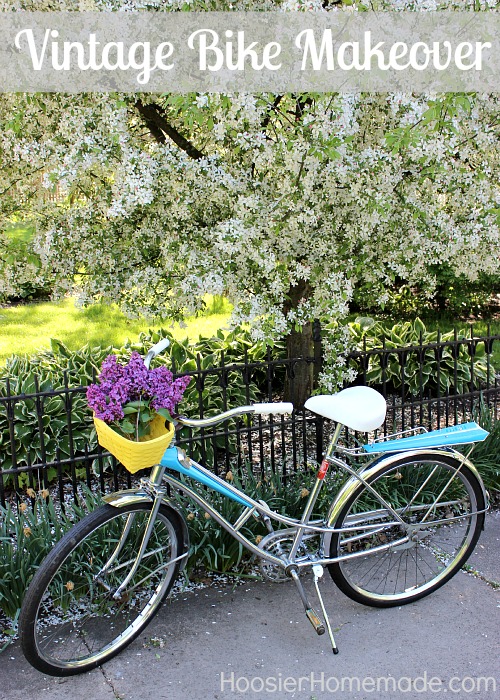 Bicycling is great for many reasons, the most oblivious is exercise, and for me it's perfect. I have plantar fasciitis in my heel, making it very difficult for me to walk, run or exercise too much. It's also a great escape for me, I love seeing the houses, trees and flowers and what better way than to take a bike ride.
For families, it's a perfect activity, after the initial purchases, it doesn't cost a penny. Bike to Work Week is May 13th through May 17th, and Friday, May 17th is also Bike to Work Day this year.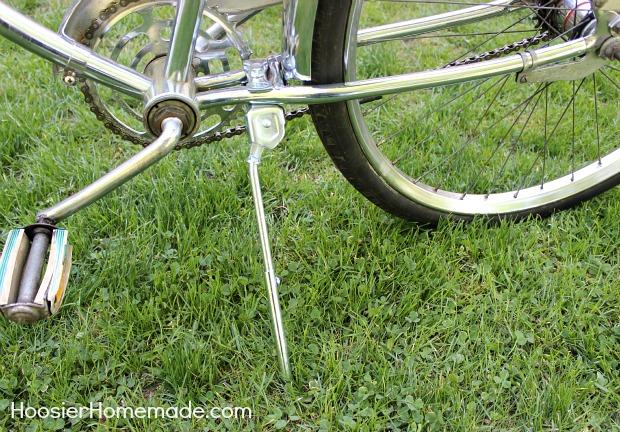 Since the bike that we found was pretty old, it needed quite a bit of repair, including a new chain. We found a new chain at Walmart Doug used a Chain Repair Kit from Walmart as well, and it worked great. The bike also needed a new kick stand, which we also found at Walmart. They also have several other tools and tire repair kits to help you keep your bike in tip top shape. Safety is also a large concern when you are bicycling. Walmart has many different items to keep you safe; helmets, lights, reflectors to name a few.
The bicycles come in many different sizes from toddler through adult and have a variety of different prices, starting around $30. Bicycle shipping is free all this month at Walmart and they will often assemble the bike for you as well.
Doug and I both enjoy riding, so I think our next bicycle purchase will be this fun tandem bike from Walmart. But I'm definitely going to ride on the back!
Are you in the market for a new bike for yourself or your child? Walmart has a Bicycle Buying Guide that can help.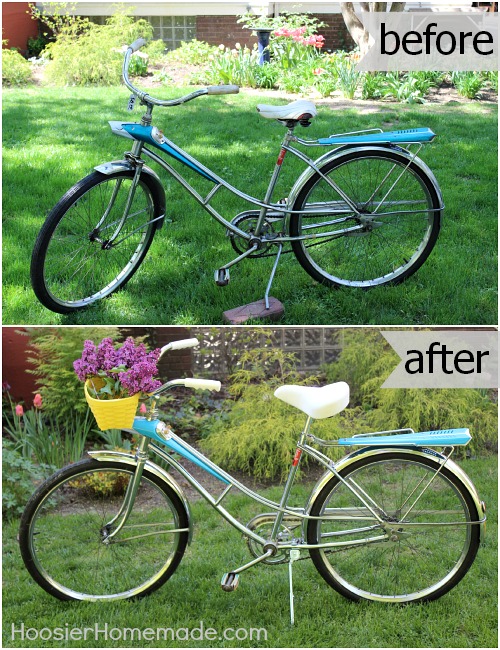 I knew you were wondering what the vintage bike looked like before. Be sure to stop back tomorrow and Doug will show you what he did with a can of spray paint and a few tools to get my bike looking fabulous!

Last weekend I had a little last minute trip that turned out to be much more than I had anticipated. When I headed half way across the country to California for the Mom 2.0 Summit, I really didn't have any expectations. In all honesty, I was looking for a break. While I feel very blessed for the amount of work we have, I simply needed a break. I needed a break from work, the house and honestly a break from Doug and the boys.
Having Doug join me on this blogging journey has been the smartest move we have ever made, but, again honestly, it can be difficult being with your husband 24/7.
I knew there would be amazing speakers, and some brands that I could connect with, however what I didn't realize is just how amazing it would be.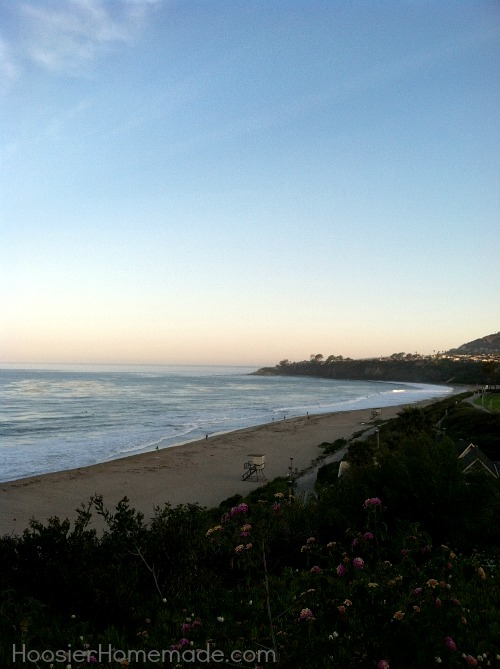 Dove was the major sponsor for Mom 2.0, and they actually offered and paid for my trip on behalf of the Walmart Moms. While I'm sure you are all familiar with Dove skincare products, what you may not be familiar with is their new "Girls Unstoppable" campaign.
Growing up, my father showed his love for me every day, but it wasn't until I was an adult that I realized just how much both of my parents loved me. Yes they told me they loved me, but I guess I really never felt like I was special…beautiful….unstoppable.
While I had many things growing up…gymnastics lessons, Girl Scouts, organ lessons, etc. I really never felt like what I was doing was all that great. Now of course, I'm talking…ahem…40 years ago…so much has changed now.
We have raised our boys, in my opinion, well. Sure we have made mistakes, lots of them, all parents do, but I have 3 amazing young men that I'm privileged to call my sons. They are respectful of others, polite, great students, and have faith in what God will do with their lives and blessed for what He has given us.
But you see, I think it's different with boys than girls. I don't know a women or girl that doesn't feel awkward about how she looks, even if it's just a couple things.
This video from Dove Sketches is amazing..
While sitting in the first session, I listened to Dove Vice President, Rob Candelino talk about the "Girls Unstoppable" campaign and it was profound. To hear him talk about how we…women and girls…feel about ourselves.
He showed a video of women being asked what they hated most about their bodies, all the women quickly answered within seconds.
Then they asked the same women what they loved most about their bodies, many of them could not find one thing they loved, a handful could name a single thing but it took a long while for them to think about it.
We often see ourselves MUCH differently than others do. I'm looking forward to seeing the lives that the "Girls Unstoppable" campaign will touch!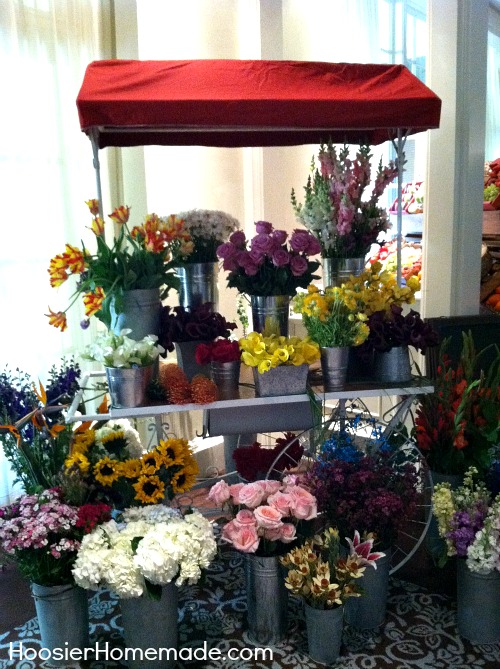 Learning about this new campaign was just the beginning though. The rest of the weekend was also full of inspiration and learning.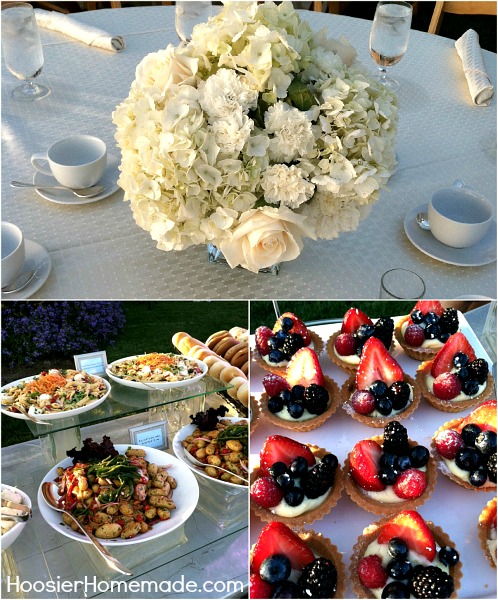 The food and decorating was amazing for every single meal.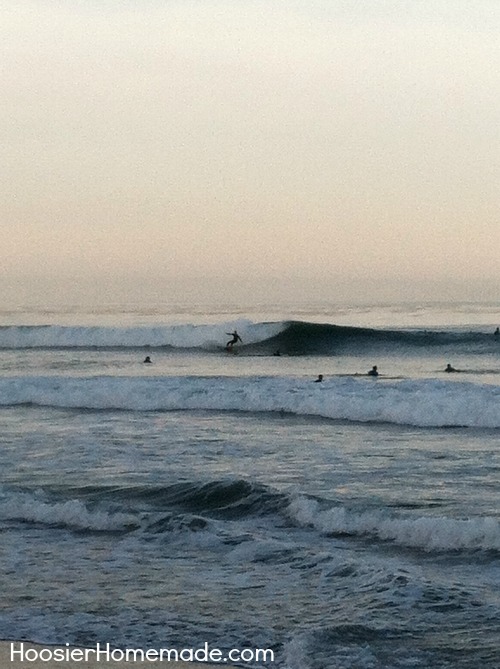 And the location was simply stunning!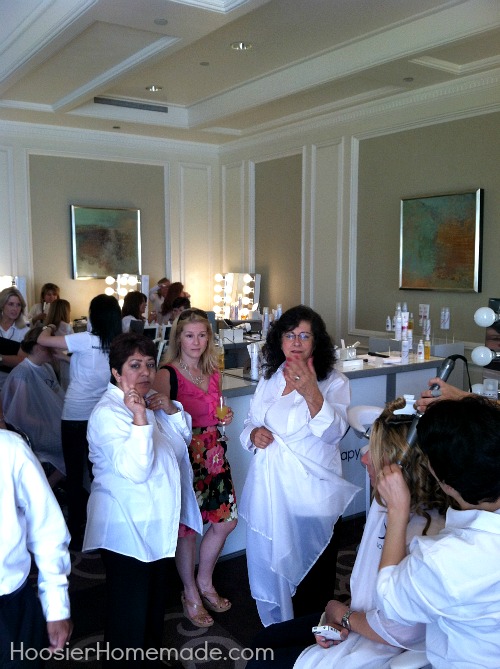 All of the sponsors made the attendees feel special, including the fabulous Dove Room that offered manicures and hair styling.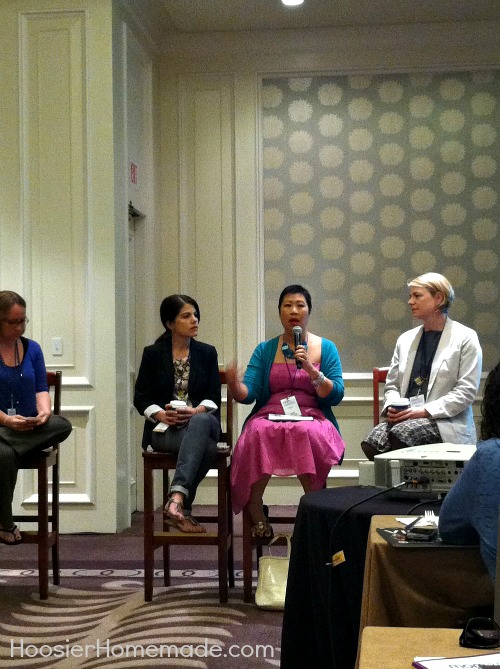 While I enjoyed my time away, and had a great time meeting new people, I also learned a lot. After almost 5 years in this business of blogging, I am often surprised at how things change on a regular basis. And how much I have grown and learned from others.
One of the main things we have been needing to do is learn how to free up our time so we can do some of things we want and need to do for you…our readers! I learned how to delegate jobs and where to find those people to take on those jobs. You probably won't see much of a change while reading either Hoosier Homemade or Pocket Change Gourmet, but we will be giving others some of the "behind the scenes" jobs in order to free up our time to create more books, an online magazine and perhaps a "real" cookbook for you too!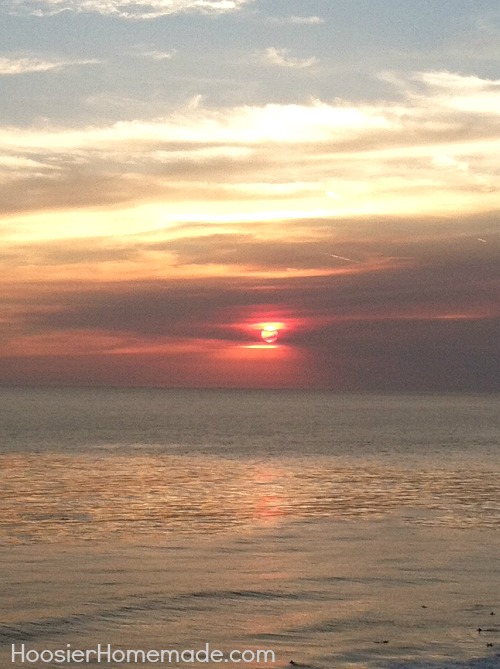 I will leave you with this beautiful sunset. Seriously my friends, I could get used to seeing that every day! Oh and by the way, the photos are from my phone, so they aren't the best quality, my apologies.
Disclosure: My trip was paid for by Dove on behalf of the Walmart Moms. I was asked to share a bit about the conference in return, as always, the opinions are all my own.
It's Wednesday night and the family has left me alone, a mixed blessing. You see I have a decision to make, I can either spend this time whipping up dinner for myself or getting caught up on some me time. But to spend some time on myself I'm going to have to play Leftover Roulette. I'm sure you've played it as well.
Where you grab something from the back of the refrigerator and lift the lid. Never knowing if you'll be greeted by a scrumptious morsel or that smell that instantly causes you to gag. We've all been there, the spaghetti from two weeks ago that exploded all over the shelf. The canned peaches, or at least they were peaches that looks more like one of your kid's science experiments.

Clorox has defined Leftover Roulette (left-oh-ver roo-let) as Deciding what's in the food container in the back of the fridge, when it's from and if it's still good. It's just one of the hilarious terms in their Ick-tionary  which is full of many more ick words for every day life. 
I know you have the same decisions to make and sometimes Leftover Roulette works and sometimes it doesn't. Clorox has finally defined the Ick's that we encounter everyday but I'm sure there are a few more out there to be discovered.
Clorox® Clean-Up® Cleaner with Bleach
This spray cleaner can be used all throughout the house to clean and also deodorize. After chopping, dicing, or julienning – especially when working with raw meat – use Clorox Clean-Up!
What "Ick" moment do you have in your life?  Submit your own ick-tionary term!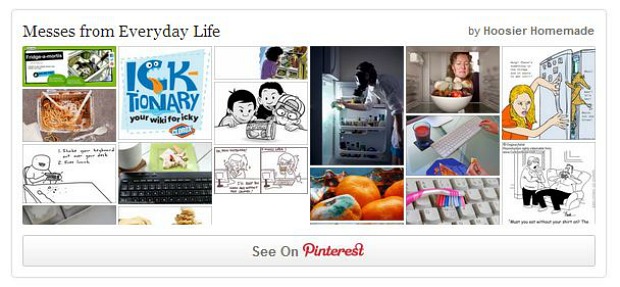 Check out my Pinterest Board I created with some of those moments, there are a few that might just make you giggle!
Tell me about one of your life's icky moments for a chance to win $250 to treat the mouth wiping, floor sweeping, counter cleaning mom in your life! Visit www.icktionary.com to learn the new language for ick and how Clorox® cleaning and laundry products can help you tackle the next icky situation in your home, play games and win coupons while supplies last!
This post is brought to you by The Clorox Company.  I have partnered with them to spread the word about Clorox's Ick-tionary program. To share Ick-tionary terms and real life messes, visit [www.icktionary.com].  All opinions and stories are my own. Official Sweepstakes Rules
More Recent Articles