---
Although we had a little snow on the ground this morning, the calendar is still telling me it's Spring. After what seemed to be the longest Winter ever, I could hardly wait to bring out more of the Spring Decorations.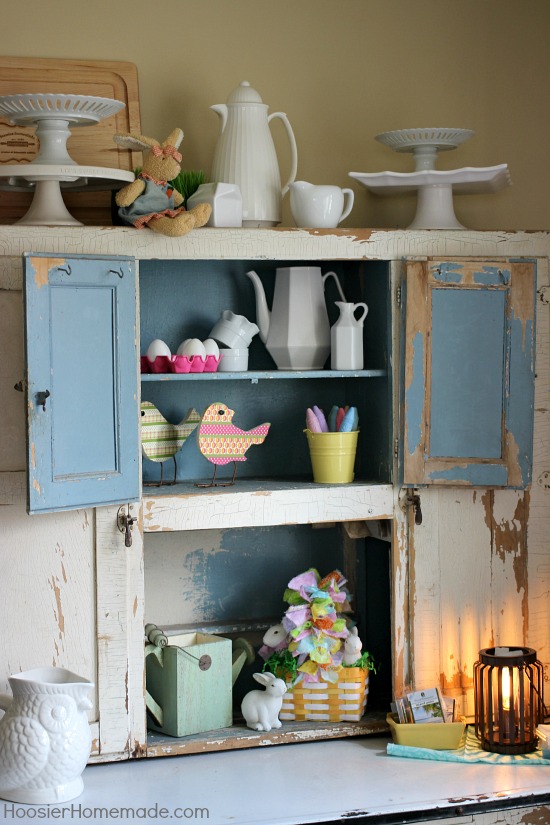 Next to decorating the Mantel, I just love decorating our vintage Hoosier cabinet. I used to have time to decorate the cabinet for each holiday, but it seems like lately I'm too busy. So after the Christmas decorations were put away, I added several of my all white pieces. I love the look of the white on the charming cabinet, but I was itching to add a little color for Spring.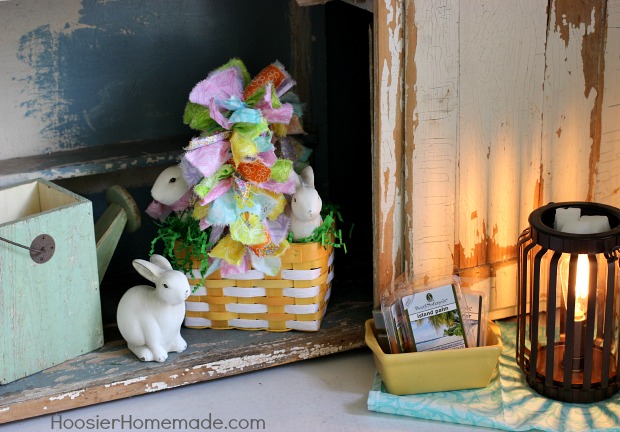 On the bottom I added the Rag Tie Basket that I shared a couple weeks ago, filled with bunnies. And the wooden watering can also adds a bit of charm. On the other side is my new Edison Bulb Wax Warmer from Walmart.
On the middle shelf, I added the Washi Tape Birds that I made last year, a metal bucket filled with sidewalk chalk.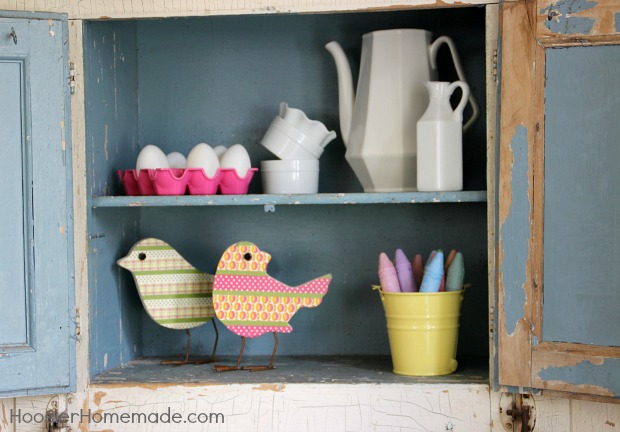 The other shelf has a pink egg holder with plastic eggs for a splash of color and I left some of the white pieces.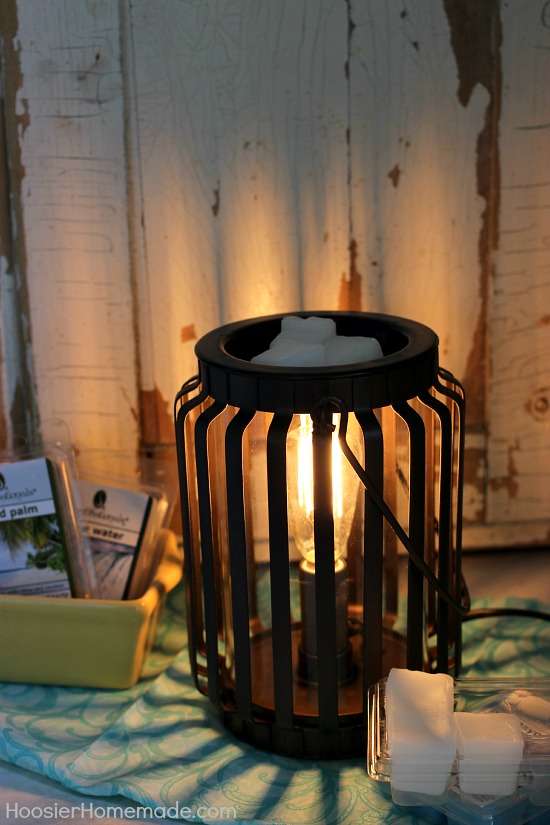 The Edison Bulb Wax Warmer is a new and exclusive line at Walmart, inspired by vintage light created by the inventor of the light bulb, Thomas Edison. The vintage style fits my home perfectly and they are reasonably priced at $19.97.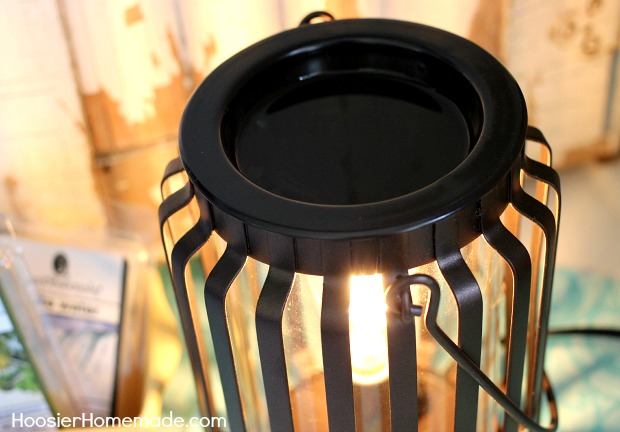 I have had many Wax Warmers over the years, but I have to say I simply love this one! Not only is it stylish, but our home was filled with scent, even upstairs after the wax completely melted.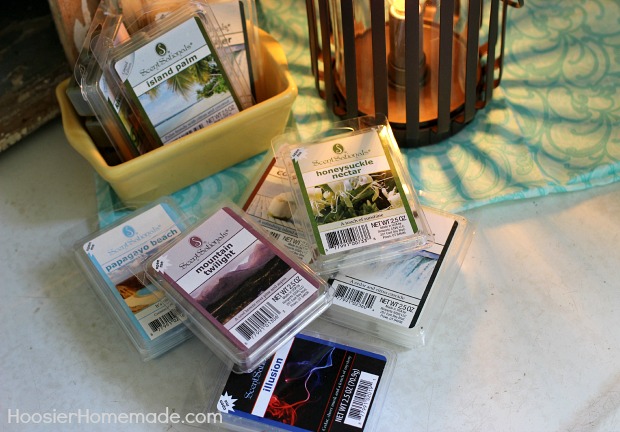 The Edison Bulb Wax Warmer is made by ScentSational and they also make the wax cubes to go in the warmer. We tried the Honeysuckle Nectar first and loved it. It has a very fresh, clean smell which was perfect for Spring.


It's finally here…Spring has arrived and I couldn't be happier! It truly felt like the longest Winter ever! Our Spring Mantel is full of bright Spring colors, fresh flowers and cute decorations.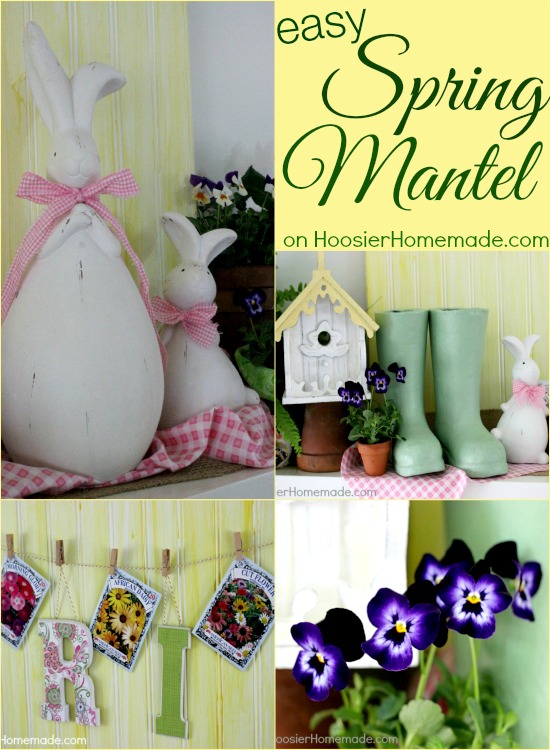 Easy Ideas to Brighten your Spring Mantel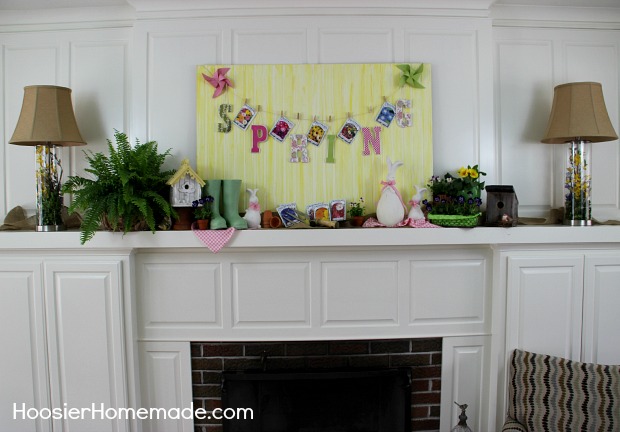 Late last Fall, Doug painted the Living Room and also the Mantel area. Since it takes up one whole wall, and there is a lot of white, I wanted to break up the color a bit with a colorful board. Then pulled in all the elements of Spring – flowers, seed packets, gardening, bunnies, birds, bird houses and rain.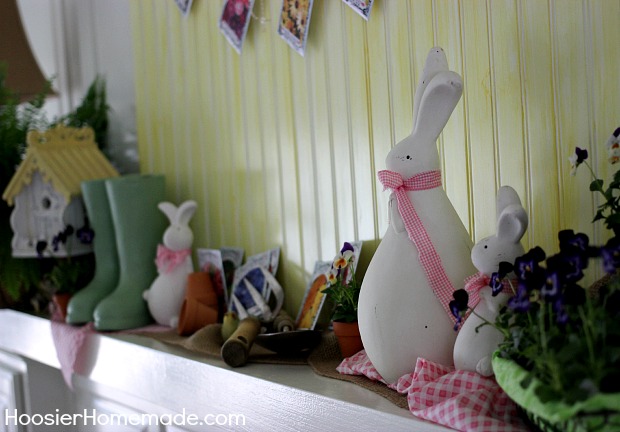 We started with a roll of Burlap Ribbon that I found at Walmart. Then decided it needed a little color, so I hunted through my stash of fabric and added some pink gingham check. Then we added the board with the garland.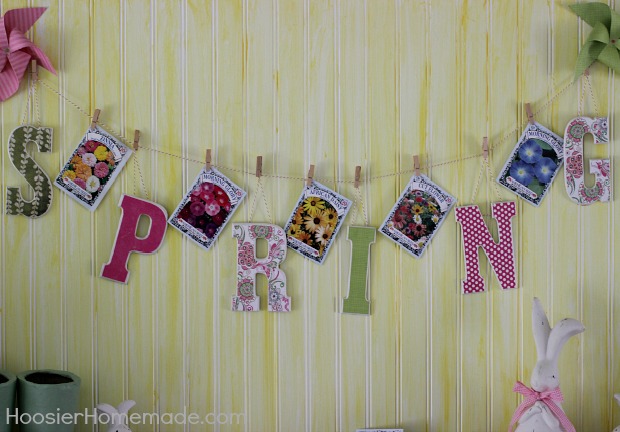 For the Spring Garland, we started with a piece of Bead Board from The Home Depot and lightly added yellow paint with a rag, letting the white show through a bit. The piece of wood was already cut. Then my helper Jane, added the Spring Letters that we made a couple years, I love the pink and green colors for Spring. Then seed packets that we found at Walmart, they are only .20 cents each. And a couple Pinwheels on the ends for color.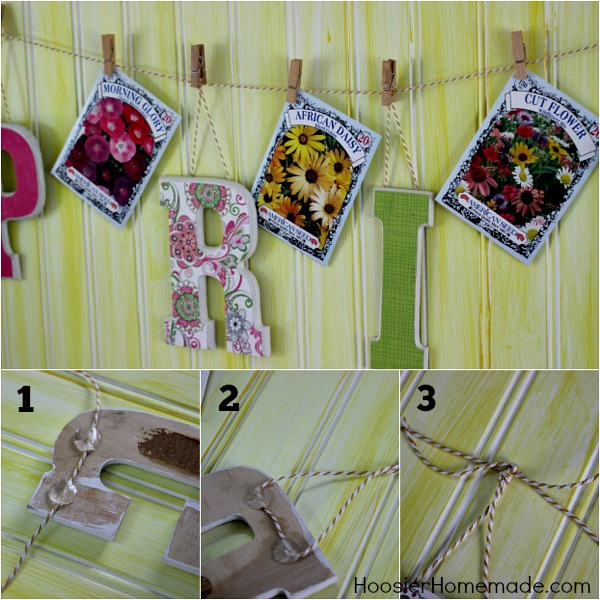 To attach the letters to the twine we used Elmer's medium glue dots. Then attached with mini clothespins found in the office supplies at Walmart.
Attach the twine to the back of the letter with 2 glue dots

Then form a triangle with the twine and tie a knot

Attach the letter to the twine by tying a square know around the twine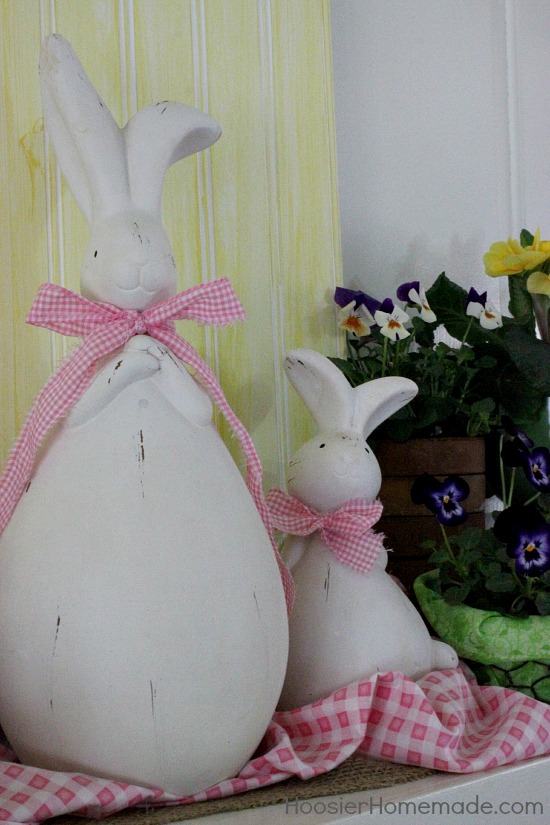 The bunnies are my favorite. They are from Pier 1, and we just changed the ribbon to match the colors on the Mantel.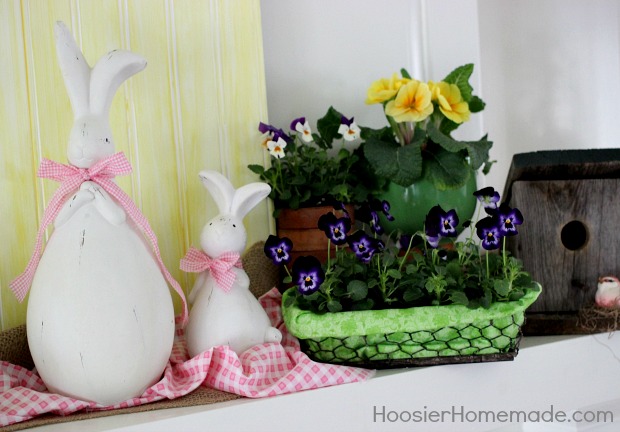 Next to the bunnies, I brought the outside in by adding a Primrose and some Viola Pansies. And then a Bird House on the end.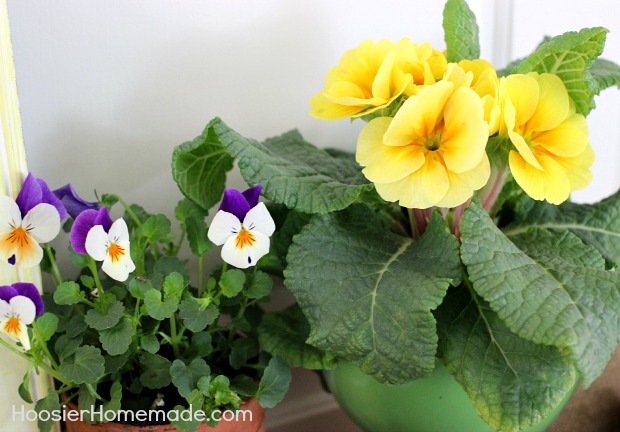 The Primrose is planted in a large tea cup and these Pansies are in clay pots.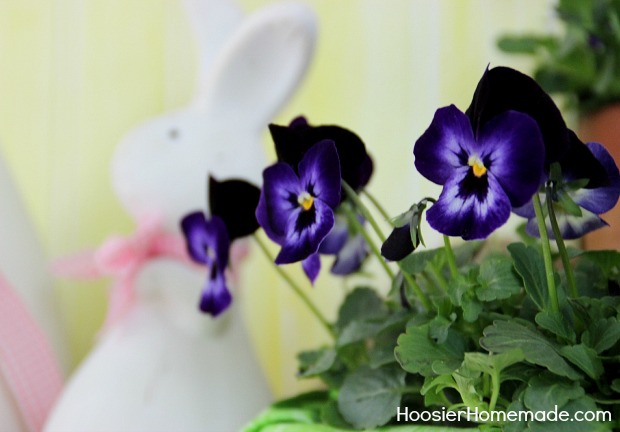 I just love the little faces on the dark purple Pansies.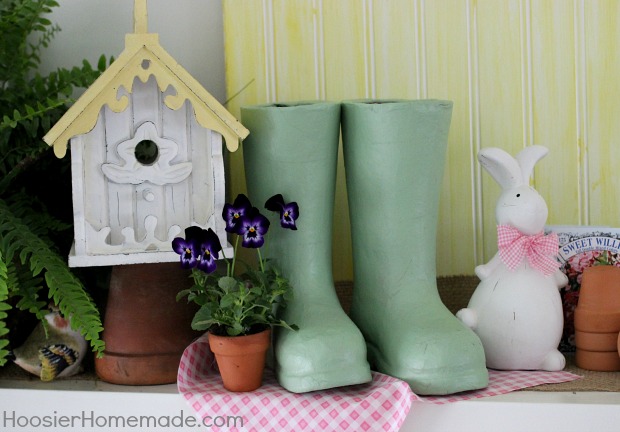 The Paper Mache` Boots make another appearance from last year's Spring Mantel, they are from Michael's and we spray painted them with Krylon Pistachio Satin. A cute bird house from my friend, another bunny from Pier 1 and some more Pansies.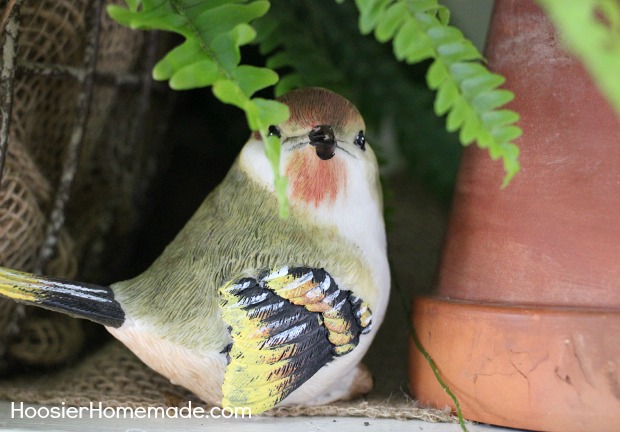 A cute little bird is peeking out from under the fern.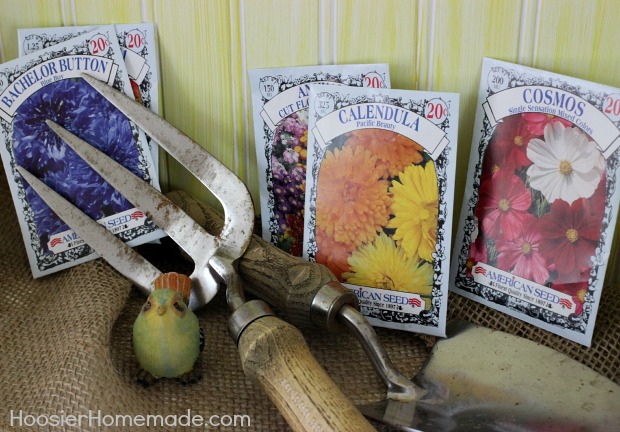 In the center are gardening tools, more seed packets to pull in the Garland and another little bird.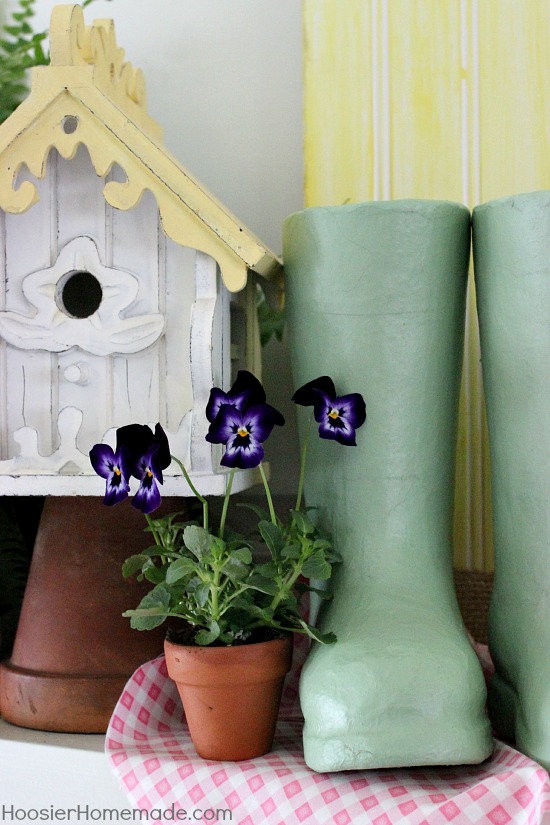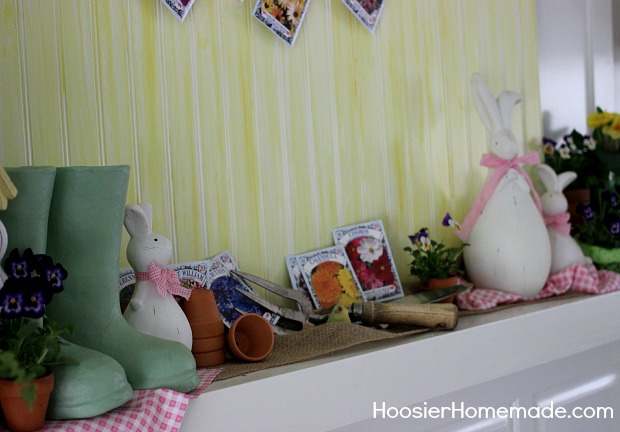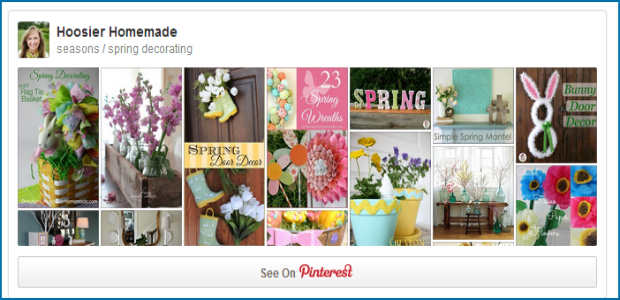 Click on the photo above to join
It's officially Spring, at least that's what the calendar is telling us, the weather outside…not so much. But that's okay, we are ready to start decorating! Here are 23 Spring Wreaths that are sure to brighten your home!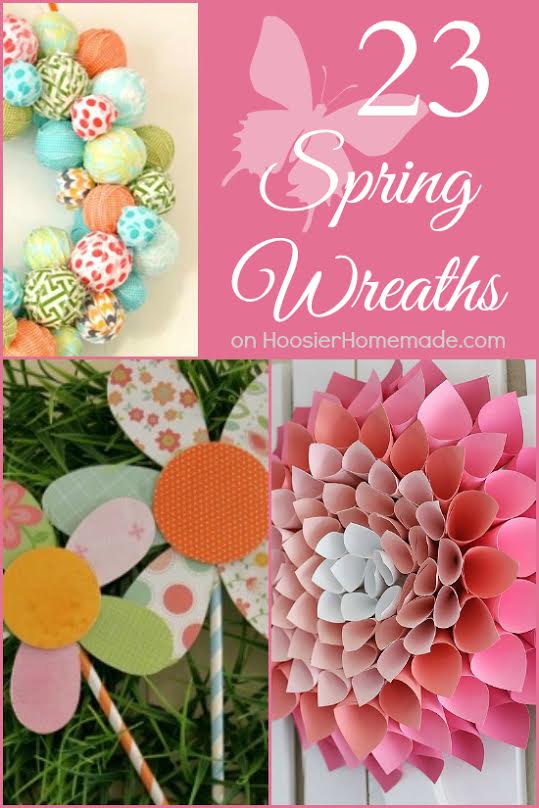 I'm ready to start decorating! Let's get inspired with these beautiful Spring Wreaths from fellow bloggers!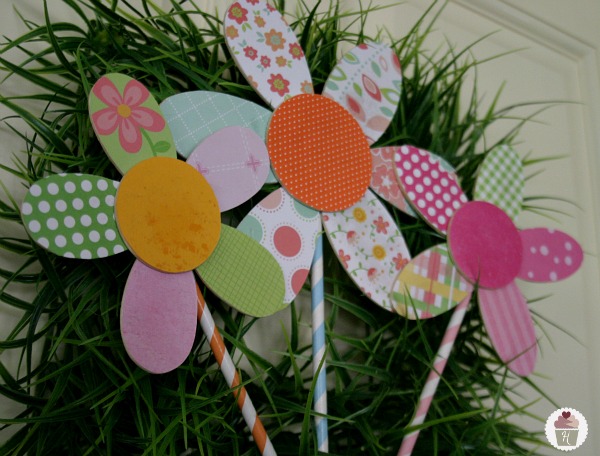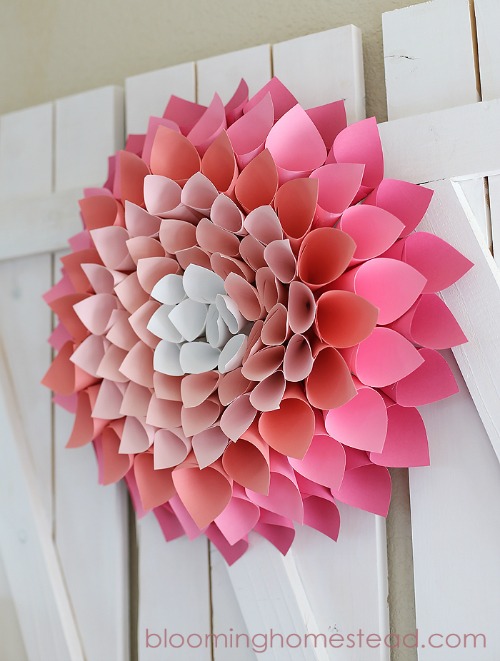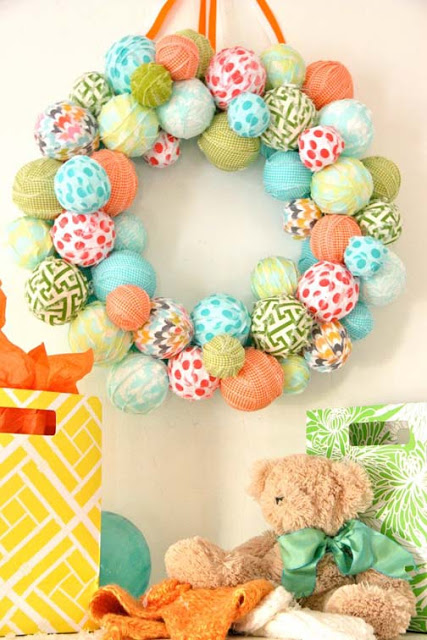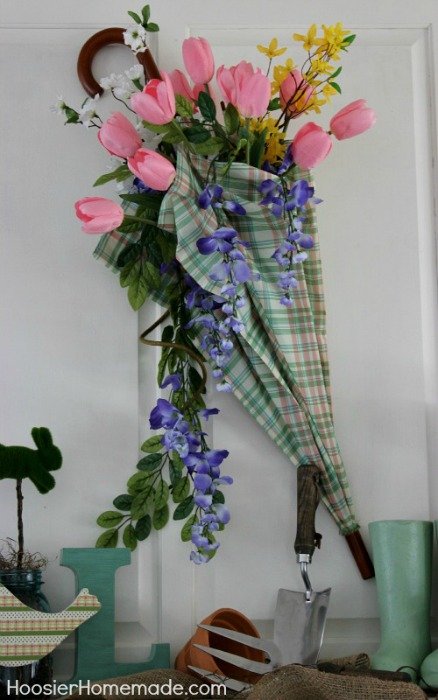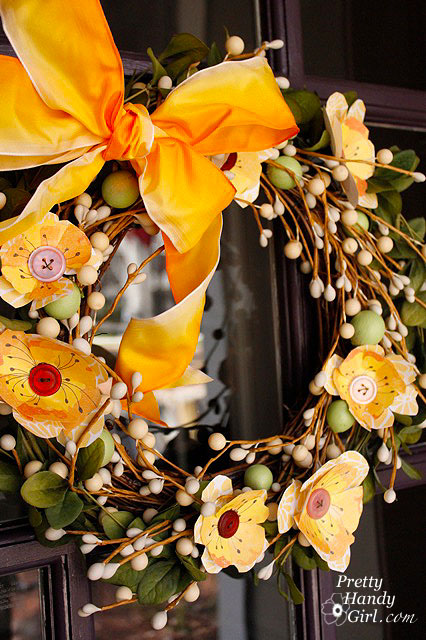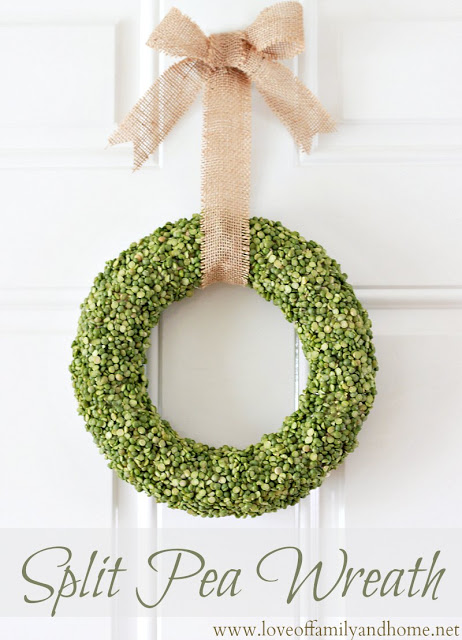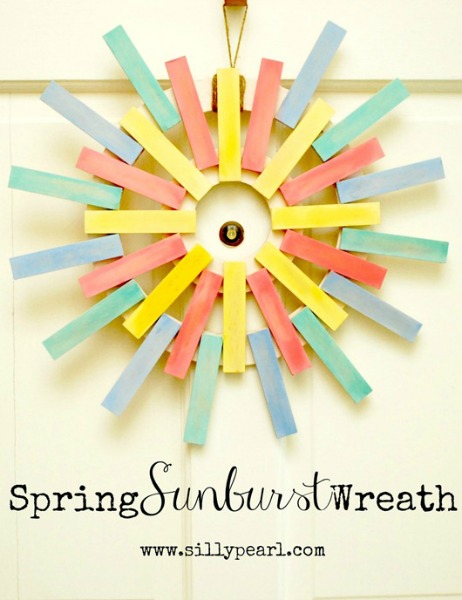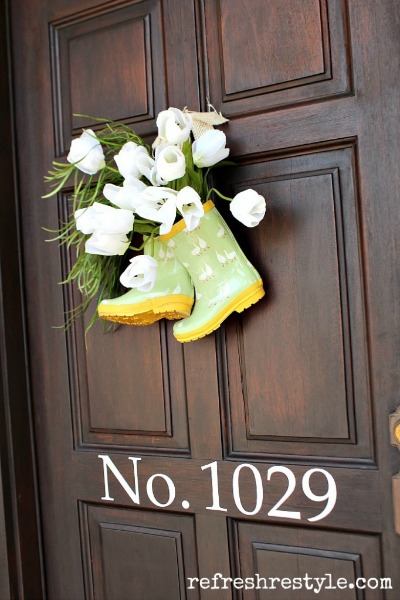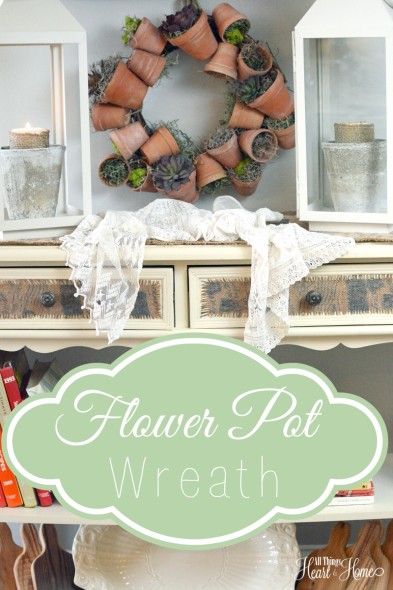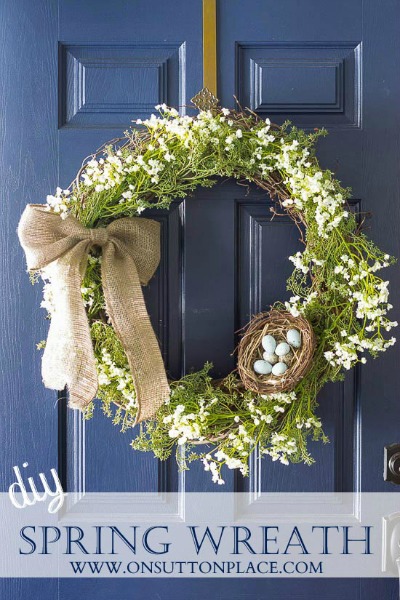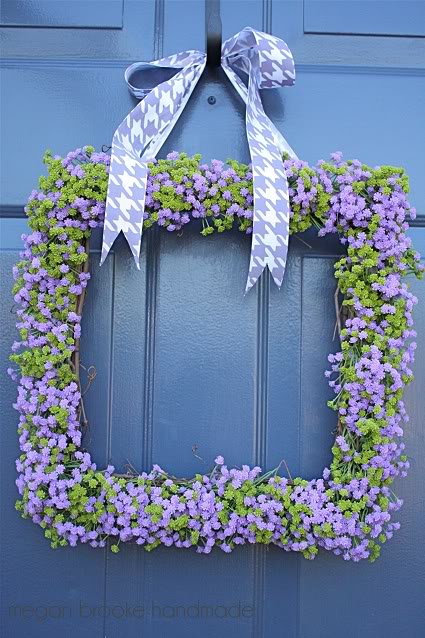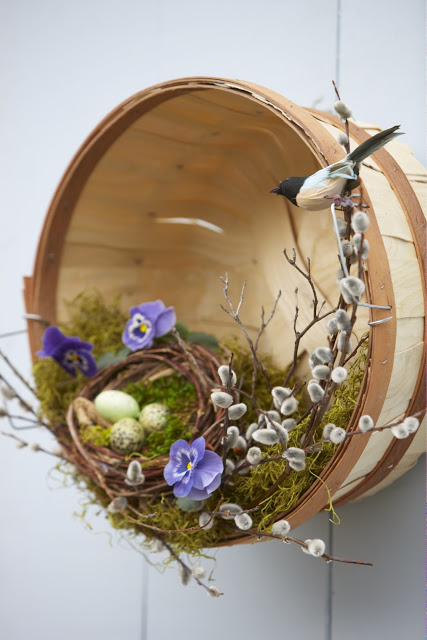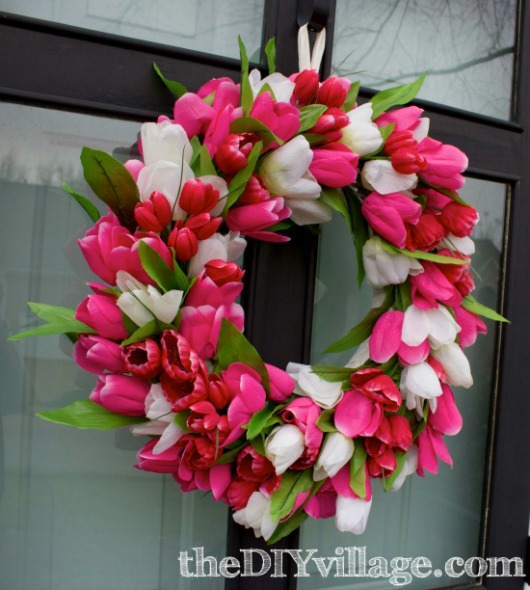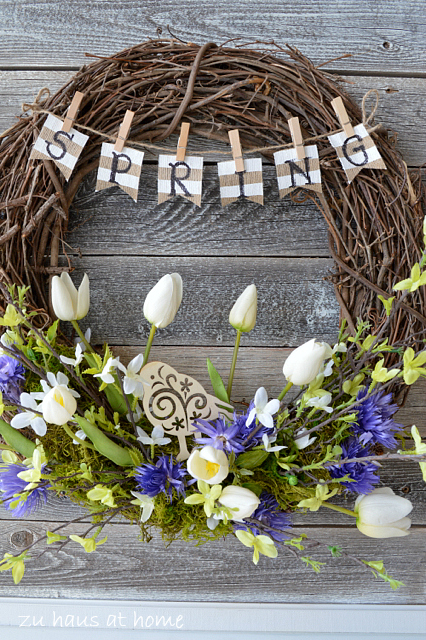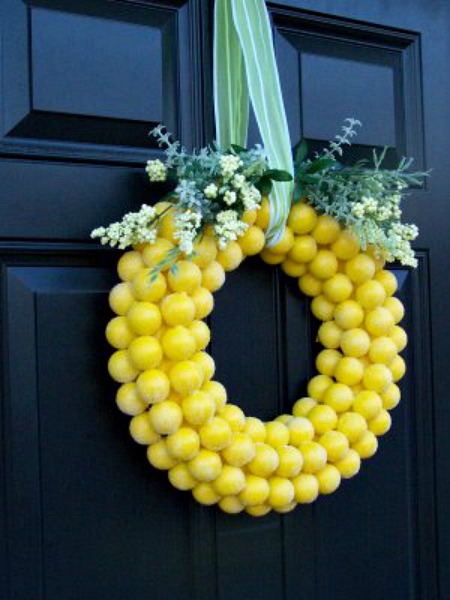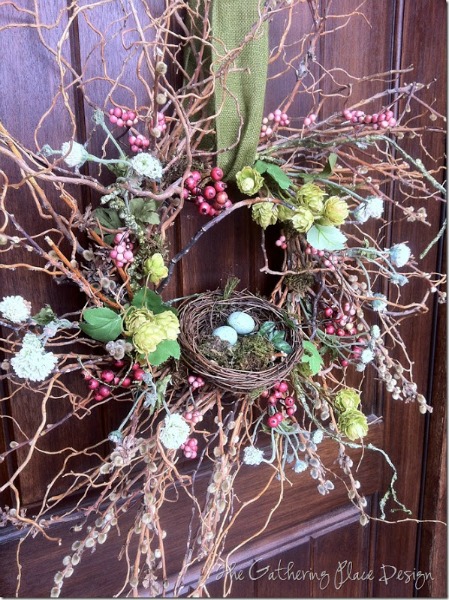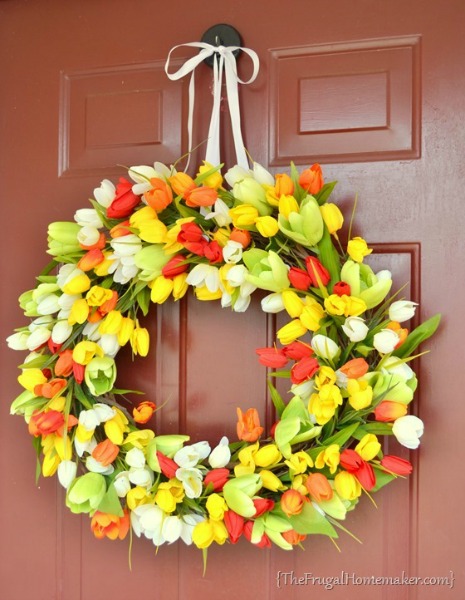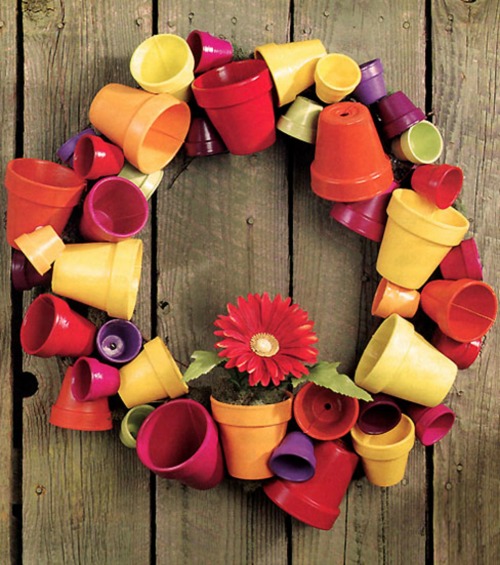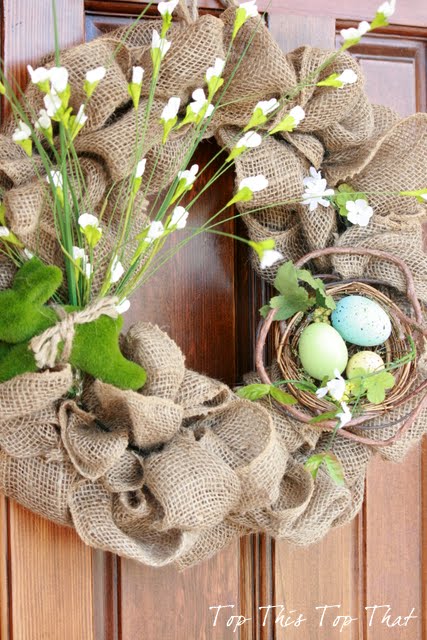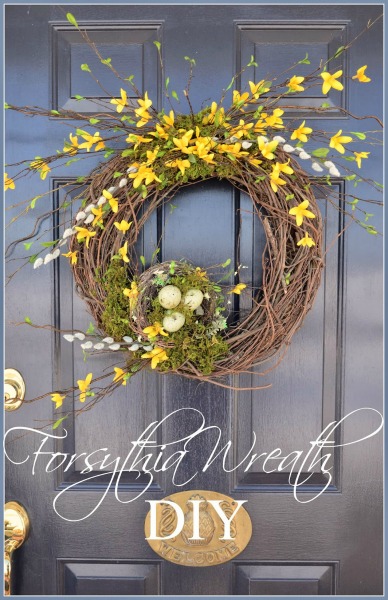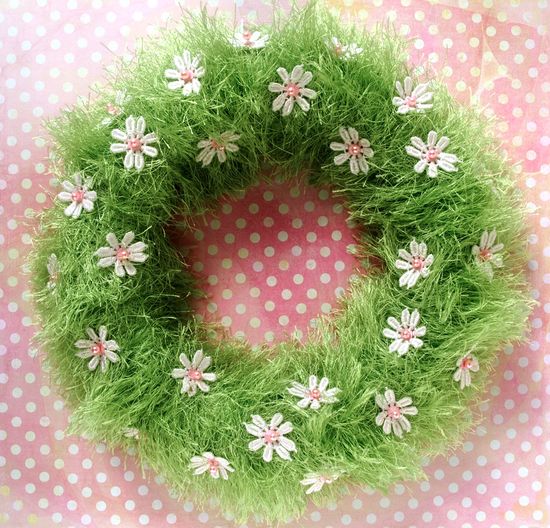 It's that time again, I've looked at the bare, ugly front porch long enough! I will have to say, I love decorating the outside of our home just as much as the inside. We live on a rather busy street, although there isn't a lot of car traffic, we have many people that walk and ride their bikes on our street. Growing up in this town, I absolutely loved this street, it's full of old homes that have a ton of character.
One of my very best friends lived in the house that is across the street from ours, her Mother still lives there. And I dreamed about one day living in a home on this street. Now that I do, I want to share the beauty of the home and yard with everyone.
My Spring Front Porch…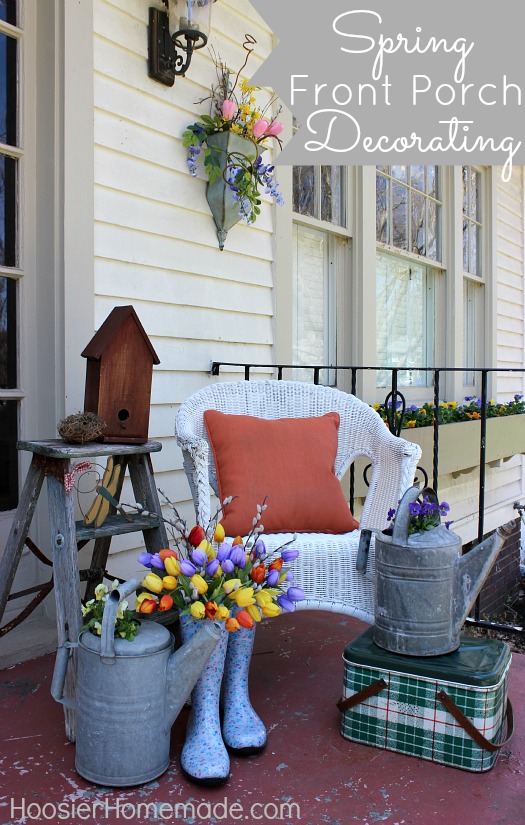 After decorating the Spring Mantel, there were a few silk flowers left, along with some fresh pansies, we pulled everything together to add some whimsy and brightness to the Front Porch.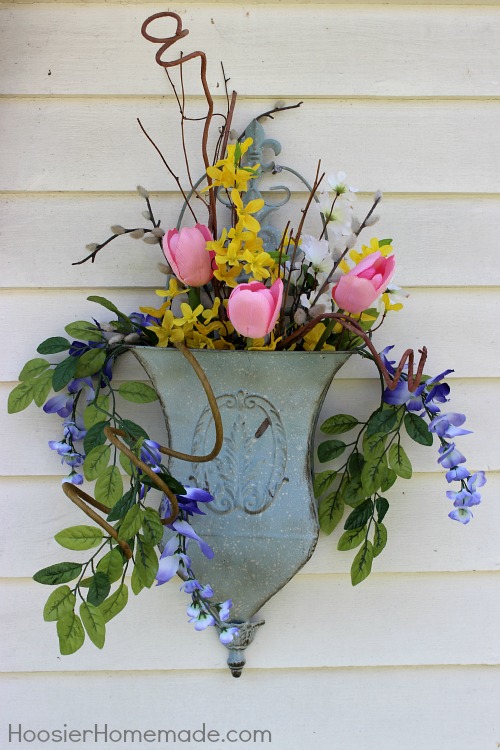 A few weeks back, we came across this beautiful wall container at Michael's. I think it is perfect hanging on the side of the house, filled with silk flowers.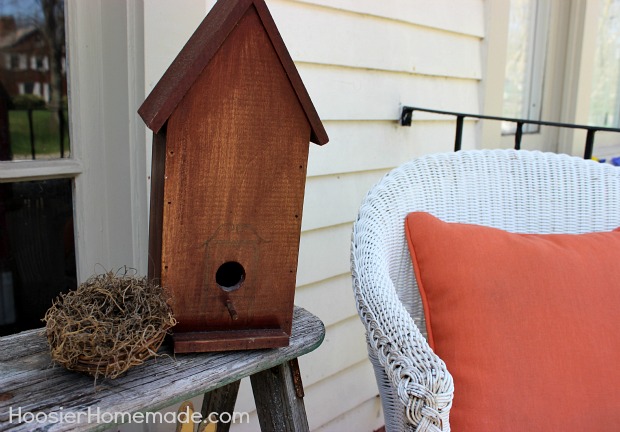 The white wicker chair, a roadside find, a couple years ago was added first with a bright orange pillow. An antique small ladder holds one of the birdhouses that my Dad built years ago.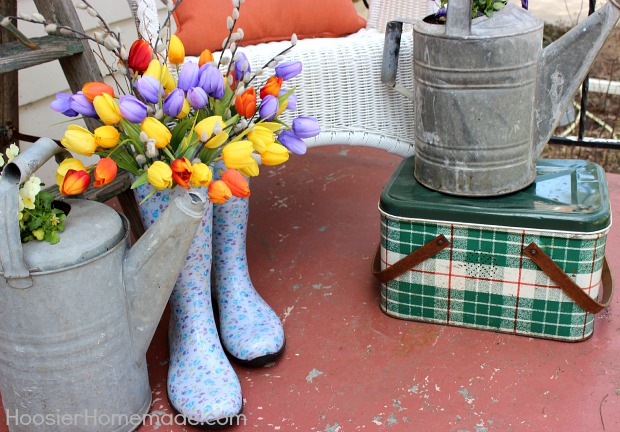 A pair of my rain boots were filled with silk tulips and pussywillows.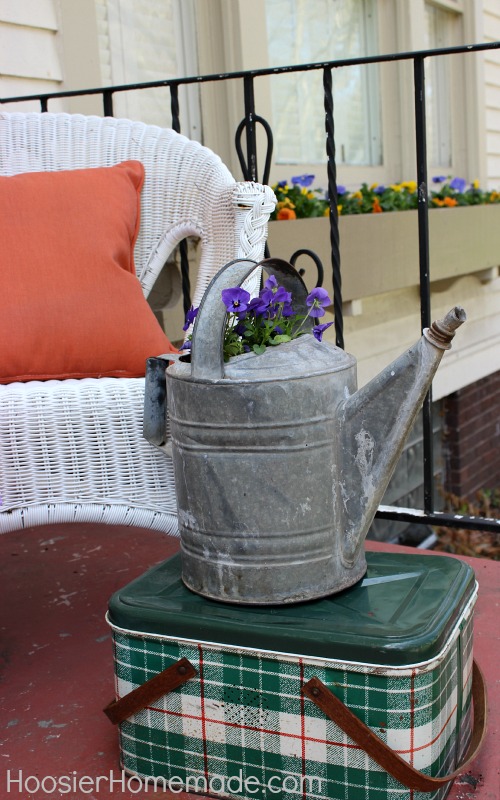 More character was added with an antique picnic basket and one of my galvanized watering cans filled with purple Violas.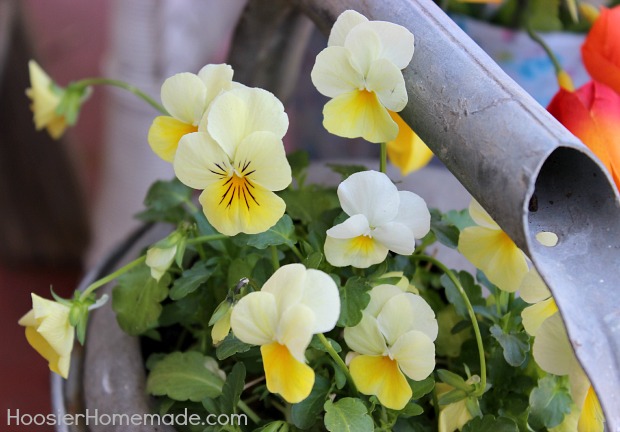 The other galvanized watering can was filled with yellow Violas.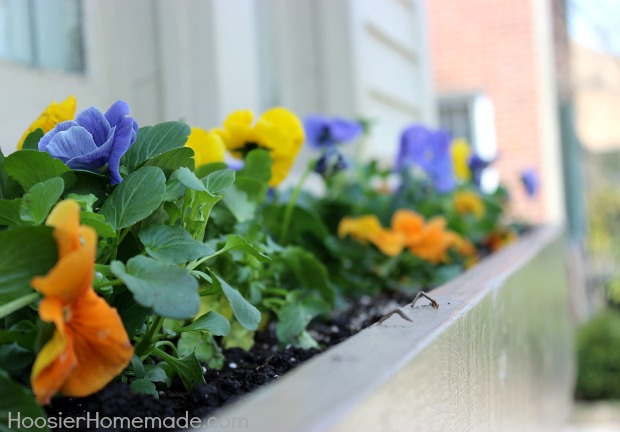 Then it was time to fill the window boxes with Pansies. Because of the cold weather, and the frost we had recently, it was difficult to find plants that looked good. So we made a trip over to our nearest Home Depot and found some beautiful plants. And they were marked half off, which was even better.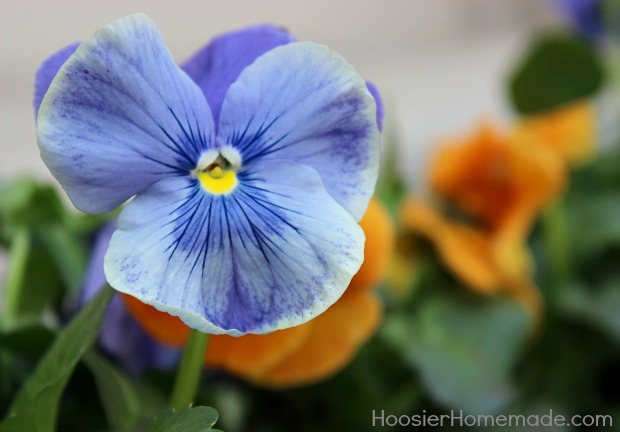 Pansies are one of my favorite flowers! I love there little face like features on the inside.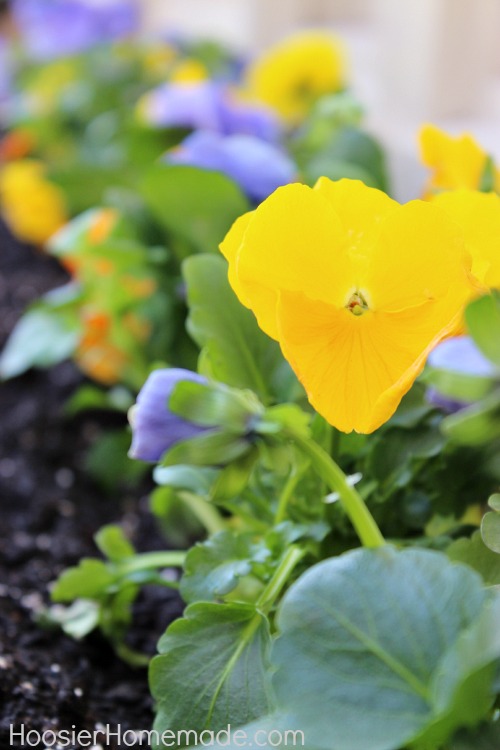 I can't begin to tell you how excited I am for Spring! At this time last year, most of the flowers and bushes were blooming and we had already been blessed with many warm, sunny days. This year though, has been a different story. It's still very chilly and none of the trees and bushes are showing signs they will be blooming soon. There are a few flowers popping up through the cold dirt and the birds are singing, so that's a good sign…right?
This year's Spring Mantel brightens the house with flowers and the fun Washi Tape Wooden Birds that I shared on Monday. The addition of an antique watering can, rain boots, gardening tools and a bird's nest reminds us that even though the temperatures aren't warm, Spring is here!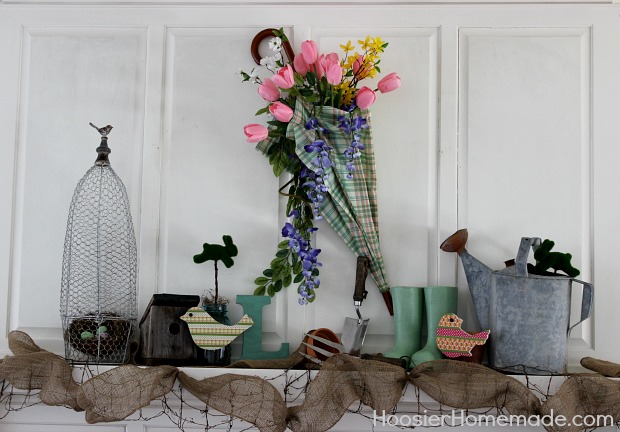 While I typically like to shop the house for items to decorate with, this season I just needed a few new items. So the Spring Mantel is a mixture of some old items and a few new, along with a couple hand crafted items.
The rustic garland is a combination of burlap ribbon and grapevine garland, both from Michael's Craft Store. Both of them come rolled up, I unrolled them and tied the burlap ribbon randomly onto the grapevine garland with twine. Then we attached it to the Mantel with fishing line.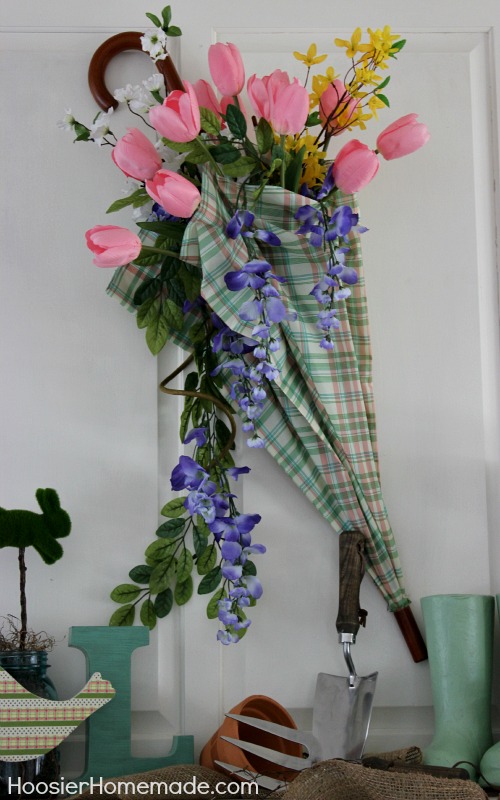 Last year, I saved the popular Pinterest photo of the umbrella and kept the idea in the back of my head for this year. Although finding the perfect umbrella to use was a bit of a treasure hunt, we did finally find one at Hobby Lobby. The silk flowers are from Michael's Craft Store.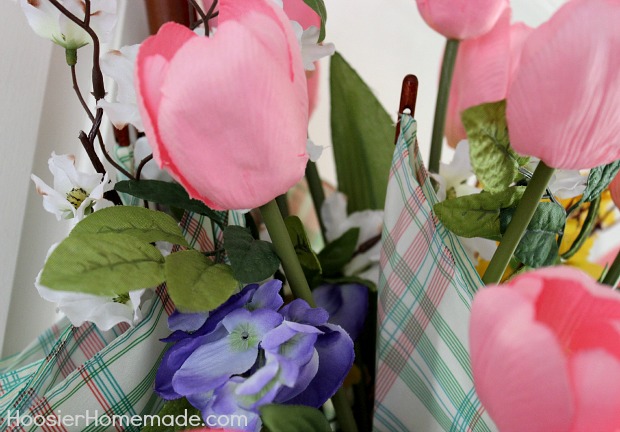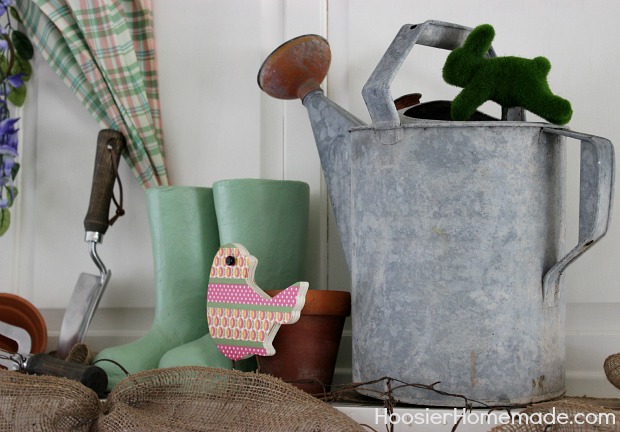 The antique watering can is my favorite in my collection. The green bunny is from Pier 1, they are having an Easter sale right now.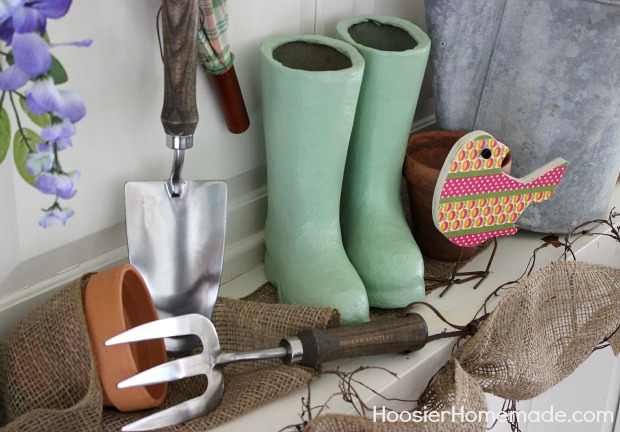 We tried my floral rain boots, but the colors were just a little too much. So we happened across these paper mache` boots at Michael's and spray painted them with Krylon Pistachio Satin.
A couple terra cotta pots from the garage, one of the Washi Tape Birds and some gardening tools that we found at Marshall's were added.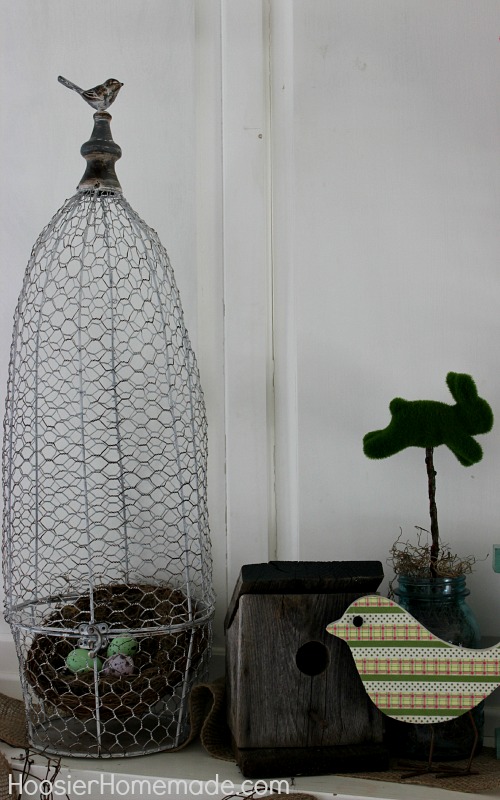 Down at the other end of the Mantel, is a new bird cage that we found at Marshall's filled with a bird's nest and some plastic eggs left from the Spring Mantel a couple years ago. The birdhouse is one that my Dad made years ago, another green bunny sitting in an aqua mason jar and the other Washi Tape Bird.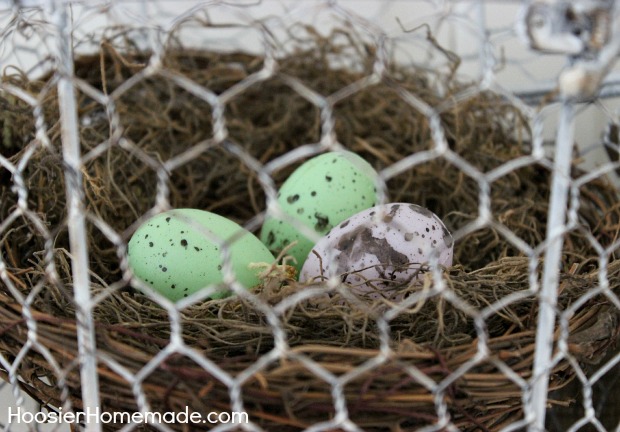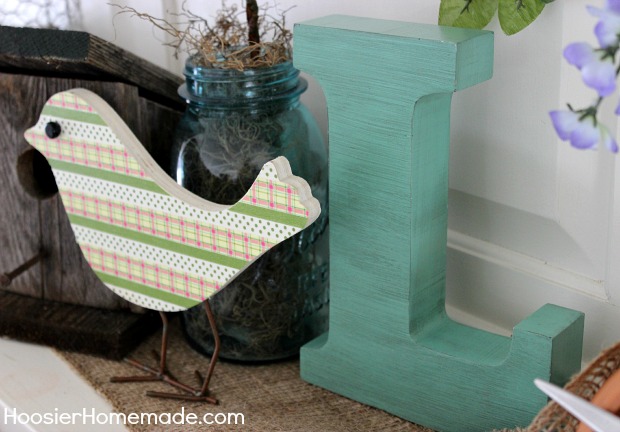 Then sitting next to the bird is a green wooden letter "L" for our last name…or well, my first name too!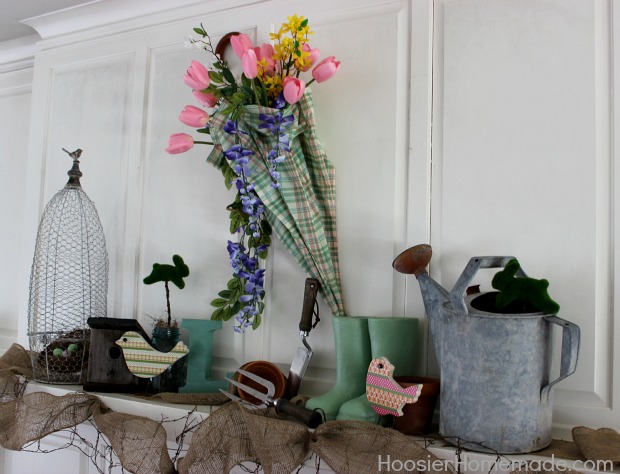 Even though the Spring Mantel took a little treasuring hunting this year, I'm pleased with how it turned out.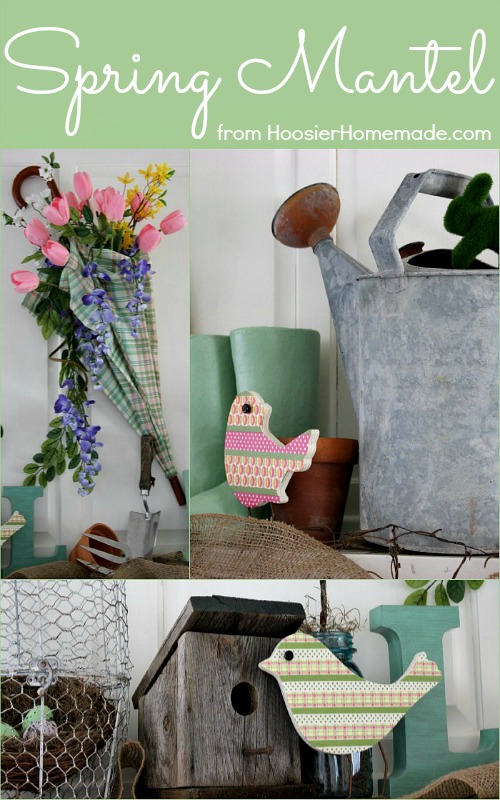 Quick Reference