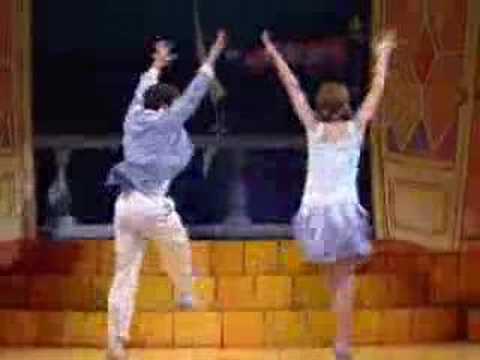 (Michael Freedland's and Michael Coveney's article appeared in the Guardian, 8/27.)
The composer and lyricist Sandy Wilson, who has died aged 90, achieved his greatest success while still in his 20s – and what a success it was. In the 1950s, The Boy Friend ran for more than five years at Wyndham's theatre in London and spent more than a year on Broadway. When it opened in the West End, in January 1954, it was revolutionary, a totally new and different kind of musical.
Big American shows such as Oklahoma!, Annie Get Your Gun and Carousel had dominated musical theatre for years. They were big and brash, full of women in gingham dresses and men in big hats chewing cigars. Here came a show that was a throwback to the flappers of the roaring 20s. Young women were seen with flattened chests and cloche hats; young men wore bell-bottomed trousers and all but said, "Anyone for tennis?" Set in a finishing school in the south of France, The Boy Friend revolved around the romance of a wealthy boy and girl who are each attempting to keep their family's fortune a secret.
Could it work? Amazingly, it did. And when the show opened in New York in September 1954, its startlingly brilliant leading lady was Julie Andrews, making her Broadway debut. It was Wilson's plangent, plaintive songs, such as I Could Be Happy With You and A Room in Bloomsbury, that really made the show. The tunes became standards, and for a time everyone wanted to do the charleston: the packed audiences found some kind of relief from the austerity of the postwar years in this romantic tribute to a more lighthearted age. The Irish playwright and journalist Hugh Leonard later proclaimed it to be "as English as muffins and monocles". The show ran in London for more than 2,000 performances, outstripped only by Agatha Christie's runaway success with The Mousetrap.
(Read more)
http://www.theguardian.com/stage/2014/aug/27/sandy-wilson
Visit Stage Voices Publishing for archived posts and sign up for free e-mail updates: http://www.stagevoices.com/ .  If you would like to contribute a review, monologue, or other work related to theatre, please write to Bob Shuman at Bobjshuman@gmail.com .