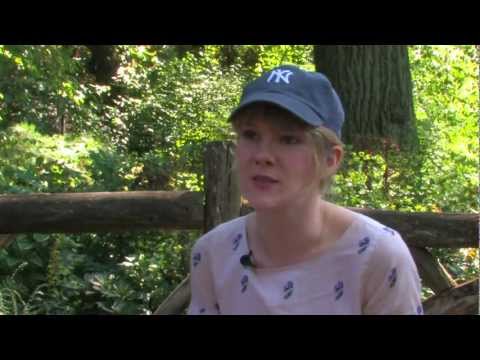 (As discussed below, some of the text for this review, of a play  at Shakespeare in the Park, was only posted overnight, two years ago.)
ALIENA
The four young women, who are watching As You Like It, are from Mainland China.  They do not know that the previous Wednesday, a press assistant, from the Public Theater, had asked me to take down my blog notes regarding the production. The request rattled me, as I was surprised anyone had even read it—I had gone to the play on June 9, 2012 and was directed to take down the post on June 13--almost as soon as it was published.  I e-mailed back, "Hi, it's Bob," blood pulsing and hurriedly making a typo, "I waited in line just like everyone else without special consideration from your press office.  I am simply acting as a citizen journalist. . . ." I did comply with the request, however, in deference to a reviewer's embargo until June 21, and the fragments were withdrawn from the Web site.  Then, the following day,  from a separate press person, at a different agency, an invitation appeared in my in-box—a new play was offered for me and a friend to attend, also directed by Daniel Sullivan and starring John Lithgow.
Sitting on the forest-green benches, near the Romeo and Juliet statue, outside of the Delacorte, waiting to chaperone the young women back to their dorm after the play is over, I am listening to Steve Martin's music, being played live. I imagine that it has been shortened, so that Orlando (David Furr) can vent his frustration to the servant, Adam (MacIntyre Dixon), earlier.  Later, when two members of the backstage crew sit near me to discuss work schedules and one smokes, it has become very dark; I wonder if the actress Lily Rabe, as Rosalind, is less mannered with Orlando than I saw her (ultimately, her reviews—as well as that of the entire production--from the New York press will be excellent; but we did not know this at the time).  I was not the only one who thought the show needed salvaging on the second night of the run, either.  A youthful couple clearly couldn't concentrate, their hands feeling each other up, however tentatively, in the row in front of ours (it did not make me comfortable that my fifteen-year-old daughter was sitting beside me).  Then, before abruptly leaving at intermission, a woman with a loud, heavy, monotone accent cell-phones a friend, protesting, "It's not Shakespeare; it's boring."  My notes pick up:
"As You Like It has been called tedious previously by no less a critic than Janet Flanner and a host of high school and college students throughout the centuries, but, as Joyce Henry, Ph.D.—an old teacher and collaborator, now diceased--has written, it is "a romantic comedy with memorable speeches and, of course, the wonderful Rosalind" . . . The leading character herself says her way is to "conjure you," and the forest offers scenic possibilities; the script references magic—yet why is there so little beside Belvedere Castle?  . . . Maybe it's because of the lack of contrast between the "pompous" court (poisoned civilization) and the Forest of Arden (where the banished find 'tongues in trees, books in the running brooks, Sermons in stones, and good in every thing')."  The hoe-down clap-alongs of the current production also fail to gain momentum, despite a rousing start.
Of course, as we sat in our newly forming English class, the Hudson flowing serenely outside our windows, at the College of Mount Saint Vincent in the Bronx, I did not hesitate to suggest to the four young Chinese women that they might see an American Shakespeare production—they are students from BNUZ, Beijing Normal University Zhuhai—located in Zhuhai city, Guangdong Province in southeastern China.  This is why they don't mind the heat, they tell me.  Temperatures in Central Park by 1:30, on the afternoon of June 21, reach 97 degrees.  My daughter and I had left the Bronx just after 7:00am to come to the Park—at 1:00 we each receive two tickets, which, because we have already seen the play, would be transferred to the students (my daughter quickly showed me how to text one of the women, as the Express Bus arrives at the Museum of Natural History, so she can go to work). At 5:30pm, when the young women—all business majors, and one more powerfully built, stockier than the others--arrive together via subway, they take pictures on the great lawn, with the digital cameras in their phones. We also go to the steps of the Metropolitan Museum, and weave through an outside party, with tiny overhanging lights.  This has been given to celebrate the fiftieth anniversary of Shakespeare in the Park, as well as the opening night of As You Like It. As the Chinese students enter the gates to take their seats, I ask an American intern, acting as an usher, to help them.  But, in the way someone commiserates with a person who has just gotten on a wrong train, she simply says, "They'll find them."    
My notes continue:  "Director Daniel Sullivan reverses the play's oppositions . . . Here, the culture of his periled, "envious" court is "new"--he sets his interpretation among American pioneers in the 1800s and their log fort . . . In the forest, he doesn't emphasize the majestic; instead the country copulation.  The Appalachian reference worked so well in Fiasco Theater's recent production of Cymbeline because it underscored the isolation of Wales in an American context . . . the court in As You Like It does not call for being similarly sequestered . . . the music played by the performers from Fiasco did not seem as commercial either, which is, unfortunately, what Steve Martin's repetitive TV music sounds like here--it either seems to come from The Beverly Hillbillies or intends to set us up for or take us out of a station break . . .  
The music: banjo, fiddle, and guitars, allow a too leisurely opening, swamping us when we need to move directly into Orlando's passionate protest against his brother—David Furr isn't aided by being staged to take wrestling winnings and then the life savings of an indentured servant  . . .  interesting to musicalize, later, "Run, Orlando, run, carve on every tree" and even, without Orlando, "the Horn," but I do miss not hearing the poetry of the cut "Under the Greenwood Tree" . . . Like others who undertake the role of Orlando, Furr doesn't seem to be playing the information in Rosalind's line that she does not want to be wooed by a "post"—she wants a man of action . . ."
When the evening class begins composing their own reviews of As You Like It, Dorothea (the students use American names), whom my daughter and I had texted from near the museum on the twenty-first—and who acted as the group's coordinator for that day, writes:  "As You Like It . . .  shows the importance of survival and determination. You can learn something from the plot because we all have to meet various kinds of difficulties in our daily lives. When we grow up, we need to get in touch with society. No matter what the difficulties are, we must keep going all the time."
It occurred to me how far away from the American entertainment paradigm this young woman was. Her interest did not lie with popular culture—or even theatrical techniques.  Her imagination saw Arden as a place of hardship, social consequences, and powerful ideals, not escapism. "The outside world is full of struggle," Dorothea cautions, "people are fascinated by money and power because people want to have a certain standing. Oliver wants to have more money so he takes away Orlando's heritage. He finds a wrestler and instigates him to kill Orlando in order to obtain it. . . . Rosalind disguises herself as a boy because it is the only effective way to protect herself and her cousin. Rosalind is a lovely and beautiful girl, but she is disguised like a boy, so that she can keep living and going ahead. This spirit touches me and maybe we should learn from that." 
Dorothea's conclusion states, "Generally speaking, maybe different people will choose a different way to live, but we should struggle to live a better life. So stretch out your right hand, hold your left one firmly, tell yourself you are fully capable of doing everything well!"
American entertainment writing, comes from a homogenized point of view—we don't expect the guillotine voice of a Frank Rich today (we accept the less opinionated writer and play).  This may be because producers want to see audiences as being the same, uninterested in what they do not know.  In theatre, which continuously veers acceptably to the left, there aren't arguments of substance, so musicals, with and for children, dominate (Wicked, Annie, Matilda), as do shows with drag queens—allowably outrageous (Kinky Boots, La Cage, I Am My Own Wife).  We would likely be appalled if a play opened advocating gun ownership (but I've recently seen one against it) or prayer in school (although I've seen a show refuting Intelligent Design, not so long ago), because such positions have been blotted out in the contemporary arts before anyone had a chance to see them artistically defended.    Yet, I am coming to the conclusion that art must encompass important and disturbing points of view, because it has the ability to allow us to articulate something important about ourselves.
"Interesting cadences come from Stephen Spinella," I go on in my notes. "I'll be interested in hearing what other reviewers think of his approach, emphasizing lack of momentum, flatness—very downtown and worth a hear . . . Nice eruption between Celia and her father, who don't seem to be acting in isolation, before the escape to Arden (Renee Elise Goldsberry and Andre Braugher) . . . Strange choice for Phoebe (Susannah Flood), often played in a masculine way . . . not sure what's trying to be put across except that the character would be extremely annoying to marry (which Silvius wants) . . .
"The big question, of course, is how, after Juliet Rylance proved such a cheeky delight in the 2010 BAM production, audiences will react to Lily Rabe . . . she's not portraying Shakespeare's "moonish youth" in a traditional way and is too much of a complicated actor to play a romantic heroine –she's a street-smart New Yorker in a frock.  Despite being determined to make her deep-voiced speeches understandable and meaningful--which she does--she really only comes into her own in the second half when she interprets Rosalind as Orlando's "director," just shy of calling for riding boots and crop . . .  It's a strong way to think about Rosalind, but adds only further insularity to the production, as if she's been in the rehearsal room only with those at special invitation . . . What she does share in common with the rest is the insistence that her written character--and the play--lacks charm . . . which is not true . . ."  
After the show is over, the Chinese women and I meet to walk to the Express bus.  Margery, stockier than the others, tells me she would like to prepare for the TOEFL exam, so that she can study in America—I do not think she likes that I have brought them to something as frivolous as a play.  She is direct, if not brusque; a suspicious communist observing capitalistic society.  This makes her paper even more unexpected when she hands it to me (early):  "Before I saw this play, I didn't think I would be surprised by Shakespeare but I was," she becomes oddly confessional.  "This was the first time I saw a play by myself. I was sitting near the stage, imagining it was me who was the lovely Rosalind.
"It didn't really reflect reality," she goes on. "Real love isn't always as easy as it was in this play. When I took out my notes again, everything about that night comes back to me. I can remember Duke Senior, Touchstone, as well as the guitarists. The heroine, Rosalind, was so funny when she said to Phebe: 'You are not for all markets!'
"The plot also reminded me of the person who I had a secret crush on. However, my story didn't have a happy ending. I was thinking about how luxurious the love was in this play. For instance, the shepherd called Silvius went through so much to woo Phebe.
"I hoped I could meet the right person some day.
"I hoped I could live a happy life like Orlando and Rosalind."
© 2012,  2014 by Bob Shuman.  All rights reserved.
Visit Stage Voices Publishing for archived posts and sign up for free e-mail updates: http://www.stagevoices.com/ .  If you would like to contribute a review, monologue, or other work related to theatre, please write to Bob Shuman at Bobjshuman@gmail.com .