---
In the October 2014 issue of Sunset Magazine, they showed their 5 different "Small Space, Big Dreams" gardens.  We were lucky enough to contribute a few of our Potted staples, the Acapulco Chair and the Midge Table, for the Desert Modern garden designed by Sunset editors, Johanna Silver and Lauren Hoang.  Here are the photos in case you missed the issue.
All photo credits Thomas J. Story.
The Palm Springs influenced garden was done to minimize water use.
The other side of the blue wall hosts a Heath Ceramic outdoor shower.
The hanging chair in the background is from Anthropologie.
But of course we're partial to our Midge.  Love the splash of blue in all that white…like a pool of water.
Drum roll, please…it's finished! The "gettin' ready" part of our Anniversary Season is over (okay, maybe we haven't quite finished the tile backsplash over the sink but we will, we promise.)  Mary did such an amazing job designing and managing this installation.  After 10 years, she was right; it was time.  Doesn't it look pretty?
(note: all Photos by Bethany Nauert)
We started with opening up the wall between the front of the old store and the back storage/work area.  It almost doubled the size of the store.
This is what the wall looked like before we took it down.
And here's what it looks like now!
Here's the reverse angle.  It's so bright now.
The pass we created is a great place to feature new hanging planters and birdhouses.
The raised platform is a perfect place to showcase new products.  Here we have a Fermob Sixties Set.
In fact a lot of the reason for doing the remodel was so we could finally become a Principal Partner with Fermob.  We so love this furniture line and now we finally have more room to show more product.
Another view on the platform of two City Planters.  This was a fun planting using woodland twigs and air plants.  Super easy.
We have a fancy new sign over the cash wrap (which has moved.)
The new grey wood walls are just beautiful to show off all our lovely designer planters.  Those Tentacle Planters are pretty crazy, aren't they?
Having more space gives us room to showcase all sorts of new items.
In all the styles we love to show.  So excited the Skull Planters are now available in this gorgeous bronze.  And the Vintage Baby Bodies…not too many left!
We still have a wonderful selection of succulents and other drought tolerant, container-friendly plants.
Vintage trucks we often use for plantings featuring our ever growing selection of jewelry.
Butterfly Chairs in the new clothing and personal accessories area.
The only thing I added to the whole project was this Woolly Pocket installation.  I've been wanting to do one of these inside for a long time.  I love the light the new skylight adds to the room.
And here we are getting our pictures taken for the LA Times article that should be out this Saturday.  This was the coolest.  Our 15 minutes of fame.
So please come see the store for yourself.  We have lots of new things coming in for the holidays and we are excited and honored to be able to share them with you, our wonderful customers.
It's so nice to see something that is truly original.  When designer Cora Neil approached us with her new planter concept, we were blown away.  It had everything we love…hanging planters, wall planters and TONS OF COLOR!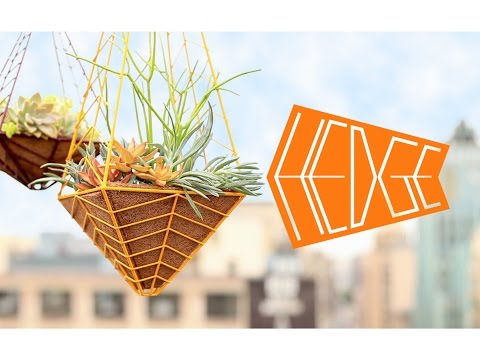 Started as a project at Art Center College of Design, Cora always wanted to create a garden in any space.  And so began the Hedge Outdoor project and subsequent Kickstarter campaign.
Hedge planters are  shaped, welded, grinded, and powder-coated in the US (all in the Los Angeles-area, to be precise) by skilled craftspeople with decades of experience under their belts.
Cora's designs spoke to so many people that she actually raised five times more money than she had projected on Kickstarter.  Way to go.
And it's no wonder with her attention to detail. Each piece has all the necessary hardware provided…and it matches!
The three colors she has chosen, Fig, Marigold and Tangelo work beautifully in unison.
And her sizing and graphics are compelling and wonderfully complimentary.
We are lucky at Potted to be the first retail store to carry these amazing planters.  We know that won't last long so we're going to enjoy it while it lasts.  Come on in to see them for yourself and if you can't, you can also shop online here.  But hurry, we're almost out.
(note: all photos shamelessly stolen from Hedge Outdoor's Website)
It's hard to believe that at the end of this year, Potted will have been open for 10 years.  I guess the old saying, "Ignorance is bliss," really does hold true.  Mary and I had absolutely no idea what we were doing or getting into when we purchased this old pottery store and might not have done it if we had.  But I guess it's like having a kid, isn't it?  If you really knew how much pain, sweat and tears raising a child takes, no sane person would ever do it…Boy am I glad I've never considered myself a sane person.
Here is December 2004 (that's my sister Susie waving in the background).  Then called Los Feliz Pottery & Statuary, the place was hardly a design destination.  Our landlord Andy Sliger (who finally passed at 96) and his wife Ruby ran the business for close to 60 years.   Andy was a very sweet and kind man, so much so that we didn't even get upset when he made our husbands sign the lease too (because we were women) or when he made us redo our signatures because he said they were too messy.  Were we really going to explain to a then 92-year-old-man that we were capable women who could sign our own leases (messy or not)?  Learn to pick your battles, I say.
Here we are looking from the front door to the back of the store.  It's not even recognizable any more.  The door leading to the side yard wasn't there and everything was just a big mess of inventory.  I think it took us almost a year to get rid of all the old things.
This is the side yard.  I especially love the lions in the foreground.
And here's what it changed to circa 2006 (after we hand plastered & glazed the walls, put in a side door, ripped out the dropped ceiling, moved the cash register to the back and got rid of every plaster David we could find).  It was a lot of work, let me tell you.  And since that time the store has kept growing.  We came out of the recession stronger than ever and literally bulging at our seams.
What our receiving area looks like when we get in our Spring pre-buy of Fermob.  You almost can't move in the back.  And so…
We have rented the medical building next door (and yes, that means we can use the parking lot now!)  But a medical building, you ask?
Well the front room is really lovely and we are going to put our "offices" over here which means that marketing, website and landscape services will operate out of this very cool 60's reception area (you can actually see through the marble wall on the right.)  We're thinking of making those exam tables into desks but they are virtually impossible to move so perhaps we should rethink.  Anyone need three freakin' heavy exam tables from the 40's?
Of course every Outdoor Living Store needs their own Laboratory (we really do, actually…how do you think we come up with our new designs?)
And all the exam rooms will now be holding lots more inventory so maybe we will actually have the Fermob chair you want or the Loll table you've been coveting without having to wait for them to be ordered (but, you know, sometimes you will have to wait).
What this means for the main store is we're looking to open up this wall from the front to the back and add almost 400 sq. feet of showroom space.  And everything is going to get a facelift (except me and Mary.)
Right now this is what the back looks like (though we've already started to take things out).  We're adding a skylight and it's going to be beautiful.  Hoping to be done by October and then we can really start the celebrating.  My daughter (because I was not sane and did have a child and Mary was even more insane and had two!) used to say she didn't have a birthday, she had a "birthday season."  And so we will enter the "birthday season" in December to celebrate 10 years of running this crazy, wonderful business we call Potted with different events and opportunities to celebrate and share our good fortune with you, our wonderful customers.
So stay tuned…
Annette walks you through how to plant a lovely succulent arrangement in a practical, straight-forward manner. She talks everything from choosing pots appropriate to plant size to aesthetic considerations based on plant variety.
This video covers simple techniques for the beginning green thumb and may remind you of some specific succulent considerations for containers if you are a more experienced gardener.