---
So to say we've become a little air plant crazy at Potted these days would be an understatement.  If it's possible, we #putanairplantonit.  And Instagram has only made this obsession well…more obsessive.
On a City Planter…doesn't that look lovely?
On this super groovy Skull Planter.
In this tiny Day of the Dead candlestick holder (or is it a ring holder?)  Who cares?  If you can #putanairplantonit, we love it.
We've made Tillandsia Trees with glue and Manzanita branches.
We've layered sand in hanging glass containers and perched air plants on top like tiny Dr. Seuss trees.
We've sat them in Tiny Ceramic Cups (don't you just love the Concrete Diamond in the background by our good friend designer Dustin Gimbel?)
We've used repetition to create simple beauty.
We've done absolutely nothing and just paired the right plant with the right perch (thank you, Titia Estes, for this lovely little bowl).
We've shoved them into these super adorable hanging Air Pods and hung them everywhere. (this Facebook post got 20,000 views!!!!)  Apparently we aren't the only air plant crazy people out there.  And to that end, it got me wondering…what were other people doing with air plants?  So here are some of my favorite ideas from Instagram and Pinterest that I wanted to share to hopefully inspire you to come up with even more.  Forgive me if I don't credit them all…honestly I don't remember where they all came from.  I think I lost my mind one night.
This mobile from Craft Organic in Florida made my heart swoon.  Love following them on Instagram too (@craftorganic).  If you're interested in making mobiles, we're having an air plant mobile class this Saturday 2/8…just in time for Valentine's Day.  Sign up here.
Here's another mobile…so simple and so lovely.
And here is the Godzilla of all mobiles.  I've seen many posts of this screen…it's amazing.
These are from Petit Beast (I love it when people watermark their photos so I know who they are).  We do a variation on this with the urchin shells, but these guys really have fabulous photos (and beautiful work).
I would kill for these.  They are just clay slabs fired into a circle.  LOVE LOVE LOVE.  What else could you use?
This makes me pretty darn happy.  I mean, come on…#putanairplantonit!!!!!
I'd say these go together, wouldn't you?
Pretty sure these are hanging up there with something called a Thigmotrope from Flora Grubb Design.
Here's a massive display using the same Thigmotropes.  I can't imagine what this would cost (even wholesale) but I would love one.
These Air Plant Frames are from local Los Angeles artist, Josh Rosen.  You can submerge the whole frame without having to take out each plant.
I'm going to make one of these right away…simplest air plant hanger I've ever seen.
This Tillandsia Tree makes mine look anemic.  I love it!
And this is cool.  Gotta love a hot glue gun.
This is a stunning natural arrangement.
And here's a REALLY natural arrangement.  This is actually an alley in Eagle Rock.  Now this guy's got a green thumb.
Last one because this post is getting too long.  But I think my point has been made.  You can do just about anything with Tillandsias.
So if you want to come by this Saturday and play with power tools and try your own hand at concocting an air plant mobile, sign up here and come have some fun.  And if you can't come (or don't live in the hood), share your creations on Instagram at #putanairplantonit.  We'd love to be inspired by you.
Dear followers, I know you aren't vast, but I apologize for my lack of blog posts as of late.  You see, I discovered Instagram and my photo obsessed, two-second attention span has fallen down the rabbit hole.  But it has opened up a whole new world for me so I hope you will forgive me.  And in fact something happened via Instagram that was very interesting.  Let me explain.
As many of you know, The Circle Pot was one of our first designs.  In fact the photo above was my very first blog post ever from several years ago and this wonderful pot is still our best seller to this day.
We've paid our dues learning how to make this not-so-easy to manufacturer pot with endless unsellable seconds (you'd think a circle would be simple, wouldn't you?)
We've suffered through the lose of two of our local manufacturers including the iconic Gainey Ceramics (RIP) and had to move production up to Portland in our heroic attempt at not taking manufacturing out of the country (okay, maybe not really heroic, but it was important to us).
We've enjoyed watching other designers we greatly admire use our little pot, i.e., this beautiful photo from Flora Grubb Design.
We've really enjoyed seeing how our customers have used our Circle Pot, like this installation using the pots as a shower screen…
And this one using it as a bird feeder (which apparently it works very well).
But nothing quite prepared me for this photo.  You see I was searching through a hashtag, I think it was #moderndesign late one night (because that's what my zombie obsessed Instagramming mind likes to do these day) and my jaw just fell when I saw this photo.  It was posted by an Australian company, Paterson & Steele, and it was saying how excited they were about their new offerings on their soon-to-be-opened online store.
Now they didn't say outright that they had designed them, but I freaked out.  These weren't just similar to our pot, they were EXACT REPLICAS!!!  I immediately posted the photo to my Instagram and barraged theirs (which was shut down immediately).  Then I started messaging people who had commented (you see I took a screen shot…always take a screen shot) and another woman (I'm assuming her friend) told me to back off, I was being rude and that she'd never said she designed them.  She then said that another person on the feed said they had bought the same ones…
Here are the other ones…while lovely, nothing like our Circle Pot…but never mind.   And then she said if I didn't take down my post immediately which basically accused Paterson & Steele of ripping us off (which I didn't but I was in full mama bear protecting her young mode), she would report me to the Instagram police.  Okay, fair enough.  She (Paterson & Steele)  hadn't outright said she had designed them and I was not being fair.  Point well taken.  Maybe I should take it out of social media and talk to her directly.  Which is probably what I should have done in the first place but in my defense I come from very hot blooded roots (which isn't a defense I know but shut up).
So I emailed her.  And she was lovely.  She told me that she had bought them from a company in China (wow, what a shocker) and that she felt terrible about what happened and that she wanted to make it right.  That she didn't want to, and I quote, "face the wrath of your instagram followers again."  She even proposed paying a royalty which was very kind of her.  We declined.  All we wanted was for her to make sure to credit us as the designers.   And so…
This ran across my phone just yesterday and I was thrilled.  Win/win, happy ending for all.
But here is my question…do you think this would have been the same outcome without some of that Instagram wrath?   (In her case probably as she seemed like a good person but for some others, I don't know…)  Should I have emailed her first and barraged her second?  I wonder…
I love Instagram.
I know I always say this, but it is SO FUN to own a store and get to have super creative people bring you things that make your whole life better. Enter Maurice Connolly, metal artist.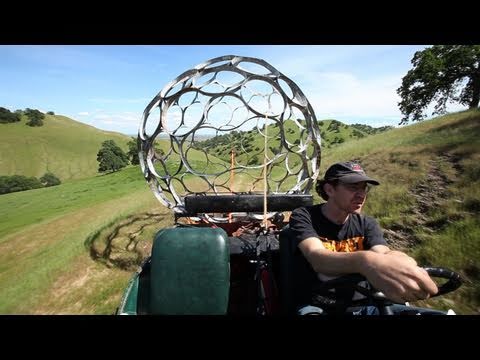 When I first met Maurice, he was only doing the wine barrel staves as sculptural pieces.
And while they were totally amazing, we'd already made our own Iron Spheres and didn't quite know how to make it work. Â But then Maurice had a lightbulb moment (okay, that was a bad pun but I couldn't resist), make them into lights! Â And they've just gotten more amazing ever since.
I mean, come on…wouldn't you want to be at this dinner party (I actually would love to see some skeletons propped up at that table).
Clearly a corporate installation…but one with very good taste.
Same installation.
See what I mean about getting your "own private moon." Â Totally dreamy.
Here's an installation I just did in Pasadena in a 100-year-old Magnolia. Â The clients were thrilled.
And here's a 20″ one we put up in the store a few days ago. Â I actually came back last night just so I could see it in all its shadowy glory. Â I really need a life. Â Look at the City Planters glowing in the shadows. Â I love it!
The Orbit Series isn't for the faint of pocket, but each piece is hand-rivited and formed by Maurice and if you're real nice, he might even come and hang it for you (especially if you pay him). Â Can be wired for either 110v or 12v and chain or hemp rope length can be specified. Â Custom sizing also available.
Gardens are not just about putting plants in the ground. First you need to create a structure and landscape to enhance the "story" of the plants…and adding rocks and boulders are a wonderful way to do that. One of my favorite places to go for excellent choices and inspiration is Sunburst Decorative Rocks in Irwindale.
Clearly the choices are vast.
From large boulders…
…to interesting pavers and building materials, they have it all.
But they also have a great website that shows you what is possible so you can get your creative juices flowing beforehand.
Although nothing beats actually going out there and seeing these amazing rocks for yourself.
And always leave yourself open to new ideas. Â This huge boulder (it weighs one ton) ended up being a table in an outdoor living area we're currently creating in Pasadena…and we didn't even know we needed a table in this space.
Getting it into place took a forklift, six guys and the entire side of a brand new Subaru (don't ask).
But the end result was, I think, worth it. Wait till you see the final posts when the garden is done…you know, when we add the plants.
I would love to get the opportunity to use all these different kinds of rocks with all their crazy colors.
I think these ones are called Rainbow Tumble. Hmmmmm…what can we come up with here?
Sunburst Decorative Rocks in Irwindale. Take a trip out to get inspired.
So very excited to be voted Best of LA in the August 2013 issue of Los Angeles Magazine. Â Apparently they have secret shoppers who check out stores and then decide to include them in the magazine. Â So cool. Â We are truly honored and had a great time tonight at the party honoring all the "winners."
The party was held at the Smogshoppe in Culver City. Â I always wanted to go there so this was a great opportunity.
The Woolly Pocket walls were amazing.
If you looked super close (like I of course had to), they didn't look so amazing…but it actually didn't matter. Â The overall effect worked.
The Agave Attenuate looked incredible.
And I really liked this wood detail they created at the entrance.
Inside there were a ton of people…
And the Woolly Pocket walls were even better.
It was just like winning the Oscars.
Only we didn't get to wear the fancy dresses (but see the "Potted" over my left shoulder?) Â They also had some great Pink Cosmos. Â Thanks, LA Magazine. Â So happy to become part of such an illustrious tradition.