---
I know I always say this, but it is SO FUN to own a store and get to have super creative people bring you things that make your whole life better. Enter Maurice Connolly, metal artist.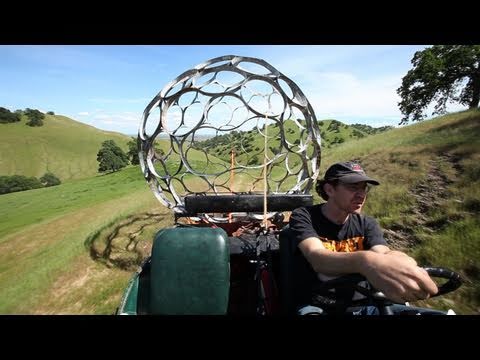 When I first met Maurice, he was only doing the wine barrel staves as sculptural pieces.
And while they were totally amazing, we'd already made our own Iron Spheres and didn't quite know how to make it work. Â But then Maurice had a lightbulb moment (okay, that was a bad pun but I couldn't resist), make them into lights! Â And they've just gotten more amazing ever since.
I mean, come on…wouldn't you want to be at this dinner party (I actually would love to see some skeletons propped up at that table).
Clearly a corporate installation…but one with very good taste.
Same installation.
See what I mean about getting your "own private moon." Â Totally dreamy.
Here's an installation I just did in Pasadena in a 100-year-old Magnolia. Â The clients were thrilled.
And here's a 20″ one we put up in the store a few days ago. Â I actually came back last night just so I could see it in all its shadowy glory. Â I really need a life. Â Look at the City Planters glowing in the shadows. Â I love it!
The Orbit Series isn't for the faint of pocket, but each piece is hand-rivited and formed by Maurice and if you're real nice, he might even come and hang it for you (especially if you pay him). Â Can be wired for either 110v or 12v and chain or hemp rope length can be specified. Â Custom sizing also available.
Gardens are not just about putting plants in the ground. First you need to create a structure and landscape to enhance the "story" of the plants…and adding rocks and boulders are a wonderful way to do that. One of my favorite places to go for excellent choices and inspiration is Sunburst Decorative Rocks in Irwindale.
Clearly the choices are vast.
From large boulders…
…to interesting pavers and building materials, they have it all.
But they also have a great website that shows you what is possible so you can get your creative juices flowing beforehand.
Although nothing beats actually going out there and seeing these amazing rocks for yourself.
And always leave yourself open to new ideas. Â This huge boulder (it weighs one ton) ended up being a table in an outdoor living area we're currently creating in Pasadena…and we didn't even know we needed a table in this space.
Getting it into place took a forklift, six guys and the entire side of a brand new Subaru (don't ask).
But the end result was, I think, worth it. Wait till you see the final posts when the garden is done…you know, when we add the plants.
I would love to get the opportunity to use all these different kinds of rocks with all their crazy colors.
I think these ones are called Rainbow Tumble. Hmmmmm…what can we come up with here?
Sunburst Decorative Rocks in Irwindale. Take a trip out to get inspired.
So very excited to be voted Best of LA in the August 2013 issue of Los Angeles Magazine. Â Apparently they have secret shoppers who check out stores and then decide to include them in the magazine. Â So cool. Â We are truly honored and had a great time tonight at the party honoring all the "winners."
The party was held at the Smogshoppe in Culver City. Â I always wanted to go there so this was a great opportunity.
The Woolly Pocket walls were amazing.
If you looked super close (like I of course had to), they didn't look so amazing…but it actually didn't matter. Â The overall effect worked.
The Agave Attenuate looked incredible.
And I really liked this wood detail they created at the entrance.
Inside there were a ton of people…
And the Woolly Pocket walls were even better.
It was just like winning the Oscars.
Only we didn't get to wear the fancy dresses (but see the "Potted" over my left shoulder?) Â They also had some great Pink Cosmos. Â Thanks, LA Magazine. Â So happy to become part of such an illustrious tradition.
For several years now our very good friend Dustin Gimbel of Second Nature Garden Design has been throwing these great dinners he has dubbed Cross Pollinators.  My husband and I hosted one last year blogged about by Denise at A Growing Obsession.  The idea is to get together like-minded garden geeks who may or may not know each other  to come together for a wonderful evening.  The first one started off with maybe 12 people.  Last night's I think there was more like 35 or 40.  Good thing Dustin's garden has grown and evolved and I thought you might like to see it.  I was tripping over myself to get photos and had serious garden envy.  If you only knew what the neighborhood looked like just outside the gate…
Since last year Dustin put up a ficus hedge so the house is now completely hidden. Â Now when you walk into the garden from the decidedly urban street in Long Beach it resides on, this is what you are greeted by. Â Whoa!
These are balls made of hyper-tufa he made himself. Â We had a great time one day making hyper-tufa in the garage…not as easy as you'd think (but here's a link to a YouTube video in case you wanted to try…it's fun).
Continuing down the path to the backyard, these are old Gainey Pots that Dustin secured to metal poles. Â He is one clever boy. Â They look great dancing above the other foliage.
Dustin (dead center) greeted everyone in his usual warm and wonderful way and had them wear name tags which I very much appreciated. Â It was also a potluck which made it a bit easier on him and good fun for the guests to get to try different things.
I immediately had to start shooting pictures because the light was fading and I was salivating to see all the new things he had done. Â This is a wall he put up a few years back that's grown to include the corner and also the lovely reflecting pond below and further acts to frame all sorts of views in the garden (as you will see).
On the other side of the wall, Dustin used some balls he bought at Target, made a silicone mold and created all the concrete versions of it as art pieces. Â I also like how he's leaned old mirrors to reflect other angles of the garden (including me in the left one!)
These are little Hyper-Tufa ball pots he made.
And here is one of my favorite plantings of all time that just gets better and better as the years go on.
Here's the view back through the wall. Â Isn't it great how these cut outs frame things?
And here's my favorite thing ever…the seating area behind that wall.  The vine is Aristilochia gigantea (I believe) and is one of the most stunning things I've ever seen.  Painting the wall Mauve was genius.
By the garage were the raised beds, and some where back there he also has beehives. Â If you could just see this neighborhood outside these walls! Â Why didn't I take that picture? Â I know there's a liquor store on the corner with a drunk guy and a brown paper bag…
Another interesting/odd element to the garden was this giant yellow tree. Â Dustin had wanted to get rid of it as it was taking up valuable real estate in his garden but then got this idea to make it a piece of sculpture.
And as the evening fell to night, that yellow tree really came to life.
All in all, it was one heck of a party and one heck of a garden. Â And this was not meant to make you jealous (though you should be jealous of Dustin's garden), but hopefully it will inspire you to throw your own Cross Pollinator's Party. Â I wanna see pictures!
So here they are! Â Please go to our Facebook Page to cast your "likes" for your favorite photo and help us select this year's winner of the "That's So Potted" contest.
1. Susanna
2. Laura
3. Barbara
4. Cindy