---
Potted is very excited to be one of the few locations selling tickets for the 2015 Annual Native Garden Tour organized by the Theodore Payne Foundation. And if you purchase the tickets through us or directly from the Theodore Payne store in person, you will also not incur any additional handling fees.
Born in England, Theodore Payne immigrated to the US just before the turn of the last century. A self described "seed man," he found his way to the fertile valleys of Southern California where he began his life-long love affair with California native plants.
In fact, Theodore Payne and his wife, Alice, lived right here in Atwater Village and bought 10 acres next to the Franciscan Pottery factory on Los Feliz Blvd…the same street Potted is located on now. Alas, in 1941, Mr. Payne lost his property to the City of Los Angeles and was forced to rent from the Gladding McBean Company, who owned Franciscan. In 1960 the Theodore Payne Foundation was established to:
To promote, preserve and restore California landscapes, and habitats
To propagate and make available California native plants and wildflowers
To educate and acquire knowledge about California flora and natural history
But in 1963 they were evicted from the Los Feliz nursery and had to move. Today the foundation thrives in their Sun Valley location where they continue to propagate and showcase the beautiful native plants that Theodore Payne so loved.
To that end, each year the Foundation has an extensive garden tour to honor these beautiful plants and show Angelenos how they too can have a gorgeous garden using mainly native plants.
Here are some of the homes that will be featured on this year's tour to wet your appetite for more (all photos curtesy of Theodore Payne Foundation).
The two day, self-guided tour takes you to 47 gardens over the March 20th and 21st weekend.
And while it's unlikely you'll be able to get to that many gardens in the two days allotted…
You will definitely want to try to see as many as you can.
Here is one of my all-time favorite native plants, the California Flannel Bush (Fremontodendron californicum).
And I love these old springs used as garden art in this lovely garden.
And who says California Natives don't have flowers?
Theodore Payne 2015 Annual Garden Tour
March 20-21st
Purchase by 2/28/15 for early bird discount ($25/member, $30/non)
Otherwise $30/member and $35/non. We have plenty of tickets at Potted for no additional surcharge or you can order them online from Theodore Payne Here for a nominal fee.
Lux/Eros, the brainchild of artist and designer Desanka Fasiska, is a fully immersive experience in California Living, with a focus on creating beautiful spaces. Last month we were honored to be invited to the Lux/Lodge to help create an "experience" for some pretty fantastic fashion and design tastemakers through a co-sponsorship with the style firm, Bollare.
Participants of the afternoon event made a Macrame Hanger taught by Jo Abellera of Kkibo and a Sand Terrarium taught by yours truly!
We were excited to make the connection with Jo. Besides being a fellow Eastsider (she even lives in Atwater Village!), it turns out she's the one who makes this amazing knit vest I've coveted ever since a customer wore it into the store. And she teaches people how to make Macrame Hangers. Plus she's super nice. It was love at first meeting.
While Jo was inside teaching macrame, I was outside teaching people how to make terrariums. It was a gorgeous January day in Los Angeles and we were all feeling guilty that everyone else in the country was freezing (not really).
Normally we make our Sand Terrariums as dioramas like the one I brought to show everyone above, but since these hangers were meant to hang higher, I modified our normal Sand Terrarium Technique to make it more of a Sand Planter.  The difference is the planter has more plants and dirt and fills the pot up.
Of course there were also yummy treats. I didn't know about Donut Snob before. Located in Echo Park (go Eastside!), they deliver the most amazing doughnuts I've ever had. You may regret knowing about this if you didn't already.
People dove right in and started getting their hands dirty on the succulents we brought.  I loved seeing all those beautifully manicured hands with dirt under their nails.
Meanwhile Jo had part of the group getting started on their hangers. Macrame is not a quick process so people took breaks to come out and make their planters.
But everyone had fun. That is Jo on the right of Alle Fister who looks like she was having a blast as she began her hanger.
And of course everyone was Instagramming like crazy. I love this brave new world.
In fact the day was so successful and we had so much fun that we decided we had to do it again. So, on Saturday March 14, 2015 we have invited Jo to Potted to teach her macrame technique to our wonderful customers.
Since it does take so long to make the hangers, we are not doing the terrarium part but we are including a 20% off coupon with your class so that you can come in either earlier that day or the next day and get whatever you want to make your planter…doesn't have to be a terrarium. Could be a gorgeous planter. Or you could buy furniture. The 20% off applies to anything you want for the 14th & 15th…consider it your own private sale.
Macrame Hanger Class at Potted – March 14, 2015 – Sign up HERE
Sand Terrarium Class at Potted (in case you just want to try that) – February 28, 2015 – Sign up HERE
Sand Terrarium Instructions (in case you aren't local and want to give it a try) – Find them HERE
We also sell a Sand Terrarium Kit – Find that HERE
In the October 2014 issue of Sunset Magazine, they showed their 5 different "Small Space, Big Dreams" gardens.  We were lucky enough to contribute a few of our Potted staples, the Acapulco Chair and the Midge Table, for the Desert Modern garden designed by Sunset editors, Johanna Silver and Lauren Hoang.  Here are the photos in case you missed the issue.
All photo credits Thomas J. Story.
The Palm Springs influenced garden was done to minimize water use.
The other side of the blue wall hosts a Heath Ceramic outdoor shower.
The hanging chair in the background is from Anthropologie.
But of course we're partial to our Midge.  Love the splash of blue in all that white…like a pool of water.
Drum roll, please…it's finished! The "gettin' ready" part of our Anniversary Season is over (okay, maybe we haven't quite finished the tile backsplash over the sink but we will, we promise.)  Mary did such an amazing job designing and managing this installation.  After 10 years, she was right; it was time.  Doesn't it look pretty?
(note: all Photos by Bethany Nauert)
We started with opening up the wall between the front of the old store and the back storage/work area.  It almost doubled the size of the store.
This is what the wall looked like before we took it down.
And here's what it looks like now!
Here's the reverse angle.  It's so bright now.
The pass we created is a great place to feature new hanging planters and birdhouses.
The raised platform is a perfect place to showcase new products.  Here we have a Fermob Sixties Set.
In fact a lot of the reason for doing the remodel was so we could finally become a Principal Partner with Fermob.  We so love this furniture line and now we finally have more room to show more product.
Another view on the platform of two City Planters.  This was a fun planting using woodland twigs and air plants.  Super easy.
We have a fancy new sign over the cash wrap (which has moved.)
The new grey wood walls are just beautiful to show off all our lovely designer planters.  Those Tentacle Planters are pretty crazy, aren't they?
Having more space gives us room to showcase all sorts of new items.
In all the styles we love to show.  So excited the Skull Planters are now available in this gorgeous bronze.  And the Vintage Baby Bodies…not too many left!
We still have a wonderful selection of succulents and other drought tolerant, container-friendly plants.
Vintage trucks we often use for plantings featuring our ever growing selection of jewelry.
Butterfly Chairs in the new clothing and personal accessories area.
The only thing I added to the whole project was this Woolly Pocket installation.  I've been wanting to do one of these inside for a long time.  I love the light the new skylight adds to the room.
And here we are getting our pictures taken for the LA Times article that should be out this Saturday.  This was the coolest.  Our 15 minutes of fame.
So please come see the store for yourself.  We have lots of new things coming in for the holidays and we are excited and honored to be able to share them with you, our wonderful customers.
It's so nice to see something that is truly original.  When designer Cora Neil approached us with her new planter concept, we were blown away.  It had everything we love…hanging planters, wall planters and TONS OF COLOR!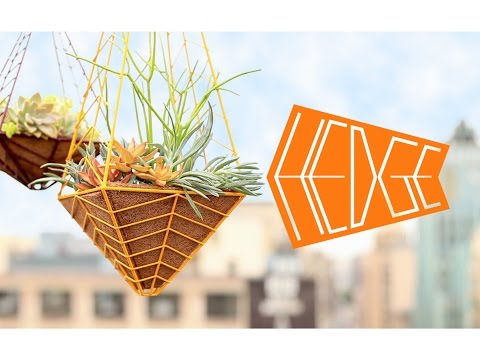 Started as a project at Art Center College of Design, Cora always wanted to create a garden in any space.  And so began the Hedge Outdoor project and subsequent Kickstarter campaign.
Hedge planters are  shaped, welded, grinded, and powder-coated in the US (all in the Los Angeles-area, to be precise) by skilled craftspeople with decades of experience under their belts.
Cora's designs spoke to so many people that she actually raised five times more money than she had projected on Kickstarter.  Way to go.
And it's no wonder with her attention to detail. Each piece has all the necessary hardware provided…and it matches!
The three colors she has chosen, Fig, Marigold and Tangelo work beautifully in unison.
And her sizing and graphics are compelling and wonderfully complimentary.
We are lucky at Potted to be the first retail store to carry these amazing planters.  We know that won't last long so we're going to enjoy it while it lasts.  Come on in to see them for yourself and if you can't, you can also shop online here.  But hurry, we're almost out.
(note: all photos shamelessly stolen from Hedge Outdoor's Website)