---
Annette walks you through how to plant a lovely succulent arrangement in a practical, straight-forward manner. She talks everything from choosing pots appropriate to plant size to aesthetic considerations based on plant variety.
This video covers simple techniques for the beginning green thumb and may remind you of some specific succulent considerations for containers if you are a more experienced gardener.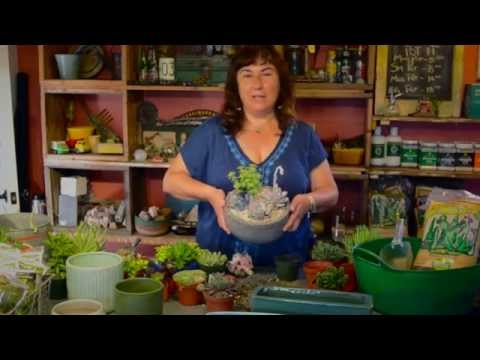 As some of you may know, I come from the world of movies. I was a screenwriter and my whole world was film. Never in a million years would I have imagined that one day instead of geeking out on every movie I could get my hands on I would instead be geeking out on every plant I could get my hands on. So imagine my great delight when artist John Bell contacted me with his absolutely stunning new series of plant drawings he has dubbed "Cactus Abstractus."
Hmm, but what's the connection you ask?  Well John's background is actually the movie world.  After graduating from Art Center in Transportation Design in the "olden days" (my daughter's term, not mine), he quickly caught the film bug and moved to Northern California to join George Lucas' team at Industrial Light & Magic.  There he worked as an Illustrator and Visual Effects Art Director on films such as Star Trek IV, Innerspace, Tucker, The Rocketeer and Back to the Future II & III. Later he worked for Spielberg on Jurassic Park. You get the picture…he worked on a lot of cool movies.
This is a drawing from Rango. His unique and wacky style helped to create many set designs throughout the years.
Here is another set design drawing.  I can't help but think of Ren & Stimpy.
In some personal work he shows a comic book quality that is really amazing.
And this series of hot girls and insane cars is definitely a nod to his origins at General Motors where he once worked in their Advanced Concepts Studios in Detroit.
I really love the almost Soviet-era style he shows here in some of his personal charcoal drawings.
And this charcoal drawing is just…too cool.  So it's only natural that from this man's mind would come "Cactus Abstractus" (I don't know why I want to add "the musical" after that but I just do).
This is one of the prints we didn't actually get because we chose to pick the vertical pieces but I just love it. Not being a big fan of botanicals (or at least traditional ones), I would hang this anywhere.
Here are a couple of prints that we did purchase and I think the aeonium is my absolute favorite.  To see and purchase the entire collection we got, click here.  Each original image is centered on a sheet of 13″ x 19″ 100 lb stock acid-free paper and is signed.
Here's John and here's…
…his alter ego. Okay, I'm just making that up but sometimes I wonder about the minds of artists. John's is an amazing one. So glad he chose to turn it to the world of cactus and succulents.
This year Dwell On Design is offering $5 off if you register through us. Use code SAVE5 when you register here. Hope to see you there…
Normally I stick with doing garden design.  Having Potted with Mary for these almost 10 years has afforded me a lot of opportunities to learn and develop that skill and I really love it.  But design is design and turning our garage into a pool house let me get to do all sorts of fun things, even interior design.  Here's the story… (Note: All photos except a couple are by Bethany Nauert)
Here's the old view from my upstairs porch down to the garage.  I have a very old house (by California standards anyway) and these old houses usually had their garages in the back.  But all the backyard real estate it takes up really was a bummer so…
'
…we decided to change it into a pool house.  Much nicer view, don't you think?
Here's the view coming down the driveway toward the newly done garage.  We wanted the entry to be on the driveway so there was privacy for both abodes.  We created the driveway by sawing it up and filling the gaps with large river rocks and dymondia.  That's a small White City Planter announcing the entrance.
Here's a little patio vignette showing a Fermob Bistro set with Chili chairs and a Willow Green table and our very own Orange Circle Pot.
This is the front door.  Instead of framing in the old garage entry, we decided to create a window grid for interest and keep the old header.  It's my feeble nod to Mondrian sans the primary colors.
The view from the front door looking toward the amazing Palm Trees that line our street.  That's Callistemon 'pink fairy' in the foreground underplanted with Chalk Fingers and Cosmos.
And another view of the bistro set.
On the other side of the little patio we put these fantastic Loll Lollygagger Chairs and one of our own white Midge Tables.
A Susan Wong bowl with an echeveria on the Midge Table.
A Bauer Bullet Planter that has just been re-issed by Bauer Pottery.
Coming through the front door, we created a studio loft with the kitchen on the left, the living room on the right and the "bedroom" in the back.  Since there wasn't room for a proper table, we created this peninsula as the center of the whole space which totals approximately 400 square feet.  That's a Ric Heitzman signed print on the wall straight ahead.
The kitchen is a mix of Ikea cabinets, both high gloss white and brown/black.  I chose the brown/black cabinets for the peninsula so that the space segued into the living area and made it feel less kitcheny.
Here is the living room.   You'll notice the ceiling is what appears to be the original garage roof but actually it's another layer that we created with a blow torch and a wire brush.  High-density foam was put up into the old roof and then the new roof was nailed on top.  If we hadn't come up with the solution for insulation, we would have had to lower the ceiling and that would have been a crime.  The floor is real sheet Linoleum in a flecked grey.  The "picture rail" is painted in Behr 'underwater'.
Here is my favorite thing in the kitchen.  I used old field tile in a similar Mondrian type pattern and made my own design.  I really like how it turned out.  Such a low-cost solution for something that gave a big impact (I think, anyway).  I used steel chain from Home Depot for the pot rack with hooks.  Works great.
The tile I used on the back splash was what was left over from the main house's remodel (the tile is actually crackled and really cool).   The wood shelving is from old barn siding purchased from E & K Vintage Wood in West LA.  I may have to seal it at some point as it likes to splinter.  But it's soooooooo pretty.
We even managed to squeeze in a laundry room.  The door were actually the old doors that opened to the pool and I used frosting spray normally used for Christmas decorating to block the glass.  The orange glow is a Tub Trug used as a laundry basket sitting inside.
A Baby Head Planter looks pretty cool with an air plant on it (but doesn't everything?)
And these great little water globes have really come in handy for keeping houseplants watered where I don't see them all the time.  Reindeer Moss makes a great filler too so you don't see the nursery pot.
Here's one of the Vintage Baby Dolls we were lucky enough to score next to a Nantucket and Little Shirley Vase above the sink.  The sempervivums in the Nantucket really like that crowded space.
The top of the peninsula.  Butcher block was a good, inexpensive choice.  That's a Titia Estes low bowl in the foreground and a vintage Bauer pot on the left.
Here's another air plant on the kitchen shelf.  Isn't the grain of the wood gorgeous?
This was a bronze Owl Hook that we also sell along with a Skinny LaMinx tea towel.  We have got to get more of these.
Tillandsias on the window ledge.  The little three-footed pot is also by Titia Estes.
Here is looking back to the sleeping area.  We modified an Ikea stand with rollers so that the television could be watched in the living area or pulled out and turned around to watch in bed.
The bookshelf behind the bed is very useful.  You may also find it amusing that all the furniture to the left is totally outdoor furniture but just goes to show you, "Indoor Style for Outdoor Living" (our motto) works both ways.
Another Little Shirley Vase next to some Ronni Kappos Jewelry.
View out the back window.  A bromeliad in vintage Bauer.  That's a Wally Three by Woolly Pockets disguising the ugly back fence in the background.  I filled it with Boston Ferns, bromeliads and String of Pearls succulents.  It made the view out the back so much nicer.  I love Woolly Pockets.
I used this fiberglass Spindle Table  for a bedside table with a Judy Jackson Planter to the left with a Sanseveria (a good plant choice for some where you can't be consistent with water and lower light.)
This Luxembourg side chair by Fermob worked great as a dressing chair.
Here's the hall that leads out to the pool and hot tub.  The bathroom is on the left and the right side has a really great wardrobe from Ikea with frosted doors (sorta like the laundry room).  We used an up/down accordion shade so you could let light in but still maintain privacy.
Here's the view with the door open.  The rug is also an outdoor rug from Apricot Home.  We have lots of different colors in the store.  Hopefully they will be making them in bigger sizes soon too.
Here's the wall to the left of the bathroom door that I used Trooks on for hanging clothes or towels or whatever.  They have proven very useful.
And last but not least, the bathroom.  The little wooden shelf is made from the same barn wood.  The tile back splash is plain glass tile that we edged with black ceramic slivers we cut from 3′x6′ subway tiles.
The space is small but works pretty well.   We opted for a shower instead of a tub and got a little space at the end to add shelves for a mini linen closet.  The shelves are made from old stairs saved from the original restoration of the main house.
Here's a close up of the wooden shelf/box.  I love to have little areas to create still lifes.  Those black and white postcards are from a collection I started in college because I didn't have enough money to buy real art.  Put 20 of them on a wall and they really make a statement…and cost about $20.
And finally in the shower inset I repeated the tile I had created in the kitchen…just for fun.  The rest of the tile was the least expensive white subway tile but then 2/3rds of the way up, I switched to the same plain glass tile of the backsplash separated by black liner.  It looks a lot more expensive than it was.
Hope you enjoyed this little tour.  Now I'm itching to do another one!
I have never been on the Venice Garden Tour before.  It always seems to happen on a day when I'm working (ah the life of retail).  But this year it worked out and boy was I excited.  My husband didn't quite share my enthusiasm but I drug him along anyway with the promise of good Truck food and a pleasant day near the ocean.  Neither of us were disappointed.
After picking up our map and guidebook at the Neighborhood Youth Association campus (they are the beneficiaries of the tour and why it started) we headed to some of the walk streets not too far way.  And since we were walking we got to see some amazing places along the way like this beautiful parkway planted with my favorite Mexican Feather Grass.
Walk streets are interesting.  Instead of having the houses open to the street, all the houses open to these little public walkways.  In fact, and I shouldn't say this, you really don't have to go on any tour to have an amazing voyeuristic experience in Venice.  I think most of my photos aren't even of houses on the tour.
The first house we saw had this really cool little patio.  So easy but really packs a punch.  With a different chair it would be amazing.
This house wasn't on the tour but all I had to do was just look into the yard.  Most of the houses had their seating areas in this front area on the walk streets so that there was no way to avoid interacting with your neighbors and passersby.  I really liked that.
This was probably my favorite garden and again, it wasn't on the tour.  The front walkway crossed over this beautiful pond.  The yard was definitely low-water but still felt lush.
I really liked these orange powder coated house numbers.  Just the perfect zing against this very dark green house.
And here again are orange house numbers (though this one wasn't on the walk street).  Love the ipe fence and gate.
This house, actually two houses, was on the tour and definitely a show stopper.  They had a great edible garden in raised beds.
Here's another shot of the raised bed garden.
And here was their fire pit area on the side of the main house.  Gotta love the butterfly chairs. 
Many houses had beautiful front gates with really interesting hardware like this one.
And here's another even more amazing gate.
I gotta say people in Venice really know how to rip out a lawn and use their gravel.
This house was gravel everywhere (which was a little too deep in some places…hard to walk in), but I loved this more rustic take on a concrete fire pit.  And while I enjoyed how the white slip covered outdoor furniture looked, I don't know about the reality.  But it sure looked pretty.
This was a nice detail in the front entry too.
And people were so creative on their use of space (and look, more gravel).  This table was made of plywood and it looked great.  Notice the Fermob Bistro Set in the distance?
Behind the previous house was this other amazing house that you came into over this pond/fountain.  I wish I had a better photo but there were so many people it was really hard to shoot.  This house was worth the tour for sure.
Here's a view of the entry from the upstairs (and look, even more gravel).
On the upper deck there was this very cool zen patio looking out from the owner's work space (though I could have done with one potted plant…just one).
And out the back by the parking there was a great outdoor shower where the owner showered when he came back from surfing.
I would kill kittens (not really) to get one of these gnome stools we saw in another yard.  How cool is that?
And I really enjoyed getting all this great fencing inspiration.
Not to mention walkway inspiration.
One property had created an amazing stacked stone shrine in-between the two houses on the lot (a lot of places in Venice are two houses on a lot…they are narrow but quite long).
And a few of the places had views that were pretty unbelievable.  This one was right on Venice Beach.  Maybe not my style, but I just loved that view.
Although it had this really groovy yurt on the other side.  I'd love to have one of those.
A lot of the houses by the beach were old Craftsman kit houses (though I'm not sure if this one was…just loved the pergola).
And it was really neat to get to go inside some of them.  This one was from 1907 and was virtually untouched.  It even had an alarm system still on the wall from a company that went out of business in 1880.   That was something I wasn't expecting, getting to see inside so many of the homes. (though this is the only interior photo I took…go figure).
So at the end of the day we had walked probably 4 miles and saw 24 gardens before pooping out.  There were vans provided along the way but we opted to walk the whole thing and it was totally doable (though we were pretty darn tired at the end).  So definitely go next year, but if you can't wait, just start strolling around on the various streets (or better yet, the canals!) and you will have a design adventure of your very own.