Wage-and-hour reforms are all the rage. Yet, with reform comes a potential unforeseen price—businesses that simply cannot afford to stay in business.
From Re/Code:
Cleaning services company Homejoy is shutting down on July 31 after struggling to raise a big enough round of funding. The company had already been facing growth and revenue challenges, but CEO Adora Cheung said the "deciding factor" was the four lawsuits it was fighting over whether its workers should be classified as employees or contractors. None of them were class actions yet, but they made fundraising that much harder.
Re-classifying workers as employees instead of independent contractors, raising the salary threshold so that fewer employees qualify as exempt from overtime, and increasing the minimum wage are all popular causes for employee groups to rally behind. Yet, if these reforms leave employees without jobs, was the cause worth fighting? I bet if you ask Homejoy's soon-to-be-ex-cleaners, each would tell you they'd prefer to be paid as a independent contractor than not paid at all.
Yesterday, the Americans with Disabilities Act turned 25 years old. We've come a long way in the past 25 years, from a statute intended to open employment access to those with disabilities, to decades of judicial decisions that effectively closed that access, to a revised statute that has swung the pendulum so far the other way that it is now hard to envision a medical condition not covered.
The ADA's workplace focus now squarely rests on the issue of accommodation. For this reason, the law's next 25 years will be greatly impacted by technology. As technology makes our lives easier, it makes employers' jobs in accommodating disabilities more complex. And, as technologies change over time, these issues will only become more complex. Biotechnology, for example, iillustration of this tension.
So, happy birthday, ADA.
I thought I'd try something different today by bringing you a musician I've recently discovered—Courtney Barnett.
She's a guitar playing, Australian, singer-songwriter, whose songs mix crunchy, grungy guitar riffs with catchy lyrical turns of phrases about otherwise mundane topics of everyday life such as house hunting (DePreston) and organic foods (Dead Fox). Oh, and she absolutely rocks. Need proof? Here she is performing "Dead Fox" in Minneapolis / St. Paul last month.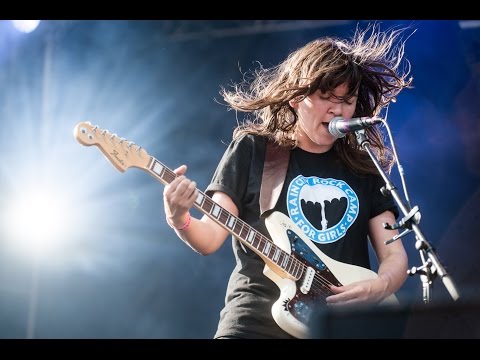 And, here's her full set from this year's Bonnaroo, which I am told by those who saw it live that it stole the entire festival.
The death of rock music is great exaggerated; you just need to look a little harder for it these days.
Here's the rest of what I read this week:
Discrimination
Social Media & Workplace Technology
HR & Employee Relations
Wage & Hour
Labor Relations
Consider the following, taken from
Briggs v. University of Detroit-Mercy (E.D. Mich. 5/27/14)
, and then let's talk.
Plaintiff Carlos Briggs, former assistant coach of the University of Detroit Mercy (UDM) men's basketball team, complains that his former boss's boss, UDM's athletic director (Defendant Keri Gaither), accompanied the team on road trips to engage in a sexual relationship with one of Plaintiff's fellow assistant coaches, and that consequently, Gaither granted preferential treatment to her paramour to Plaintiff's detriment. She later admitted the relationship with the other assistant coach, and both were fired. Plaintiff alleges that the relationship created an openly sexually-charged atmosphere … thus creating a distasteful work environment.
Plaintiff['s] complaint suggests that his repeated exposure to such salacious and offensive conduct just must give rise to some type of Title VII discrimination charge—Plaintiff argues what amounts to "where there's smoke there's fire." That argument turns out to be a fallacious one, however: affirming the consequent. Fire can indeed cause smoke, but sometimes there is nothing more than smoke, or it is from a different source. Here, the relationship between Gaither and Plaintiff's co-assistant coach, Derek Thomas, may well have given rise to an unprofessional and unpleasant environment, but it does not give rise to a recognized cause of action.
I've been trying to think of the right way to approach the Bill Cosby case from a workplace perspective. To date, 47 women have accused Cosby of drugging and raping them. Cosby has largely remained silent on the issue, even in the wake of the recent publication of a decade-old deposition in which he admitted that he obtained drugs with the intent of giving them to women with whom he wanted to have sex.
The allegations against Cosby are too old for Cosby to face any civil or criminal liability. But, in the court of public opinion, he is guilty. There is simply too much smoke surrounding this fire for any rational person to reach any other conclusion.
What should you do in your workplace upon the receipt of a harassment complaint? Should you:
Take solace in the Briggs decision and fall back on a smoke-and-fire defense?
Presume that smoke alwasys equals fire and act according? Or,
Adopt a middle ground investigate-then-act approach?
If you chose number 3, you chose wisely. Here is what you should do.
Be prompt. Upon receipt of a complaint of harassment, a business must act as quickly as reasonably possible under the circumstances to investigate, and if necessary, correct the conduct and stop from happening again.
Be thorough. Investigations must be as comprehensive as possible given the severity of the allegations. Not every complaint of offensive workplace conduct will require a grand inquisition. The more egregious allegations, however, the more comprehensive of an investigation is called for.
Consider preliminary remedial steps. While an investigation is pending, it is best to segregate the accused(s) and the complainant(s) to guard against further harassment or worse, retaliation. Unpaid suspensions can always retroactively be paid, for example, and companies are in much worse positions if they are too lax instead of too cautious.
Communicate. The complaining employee(s) and the accused employee(s) should be made aware of the investigation process—who will be interviewed, what documents will be reviewed, how long it will take, the importance of confidentiality and discretion, and how the results will be communicated.
Follow through. There is nothing illegal about trying remedial measures less severe than termination in all but the most egregious cases. A valued employee may be no less valued after asking a co-worker about her underwear, for example. If the conduct continues, however, the discipline must get progressively more harsh. If you tell an employee that termination is the next step, you must be prepared to follow-through.
I'd like to think that after 8-plus years of blogging, I've banked some capital as one who offers a common-sense approach to the often crazy world of labor and employment law. It's refreshing to read a judicial opinion that toes the same line.
Southern New England Telephone Co. v. NLRB (D.C. Cir. 7/10/15)
is an appeal of an NLRB decision that held that an employer unlawfully disciplined employees for wearing union-created t-shirts that read"Inmate #" and "Prisoner of AT$T". The court concluded that the employer's interest in protecting its public image and managing customer relations trumped any arguable section 7 rights enjoyed by the employees in the shirts.
Common sense sometimes matters in resolving legal disputes. This case is a good example. AT&T Connecticut banned employees who interact with customers or work in public — including employees who enter customers' homes — from wearing union shirts that said "Inmate" on the front and "Prisoner of AT$T" on the back. Seems reasonable. No company, at least one that is interested in keeping its customers, presumably wants its employees walking into people's homes wearing shirts that say "Inmate" and "Prisoner." But the NLRB ruled in a 2-1 decision that AT&T committed an unfair labor practice by barring its employees from wearing those shirts. Section 7 of the National Labor Relations Act protects the right of employees to wear union apparel at work. But under this Court's precedent and Board decisions, there is a "special circumstances" exception to that general rule: A company may lawfully prohibit its employees from displaying messages on the job that the company reasonably believes may harm its relationship with its customers or its public image. Put simply, it was reasonable for AT&T to believe that the "Inmate/Prisoner" shirts may harm AT&T's relationship with its customers or its public image. Therefore, AT&T lawfully prohibited its employees here from wearing the shirt.
Bravo D.C. Circuit. Here's to more "common sense" approaches to labor and employment disputes.