SMAC! monkeys are true "creature comforts" for those with/impacted by cancer…reminding them no one fights it alone. Phoenix has a big  job to do, as lung cancer is the leading cause of cancer deaths and the least funded. In fact, about 60% of all new lung cancer diagnoses are among people who have never smoked or are former smokers. ANYONE can get lung cancer.
At the end of November, the names of all who requested a Phoenix will be randomly drawn. Then we will match the Angels with those selected and hopefully fulfill all 69 requests. We can do it! Not only will Angels bring much love and comfort to those in the midst of their journeys, but also contribute to lung cancer research.
How do you get on the lists? Easy. Simply let us know in the comments below this blog post, or on the SMAC! Facebook page. Tell us a little bit about yourself  and why you would like a Phoenix or to be a SMAC! Angel…or both!
Little Phoenix is holding a global SMAC!-down on lung cancer. Let's continue the movement and give a SMAC!
My Mom, Leslie Lehrman, passed away on December 5th, 2012, after a six year valiant battle with lung cancer.
As I mention in my eulogy below, Mom and I became partners in lung cancer crime three years ago – making a pact to publicly chronicle her journey with lung cancer through a social media campaign to increase awareness and create change for this disease. To put a face behind lung cancer – the REAL face behind lung cancer.
We vowed to show and tell the good, the bad, the ugly and the worse than ugly throughout her journey….and to ask the tough questions. What about lung cancer could possibly be sugar-coated? Nothing…and we made sure it wasn't.
We live-streamed Mom's "Celebration of Life" service (video above) so that family, friends and countless members of the online lung cancer community who couldn't make the service in person could take part in this part of Mom's journey, too, and thank them…again. Most would assume this is the end of Mom's story.  Quite the opposite.  Her voice will continue to be heard, just in a different way.
Mom's "Celebration of Life" service was held December 11, 2012 at Palo Cristi Presbyterian Church in Paradise Valley, AZ. What made her service that much more special is the fact that she planned it. She picked out her favorite songs. She picked out the scriptures and hymns that held special meaning to her.
Planning your own memorial service isn't the easiest thing, obviously, but Mom and I considered it a true blessing and documented our journey in the hopes it would help others talk more openly about death and the importance of making final arrangements in order to carry out the dying's wishes. We were able to do just that for Mom.
You can view incredible photos of Mom that accompany her favorite songs here:  Somewhere Over the Rainbow by Israel "IZ" Kamakawiwo`ole's, Taken Care Of  by Winfield's Locket, Empty Garden by Elton John and Amazing Grace by Nana Mouskouri.
Saying goodbye to my Mom is the hardest thing I've ever had to do. However, I am so comforted to know she is no longer in pain and that her legacy will live on thank to her courage, bravery and willingness to so openly share her story to create true change for lung cancer.
My Eulogy to Mom:
Heavenly Hair.
A Voice.
A Difference.
Oh, Mom. Where do I even start?
Easy. OK, PLEASE tell me your hair is finally perfect now. Please tell me the cut is just right. That the right side isn't doing that "flippy" thingy you hate so much. Wait, you can't "hate" in heaven, can you? That it stays in place. That it wasn't too much work. That you really like the color. Oh, are you still thinking of going back to blond? I have got. to. know.
Seriously, my Mom was obsessed with her hair. It was really the only thing she truly complained about. Cancer schmancer. Mom's hair ruled the day.
It was pretty much guaranteed, she'd say, "Oh, I just can't do anything with this hair. It's just disgusting," at least once a day.
Well, one day, when Mom was back in Omaha, we got together with one of her old Fairbury high school classmates, Christine. She hadn't seen Christine in years. We went to lunch. Somehow Mom's hair issue came up. You know what? Christine told me Mom used to complain about her hair clear back in grade school. Are you kidding me??
Well, thanks to Mom, I, too, have a slight hair obsession, however I tend to focus more on the gray hair I started to get in my 20s. I guess she and grandma felt compelled to pass that awesomeness down, as well as the biggest sweet tooth on the planet.
Mom loved all things candy and dessert. If there was a plate of goodies, without fail, Mom would say, "Oh, I really shouldn't be doing this, but I'm going to anyway." I would roll my eyes at her and say, "Just eat them Mom." Now I do and SAY the exact same thing. I am so my Mom…a wonderful thing.
Recently I reminded Mom of the "baking chocolate" incident. Mom used to bake a lot when we were little. I distinctly remember being in the kitchen with her, where I spotted a box of baking chocolate in the cupboard. I wanted it. Badly. I asked her if I could have some and Mom said, "No, you won't like it. It doesn't taste like regular chocolate. It's bitter." Well, I didn't know what all that meant and I didn't care, so I continued to beg and beg and beg. She repeatedly said, "No."
So, when Mom finally left the kitchen, I grabbed that box, broke off a chunk and shoved it in my mouth. She was right. It was awful and I spit it out. Bitter, not sweet – for sure. Lesson re-learned here: Listen to Mom. She knows her stuff. And, please know Mom…I will still be listening.
Another guarantee in the bright red Stauss kitchen: Mom talking on the phone FOREVER –  pacing back and forth from the kitchen to the "ugly room" (as I called it), stretching the white cord to its capacity. Back and forth. Back and forth. Back and forth. She loved chatting with friends and family. I should have realized Mom had a voice and knew how to use it clear back then!
You know, while it was fun to joke about Mom's "hair obsession," when cancer joined the picture and it came time for chemo, I was very worried. I had no idea how she would react to losing her hair.
Given all previous hair experience, I assumed it would be a huge ordeal. Not. at. all. Once it started to fall out, Mom simply called her hairdresser and said, "Let's shave it off." And that was that.
There is no more perfect time to share with you my absolute favorite quote, written by my friend, and cancer survivor, Bob LeDrew.
"I have a new favorite cookie. It's the Leslie. It's the toughest one I've ever seen." – Bob LeDrew
Seriously, isn't that the truth? My Mom simply never. gave. up. Ever. I mean ever.
Really, when I look back at all the curve-balls life threw her way – and there were some crazy ones – strength and perseverance always prevailed. She made certain of it. My Mom was more than tough. Tough Googleplex infinity.
This was so evident to all of us over the past six years as we watched her stand up to lung cancer time and time again. She fought tooth and nail…and then some…literally every single hour of every single day of every one of those years. And, she fought not only for herself, but on behalf of so many others.
I would be remiss if I didn't talk about my Mom using her voice to make a difference – chatting with friends and strangers alike to create change. And she did…and she will continue to.
Mom unwillingly entered a "hush-hush" world where virtually no one talks about lung cancer, especially those who have the disease, for fear they will be told they brought it upon themselves.
Here's the deal. The real deal:
My Mom never smoked.
You don't have to smoke to get lung cancer. ANYONE can get lung cancer. My Mom is ANYONE.
Most people don't know that nearly 80% of people diagnosed with lung cancer today have either never smoked or quit decades ago.
OK, now add these factors. Lung cancer is the #1 cancer killer of both men and women and the LEAST funded cancer by a LONG shot.
Just one more stat, I promise. The 5-year survival rate for lung cancer is just 15%. Just 15%. And, this has remained virtually unchanged for more than 40 years. Literally ignored for more than 40 years.
So, here's my beautiful Mom. She gets lung cancer. She doesn't know why. It's evident few in the medical and cancer communities seem to care to find out. Politics & money. 'Nuff said. Mom has very few treatment options. The only reason her lung cancer was detected was due to a completely unrelated scan. There's no early detection screening standard for lung cancer. She's suffering not just physically and emotionally from this disease, but also from the societal stigma – a deeply entrenched stigma, but also deeply outdated.
So….now what?
As a former reporter and public relations professional, I felt compelled to tell the true story about this disease. Mom agreed. She was living it.
So, Mom and I became partners in lung cancer crime three years ago – making a pact to publicly chronicle her journey with lung cancer through a social media campaign to increase awareness and create change for this disease. To put a face behind lung cancer – the REAL face behind lung cancer.
We vowed to show and tell the good, the bad, the ugly and the worse than ugly throughout her journey….and to ask the tough questions. Has it been easy? No. Absolutely not.
But, what about change is easy? Nothing.
What about lung cancer could possibly be sugar-coated? Nothing…and we made sure it wasn't.
As all of us can completely understand –  through the campaign, the online community fell in love with Mom. And Mom and I fell in love with the thousands of lung cancer survivors, caregivers, family members, friends and others who came together to help one another – who came to connect with others just like themselves – who came together with one collective voice to ask, "Where IS the Funding for Lung Cancer?"
The true beauty of all of this – a community came together for the same cause – for the same mission. A group of people who, in the beginning, some wouldn't have dreamed of becoming lung cancer advocates. It was too risky. Why set yourself up to be blamed for your own disease?
So many people have told me and Mom that her bravery and courage in so openly sharing her story has helped change that. That her journey has helped empower them to want to share their stories, to want to chip away at that stigma, to not stand for the status quo, to demand change and take action to get it. That her journey has sparked others in general to talk to their own families about death, making final arrangements and understanding the importance of addressing these uncomfortable issues. I had the honor….the privilege of telling Mom's story. What a blessing for her willingness to share.
We created a movement….all of us….together. We created a family. Because of that, we have put a dent in that stigma. We have increased awareness that lung cancer is an equal opp disease. We have increased funding for lung cancer research. We have also made it very clear…that lung cancer can no longer be ignored.
Today is a very sad reminder of that.
But, we soldier on. We have to. And, Mom's voice will continue to heard, her story continue to be told…just in a different way.
Incredibly, the day before Thanksgiving, my Mom's legacy came to life, literally as she was losing hers.
These little guys, who Mom called "her boys, became a reality. This is NoMo and this is Phoenix and they are SMAC! monkeys. SMAC! stands for "Sock Monkeys Against Cancer," and Mom is the inspiration behind their creation.
The funding necessary to bring these little guys to life, was raised through a crowdfunding campaign. Which means that everyday people, again…a community, came together to make this happen.
This also means that those with cancer can have a little monkey buddy by their side, to provide tangible love and comfort throughout their journeys.
For a year and ½, I worked as quickly as I could to get the SMAC! monkeys made and launch the crowdfunding campaign so that Mom could be part of it. She would say repeatedly," Oh Jen, I so hope this all works out." I always told her, "Don't worry Mom, it will. I will make sure it does."
I finally made myself pick a launch date for the month-long crowdfunding campaign, November 1st. Obviously, Mom's health was in decline throughout this process, but it took a big turn just as November 1st approached.
I grappled with whether or not to launch the campaign…but not for long. My heart said, "Yes, go forward." And, I am so glad I did.
Several of us were fortunate to spend several weeks of November with Mom. It was the most precious time. Even though she had trouble communicating, we could usually figure out what she was trying to say. She was able to talk about how she was feeling and we were able to tell her it was OK to let go. We laughed. We cried. It was an amazingly meaningful time…a true blessing. A gift.
Through it all, every so often, Mom would say "numbers." She wanted to know how the campaign was going – how many dollars had been pledged. I would give her news of the incredible progress.
One day, we were so very close to hitting the funding goal, I told her, "Mom it's going to happen. You are going to help so many people with cancer. I am so proud of you." She smiled and we gave each other a "high-five."
When Mom was sleeping, I would go to my computer in her kitchen to work on the campaign. I would get an email notification every time someone made a pledge – and hear a "ding" from my phone. I was so overwhelmed with emotion to see the numbers climb on my computer and literally look to my right and see my Mom on the couch preparing for her transition. I can't even explain the range of emotions. I just can't.
On Thanksgiving Day, I was able to say goodbye to Mom one last time. She really couldn't talk and was less coherent, but through her eyes, nods, hands and smiles, I could tell she understood. This time, it was definitely goodbye. I felt it. She felt it. There was no mistaking.
I was also sure to tell her the campaign hit its funding goal the night before. I had to repeat it a few times, but once she understood, she smiled.
I consider all that time with my Mom a true blessing. Man, what a blessing. Not everyone is afforded such an opportunity.
As for Mom's SMAC! legacy, the only word I can come up with to explain it all is "serendipity."
Actually, no, there is another word I can add to that – no two words –  "voice" and "community."
Mom's legacy came to life.
Just how awesome is that. There truly aren't  words.
From the bottom of my heart, THANK YOU. Through SMAC!, Mom's legacy will allow her to continue what she so loved to do – GIVE – by helping those with all types of cancer.
At the same time, SMAC! gives all of US an incredible tool to immensely elevate Mom's voice – to continue to bring true change this disease.
Keep on talking Mom…and pacing back and forth the floors of heaven. We hear you.
And we love you more than you could possibly know.
"High five," tough cookie.
I knew this time would come. I'm still not ready for it. I can't fathom the thought of losing my Mom. But, this hell she is enduring can't end soon enough.
For seven years, my Mom, Leslie Lehrman, has battled lung cancer. She is losing her battle as I type this. Nope, she never smoked. This is why Mom and I made a pact to tell her story through a social media campaign from beginning to end…and beyond.
To create awareness and CHANGE.
You don't have to smoke to get lung cancer. It's an equal opp disease. ANYONE can get lung cancer. Many don't realize this, even though this horrific disease is the number one cancer killer of both men and women.
This might make you stop and think: 80% of new lung cancer cases are diagnosed in people who have never smoked or former smokers. No one deserves this disease.  My Mom is ANYONE. As difficult as it is to chronicle her final moments, we both believe it is imperative.
Attention to this disease is long overdue. Lung cancer can no longer be ignored.
The outdated stigma can no longer prevent it from receiving the least research dollars of any cancer.  The 5-year survival rate can no longer remain virtually unchanged for 40+ years.  Not only does it defy logic on all fronts, it's wrong.
Below is a compilation of my recent Facebook posts that chronicle the devastation of this disease in (close to) real-time, my Mom's rapid decline, the heart-ache and denial of losing her and literally staring cancer in the face.
November 6, 2012
We made it to Phoenix!!! My Aunt Kim (Mom's sister) and I (oh and SMAC! monkeys Phoenix & NoMo) got here about 4:30 pm. Mom is happy we are here and we are chatting and watching election results.
She looks great. She is having a CT scan on Friday to see if the cancer has metastasized to her brain, causing her mental confusion and speech issues. Will post more pics soon. Thank you all for your love and support. It followed us all the way here and remains!
November 7, 2012
Mom asked, " Is the reason you are all here because death is soon?" Aunt Kim and I hadn't had the opportunity to have some time alone yet with Mom until the morning. I told her that yes, the dying process has begun. That she no longer has to fight.
She isn't scared. We had a quiet, emotional and amazingly meaningful moment. I will forever cherish this time with my Mom.
November 7, 2012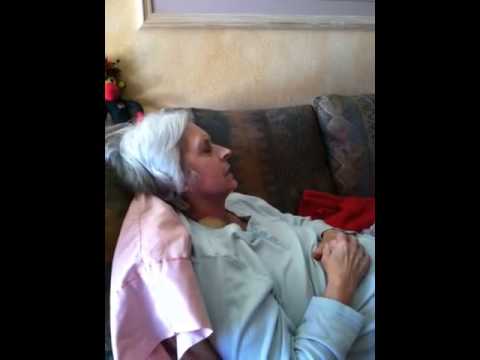 I am not proud of my actions in this video. I'm sure the intensity of it all upset Mom, which is the last thing on the planet I want. I want to make sure her wishes are realized. Everyone does…but not everyone is ready to accept what all is taking place.
Completely understandable. Why share this? Because it's real.
November 8, 2012
Cancer. About to rupture. Makes me absolutely sick. When you can see it on the surface like this, you don't even want to imagine what it's doing on this inside of Mom's body.
November 9, 2012
Mom got a mani-pedi from Aunt Kim and I yesterday. Her nails look unbelievable!!! At this point, we are not really able to understand much of anything Mom says. So hard to see this decline happen so rapidly and in real time.
But, such an honor and blessing to be here. Some absolutely precious moments. Today, many are in town for Bob's birthday. I feel so badly for Bob on so many levels I can't even describe. The good thing, all good family and friends on Bob's side of the family are here and can spend some good time with him…and short visits with Mom.
One thing Mom makes abundantly clear…she wants us right there with her. I need to tell her I will be right back if I need to grab something from a different room.
I won't be anywhere else but here, sweet Mom.
November 9, 2012
Just. Thanks.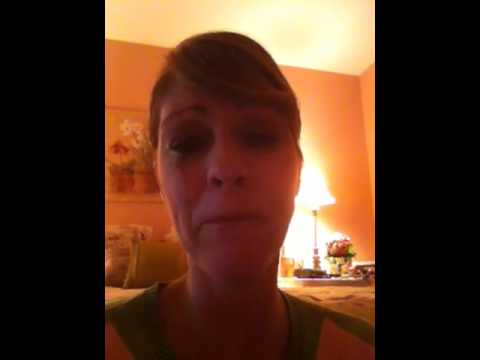 November 10, 2012
Doesn't get any sweeter than this, does it? Yesterday was an incredible day. At times, more than heart-breaking, others peaceful and uplifting. Mom had a lot of visitors, as today is Bob's birthday and many family members were in town. Her speech was actually better.
I'm guessing she was working extra hard to try to communicate in front of others. After the company left, she slept and we had an amazing conversation when she woke up. I will forever cherish that moment.
On a funny note, Mom said a few times that her tummy was hurting. We asked if she wanted TUMS or something for it. I got the TUMS and said, "Mom do you want some TUMS?"
She said, "Oh, do you have a problem?" Aunt Kim and I both said to her (in a funny, joking manner), "No YOU do." She just rolled her eyes and started to laugh, fully aware that she forgot. We all laughed so hard. Not sure what today will bring, but we take it day by day, hour by hour. I continue to tell her all the love you send her way. THANK YOU so much.
November 11, 2012
Yesterday, Mom wanted to check out "FB." She also wanted to post a happy birthday message to hubby, Bob. So, she did. While it broke my heart to see the message was scrambled, I also found it quite lovely – straight from the heart – and in her words as she can say them at this time.
Lots of visitors yesterday. As always, Mom was beyond stoic as they were here, but was wiped out, as you can imagine, when they left. At night, she gets reflective, sad and frustrated. She wonders why and what is happening to her. Someone mentioned Tobe (my brother, her son) coming on Monday. Mom said, "I hope I can wait for him."
——————————————————————————————————————
Before signing off with this post, I have to share with you Mom's dream. My Mom is the inspiration behind the creation of SMAC! Sock Monkeys Against Cancer - a gang of philanthropic monkeys that provides tangible support to those battling all types of cancer – reminding them that no one fights it alone.
I have been working for the last year 1/2 to create the prototypes, figure out manufacturing and all kinds of crazy things to finally launch a crowdfunding campaign to bring the SMAC! monkeys to life for ALL of those with/impacted by cancer.
As my launch date neared, I got news of my Mom's rapidly declining health. I debated whether to continue the campaign. It didn't take me long to come a conclusion: Launch the campaign and make it a reality while she is still with us. She wants others with cancer to find comfort in these little monkeys like she has.  She wants "her boys" to be part of her funeral services. They will be.
When I tell Mom the latest fundraising numbers, she smiles. We are nearing our goal.While Mom sleeps, I hop on the computer and work on the campaign. It is the highest of highs to see such a good thing happening – my Mom's legacy becoming a reality. However, as I type and look to my right, where my Mom is literally dying, it is the lowest of possible lows.
So, I try to focus on making a difference. Cancer is evil. Sock monkeys aren't. Feel the same? Pledge here.
Dying With Mom Part II to come soon.
NoMo is the ringleader of  "SMAC! – Sock Monkeys Against Cancer", a gang of monkeys that provides tangible support to those with cancer, reminding them no one fights it alone.
Right now, NoMo is just a prototype.
But, with YOUR help, NoMo and his SMAC! buddy, Phoenix, can soon be in the hands of those with/impacted by cancer to help them SMAC! it, by pledging your financial support here.
(Check-writer only? See bottom of this post for details).
Funds pledged to my SMAC! campaign on the Start Some Good crowdfunding platform are used to launch my startup – the SMAC! Sock Monkeys Against Cancer product line, which so far includes two SMAC! monkey prototypes:
        NoMo, the ALL cancer fighting monkey
        Phoenix, the "WTF? (Where's the Funding) for Lung Cancer?" fighting monkey
I have one month to raise approximately $35,000 to launch the SMAC! monkey product line (November 1-30). You get some sweet rewards for pledging. Check them out here.
My ultimate goal: Create a custom monkey for each type of cancer.
My ultimate dream: Anyone diagnosed with cancer gets a SMAC! monkey from their hospital.
The Big Why
This whole entrepreneurial endeavor isn't just about some random monkeys and attaching cancer to their name. It's about my Mom… and too many others like her.
The SMAC! monkey line was inspired by my Mom, Leslie Lehrman, who was diagnosed with Stage IV lung cancer six years ago. No, she never smoked. ANYONE can get lung cancer ('nother whole story).
Cancer can be a very lonely existence. Family and friends can't always be there. My Mom lives more than 1,200 miles away, making her appointments, tests, scan results and treatments that much harder for both of us.
This is why I created SMAC! — to give Mom a "buddy" she could hug to remind her that I am with her.
It's hard for me to describe how my boys (NoMo and Phoenix) make me feel. I look into their little eyes and they just make my heart melt. It may sound silly, but when I get up, I say 'good morning' to them too. They just make me happy…even on my darkest days.
                                                                                          -Leslie Lehrman (Mom)
Mom has taken her SMAC! monkeys everywhere – to chemo, doctor appointments and to the couch for some much needed rest (and snuggle time). She says they are now part of the family.
SMAC! Nation
Mom and I want to build "SMAC! Nation," a global movement in the fight against cancer that arms those with/impacted by this dang disease with cancer-crushing companions of the sock monkey kind. 
With YOUR help, SMAC! Nation will be built with great philanthropic purpose, with giving at the heart of it all.
The SMAC! Mission
Tangible Support: Provide constant comfort, sock monkey "mojo" and a cancer-busting buddy to those moving through their cancer journey.
Giving: "One SMAC! = Two" Business Model:  When you buy a SMAC! monkey, one will be given to someone with cancer (model to go into action the minute the company can financially sustain it).
Create Social Change: By giving to those impacted by cancer, you will also be contributing to advances in cancer research and programs (model to go into action the minute the company can financially sustain it).
So, doing good to create good – all bundled together in one package.
Corporate Giving
Following the implementation of One SMAC = Two, my next giving goal is to direct steady SMAC! corporate funds to the following:

National Coalition of Oncology Nurse Navigators – Professional organization that supports oncology nurse navigators assist patients and families to receive essential support services that help ease the burdens during cancer treatment.

Liz's Legacy at the UNMC Eppley Cancer Center – One of 66 National Cancer Institute (NCI)-designated cancer centers in the U.S. Funds will be directed to lung cancer research.
I'm a huge advocate for ensuring people understand where their money is going when they give to any cause.
Conscious Capitalism
Yes, there is such a thing as conscious capitalism and I'm a big believer. "SMAC! Sock Monkeys Against Cancer" will operate under Jennifer Windrum Inc. as a socially conscious for profit company.
A good and successful example of combining a for profit with a social mission is TOMS Shoes. Like TOMS, SMAC! is more than just a product. It's a movement that inspires people to want to help – to want to give – to want to be part of a larger mission to do good.
Please know I will be open, honest and forthcoming about where your SMAC! dollars go throughout the startup process and beyond.
Join the Movement
For kids and adults alike, the SMAC! monkeys are ready to get down the business.
Join the movement! Help bring NoMo and Phoenix to life to help you and/or your loved ones SMAC! cancer.  Pledge here!  
Pledge today!
ps…if you only feel comfortable pledging by writing a check, you can send a check to the following (needs to arrive by November 28th):
Gothenburg State Bank
Leslie Lehrman SMAC! Memorial Fund
P.O. Box 81
Gothenburg, NE 69138
Please add a sticky note: "To be deposited into account # 944041"
Those who write a checks are, unfortunately, not eligible for campaign rewards, but you will still help send SMAC! monkeys to cancer patients at the Nebraska Medical Center.
 pps…Feel free to hang out with the SMAC! monkeys online. They kinda think they are social media super stars.