I was showing homes for sale in Seattle and we went to see a home that was repossessed by the bank, located in a gentrifying neighborhood just South of downtown Seattle. I forgot to take a picture of the exterior, but there was nothing remarkable about it…. but when I went inside, boy was I surprised!
Someone with a fanciful sense of imagination went to town with paint and a brush. It was actually quite charming!
There was no indication who lived there or if they had children, but if they did, I imagine they thought they lived in a fairly land!
My buyers didn't want the house, but it did end up selling. I wonder if the current owners kept the paint colors?
I think my favorite thing was the floor that appeared to have been sprinkled with flow in the dark stars. I would have loved to see it at night!
I took a short video just so you could see it in all of its glory!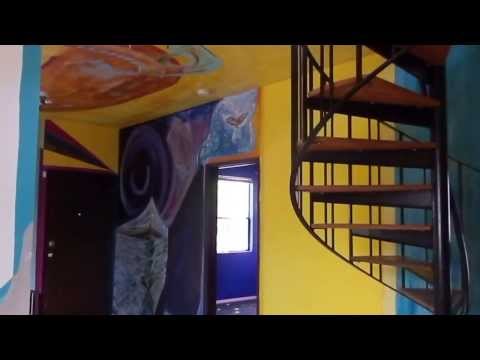 The post Stardust Home appeared first on Unusual Life.
Is there something about "square" entertainment legends that makes them commission really cool, curvy houses? Two examples (both on the market in recent months) might suggest so.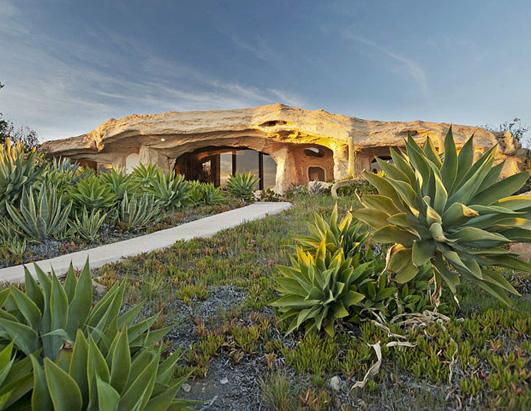 Exhibit A: the Malibu, CA hillside estate of American Bandstand host and "World's Oldest Teenager" Dick Clark. Media articles about it invariably compare it to the house on another long-running ABC TV series, The Flintstones.  Originally listed last year at $3.5 million, it's now been reduced for quick sale to $3.25 mil.
Exhibit B: the Palm Springs, CA desert mansion of comedy legend Bob Hope. Designed in 1973 by acclaimed architect John Lautner, its vast copper roof was intended to resemble a volcano. There's a giant boulder in the middle, and a putting green and al fresco dining area outside. It can all be yours for a mere $50 million.
The post Square Celebrities' Curvy Homes appeared first on Unusual Life.
For sale: One herd of cows (ceramic, plywood, fabric, paint, etc.). Comes with a supply of warm, gooey cinnamon rolls and a classic cafe.
After 25 years, Jeanne Mae Barwick is retiring from Mae's Phinney Ridge Cafe in Seattle's Greenwood neighborhood. She's put the place up for sale, and threatens to close it in March or April if an appropriate buyer isn't found.
There's been a cafe at this location since the 1920s. But when Barwick took it over in 1988, she transformed it from a neighborhood destination into a city institution.
Michael Stern at Roadfood.com describes it as "a multi-room cafe decorated everywhere with pictures, statues, blow-up dolls and every sort of nick-nack imaginable, all depicting cows (an ode to the proprietor's Wisconsin roots)."
On weekend mornings, it can take as long as an hour to get seated. Besides the cinnamon rolls (baked in-house), it offers large portions of your basic American breakfast and lunch fare, plus such specialties as trout and eggs.
It closes at 3 p.m. daily; in offering the business for sale, Barwick notes a new owner could make more money by opening for dinner and offering alcohol.
In an email sent to customers, Barwick says she may hold an "open house and garage sale" at the cafe in March. Depending on what items a new owner may want to keep, the sale could include the cafe's cow-shaped salt and pepper shakers "and other miscellaneous moo-morabilia."
Barwick also says she'll continue to host her popular "Karaoke Bingo" once a month at the Greenwood Senior Center.
The post Save the (Plywood) Cows! appeared first on Unusual Life.
Check out this lavish hotel, made from salt.
Sitting on the edge of the largest salt flat in the world stands an amazing and unusual hotel and spa built with one million blocks of salt.
The Palacio de Sal, located in Bolivia, took two years to reconstruct after being dismantled in 2002 and almost everything is built from the salt flat. This includes the chairs, tables, beds and even the swimming pool and golf course. Hotel employees say that many guests are caught licking the walls or furniture just to make sure they are made of salt.
The hotel has 16 twin rooms and 8 double rooms, a sauna, steam room, whirlpool and of course, their own saltwater baths.
A hotel spokesperson states, "Our dining room is indescribable. Guests can enjoy our exclusive and exquisite meals prepared on the basis of salt, flame and lamb meat from the region, or salted chicken."
Some parts of the hotel need to be maintained and rebuilt each year after the rainy season due to water damage.
Situated 12,000 feet above sea level, stunning sunsets and sprawling starry night skies are an every day event.

Bolivian Salt Hotel
The post Luxury hotel made entirely of salt appeared first on Unusual Life.
More Recent Articles
---
Click here to safely unsubscribe from "Unusual Life." Click here to view mailing archives, here to change your preferences, or here to subscribe • Privacy