MY PERSONAL HGTV ADVENTURE
We listed our home for sale on Super Bowl Sunday. The two weeks leading up to our house going live on the market was a flurry of cleaning, house projects (by Adam), packing and general declutter madness. When we first looked on Zillow and saw our house listed for sale we were giddy. All the hard work had paid off and our house looked beautiful. Why wouldn't someone want to buy it? Looking it over, suddenly I didn't want to leave it.
Since we listed the house I've been filled with so many mixed emotions. That first afternoon we squealed as requests for showings rolled through, and on Monday we racked up a grand total of 9 showings for the house in the first 24 hours it was listed. We were both floored with excitement, and a little terrified at the logistics of it all. Making sure to remove the dogs from the house for each showing, heading off to weird locations for dinner with Nellie while strangers wander our home.
Yesterday we had our first showing and wasted our hour with Nellie introducing her to the terrible lovely that is Chick Fil-A. As we drove home we rounded the corner and found the agent and potential buyer were still in our home. We creeped by the house to see these strangers standing in our living room. Judging our things, our home, our life.
We parked a few houses down and sat in the dark, watching and waiting and I couldn't help but feel absolutely anxious and a little sick to my stomach. Who were these people in my home? Why did they deserve to make memories here? What would they do with my yard? Would they love the easy access to the forest preserve as we had? Would they teach their kids to fish in the pond as we had planned to do with Nellie? Would they grow vegetables in my garden boxes and appreciate Adam's hard work? Would they be kind and wonderful to our amazing neighbors?
Who would be the ones to step in where we left and begin a life in a place that bad been our home for the last three years? The home where I decorated my daughter's nursery, where I raised my baby.
Someone else will eventually buy our home and make it theirs. They'll make their changes, talk trash about our decisions, maybe bring their own baby home through the same front door. But the idea of walking away from this home has suddenly left me so nostalgic. I know this too shall pass, and that eventually I'll be signing papers in Washington for my very own new piece of memories, but until then I suffer through the reality of this chapter ending.
Of saying goodbye yet again to a home we made.
The post MY PERSONAL HGTV ADVENTURE appeared first on Accidental Olympian.
AND SO IT STARTS
Finding out you're going to be relocating across the country to be reunited with all your favorite people in the world is on one hand amazing and thrilling, and on another is terrifying and nausea producing. As much as I know this move is the right thing for our family and will be one of the most wonderful changes we make to our lives, the laundry list of things that one must do before accomplishing a successful relocation can paralyze a person.
My current level of dread stems from the reality that moving across the country also means that I have to leave my wonderful job here in Chicagoland and find a new job in Seattle. Of course there are many amazing, large, powerful companies in Seattle that one would be excited to work for, it's just I have quite a few things working against me.
 I currently do not live in Seattle. I still live in Illinois which means my current address could give an employer warning flags because to hire me might look like I would need to be relocated. No matter that I say in my application materials that I am currently in the process of relocating on my own, I am sure the fact I can't start in two weeks, and the fact I can't pop in for an interview isn't doing me any favors. Adam swears that the fact that I live in another state isn't an issue, but he's worked for the same fortune 500 company since he was 19 which regularly relocates employees all over the world, so lets not take his word for it.
The job market is blowing up as more and more new tech companies sprout up in Seattle which is awesome on one hand because YEAH LOOK AT ALL THE JOBS, but also difficult to standout on another since people are flocking to Seattle like crazy. I was pretty sure Seattle was supposed to make sure no outsiders realized how nice it was there, that's why we tell people it rains so much! What the hell Seattle!
Most importantly, I still have EPTJHD – or Extreme Post Traumatic Job Hunting Disorder from being laid off in December of 2008 and then watching the economy come crashing down around me for the next 6 months while I attempted to find anyone, anywhere who would hire me. Applying for jobs and getting replies back that 600 other people had applied to be a receptionist were absolutely demoralizing. Even though today is not the economic crash of 2009 I can't seem to shake the feeling I had back then that I would never find work and I'd be unemployed forever. Trust me, I know this is irrational, and yet I can't help it.
When it became official that we would be moving and I told my work that I would have to say goodbye and start over in Seattle it was bittersweet, but I felt positive. My coworkers and my boss had glowing things to say about me, helped me refresh my resume, and early networking seemed to be fruitful. I remember that first weekend that I submitted two applications. I felt so smart, powerful, capable even! I'd be rolling in job offers! Maybe Adam was right and I'd have landed a job before we even made it to Seattle. We'd unpack in our new home and then I'd just start a new wonderful and exciting job, no stressing about suddenly having only a single income.
Then I got my first "no thanks" from a role I 
really 
wanted, and then another, and another, and another. It's only been a little over two weeks of job searching, but already the first batch of jobs that I applied for have politely declined. So, I continue to march on. I have landed a phone interview for a role, which of course is promising, but it's only the first round phone interview, so I'm not exactly picking out my new cube decorations. I keep getting my Glassdoor and LinkedIn job alerts, and just like my Zillow rental alerts, each day I look through the options, save the promising ones and return nightly to research, rewrite, and apply.
I'm trying to keep my spirits up, remember that we likely aren't moving till April 1st, so it's ok if this process takes time, but that fear from 2009 that has always lingered deep down in my gut is still there. That I'll never find another job. That I'm unhireable. That my inability to find work will be a drag on my families finances. Or if I do find a job it will be me finally settling, wishing for times before.
I try to push it away, but it's my constant companion.
—————
In the meantime while I fret and wring my hands there's no shortage of other things to stress about that have nothing to do with my employment status! After two weeks straight of Adam working like a madman finishing house projects we have spent the remainder of this week rushing home from work, feeding Nellie, putting her to bed, eating ourselves, and then getting right to work going room-by-room decluttering and pre-packing. On Friday our realtor will arrive at our house to photograph it for sale, and next Monday this lovely house I have grown to cherish will officially go on the market. Meanwhile we are currently also trying to sell our house in Olympia, WA (because if you're going to have the stress of selling one house, why not sell two!), navigate Adam starting his new job which requires some travel in the next two months, and then begin planning our drive from Chicago to Seattle with two dogs and a one year old baby in tow. Oh, and we'll need to find somewhere to live in Seattle too.
So it's a lot. Adam and I are each trying to focus on different tasks and put farther out items out of our mind (cant' look for somewhere to live if my house in IL hasn't sold and I don't know when we're leaving!) but it's hard not to let the vastness of it all envelop you at times. Packing, finding new jobs, selling two homes, finding somewhere new to live and driving across the country is no small feat. We'll survive, we have two other cross country moves before, but if you're not careful and you let too much of it in at once it can smother you.
So send us your anti stress vibes, we need them. Or just give me a job. Either will do.
The post AND SO IT STARTS appeared first on Accidental Olympian.
THE JONES FAMILY IS HEADED WEST
For those of you not up to date with all things Seattle/Washington, Adam, Nellie and I are wearing every single piece of Seattle clothing we own to announce that we're moving back to Seattle! University of Washington pride, Seattle Seahawks, Seattle Mariners, and Seattle Thunderbirds all representing!
In 2009 Adam and I loaded up our things and moved from Seattle to Olympia, WA where we bought our first house and this blog was born. Two years later we moved to Anchorage, AK and two years after that we found ourselves driving across the prairies of Canada to Chicago where we've lived for the last nearly four years. It has been nearly EIGHT years since the Jones family called Seattle home, and it's time to take our little Midwest born girl West and teach her about mountains, hiking, ferries, orca whales, stand up paddling, stormy Washington coasts, good seafood, camping, downhill skiing, snobby coffee, rain boots, Husky pride, the Space Needle and so much more.
I told Adam a few years ago when he lamented about missing the West Coast that I only had one more move left in me, and it was to Seattle. I was either going to die in Illinois where I'd found a home I loved, a job I adored and a community I was building, or I was going to move back to the Emerald City that had stolen my heart so many years before. I was done starting over, done making new friends and DONE getting to know a new city. Adam heard me loud and clear, and after having Nellie and realizing how hard it is to raise children so far from family he was inspired to take me up on my offer to return to Seattle.
Soon we'll return to a place that has collected most of our favorite people in the entire world. Family as well as friends from childhood, college, the internet plus many more have all collected in Seattle. We'll raise Nellie with our closest friends who also have children around her age. I'll be lucky enough to raise my baby girl with some of the people who mean the most to me in this whole world. My parents will only be a short flight away (no more 4.5 hour flights with two connections!) and Adam's family is only a 5ish hour drive away. We can once again escape to Bend, OR – our favorite place in the entire world – for a long weekend.
Although I am broken inside to once again have to say goodbye to people I've come to love, I'm not packing up and heading into the unknown as we have done far too many times before. This time as we drive away from our home here in Illinois I know I'll be driving closer to the people I've missed so much these last eight years.
Soon we'll be home.
The post THE JONES FAMILY IS HEADED WEST appeared first on Accidental Olympian.








Related Blog Posts
2016 A YEAR IN REVIEW
For years I've seen this questionnaire completed by fellow bloggers I read, and I never felt compelled to do one myself. But in a spirit of wanting to write more in 2017, here goes nothing.
What did you do in 2016 that you'd never done before?
Did you keep your New Year's resolutions, and will you make more for next year?
Did anyone close to you give birth?

ME! Oh, and basically everyone else I know and love. Basically all my favorite people had babies in 2016 and it's amazing. I'm hoping 2017 has a trip to Seattle in store for it here soon so I can meet all the sweet little peanuts that came into this world. And of course a trip to SF so I can meet Nellie's future husband. So many babies to meet!

Did anyone close to you die?
What countries did you visit?
What would you like to have in 2017 that you lacked in 2016?

A little more time for myself. Be it taking the time to blog, read, garden, cook or exercise (ESPECIALLY EXERCISE), I'd love to continue the work I started in the back half of 2016 of making some time for myself. It's really easy as a parent of a small child to just put your entire self into them. They easily take up all the oxygen in the room.  I need to continue to remember that I am still someone outside of being Nellie's mother and it's ok for me to foster parts of myself that are important. I really let my love of cooking, gardening and exercise completely go 100% while Nellie was little and it has been a struggle to not feel guilty for wanting to prioritize these things again.





ALSO! As a sub-reddit I'd like to have more time in the outdoors. There were a lot of days trapped inside with a baby in 2016, and I'd like to spend infinitely more time outside. Even if it's just in our backyard, but preferably outdoors far from others.  
What dates from 2016 will remain etched upon your memory, and why?
What was your biggest achievement of the year?

1. Keeping Nellie alive for a full year.

2. Adam and I sticking together as a team while we navigated the extreme change in our relationship that is becoming parents. It was hard sometimes to remember each other, and still is something to always be working on. I'm proud of us for making it through 2016 in one piece, still liking each other.

3. Tackling the work/pumping balance. Being a parent and working is TOUGH. You always feel like you're failing one side. But being a parent, working full time AND pumping breast milk is no fucking joke. I made it 10 months of exclusively pumping and I worked for every day, every week, and every month that we kept our daytime breastfeeding routine. By month 10 I decided to transition to nursing only in the morning and for bed, and giving formula during the day. I don't regret transitioning to formula, and I don't regret how hard I worked to keep Nellie on breast milk till she was 10 months.
What was your biggest failure?

Putting too much focus at times on Nellie and not on anything else – work, Adam, the dogs, my interest.
Did you suffer illness or injury?
What was the best thing you bought?
Whose behavior merited celebration?

Adam's. Holy shit did Adam swoop in starting on January 2nd and take over. I basically huddled into "keep baby alive" mode while Adam took on EVERYTHING ELSE. Cleaning, cooking, keeping dogs alive, washing bottles, running errands, meal planning, feeding me, laundry, yard work, he did it ALL. I spent months if felt like holding a baby, feeding a baby or watching a baby while Adam kept our lives spinning. It was draining and all consuming and pretty much the shit end of the stick but he did it. We all survived because he stepped up. I never would have survived this year without Adam.
Whose behavior made you appalled and depressed?
Where did most of your money go?

DAYCARE, mortgages, bills. Womp, womp.
What did you get really, really, really excited about?
Having Nellie, and then introducing her to various family members throughout this first year.

 
What song(s) will always remind you of 2016?

The songs from Nellie's rock'n play, baby swing, bouncer, and various kids toys. Adam and I can sing them in our sleep.
Compared to this time last year, are you:
a) happier or sadder? Definitely happier. So happy.

b) thinner or fatter? So much fatter. Gotta work on that one this year.

c) richer or poorer? Poorer. Oh boy poorer. Damn you daycare!
What do you wish you'd done more of?

Spent time exploring as a family. Too often money, time or the stupid fucking Chicagoland weather kept us from going out and trying something new. We checked off quite a few things this past year, but there was definitely more we could have accomplished.
What do you wish you'd done less of?
How did you spend Christmas?

In Reno, NV with Adam's family. Nellie got to meet so many family members and had the best time. Her cousins are amazing and loved the crap out of her. I hope she continues to have an amazing relationship with all of them.
Did you fall in love in 2016?
What was your favorite (new) TV program?
Do you hate anyone now that you didn't hate this time last year?
What was the best book you read?
What did you want and get?
What did you want and not get?
What was your favorite film of this year?

The only movie I saw in theaters – The new Star Wars movie. It's only my favorite because it was the first time Adam and I saw a movie in the theater since Nellie was born. It wasn't even

that

amazing, it's just that I finally got to see something in theater and it made me happy. Also, they served wine.
What did you do on your birthday, and how old were you?

I turned 31 this year and it was pretty low key. My mom was in town watching Nellie as I transitioned back to work. My coworkers celebrated me with some treats, we went out to breakfast as a family on my birthday, and Adam and I got out for our first night away from Nellie since she was born for sushi. It was sweet and simple, just as I wanted.
What one thing would have made your year immeasurably more satisfying?
How would you describe your personal fashion concept in 2016?
Which celebrity/public figure did you fancy the most?
What political issue stirred you the most?
Who was the best new person you met?

All my awesome new coworkers who started in 2016. I got really lucky and some really amazing new people joined the company who I've had a blast working with. When you spend so much time each week at work, it's great to like the people you spend it with.
Tell us a valuable life lesson you learned in 2016.

Worry less about parenting issues and trust your gut. I spent too much time during my maternity leave thinking I could break Nellie and googling EVERYTHING. Turns out, I can't actually break her. She's going to be fine. No decision we make will break her any worse than any other decision. Chill out and have another glass of wine already.
Quote a song lyric that sums up your year.
Here goes nothing 2017!!!
The post 2016 A YEAR IN REVIEW appeared first on Accidental Olympian.
TO NELLIE ON HER FIRST BIRTHDAY
I have struggled and failed to write a post about my daughter turning 1 year old now for over an hour. Write, delete, write, delete. Over and over. Making it to her first birthday feels like such a big deal, and yet at the very same time, such a small thing. I've been flooded lately with so many memories of those early weeks as we struggled to figure out how to parent this tiny angry person. Wondering if we'd made a huge mistake. And the moment that memory fades I'll find myself trying to fast forward time. Wondering what she'll be like in a year, in two, in ten. She's changed so much over this past year, I can't even believe how different she'll be in another year. I catch myself wondering what she'll sound like, what interests she'll have, who she'll be when she grows up. We've learned so much about her so far, but she's still such an unknown. Who's in there?
Becoming a parent is the most life altering experience I've ever known. I always knew parenthood would change me, but it has been so much more drastic than I ever could have predicted. My priorities changed, my wants and desires shifted, my sleep, my free time, my idea of a good time, everything changed the day she was born. But I don't miss the days before Nellie. Not even in the slightest. Ok ok, I do miss sleeping in. And flying on an airplane without a child in my lap. But otherwise she's great and I'll keep her.
Today I have this amazing little person in my life who has changed everything for the better. It's so fucking cheesy, but it's so true.
I'm sure eventually this will cease to be true (*cough* teenage girl *cough*), but right now each month older, each milestone achieved feels more fun than the last. I've never dreaded Nellie getting older, I've never longed for the squishy, helpless, mad baby she once was. Instead I've longed for the next milestone. Already we have this little person who walks, and babbles, thinks she's so funny, looks at the world with these big eyes, is so curious, loves dogs and people and trying new things. She is great in a restaurant, sleeps like a champ, and is an overall joy to be around. In one year we've checked off so many firsts, and I'm thrilled that there are still so many amazing firsts to go.
Today also marks the end of a year long project I've been working on to take 1 second of video every day for her first year of life. Using an app called One Second Everyday I select my daily video and watch as Nellie's entire first year flashes before me. After collecting these tiny moments every single day over the last year we actually made it to the end. Over the course of 6 minutes and 11 seconds you can watch my child grow from a little squish to the crazy little toddler she's become.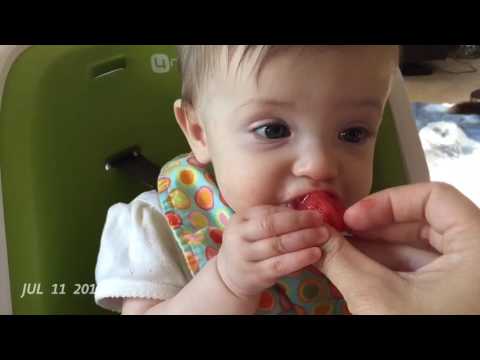 My baby's all grown up.
The post TO NELLIE ON HER FIRST BIRTHDAY appeared first on Accidental Olympian.