Planned Giving Newsletter
May 2016

Do you have questions about estate planning? Planned giving? Your will? Each month, we feature new articles and interactive features. We also share news about the charitable endowments under the umbrella of Hindu Heritage Endowment.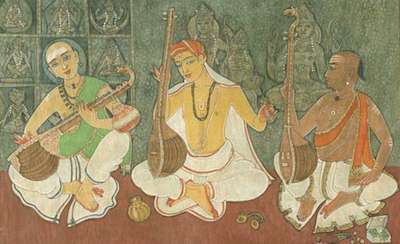 Grants from the Iyarappan Temple Trust, fund #11, sponsors a monthly puja and feeding at this Siva temple on Ardra Nakshatra. Your donations help to maintain a full schedule of puja and festivals at this ancient Siva Temple in Thiruvaiyaru, Tamil Nadu. Thiruvaiyaru is more renowned for its association with Saint Thyagaraja, depicted in the painting above in the middle. Read more..."
---
Charitable Gift Annuities Q&A
If you would like to make a donation to Hindu Heritage Endowment and are interested in supplementing your income during retirement, consider a charitable gift annuity.
Q. What is a charitable gift annuity?
A. It's a contract with Hindu Heritage Endowment in which:
You agree to make an irrevocable donation to Hindu Heritage Endowment.
Hindu Heritage Endowment agrees to make fixed payments to you each year for your lifetime. (You can have the payments benefit others, too, such as your spouse.)
The portion of your gift that remains at your death helps support our mission.
Q. What are the benefits?
A. It's a gift that:
Enables you to meet your charitable goals.
Provides you with tax-favored lifetime payments.
Offers immediate income tax savings (when you itemize).
If you are retired and depend on stock dividends for income, consider funding a gift annuity with those stocks. That way, you'll still receive income from the assets—in many cases, in higher amounts.

Q. What payments can I expect?

A. The rate of payment is determined by the ages of those receiving payments at the time of the contribution – the older the recipients, the higher the rate. Payment rates are locked in for the duration of the gift annuity.

For more information about charitable gift annuities, contact Hindu Heritage Endowment or your tax planning professional. © The Stelter Company The information in this publication is not intended as legal advice. For legal advice, please consult an attorney. Figures cited in examples are for hypothetical purposes only and are subject to change. References to estate and income taxes include federal taxes only. State income/estate taxes or state law may impact your results.
---


Iyarappan Temple Trust
Helps to maintain a full schedule of puja and festivals at this ancient Siva Temple
Planned Giving Guidance
Why Do You Need to Know About Revocable Living Trusts?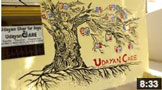 Family Life at Udayan Care
This eight minute film introduces the Udayan Care ghars, homes for displaced children in India.

Estate Planning Toolkit
Download our toolkit to help with your estate and gift planning preparation. The Toolkit can help you save money in attorney's fees. New: Toolkit for Canadians now available.

Essentials of Financial & Estate Planning
In this animated short video we explain some basic essentials of financial & estate planning.

What is an Endowment?
This 101 second animated video explains the three types of endowments.