---
CockyBoys is excited to announce a new CockyBoys exclusive, Tegan Zayne who is paired with CockyBoys exclusive Boomer Banks. Tegan and Boomer have had a elusive chemistry between them since they became friends on social media. They are both sensual and sexual men who are completely comfortable in their skin. So when this duo finally gets to hang, the heat between them just explodes.
Tegan, is mesmerized by Boomer's BIG COCK and teases him into a heady state of tension. Boomer, enjoying all the attention, is ready to tackle Tegan's body with just as much gusto. This is just the start of a scene that rocks both their worlds with many forms of pleasure that never seems to end. There is no better way to welcome such a hunk like Tegan than to have him Boomer'd in his initiation! Welcome to CockyBoys, Tegan!
The post CockyBoys: Introducing Tegan Zayne with Boomer Banks appeared first on QueerClick.
Hung muscle daddy Miller is back, the popular 38 year old competitive bodybuilder and surfer returns, showing off his thick 8″ rock hard cock! He floats on a raft in the sun fully nude jerking his monster meat, walks around the pool and garden fully erect, exercises, flexes and poses his awesome ripped smooth body, takes a second horse piss in the garden, enters the clear pool to jerk his Daddy Dick underwater, before spreading his muscle ass cheeks wide open exposing his pink man hole for the second time on camera in this exclusive new video from Island Studs!
Lovers of perfectly formed 8″ man cocks and real mature Dads with ripped powerful bodies will appreciate this new film from Island Studs.
The post Island Studs: Miller (2) appeared first on QueerClick.

US Navy portrait of then Ens. Harvey Milk
Navy to Name Ship After Gay Rights Activist Harvey Milk
"The Navy is set to name a ship after the gay rights icon and San Francisco politician Harvey Milk, according to a Congressional notification obtained by USNI News. The July 14, 2016 notification, signed by Secretary of the Navy Ray Mabus, indicated he intended to name a planned Military Sealift Command fleet oiler USNS Harvey Milk (T-AO-206). The ship would be the second of the John Lewis-class oilers being built by General Dynamics NASSCO in San Diego, Calif." USNI News
Bachelor Party Ends With "Straight" Groom In Bed With Male Friend. Now What?
"It's an age-old question — do some straight-identifying men fool around with other guys because they're heavily inebriated, or does the alcohol simply allow them to act uninhibited, true desires escaping through pores alongside the distinctly unpleasant smell of boozy sweat. We know which scenario we believe rings true, but we'll just go ahead and leave it open ended and get to our latest case study in repression" Queerty
Joe Jonas Reveals Which Jo Bro Is the Most Well Endowed
"Jonas' revealing answer was in response to a question from Cohen during a round of 'Plead the Fifth', a game he regularly has guests play on Watch What Happens Live! Nick Jonas had previously been on the show and pleaded the fifth when asked to spill the goods on the family jewels." Towleroad
AIDS Memorial Breaks Ground in New York
"The New York City AIDS Memorial has broken ground in the West Village. It will be part of the recently named New York City AIDS Memorial Park, which lies at St. Vincent's Triangle at the corner of 12th Street and Greenwich Ave. The location was formerly St. Vincent's Hospital, where the local epidemic was primarily treated, just a block from the LGBT Community Center where ACT UP began." Out.com
Supercub is All Kinds Of Amazing In New Music Video
"The cheeky video, which debuts exclusively with GT, is animated in collaboration with artist Emmie Bednall, who's worked for MTV and Nickelodeon, and even features Bette Midler and Cher as mermaids – what more could you want? All Kinds of Amazing is a self-penned breakup anthem produced by Frankmusik, who's previously collaborated with the likes of Ellie Goulding and RuPaul, and has been remixed by dance floor legends 7th Heaven." Gay Times
The post Queer Clicks: July 30, 2016 | US Navy to Name Ship After Gay Rights Activist Harvey Milk , Bachelor Party Ends With "Straight" Groom In Bed With Male Friend. Now What? , & Other News appeared first on QueerClick.
With the proximity of Rio 2016 Bryan Hawn channeled all the fears and concerns about Olympic athletes and the Brazilian Zika-carrying mosquitoes in one puzzling parody video.
Leave it to Bryan to make a potentially deadly virus look sexy, creepy mask notwithstanding, to the tune of Katy Perry's Olympic anthem "Rise", but with his own vocals. BH did what he does best, he paraded that perfect butt in proud stars & stripes themed speedos up and down a beach shore.
Certainly that mask takes the whole thing into nightmare fuel territory, but that gorgeous behind is the stuff wet dreams are made of. Do you find yourself oddly turned on or is this going to be a boner killer for you?
Make the jump to check out the video. And share your opinions in the comments!

Via: YouTube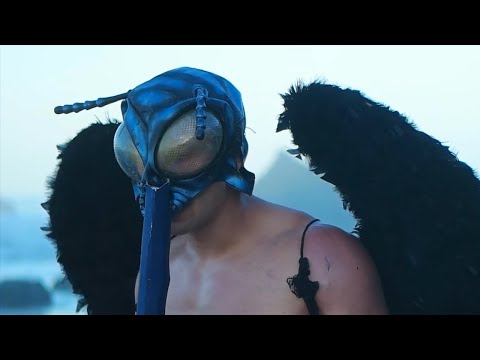 The post Bryan Hawn Cosplayed As A Zika Virus Mosquito In His Latest Video, His Butt Remains Sexy While Doing So! appeared first on QueerClick.
Mark Rollins (David Benjamin) has arrived back in his hometown of Los Angeles and his old neighborhood of Silverlake. Famous for its hills, valleys and 52 sets of staircases that connect them. Mark jogs up the famous Micheltorena Stairs, passing a hot, tattooed, red headed Bennett Anthony.
The two share a quick moment that turns into a game of cat and mouse as Bennett leads Mark though the winding streets and narrow passageways until they arrive at Bennett's apartment. "I love gingers" exclaims Mark as he buries his face in Bennett's hairy ass. The tiny apartment is full of sweat, muscle and sexual energy that a quick fuck with a stranger you only just met.
Bennett bends Mark over a folding chair and slides his dick into his waiting hole. A rough fuck is just what Mark needs and Bennett is more than willing to give it to him. Moving over to the army cot that serves as Bennett's bed, Mark slides his hole down on that stiff fire crotch, bouncing up and down, dripping with sweat and showing off the ripped muscles on his legs, chest and back.
Finally rolling Mark over onto his back, Bennett slides his dick deep into Mark's hole and fucks him with that power you get just before you blow your load. David explodes with Bennett's dick deep inside him and then Bennett whips his dick out, climbs up over Mark's body and blows his load right into his open mouth. To be continued …
The post TitanMen: Bennett Anthony Fucks David Benjamin – Silverlake appeared first on QueerClick.