Get Your Word Out
Why bother blogging to email? Because not everyone's ready for blogging, RSS, Atom, XML, aggregators… The jargon is enough to put all except the most dedicated off. And that means that you're losing readers.
Email is ubiquitous. Everyone has email. When you publish your blog or RSS feed using FeedBlitz you are taking advantage of the one communications medium you know everybody has. And because it's familiar to everyone, it's an easy task to get readers to sign up. You get more readers – in some cases, more than 50%! With FeedBlitz it's simple.
50% Circulation Boost Sign up with FeedBlitz, publicize the feed, and your circulation will increase quickly. Plus, if you link FeedBlitz to FeedBurner, you get all your circulation metrics in a single spot. Think about it. If only 11% of the Internet users are using RSS aggregators, it means that without FeedBlitz you are losing out on up to 89% of your potential readership.
Works with any Blogging System
WordPress, Blogger, TypePad, Joomla, Drupal, SquareSpace – FeedBlitz works with them all – and any blogging system with a valid RSS feed (i.e. all of them!). FeedBlitz also handles SSL and password protected feeds, so it can generate subscriptions and tracking for your private content. If you have specific questions about yuor site or feed, please contact FeedBlitz support and we'll be happy to help you.
Compatible with You, Compatible with Your Readers
FeedBlitz works with feeds produced by all the major blogging software and services. All you need to know is the URL of the feed XML, in Atom or RSS (any version – and no worries about date formats or having to share your user id and password). Your subscribers sign up using a simple form on your web site / blog template – and that's it. They don't need to know about XML, RSS and aggregation software. It couldn't be easier.
Unless the reader has chosen an anonymous subscription, you get to see who's receiving the emails (if you don't post they won't get an email, so you don't have to worry about cluttering up their inboxes unnecessarily). For business blogs, that's a lead. That's value. If it's a personal blog, you can see that your latest news is reaching your club members, Aunt Doris, and your buddy Dave.
There are also times when even the most ardent blog reader doesn't have access to your content. Many mobile devices don't have decent RSS readers, plus they will need to be synchronized with the user's main system. FeedBlitz solves this problem – email is supported on all modern mobile phone and computing platforms, so you can get your feed updates to your friends' phones or your sales force's BlackBerries automatically using their standard equipment.
FeedBurner Compatibility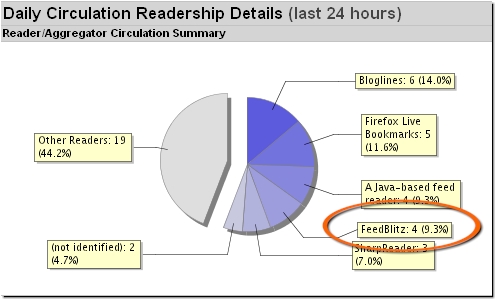 If you use FeedBurner to convert your feed XML to alternative formats you'll love FeedBlitz. FeedBlitz works perfectly with FeedBurner feeds and properly reports circulation numbers back to FeedBurner. You will see the full scope of your FeedBlitz Email circulation integrated with your other FeedBurner metrics!
Innovative Ways to Use FeedBlitz
Here are some ideas that you can make happen now when you sign up with FeedBlitz to syndicate your content using email.
Reach a broader audienceYour Mother may email, but does she RSS? Quite. (But do you want your Mother reading your blog? Hmmm).
Build a newsletterby combining a blog with FeedBlitz and save thousands of dollars over high-cost corporate mailing services.
Announcements Copy your press release or product news to your blog and FeedBlitz ensures all your employees, customers, press partners, investors and analysts get it via email.
Sign up and See for Yourself – It's FREE to start with a 30-day trial
It takes only a few seconds to set yourself up – and then you'll see! So grab the feed URL for your Blog and let's go!
Registerfor the service (you need a valid email address and a credit card to start your free trial).
Click the link in the email sent to the address to confirm your registration.
Follow the steps in this video!
Sign up for FeedBlitz today and start generating extra readers for you and more convenience for them.