Add Etsy and Shopify to your Email Marketing
Quick take
Your emails to subscribers can now include the latest products from your Etsy and Shopify stores!
The longer version…
A little over a year ago we made it super easy to include your latest Pins and Instagram photos in your emails. It's pretty neat, adding visual interest to your mailings and exposing your email subscribers to more of your activity online on platforms other than your blog.
Since then we've extended the capability to include your latest YouTube videos and Tumblr.
And now, we've added e-commerce to the mix. Simply tell the FeedBlitz easy template editor your Etsy name, and / or give it the web address of your Shopify store, and voila! Every update to your readers reminds them of the latest and greatest on your e-commerce site. Every email we send for you just got more interesting, more compelling, and more valuable. Dare we say, more lucrative?
Since we don't have an Etsy or Shopify store, if you're getting this via email today, we've included a couple of examples for you. For Shopify, we've linked to "Death Wish Coffee" because I think they're cool and we're total coffee hounds here! For Etsy, I've linked to friend and FeedBlitz client StudioJewel's Etsy store. The live, mobile friendly responsive demos are at the foot of the email, if you're an email subscriber, after the latest support videos.
If you're reading this online instead, here's what that part of the email update looks like: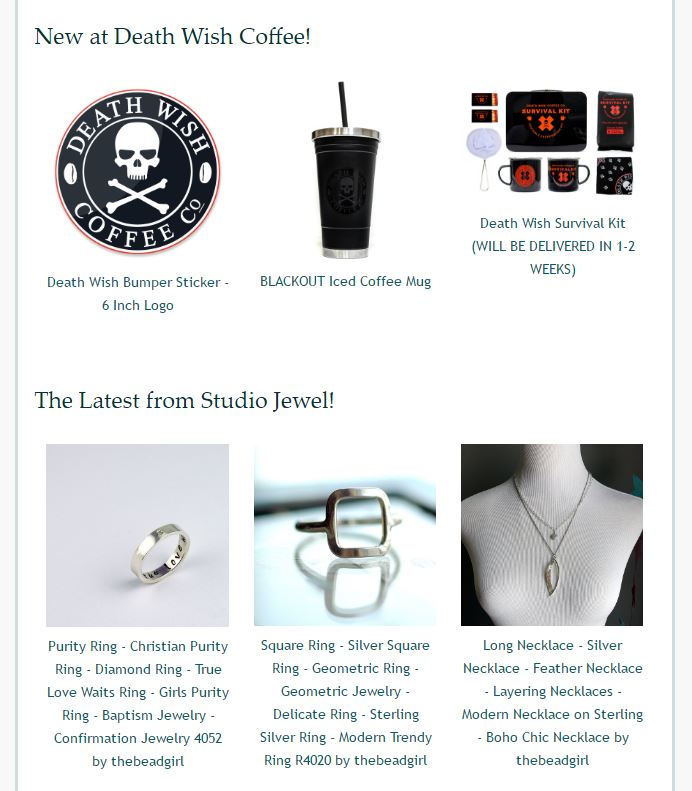 One Last Thing
So this is a great way to add Etsy and Shopify content to your blog emails. It ALSO means that you can use us to send emails to subscribers where the latest store updates ARE the content. In other words, you can set up a "Be the First to Know" email list, and every time you add an item to your e-commerce site, we'll email subscribers to that list with the news. Which makes them feel super special and more likely to buy from you.
Need help setting it up? Contact support – we'll be happy to help.