Are you a FeedBlitz Affiliate?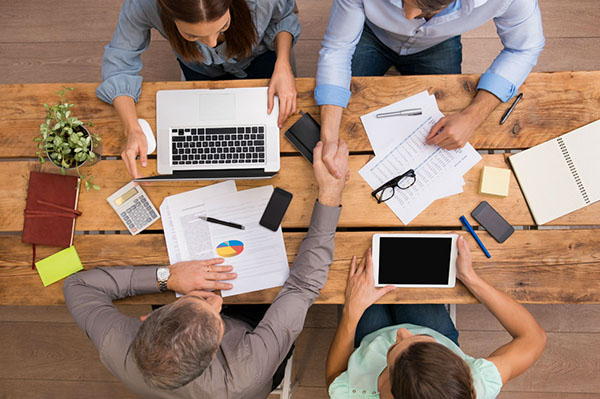 Over the past few weeks, we've walked you through the process of monetizing your mailings. (Haven't caught up on those posts? Check them out here!) Today let's talk about a different form of monetization: The FeedBlitz Affiliate Program
What is the FeedBlitz Affiliate Program?
We know you love our services, and the FeedBlitz Affiliate Program is our way of rewarding you for loving our services and telling your friends about us. To summarize the program, you refer FeedBlitz to your network, they sign up, you earn income. And that's it!
Our goal is to enhance your relationships by offering to your network the value, customer service and email marketing automation features of FeedBlitz you have come to know so well. Ideal for bloggers, businesses, agencies, virtual assistants and more, the FeedBlitz Affiliate Program is great for any member of the FeedBlitz family! Many of our bloggers and marketing agencies alike have found great value (and received great revenue) from being affiliate partners.
How does the program work?
Once you sign up for the FeedBlitz Affiliate Program, a unique affiliate link, or API, is created which you can use when promoting or recommending our services to others. Please note, this is only one way we track referrals, a quick email to our support staff and we can apply the proper affiliate account as well!
From here, it's up to you how you wish to proceed in referring our services. You can do so through paid advertising, sponsored posts, content, conference representation, etc. Our team is here to help you in any way possible and have collaborated with our publishers on webcasts, podcasts, instructional content and more.
We use a variety of techniques to track the success of your individual program and affiliate members. Using tactics such as special offer promotional codes and custom landing pages, along with your unique publisher API, we can identify and properly delegate new publishers as they join.
What's the benefit of joining the FeedBlitz Affiliate Program?
When a new publisher signs up for FeedBlitz, thanks to your efforts, and completes their free 30 day trial, you will then receive a share of their monthly or annual billing cycle. Revenue share rates begin at 10% and increase as high as 40% on all billing fees earned. These percentages are based on the payment tier being billed for the new publisher.
Curious about your earning potential?
Check out our Affiliate Program commission rates and tiers!
There really is no limit to your earning potential with the FeedBlitz Affiliate Program. The more publishers you send our way who utilize our services, the more income generated on your behalf. And all of this taking place without you needing to worry about tracking or payments!  *Because you know how much we like our set-it-and-forget-it way of life here at 'blitz headquarters!
What else should I know about the program?
Before joining our FeedBlitz Affiliate Program we ask that you please take a moment to read our Terms and Conditions which can be found on our site. This gives you all the minor details, the ins and outs about the program and can answer most of your questions.
A Word for our current Affiliate Program Partners: Referring a service to your friends and network is no small act, and we take great pride in our publisher's referrals. Your referral is a vote of confidence in our company, services and staff, and it is our duty to exceed the expectations of your network. We want to thank you for trusting us not only with the success of your email marketing, but that of your valued friends and network as well!
Interested in joining our affiliate program but still have a few lingering questions? Send us an email at support@feedblitz.com, chat, check out our Help Forum, or give us a call at 1.877.692.5489. Our Support and Sales Desk is available Monday – Friday from 9 am to 5 pm EST.
-•-
Easy enough for a blogger to set up in seconds, powerful enough for sophisticated corporate email campaigns, FeedBlitz is an RSS, Email and Social Automation Tool to take your email marketing to the next level. Visit us online to learn more or start your 30 Day Free Trial!