Creating Your Funnel (formerly known as Autoresponder)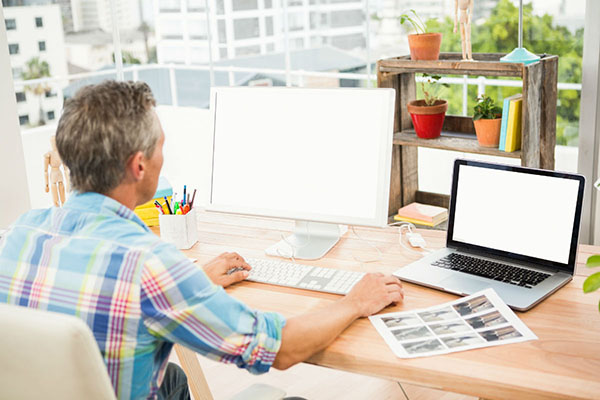 Last week we introduced you to one of our favorite FeedBlitz features: Funnels. Sending email automatically can not only boost your engagement and retention ratings, but your sales and readership as well. From a simple Welcome Email to a Paid Email Course Series, Funnels can be your solution to many questions on how to educate your audience. But you already know the what and why when it comes to Funnels, now it's time for the how.
What you'll need to get started:
FeedBlitz login
Text for your email(s) *You should have this from last week's homework assignment!
Which Mailing List(s) you want to attach the Funnel
How do I create up a Funnel?
We put together the below video to walk you through the step-by-step setup of a Single Email Funnel:
Trouble seeing this video? Please click here.
Did you know about the FeedBlitz Support YouTube channel? Find tons of videos like this one to help you up the ante with your email marketing. Check it out!
From a single, simple plain text email to a precise, intricate series schedule, a well-planned Funnel can maximize your email marketing efforts to a greater potential than you had originally imagined. We have plenty of publishers who have greatly enjoyed the use of our Funnels, check out this note from our friends at RadioGuestList.com:
We have an extensive funnel system built within FeedBlitz. Pretty much every day we hear from subscribers about a product or offer that we queued up ages ago. This is a great way to automatically help keep our business humming and growing.

– Scott Fox, Founder – RadioGuestList.com
How flexible are Funnels?
While the above video walks you through the basics, there are plenty of ways to customize Funnels to your liking. For example you can:
Attach a Funnel to a specific list.
Reuse a Funnel for multiple lists.
Create a separate Funnel, which is not attached to a list (if you are interested in doing an email series or specific sales funnel).
Use your main mailing list template as your Funnel template.
Create a new template for your Funnels.
Switch to basic HTML text for your Funnels if you'd like to give the appearance of personal emails from the editor/owner/writer/etc.
The flexibility of this feature really was designed to cater to your goals as a blogger or business owner. There is never an ideal one size fits all when it comes to email marketing and our Funnels are no exception.
How can I add multiple emails to a Funnel to create a series?
To create a Funnel with a sequence of emails, you want to begin just as the video shows you to set up your first email of the series. Once this is done, return to the Funnels Dashboard, select the Funnel you would like to work with and click Add Entry: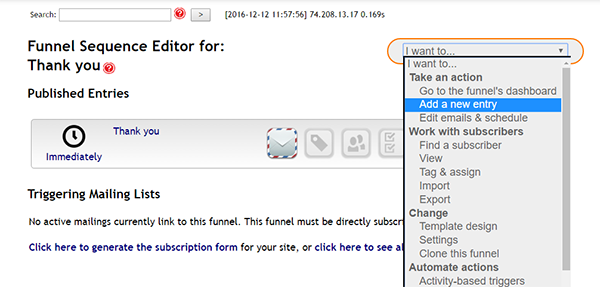 Enter the content of your new email and scroll to the bottom of the page where you will be able to set the date of when the second email is released.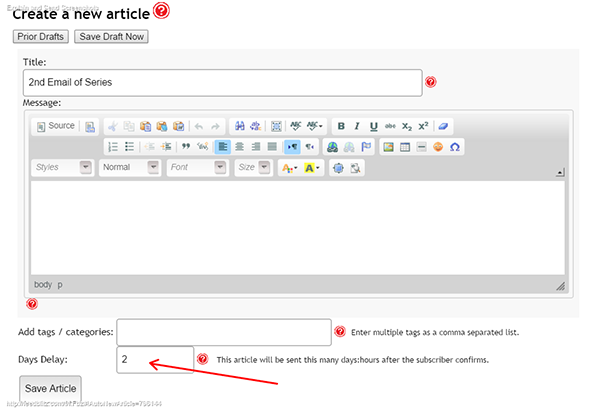 Please Note: The "Days Delayed" is from when a subscriber confirms, not from the prior email of the series! Always count back from the same trigger which started the Funnel.
Repeat the above steps to create your full Funnel and include as many emails as you would like up to the limit of 500. Should you require the need to expand beyond 500 emails in one Funnel, please contact FeedBlitz Support. (Because we want to meet you…and maybe try to hire you.)
Our Funnels feature not only supplies a vital communication method, but it offers a unique host of customization options to be tailored to fit your goals. If you come up with an idea but aren't able to divise how to put it into action, our FeedBlitz Support Team can help you come up with a game plan to get your Funnels under way.
If you have questions on creating a Funnel or any of our other FeedBlitz features, send us an email at support@feedblitz.com. You can also chat, check out our Help Forum, or give us a call at 1.877.692.5489. Our Support and Sales Desk is available Monday – Friday from 9 am to 5 pm EST.
Do you have a Funnel Success Story? Send us an email support@feedblitz.com. We'd love to hear more about your experience and your site may even be featured on the FeedBlitz blog!
-•-
Easy enough for a blogger to set up in seconds, powerful enough for sophisticated corporate email campaigns, FeedBlitz is an RSS, Email and Social Automation Tool to take your email marketing to the next level. Visit us online to learn more or start your 30 Day Free Trial!