Making the Most of FeedBlitz: Creating an Automated "Newsletter" Mailing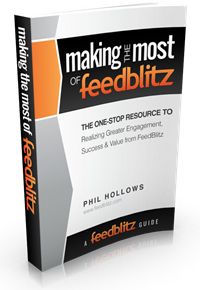 Sometimes a daily email can be too much. Sometimes there's room for a weekly alternative for people who just don't want to hear from you that much. And it's a cinch to set up. Here's how:
Pick your mailing list from your site navigation.
Click the orange "Settings" button.
Click the green "Clone" button.
Change the schedule to weekly.
Change the name of the new list to show it's weekly.
If you send full posts daily, you can set the character limit in the weekly version to make it a "digest" to keep the mail size down.
Go to the weekly mailing list's main page and click the "Form Code" button to generate subscription forms, links and QR codes for the new weekly mailing.
You can repeat the process and choose a different schedule, for example if you want to create a mailing that comes out ASAP (the "Express" schedule) as well as a daily summary.
But, wait! You already have a weekly or monthly "newsletter"? Sent via a traditional contact service?
You can eliminate the time it takes to produce and maintain this newsletter mailing list " and probably save some money as well " by automating it with FeedBlitz, using this very approach combined with some tag / category filters and a little creativity when blogging! If you're interested in saving time, money and getting better value from the chore known as the weekly, monthly or quarterly newsletter, the next post in this series will be of great interest.