End of FeedBurner Email – FAQs
A day after Google's announcement that they're rewriting FeedBurner and dropping the FeedBurner email subscription service, we've seen some great questions come in from the community already. So here is our current understanding of what's going on at FeedBurner, and what it might mean for you.
We'll update this as time goes by as and when we know more.
For FeedBurner users
Is FeedBurner still going to serve RSS feeds after August 2021?
Yes.
We don't know whether any changes will be needed by FeedBurner users (I hope not!) – but your RSS feed should still be fine after the change. Google is "upgrading" that side of the service.
Is FeedBurner email going away?
Yes.
You'll need to find – and have switched to – an alternative by July "mid August," according to Google's latest update. After the change happens, it seems there will be no mechanism to download your FeedBurner email subscribers.
Is Blogger FollowByEmail going away?
Yes, that too. Same timeframe, same requirements.
If you use Blogger FollowByEmail, you need to find a new email service, pronto.
I use a FeedBurner RSS feed with a third-party email service, will my emails stop?
No, because the FeedBurner RSS feed service is sticking around.
So assuming Google doesn't flub the migration to their new platform, everything should continue as normal. It's only the emails sent to email subscribers by FeedBurner itself that are stopping.
So if I use FeedBurner for my blog's email subscriptions, I'll need something new now?
Yes.
Ideally, something that won't make your email readers re-subscribe. We have a guide to planning how to change your FeedBurner email service – regardless of the email service you end up with.
For FeedBlitz clients
I use a FeedBurner feed for my FeedBlitz emails. Will my emails stop, or will I need to change anything?
Your emails should continue as normal – with nothing extra for you to do – because the RSS side of FeedBurner is continuing, and that's the part our email service uses to drive the emails we send on your behalf. So unless something material changes in the way Google's rewrite works – and we won't know that until it's done – there's nothing for you to do, and it will be business as usual.
We will keep an eye on what Google does as they switch the service, however. As long as they're compliant with the relevant feed standards (and we can't see why they wouldn't be), all will be well.
If this should change in any way, we will update this page and notify any affected clients. But we feel that the likelihood of that being necessary is very low.
I have emails on FeedBurner and FeedBlitz. Can I import my FeedBurner email addresses into FeedBlitz?
You sure can!
Since FeedBurner is dual opt-in all the time, we can be confident that your addresses are good. We will de-duplicate as you import into FeedBlitz, so nobody will get two copies of your emails, and – importantly – nobody has to re-subscribe.
FeedBlitz import does have a few restrictions – we don't allow what are called "role accounts" such as "info@" or "sales@" – but other than that, if the address looks OK to us, they're in. Just export the CSV and upload it to us.
Here's how to export from FeedBurner: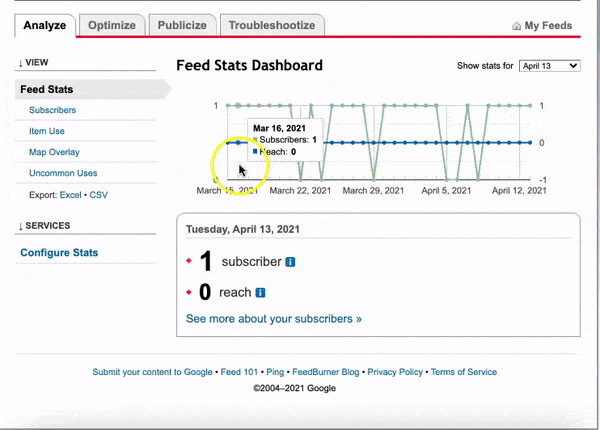 For FeedBurner Users Thinking of Switching to FeedBlitz
Do you have a free service?
No, we don't (we used to, but that stopped over ten years ago).
Our competitively-priced services represent great value – and help fund our systems, resources, ongoing product development, and a support team that anyone can reach out to during east coast business hours via chat, email, or phone. (Yes, the phone — even during trials).
We support you and have a fabulous feature list for RSS emails (and eye-poppingly good deliverability).
We view you, our customers, as clients, and this is a relationship.
Our pricing page is here, and we start out at as little as $7 a month. A couple of coffees a month, basically. Are your email subscribers worth that? (Yes. Yes, they are).
Do you charge for unsubscribed or bounced out subscribers?
Not at all. That's just wrong. Period.
Can I monetize my email list at FeedBlitz?
Yes. You can enable FeedBlitz's ad service, which will insert ads into your updates and help you earn passive income with every mailing. Ads aren't for everyone, but if you have ads on your web site, mail a large list often with a good open rate (because ads need a lot of impressions to earn you the most) with a largely North American audience, then our ad network could be a very good option for you. Clients who meet these requirements can and do make significantly more in ad revenue than our monthly service fees.
So yes. Your blog's emails could become a standalone profit center. Imagine that.
Is RSS-powered email part of the "RSS Core" service?
If you want us to send emails for you – whether powered by an RSS feed and/or built by hand – you need our email service plan. "RSS Core" is just RSS services – what Google is effectively restricting FeedBurner to, starting in July.
FYI, the email plan includes RSS Core as part of the deal. It's a twofer, effectively.
If you use FeedBurner for email, you need one of FeedBlitz's email services.
What's the largest list you can handle?
Millions of subscribers. We're not kidding.
Moreover, if you have a large list, know that we do not restrict how often you can mail, nor do we charge overages if you mail a lot. We want you to have simple, easy to predict, no surprises billing. There are absolutely no constraints on your ability to send email, provided your account is in good standing, and your metrics say your subscribers are OK with your mailing cadence.
How long is your trial period?
Thirty days for new accounts. If you're a returning client and haven't been with us for a year, you count as new too. Come on in and kick the tires!
How are trial accounts restricted?
They're not. At all.
Seriously: You can start a trial, set up a list, upload thousands of email subscribers, and you can start mailing them the minute that process finishes successfully.
You also get full access to all our support resources – actual people, the knowledge base, the whole nine yards – without any restrictions.
Are there any restrictions for large lists or frequent mailings?
No. Not at all.
The more you email successfully, and as long as your email subscribers tolerate that, the happier we are. We have lists that are about half a million strong that email three times a day.
As part of our commitment to quality, every list we send is tracked for issues such as excessive complaints and unsubscribes. That way, we know what we send exceeds the quality standards set by the inbox providers, like Gmail and Yahoo. If there is an issue, we will pause the delivery of your list and discuss with you what's going on and how to improve performance. Unless there's a blatant attempt to abuse us, we have found that these conversations go well and any issues are easy to address. It's also the case that, because FeedBurner email is simple but strict, we very rarely have to do this with lists coming over from FeedBurner.
Do you have a feature comparison page?
Coming soon!
Meanwhile, please look at our Bloggers solutions page and our knowledge base for a deeper dive, if you like.
Can I contact support without starting a trial?
Yes!
If you've questions about FeedBlitz, about a potential migration, or a specific concern, you're more than welcome to contact support directly or fill out the contact form. You'll interact with a friendly technical expert, not a salesperson.
Can I start a trial without a credit card?
No, for a couple of reasons.
First of all, we service every trial account as if it were already a paid account. A valid payment method at the start shows that you're all-in on the relationship, too. We validate the card with a small hold, which is then immediately voided if it works.
Second of all, it's a great way to detect and stop people who have more nefarious reasons for using the full benefits of FeedBlitz's generous trial terms to send junk. That's not you, obviously, but we do use the initial set up as part of our anti-abuse processes.
Finally, closing an account is completely hassle-free from your login, and we're pretty decent about refunds too. We pride ourselves on not being difficult to deal with; we are people too.
Finally: Why you should consider FeedBlitz as your FeedBurner replacement
If you're worried about the end of FeedBurner email but LOVE the ease of RSS-powered newsletters, talk to our support team (we won't turn that into an unpleasant sales experience, I promise), or me – Phil Hollows – personally.

Did you know? FeedBlitz powered the original FeedBurner email service.
RSS to email is core to what we do because that's how we got our start. We have the industry's best RSS to email capabilities, are GDPR compliant, have outstanding deliverability, coupled with full local support, monetization opportunities, and no-hassle no-overages pricing. We love email. We love RSS. We love bringing them together. We invite you to explore this site and our knowledge base.