Get More WordPress Email Subscriptions
FeedBlitz's WordPress email marketing subscription plugin has been updated to help WordPress bloggers grow their email subscription lists much more quickly.
The new version of the plugin (download the wordpress email subscription zip file) adds a "get updates by email" option to comment forms. The commenter can join your list while they're making a comment with a single extra click without interrupting the comment submission workflow. It's fully compatible with other WP comment plugins such as the ever-popular CommentLuv, as shown in the screenshot below.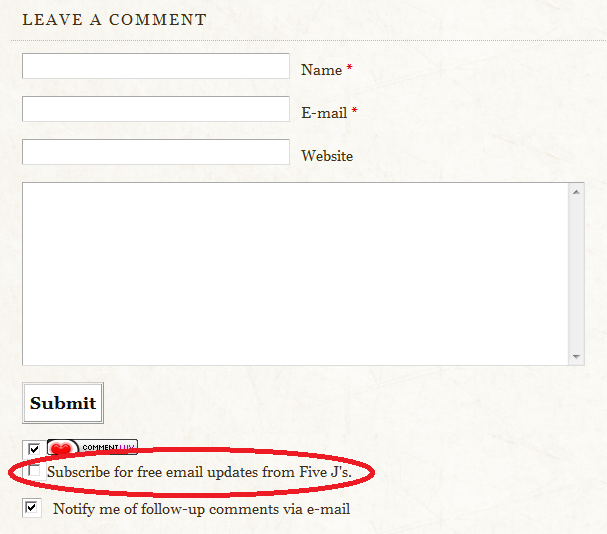 WordPress sites with active comment threads should find this accelerates organic list growth significantly – and it's safe, because if the commenter is already on the list we won't redundantly ask them to sign up time and again; important for your regular commenters.
To prevent abuse and spam, FeedBlitz still requires dual opt-in, so it's best practice email marketing list management. But it's a very "low friction" user experience up front. The plug in also adds the checkbox to the user registration form for your blog, so if you require visitors to register first you can get them there as well. Here's an example: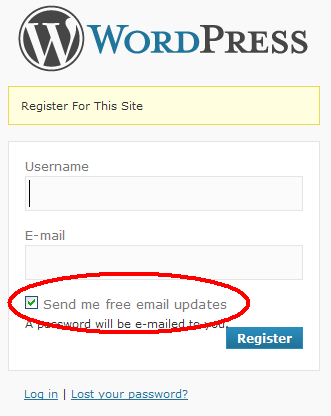 It's customizable, easy to set up and a great way to grow that subscription database. All you need to do is download it and link it to one of your FeedBlitz mailing lists.
UPDATE: (I should have done this in the original posting and apologize unreservedly to Andy for not doing so). Andy at CommentLuv helped out by writing the commenting addition; full credit to him for the great implementation.