Growing your List with Incentives – Cupcakes, Recipes and Printables, Oh My!
50% List Growth in Just Six Weeks
As blog and website owners, we are always looking for ways to increase our readership. While there are many factors that attribute to increasing your readership; content, great topic, photos, etc.
I'm here to share with you how I have grown the mailing list on my blog, Hoosier Homemade, much faster by offering free printables (and a weekly newsletter, Cupcake Chronicles) to visitors who join the mailing list. The printables and companion weekly mailing, Cupcake Chronicles, is exclusive content – cupcake designs, how-tos and monthly free printables – that only email subscribers receive.
I started out with just my blog's newsletter, which had about 1,600 subscribers at the end of August 2010. Six weeks later the list has grown 50% – to well over 2,400 now. Using the exclusive content incentive – the printables – has been a significant part of that success.
What are Printables and Why do they Matter?
My readers are for the most part, Moms who love creating fun and easy treats for their families and saving money.
There are two different kinds of printables. The first are store coupons readers can access online, print at home and take to the store, these can be found online at websites like Coupons.com (affiliate link). The second kind of printable is the form of a Cupcake topper, like these fun Halloween printables. Making the printables only available to email subscribers is a great incentive for my blog's readers to join the list, and they're a great match for my readership's lifestyle. They're also a great link between my online presence and their lives in the real world.
Incentives Increase Readership
I know many of you don't offer a recipes, crafts or even cupcakes on your blog! But the ideas are endless for offering a free printable or other incentive. Maybe you write about menu planning, you could offer a printable with the days of the week. Or if you share organizing tips, like Life Your Way, you could offer organizing printables.
It doesn't have to be printables, of course. The whole idea is to think outside the box. What do you have to offer? What do your readers like? How could you bring more readers in? What would they really value that you can offer? Make your incentive match your target audience and your list will grow faster.
Making Your Own Printables
If printables are an option for you, if you can't design them yourself find a designer and ask them to swap advertising with you. The Paper Cupcake is currently providing me with 1 printable per month for my Cupcake Chronicles Newsletter, in exchange for advertising. Then my virtual assistant adds the printables to my blog each month and adds a link to the newsletter. Having printables has grown my list; mailing the printables also increases traffic back to the site when the mailing goes out.
We use FeedBlitz to mail out regular updates from the blog automatically, and FeedBlitz's newsflash feature to send out the printables and Cupcake Chronicles to the list.
Are you ready to gain some new readers?
Give printables " or some other incentive " a try! It really works. Have questions? Please feel free to contact me, I'm happy to help!
About the Author
I'm Liz from Hoosier Homemade. I've been blogging about 1 1/2 years, and share recipes, decorating, homemaking and lots and lots of Cupcakes! Follow me on Twitter at @HoosierHomemade or on Facebook
About Guest Posts on FeedBlitz
FeedBlitz welcomes relevant guest post submissions on the topics of email, social media, blogging and online marketing. You don't even have to be a FeedBlitz user or publisher to post here!  Click here to find out more.
And now for something completely different – Easy Halloween Cupcake Recipe!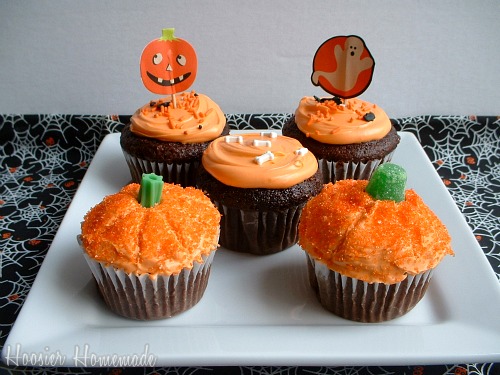 [Phil says: Liz has generously agreed to share an easy cupcake recipe with us! Easy, because as my kids will attest, I'm no chef. So give it a go this Fall and let us know how they turn out in the comments. Over to you, Liz!]
It's that time of year…Halloween! And these Halloween Cupcakes couldn't be any easier!
One of the things I often do to create special cupcakes, is take a regular boxed caked mix and add some extra ingredients to it, changing the flavor.
Chocolate Orange Cupcake Recipe:
1 Chocolate Cake Mix (devil's food is good)
4 large eggs
1/3 cup oil
1 cup Orange Juice
Directions:
Place cupcake liners in a muffin tin, preheat oven to 350 degrees. Mix together all ingredients and divide into liners. I use a little less than 1/4 cup per cupcake, this yields about 30 cupcakes.
Bake for about 10-12 minutes. Cool completely.
Orange Buttercream Frosting Recipe:
Favorite Buttercream Frosting (store bought or Homemade)
1/4 cup Orange Juice
Directions:
Mix frosting using the orange juice to add flavor. Frost cupcakes and add a few sprinkles, a fun Halloween pick or create pumpkins.
For the pumpkins, frost cupcake completely and mound the frosting up a bit in the middle making a pumpkin shape, then sprinkle with orange sugar. I like using a bowl to dip the cupcake into the sugar or you can simply sprinkle it on, being sure to work over the bowl so you can re-use any extra that falls off. Using a toothpick, create some lines on the pumpkin and add a green gumdrop or piece of green licorice for the stem.
Visit Hoosier Homemade for more fun Halloween Cupcakes!