How I Created a Listbuilding Machine, by Jeff Nickles
For the first three years I operated my blog, I only had 800 email subscribers to show for it. That's just a little over 250 per year. Now, my list grows by that amount every month.
Here's the graph to prove my listbuilding machine is working: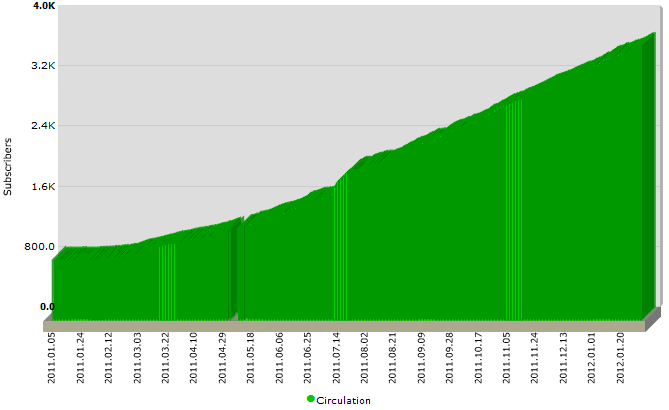 FeedBlitz Helped Me Create a Listbuilding Machine
I'll be the first to tell you that I'm no brilliant Internet marketer. In the four years I've operated my blog, I've made a ton of mistakes. One of the biggest was ignoring the importance of building an email list from the outset. I now know that I should have made this a top priority from the beginning.
Fortunately, I came to my senses — better late than never.
Here's what I did to create a listbuilding machine:
1. Migrated to a Real Email Marketing System
For the longest time " too long in fact " I used FeedBurner to manage my email subscriptions. The biggest reason I stuck with it was because it was free. Of course, it also lacked critical features which cost me. I've come to understand the importance of these features now that I've made the switch to a true email marketing system.
There are two things that FeedBlitz offers that have proven critical to my listbuilding success. The first is autoresponders and the second is real, live support.
I'll tell how I use autoresponders later in this article, but I want to explain now why the support FeedBlitz provides is so valuable.
First, when I have a problem, which is usually because I'm doing something wrong, someone is there to help me get it fixed fast. This means that my listbuilding machine is never down for long. A real human being is always reachable and ready to assist me in correcting the issue. This protects my credibility with my subscribers. You see, nothing makes people doubt you more in the online world than a flaky system. Therefore, available support is very valuable to my strategy.
Second, the support FeedBlitz offers goes beyond just break-and-fix. They also provide you with all kinds of great tips, tactics and ideas for maximizing the effectiveness of your campaigns. I've learned a ton about how to improve the marketing I do to my list through these resources. If you haven't dug into what's available, then you are missing out in a big way.
Moving to FeedBlitz was the first and most crucial step in creating my successful listbuilding machine because you must have a solid foundation to build upon. Once I had the system in place, I started fueling it up for performance.
2. Created a Valuable Incentive to Subscribe
In the early years, I adopted the "build it and they will come" mentality about my email list. Visitors certainly came to my site, but unfortunately, I didn't have a real strategy in place to effectively influence them to subscribe to my content and message.
Oh sure, I had a little form in my sidebar so they could subscribe to my email list if they wanted, but there wasn't any incentive for them to do so.
Therefore, my list growth was very puny. I only collected 800 addresses on my list after three full years of blogging. That's pathetic!
Of course, even if I would have had an incentive back then, I had no way to deliver it when a person subscribed. That is, until I discovered the power of FeedBlitz autoresponders.
Here's what I did to get my listbuilding machine up and running.
I took a series of twelve articles I wrote a couple of years ago, spruced them up a bit and created an eBook out of them. I called it "The Super-Charged Guide to Smart Living". I then got on Fiverr.com , found someone to create a beautiful cover for my eBook and voil?ô " I had an attractive, informative incentive to offer.
I then set up an autoresponder using FeedBlitz so that every time a person subscribes to my list, they receive an email from me with a link to download my free eBook. This got my listbuilding machine running, but I still didn't see the big list growth I really wanted until I did one more thing.
3. Super-Charged My List Building Machine
The final thing I did to really super-charge my listbuilding machine was to implement a pop-up lightbox that looks like this: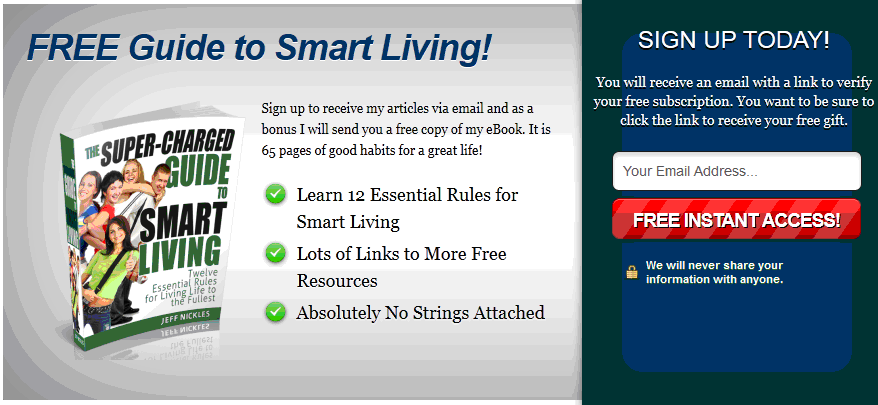 I was hesitant to use a pop-up like this at first because I was afraid that visitors to my site would be turned off and annoyed by it. A year later, I'm not concerned any more. I suppose a few visitors might turn their noses up at it, but they probably aren't the ones I'm after anyway.
All I know is that by turning this on, my listbuilding machine started performing and generating the results I wanted and that's good enough for me.
I encourage you to look at my subscriber graph at the beginning of this article. Notice how steep and steady it is? That's what I call a successful listbuilding machine!
I implemented this strategy in late February last year and by mid-July; my list had doubled in size. That's a 100% increase in the number of people I regularly reach in just four and a half months. It took me three years to accumulate this many subscribers before.
These are people I'm helping to live a more fulfilling life. They are also folks that I can market various personal development products to.
The cool thing is that it is all automated. FeedBlitz does the heavy-lifting for me. I couldn't be happier!
About the Author
Jeff Nickles is a regular guy on a quest to live life to its fullest. He began MySuperChargedLife.com in December of 2007 as a way to share his experiences and to learn more about life. You can start here to see his listbuilding machine in action or to reach out to him. Jeff also told this story in a recent guest post published on ProBlogger.